So you've just discovered a brilliant business idea, the kind that gets your heart racing and brain on overdrive. You're certain you've stumbled upon the next Google, Amazon, or Tesla. But wait! Here's a sobering fact that'll bring your feet back to terra firma: about 75% of startups nose-dive into failure, and one of the prime culprits is assembling the wrong team. Ouch! That stings, doesn't it?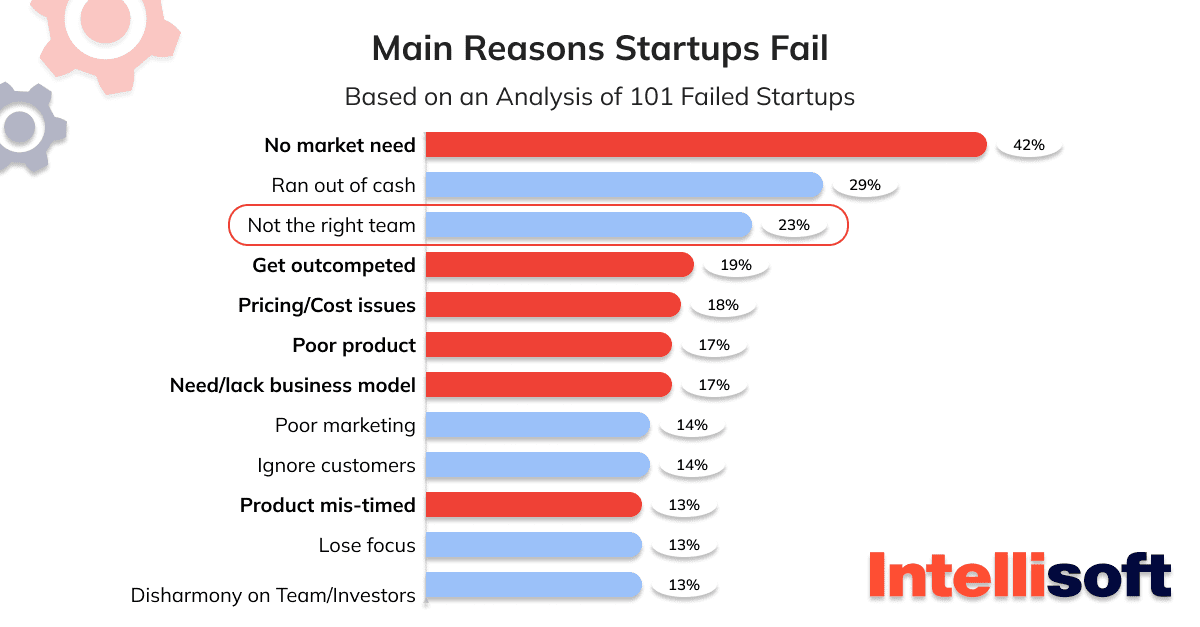 But don't get disheartened. Just as a well-tailored suit makes the man, a meticulously chosen team makes a successful startup. And this is exactly the topic we're going to discuss in this article: the importance of understanding software development startup roles and responsibilities. Think of it as a strategic chess game, and it's all about making the right moves.
But what is a startup company, really? It's a daring adventure in the corporate world, aimed at discovering new solutions, disrupting traditional landscapes, and ultimately, striking gold in the form of exponential growth.
What do we know about it? We are IntelliSoft, and we've been in the IT industry for so long that even some of the tech dinosaurs, such as Cambio, may have been our clients. We've been swimming in this high-tech ocean for years, maneuvering through its unpredictable waves, learning from our own successes and failures, and helping businesses transform into technology powerhouses.
Let's break down the roles and duties of members of your future IT startup. It's time to demystify the world of startup jobs so you won't become just another statistic in the startup graveyard. Remember, knowledge is power, and we're here to empower you!
Why You Need Clearly Defined Roles in a Company
Starting a business can feel like trying to build a Swiss watch while juggling. You're balancing countless tiny gears, cogs, and springs, each demanding your undivided attention, all while trying not to drop the whole enterprise on your foot. As any seasoned juggler – or, indeed, any successful business owner – will tell you, timing, balance, and clear roles are everything.
A startup is not that different from a well-oiled Swiss watch. At the core of both there are dedicated components working tirelessly in harmony, each with a unique role, synchronously driving the machinery towards a shared goal. Just as the diverse cogs in a watch play their parts in perfect harmony to keep time, so do the various roles in business sync together to keep a startup ticking toward success.
From another point of view, you can compare your startup with a ship. The journey of your startup is an expedition into uncharted waters of the business world. To navigate these waters successfully, you need a crew – a team where everyone knows their role, responsibilities, and the part they play in reaching the destination.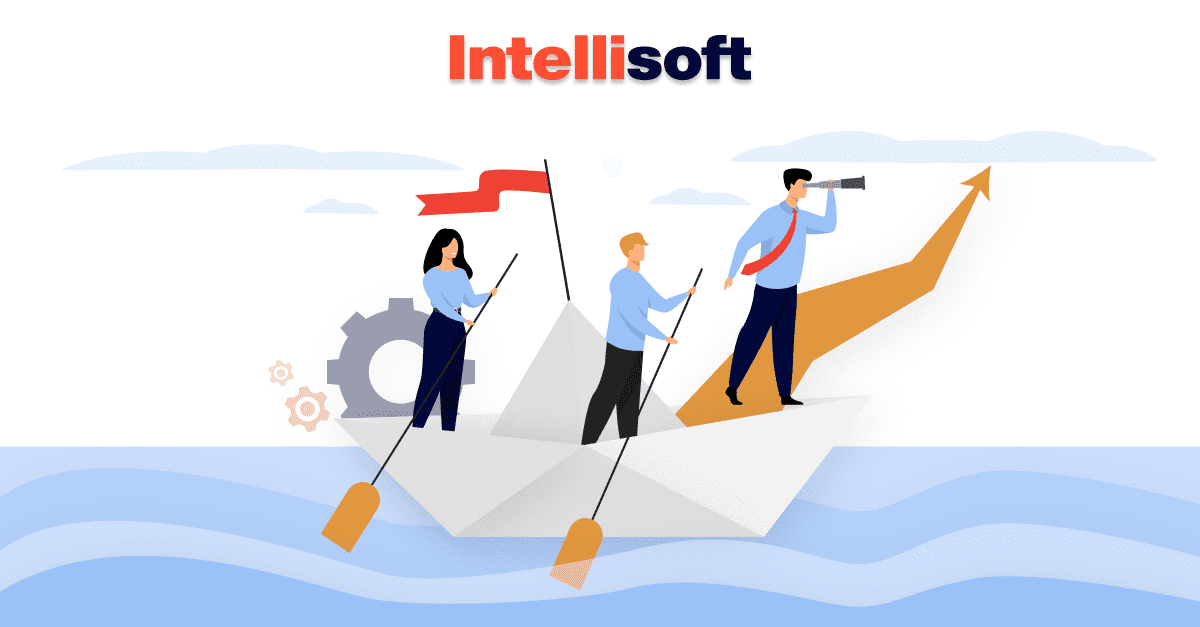 The helmsman doesn't hoist the sails, and the captain isn't swabbing the decks. It's this precise distribution of roles and responsibilities that keeps the ship sailing smoothly toward its coveted treasure: success.
But what happens when roles blur, and your navigator suddenly decides they want to be the cook? Or worse, what if your helmsman doesn't even know he's supposed to be steering? Without clearly defined company roles, your startup ship might get lost in the Bermuda Triangle. Read on, and let us navigate you through the treacherous but thrilling journey of a software development startup.
Core Roles in a Startup
Scaling a startup is a strategic process, similar to planting a seed and nurturing it into a tree. The foundation of this process starts with a core team, the C-suite, comprising key roles that steer the business toward growth and sustainability. This group of executives is the control center of your startup, responsible for strategic decision-making and long-term planning. Let's delve into their responsibilities.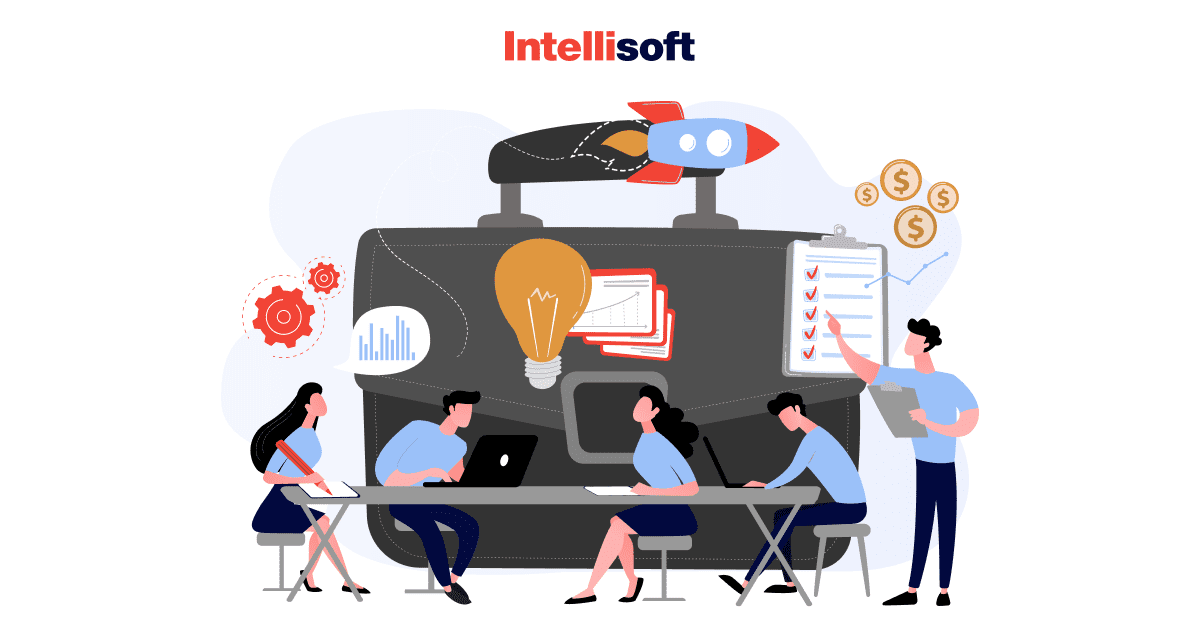 Chief Executive Officer (CEO)
The CEO acts as the navigator of the startup ship, responsible for charting its course and steering it toward success. In essence, the CEO is the spearhead, and others willingly rally behind his leadership. They take on key decisions, focusing on the overarching business strategy, fostering relationships with stakeholders, and aligning the company's operations with its mission and vision. This role requires an entrepreneurial mindset coupled with leadership skills to inspire and lead the team.
The success of technology startups is often rooted in belief. Before success can be achieved, it must first be envisioned, and it is typically the startup CEO who assumes this pioneering role. Every triumphant tech venture requires a visionary at its core – someone who persists in their belief of the concept despite potential criticisms and skepticism.
Role in a Start-up: Dreamer
Being a dreamer, the CEO must unwaveringly have faith in the potential of the enterprise, irrespective of external doubts or negativity. It matters not how many voices echo with discouragement or even label the venture as a potential failure. The CEO's steadfast belief in the future of the idea is what truly anchors the team and propels them forward.
Chief Technology Officer (CTO)
The CTO is the technological backbone of the startup, responsible for driving its technological strategy. Ensuring the software products are technically sound, innovative, and can solve user problems is at the core of their responsibilities. They keep up with current technology trends and are skilled in using this knowledge to benefit the startup and its products.
Role in a Start-up: Doer
Often characterized as the "doer," the CTO stands at the frontline, ready to tackle any technical difficulties and potential issues that may arise, providing rapid and effective solutions. They serve as a critical catalyst for success, particularly from a developmental standpoint. CTOs function as the driving force that propels the entire startup operation, maintaining its momentum. This is particularly true for tech startups, where their role is of paramount importance.
Moreover, CTOs shoulder the responsibility of staffing their teams with competent players. They recruit web app developers and professionals possessing a wide range of technical expertise required to develop the product or service. They also ensure that these resources are aptly utilized for marketing efforts. This dual responsibility of team building and resource allocation underlines the central role of CTOs in shaping the direction and success of a tech startup.
You may be eager to bolster your team with fresh talent, but hiring requires significant investment in terms of both time and finances. Given the typically stringent budget constraints faced by startups, it's often a more practical solution to enlist a dedicated CTO-as-a-Service from IntelliSoft.
Chief Product Officer (CPO)
The CPO leads product development and strategy and must have the deepest understanding of the product. Their primary responsibility is to ensure the startup's products resonate with the needs and expectations of the target audience.
By developing a product roadmap, the CPO guides the company in creating products or services that provide value and maintain a competitive edge in the marketplace. It is the CPO's role to proactively identify potential issues and devise varied solutions to tackle them.
Role in a Start-up: Visionary
Playing the role of the visionary is integral to the development of the company. Much like the CEO, the CPO must possess a robust and inspirational purpose and an even loftier vision for the company. But more critical than this is the ability to translate this vision into tangible reality while captivating the people's attention and imagination, both within and beyond the startup.
Undeniably, tech startups face their share of hurdles. However, to maintain the integrity of the dream and vision, there needs to be a figure who can anchor the mission, providing it with a roadmap to success. The CPO serves as this grounding force, offering strategic direction and guidance, which ultimately paves the way to accomplishing the startup's objectives.
Chief Sales Officer (CSO)
The CSO is the engine that propels the product toward profitability. Their goal is to convert the unique ideas and products built by the team into actual revenue for the business. As the startup grows, the CSO assumes leadership of the sales team, defining sales strategies, driving revenue growth, and ensuring alignment between the sales department's goals and the startup's business objectives.
Role in a Start-up: Hustler
Every startup needs such a dynamic go-getter. The CSO persistently strives to market the product or service designed and created by the team. The CSO, often termed the 'hustler,' is an integral figure throughout each phase of a tech startup's lifecycle. Initially, the CSO may even take on the role of a salesperson within the startup. However, as the startup evolves into a more structured company, it becomes necessary to formally assign someone to this role.
The CSO's scope of responsibilities extends from developing efficient sales processes to automating them, and from recruiting sales representatives and account managers to forecasting sales. The CSO is entrusted with the task of fueling the momentum that propels the product or service forward. They ensure that the business's offerings continue to gain traction and generate profits, solidifying the company's position in the market.
Chief Marketing Officer (CMO)
The CMO is the architect of the startup's marketing strategies. Their mission is to create a unique identity for the digital product and to orchestrate effective campaigns to promote it. Their ultimate goal is to make the product attract attention and reach the target audience effectively. As the company scales, the CMO leads the marketing team, ensuring that their initiatives are in line with the startup's vision and goals.
Role in a Start-up: Architect
In every successful tech startup, the Chief Marketing Officer must be adept at carving out a distinctive niche for the digital product or service and effectively broadcasting its message. Consequently, CMOs are often compared to architects who meticulously assemble solutions and present them to a broader audience.
It's a harsh reality that marketing is an area where many of today's tech startups are lacking. This shortcoming often leads to a disappointing first interaction with the target audience, or even worse – their offerings may go unnoticed altogether.
A proficient CMO is an architect of transformation, capable of evolving an ordinary idea into a unique proposition that disrupts industries. They illuminate the path for potential customers to discover services they didn't even realize they needed. A CMO's role is, therefore, not just about creating awareness but also about unveiling latent needs and delivering solutions that truly resonate with the market.
The C-Suite Strategy
Starting a tech startup involves careful resource allocation and management, especially at the beginning stages. One recommended approach is to launch the startup with a lean team, primarily consisting of top-level executives or the C-suite. These key players work collaboratively to lay a robust foundation for the startup, driving its growth and paving the way for its success in the dynamic business landscape.
The idea of scaling up the company comes into play once the startup secures funding. These resources can be used to hire additional staff, develop infrastructure, and expand operations. It's essential to scale responsibly, ensuring that each new hire brings value to the company and aligns with the startup's vision and culture. By scaling in this manner, the company can grow organically and sustainably, mitigating the risks often associated with rapid expansion.
This strategy of launching lean and scaling after funding also helps to ensure that the company maintains financial stability. By keeping the initial team small, costs are minimized, allowing for a focus on product development and market validation. Once funding is secured, the business can then afford to invest in expansion, with the assurance that it has the financial backing to support this growth.
Related readings:
Positions to Outsource
The enthusiasm of entrepreneurs starting a new venture makes them believe they need a full-fledged team right off the bat. However, when you're still in the phase of launching a startup or validating your business idea, it's important to remember that not all roles need to be in-house. In fact, many functions can be effectively outsourced, saving you resources and allowing you to focus on core business activities. This is where partners like IntelliSoft come into play. We can build a remote dedicated development team for you or augment your existing staff.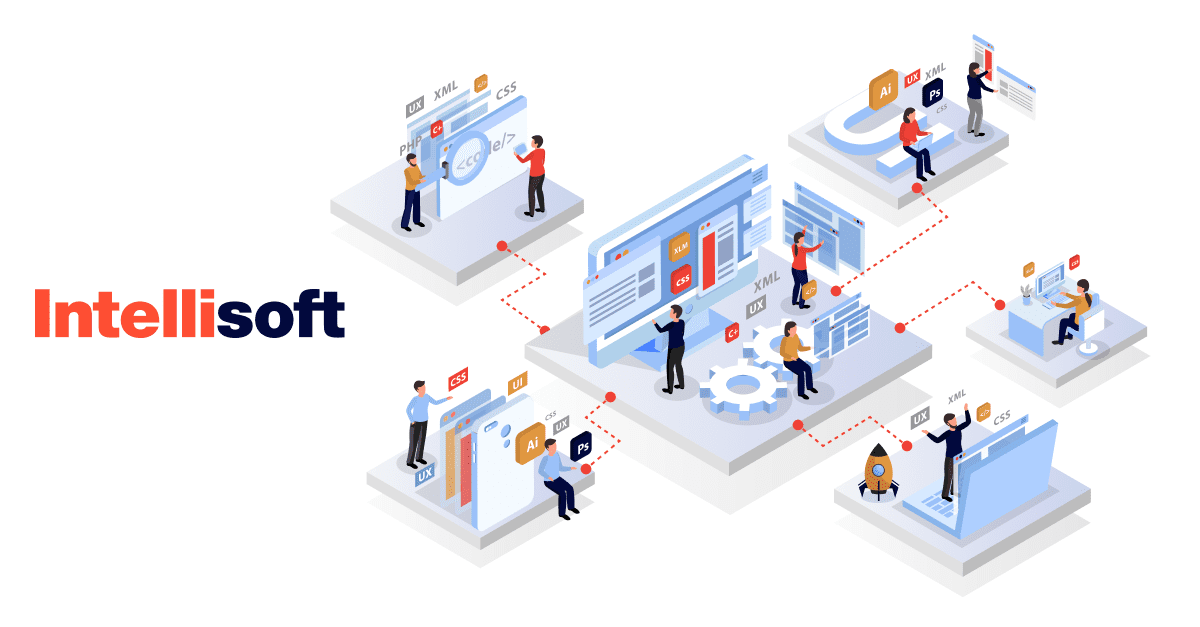 Think of your startup as a rocket. Before you can aim for the moon (or seed funding), you need a lean, efficient team—your astronauts, if you will. This is your core team or the C-suite we just discussed. Now, as essential as it is to have these skilled astronauts on board, not all tasks required for the launch need to be performed by them. Some roles, like those handling specific technical operations, can be entrusted to your ground control—your outsourced partners.
Building your product, especially the Minimum Viable Product (MVP), is one such function that can be outsourced effectively. While having an in-house team might seem appealing, it might not always be feasible or economical in the early stages. This is where an outsource partner can fill the gap. We can offer a high level of know-how and experience, along with a fresh perspective on your product. You get access to top-notch talent without the costs associated with full-time hires.
As your business validates its idea, achieves its initial goals and starts receiving funds, you can then gradually scale your team. In this way, you are not stretched thin on resources while still being able to deliver a quality product to your audience. After all, the objective is to build a successful startup, not just a larger team. This step-by-step approach ensures that you can maximize your resources and grow at a pace that suits your business best.
Remember, the size of your team doesn't matter as much as making strategic decisions that best serve your startup's vision and goals. Outsourcing certain positions in the early stages of your business can be one such smart decision. Let's talk about some of the positions that a growing IT startup needs.
Product Manager
Navigating the seas of customer and product development is the Product Manager, one of the leading crew members who ensure your startup's ship sails smoothly toward success. This role is a nexus of numerous functions and disciplines, focusing on both the bigger picture and finer details. The Product Manager understands the customer's needs, helps shape the product's development, and works closely with various teams to bring your business's vision to fruition.
Product Manager Responsibilities
Product Managers have a wealth of responsibilities. At the helm of product discovery, they play a vital role in identifying the direction of your product's journey. Through exhaustive research and understanding of market trends, they generate and shape ideas, formulating strategies that align with your business goals.
One of the crucial aspects of their role is ideation and business analysis. They need to comprehend your business's position, gauge the competition, and identify opportunities for growth and innovation. This process often involves designing or approving the product design, ensuring it meets customer needs and industry standards.
Once the product design is in place, they don't rest. They perform the role of a supervisor, overseeing the development process, coordinating with various teams, and making sure to keep the project on the path to success. It's not just about creating a product—it's about creating a product that resonates with your target audience and stands out in the market.
Key Skills of a Product Manager
Being a Product Manager is like being a conductor – you need to have an understanding of all the instruments to create a harmonious symphony. That means they need to be adept in strategic thinking, understanding the bigger picture, and devising a plan to achieve it.
Knowledge of software development and UX design fundamentals is crucial. They should be able to understand and contribute to the technical aspects of the product, ensuring it aligns with the user experience. Furthermore, Product Managers need skills in requirements engineering, data modeling, and interpretation, which enables them to define and communicate product specifications effectively.
Project management is another essential skill in their arsenal, facilitating smooth operations, deadline adherence, and effective resource utilization. This goes hand in hand with their problem-solving abilities, allowing them to tackle any hurdles that may arise in the product development process.
With teams looking up to them, communication, leadership skills, and adaptability are vital. They need to lead with clarity, inspire the team, adapt to changes, and make agile decisions that keep the product's development on track.
Last but not least, competitive intelligence and curiosity drive a Product Manager to always be on his or her toes, hungry for knowledge, and eager to stay ahead of the curve.
Remember, a great Product Manager doesn't just manage—they lead, innovate, and inspire.
Software Engineers (Developers)
Creating a fantastic product is akin to building a masterpiece in modern architecture—it's not just about an appealing design, but also about its underlying structure and integrity. This is where Software Engineers, or Developers, step in. They are the artists who wield their knowledge and talent to bring your product to life.
Tech Lead Role
Within the software development team, one figure looms large—the Tech Lead. Like the master architect who understands every nook and cranny of a complex structure, the Tech Lead is responsible for building the software architecture. They pave the path for software development in the early stages, ensuring a robust and scalable foundation.
Leadership is in the job title—Tech Leads head the technical team, guiding their journey, resolving their queries, and making key decisions. They are also immersed in DevOps engineering, ensuring seamless integration between development and operations.
Key Skills of a Tech Lead
As a Tech Lead, broad and deep knowledge across multiple programming languages is vital. They need to design complex architectures, requiring a thorough comprehension of software design patterns and the most effective methods.
Knowledge of database architecture and design is critical for making informed decisions that best serve the product's needs. Experience in selecting technology stacks, forming deployment, and Git flows, helps to ensure that the technical aspects align with the project's goals.
One key skill is the ability to audit code. A Tech Lead should be able to review code critically, spotting potential issues and areas for improvement.
Responsibilities of Software Developers
Software Developers are the magicians who translate product requirements into working solutions and algorithms. Their first spell involves writing program code in adherence to the app architecture, building piece by piece the digital jigsaw puzzle.
They don't just write the code – they also control and manage it using tools such as Git and GitHub. This enables efficient code management, collaboration, and version control. With their analytical skills, they review application code, hunting for improvements and potential pitfalls.
If you don't have a dedicated QA engineer yet, quality assurance also rests on the developers' shoulders—they write automation tests to ensure the software behaves as expected. The final act in their repertoire is deploying the application to staging and production servers, preparing it for real-world use.
Key Skills of a Software Developer
A Software Developer must be well-versed in the fundamental principles of the Software Development Life Cycle (SDLC) and be intimately familiar with the chosen tech stack. They need experience working with both relational and non-relational databases, understanding their pros and cons, and knowing when to use which.
They should have proficiency in version control systems, such as Git, which is essential for collaborative and efficient development. Experience with test-driven development, software debugging, and testing helps ensure the delivery of high-quality, robust software.
Another crucial skill is their experience in cloud deployment. In today's world, cloud platforms are a norm and a vital part of scalable software solutions.
Ultimately, Software Engineers are the heart of a software development startup. They pump life into ideas and keep the entire system running smoothly and effectively.
UX/UI Designers
In the digital landscape, first impressions are everything, and the way a user interacts with your software can make or break their experience. UX/UI Designers have a crucial role in shaping this experience, transforming a functional piece of software into a seamless, intuitive, and aesthetically pleasing journey for the user.
UX/UI Designer Responsibilities
As explorers of the user's psyche, UX/UI Designers start with UX research, gathering insights about user preferences, behaviors, and needs. This data becomes the bedrock on which they design the user experience.
Next is UX design, a stage dedicated to crafting a user-centric design strategy. This involves creating user personas, customer journey maps, and use-case scenarios, ensuring that every interaction a user has with your software is considered and optimized.
The final stroke in their masterpiece is UI design. This is where they refine the visual aspects of the software, making it not only functional but also appealing. Colors, typography, icons, and images—all these elements need to be meticulously chosen and arranged, enhancing the overall user experience.
Key Skills of a UX/UI Designer
A deep understanding of software development fundamentals is the foundation of a good UX/UI Designer. This, coupled with proficiency in agile methodology, enables them to create designs that are not just beautiful but also technically feasible and efficient.
They should be adept at following design guidelines and making responsive designs that provide a seamless user experience across different device sizes. Keeping up with current design trends ensures that your software always feels modern and relevant.
Wireframing skills allow them to lay out the structure of software, providing a blueprint for developers. Familiarity with prototyping tools empowers them to create interactive mockups of the software, facilitating early user testing and feedback.
An understanding of cognitive and behavioral psychology equips them to create designs that resonate with users on a deeper level, fostering engagement and satisfaction. They should also be proficient in creating mood boards, which help communicate the aesthetic and emotional direction of the design.
Experience with UI design tools, such as Sketch or Adobe XD, is essential for creating professional and high-fidelity designs. Lastly, proficiency in heuristic evaluation methods ensures they can critically evaluate the usability of a design and identify potential issues.
UX/UI Designers are the sculptors of your software's user experience. They carefully chisel and polish until what remains is a product that delights users and meets business goals.
QA Engineers
In the bustling software development world, maintaining high-quality standards isn't a luxury—it's a necessity. Enter QA engineers, the gatekeepers of quality, who relentlessly test software for bugs and verify that the final product adheres strictly to the set quality parameters.
QA Engineer Responsibilities
The work of a QA engineer starts with QA planning. This involves laying the groundwork for quality assurance, setting out guidelines for what will be tested, how, and when, and ensuring that no bug slips through the cracks.
Following this blueprint, they dive into the heart of their role: product testing. Using manual and automated testing techniques, they scrutinize every nook and cranny of the software, catching bugs and anomalies that could disrupt the user experience or hinder the software's functionality. Their ultimate goal? A smooth, bug-free software that not only meets but surpasses the expectations of its users.
Key Skills of a QA Engineer
A seasoned QA engineer should have expertise in web and/or mobile testing, armed with a thorough understanding of how these platforms function and where potential issues might crop up.
They should be comfortable with basic programming concepts and languages, particularly HTML and CSS. This knowledge aids them in better understanding the software's inner workings and collaborating effectively with the development team.
Familiarity with continuous integration tools and processes is vital, ensuring that all changes and updates are integrated seamlessly and tested immediately.
A solid grounding in QA best practices and test management is indispensable for maintaining high-quality standards. This includes the creation and execution of comprehensive test plans and checklists to systematically verify each element of the software.
Finally, adeptness at various test design techniques enables them to craft effective test cases that cover all possible scenarios, ensuring that every feature of the software is rigorously tested and validated.
In the grand tapestry of software development, QA Engineers are the meticulous weavers who ensure every thread is flawlessly intertwined, leading to a product that is both resilient and visually striking in its quality and excellence.
Evolving Roles in a Software Development Startup
In the bustling kitchen of a software development startup, every team member is a multi-talented chef, often juggling not just one but multiple roles at any given time. This metaphorical juggling act, in which employees don flexible hats and take on different responsibilities, is an essential ingredient in the recipe for startup success. It breeds a versatile, robust team that can gracefully pirouette through the fiery hoops that startups inevitably face.
On Monday, the CEO may be making strategic decisions for the long-term vision of the startup, while by Wednesday, they could be dipping their toes into customer service, liaising with clients to better understand their needs. The CTO, while being the technological pillar of the startup, may also take on the role of an HR manager, handling the hiring process to expand the tech team.
And the CMO? Well, on some days, they're not just overseeing marketing campaigns – they might also be brainstorming with the product team, adding unique spins to the software that'll make it stand out in the market.
Indeed, versatility isn't just a buzzword in the startup ecosystem—it's a lifeline. It fuels the engine of innovation, accelerates problem-solving, and strengthens team cohesion. More than that, it empowers employees to explore different areas of the business, broadening their skill sets and fostering a culture of continuous learning and development.
The Adaptation of Roles as the Startup Expands
Here's the crucial caveat: as in a shape-shifting kaleidoscope, the roles and responsibilities in a startup are not static—they're dynamic, evolving entities. As the startup grows, these roles may change costumes, taking on new characteristics or shedding old ones. The ballerina may become the choreographer, the understudy may get the leading role, and new characters may be introduced into the ensemble. This isn't an exception—it's the rule, the natural progression in the lifecycle of a startup.
Take, for example, the role of the CTO. In the early days, the CTO might be deeply involved in hands-on programming and development. However, as the startup expands and more developers are brought on board, the CTO's role could transition towards more strategic and leadership-based duties. They might focus more on driving technological strategy, designing complex software architectures, and leading the technical team, while the actual coding gets delegated to the software developers.
Similarly, the CEO, who might have initially been involved in a wide range of activities, from strategic planning to customer interaction, might find their role becoming more specialized as the company grows. They might focus more on steering the startup's trajectory, overseeing the overall operations, and making key strategic decisions.
Meanwhile, new roles may emerge as the business expands. A startup that initially relied on its CTO for all tech-related matters might find that the growing complexity of its software product necessitates hiring a dedicated Tech Lead or a QA Engineer. These new positions come with their own unique responsibilities and skill sets, contributing to the expanding tapestry of the startup's ecosystem.
The evolution of roles within a software development startup is a vibrant dance. It's a journey of adaptation and growth, of new roles emerging and existing ones morphing to better serve the evolving needs of the business. It's an exhilarating process, one that is as dynamic and exciting as the world of startups itself. So, for those brave souls embarking on the startup journey, remember to stay flexible, stay versatile, and get ready for a wild ride!
Hiring for Startups: the Specifics
Hiring the right people to work at a startup can be as hard as navigating a ship through uncharted waters. It requires a captain who can not only steer the ship effectively, but also recognize when to adjust course based on the prevailing conditions. To successfully hire a team for your startup you need to have a deep understanding of your needs, recognize potential talent, and foster a culture that aligns with your company's vision.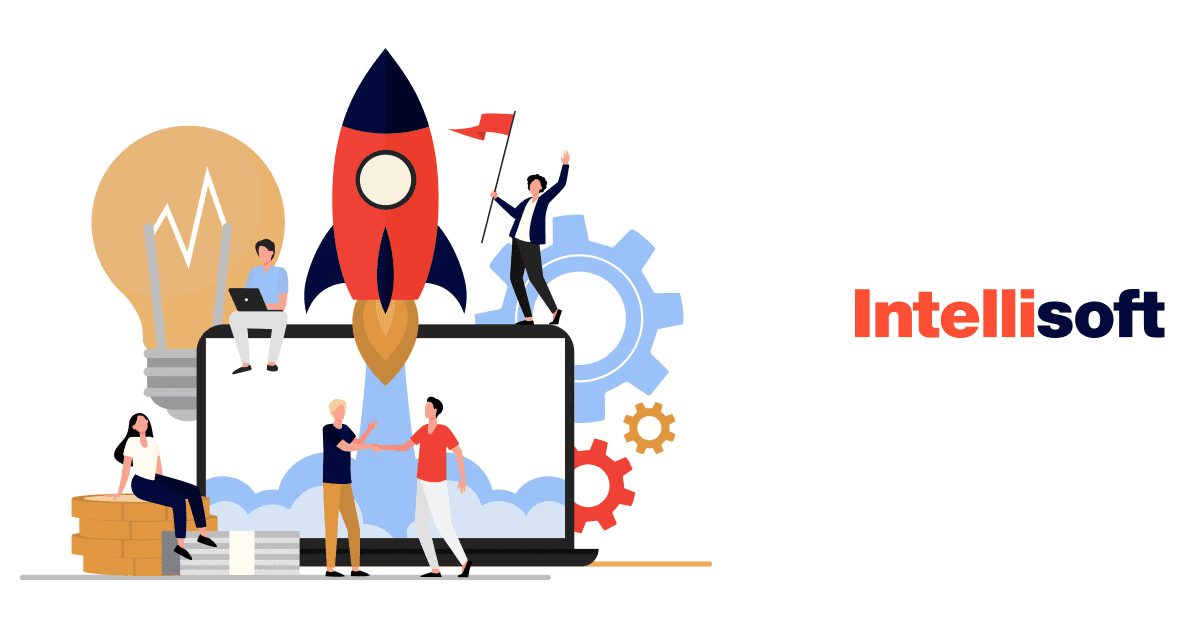 First of all, it's important to have a thorough understanding of the skills that you and your founding team already possess. This self-audit helps identify areas of strength and pinpoints the gaps where external expertise is needed. A tech-savvy CEO might not need a CTO in the initial stages, while a CEO with a strong sales background might benefit from hiring a CTO early on.
Once the internal skills landscape has been mapped, defining your focus and near-term goals can help set the hiring agenda. The priority could be anything from product development to sales strategy or customer outreach, depending on the startup's current stage and immediate objectives.
In a startup, roles can often intersect, with employees wearing multiple hats. For instance, the CTO could be involved in product design, while the CMO might contribute to user experience improvements. Recognizing this fluidity, and hiring versatile individuals, can be a game-changer in the startup environment.
One often-ignored but useful hiring strategy is to hire from the top. Instead of first hiring junior employees, consider onboarding a seasoned professional who can guide the team, bring in industry insights, and accelerate your startup's growth trajectory.
However, amidst all the hustle-bustle, don't rush the hiring process. Hiring the wrong player can cost more than an empty seat. Take the time to find candidates who not only have the required skills but also align with your startup's culture and vision.
Hiring people you trust is critical in a startup. You are essentially bringing them on board a ship that is venturing into unknown territory. Having a team that you trust implicitly can make the journey less daunting and more rewarding.
While technical skills are important, don't overlook the importance of soft skills. Attributes like communication, teamwork, problem-solving, and adaptability can sometimes be the deciding factor between success and failure in a dynamic startup environment. However, while hunting for the right talent, there are also certain pitfalls to avoid.
What to Avoid When Building Your Team
Titles can be deceiving, so don't be overly impressed by them. Dig deeper to understand what a potential hire truly brings to the table. Avoid hiring generalists who don't possess the specific skills you need. In the fast-paced startup world, having team members with specialized skills can accelerate progress.
Ensure that the potential hire can see the big picture and is not just confined to their job description. A successful startup team member needs to be able to connect the dots and contribute towards the overarching vision of the company.
Don't compromise, and be sure to voice your concerns when something isn't right. The stakes are high in a startup, and unaddressed issues can lead to major problems down the line.
Lastly, communication is key: It's essential to stay connected with your team members through regular check-ins. This could be through daily stand-ups, weekly team meetings, or conference calls. A well-informed team is a well-coordinated team, and that is what your startup needs to steer its ship successfully.
As you can imagine, hiring for a startup is a complex but rewarding process. It requires meticulous planning, careful selection, and continuous engagement. However, the end result—a dedicated and proficient team that can turn the startup dream into reality—is well worth the effort.
Conclusion
Clear role definition in your startup ensures that each team member knows what is expected of them and how they contribute to the collective goal. It fosters efficiency, eliminates confusion, encourages responsibility, and promotes a sense of ownership among team members. It further enables better communication, promotes inter-departmental cooperation, and ensures that each person's effort propels the startup closer to its goals.
As we have seen throughout this article, every role—from the CEO to the software developers, UX/UI designers, product managers, and QA engineers—plays a unique and vital role in the startup's journey. The nuanced functionalities that these roles bring are indispensable in the smooth functioning and growth of a startup.
Here are some key takeaways from today's discussion:
Startups need to clearly define roles and responsibilities to ensure smooth operations.
Launching a startup requires strategic decision-making and flexibility, as roles often overlap and evolve as the startup grows.
It is essential to understand the specific responsibilities and key skills of core roles such as the CEO, CTO, CPO, CSO, CMO, and other critical players.
Outsourcing can be a viable strategy for startups, especially during the early stages.
As the startup expands, new positions may emerge, and existing roles might shift or expand, showcasing the dynamic nature of your company.
Specific strategies and considerations are necessary when hiring for startups, ensuring that the team embodies the organization's vision, mission, and culture.
It's no secret that remote work has taken center stage in the post-pandemic world. Thus, understanding the startup team structure and operation of remote development teams becomes crucial for a company's success. Curious to learn how to set up, manage, and thrive with a remote development team? Check out our article "Remote Development Team Structure in a Nutshell."
As we wrap up, remember that launching a startup is a thrilling journey, one filled with countless learning opportunities, but it can often seem daunting without the right guidance and resources. You can trust IntelliSoft to be your guide in the startup world, and we will provide you with the right tools, advice, and support you need to tackle the unique problems of launching a startup.
Sometimes, when starting a long journey, the greatest challenge is in taking the first step, so take that step with IntelliSoft today.

About

Kosta Mitrofanskiy

I have 25 years of hands-on experience in the IT and software development industry. During this period, I helped 50+ companies to gain a technological edge across different industries. I can help you with dedicated teams, hiring stand-alone developers, developing a product design and MVP for your healthcare, logistics, or IoT projects. If you have questions concerning our cooperation or need an NDA to sign, contact info@intellisoftware.net.