More and more technology executives agree that they are better off when hiring outsourced teams of developers. Such giants as Google, Sirius XM, Square, IBM, and Univision are among active clients of companies that offer skilled staff. As Fortunly reports, 64% of outsourced offshore tech functions have to do with app development. Perhaps, it's time for your company to try offshore outsourcing as well, especially if you want your upcoming piece of software to be a masterpiece.
Offshoring is exactly what allows you to fulfill the two basic requests of productive business development at once. They are task delegation and the search for favorable cooperation conditions. In essence, offshoring stands for delegating a task to employees from another country. Many people confuse this concept with outsourcing, but this is not quite true. Each of these models has some nuances and suits different business strategies. In this post, we'll have a closer look at offshoring and outsourcing advantages and disadvantages so that you can choose the most appropriate option for your project. Let's define offshore outsourcing first.
What Is Actually Offshoring?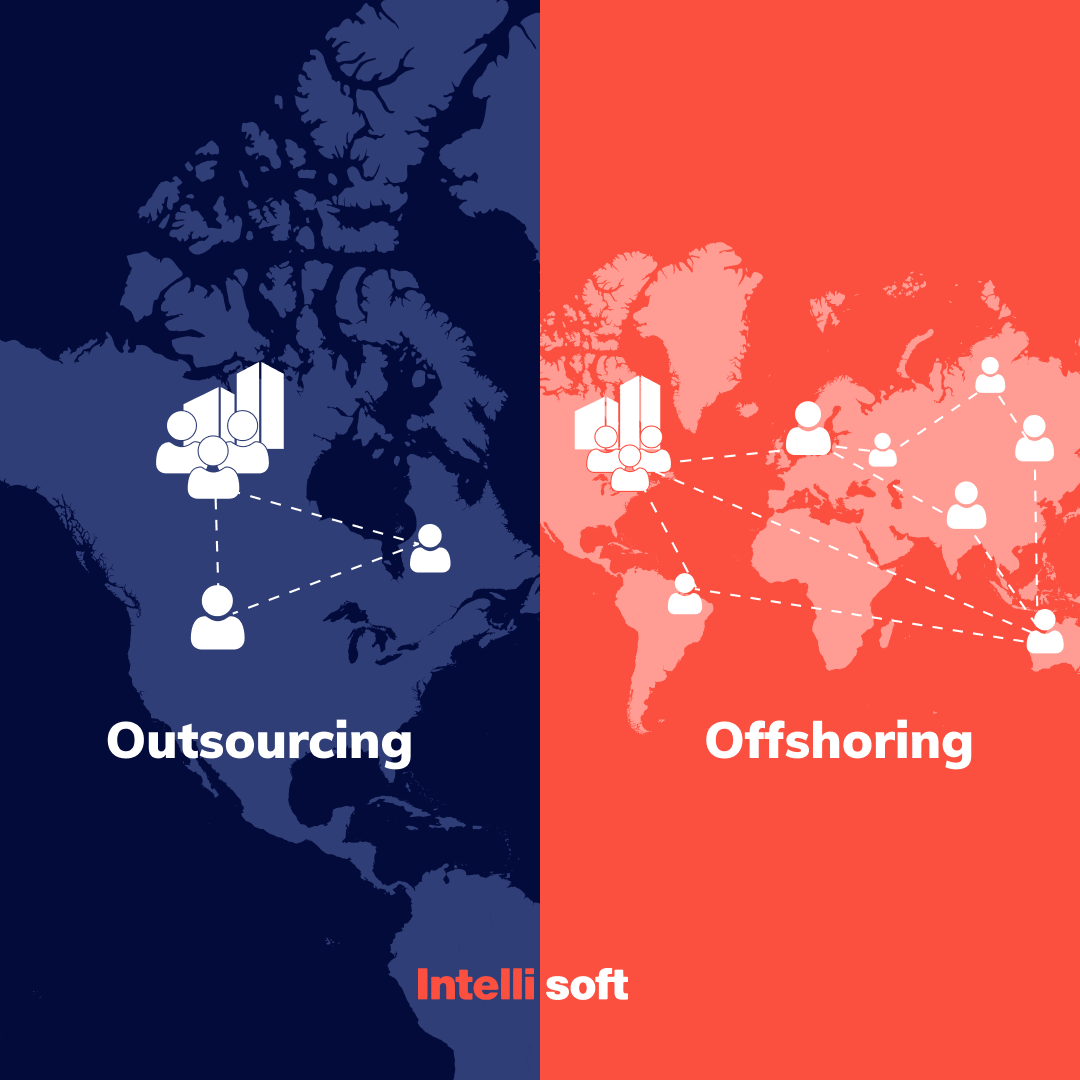 The process of offshoring suggests hiring employees who are full-fledged part of the company's staff and work within the corporate culture. Outsourcing, in turn, involves cooperation with freelancers or agencies to perform the tasks related to a particular project. Many IT companies practice both approaches. They hire employees from foreign countries, predominantly Latin America or Eastern Europe, and they work on behalf of the client's company, performing the assigned tasks. Latin America is often chosen as it possesses the fastest projected IT industry growth of any region, with a forecasted revenue growth rate of 5.3%.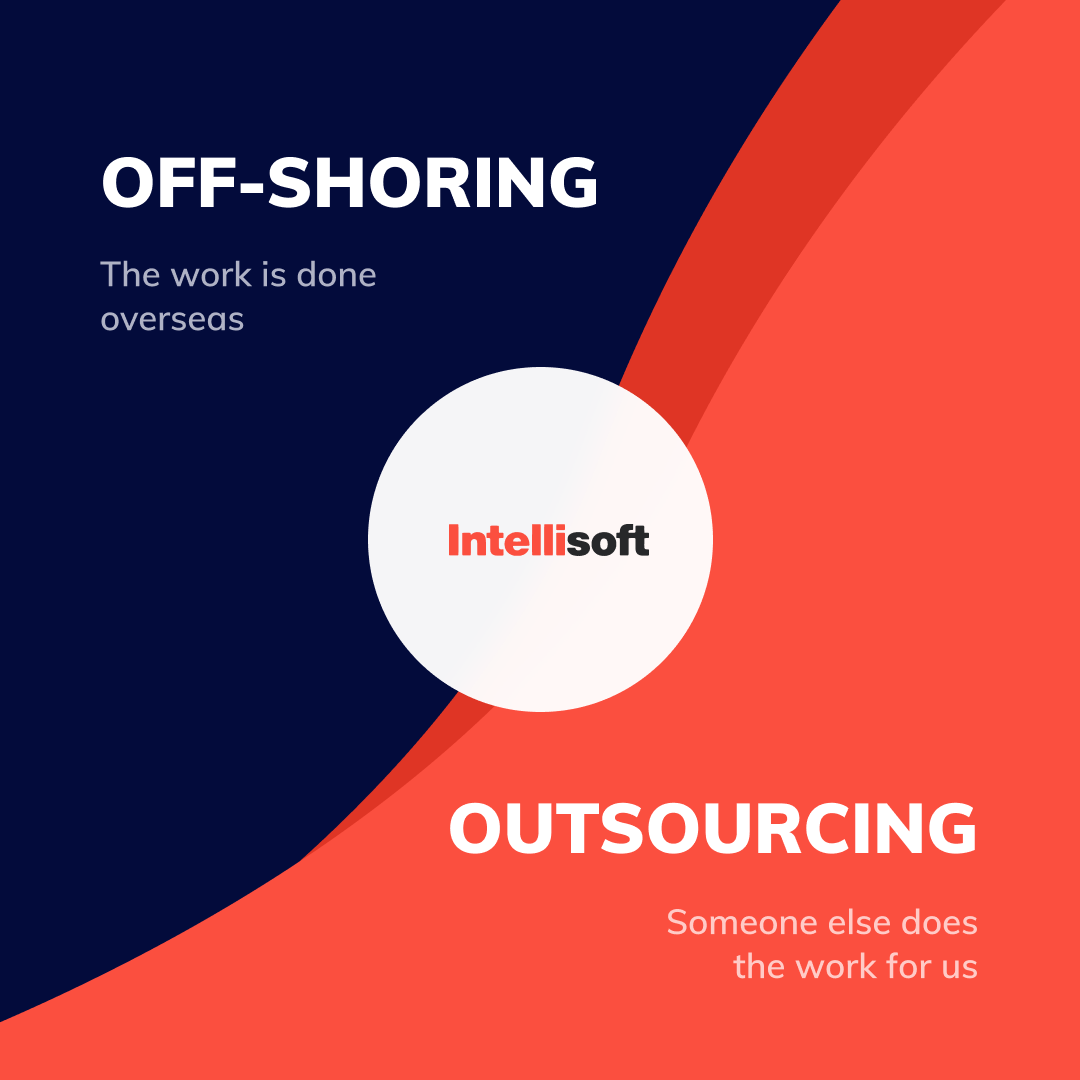 There are three popular types of team extension:
Offshore outsourcing. That is when the tasks are delegated to freelancers or agencies. This option is optimal for short-term projects, allowing you to significantly reduce the labor cost, still obtaining quite acceptable quality. When you have a long-term project, this option may not solve all your requests.

Onshoring. This means hiring staff from your country. Simply put, you have a company that employs staff from another city, for instance. This does not guarantee significant savings on labor costs, but it might be the best option if you want to avoid such nuances as time differences with employees, cultural and language barriers, and differences in technology. 

Nearshoring

. This practice involves hiring employees from a neighboring country. It can provide you with competent employees for a reduced price and, at the same time, with a small difference in time zones.

Offshoring. In this case, a company hires an employee from a developing country (Eastern Europe, Asia). Such countries have smart and high-qualified specialists whose services are much cheaper, while they perform high-quality work in compliance with deadlines and the requirements. Thus, the same task for which you have to pay a compatriot $80-100 in the US can be done by a developer from Eastern Europe just for $30-50 per hour. This option is ideal when it is necessary to avoid rather high costs without losing work efficiency. You can find a more detailed salary report

here

.
Let's focus on offshoring, which can be a very profitable solution and significantly boost your business. The only question is whether it is suitable for you. 
IT Offshoring Advantages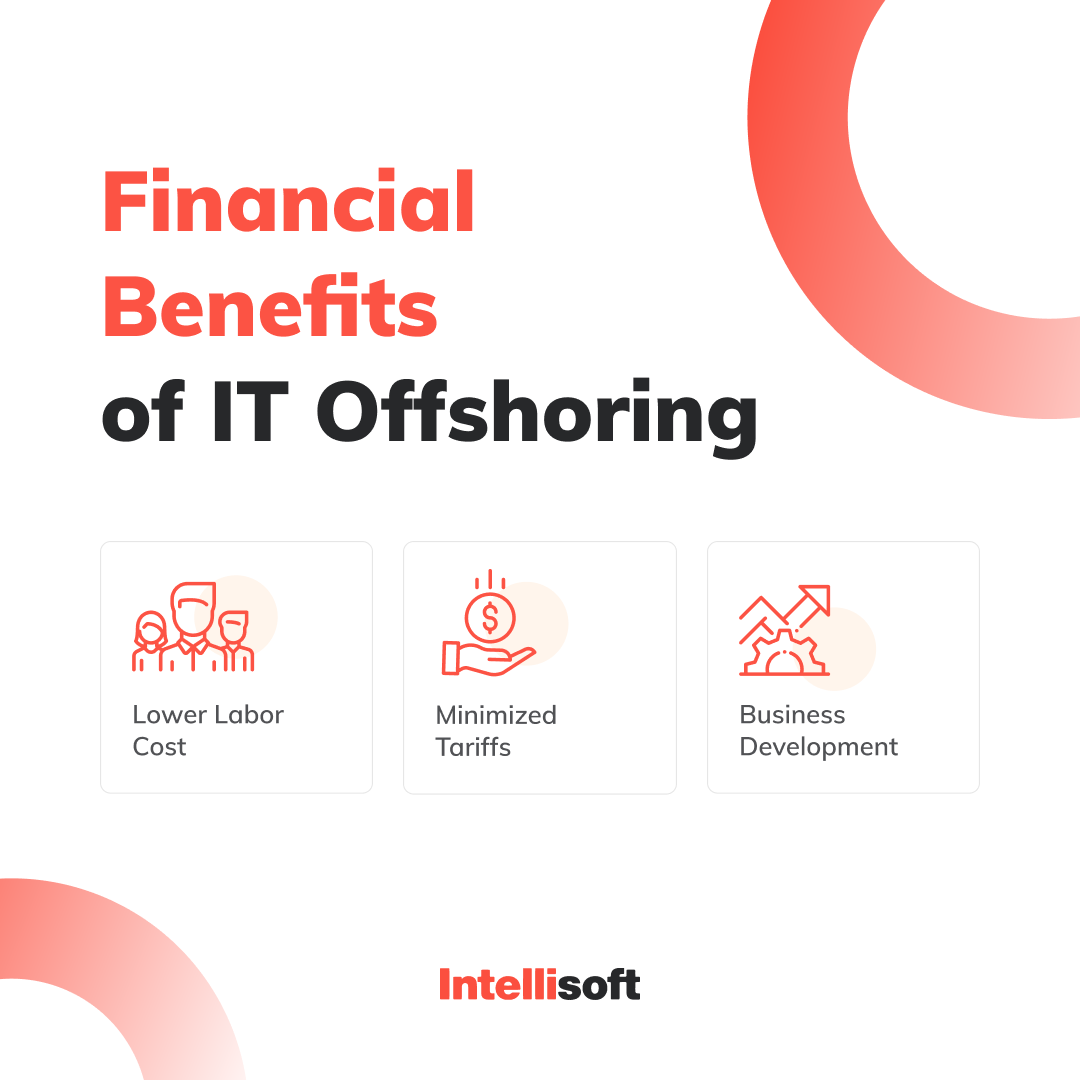 Why do companies often resort to such a model as offshoring? It happens when certain business tasks and processes are delegated to an overseas executor. At the same time, the contractor is part of the company's staff. Some countries are very popular for IT offshoring. These are India, Ukraine, Poland, Argentina, and other developing countries. Ukraine's booming IT sector, for example, defies the COVID-19 crisis and keeps on expanding its talent pool. The advantages of offshoring can help your business win in many terms, especially when it comes to your budget. 
Salaries in developing countries are usually much lower than in prosperous countries, which means that the average fee of a specialist from Asia or, say, Poland will be several times lower than in the USA or Canada. At the same time, everyone will be in the black: 
you get a qualified employee who is ready to work on your terms

they receive stable social benefits and a salary that is quite decent by local standards
It is worth saying that developing countries have many excellent specialists for hire: programmers, web designers, developers, and others. In the United States, for instance, you will be forced to pay such an employee an average of 150 USD per hour, then an offshore employee from Asia will work for 40 USD per hour (on average), remaining rather satisfied with such conditions.
Some developing parts of the world encourage such cooperation with their residents because it is an investment in their country. For this, they can offer reduced taxes and other privileges.
Saved labor costs and reduced rates are the keys to business development. You can expand your services and financial opportunities, invest or reinvest the money, etc. 
Offshoring makes your opportunities more extensive and your business wider. It also means new acquaintances, a big talent pool, and more experience in working with foreign markets. Such a background allows you to know all the subtleties and nuances of the overseas market (e.g., risks and opportunities). Moreover, you are opening new horizons, because this can bring world-class pros to your company in every sense of the word. 
IT Offshoring Disadvantages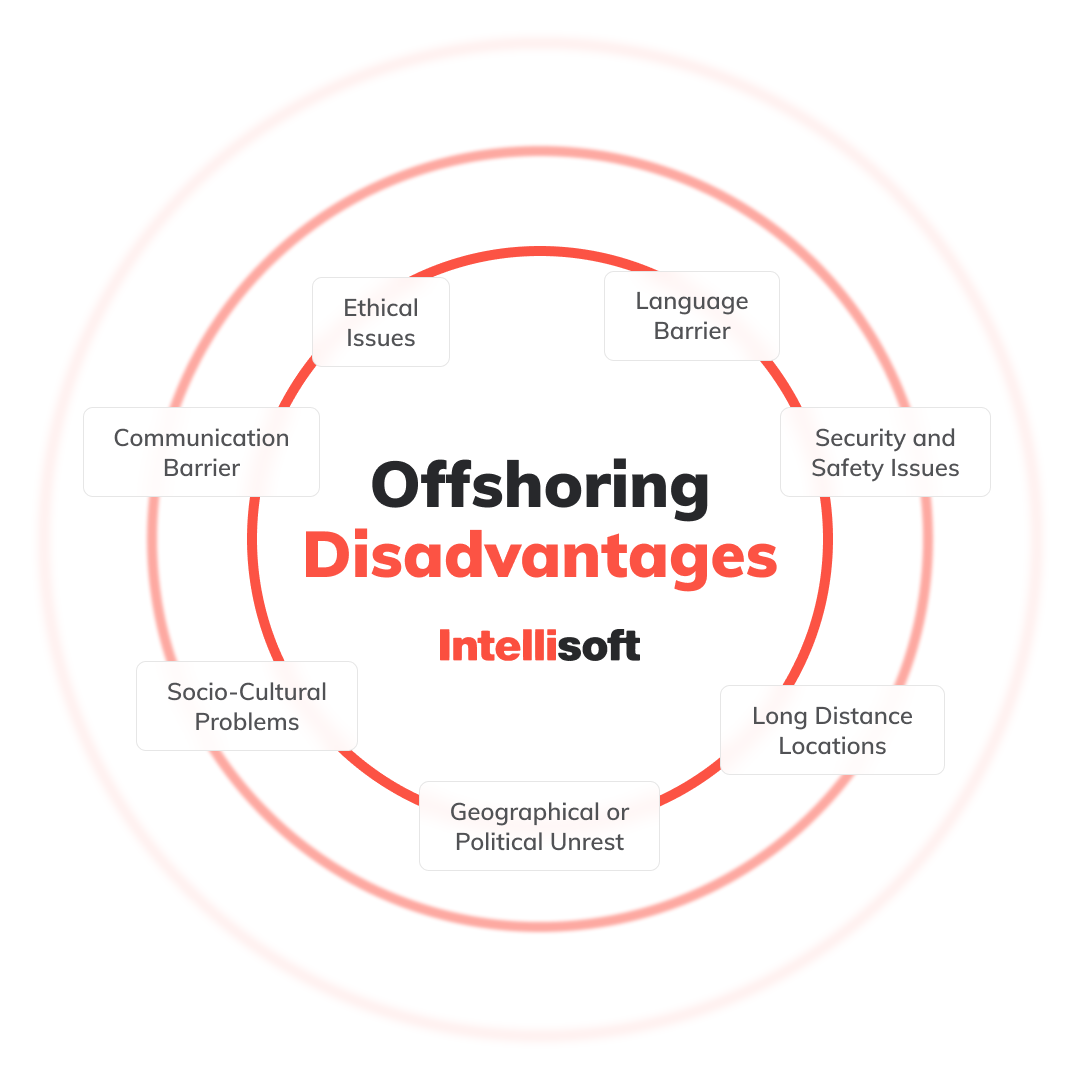 What about the disadvantages of offshoring? As with any business model, this one has some risks and limitations, with all its economy. So, if you decide to attract specialists in such a way, take into account that you will have to face some challenges.
The most frequent stumbling block, especially with full offshoring, is when you cooperate with specialists from far-away countries. This issue complicates communication processes. For instance, if your office starts at 8 am, it may already be nighttime in the country of the specialist's residence. In some cases, this complicates such vital things as meetings, conferences, and business calls.
Whatever one may say, but people with different mentalities have different approaches to work, in particular:
Setting and understanding tasks

Making and executing decisions

Choosing communication style, etc.
This can lead you to disagreements and in some cases even to conflicts. 
Inconsistency of Quality Standards
The concept of high-quality work in another country may differ significantly from the one that is relevant in yours especially if you cooperate with a country that has much lower requirements in terms of quality and technology usage. As a result, the products that are developed by offshored teams risk failing to meet the quality standards of your company. 
Sometimes, offshore companies require more money for their services because of additional costs, the need to attract additional human resources, and other nuances. Such molten prices often confuse business owners, because some smart employees set dumping prices, while others, on the contrary, inflate it with no good reason why. 
Offshoring carries some risks for your data protection system. This doesn't always mean aggressive hacking and data theft. The problem could be different legislative norms of information protection and security systems. In this case, the best solution is to take additional measures to protect data (e.g., encryption, data-loss prevention, monitoring, etc.) and consult with local lawyers. 
Offshoring Pros & Cons: Summary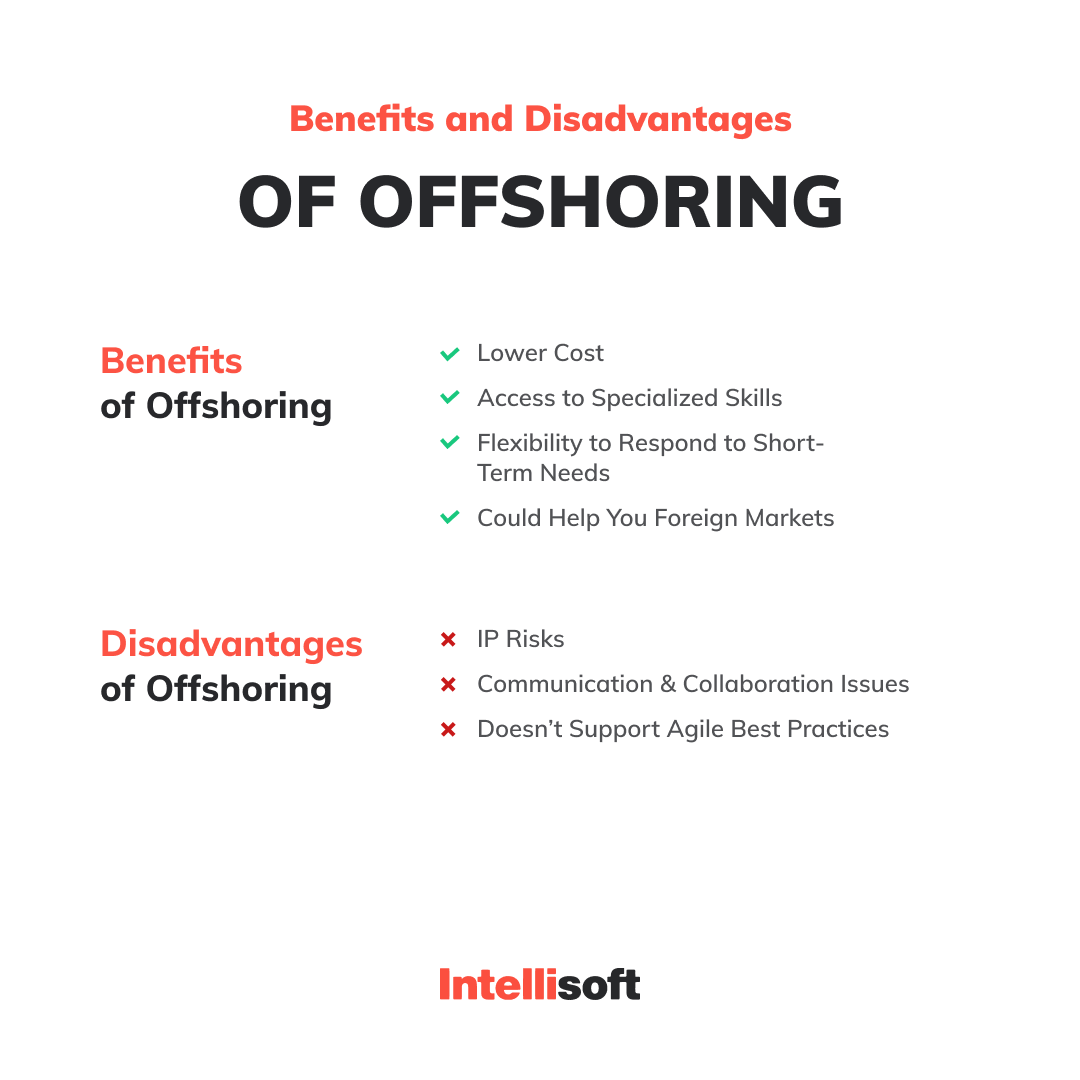 So, offshoring has different pros and cons for various companies and projects. Those who decide to take such a step to win in the financial and corporate aspects should bear in mind how they can benefit:
Cut labor costs

Reduced taxes

Possible incentives from the offshore team's country

Great business development opportunities
However, for the sake of these opportunities, you may face several challenges:
Time zone difference

Cultural and language barriers

Possible threats to the security system

A mix-up with prices
Therefore, it's important to understand how such a decision corresponds to the goals and values of your company and whether it fits at all. After all, offshoring is not the only way to delegate tasks and attract worthy IT specialists. 
Maybe Outsourcing Would Work Better?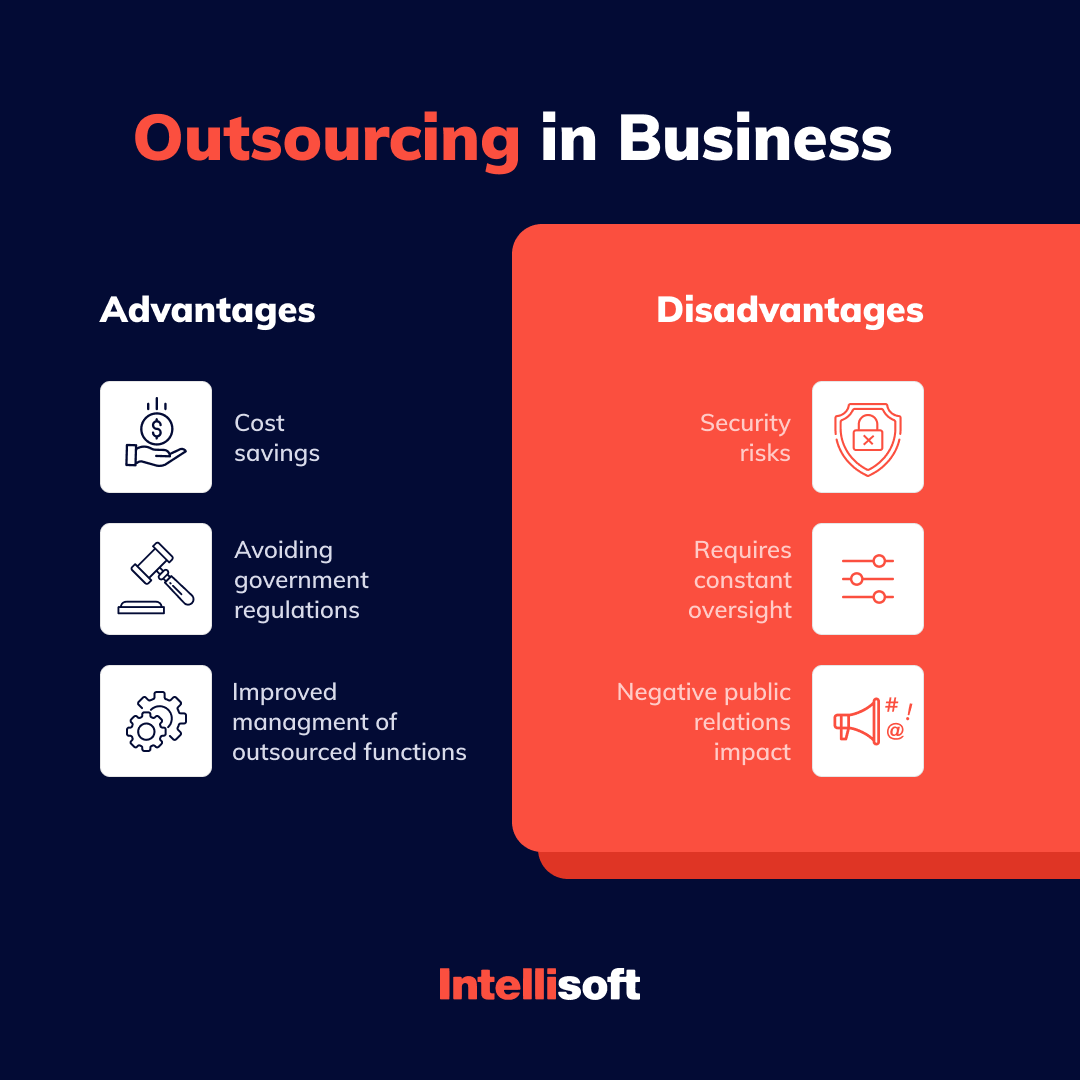 What if you realize the offshoring is not the best option for you after reviewing all pros and cons? It seems that it's easier to hire several freelancers, give them a clear task, and worry neither about legislative nuances nor time zone differences. In some cases, outsourcing is a great solution. You might benefit from offshore outsourcing in case:
You have a short-term project for several months

You need one or more specific specialists for certain tasks

You want to reduce the financial and physical burden by attracting a subcontractor (an outsourcing company)
At the same time, you can recruit a specialist both abroad and/or within your country, avoiding differences in culture and time zones. As for offshoring, it may come in handy if you:
want to make sure that tasks are accomplished by full-fledged employees that are part of your company

plan to move your company's activities to another country

aim to reduce labor costs

would like to expand your staff, business opportunities, or the range of services
If you take into account all pros and cons of IT offshoring and think over a strategy for your project, offshoring will optimize your business and provide global opportunities for your development. 
Want to calculate operating costs of your outsourcing team?
Want to calculate operating costs of your outsourcing team?
Calculate now
How to Avoid Risks from Offshoring
To be warned is to be one step ahead. If you understand that offshoring is exactly what you need for your tasks, learn how to prevent risks. Adjust all the processes to minimize the impact of possible negative consequences of offshoring. 
Hire an IT team of real pros, drawing on the company's portfolio, experience, cases, and history

Consult about local laws regarding your business

Find out more about the tax system 

Create and support clear corporate culture

Take care of strengthening your security system
Offshoring is nothing more than another model for attracting employees and distributing the workload between them. Like any working model, it has risks and opportunities. 
The primary task is to choose the right team. By contacting us, you solve this issue automatically, as we do not just perform the needed tasks, but also:
Communicate in your native language (English, French, German, etc.)

Offer flexible and comfortable cooperation conditions

Solve tasks related to mobile app development, web development, eCommerce, and IoT

Have 50+ talented engineers
We also know that effective cooperation should exclude any risks. Intellisoft guarantees 100% safe services to every client, and we know how to protect your intellectual property.

About

Kosta Mitrofanskiy

A technology expert and entrepreneur with 20+ years of experience in the web & software development business. Kosta used to occupy various positions, from technical to managerial & executive roles. Worked in both corporate and start-up environments. Currently runs Intellisoft Company as its CEO.