Is offshoring good or bad? That is what many executives have in mind. More and more technology executives agree that they are better off hiring outsourced developers teams. Such giants as Google, Sirius XM, Square, IBM, and Univision are among loyal clients of companies that offer skilled staff. As Fortunly reports, 64% of outsourced offshore tech functions have to do with app development. Perhaps, it's time for your company to try offshore outsourcing, especially if you want your upcoming piece of software to be a masterpiece.
IT offshoring is expanding with the speed of light due to sky-high rates of domestic engineers in many developed countries, as well as talent shortage and no access to a pool of new candidates. As fairly noticed by Statista, the outsourcing industry market size of the outsourcing industry has been outstretched from 45.6 bln dollars in 2000 to 85.6 billion dollars in 2018. The international information technologies outsourcing market earned $85.6 billion by that time.
Offshoring is exactly what allows you to fulfill the two basic requests of productive business development at once. They are task delegation and the search for favorable cooperation conditions. In essence, offshoring stands for delegating a task to employees from another country. Many people confuse this concept with outsourcing, but this is not quite true. Each of these models has some nuances and suits different business strategies. In this post, we'll have a closer look at offshoring and outsourcing advantages and disadvantages so that you can choose the most appropriate option for your project. Let's define offshore outsourcing first.
What Is Actually Offshoring?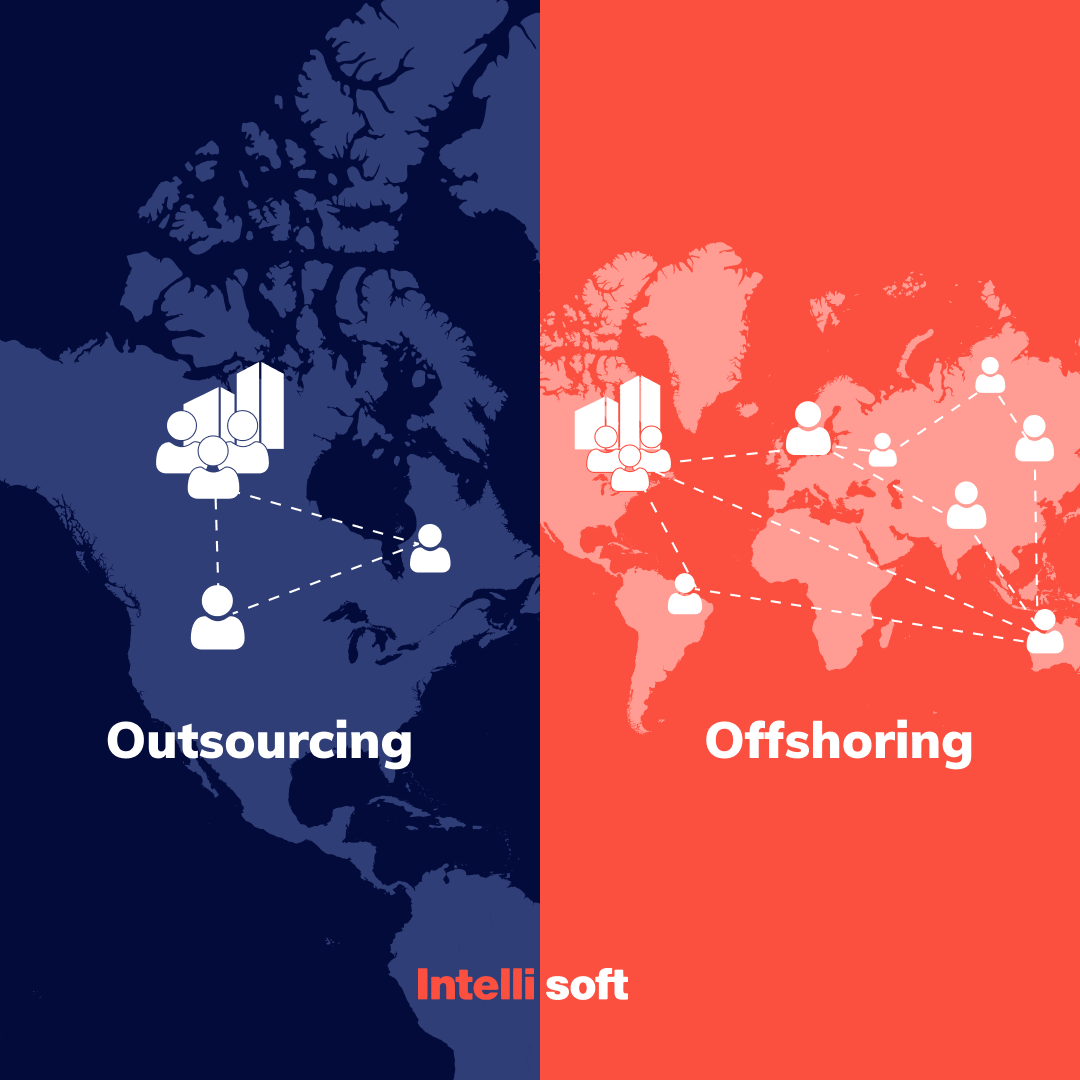 Before discussing offshoring pros and cons, it is necessary to understand several terms. The process of offshoring suggests hiring employees who are full-fledged part of the company's staff and work within the corporate culture. Outsourcing, in turn, involves cooperation with freelancers or agencies to perform the tasks related to a particular project. Many IT companies practice both approaches. They hire employees from foreign countries, predominantly Latin America or Eastern Europe, and they work on behalf of the client's company, performing the assigned tasks. Latin America is often chosen as it possesses the fastest projected IT industry growth of any region, with a forecasted revenue growth rate of 5.3%.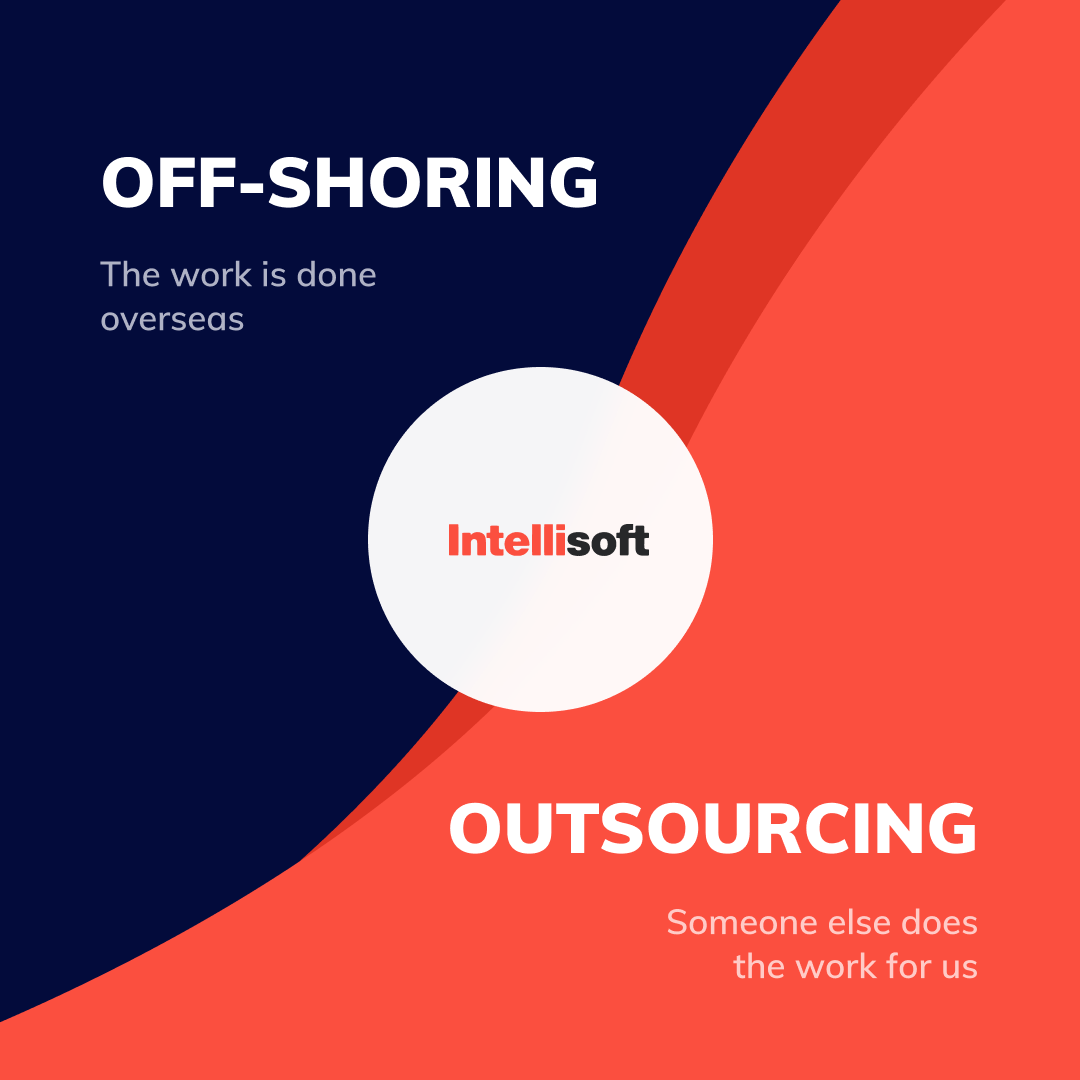 There are four popular types of team extension:
Offshore outsourcing. That is when the tasks are delegated to freelancers or agencies. This option is optimal for short-term projects, allowing you to significantly reduce the labor cost while still obtaining quite acceptable quality. When you have a long-term project, this option may not solve all your requests.

Onshoring. This means hiring staff from your country. Simply put, you have a company that employs staff from another city, for instance. It does not guarantee significant savings on labor costs, but it might be the best option if you want to avoid such nuances as time differences with employees, cultural and language barriers, and differences in technology. 

Nearshoring

. This practice involves hiring employees from a neighboring country. It can provide you with competent employees for a reduced price and, at the same time, with a small difference in time zones.

Offshoring. In this case, a company hires an employee from a developing country (Eastern Europe, Asia). One of the

examples of offshoring

could be Google hiring an engineer in Ukraine to assist with their project. Such countries have smart and high-qualified specialists whose services are much cheaper, while they perform high-quality work in compliance with deadlines and the requirements. Thus, the same task for which you have to pay a compatriot $80-100 in the US can be done by a developer from Eastern Europe just for $30-50 per hour. This option is ideal when it is necessary to avoid rather high costs without losing work efficiency. You can find a more detailed salary report

here

.
Let's focus on offshoring, which can be a very profitable solution and significantly boost your business. The only question is whether it is suitable for you. 
How Are Outsourcing and Offshoring Different?
One more common question is, "Is outsourcing good or bad in general?" Many people confuse these two terms. Businesses should realize the main differences and similarities before deciding which services they need. Here is what makes the two things different.
Outsourcing refers to contracting external organizations or experts, despite their location.

Offshoring stands for delegating non-core activities to staff or third-party professionals in other geo-locations.
Location is the primary feature that makes the two terms different. Offshoring stands for contracting staff or businesses from other locations. If a company decides to recruit experts from countries located nearby, it is defined as "nearshoring."
Many businesses are already actively using outsourcing and its various models. Such giants as IBM, Microsoft, Google, and Apple share that they benefit from outsourcing and offshoring. They especially value talents from offshore locations, such as different countries of CIS. Apple's representatives, in particular, admit that salaries, client care service, and skills push them to use offshore services.
The Current State of the Offshore IT Market
Dynamically growing and changing global markets impact the way IT organizations function. This industry gets along well with a multi-location structure and offshoring. In other words, these organizations can capitalize on the opportunities of every site.
Decreased overhead and growth opportunities are two basic benefits of information technology offshoring. With new days to come, more companies have started increasing investments in computer science and related fields. During the last ten years, the way companies use IT products and services has been modified a lot. For instance, cloud tech and enhanced interconnection of world's cultures improved communication.
Offshoring is one of the business models that has impacted the industry. Most offshoring attempts are driven by offshore IT instead of products. The change in the driving forces took place in the late '80s and early '90s. It is still happening,
Offshore app development saves plenty of costs for a company that implements this practice. Countries outside of the US are starting to create their offshore information technologies organizations. That is an excellent chance for companies to take new roots prior to the increase in prices. Such features as advanced tech, affordable infrastructure, language and more pros drive organizations to relate parts of their businesses, especially the offshoring IT units.
In general, since 2000, the influx of companies that enter new locations has boosted the spread of offshoring in the IT industry. To get an overall picture, readers can check the 2017 report. App development took the highest spot at sixty-four percent. At the same time, information tech features dominate the leading offshored services in recent years.
Reasons Why IT and Development Companies Use Offshore Services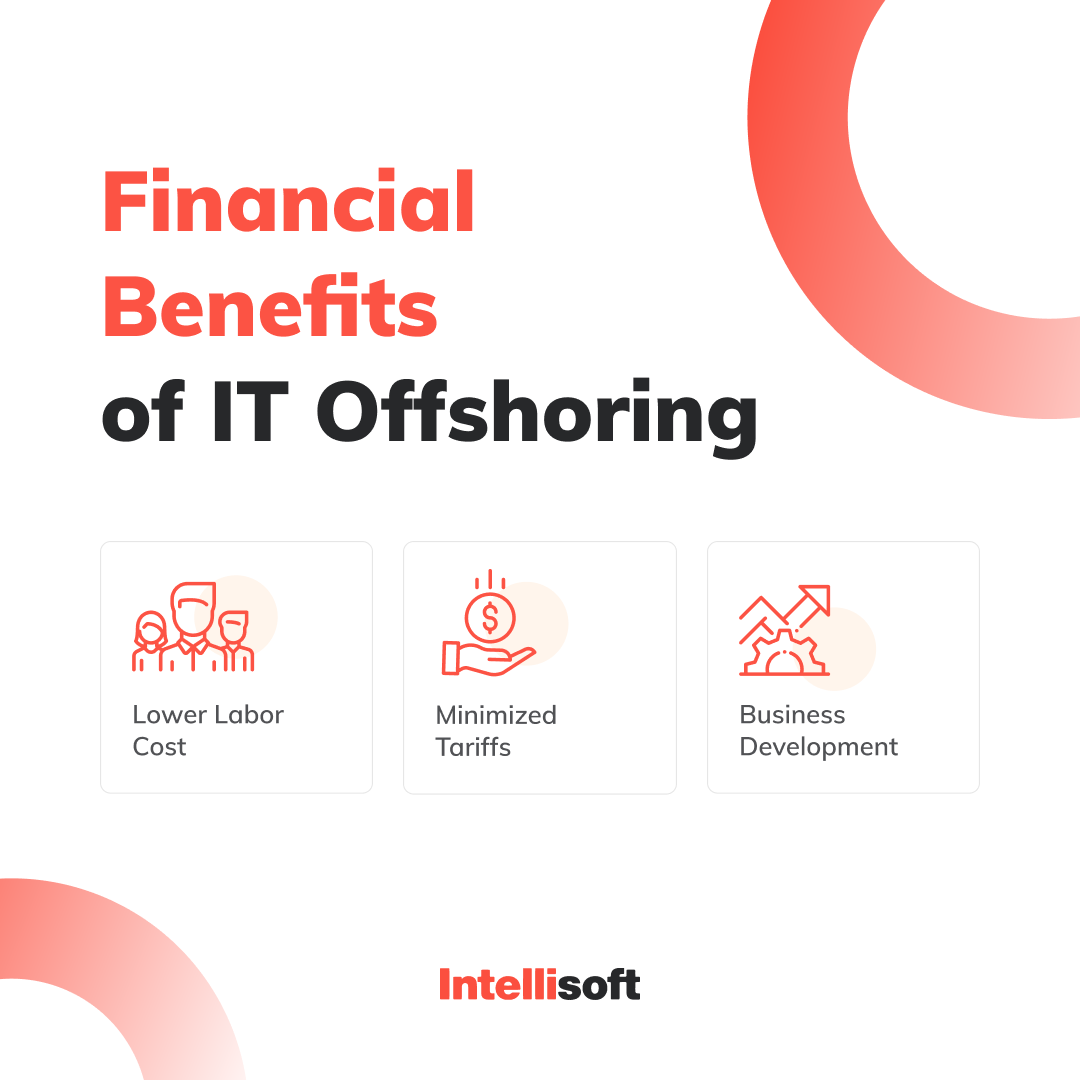 Offshoring is not always successful. However, the reasons for companies to hire offshore teams are still meaningful. Mostly, they do that to balance benefits and costs. Other reasons also make sense.
Concentrate on core tasks. Instead of wasting time on secondary activities, the company's executives can focus on their primary tasks thanks to offshoring services. The hired staff will accomplish all tasks on time with no compromise on quality, while business owners can dedicate more time to management, for example. Businesses obtain more time and resources to come up with new strategies. At the same time, an offshore agency fully takes control of the development and support activities.

Expanded talent pool. The shortage of qualified pros is one more reason companies are looking for offshore teams. In most cases, small to medium-scale businesses use those services. Their goal is to find not just anyone but experts in the top popular programming languages. The top languages include JavaScript, Python, Ruby, XML, PHP, and Perl. One obstacle exists. The problem is that salary expectations are out of reach for many startups and small businesses. 

More financial opportunities for capital expenses. IT companies face considerable expenses. What does having more money to allocate for capital investments mean? It means generating higher profits and growing business.
How Should You Know Whether Offshoring Is Right for Your Business?
Before turning to offshore services, many companies wonder whether it will make sense to apply IT offshoring. It's vital to ask a series of questions. Decision-makers and executives should answer them honestly before using any outsourcing or offshoring services. Have a look at the to-do list below. That is how you'll get the answer.
Is there a need for scaling your staff?

What is the right way to hunt and attract IT talents? 

Do you have enough money to cover operational expenses?

Can you access a pool of candidates who possess the expertise you're looking for?

Where do you plan to go offshore?

Are you shifting your focus to product or service quality?
No matter whether you are a CEO or another executive, you should have these questions in mind and answer them frankly.
IT Offshoring Advantages
Why do companies often resort to such a model as offshoring? It happens when certain business tasks and processes are delegated to an overseas executor. At the same time, the contractor is part of the company's staff. Some countries are very popular for IT offshoring. These are India, Ukraine, Poland, Argentina, and other developing countries. Ukraine's booming IT sector, for example, defies the COVID-19 crisis and keeps on expanding its talent pool. The advantages of offshoring can help your business win in many terms, especially when it comes to your budget. 
Salaries in developing countries are usually much lower than in prosperous countries, which means that the average fee of a specialist from Asia or, say, Poland will be several times lower than in the USA or Canada. At the same time, everyone will be in the black: 
You get a qualified employee who is ready to work on your terms

They receive stable social benefits and a salary that is quite decent by local standards
It is worth saying that developing countries have many excellent specialists for hire: programmers, web designers, developers, and others. In the United States, for instance, you will be forced to pay such an employee an average of 150 USD per hour, then an offshore employee from Asia will work for 40 USD per hour (on average), remaining rather satisfied with such conditions.
Some developing parts of the world encourage such cooperation with their residents because it is an investment in their country. For this, they can offer reduced taxes and other privileges.
Saved labor costs and reduced rates are the keys to business development. You can expand your services and financial opportunities, invest or reinvest the money, etc. 
Offshoring makes your opportunities more extensive and your business wider. It also means new acquaintances, a big talent pool, and more experience in working with foreign markets. Such a background allows you to know all the subtleties and nuances of the overseas market (e.g., risks and opportunities). Moreover, you are opening new horizons, because this can bring world-class pros to your company in every sense of the word. 
IT Offshoring Disadvantages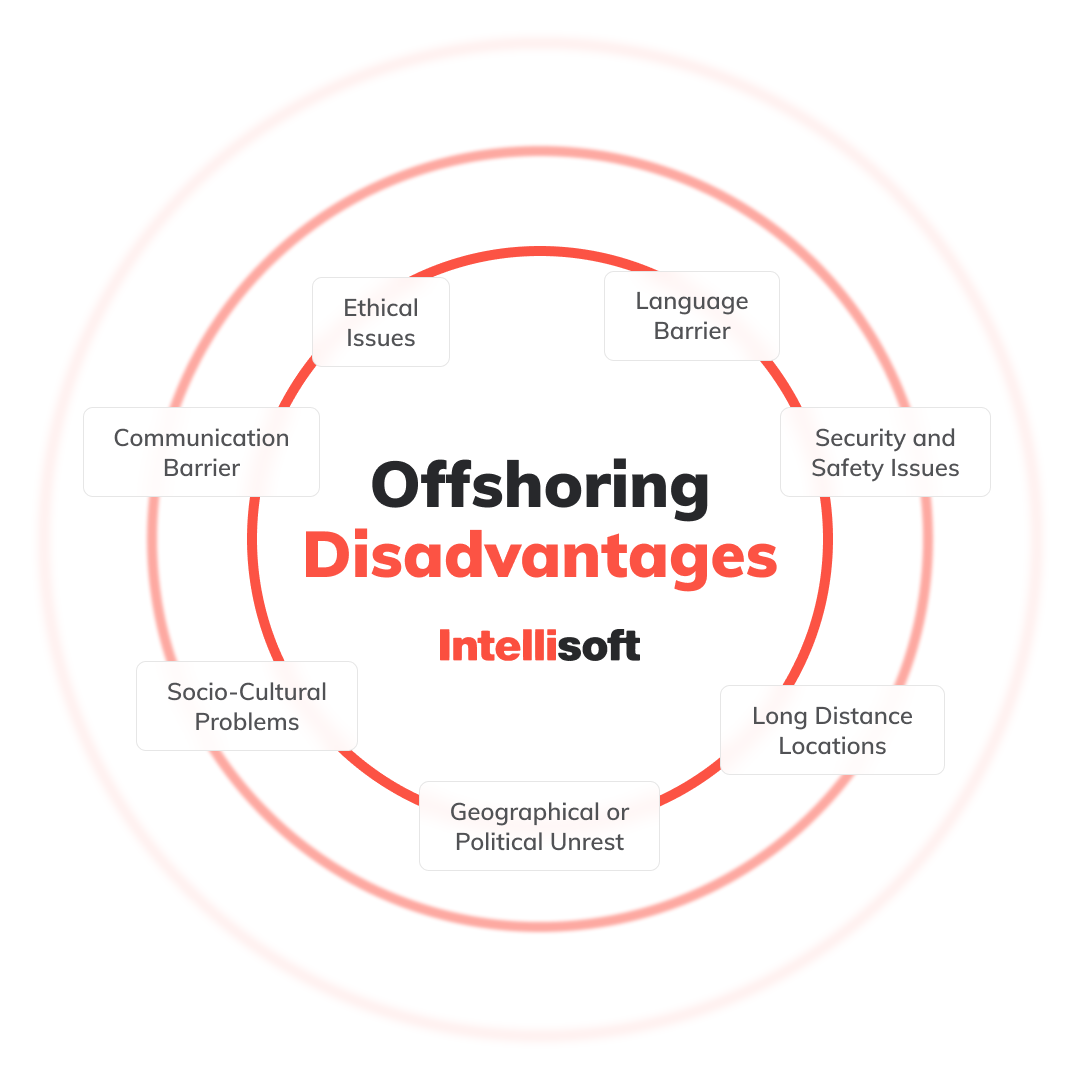 What about the disadvantages of offshoring? As with any business model, this one has some risks and limitations, with all its economy. So, if you decide to attract specialists in such a way, take into account that you will have to face some challenges.
The most frequent stumbling block, especially with full offshoring, is when you cooperate with specialists from far-away countries. This issue complicates communication processes. For instance, if your office starts at 8 am, it may already be nighttime in the country of the specialist's residence. In some cases, this complicates such vital things as meetings, conferences, and business calls.
One of the basic cons of offshoring is cultural gap. Whatever one may say, but people with different mentalities have different approaches to work, in particular:
Setting and understanding tasks

Making and executing decisions

Choosing communication style, etc.
This can lead you to disagreements and in some cases even to conflicts. 
Inconsistency of Quality Standards
The concept of high-quality work in another country may differ significantly from the one that is relevant in yours especially if you cooperate with a country that has much lower requirements in terms of quality and technology usage. As a result, the products that are developed by offshored teams risk failing to meet the quality standards of your company. 
Sometimes, offshore companies require more money for their services because of additional costs, the need to attract additional human resources, and other nuances. Such molten prices often confuse business owners, because some smart employees set dumping prices, while others, on the contrary, inflate it with no good reason why. 
Offshoring carries some risks for your data protection system. This doesn't always mean aggressive hacking and data theft. The problem could be different legislative norms of information protection and security systems. In this case, the best solution is to take additional measures to protect data (e.g., encryption, data-loss prevention, monitoring, etc.) and consult with local lawyers. 
Offshoring Pros & Cons: Summary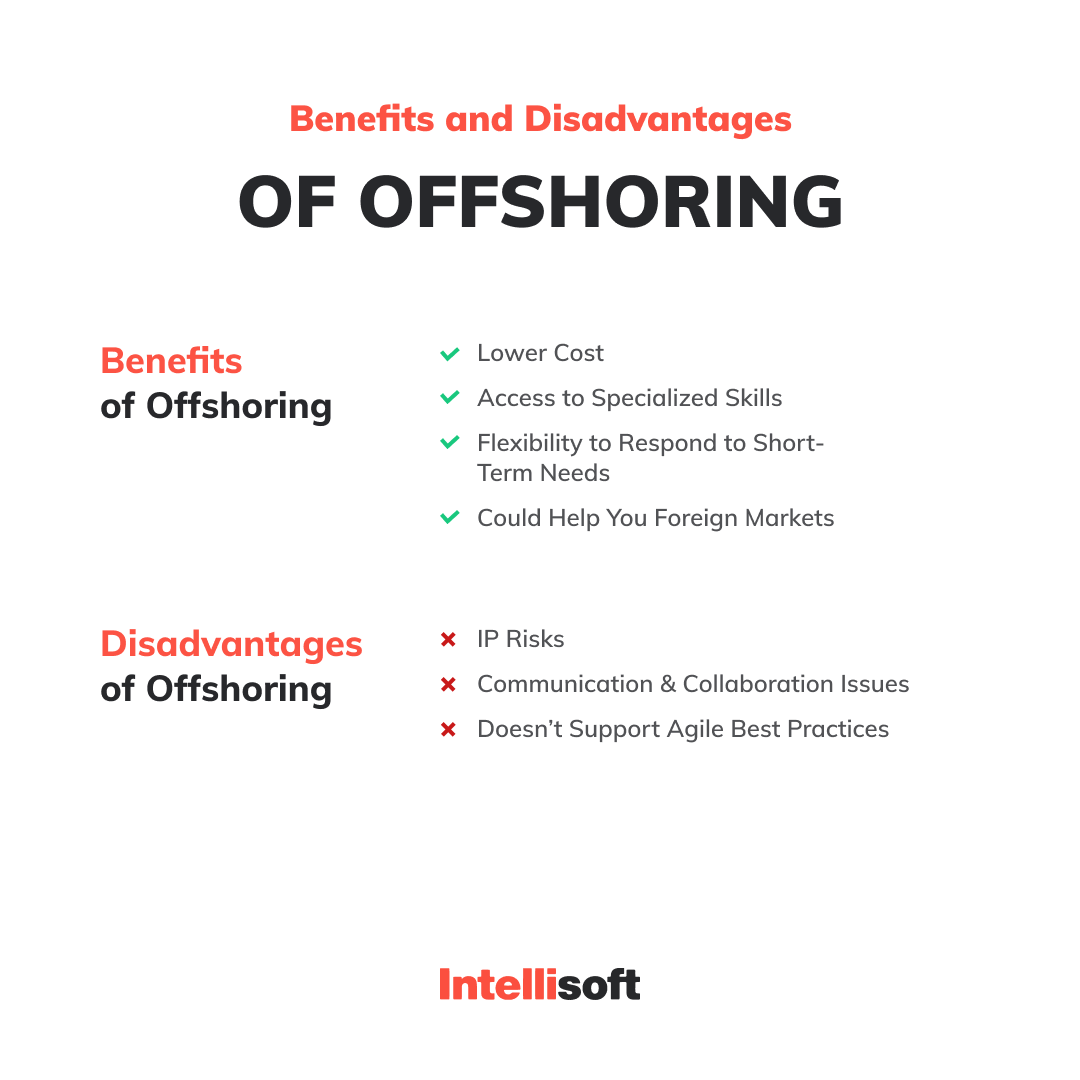 So, offshoring has different pros and cons for various companies and projects. Those who decide to take such a step to win in the financial and corporate aspects should bear in mind how they can benefit:
Cut labor costs

Reduced taxes

Possible incentives from the offshore team's country

Great business development opportunities
However, for the sake of these opportunities, you may face several challenges:
Time zone difference

Cultural and language barriers

Possible threats to the security system

A mix-up with prices
Therefore, it's important to understand how such a decision corresponds to the goals and values of your company and whether it fits at all. After all, offshoring is not the only way to delegate tasks and attract worthy IT specialists. 
Business Challenges Associated with Offshoring 
Offshoring is appropriate for a business when it wants to expand its staff for relatively cheap. However, certain risks exist. If you know the challenges, you are armed to the teeth and can avoid them. Here are some risks that sometimes scare companies off. However, benefits still dominate.
Offshoring locations are effective for installing systems that adhere to all standards. A project that demands large-scale production is efficient for Southeast Asia in the first place. Staff from this region are well-aware of how to accomplish assignments precisely and accurately.
As stated by Offshoring Research Network, many US organizations name the shortage of candidates as one of the main challenges. Offshoring allows accessing many regions with experienced and skilled personnel.
Companies will not have to spend a lot of money hiring offshore employees. Saving up to eighty percent in costs is possible using offshoring services. Businesses offshore their projects far away to reduce manufacturing expenses significantly. That is why they usually choose regions with relatively low wages and utilities.
Most agencies that offer offshore services operate round-the-clock. A non-stop regime allows their representatives to support both new and existing clients. This way, the clients will be able to track the project's progress. Organizations can cover time zones outside their everyday processes via subsidiaries. It assists with boosting efficiency.
How to Avoid Risks from Offshoring
To be warned is to be one step ahead. If you understand that offshoring is exactly what you need for your tasks, learn how to prevent risks. Adjust all the processes to minimize the impact of possible negative consequences of offshoring. 
Hire an IT team of real pros, drawing on the company's portfolio, experience, cases, and history

Consult about local laws regarding your business

Find out more about the tax system 

Create and support evident corporate culture

Take care of strengthening your security system
Offshoring is nothing more than another model for attracting employees and distributing the workload between them. Like any working model, it has risks and opportunities. 
HOW TO CHOOSE THE RIGHT PARTNER FOR IT OFFSHORE OUTSOURCING
Now that you realize the pros and cons of offshore outsourcing, it is time to look at another important aspect. Choosing the right vendor is not easy, but the success of your project depends heavily on this factor. Mid-sized businesses that provide outsourcing services are often the best option. They have a larger talent pool than small companies or startups and are less expensive compared to prominent vendors. The organization should have a powerful team of hiring managers so that you do not waste time on recruitment at all. Perhaps, they already have vacancies of your interest. Review the entire technical portfolio. It will show you whether specific experts possess similar experience and skills. So, here is what you should consider when selecting a provider of outsourcing services.
Select a preferred location
Some regions are better for outsourcing than others. Eastern Europe and Asia might be the right choice. In the first case, look for engineers in such countries as Poland, Ukraine, Belarus, the Czech Republic, and Romania. As for the second region, the best places would be China, India, and the Philippines. However, mind that their experts are less skilled than European tech professionals. COVID-19 has also affected the Asian region more than European countries. At the same time, Asia has the lowest rates. 
Decide on the model of cooperation
Pick a company that has several models of hiring developers to choose from, as variety always matters. The local managers will assist you with selecting the right option after discussing your project details, requirements, and expectations. In most cases, you will have to choose between a dedicated development team (DDT), a fixed-price model, and T&M. Each of them suits different business requirements.
Study the security policy
Many cybersecurity risks exist. Thus, it is necessary to check the security policy of the outsourcing company first. It matters even more than an extended portfolio. Among all, make sure that the company can prevent you from facing such problems as phishing attacks, data leakage, infrastructure issues, and heavy loads on IT systems. Notice if the following standards are involved: ISO 27001:2013, PCI DSS, ISO 9001:2015, and HIPAA. Every reliable outsourcing organization should know them and obey them.
Does the target company have a powerful brand? Check whether the provider can provide staff with convenient working conditions, professional growth, fair compensation, training opportunities, and more.
Look for DevOps Expertise
At least, it would be a great advantage for the outsourcing company. These practices assist with optimizing and cutting IT expenditures. Make sure that your possible partner can undergo an audit to find out more about the threats, requirements, and opportunities. DevOps is necessary for infrastructure usage optimization and resource cost optimization.
Maybe Outsourcing Would Work Better?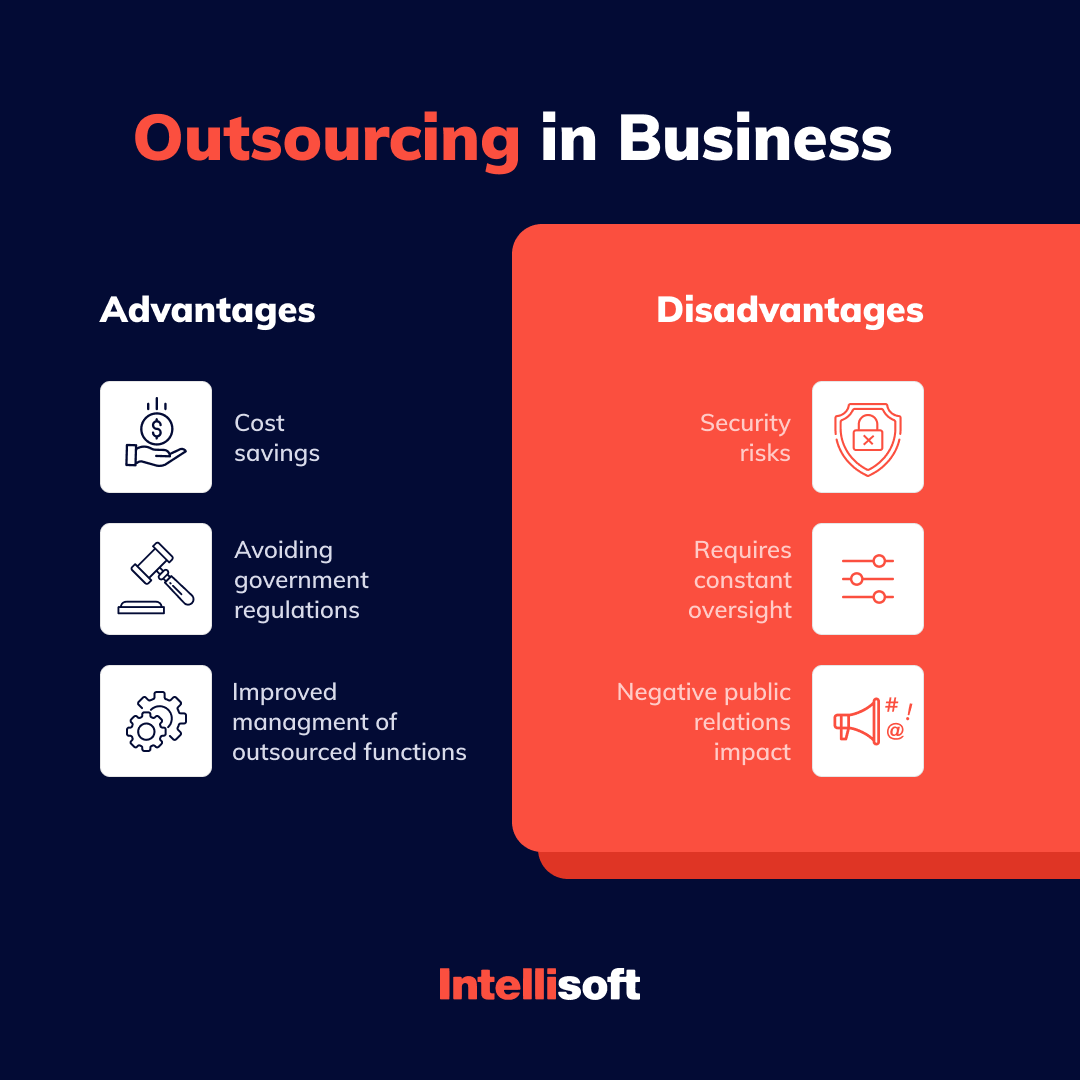 What if you realize the offshoring is not the best option for you after reviewing all pros and cons? It seems that it's easier to hire several freelancers, give them a clear task, and worry neither about legislative nuances nor time zone differences. In some cases, outsourcing is a great solution. You might benefit from offshore outsourcing in case:
You have a short-term project for several months

You need one or more specific specialists for certain tasks

You want to reduce the financial and physical burden by attracting a subcontractor (an outsourcing company)
At the same time, you can recruit a specialist both abroad and/or within your country, avoiding differences in culture and time zones. As for offshoring, it may come in handy if you:
want to make sure that tasks are accomplished by full-fledged employees that are part of your company

plan to move your company's activities to another country

aim to reduce labor costs

would like to expand your staff, business opportunities, or the range of services
If you take into account all pros and cons of IT offshoring and think over a strategy for your project, offshoring will optimize your business and provide global opportunities for your development. 
Want to calculate operating costs of your outsourcing team?
Want to calculate operating costs of your outsourcing team?
Calculate now
To be warned is to be one step ahead. If you understand that offshoring is exactly what you need for your tasks, learn how to prevent risks. Adjust all the processes to minimize the impact of possible negative consequences of offshoring. 
Hire an IT team of real pros, drawing on the company's portfolio, experience, cases, and history

Consult about local laws regarding your business

Find out more about the tax system 

Create and support clear corporate culture

Take care of strengthening your security system
Offshoring is nothing more than another model for attracting employees and distributing the workload between them. Like any working model, it has risks and opportunities. 
The primary task is to choose the right team. By contacting us, you solve this issue automatically, as we do not just perform the needed tasks, but also:
Communicate in your native language (English, French, German, etc.)

Offer flexible and comfortable cooperation conditions

Solve tasks related to mobile app development, web development, eCommerce, and IoT

Have 50+ talented engineers
We also know that effective cooperation should exclude any risks. Intellisoft guarantees 100% safe services to every client, and we know how to protect your intellectual property.

About

Kosta Mitrofanskiy

A technology expert and entrepreneur with 20+ years of experience in the web & software development business. Kosta used to occupy various positions, from technical to managerial & executive roles. Worked in both corporate and start-up environments. Currently runs Intellisoft Company as its CEO.