Legal documents do not have to be on paper to be legally binding, but if you want them to have more legal force, you must take a few steps. The best way is to use a specialized electronic signature app to add a digital signature.
You may often need to sign dozens of contracts, specifications, forms, and other legal documents. Many specialists, like freelancers, get excited when they see a link to electronic signature software in an email, as it significantly reduces their time and even nerves. It makes no wonder electronic signatures software is in high demand nowadays, and you may want to develop your exclusive solution.
IntelliSoft has integrated one of the electronic signature SaaS, DocuSign, for the project of an industrial equipment manufacturer. With the help of REST API, we incorporated the client's accounting software with their ERP system. In addition to a cloud-based storage option, we integrated an electronic signature (eSignature) module into the ERP. Then, we incorporated DocuSign Agreement Cloud, a web-based service for creating, signing, and maintaining legal documents.
As you can see, we have solid expertise in electronic signatures. We have reviewed and tested nearly 50 e-signature apps, and here are the top seven for everyone. Besides, we will tell you more about this software category in general.
What Is E-Signature Software?
An electronic signature is not a physical asset that you can pick up but a document requisite that allows you to confirm that the electronic digital signature (EDS) belongs to its owner, as well as record the state of information/data (presence or absence of changes) in an electronic document from the moment of its signing.
Software for creating electronic signatures is a cryptographic utility necessary for correctly operating all elements of e-document flow. You may use them to generate an electronic signature, authenticate the certificate, and create a signing time point.
Individuals, legal entities, and individual entrepreneurs can use electronic signatures. An electronic signature is sometimes necessary: most taxpayers can submit reports to state regulatory authorities only electronically. Users may also need an electronic signature to participate in electronic tenders. In other cases, an e-signature significantly simplifies the document flow and the process of obtaining many other services.
ESignature software enables you or your business to give/receive a legally binding signature instead of wasting time on other alternatives. In many different procedures, an electronic signature can replace a handwritten signature, which is not only more secure but also more trusted all over the world.
Why Use eSignature Apps
Electronic signature solutions can make it easier for remote workers to send and receive contracts and other files that need to be signed. Electronic signatures software can process these docs, so remote workers don't need a scanner or printer. Most of the time, the software can use already-made templates to send documents electronically, and workers get alerts when docs are signed and returned.
Businesses can improve customer service by allowing signers to receive, review, and sign documents electronically. Additionally, by integrating with customer relationship management (CRM) software, businesses can receive notifications when partners or clients receive, review, and sign agreements.
The ability to trace the whereabouts of papers and monitor their circulation is made possible by audit trail systems, which can also reveal alterations made to legal contracts. The software may record details like who, when, where, and with whom signed a document. In some cases, this is also crucial for fulfilling legal requirements for compliance.
The electronic signature program also intends to help businesses save money by eliminating a paper trail for contracts, thus decreasing the need for printing and physical file storage. Electronic signature solutions can reduce administrative and office expenses such as paper, pens, fax machines, printers, and ink/toner.
To sum up, the pros of using e-signature tools are:
Reduced time and effort. Users should not waste time on visiting a physical premise to prove their identity.
Minimized stationery expenses (whether for home or office usage). Businesses should not purchase office equipment like printers.
Signature tracking. Parties can keep an eye on all the signatures in real-time.
Remote work. It is possible to work with the docs and confirming them without leaving home.
Safety of docs. At the same time, such software guarantees personal data security thanks to encryption and other protection measures.
Accessibility from anywhere in the world. Users can verify docs in any point of the world being connected to the internet.
These are only the standard features. Some apps offer much more.
How Do Electronic Signature Solutions Work?
The question is how to electronically sign a document. Using a mathematical method, providers of digital signing solutions generate two keys, a public key, and a private key. The software creates a cryptographic hash whenever a digital signature applies to a document.
The sender's private key is kept in a safe place inside an HSM device and is used to encrypt the resulting cryptographic hash. After that, the sender appends a public key to the doc, forwarding both to the recipients.
The recipient can decrypt the encrypted hash using the sender's public key certificate. The system generates one more cryptographic hash on the receiver's side. The system then compares both cryptographic hashes to determine the data's validity.
Types of E-Signatures
Depending on your initial purposes, you can choose between several types of e-signatures.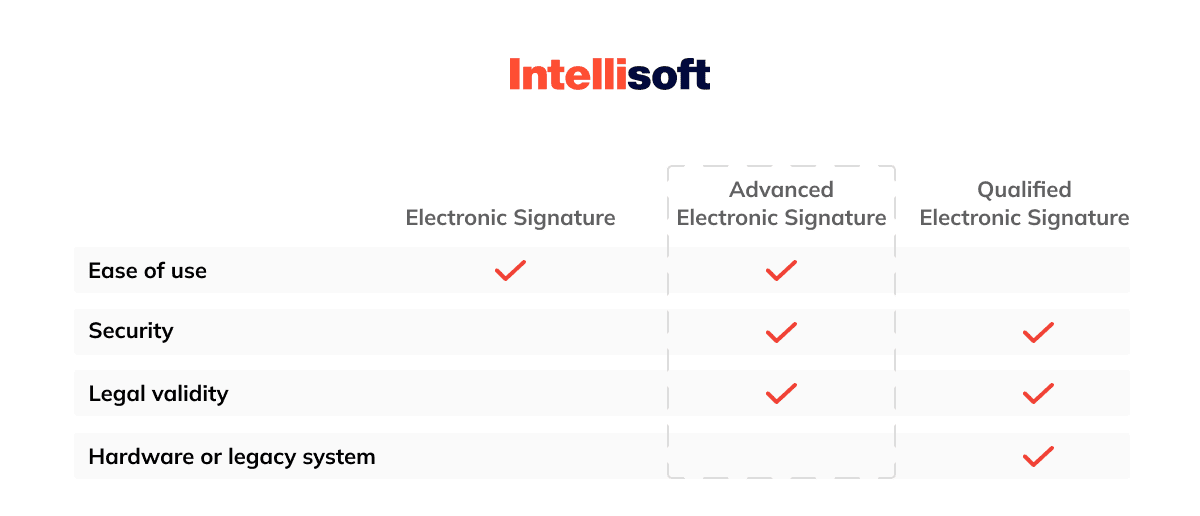 An electronic signature is your typed, drawn, or computer-added signature on a document. You can make it in almost any program, from Microsoft Word to Adobe Photoshop. It is still legally binding, but you may need help in a contested court case because anyone can easily forge it.
A digital signature is an electronic, encrypted seal to verify the origin of digital data. For official purposes, digital signatures are much more reliable and legally recognized worldwide – and a particular eSign application is needed to add them. If there is ever a court case, it will be much more challenging for someone to claim that they did not sign the document.
Standard electronic signatures (SES)
A simple ES is a login/password or SMS code that you enter to authorize yourself in an online store, the State Services portal, or the internal corporate network, confirming your identity. A simple electronic signature is legally valid when providing insurance, state and municipal services, as well as if the participants of the doc flow agree to recognize it.
Advanced electronic signatures (AES)
AES is suitable for internal document flow. It is an encrypted combination of characters that confirms the user's identity and allows you to detect changes in a document after signing it. This document gains legal significance if there is a legal indication or an agreement between the parties. Users can draw up AES independently or at a certification center.
Qualified electronic signatures (QES)
This one is the safest type of online signature. The system creates a qualified signature with the help of encryption. The Federal Security Service certifies the signature later. Any document the law does not forbid to be drawn up in electronic form can be signed with a QES. It will have full legal force.
Electronic vs. Digital Signatures in Web Applications
You may need to pick digital or electronic signatures if you frequently sign documents. A proposal, quote, contract, or another legally enforceable document may have an electronic signature.
A digital signature is a highly secure and verifiable form that can only be generated using specialized software.
Establishing costly tech infrastructure, including purchasing a digital certificate from a certificate authority required for digital signatures, may not be necessary if you run a small business or manage the document workflow at a larger company that does not deal with specialized contracts in areas like defense or government.
Types of E-Signature Software
You can deploy a couple of types of e-signature applications.
Customers deploy on-premises e-signature tools on hardware that they own and maintain. Most customers that use on-premises products obtain a perpetual license and pay an annual maintenance fee based on the number of users. On-premises tools may be client-server tools requiring software installation on each user's PC or browser-based. Installing and maintaining on-premises tools requires hardware investments and IT support.
These days, cloud services are the primary incubator for brand-new e-signature platforms. Electronic signature tools hosted in the cloud are browser-based and use a software-as-a-service (SaaS) pricing model.
Average cloud pricing is a flat rate per user per month. Cloud-based tools are convenient because users can set them up quickly. These solutions don't need expensive upfront hardware, and it's possible to pay for them on a usage basis.
Features of E-Signature Apps
In addition to integrating with CRM and document management systems, several e-signature providers also offer integration with popular cloud storage and collaboration platforms, including Salesforce, Dropbox, and Google Drive. In general, here are the features common to e-signature tools:
Recognition of e-signature
Access controls
Document storage
Ready fonts and samples
Annotation & editing tools
Authentication and identity proofing
Support for digital pens
Audit trails
Workflow automation
Various doc templates (e.g., job applications or invoices)
Data protection & security
Various tools can have different features. However, below, you can find those common for this app category.
The ability to send a document to another person
Creating a doc is not enough. After all, the next step is sharing it with others. Both sender and recipient should find it quick and easy to sign a document or submit/check it. The recipient should also be able to do this without registering an account or installing any app.
Affordability for small and medium-sized businesses
You can find many eSign applications with expensive pricing plans, contract restrictions, and a focus on enterprise customers. At the same time, it's possible to use a free app for signing documents with certain limitations.
The ability to add an electronic/digital signature to any doc
The simpler, faster, and easier it is to sign a doc using the application, the better. A user can create their unique signature and then copy-paste it whenever needed. Another option is to add a typed name in the doc.
Security & confidentiality
Ensure that your application meets your country's or industry's compliance standards. Any application that can store sensitive documents, such as contracts, has to address the safety issue somehow. Things like encrypted or password-protected docs, US or EU government compliance, and digital signature support all matter when selecting an eSignature software. They can vary widely.
The Best 7 e-Signature Software Providers
As we promised, here are the best signature applications.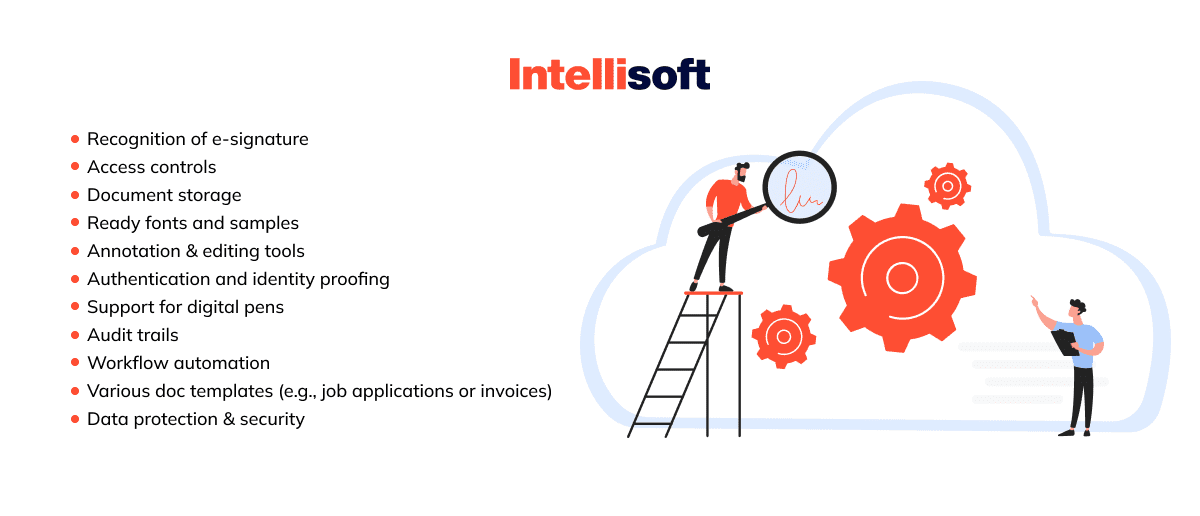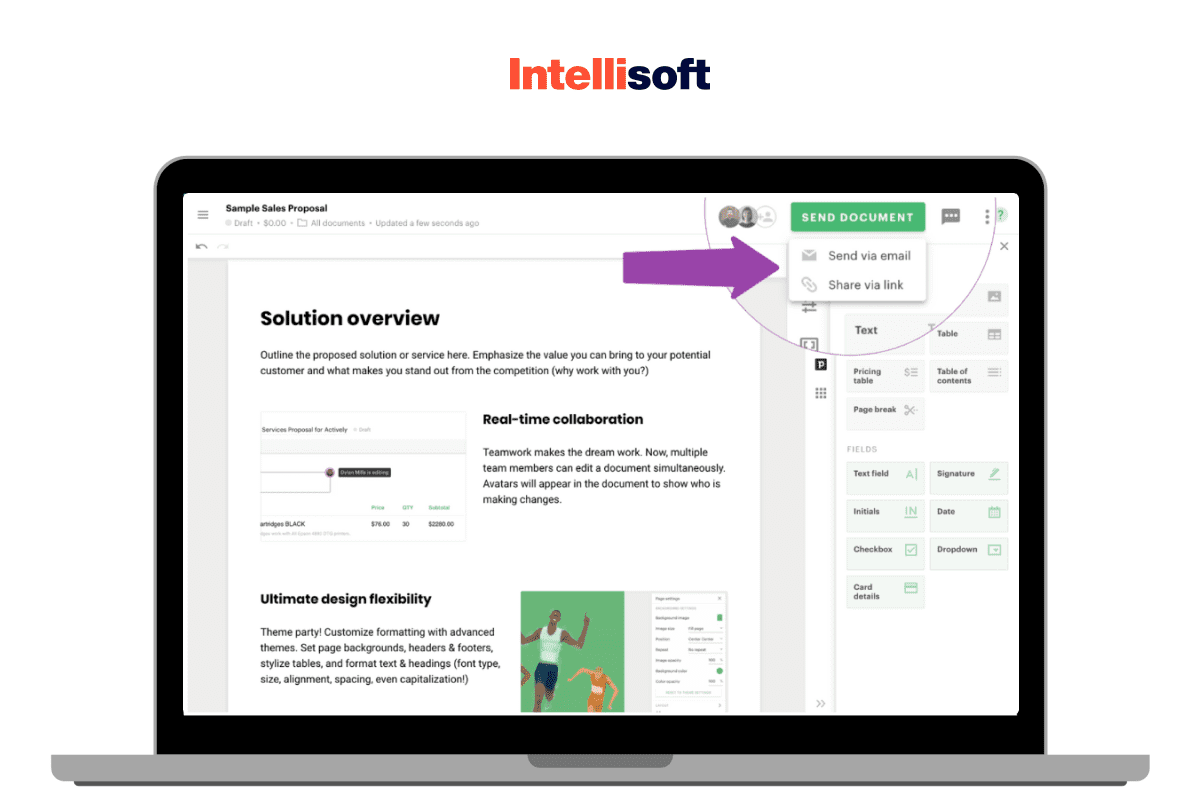 PandaDoc is an all-inclusive application that facilitates document creation, collaboration, and electronic signatures as part of a documented process. The system is compatible with popular customer relationship management and productivity suites and comes with a collection of legal agreements and terms that have already been approved. Templates for common types of business documents like proposals, RFPs, forms, and contracts may be quickly generated using the in-app editor.
PandaDoc enables over 40,000 users to generate, manage, and e-sign all their documents effortlessly. We offer a digital and centralized workflow platform that reduces inefficiencies, which can increase productivity.
Thanks to PandaDoc, you can concentrate on essential tasks instead of being overwhelmed by time-consuming busy work.
Users can combine PandaDoc with third-party software and add it to PDFs and Word documents through the application programming interface (API). It provides pre-built interfaces with popular applications like Dropbox, Salesforce, Zapier, Zoho, and HubSpot.
The price per plan starts at $19 per month and includes templates and analytics.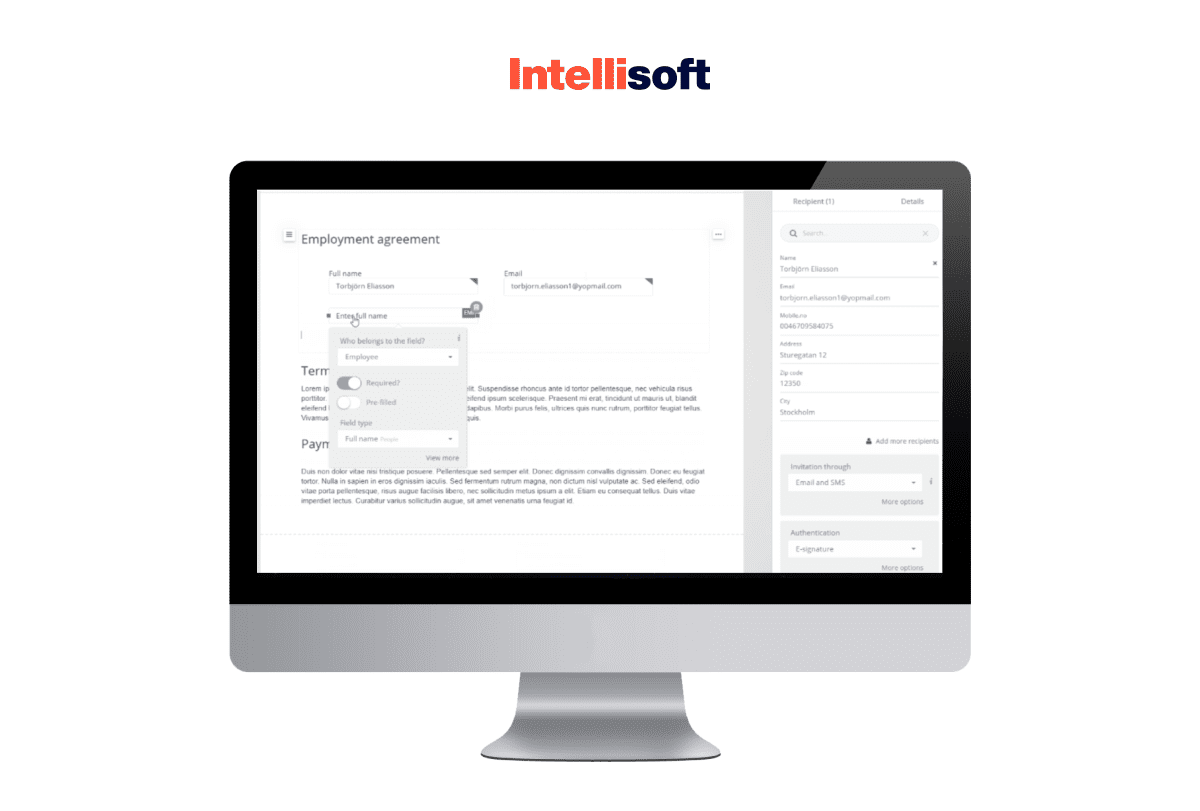 eSignatures.io is a straightforward electronic signature application that operates on a pay-as-you-go basis and does not necessitate a monthly subscription. You are only responsible for paying for the number of documents you transmit. This is very helpful for several organizations that are getting close to the conclusion of a contract with a certain customer.
While it is possible to use eSignatures.io to send out a single contract to a single recipient, this is not how the service was intended. The primary use for this program is to create batch templates for automated contract issuing to several clients simultaneously.
Attractive features include bulk sending, user management, multilingual support, 2FA, white labeling, audit trails, and submitting contracts to cell phones through SMS or QR code. eSignatures.io can also be used with Zapier.
eSignatures.io has an unusual approach to paying for its subscriptions. You pay a flat rate of $0.49 per credit to utilize this software.
Preview for macOS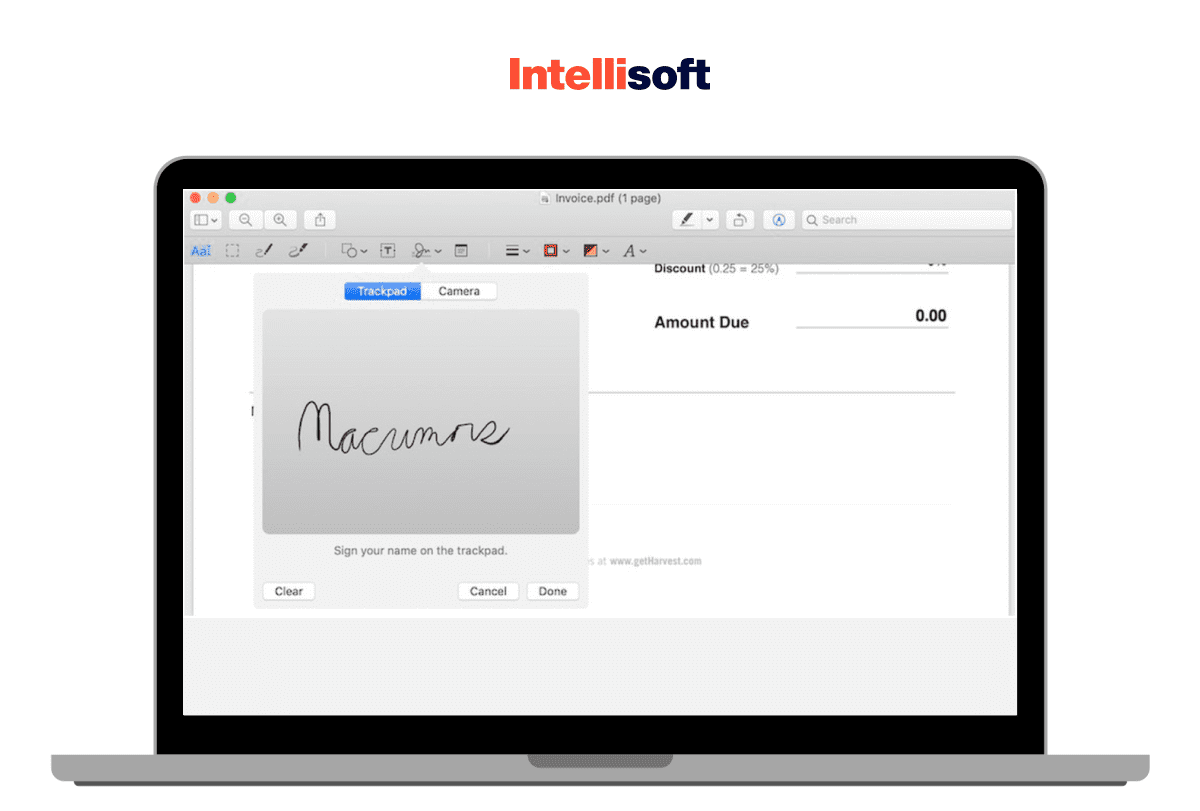 Preview Now incorporates a built-in digital signature function. If one has sent a document to sign, there are a few options, but no one is interested in the additional security features. When using a Mac, there is no need to download or register any programs or subscriptions.
Want To Develop Own Electronic Signature Software?
Learn More
Signing a piece of paper and bringing it to the camera will work just as well as using a trackpad or iPhone. Preview the file you want to sign, navigate to Tools > Annotations > Signature > Manage Signatures, and click Create Signature. You can move the new signature when you're finished by tapping Done and dragging it. Simply save the file and return it to the sender via email. The signed document will be stored in Preview for future use.
Apple's Preview app is free and bundled with macOS.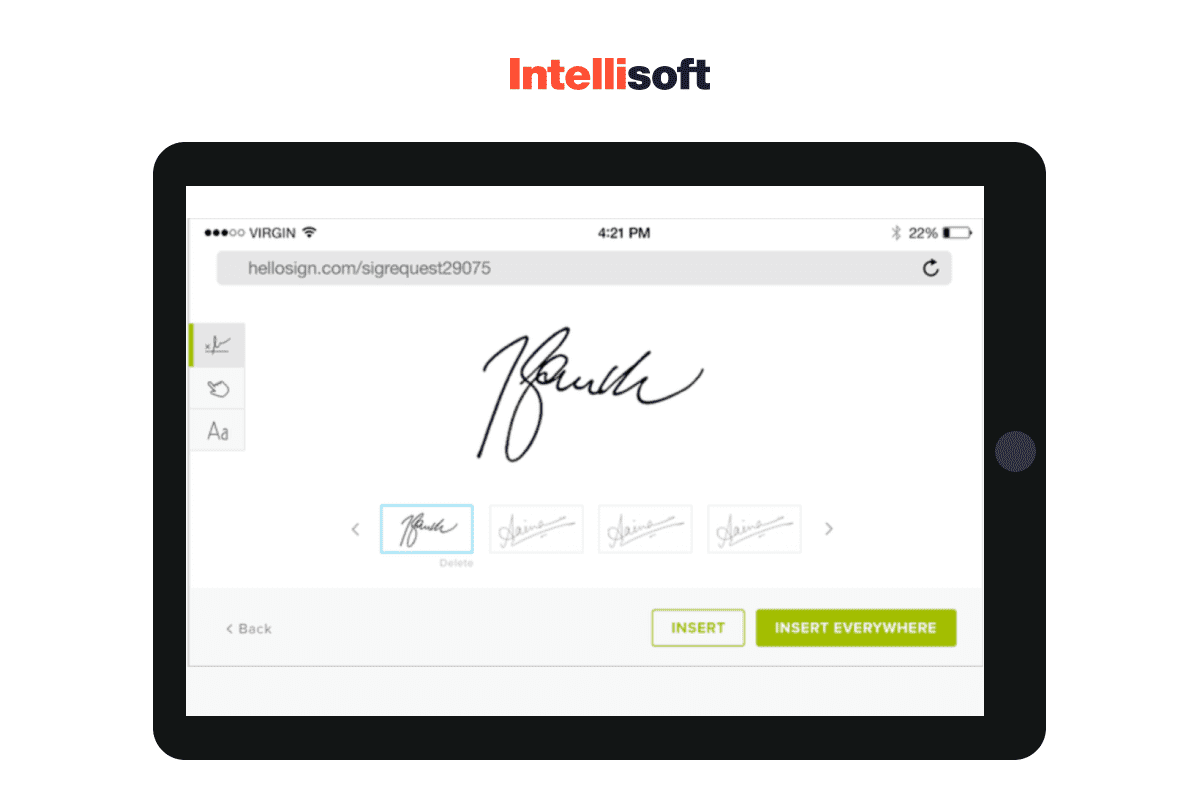 HelloSign works well with Dropbox because it is owned by Dropbox. It can also work with HubSpot, Google Workspace, Slack, and Microsoft SharePoint, among other tools, to make proposals and contracts easier to sign.
HelloSign lets users add electronic signatures to websites or apps using APIs, which can automate the hiring and onboarding of new employees. It has features like templates that make it easier to get signatures.
HelloSign also offers an application for mobile devices, audit trails, email access for customer service, and numerous language options (22 languages supported).
Integrations include popular applications for CRM, storage & collaboration, and workplace productivity, with additional connections available through Zapier. Some security features include two-factor authentication, 256-bit AES and TLS encryption, tamper-proofing, and data validation.
The Essentials plan for individuals starts at $15 per month.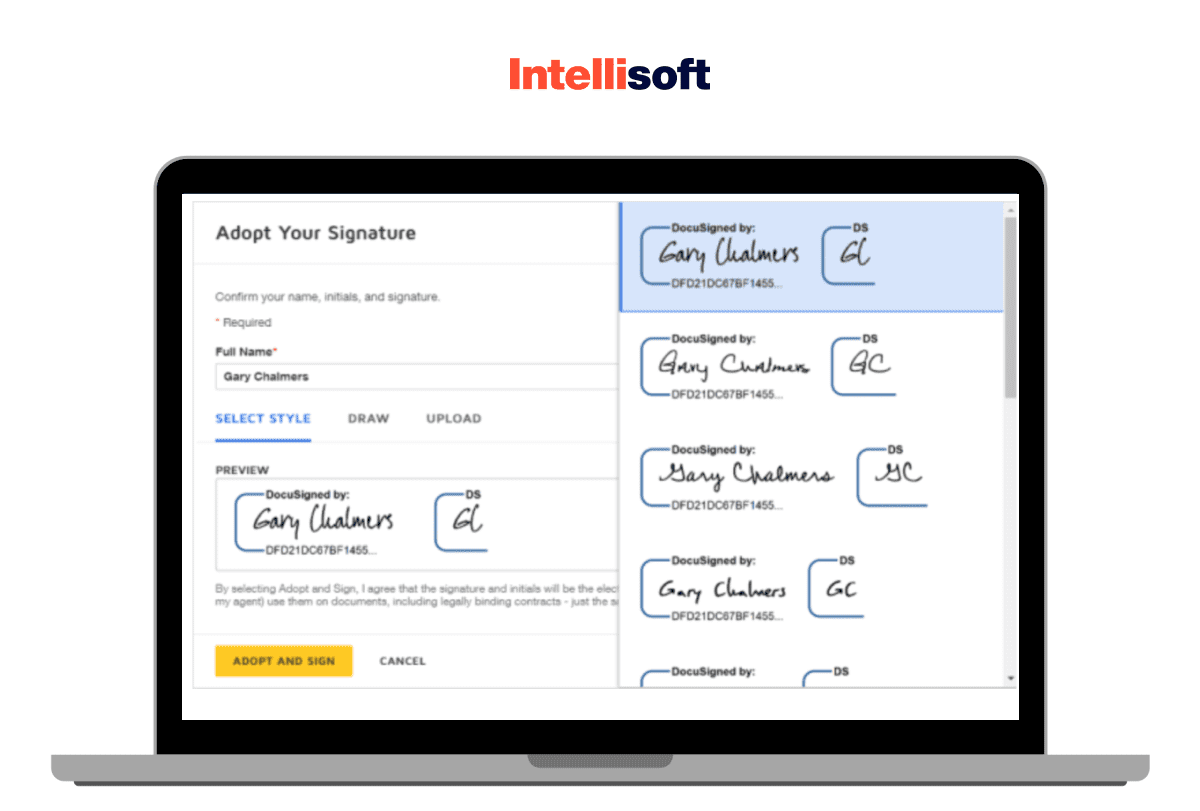 DocuSign is an electronic signature and collaboration platform that streamlines the contracting process for businesses. DocuSign's eSignature feature, available through the DocuSign Agreement Cloud, is the most popular way to digitally sign documents on any device, virtually any location, at any time. Over a million customers use DocuSign Agreement Cloud and over a billion users in more than 180 countries to streamline business processes and improve the quality of life.
Users can apply DocuSign in many different areas of an enterprise, such as sales, customer service, facilities, finance, human resources, IT/operations, legal, marketing, purchasing, and product management. Partner integration and application support maintain more than 350 systems from Microsoft, Salesforce, Oracle, Apple, and other companies.
Other features include support for mobile apps, the ability to make custom fields, the ability to reuse templates, routing for more than one user, and security requirements like rules for privacy & data residency and audit trails.
The price starts at $10 per month for the Personal plan.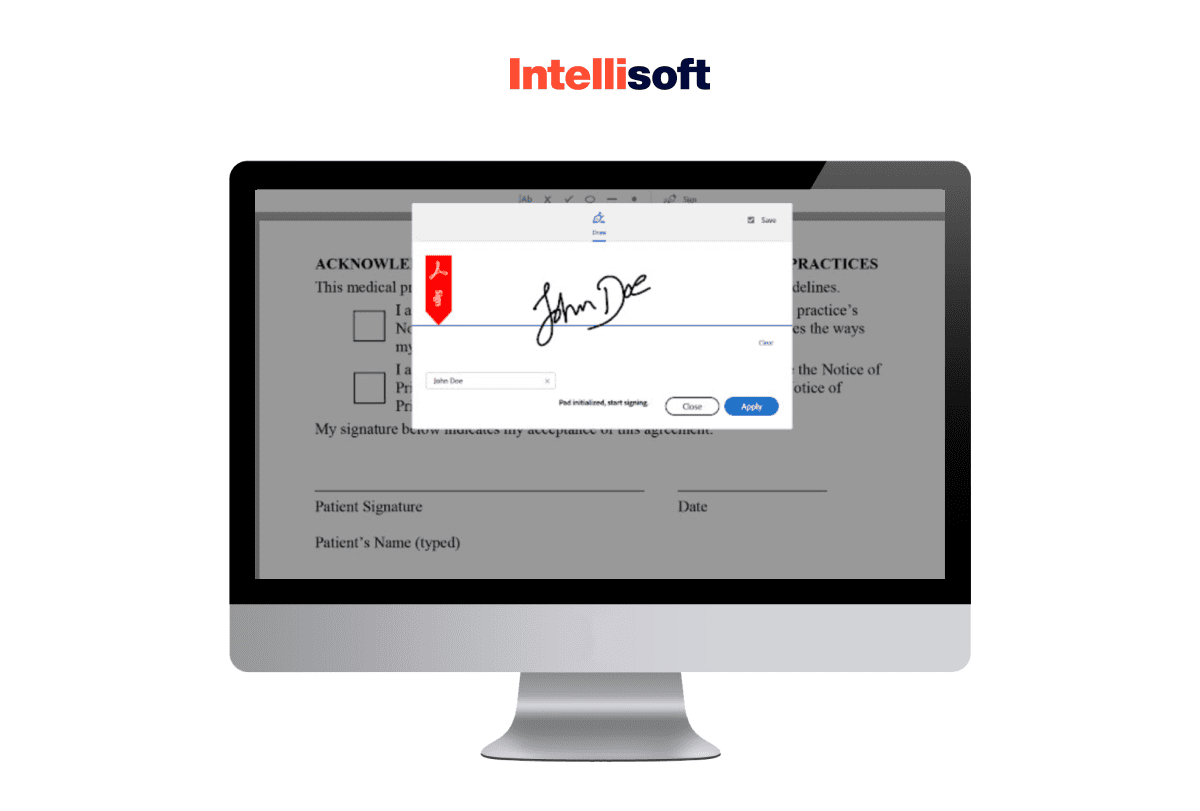 Even though Adobe Acrobat's e-signature features are widely known, using them fully requires a paid subscription. With Adobe Sign, signees can securely exchange documents without having to save/send any additional files. Like other e-signature solutions, Adobe Sign interfaces with a wide range of applications and services. These include, but are not limited to, Salesforce, Zoho CRM, SAP SuccessFactors, Microsoft programs, and Box.
Users can save time by doing anything from Microsoft 365, Teams, Outlook, and more, including generating, editing, sharing, and signing docs. Further, convenient integrations with Google and other programs you likely use frequently are at your fingertips. With Acrobat, you can safeguard your files from unauthorized access, modification, and printing. Acrobat aids businesses in meeting stringent GLBA and FERPA security rules. PDF/A for archiving, PDF/E for engineering, and PDF/X for printing are all supported, and it conforms to the ISO 32000 standard for electronic document exchange.
Adobe Sign that creates a signature for document costs $14.99 per user monthly.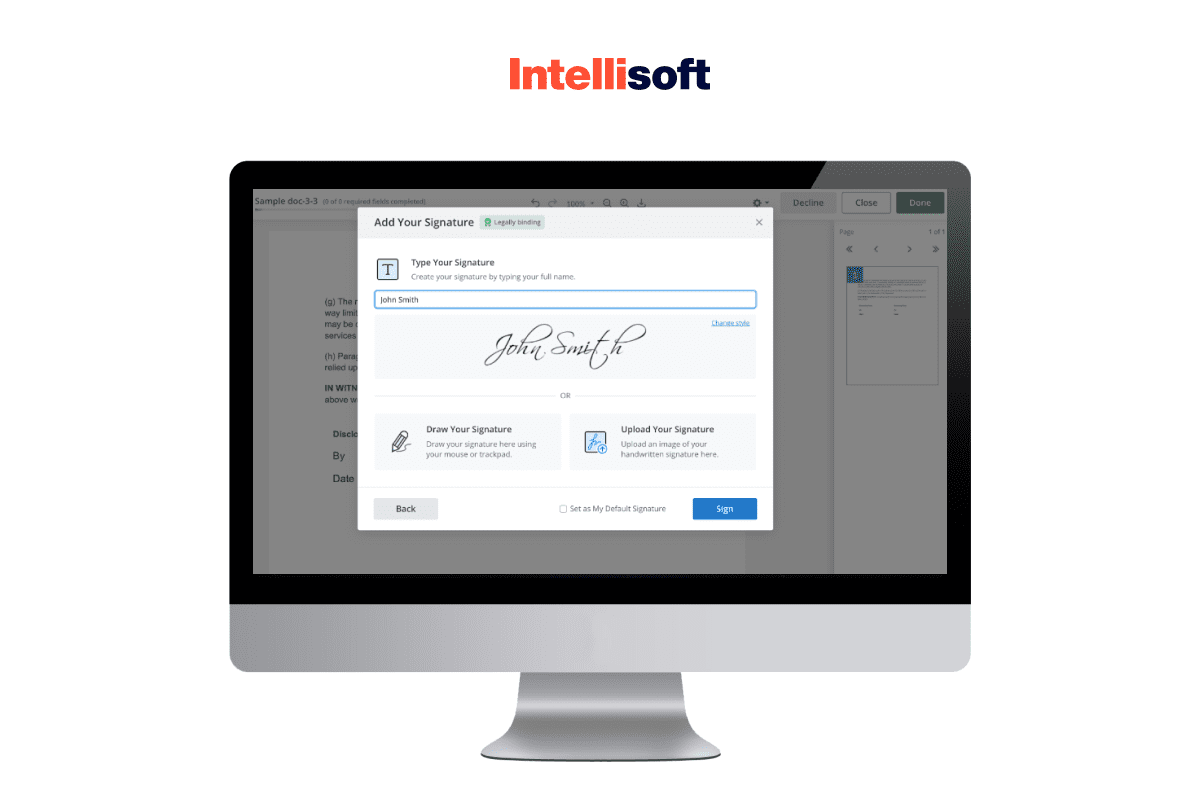 As part of its parent company's airSlate Business Cloud, signNow offers e-signature workflows that enable clients to sign and deliver documents for signing, generate agreements, negotiate contracts, take payments, and automate business processes.
The e-signature program enables users to configure and deploy legally enforceable e-signatures for documents, contracts, and web forms. More than 100 no-code bots can automate the process, different roles may be allocated to employees, and notifications can be added. SignNow is compatible with multiple CRMs, cloud storage services, and productivity applications.
This electronic document signing app allows for administering many documents' e-signature requests and is simple. Using a mobile device to sign documents is also simple. Users can also apply unique branding to papers and collaborate in teams to build docs and templates.
Those who choose an annual subscription pay as little as $8 monthly for the basic plan.
Related readings:
How to Integrate eSignature Apps
Integrating eSignature applications consists of several essential steps.
Select the eSignature SaaS
The HR, sales, and marketing departments, as well as the legal department, can all utilize electronic signature software extensively. It is essential to consider the feedback of a member of each employee group that wishes to use the program, as each group may have varying demands and applications.
Minimizing performance or security risk and effectively assessing the business requirements for this software are critical when negotiating a SaaS contract. Businesses need to project how many licenses they would need because most solutions are priced according to the number of licenses, with the possibility of additional fees based on requested features. Prioritizing needs will help businesses choose the technology that best satisfies most of their demands if not all.
Assessing which systems and processes the solution will integrate and interact with is the initial step in the implementation process for e-signature software adoption. This procedure mainly entails ensuring that the software can be successfully integrated into the business's current IT infrastructure, validating compliance standards (based on industry- and location-based norms), and checking compatibility with other currently used systems. In other words, study documentation carefully.
Search for outsourced developers
Before you start searching for a developer, you must formulate what task the engineer will have to solve and your requirements for the candidate. Based on the resources available in the company, you will need to decide what type of cooperation will be most effective – hiring a developer as a team, project outsourcing, or outstaff.
Look through the specialized IT communities, attend events for developers, search on social media, or ask experts like IntelliSoft for help building a dedicated team.
When you work with an outsourcing agency, you get a well-established team that an experienced team leader will manage. You don't spend time searching for each team member, building communications, and debugging processes. Complete control and management of the project remain on the company's side.
Ask for estimation (in hours and money)
The salaries for developers vary across different regions. While engineers from Eastern Europe and Asia might be affordable, experts from the US or Western Europe are relatively expensive. Besides, each programmer might need various amounts of time for different tasks. Thus, you should discuss the deadlines and wages before you start.
Select the cooperation model
Consider whether to pick the Fixed Price, Time & Material (T&M), or Dedicated Team model.
The Fixed Price model demands that the client supply a comprehensive list of project requirements and all necessary developer documentation so that the developers may create a project's scope and work according to a rigid schedule with fixed deadlines.
The T&M model enables payment made exclusively for actual work rather than idle time, such as getting coffee, smoking, or browsing Facebook. Therefore, the time-and-materials model is better for longer-term projects where the ultimate requirements are unknown at the outset and can be modified during the project.
The Dedicated Team model includes characteristics of the two preceding models but is somewhat superior to both. On medium- to long-term projects, it's utilized to compensate for lack of in-house IT experience. The contractor constructs the team by the customer's specifications.
You're almost there! Ask about testing, code reviews, security protocols, and intellectual property (IP) protection. Discuss all conditions, such as due dates, fees, and more. Do not hurry to sign a contract until you get all the guarantees!
In this phase, developers construct the interface in accordance with the coding standards and do unit testing. This phase is crucial for developers. They must be receptive and adaptable to any modifications the business analyst offers.
Adopt the solutions across the organization
After testing the solution, maintain and adopt the solution across the organization. Integrate the applications with the existing software. Access to dependable, competent support services, performing regular maintenance, and installing all available updates are crucial.
What Is the Future of Digital Signature?
With a CAGR of 34.7%, the digital signature market is projected to increase from $3.79 billion in 2021 to $5.10 billion in 2022. At a CAGR of 32.3%, the market is projected to be worth $15.63 billion by 2026.
Market growth for digital signatures was propelled by governments in various countries enacting favorable legislation. The US government, for instance, has passed legislation known as the 21st Century Integrated Digital Experience Act (also known as the 21st Century IDEA Act). The 21st Century IDEA Act established baseline requirements for federal agencies regarding functionality and security.
Electronic signatures have been around for a while, but it wasn't until later that they were widely used. Over 65% of current e-Signature users started doing so only in the last two years, according to a new DocuSign poll with over 2000 participants. The report shows that e-Signatures are widely used in business for their enhanced security characteristics.
According to recent research, more than 50% of firms implemented digital signatures during the pandemic. Additionally, the adoption rate among people rose by 13%. Further, it is anticipated that those who started utilizing electronic signatures due to COVID-19 will probably keep doing so after the pandemic.
Utilizing digital signatures is not simply a passing trend but essential to business.
IntelliSoft's Team to Assist You with Crafting an E-Signature Solution
When it comes to the IT industry, IntelliSoft has been around for a very long time. We completed every single project for our clients. Our application development services are used by devoted partners and clients who rely on them to implement new ideas quickly. As we've grown, we've expanded our services to a broader range of sectors and developed expertise in even more niche areas.
We've spent the last decade honing our skills in integrating first-rate eSignature web and mobile apps. Turn to us if you need help with integrating your solutions fast and easily!

About

Kosta Mitrofanskiy

I have 25 years of hands-on experience in the IT and software development industry. During this period, I helped 50+ companies to gain a technological edge across different industries. I can help you with dedicated teams, hiring stand-alone developers, developing a product design and MVP for your healthcare, logistics, or IoT projects. If you have questions concerning our cooperation or need an NDA to sign, contact info@intellisoftware.net.