The IT industry is developing more and more, forcing companies to look for new professionals. CompTIA reports that 40% of organizations hired technical staff during the pandemic, and 66% plan to add more staff in 2021. Attracting IT talent from any country has become possible with the proliferation of outsourcing and other models of international cooperation. Companies entrust development to third-party firms to reduce costs and save time for major activities. Today we will explain what nearshore is, its strengths, and ways to fill labor shortages in organizations.
What is nearshore outsourcing: essence and examples
Outsourcing appeared in 1989, showing excellent results. According to Deloitte, 59% of companies that switched to this method of cooperation increased the percentage of net profit. Nearshore outsourcing means assigning specific tasks to contractors located in neighboring countries to the customer. As a rule, third-party organizations develop web or mobile applications, improve their functionality, and completely update the software using modern technologies. The definition of nearshore emphasizes the importance of distance between client and contractor countries. Usually, it is measured by the number of hours spent on the plane.
Examples of nearshore outsourcing are situations where companies from the USA transfer their tasks to the experts from Brazil, Argentina, or Mexico; or businesses in France hire teams from Romania, Bulgaria, or Ukraine. The main reasons for applying nearshore outsourcing are accessible communication, fast movement between locations, and the low cost of the final project.
Below is an infographic that displays the interaction of the subjects of outsourcing services and the approximate cost of the work of professionals.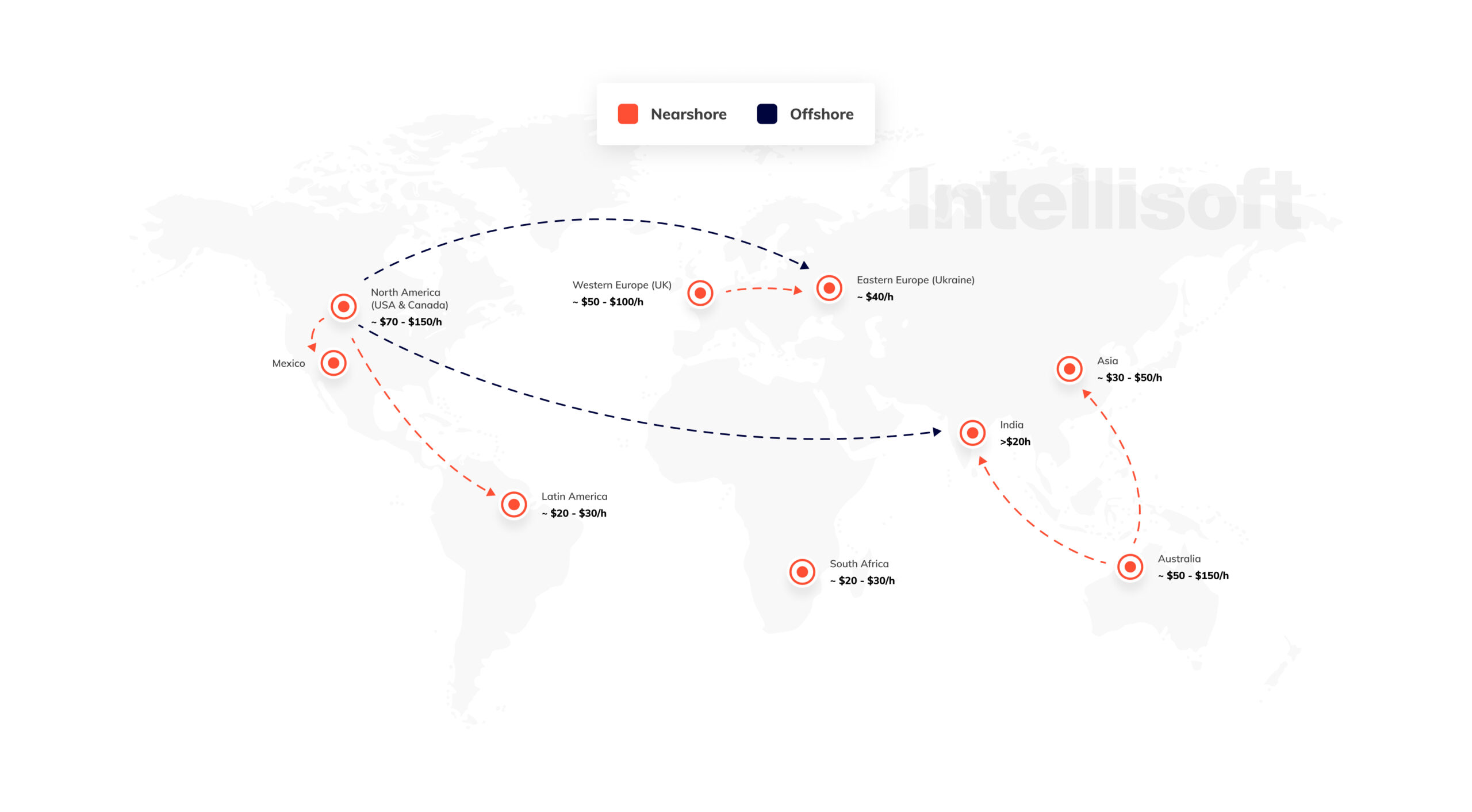 International companies switch to outsourcing to expand business opportunities. For example, Google has attracted about a thousand employees from 60 countries to develop software and support the virtual assistant. Pricena has also worked with outsourced organizations to build the web platform and improve the mobile app.
Onshoring and Offshoring: Inveterate Competitors to Nearshoring
When a company needs a remote IT team, it typically chooses one of three types of outsourcing: "very close" onshoring, "near-neighbor" nearshoring, or "far" offshoring. Each has pros and cons in terms of cost and location, but they are all evolving rapidly. GrandViewResearch experts believe that the global IT outsourcing market will grow by 7.7% annually and reach $ 937.67 billion by 2027.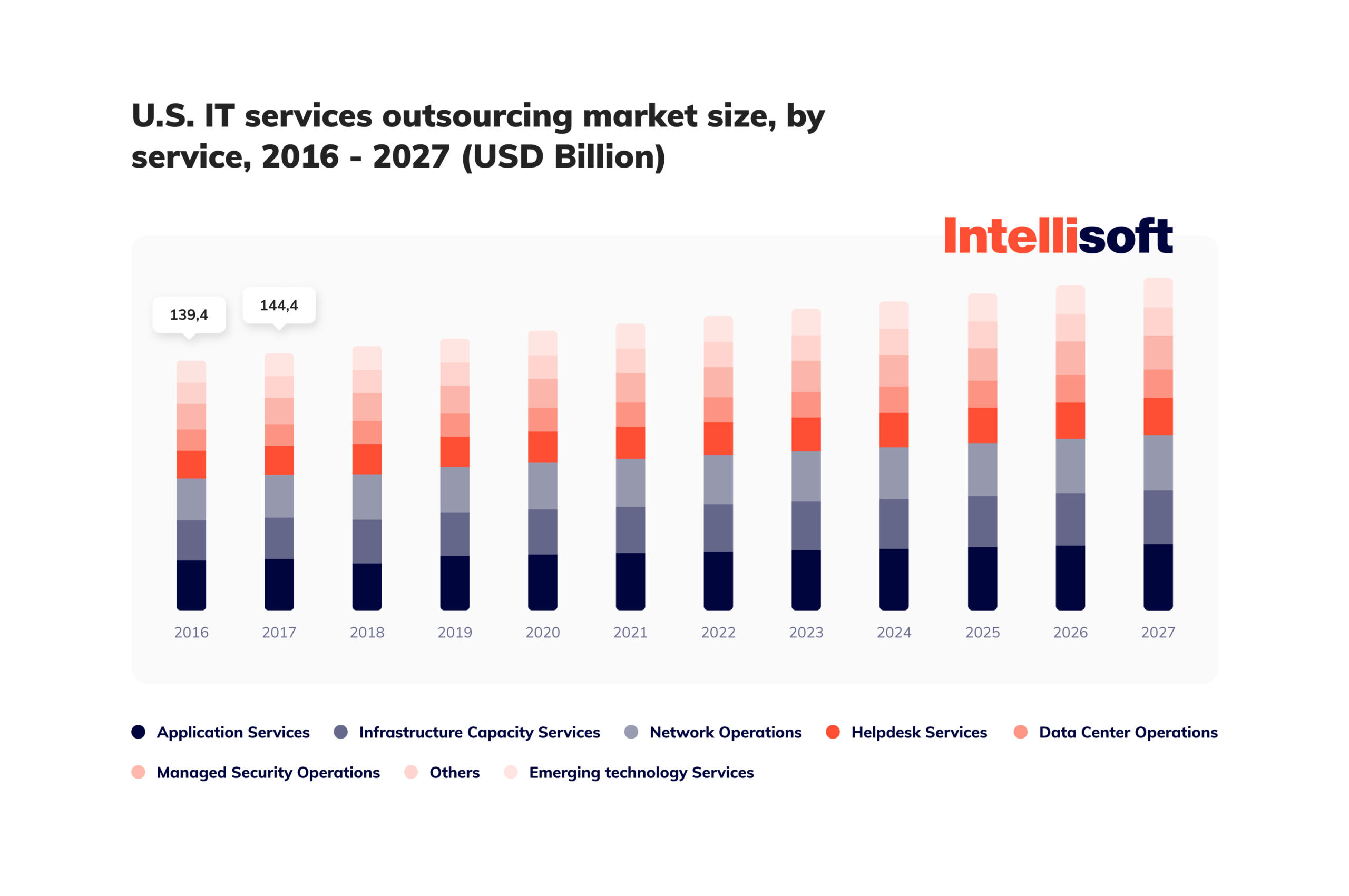 Onshoring. A model that involves cooperation with a team of IT specialists in the customer's country. Companies have the same timezone and invest in the economy of the common state, creating new jobs. But this type is financially disadvantageous and may cause competition in the market.
Offshoring. A type that implies the implementation of the project by remote organizations at a lower cost. Companies often work with a time difference of about 4-6 hours and on the most favorable terms of cooperation. But, unfortunately, data security issues and unplanned costs can arise. According to Statista, India has become the most financially attractive country for this type of service.
Nearshoring is very similar to offshoring but has one essential advantage: the convenient geolocation of the client company. This factor leads to smoother communication between teams and the absence of problems connected with time. Disadvantages of nearshoring versus offshoring are:
Higher price for IT services. Nearshoring requires more financial investment and time to find a partner who understands the specifics of business processes. Offshoring is popular due to its cheap wages. For example, in the Philippines, the average salary of professionals who work on outsourcing is   

$ 7,605 per year

.

Small range of IT professionals. Nearshoring outsourcing is limited to the location of the partner's country. Competitive companies hire developers from all over the world. For example, look in the USA or India, which are

major suppliers

of labor resources.
If we compare nearshore outsourcing and onshoring, the first model is more profitable financially, but the second one provides better communication between internal and external teams when solving urgent problems. In addition, cooperation between companies from the same country will help avoid legal issues and unite economic interests.
Outsourcing nearshore as a way to attract IT talent
A sharp increase in industry demand has resulted in a lack of IT professionals with the necessary skills. Organizations look for software developers to free up time for their core business activities. McKinsey claims that 44% of companies will experience a skill shortage over the next five years, and another 43% complain about the lack of competence of employees.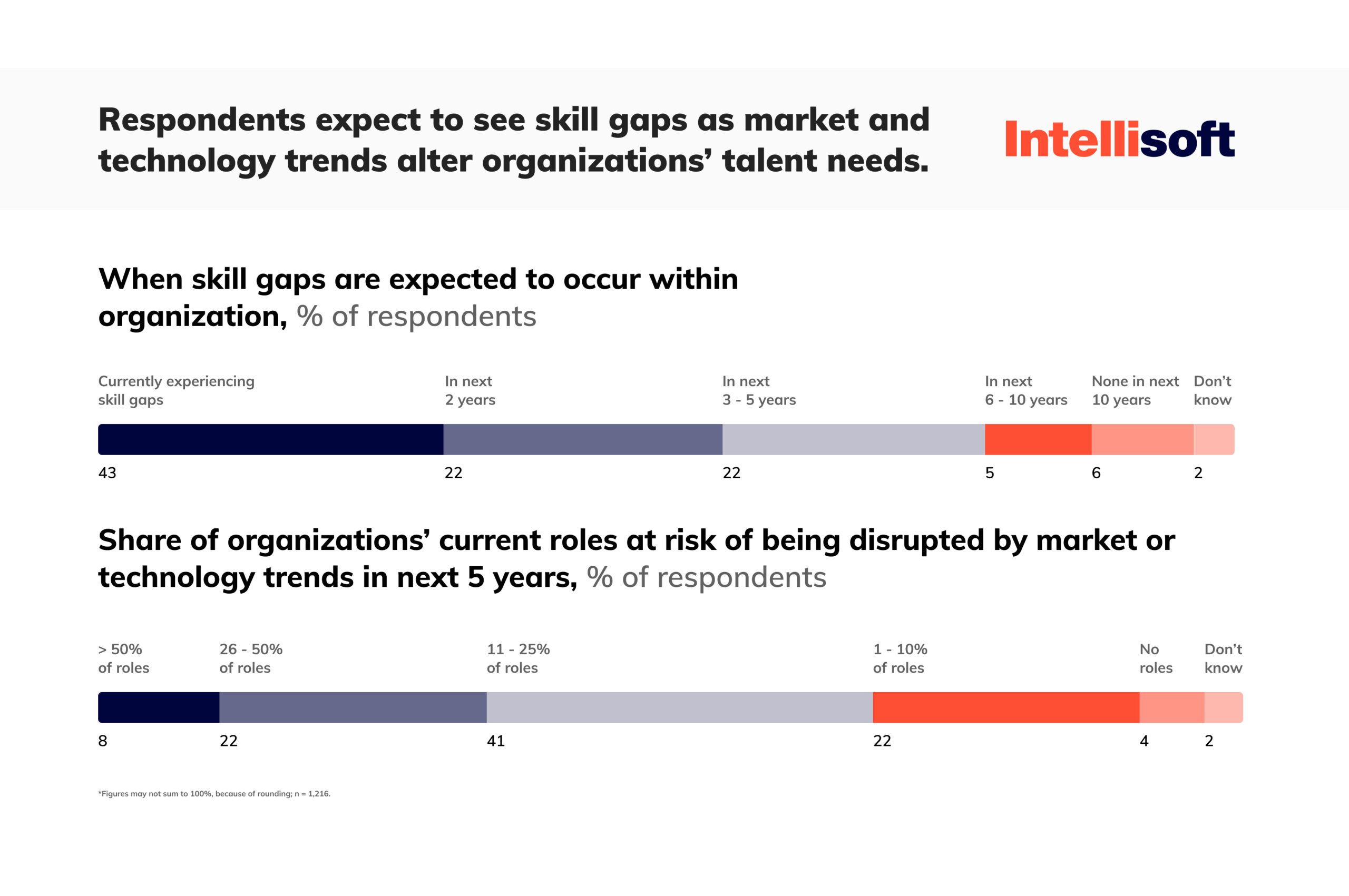 Nearshore outsourcing allows you to transfer the main stages of software development to a partner's team. The client entrusts the improvement of the company's weak points to professional firms that can offer innovative solutions. The close location provides easy communication, detailed drawing up of a project plan, and comprehensive research of the customer's company. Nearshore IT outsourcing is an excellent solution to the global lack of developers. A survey of CIOs shows that the global technology skills gap remains high, much the same as before the pandemic. Outsourcing organizations provide teams proficient in several programming languages ​​and are ready to continually improve their skills.
TOP-6 advantages of nearshore outsourcing
Geographic closeness allows for face-to-face meetings between in-house developers and partners. Experts can discuss all the details of the project and establish a trusting relationship. McKinsey reports that regular communication between teams increases productivity by 20-25%. Development on the terms of nearshoring outsourcing increases the return on investment and ensures meeting deadlines if a streamlined interaction scheme is established.
Save financial and time resources
Keeping teams in constant communication prevents unnecessary budget spending on fixing work or re-doing tasks. Also, less time will be spent on disagreements. If problems arise that cannot be resolved online, representatives of the parties can quickly get to the office. Ticket costs will be insignificant, as the close distance between countries allows you to choose the most advantageous offer among competing airlines.
No cultural and linguistic differences
Geographic closeness positively affects the similarity of languages ​​and cultures of neighboring countries. The customer and the outsourcing company work in complete mutual understanding, building trusting and even friendly relations. The development process becomes more structured, and both teams can promptly discuss any questions. There is much less controversy caused by mistranslation or questionable statements than offshoring.
Real-time meetings allow you to plan common work, set goals, and agree on project deadlines. The same time zone or a slight difference in time does not lead to an irregular schedule. As a result, additional resources appear for consultations or answers to questions. Organizations also have similar working hours, eliminating the need for calls and messages at inappropriate times.
Similar Legal and Tax Regimes
Legal regulations on information confidentiality and data security are often similar in neighboring countries. For example, organizations located in EU member states use the General Data Protection Regulation (GDPR) and compliant tax regime. Companies should consider changes in the legislation of the partner countries where they order services. The nearshore outsourcing model avoids legal nuances, ensuring confident and comfortable cooperation.
Large talent pool for IT talent
According to Korn Ferry, the global IT talent gap will reach 85 million by 2030. Therefore, organizations turn to companies that cooperate on the basis of Nearshore outsourcing for software development. A third-party IT team constantly improves their skills and works with popular technologies: Java, Python, .NET, React, Angular, and others. The development company selects a programming language, offers innovative ideas, and gives recommendations to achieve the customer's goal.
Basic Steps to Selecting a Nearshoring Partner
Nearshore outsourcing is suitable for businesses that need a large number of IT professionals, have a limited budget, and can switch to online communication during project development. Before looking for an outsourcing organization, check 4 main points:
Country Profile. Analyze territorial neighbors, considering the distance, communication methods, travel time, and the average cost of outsourcing services. 

Data security. Investigate the legislation of another country, regulation of the protection of intellectual property rights, and other legal features of cooperation. 

Possibilities of companies. Compare the experience of organizations, the number of IT professionals, their level of skills, and the availability of local representatives for offline meetings. 

Feedback about the partner. Collect information about cooperation with other firms and learn about difficulties and problems they solved while working on projects.
It is also important to focus on the needs of the internal team. The similarity in modes with a partner, holding meetings during working hours, and understanding the specifics of the project by the performers are the foundation for launching a successful project.