Why are people forced to work remotely nowadays? How did the situation change after the COVID-19 pandemic? Whether you are an employer or employee, you may have these two logical questions. The situation changed dramatically, proving that we possess enough resources to provide many professions with work from a distance.
Remote working has, in fact, been a "luxury for the relatively affluent," such as higher‐income earners. However, today, people with various income levels have to go online to earn per living. It allows them to work for several companies, making more money. After all, they have more time without having to go to their offices and being disturbed by their routine tasks and colleagues.
LinkedIn Workforce Confidence Index discovered 55% of American respondents are sure their industry can work effectively from home. At the same time, 56% of the non-self-employed country's workforce has jobs conducive to distant work at least some of the time. Still, with so many employers committing to making remote work a permanent part of their culture, it is obvious this new workplace "normal" is associated with ongoing challenges.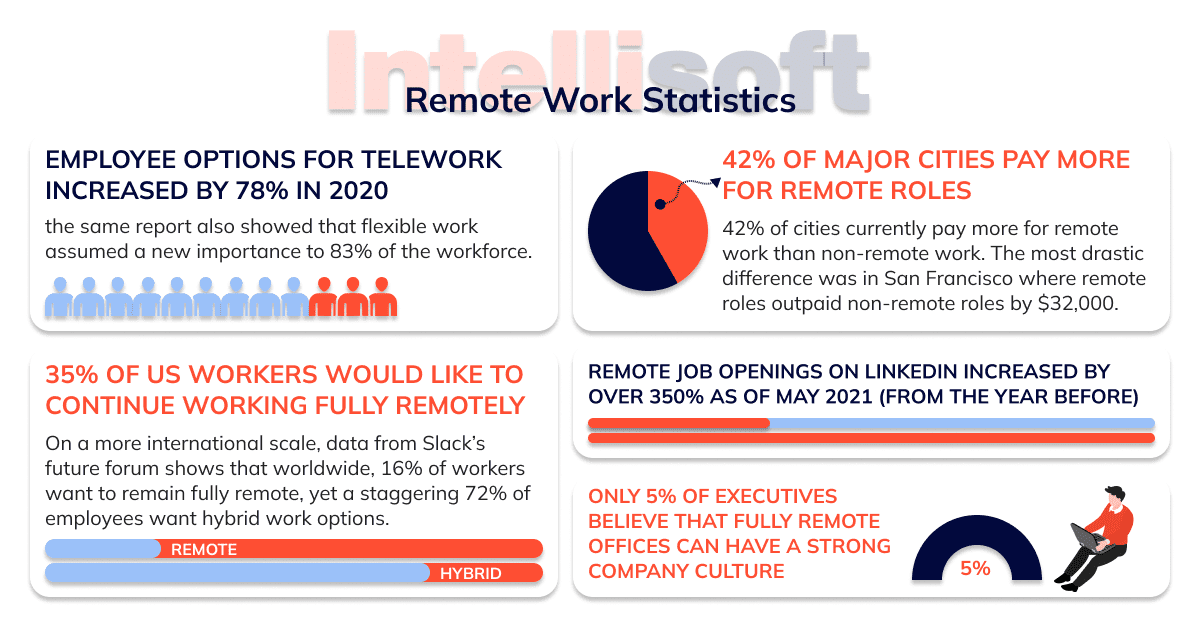 Many organizations and decision-makers, in particular, do not understand that the effectiveness of a remote development team depends on effective staff management rather than the employees. A good manager can pull a software development team structure on their own, while a bad one can fail a project.
With that in mind, for outsourcing and outstaffing customer projects, IntelliSoft selects project managers just as carefully as other professionals. We currently have a pool of more than 5,000 top-notch IT specialists and PMs.
In this post, we will list the benefits and challenges associated with remote workers, as well as inform you about the remote software development team structure.
What Are the Current Issues With Software Development Team Structure?
In our experience, one of the main problems with a software development team structure in software engineering is information, especially when the situation changes almost every day. What is the project's scope? What should each team member be doing? What is the overall goal?
The good news is that even without information, programmers, designers, and marketers are not silly people. They are capable of making decisions on their own. Still, the bad news is that they may not be the decisions you would want as a product manager or supervisor. It is of utmost importance that everyone moves towards something unified.
In a remote work environment, leadership is the most important thing n the development team structure. It helps to combat communication errors and misunderstandings (there can be a lot of them when you make an abrupt transition). It takes a lot of effort and many years of practice to get the skills to effectively lead an IT project team. Good managers are worth their weight in gold.
So, which option is better for you: an in-house or a remote team? One of the main reasons for the popularity of remote teams is an opportunity to gather the talented developers, regardless of their geo-location. In addition, it reduces the cost of renting premises – even if the company expands, there is no need to look for a new office and organize relocation.
On the one hand, team control and management become more accessible because the history of all activities and conversations is documented and accessible to everyone. On the other hand, adaptation takes time, and business processes are set up more slowly than in companies with conventional offices.
At the same time, management and development team structure leaders in remote teams have to work more carefully and thoroughly with each individual employee, which makes such a process quite time-consuming for large companies.
Expert opinion:
Kosta Mitrofanskiy, CEO at IntelliSoft
A technology expert and entrepreneur with 20+ years of experience in the web & software development business. Kosta used to occupy various positions, from technical to managerial & executive roles. Worked in both corporate and start-up environments.
There is one strategy that allows large companies to work with remote employees quite effectively – the organization of independent teams of roughly ten people who work as a separate unit. It is quite possible to work remotely in such teams, and from the point of view of a large company, it does not matter at all how exactly the team working on a particular task/application actually does what it should. The details of the project should be discussed in detail and recorded at regular online meetings, and there is no urgent need to learn something or involve someone at the time of work on the project. Of course, such a result requires effort in the organization of workflow, and that is when the agile approach helps a lot."
Still, some challenges exist for all companies with no exception, and a powerful software engineering team structure is the best way to overcome risks.
Risks Associated with Remote Software Development Organizational Structure
Let's start with the most obvious point. Personal contact between participants is weakened in the case of a remote software development organizational structure. Communicating online, even via video, is not the same as talking one-on-one to the manager or discussing things at the coffee machine with a colleague.
Second, there is no connection to the company. Often, in a remote location, a person doesn't receive info about the global plans and goals of management, changes within the divisions, etc. After a while, a specialist may simply forget that they work for a particular company.
Third, an employee can take a task and disappear from the PM's field of vision. For example, a developer has been on a task for two weeks and doesn't get in touch. What are they doing? Will they work honestly and complete the task on time?
It becomes more difficult to discuss anything. If the format is remote, it is necessary to agree in advance on time allocation for discussion of personal and work issues.
It is more difficult to control the work of the team. In the office, you can approach a specific employee and control the work process: clarify details, give praise, or make a remark if necessary.
Also, some organizations are concerned about security when dealing with remote teams. "What if they try to steal our secrets?" No worries – just learn how to protect software intellectual property. You can check our eBook, How to Protect Your Intellectual Property When Outsourcing Software Development. It has all the answers and valuable tips.
Related readings:
Perks Associated with Remote Team Structure
If we talk about the benefits of remote work, we should start with the freedom to organize your own workplace. For introverts (many software developers), that's a huge bonus.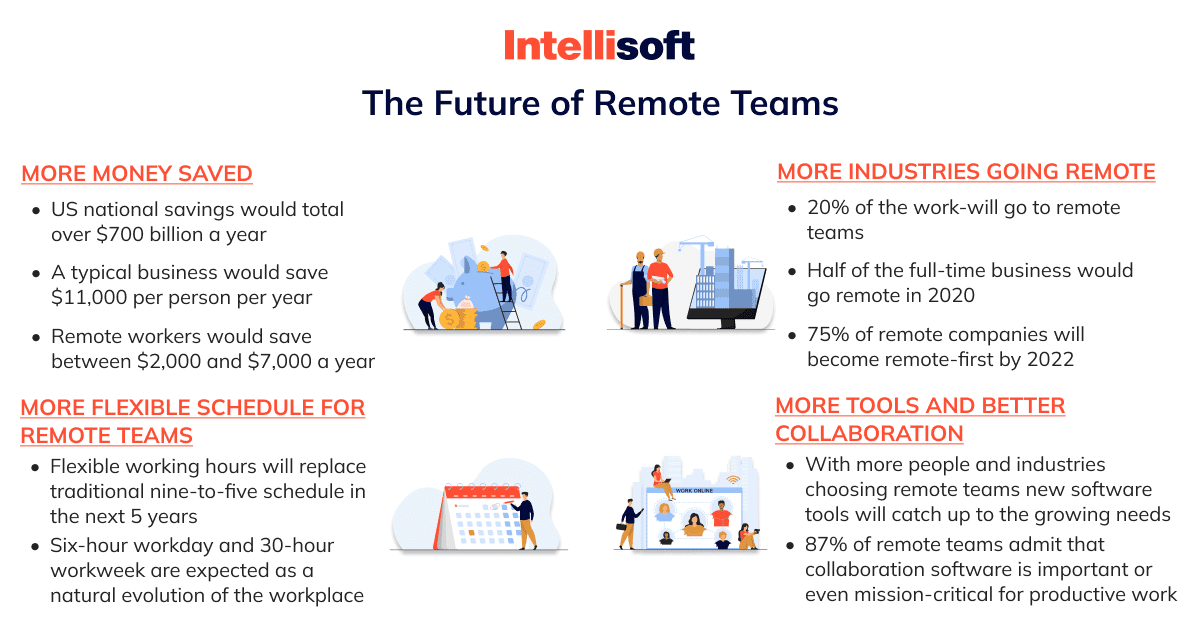 Reducing the number of distractions is the second advantage. This increases the efficiency of work. Distractive factors can be colleagues who like to ask lots of questions, discuss the latest movies, or ask for help with multiple tasks. Asking coworkers to try to figure it out on their own first can help develop their independence and resourcing skills.
It's impossible to ignore the significant time savings. No need to waste time on regular trips to the office and various in-office routine things.
Then, it's about flexibility in building a work schedule. To a certain extent, it helps to even out the differences in time, as well as comfortably distribute the load depending on the chronobiological type: "lark", "owl", or "pigeon."
The benefits of working distantly include the ability to communicate with management without direct contact because it often reduces the psychological stress within the team. The main thing in communications is to find a balance in the interaction between specialists and PMs.
Tips for Finding and Managing Remote P
roduct Team Structure
Now, we are getting closer to the process of building a product team's structure and managing distant employees. The steps may slightly vary, so we will recall those that are the same for most IT organizations.
Start with a Plan
It all starts with a business plan. Make sure that yours has an executive summary, company description, market analysis, competitive analysis, management & organization description, marketing plan, sales strategy, and financial projections. What is more important, you should provide as many details for your project as possible to make it all clear to the engineers.
Choose Location Wisely
Some countries have way cheaper labor than others. Try Central and Eastern European countries like the Czech Republic, Slovakia, Poland, Hungary, Romania, or Ukraine to cut hiring and labor costs. Let's find out why on the example of one of them.
Ukraine is fast gaining outsourcing popularity. It was recognized by the Global Sourcing Association (GSA) as the Delivery Destination of the Year 2021.
The main advantage of hiring offshore developers in Ukraine is that you get access to the second-largest pool of technical talent in Eastern Europe. Other advantages include the speed of hiring and the lower cost of hiring a developer.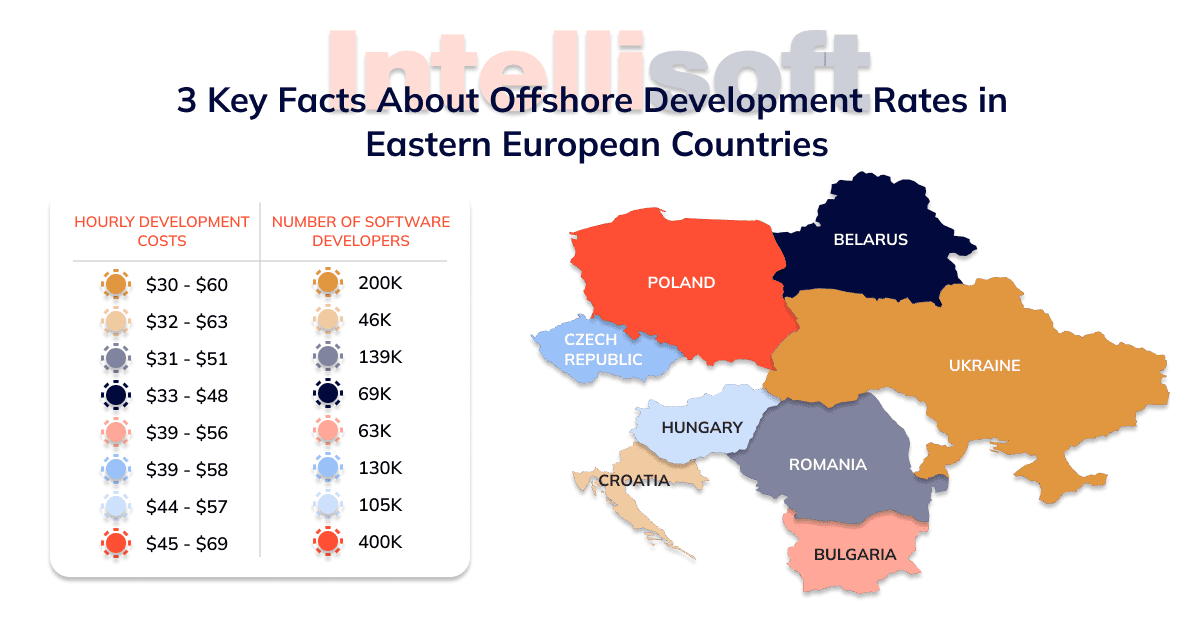 Expert opinion:
Kosta Mitrofanskiy, CEO at IntelliSoft
A technology expert and entrepreneur with 20+ years of experience in the web & software development business. Kosta used to occupy various positions, from technical to managerial & executive roles. Worked in both corporate and start-up environments.
59% of global companies hire offshore programmers to optimize software development costs. Although offshore developers have various rates in different countries, the savings can be as high as 40% to 70%. For example, the average hourly rate of a senior developer in the US is $65-130, while in Ukraine it is about $30-$60."
Recruit, Train, & Motivate
Unless you turn to an outsourcing agency like IntelliSoft, be ready to spend 1+ month on testing and recruiting applicants. Have a clear vision of how a perfect candidate should look like – it's not only about whether they must know Angular or React, but personal traits, areas of expertise, etc.
Once you hire a team of developers, it is not the end. Dedicate enough time to explain your mission, vision, core business, and, finally, joint success. Some organizations think that engineers should only know the details about the specific project. However, they should realize what the company is doing in general. Showing some previous projects to them may also help you achieve the common goals: your project's success and personal growth. So, to make it clear: engage developers, offer them stock options, and bring them to the HQ.
Keep in Touch with Your Team
The process of managing a remote team is unique in terms of communication within the team, setting tasks, supporting discipline, and providing control. When a team is scattered all over the country or even the world in different time zones, the service station must not only effectively build a communication process but also know what the team in general and the employee in particular lives by.
If employees do not feel part of a whole, motivation decreases, and the team's potential drops. They should recognize the effectiveness of weekly online meetings in the format of planning and prioritizing tasks. It is important that all participants are prepared for such meetings, know the subject of the discussion, and are ready to share their ideas.
It's also worth paying attention to the possibility to communicate with each other and keep abreast of company events. Written communication with regular mailings will do. It's also possible to diversify the printed text with sessions similar to office meetings in an online format. For example, a Demo Day among developers is quite effective – it gives the opportunity to share employees' progress and knowledge, as well as be aware of what's happening in the company. By the way, after a few such meetings, it becomes clear who is really suitable for remote work.
The task of a competent service station is to monitor the fulfillment of tasks by employees regularly. It is useful to have "one-on-one" online meetings with each team member – some managers devote half an hour every two weeks, while some prefer a short five-minute session on a certain day. The key is to provide an opportunity for every member to say out loud what they won't write about in a general chat, discuss their comfort, and evaluate performance.
NB: Slack and Bayscape are good for teams of 3-5 people, but such apps do not work for any large teams. As for tools like Trello, they put the project at the center of management. They use a kanban ideology, which is primarily designed for a small flow of tasks, and when scaled, it turns into a mess of columns of different assignments and a huge pile of tasks in the "not yet scheduled" section.
Come up with Adequate KPIs
If the result is not measured, it is unlikely to improve. Product teams, both office teams and remote ones can only be evaluated by product KPIs, and for pure dev teams, of course, there are more options. That said, the effectiveness of a team is usually a more subjective thing than a finished product and depends not only on the right KPIs but on the team itself.
In the context of working with each individual employee, the method of the personal development map is interesting, as it allows you to track the development of skills and improvement of performance in a particular case. It is also possible to change employees in small groups to visually compare their effectiveness and come to interchangeability, picking the perfect combination of professional and human factors.
In general, the approach to evaluating KPIs is similar in both remote and in-house teams, but for the remote team, there is a significant difference in the work intensity factor. Some people are comfortable working during the day; some prefer doing that at night. For some, the ideal office would be at home; for others, it would be a co-working space. All this affects the result, and it is better to discuss and fix such details with employees in advance, paying attention to the ratio of the task estimate to the projected number of weekly working hours.
Get the Product Team's Structure to Work
First, try to work on the operations side. Work on top-priority gaps and bugs after acquiring the servers under your control. Then, gather the further requirements, complete tests, and document all possible details prior to writing new features and deleting tech debts. Later, explore tickets in software like Jira to keep an eye on the progress. That is when you may decide to adopt an agile style.
We also recommend creating a continuous integration system (e.g., Jenkins). Have all pieces of code under control. Git might help with this mission. Be ready to handle a plenty of tech debt at first.
Try to concentrate on high-level features. Allow the team members to keep an eye on the progress and results.
Mind Documentation & Process Control Of S
oftware Development Team
Record everything neatly and clearly, and arrange information in an orderly fashion. For example, you have a remote disk that stores all your work information. Create a tree of folders and subfolders, making sure there is no chaos. You should always have the ability to provide or retrieve data immediately upon request.
A code review is always a masthead, and intermediate achievements can be checked at meetings planning. The main results are recorded at checkpoints. The principle is the same as offline: whether you have reached your goals or not. Controlling the workflow is more complicated. Some project managers use time tracking for this. This tool is useful in two cases:
If the specialist has an hourly rate;
The data obtained can be analyzed and further used in planning future sprints.
In all other cases, it is better to control the work of specialists through the verification of intermediate results and personal communication.
Use Online Team Management Tools
Remote working is productive when management systems are effectively configured. One way to achieve this is to minimize the number of communication channels and tools the organization uses.
Here are some of the most popular communication tools that we or our clients work with. Most of these services have now improved/expanded their free services to grab a share of the growing market.
Slack is convenient for quick answers and building a communication culture. However, it can interfere with the deep phase of the work, so it is worth discussing the rules of work with the team.
Zoom is the most popular service for video conferencing. There are questions about privacy, but, in general, you need to download it. Even large companies do not go to the paid version as mostly they chat for 40 minutes and restart the call.
Jitsi Meet is an oupensor version of Zoom, now rapidly gaining popularity. Other popular options include: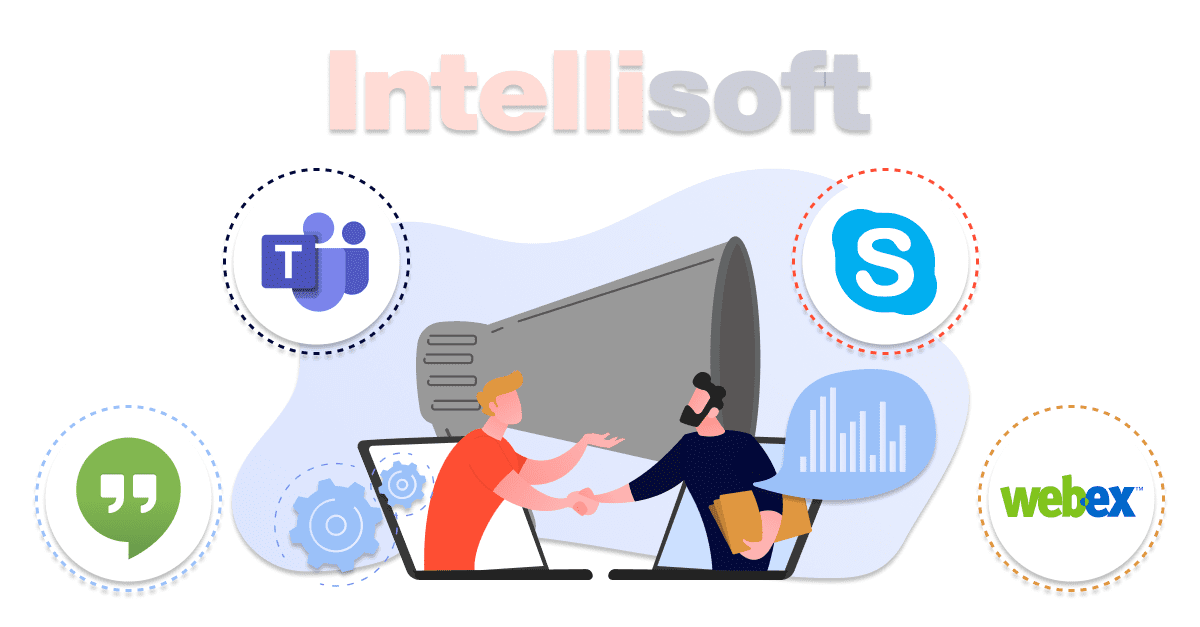 The choice of a project management tool is crucial for the successful work of the software development team. It must fit the needs and scale of the company.
COVID has increased the load on these services, but they remain an indispensable option for remote teams. If you don't have many projects and just one team, you may go with Trello. From there, as you grow, you can decide what you're missing.
Verdict
Of course, it is impossible to think through all aspects of organizing a remote team in advance, but you can avoid the mistakes that other companies have made. Study the experience of those who have gone this way and succeeded. This will help you in solving even the most difficult tasks.
Try to think of possible rewards so that your employees understand that you care about them. A simple thank you can also lift an employee's spirits and motivate them to do a good job.
Remember that you can always get a ready-made remote team from IntelliSoft. Our service is aimed to form a perfect dedicated team for project work at a bargain price. Need pro help with dedicated teams? Our team is ready to assist with achieving your business goals – just book a consultation by following the link.