Is it possible to tell how promising the career of an outsourcing manager is? The US Bureau of Labor Statistics doesn't provide statistics on this job. At the same time, its members still expect a six percent rise in the category of operations managers in 2019-2029. In our opinion, being an outsourcing manager is an even more promising career. After all, the outsourcing industry as a whole is estimated to hit $405.6 billion by 2027.
Those who possess perfect analytical, project management, and interpersonal skills are outsourcing managers. This person should monitor and lead outsourced projects. Usually, it involves several critical responsibilities.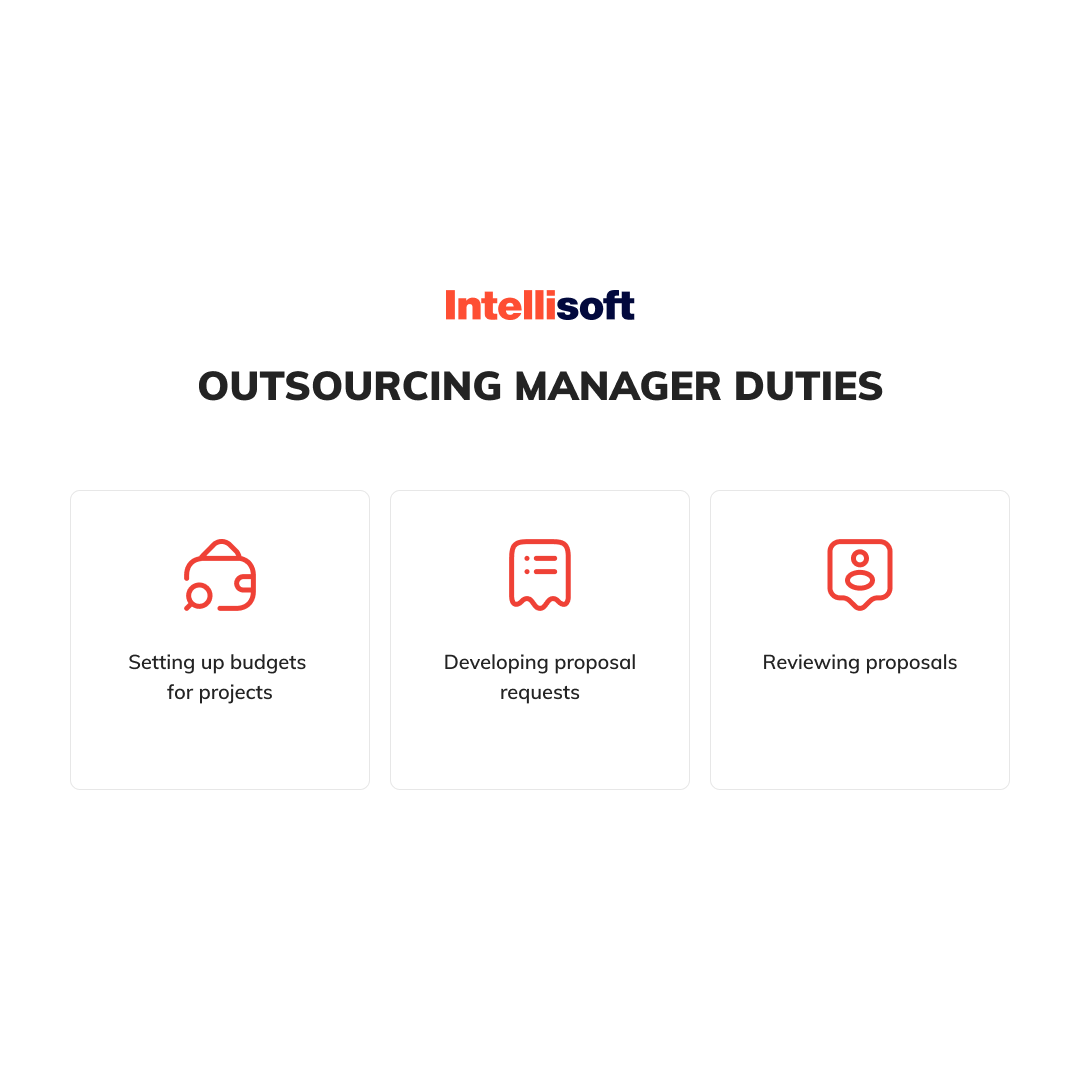 A manager should take care of different stages of project development. This specialist must know how to allocate a client's company funds and plan schedules. It's up to the outsourcing manager to study various documents and approve proposals. Often, these experts have to control the performance of outside vendors.
What Is Outsourcing Management? 
What is outsourcing management? It means transferring a project service's managerial duties to a third party for further implementation. The process is based on the contractor's agreement. Organizations adopt several outsourcing types:
Outsourcing

Contracting out the tasks

Co-sourcing

Benefit-based outsourcing

Insourcing
The emerging business management model has become an essential strategic decision taken by local and overseas companies. That's because of its ability to cut expenses and enhance the core competitiveness effectively. 
Why May You Need Outsourcing at All?
A manager should possess the expertise to implement, support, and supervise an outsourcing framework. This specialist should adhere to ISO 37500 with the needed elements and procedures  The primary goal is to deliver a solution that would make it possible to penetrate the market and continually sustain successful outstaffing arrangements. 
Proper training of new developers allows mutual perks for customers and outsourcing vendors. This practice also strengthens his qualifications to act as an expert. It's critical when carrying out an outsourcing project.
You Might Also Like:
Main Responsibilities of an Outsourced Team Manager
Creating proposal requests is one of the primary job duties. Those are proposals submitted by both individuals and businesses. It's necessary to study the entire documentation and recommend which offers should be accepted/denied. Proposals usually contain a detailed description of the software development projects. Also, they specify how long a team might take to accomplish the task. Finally, such info should include funding details and budget limits.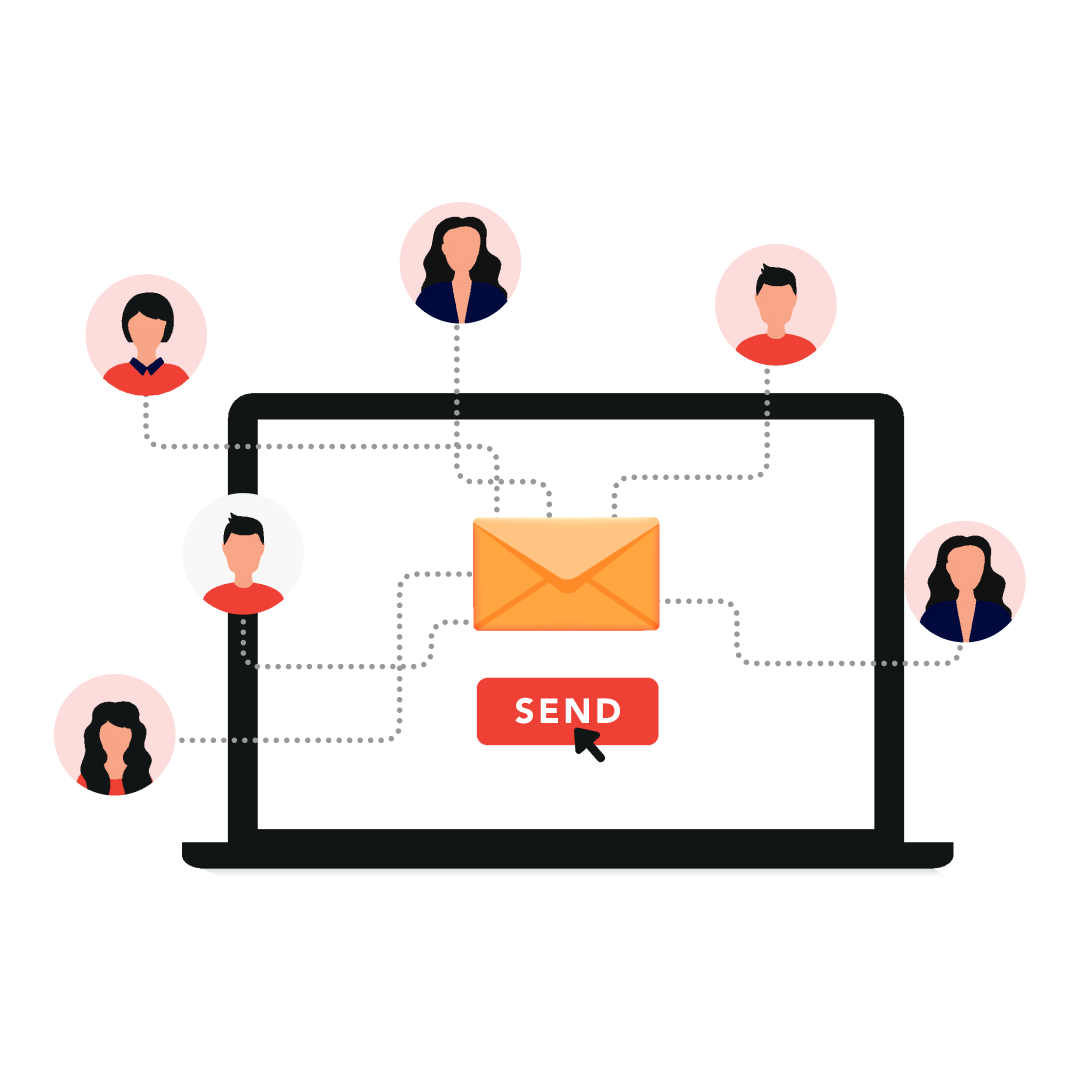 Outsourcing managers must prepare outsourcing job descriptions as well. It's up to them to draw a picture of an ideal expert based on the client's requirements and the applicant's qualifications in outsourcing manager job description. Those qualifications may include tech skills like the knowledge of specific programming languages. In addition, sometimes, such managers can devise guidelines on how to submit proposals or bids using outsourcing consultant job description.
From time to time, outsourcing coordinators take an active part in project development processes. They should not code anything, but their role is still vital. One instance is when this specialist plans a writing project for their organization. An outsourcing manager may set up the word count, as well as other requirements like formatting for that content. When it comes to budget planning, an outsourcing manager may be responsible for the entire project's budget.
Outsourcing managers often have responsibilities and purposes similar to human resource managers (HRMs). Thus, they must select talent pools or entire companies to handle client projects correctly and on time. They may want to review various resumes, CVs, cover letters, and proposals before hiring this or another person. They check all applicants' skills, expertise, and educational background that would perfectly fit the client's project.
Outsourcing coordinators may also want to review previous cases and portfolios before finalizing decisions. These people are essential in developing instructions for approving proposals and hiring candidates.
Primary Duties of an Outsourcing Manager
This person should negotiate contracts. At least, their presence during the hiring process is obligatory in most cases. For instance, if a vendor selected to create outsourced teams insists on a contract change, a outsource manager may take part in negotiations. This specialist should agree on the best terms with the vendor. They may serve as an attorney or intermediary in such a case. This professional may negotiate any modifications to the document that their employer requires.
Still, monitoring projects and ensuring their accomplishment remains the primary duty of any outsourcing manager. Around 300,000 jobs get outsourced out of the United States annually, and someone has to take care of their activities and quality of work. For instance, it's up to an outsource manager to watch the status of projects delegated to external teams. This expert must ensure their on-time, stage-by-stage accomplishment.
An outsourcing manager should assess the work done and every performance to let the hiring company see the whole picture. It will help to decide which employees can stay and who should quit. Sometimes, such managers can change the project's scope based on its progress, business goals, and staff requirements.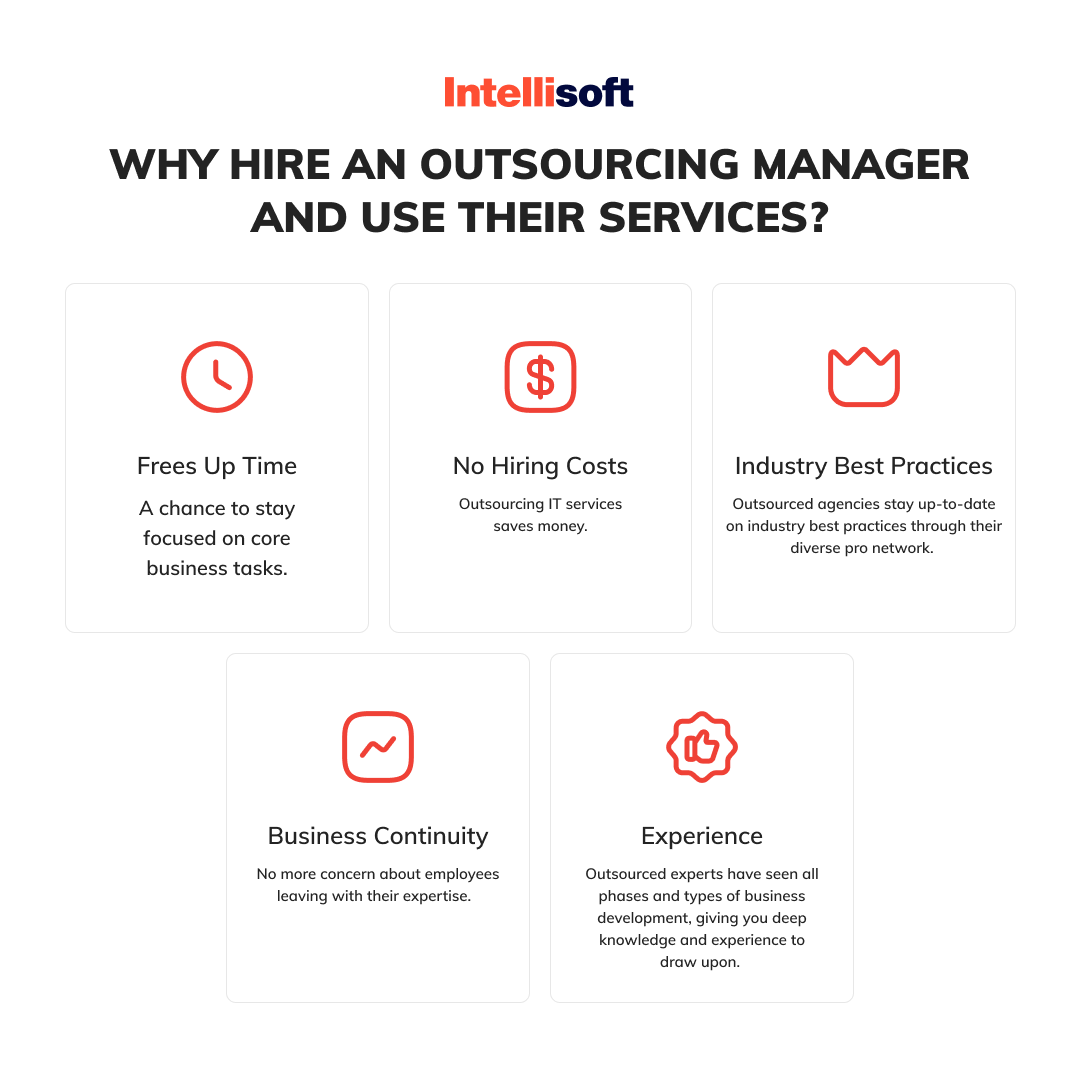 Perhaps, your company is suffering from a sudden downturn. Have you decided to change your current business strategy? If your in-house software development or design team fails to meet your expectations, you may want to consider information systems outsourcing as a preferred team extension model. After you find a trustworthy partner, they will offer an outsourcing manager to control your new team. We recommend accepting that offer for several good reasons.
Outsourcing management frees up time. Both client and in-house employees can remain concentrated on their core business activities.

An outsourced manager means no hiring expenses. Outsourcing managerial, HR, and operational tasks saves plenty of funds.

Business continuity is another reason. There will be no more concern about staff leaving their expertise.

It allows using the best industry practices. Outsourced managers are always up-to-date with the latest state use ofies and market trends via their diverse pro network.
Finally, the vast experience of the outsourcing managers impresses. Such experts have seen the entire art of management outstaffed teams from the inside, working with many companies. Outsourcing managers can share skills and expertise with their hiring company and external specialists.
How Much Can You Spend on Outsourced Managers?
Some outsourcing companies that offer no hidden costs provide their clients with project managers at no charge. Managers are already offered as part of your team. Their price may vary based on the client's business size, location, and services. 
A full-service management team can cost anywhere from 1,000 USD to 15,000 USD. The wages of a full-time manager range from 50,000 USD to 125,000 USD. Mind that flexible arrangements and the consistently high quality of outsourced IT services make them a compelling alternative. 
What Is the Required Period for Management Outsourcing?
An outsourced manager should pass an onboarding procedure that consists of comprehensive research and assessment of those procedures. This process must narrow your participation to the discussion of core business activities. At the same time, leveraging a team as a resource and study by the outsourced experts is also required. Sometimes, the answer to this question can be half a year (6+ months).
Final Thoughts
Large-scale outsourcing can be a real challenge for many organizations. Your business may lack the time or resources to find the right partners. 
An outsourcing project manager for outsourced teams can effectively oversee all processes and conduct accurate examinations. That is how they guarantee excellent work and results.
If you need such an expert or an entire team of information technology specialists, let Intellisoft know about your current requirements and objectives. We'll get back to you fast. Our team follows a no-cure, no-pay policy. Feel free to select the top professionals in our network at no initial fee!