Are you facing a new business challenge, such as creating a new website, mobile application, or IoT app? Be ready to handle both the development process and post-launch maintenance and support. If you decide to extend your in-house team, mind that you might need a Scrum master, software architect, QA engineer, designer, tester, and many more. As Forbes admits, internal IT teams possess a nuanced understanding of your product but may only offer broad know-how. It's only okay for day-to-day operations. How about other tasks?
A reasonable solution, in this case, is outsourcing. In 2020, more than 80% of logistics leaders increased their outsourcing budget by more than 5% because of this model's effectiveness. Outsourcing is not something new, so people are more interested in different types of this team extension. Some questions may sound this way, "Is there any difference between outsourcing and offshoring? Offshore vs nearshore or offshoring vs onshoring?"
Study the differences between three IT outsourcing approaches and check their potential risks and benefits with the help of our post. This way, you can choose the most suitable one for your business objectives and needs.
Outsourcing: Definition and Types
The idea of outsourcing is the same whether you opt for nearshoring, offshoring, or onshoring. Outsourcing definition implies a delegation of a project or part of assignments to a third party. This cooperation ensures all the client's requirements are met and monitored. Third party takes full responsibility for the development process. The distinguishing factor is the location.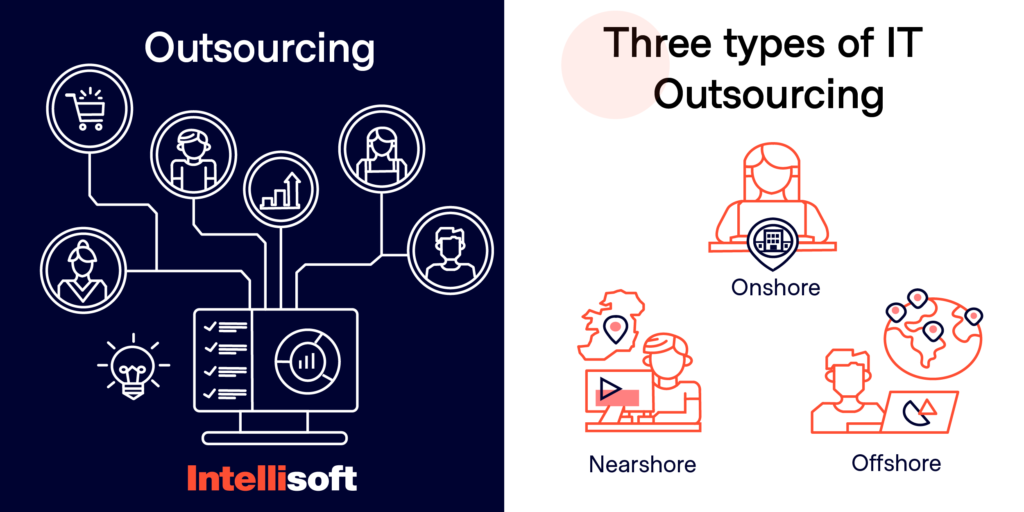 Let's start with offshoring, which is outsourcing the project to distant vendors. If your company is from Sweden, distant vendors would be companies from far-away regions like China, India, Argentina, Mexico, or the Philippines. 54% of organizations use external teams to expand their talent pool or speed up the development processes. Companies that are based in the USA and Western Europe apply this approach quite often.
Offshoring seems the most budget-saving model. Companies can enjoy the expanded talent pool at low expenses. However, dissimilar time zones can bring workflow inconveniences.
The nearshoring definition assumes outsourcing to a nearby country. It allows frequent business trips at a low cost to hold meetings in person if needed. Now, most of the communication is online because of the social distancing caused by COVID-19. Yet, geographical proximity helps to keep more control over the project and motivate the team. It's possible to arrange a visit to your HQs for the development team to have a deeper insight. Coordination of work is facilitated by cultural and language compatibility. These factors offer significant advantages when comparing nearshoring vs offshoring.
Onshoring means outsourcing to another city in your native country or country where your business is located. Regarding offshoring vs onshoring, in the second case, you can ignore most risks as this model is a perfect way to invest in the national economy. The allocated budget will be much higher compared to the prior two approaches. The talent tool, the level of skills, and expertise are limited.
At the same time, onshoring works best if most of your clients live in your country. Consider the recent Amazon Effect, which states that consumers expect their goods and services delivered to them as fast as possible. Shorter travel times mean higher chances to meet those expectations.
Okay, so outsourcing may come in three different shapes. Why would a company outsource its IT team at all? Let's observe in the text below.
Why Do Businesses Outsource? Top Reasons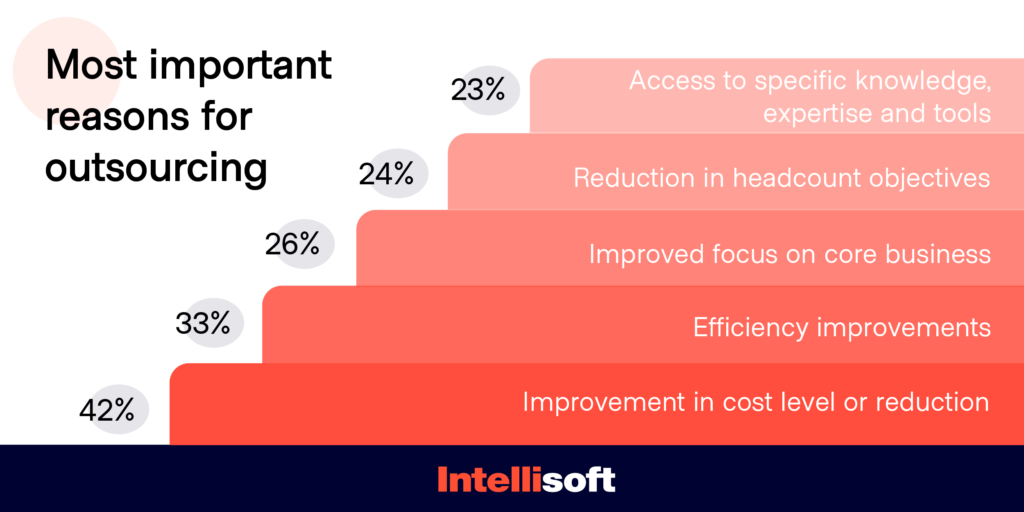 Did you know that 1/3 of small businesses and start-ups outsource their business processes? The answer to the question "Why outsource?" is very simple:
Budget-saving
More time for core business activities
Flexibility
Specific expertise and skills required for a project
A large talent pool
Among other gains, small businesses, as well as medium-sized firms, often appreciate enhanced efficiency and flexibility. They have more free time to focus on core tasks, skipping hiring and headcount issues. The core business activities usually involve inventory management, design, communicating with current and potential clients, etc.
Half of the operational tasks are also eliminated for the in-house teams. What is even more important is the time-to-market (TTM) and application of cutting-edge technologies. They include the most popular programming languages such as JavaScript, Python, C++, Swift, Angular, and React. Cutting-edge tech presents a great competitive advantage for years to come.
If you are already motivated enough, it's high time to go deeper and investigate all aspects.
The speed to market and application of cutting-edge technologies present a great competitive advantage for years to come.
Comparison Table: Outsourcing vs. Nearshoring vs. Offshoring vs. Onshoring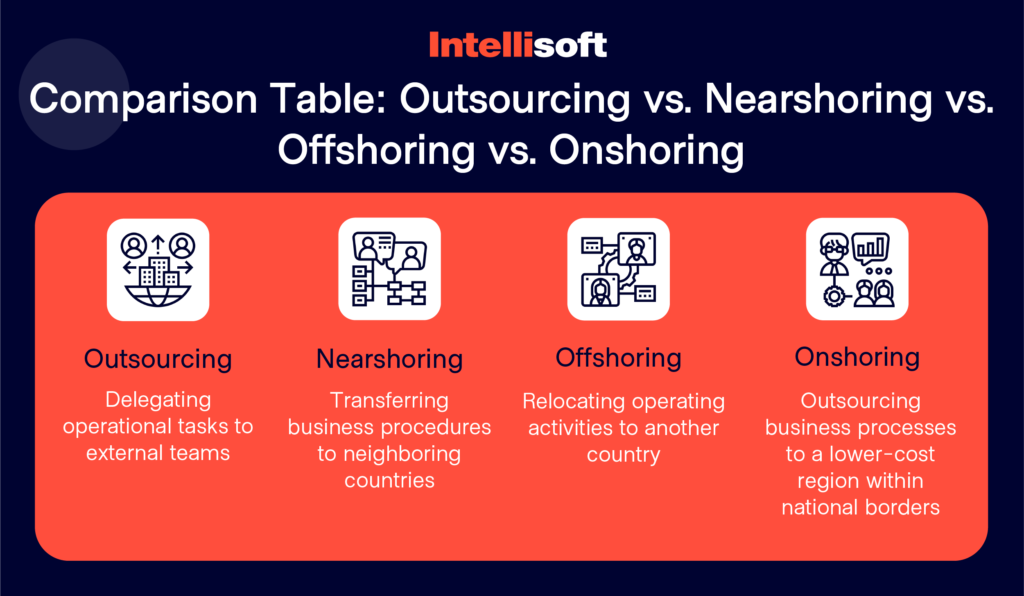 So, what is the difference between outsourcing and offshoring? How about nearshoring and onshoring? All notions of outsourcing, including offshoring, nearshoring, and onshoring, are summarized in the comparison table above.
Outsourcing is a more general term that includes nearshoring, offshoring, and onshoring. It is when you hire a third party and transfer an internal project or some particular activity. You can assign a project from scratch or ask to upgrade the existing one. It's an effective cost-cutting measure and a way out in case you lack specialists with the required expertise and skills.
Nearshoring Pros & Cons
Nearshoring or near sourcing definition denotes a transfer of work to third-party companies. Their services are less expensive and closer in terms of location, time zones, culture, mentality, and language than offshoring. Let's get rid of your confusion with outsourcing vs nearshoring. Bear in mind that nearshoring is outsourcing to the neighborhood.
A lot of start-ups, business owners, and CTOs seek for automation of business processes, brilliant online solutions like mobile apps, e-commerce marketplaces, or a website. Still, you may lack an in-house team of developers with the required skills and expertise. That could be the knowledge of the specific programming language, for example. You may try a nearshoring company with a reliable reputation exactly for these purposes. For start-ups, small and medium business nearshoring seems less risky.
For start-ups, small and medium business nearshoring seems less risky.
Pros:
Budget-friendly rates
An extensive talent pool of qualified staff with exclusive expertise
Geographical proximity allows frequent trips and easy in-person communication
Close time zones ensure real-time collaboration
Fast handling of urgent issues and unexpected threats
Cultural and language compatibility leads to smooth and effective communication. It mitigates misunderstanding in the workflow.
Yet, most top-notch vendors use English as a universal tool, so they check this language proficiency.
Cons: 
You may encounter limitations with the talent pool nearby.
Sometimes, you can find no vendors with relevant expertise, knowledge, and skills for your particular project.
Benefits:
More time and energy for core business tasks
Cost-effective collaboration
Sharing one or close time zones simplifies the workflow
Communication and understanding without troubles
Superb results.
Employees in specialized IT companies are more experienced, trained, and educated. They can share knowledge, experience, and grow in an intensive IT environment.
Offshoring Pros & Cons
To hire a dedicated in-house team of developers sometimes is far beyond the budget of start-ups, small and medium businesses. Consider other affordable alternatives, such as offshoring. Is there any difference between offshoring and outsourcing? Yes, but, they are often mixed, comparing outsourcing vs offshoring is not correct. So, the key outsourcing and offshoring difference divides outsourcing as a general meaning and offshoring as its type.
If it's the first time for you, a lot of other questions may arise in your head. What is the offshoring business definition? What other upsides except reducing costs exist or hidden downsides are there? Is it only hype or a universal tool that your CTO has been looking for?
Is it only hype or a universal tool?
Pros:
Lowest costs for running the project, which present a great competitive advantage
The widest choice of a talent pool all over the globe
Enhanced and diversified experience, the knowledge of the current trends
Cons:
Control issues can be exhausting. Constant control and distant flying, which is tiring
Risks connected with quality and security issues.
Rare or no personal meetings are risky for your intellectual property or can turn out to be a con game
English may not always help omit cultural and language barriers
Benefits:
Use the timeshift to your advantage. Imagine, the task is ready while you sleep
You can check the result and move to the next step or create a round-the-clock workflow
Top market developers in any specific niche are at your disposal
Vendor's self-management gives freedom to you.
Remote self-directed dedicated teams usually consist of professionals responsible for a separate area of work, self-managed by a worker
You Might Also Like:
Onshoring Pros & Cons
Security, easy and effective control, and collaboration are important for business owners. Onshoring is great for start-ups or innovative, not well-documented projects. This type of outsourcing is far more expensive than the first two approaches. At the same time, it's cheaper than an in-house development team.
You often can look for options from other cities or towns. You share a single language and cultural background and invest in the local economy.
You are aware of the native labor force, domestic facilities, tools, and infrastructure. The lack of required skills may be a pitfall to upset you.
Pros:
The least risky in the pattern of offshoring vs. nearshoring vs. onshoring
Geographical proximity means no troubles with frequent meetings in person
Zero barriers with language and culture
Easy and quick decisions and solutions to arising problems
Cons:
The most expensive in comparison to nearshoring vs. offshoring
The most limited talent pool in the number
No vendors with relevant expertise
Benefits:
The least fuss with effective communication, management, visits, and workflow
Easy access to potential vendors
Market awareness helps you to eliminate the risks with quality and security standards
It's more cost-effective than your own in-house team

Summary: Checklist for Nearshoring
Is Nearshoring your way to solve business problems and raise income? Test yourself in three minutes with our checklist:
You want to scale the business and need to extend your IT department or create a new one
The remote working format is not a problem for you
You plan to cut costs
You have a clear vision of the project
You don't want to compromise high-quality performance and standards
You need reliable IT specialists with relevant expertise
You'd like to skip hiring and staffing issues
You demand real-time availability from your IT team
You wish to pay affordable wages
If the answer is yes to at least half of these points, nearshoring is your way to success in IT. Intellisoft has clarified all issues with outsourcing vs offshoring difference, nearshoring, or onshoring. Create a clear vision of your project, and you are ready to make the right choice.