If you have a goal to add young blood to your team, as well as provide new qualities to the organization, then be ready to overcome various challenges in the financial, material, and budgetary areas. Besides, hiring is always a risk. What then to do in this case? Of course, turn to outsourcing. But it looks like a simple solution only at a first glance. The first experience without tips from knowledgeable people is not easy because even those first steps are not always obvious. The principles of the three outsourcing models work in the majority of business sectors, but they are most actively used in IT development.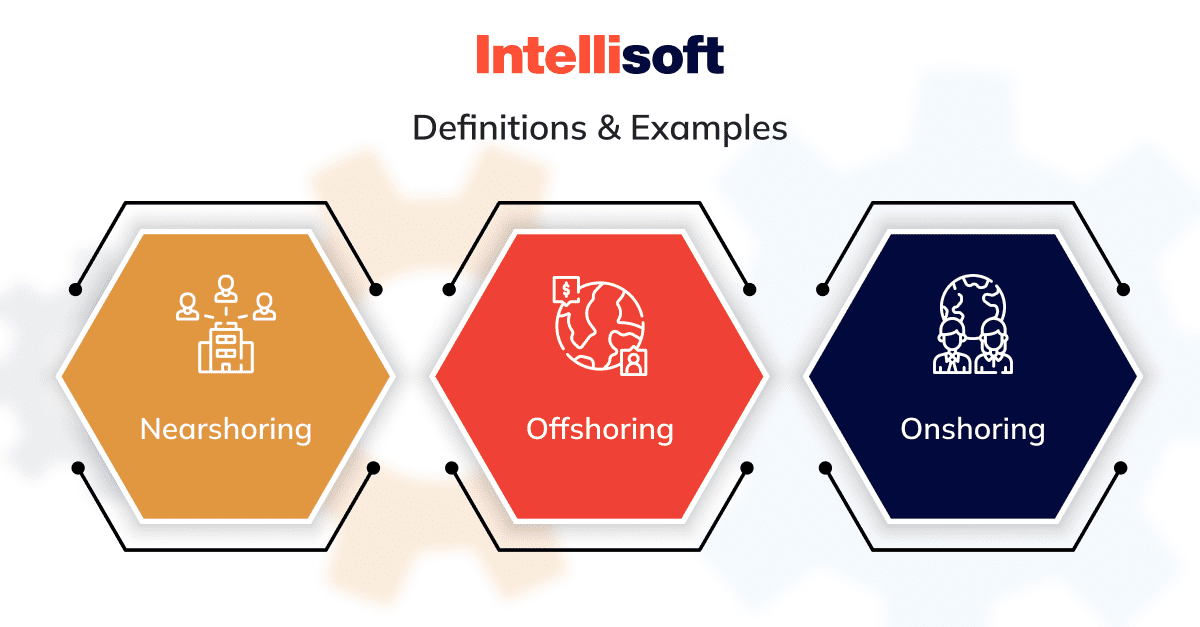 To gain a competitive advantage, you can use the information from this text with certain restrictions. And now, the Intellisoft blog will explain the difference between nearshoring, offshoring, and onshoring conveniently, showing all the pros and cons so that the top management of your company can reasonably decide its fate in the future. At Intellisoft, we are well acquainted with all three types of outsourcing and out stuffing. Our outsourcing team has been in the software development industry since 2007. We consider onshoring, offshoring, and nearshoring to be progressive models of project development. In this article, the Intellisoft team of professionals will help you understand exactly what outsourcing type your company needs. And now, let's see what the nuances of the onshoring, offshoring, and nearshoring models are.
Why do Organizations Look for Nearshoring, Onshoring, and Offshoring providers?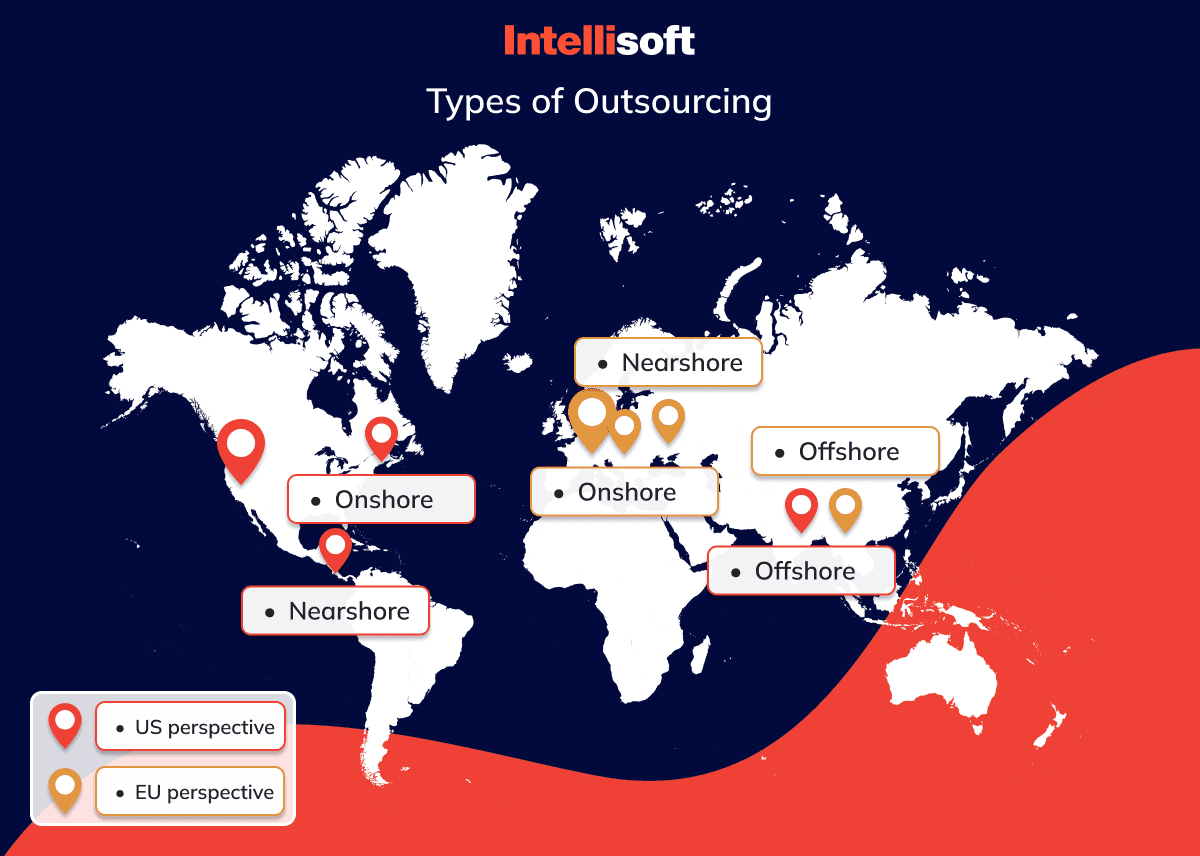 There are several reasons why you may choose to outsource the development of a particular IT solution from an in-house department. After all, any qualified CTO, sooner or later, is forced to consider the opportunities provided by nearshoring, onshoring, and offshoring models. At the same time, here, we will not consider ideas of outstaffing or R&D centers. Over the past few years, outsourcing has become increasingly popular in IT development. There are four main reasons:
Budgets. Competition in many business sectors is intensifying yearly, forcing corporations to pay more attention to optimizing their activities. And outsourcing allows companies to significantly reduce budgets for creating a product or service.
Fresh technologies. You may have excellent in-house specialists. But now, in the IoT, AR, and AI age, it is impossible to master all possible knowledge without harming operational activities. Sometimes, it is easier to find a specialist for temporary outsourcing than to hire him or her permanently.
Non-priority ideas. Everything is simple here. Why employ expensive specialists in work that does not suit them in terms of qualifications if they can engage in more high-value operations?
Shortage of specialists. It happens that the required technology stack is easier to find through subcontractors than on your own.
Key Enablers for Nearshoring, Onshoring, and Offshoring
In 2021, Deloitte conducted its regular enablers survey. Factors such as robotic processes automation (RPA), global standard processes, Single-Instance ERP, AWS, and service enablement for case management made it to the top 5. The company notes:
Over the years, RPA has remained the most desirable digital enabler for BS organizations and is expected to be the key focus area in the next one to three years.
Cloud as an enabler has moved from first position in 2019 to fourth position in 2021; 47% of respondents whose No. 1 focus area is PA already have cloud.
Innovation, self-service, and analytics and reporting have risen as focus areas in the next one to three years.
Nearshoring, Onshoring, and Offshoring Challenges
In the same study, analysts collected many comments on outsourcing companies and practices. One should seriously consider which options will suit a potential customer the most: Nearshoring, Onshoring, and Offshoring. And the list of the most prevalent challenges is as follows:
Lack of self-service capabilities (31%),
Unable to resolve issues (19%),
Long response times (12%),
Ineffective Automation (6%),
Limited Channels Accesses (4%).
Thus, it can be seen here that the customer always wants to control his decisions and business. This challenge is exacerbated regarding robotic process automation and data analysis.
What is Onshoring?
To avoid misunderstandings in the further consideration of our question, we present an easy mnemonic formula:
If a French company outsources to Peru, that's offshoring.
If a French company outsources to Moldova, that's nearshoring.
If a company from Paris outsources to Marseille, that's onshoring.
Although onshoring is the least suitable type of outsourcing for information technology (it is more used by logistics, steel, and industrial companies and corporations seeking to return their production to their country headquarters), some consumers of IT goods and services still need to use it. Onshoring can be called domestic outsourcing or the opposite of offshoring. It is usually a work transfer process within the country to non-metropolitan regions with lower transaction costs. A synonym of onshoring is reshoring, that is, the return of production and production facilities from distant regions to the homeland. In modern conditions of de-globalization, this process receives a breath of fresh air, especially when it comes to improving the company's reputation and corporate social responsibility. Such a process balances the commodity surplus, strengthens the local economy, and reduces unemployment. The language of communication will be acceptable here, but creating a team may be even more expensive than building an in-house department. You should also not forget that you may not find specialists with the qualifications you need in your country.
What is Offshoring?
Offshoring is the most common type of outsourcing. Usually, it is the transfer of certain kinds of work from the head office to another continent. The use of offshoring is determined by the price, a large selection of specialists, and the desire for more flexible management. In comparison, onshoring vs offshoring in addition to significant budget savings, the language of communication between local management and customer representatives, local culture, as well as the time zone of offshoring production, which reduces the amount of time suitable for direct online communication, play an important role. The largest offshoring markets are the Philippines, India and China. Apart from price, the main competitive advantage of two of these three countries is the official English language. At the same time, strictly speaking, for New Zealand companies, the same Philippines is not offshoring but nearshoring. According to Statista's 2021 study, the most attractive market for offshoring is India, excluding areas of digitization and digital resonance. The region's reputation for inexpensive but not too high-quality production has been established in the Chinese market. However, the same Apple manages its facilities in this country.
What is Nearshoring?
In fact, nearshoring is the same as offshoring but within the same continent. However, in this case, there are still some limitations. Such an outsourcing model allows for better remote production management due to reducing personal travel distances. In addition, the difference between industrial and social cultures will be felt much less. So, in the nearshoring model, the time difference is approximately two hours. Therefore, travel expenses, without which it is impossible to manage remote production effectively, will not significantly affect the overall project budget. Therefore, it is not surprising that the vast majority of companies like this type of outsourcing. For example, in a 2007 PwC study, 66% of respondents preferred nearshoring over offshoring. Specific changes in the nearshoring market have occurred in the last year and a half because one of the main markets of this type was Ukraine, which has been at war for 15 months. So, customers started to take their projects from there. However, this country's specialists continue to contribute significantly to the global outsourcing economy.
Merits and limits
Outsourcing: a Cost-Driven Model
Outsourcing is a cost-driven model. Usually, this option of starting your startup is the most acceptable from a financial point of view because the costs of paying specialists in some places can be even half the budgets that your in-house employees would draw. In addition, other transaction costs, such as electricity, heating, water, and renting of land or office, etc., can often be significantly reduced outside of your region.
Offshoring: a More Sustainable Solution
Many experts believe that offshoring is the most sustainable form of outsourcing. At the same time, you need to understand that, in this case, there are some challenges for the head office management since the team and management are in different time zones, so the possible time for synchronous calls is significantly reduced, and travel costs increase.
Onshoring and Nearshoring
Onshoring and nearshoring, although they cost the customer more than offshoring, they still have a number of advantages over transferring work overseas. For example, there will always be fewer problems with compliance with production quality standards, as well as cases of communication misunderstandings.
Pros and Cons of Onshoring
You can Cheap Finder Options
The onshoring model is usually used for costly regions, such as London, Paris, Brussels, New York, or Silicon Valley, where transaction costs often exceed all acceptable limits. Therefore, even in the same country, it is easy to find a more affordable alternative financially by placing production in a neighboring administrative jurisdiction.
Invest in Your Country
In addition, by choosing onshoring, your company invests in its country and native economy, helping it build muscle. The money goes to local budgets, which allows for the rapid development of districts and contributes to administrative decentralization.
Arm Yourself with Patience
That being said, you should Arm Yourself with Patience. One of the onshoring trends is the relatively high cost of creating an effective team compared to offshoring, and even operating an in-house Research & Development Division, which is often associated with the bureaucratic situation in North America and Europe.
Pros and Cons of Offshoring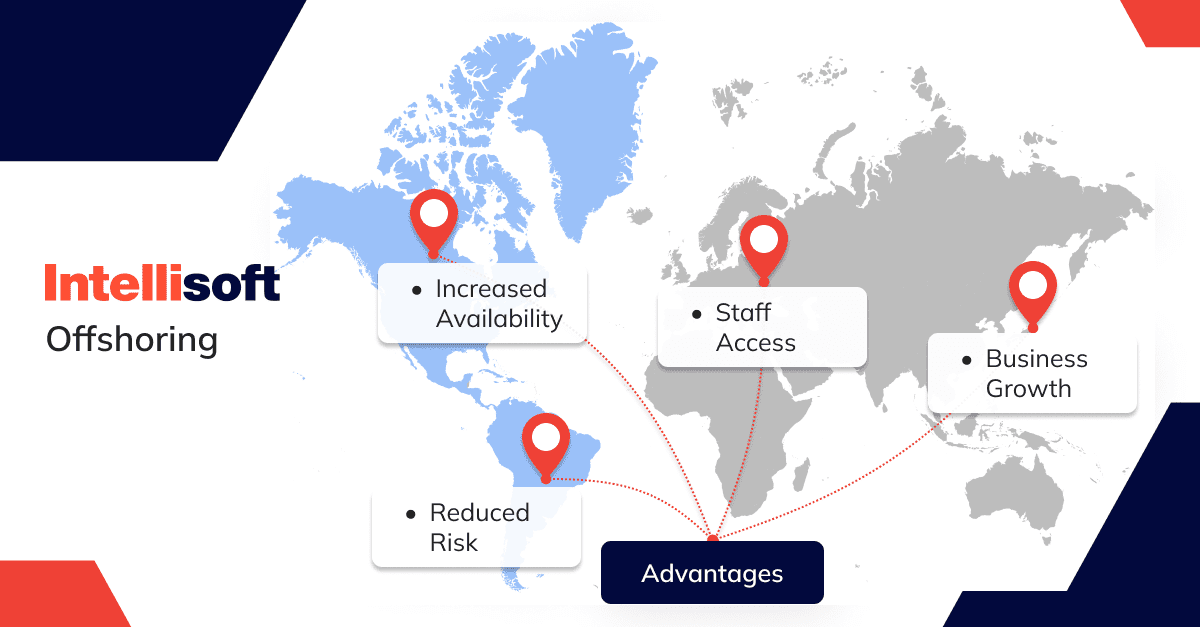 Run Your Business at a Lower Cost
Although offshoring pros and cons are not limited to the issue of price, it is in many ways a determining factor for any business. And for startups – generally triple!
Choose from the Best
In addition to financially available human resources, offshoring provides another invaluable advantage for the manager—an excellent selection of specialists with a stack of skills for every taste. While you can spend months looking for the professional you need in your country, offshoring can make your life much easier.
Get Work Done While You Sleep
In addition, the offshoring model of a well-organized business allows you to arrange the production process so that it does not stop even for an hour, distributing the load between in-house specialists and offshoring developers.
The Need for Constant Control
But at the same time, offshoring has a significant drawback. We are talking about the need to have constant control over all processes. The reason for this is the difference in cultures and national characteristics of employees on different continents.
Pros and Cons of Nearshoring
Benefit from Geographical Proximity
One of the nearshoring trends is that the rule of thumb is to get the most out of geographic proximity. On the one hand, such a remote division is part of the company's corporate space, and on the other hand, due to its location, it keeps a significant amount of the budget.
Closer Cultural Compatibility
In the case of nearshoring, there is a corporate culture much closer to the headquarters than in the case of offshoring. And although it is still different from the center, there are significantly fewer communication problems.
Poor Selection
Another problem can be avoided with the help of nearshoring. It is about a narrowed selection of candidates for specific vacancies when hiring in-house or onshoring. In the case of nearshoring and offshoring, it is much easier and cheaper to find a person with the right skill stack because the whole world is at the service of a headhunter.
Table of Comparison
| | | | |
| --- | --- | --- | --- |
| | price | location | culture |
| In-House | high | close | same |
| Onshoring | high | close | same |
| Nearshoring | moderate | moderate | close |
| Offshoring | low | far | far |
How to Choose Between Nearshoring, Offshoring, and Onshoring
Determine your unique goals and needs
To understand what type of outsourcing you need, start with your company's needs. If we are talking about improving quality, this is onshoring because these types of outsourcing operators are more interested in maintaining quality, but not reducing costs. But onshoring is good from the point of view of HR reserve. And if you need to reduce expenses quickly, turn to nearshoring or offshoring.
Take your budget into account
This lifehack is closely related to the previous one. The company must determine how much it is willing to spend on outsourcing. Therefore, it remains only to choose between two options: offshoring vs nearshoring.
Choose which compromises you are willing to make
The company must decide for itself what compromises it will make when choosing one or other type of outsourcing. And here, the optimal combination of price and quality of work is nearshoring, which, saving you money, allows you to avoid major cultural and communication problems.
Optimize your workflow
After solving all issues with agreements and organizational problems, start thinking about optimal management of production processes. For offshoring, simulate round-the-clock work. For nearshoring, improve communication links.
Improve and strengthen your communication channels
Communication above all else! Create the clearest possible chains of command, protocols, and communication channels. The more mature the coordination, the better. Keep learning and regularly evaluate your performance.
Conclusion
A company that has decided to optimize its expenses and expand its personnel base has three ways to use the outsourcing model. These are onshoring, nearshoring, and offshoring. Although onshoring saves little money, it helps the company to make an excellent contribution to the local economy. Nearshoring is the most balanced business choice. Offshoring saves the company's budget the most, but it has many side effects that CTO and CEO must take seriously. The correctness of the choice will affect the company's strategic development in the first way. But whatever choice the management makes, outsourcing is the future. For a more detailed analysis of this topic, we suggest you read our free ebook What are the Reasons for Outsourcing IT Software Development in Ukraine?
FAQ