IT outsourcing has remained in demand for many years, and, as experts say, its popularity will continue to grow in the future. According to Mordor Intelligence, CAGR will be at least 4.5% in 2021-2026. The main reason companies outsource projects is to reduce the cost of hiring and maintaining full-time staff. And when you consider a shortage of IT skills on the market, the benefits of such cooperation become apparent.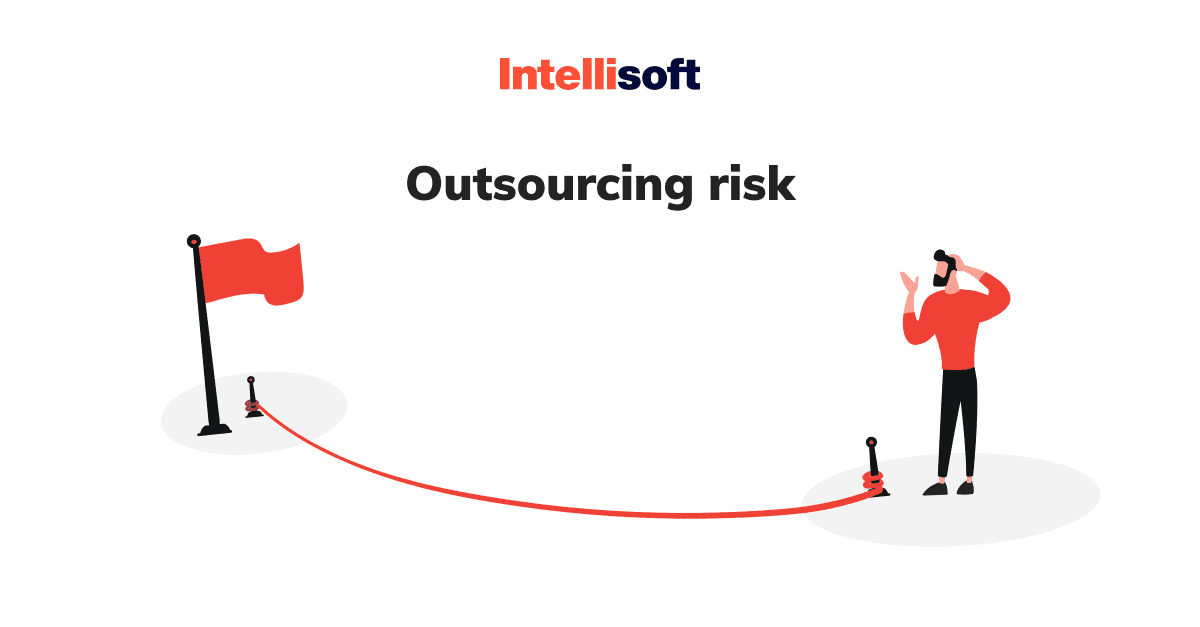 But is it really that simple? Outsourcing has benefits and risks that must be considered before concluding a contract with a service provider. Today we will look at the main difficulties of such cooperation and suggest ways to avoid them.
Briefly About How Outsourcing Works
For a modern business, keeping a large number of full-time employees can be unprofitable. It entails too many costs: salaries, vacations, sick leave, insurance, workplace organization, and consumables. A more rational solution is to delegate tasks, functions, or processes (in whole or part) to another organization. Involving external specialists in the work is called outsourcing.
The main principle of such cooperation is delegating tasks to an outsourcing company if your staff cannot solve them. Or it can, but it will take a lot of time and resources that will not pay off in the future. Hence, the critical goal is to focus on priority areas of business, avoiding non-core work.
Logically, it saves your time and money. You do not need to search for specialists with industry skills, take care of wages, buy equipment and software licenses, or rent premises. Your development partner assumes organizational and managerial duties and related costs. Each party bears legal responsibility, which is clearly stated in the contract.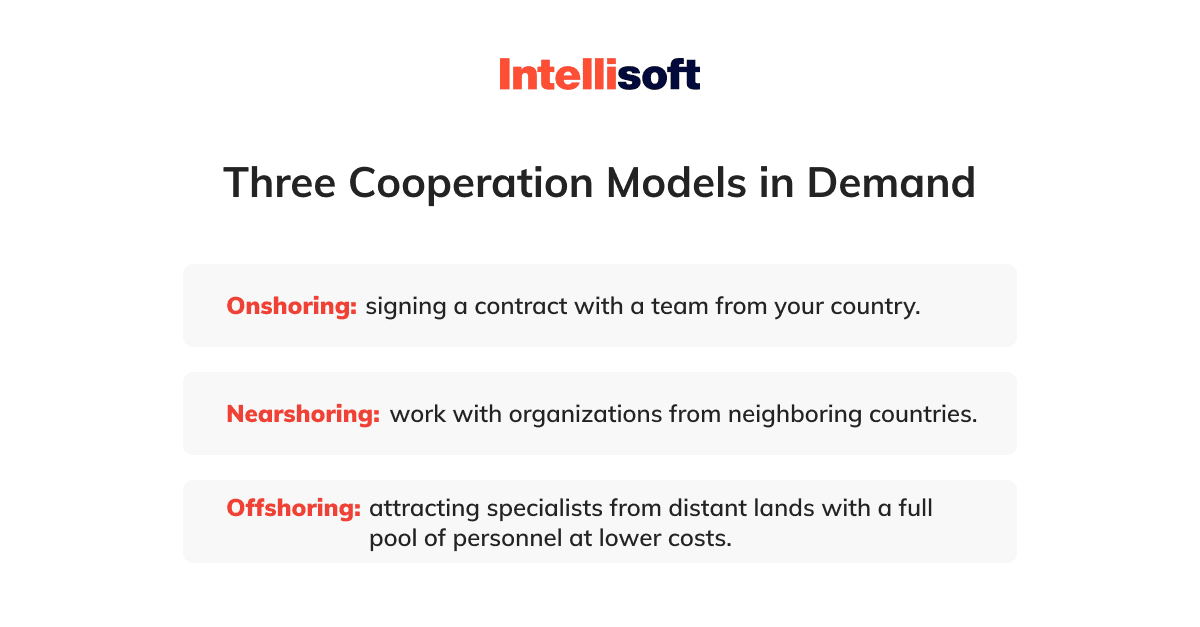 You can learn more about cooperation models here. The selected model determines whether you encounter linguistic, political, and cultural differences. These common risks are apparent and do not surprise anyone who has dealt with remote performers. But there are also unforeseen problems, and you should know how to avoid them. That's why competent outsourcing risk management is crucial for you. Let's consider what difficulties may arise during cooperation with an outsourcer.
Related readings: 
10 Outsourcing Risks: How to Reduce Them
Partial control
You know your business like the back of your hand because you are immersed in it 24/7. You can manage the project and staff as you see fit, but when you outsource some tasks, you lose control over them. No doubt, incompetent management on the contractor's part hurts the results of work. It is one of the most dangerous outsourcing risks.
If the outsourcer is far away from you, it negates personal meetings and makes it challenging to monitor KPIs. The customer-executor relationship is built on trust and involves regular communication. Difficulties can also arise with the latter if there are differences in time zones (we'll discuss it in the next paragraph).
How to organize control:
Decide in advance which management functions are best left to yourself and which can be painlessly delegated.
Develop a joint strategy to exchange reports timely and solve urgent issues.
Assign an employee responsible for communicating with contractors and coordinating the project remotely.
Complicated communications
Communication via instant messengers and video conferencing services will never replace face meetings. And the time difference (6-8 hours) can complicate the exchange of information, coordination of tasks, and decision-making. Communication problems often lead to unrealistic expectations on both sides. Another reason for the misunderstanding is cultural and linguistic, political, and religious differences. In simple words, you and the performer may not share the values ​​and views of each other, which sooner or later will affect the quality of the project.
How to keep in touch:
Clarify the team's level of proficiency in the required language and if they have experience with your time zone.
Learn more about the socio-cultural and political characteristics of the offshoring country.
Adapt the schedule to the requirements of both parties, taking into account holidays and weekends.
Broken promises
Each outsourcing provider strives to demonstrate its strengths in a highly competitive IT market. While 99% of outsourcers are honest with their audience, there will always be that 1% who dreams of easy profit. You can face both a "one-day" scammer or just an irresponsible partner who promises high quality but abandons the project halfway through.

Unpredictable costs
Cost reduction is the main reason for working with outsourcing companies. However, everything looks transparent only at the first stage. Unexpected costs may occur, as you may need software updates, new plug-ins, emergency troubleshooting, after-hours assistance, and other related services. But these nuances are not always discussed before the conclusion of the contract, which becomes an unpleasant surprise for the customer in the future.
How to avoid hidden costs:
Carefully study the company's tariff plans and choose the one that suits your goals and cooperation model.
Conclude an SLA and indicate there all the services and their cost, as well as the cost of possible additional work.
Manage the activity and track the time of remote specialists.

Information leakage
The work of a software contractor involves the disclosure of confidential information to outsiders and the provision of access to business assets. You must be sure that the partner will not divulge your trade secrets or manipulate copyrights and patents. It is vital to ensure safety if the contractor acts under other laws.
How to prevent data leakage:
Draw up an SLA with a legal adviser experienced in the IT outsourcing field.
Conclude an NDA and study the intellectual property laws of the contractor's country.
Clarify what methods the company uses to protect the confidential data of its customers.
Dependence on external services
Outsourcing the project reduces the burden on your team but makes you dependent on an external company. In addition, over time, your specialists lose valuable knowledge if they do not participate in the work on the product. The same risk applies to the long-term use of the supplier's technology. In the future, it can be difficult to switch to another tech stack and start collaborating with a different team.
How to stay independent:
Delegate part of the work on the project but control execution of critical responsibilities on our own.
Engage specialists for staff augmentation, not for its complete replacement, or hire a dedicated team.
Introduce product development reports and secure your ownership of the codebase.
"Cheap" quality
This risk arises for those who want to save money. Many people choose outsourcers with the lowest prices and do not think about the reason for such "cheapness." Budget proposals are placed by little-known companies with inexperienced specialists in most cases. Newcomers can not provide high-quality digital solutions, which makes the idea of saving on contractor's services meaningless and impractical.
How to find optimal quality:
Analyze the company's expertise: work examples, the quality standards they adhere to, and their tech stack.
Find out if the team uses modern techniques to accelerate development, such as DevOps.
Hire a specialist to inspect the work of a remote team.
Non-core experience
Everything is simple here: the less experienced a software contractor is, the longer it will take to understand the tasks and study the requirements. As a result, the final product will not meet the industry standards. In this case, you will have to submit the project for revision or hire another team. Anyway, it is an additional investment of time and money.
How to attract experts:
Request evidence of experience in a niche: case studies, customer reviews, portfolio.
Conduct a discovery phase and order a pilot project or MVP to understand the contractor's knowledge and skills.
Contact several clients and get their objective opinion on the company's expertise.
Staff turnover
Internal problems of the outsourcing company also affect the result. Due to the frequent reassembling of the team, different people may be involved in your project, and they all need time to familiarize themselves with the tasks. It inevitably affects the speed of your product to market and its final quality.
How not to face changes:
Find out if there is staff turnover in the company and how quickly the new employees replace retired ones.
Ask the contractor to notify you of the upcoming departure of the employee who worked on your project.
Visit the partner's head office to verify if the in-house staff is real.
Still, keep in mind that low staff turnover may have certain benefits.

Contract termination
Terminating the contract with the outsourcer is one of the most dangerous outsourcing risks for businesses. Sudden refusal to cooperate can cut off access to critical resources, data, systems, and technology, i.e., everything that holds your project together.
How to reduce the probability of contract termination:
Provide and describe in detail the procedure for terminating the contract.
Establish rules for resolving financial, organizational, and other essential issues.
Think over and prepare "plan B" in advance.
Who Uses Outsourcing?
According to Deloitte, 57% of companies value outsourcing for the possibility to pay more attention to important tasks and eliminate routine. It applies to both startups and prominent players.
Here are five prime examples:
Google: Delegating administration, IT functions, development, and email support to AdWords.
Alibaba: Collaboration with US web developers.
WhatsApp: involving development resources from Russia.
Skype: attracting developers from Estonia for product updates and further partnerships.
Slack: Working with third-party designers for beta-testing.
Other notable examples: Apple, MySQL, Opera, GitHub, and Basecam. Access to talent, solving productivity problems, and improving product quality while lowering costs are why business owners choose the outsourcing model.
Despite all the risks, outsourcing continues to gain popularity. According to Avasant, more than 60% of companies tend to delegate at least part of their application development tasks. If you need third-party support but are afraid of problems, we are ready to help you mitigate outsourcing.
Intellisoft introduces features that allow you to control all tasks remotely, contact the contractors at a convenient time, and carry out calculations following a transparent scheme. We discuss all the terms in advance and clearly state them in the contract, so you don't face unpleasant surprises but get high service quality. Contact us, and we will prove our professionalism!