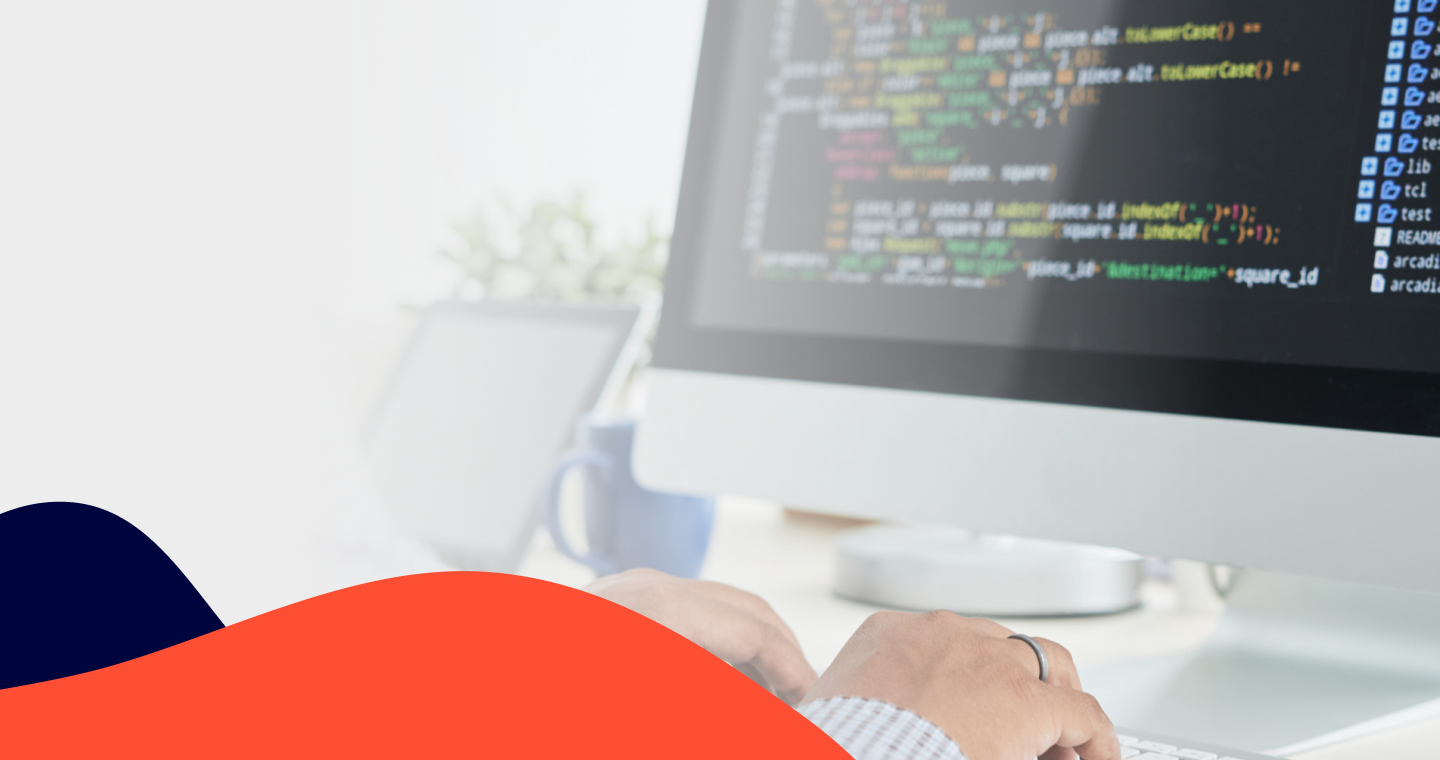 IntelliSoft offers quality assurance (QA) and testing services to its clients. The goal of these outsourcing qa testing services is to cut development costs, reduce tech and business risks, and enhance time-to-market. It does not matter how complex the project is. We are here to assist with delivering high-quality software and guaranteeing the best experience for your clients.
Quality Assurance and Testing Services









Quality Control & Quality Management
The world is ever-digitizing. Tech solutions develop dynamically, so catching up with all novelties on time is difficult. Thus, decision-makers and executives are paying more attention to the role of software quality evaluation and examination for enhancing their clients' experience. The role of our quality assurance testing company is to determine quality targets, analyze all business processes, and decide on stages necessary to boost software quality. At IntelliSoft, we provide clients with quality assurance and testing services.
IntelliSoft is a quality assurance and testing services provider that has been creating market-leading standards for code-printed goods and services. Quality, as we see it, refers to "a solution which excellently fits the client's business goals." We are definitely among the leading quality assurance companies.
With manual testing, our experts can simulate the end-user behavior and predict how your product will be perceived. We can examine even the sophisticated functions. Our professionals apply various devices during the assessment procedure. IntelliSoft defines bugs, failures, and crashes. It allows companies to come up with an efficient roadmap for improving products and services. This service allows us to determine vulnerabilities and fix or even prevent them.
The advantages of manual testing
A human touch to the software control procedures
A better understanding of the general customer experience
Actionable testing results for each new piece of software
Bottlenecks detection at the former development step
It is a long-term investment in your business success. The automation software testing service is developed to assess each application feature. The goal is to ensure that the product will function just as expected. To boost quality, our experts set up non-functional auto-examinations to evaluate safety, performance, and more. Both manual and automated testing can be used by our specialists if you want.
The advantages of automated testing
Exclusion of human mistakes
Simpler and more reliable examination of product or service
Excellent performance of time-consuming assignments
Possibility to conduct the exams at any time
Software Testing and Quality Assurance Services

Across Multiple Domains
All developers sometimes need help from professional software quality assurance companies. IntelliSoft helps clients from many different industries. We have experts who have worked in various fields. Our team uses the best industry practices, depending on what you plan to achieve.
As transportation & logistics are responsible for such responsible services as drivers' communication with clients, paperwork, stock inventory, fleet maintenance, and more, this field requires top-quality QA and testing services.
Highly secure e-health websites – that is what customers expect to receive from medical organizations that are involved in software development or just use healthcare apps. We form and manage QA & testing teams for medical businesses, facilities, and startups.
Our team offers
software testing and quality assurance services and
helps to examine websites from zero, as well as offers new features and updates to the existing solutions in the field of Internet-of-Things.
The representatives of the educational field, both learners and their teachers need efficient solutions for better results. Our professionals use the most recent smart tech to assess educational software and tools.
The main purpose of our quality assurance company is to assist your business with maintaining empathetic relationships with clients. To do so, we need to make sure that the product is of premium quality using the industry best practices.
IntelliSoft is a
software quality assurance and testing services
company assists with providing remote legal services. We use original tech solutions to examine how good your legal software is.
Perks of Our Quality Control & Management
So, IntelliSoft is here to help you guarantee the best client experience. That is only possible in case of the premium quality of your software, and here is where our QA and testing service steps in!
In-house Quality Management Standards

Best practices, strict guidelines, and documents that correspond to the most effective industry standards.
15+ Years of Quality Management Experience

Quality control, app QA, examination of every piece and feature, and credible solutions for your companies to boost customer experience.
Automation & Agility

Full-fledged agile delivery from a thorough user experience assessment to performance analysis, starting from compliance exams to DevOps and code reviews.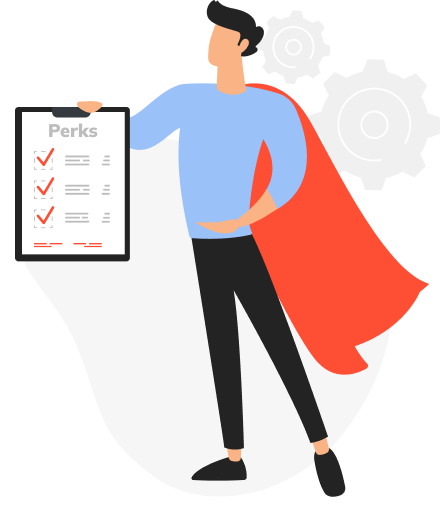 Quality Assurance (QA) Solutions
We offer testing and QA tools for all types of devices and IT products, should it be web or mobile apps.
IntelliSoft examines the complete architecture of your IT solutions. In addition, our professionals test features, evaluate performance and carry out hardware compatibility examinations. Here is what we offer in particular:
Back-end examination
Load testing
Feature analysis
Compatibility evaluation
Memory testing
Graphical user interface (GUI) function examination
Mobile applications are especially popular today. They should be just as good as your website. Software should be properly mobile-optimized to become really successful and highly demanded. That is how you can guarantee a customer-centered experience. While examining, our specialists make sure that the software is of premium quality. Here is what we offer in particular:
Compatibility examination
Feature analysis
Usability evaluation
Localization assessment
Safety testing
Set-up testing
Mobile device check
Performance & load testing
Both cloud-based solutions and software-as-a-service are popular and dynamically evolving. There is no surprise many companies turn to these solutions. While our experts ensure the quality and examine software, they define traffic issues, security failures, and other problems such as compatibility. We mostly use the following methods:
Interface examination
Usability testing
Feature evaluation
Safety analysis
Performance assessment
Compatibility examination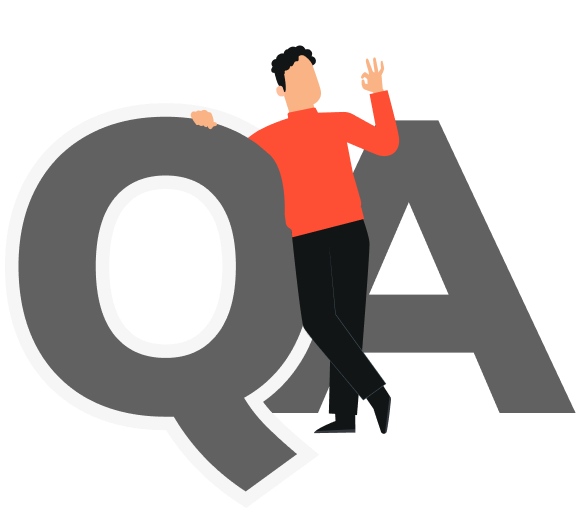 Download our portfolio with previous projects
Check out projects we delivered for clients from different industries.
QA & Testing Stages
Quality is what matters in the first place. No user will ever love the product if it does not offer the highest quality. That is why turning to our QA and testing service is helpful. It consists of several stages.
The user interface is how the user and a product interact, in particular the usage of input devices and applications. Our specialists will evaluate the UX and offer fresh ideas on how to guarantee a smooth customer experience.
Our professionals evaluate your app's performance in various environments. It is also necessary to check how the software behaves under various user loads. That is how we measure scalability.
Safety & Compliance Exams
Our experts discover and get rid of bugs and possible risks to your system to omit potential threats to safety.
Except for the quality, it's also important to evaluate the product code's consistency. Our team sees the bugs with a naked guy and offers ways to fix them.
We do that once the basic development stages are over. Software validation is the process vital to make sure that the final product corresponds to the expectations of both our clients and their users.
Application Maintenance & Support
It is not the right time to stop once the development process is over. After your software is prepared, our experts will keep an eye on it to ensure that it perfectly functions. We will carefully check all modifications as we realize how essential the quality of a product is.

Goals-Driven Automation Framework
Our goal is to provide enhanced QA, intelligent automation, and higher production. Let us select the most suitable automation framework.
Our company only hires experienced quality assurance developers.
They possess vast experience working on other applications and systems for various companies.
CI can significantly minimize the costs of manual labor. Such integration also assists with releasing applications that are free of bugs.
Our experts will collect valuable data with the help of different metrics.
This stage helps to track the progress of quality assurance. At each stage of examining your product, we prepare quality reports.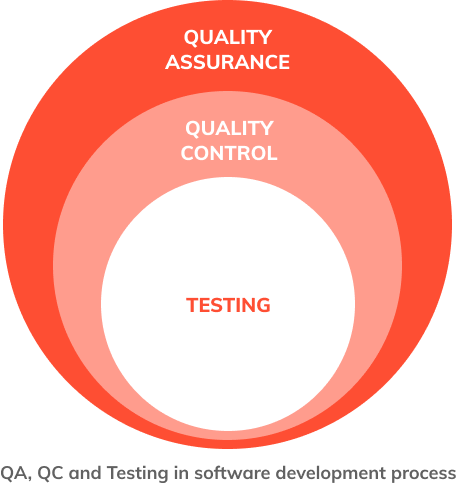 How Are Assurance, Control, and Testing Different?
Software quality is what guarantees customer satisfaction and brand loyalty. This term can be defined as a field of study that describes the desirable features of applications. A couple of basic approaches to software quality are known: defect management and quality attributes.
Let's start with quality assurance (QA). It is a systematic plan of actions essential to guarantee confidence that an item conforms to establish tech requirements. Quality assurance concentrates more on the organizational nuances of quality management.
As for testing, it stands for the act of observing the behavior of the application under examination by approval and confirmation. This procedure is about providing an independent view of the app to make it possible for the company to realize the threats of software implementation. Test methods are pretty much different.
Testing is about defining and solving tech problems in the software source code and evaluating the product usability, safety, performance, and compatibility.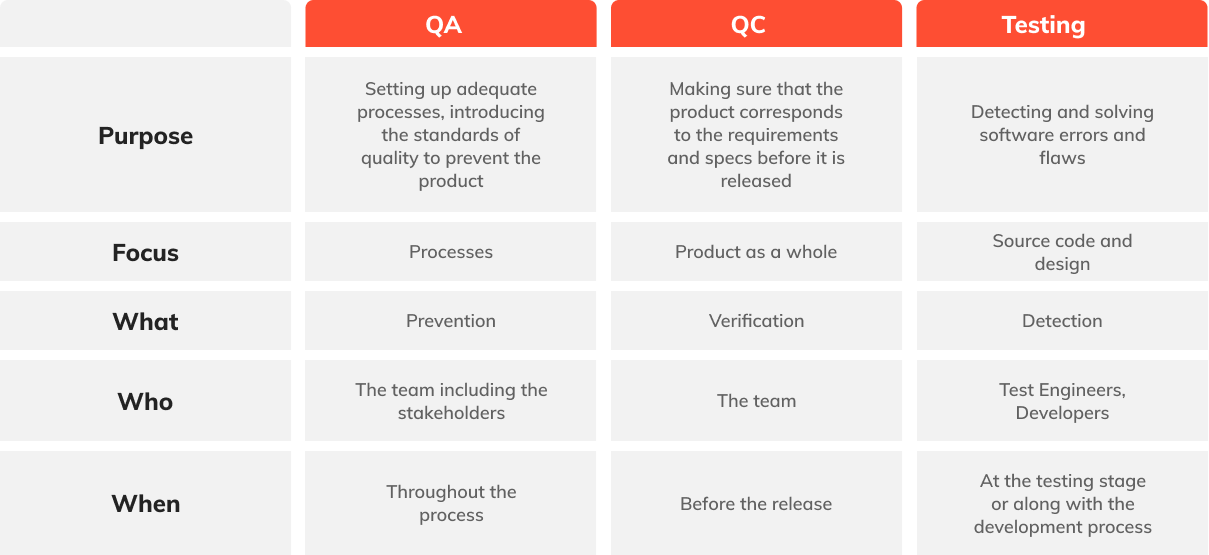 The concepts of quality assurance, quality control, and testing compared
Finally, there is quality control, which means a process by which experts review the quality of all factors included in production. It is a part of quality management focused on accomplishing quality needs.
Frequently Asked Questions (FAQ)
We offer different types of automated and manual testing to provide you with outstanding results. After analyzing the specifics of your product, we come up with the solution that suits your needs best.
Automated testing stands for the approach to examining software that demands specific app instruments for monitoring the test execution and processes, as well as assessing exam outputs with forecasted outcomes.
Here is what automated testing involves:
Desktop testing to reinforce the connection between the final users and app developers.
Various types of functional user interface examination with data conformation shown on the front-end.
Performance check necessary to make sure that your product or service offers the best features.
Database testing for quicker information confirmation.
UI testing. Our team automates all types of mobile solutions.
Manual testing refers to a process of software examination that is done manually to detect defects without having to use instruments or automation scripting. Here is what manual testing involves:
Safety app testing involves mobile/web safety examinations, along with API safety testing.
Usability check according to the ISO standards. That is necessary to guarantee the best experience for your customers.
Database check to confirm information migration/quality.
Compliance testing that covers process assessment examination and industry compliance.
More than forty years ago, experts came up with 7 main principles of software quality testing. They involve:
Early examination. The price of a mistake grows exponentially throughout the entire software development life cycle. Thus, it is necessary to start testing procedures as fast as possible to prevent serious issues.
Context dependency. Various apps require different approaches to observing. It depends on both their goals and industries. For example, security matters less to a corporate site than a fintech good or service.
Errors listed. The process of testing is about determining the pitfalls within the software. Testing is basically used to minimize problems that can occur.
Issue classification. The Pareto principle states that around eighty percent of all mistakes are, as a rule, discovered in just twenty percent of the system modules. As one bug may cause other bugs, all modules should be checked once at least one defect in a single area is detected.
Pesticide paradox. Testing turns useless after the identified mistakes are fixed. Experts should continually update the examinations to adapt and detect more bugs.
Absence-of-mistakes fallacy. No errors at all do not guarantee success for your software. The product should meet user requirements. The functionality should be useful.
According to some other sources, more principles can be recalled, such as:
Examine for invalid values in addition to valid ones.
Apply comprehensive documents to identify the predicted test outcomes.
Testing should be an independent, objective process.
The review process must be carried out on a static piece of application. Do not make any modifications while testing the software.