The modern term "outsourcing" comes from the English "outside resource using" – the use of external resources. When speaking about mature international businesses (for example, in IT), the practice of outsourcing is seen as the performance of certain business tasks by contractors that have the resources to execute these tasks. The Outsourcing Institute (USA) defines this concept as an organizational decision to transfer certain business functions or processes to a third-party contractor. In other words, outsourcing means the use of external resources.
Business outsourcing is referred to as the 20th-century phenomenon. It's the most remarkable business invention of recent decades. Today, outsourcing is actively used by industry giants like Google, Amazon, Slack, Grammarly, Skype, Alibaba, WhatsApp, etc. This practice allows organizations to achieve competitive advantages. And the reason for this is very simple. This practice allows all involved parties to perform those functions in which they're successful.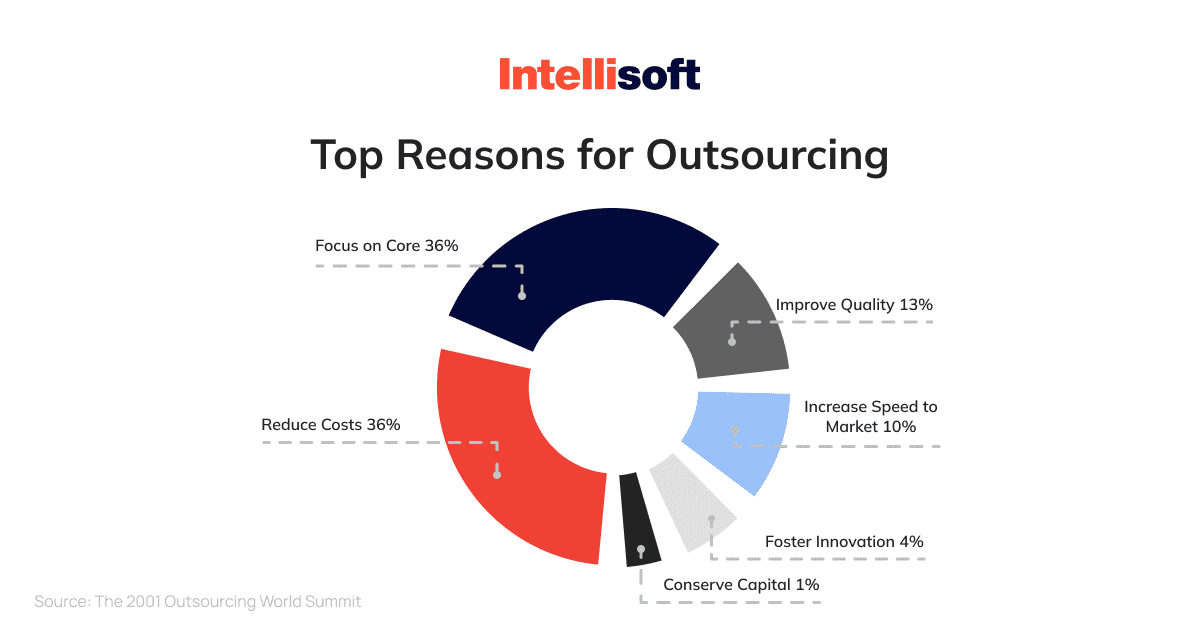 Business outsourcing has become widespread throughout the world. That's because of its remarkable efficiency and its significant contribution to the apprehensive development of the global economy. Outsourced operations in 2012 accounted for 51% in the USA, and that was a decade ago. This statistic was provided by McKinsey.
Deloitte's Global Outsourcing Survey of 2020 has changed its approach to its business research in the wake of the pandemic. The company interviewed about 40 executives, service providers, and lawyers—both before and after the outbreak of the COVID-19 pandemic. Deloitte's survey found that cost reduction remains the primary goal of outsourcing. 70% of those surveyed stated that outsourced operations were used as a cost-cutting tool. The other 40% said outsourcing provides flexibility to the organization.
Related readings: 
The Emergence and Development Of Outsourcing
This collaboration model originated in the US, the country with the most efficient entrepreneurship system. In the United States, delegation and rationalization of all business processes are honed to perfection.
The beginning of the practical implementation of this cooperation model dates back to the confrontation in the automotive industry. You might have heard a lot about this. We refer to Henry Ford and Alfred Sloan. It became clear that the two significant concerns could not be completely self-sufficient back then. After this milestone realization, Alfred Sloan applied a completely new management method. Some functions were transferred to external specialist companies.
Experts believe that this collaboration method has become more widespread for several reasons. One of those reasons is the development of information systems. Since the late 1970s of the last century, a delegation of complex technology has become the basis for production processes. A very striking example is the automotive industry.
The next stage in developing this cooperation model began with the formation of KPO. It is an actively growing segment of the outsourcing industry. This segment combines not only product redistribution management. It is also about reproducing field knowledge, creating new solutions, and research.
There are some examples of outsourcing in business that are pretty obvious. Like your mobile phone.
Look at your phone. Almost all major manufacturers of smartphones like Apple and Samsung have their direct production transferred to Chinese factories. The iPhone, one of the most popular phones for today, developed in California, is being manufactured in China. The same is with many other smart gadgets.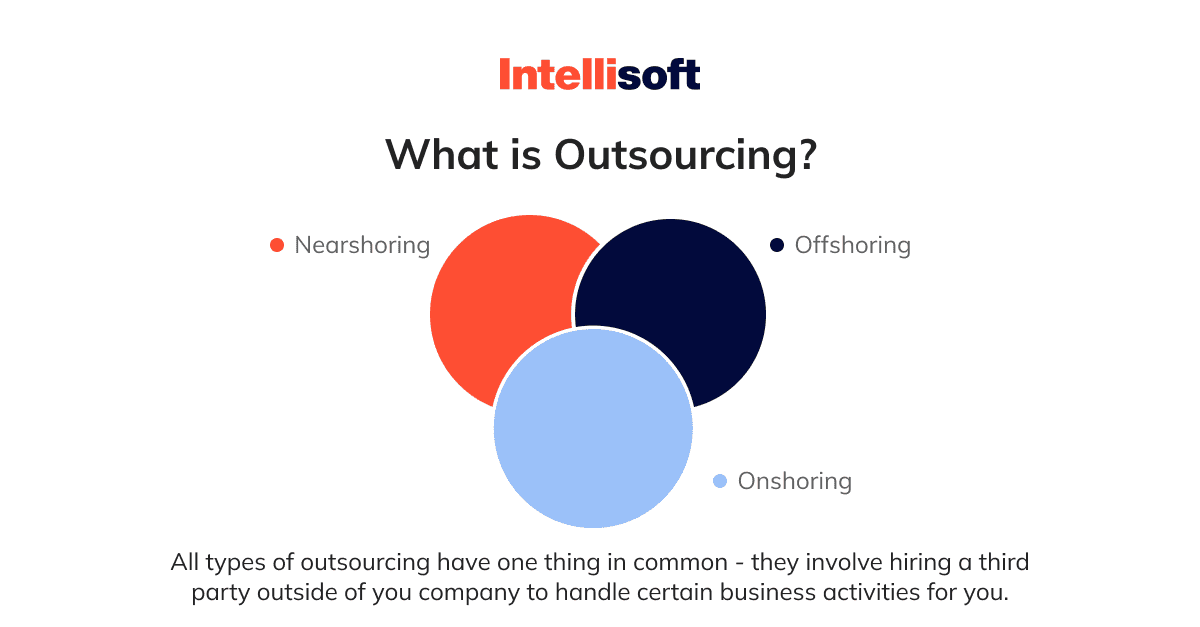 There are hundreds of famous examples of companies that outsource to China. It's a new reality.
Almost all technology manufacturers have factories in China. It makes production cheaper but doesn't mean low quality. Smart gadgets from Apple and Samsung, most TVs and refrigerators produced exclusively in China, are a prime example. We listed some of the benefits of this collaboration model.
Main Benefits of Business Process Delegation
You can find a lot of case studies on outsourcing you can learn from. All of them are a great attestation of this cooperation model's benefits.
The delegation of certain business functions has many significant advantages. The most important advantage is the evident reduction of expenses. Thanks to clever delegation, you can cut costs on some secondary functions. It allows you to increase attention to the main goals. Business leaders can allocate additional time and budget for other business processes. They do not have to think a lot about development or accounting. That's a simple way to entail additional profit.
Of course, there are also a lot of striking examples of outsourcing in the tech world. You've probably heard of them too.
The delegation of web development or app development also provides additional opportunities for the rapid development of the client company. In particular for the quicker growth of profit. That's simple. The delegation of processes enables the corporation's employees to focus on the important things. Labor productivity increases concordantly. Transferring projects or tasks does also solve issues with recruitment. Internal recruiters don't have to attract, train and support personnel. Transferring projects and tasks does also guarantee continuity of essential business processes.
Other benefits to consider:
Working with field experts. If the contractor agency you contact is engaged in providing accounting services, you can be sure that all accounting processes will be done well. Finding a reliable in-house accounting manager can be a challenge.
Reliable relationships. Outsourcing contracts provide guarantees. If the hired specialist gets sick or goes on vacation, a replacement will be found immediately.
Tax savings. When concluding outsourcing agreements, outsourcing agencies take overall deductions for the social package. It means you do not have to worry about the additional expenses.
Transparent payments.
IT Outsourcing Examples To Learn From
What are some outsourcing case studies that first come to your mind when you hear about this method of cooperation?
As detailed above, outsourcing (offshoring, nearshoring, and onshoring) is the business practice of hiring external performers to perform certain services and create new products traditionally made by in-house employees. Simply put, this is the transfer of tasks to a competent organization or specialist. The project is put into practice, but the client's resources aren't used—a simple, efficient solution for both big companies and start-ups.
Let us tell you about one of the brightest examples of companies using outsourcing.
Call centers are a striking example of an offshore team. Keeping an internal staff is expensive – your company has to provide jobs, equipment (computer, headset, software), and insurance. Call centers located in a remote, offshore country are a great solution. However, this doesn't mean that clients receive a low level of service. On the contrary, there's a lot of talent in outsourcing destinations like India, China, Mexico, Ukraine, Poland, and Canada.
Cash collection in stores can also be viewed as an outsourcing process. A contract is concluded with the collecting bank, which will take care of this single process. The employees of the attracted bank are trained to collect cash, and they do this at a certain frequency.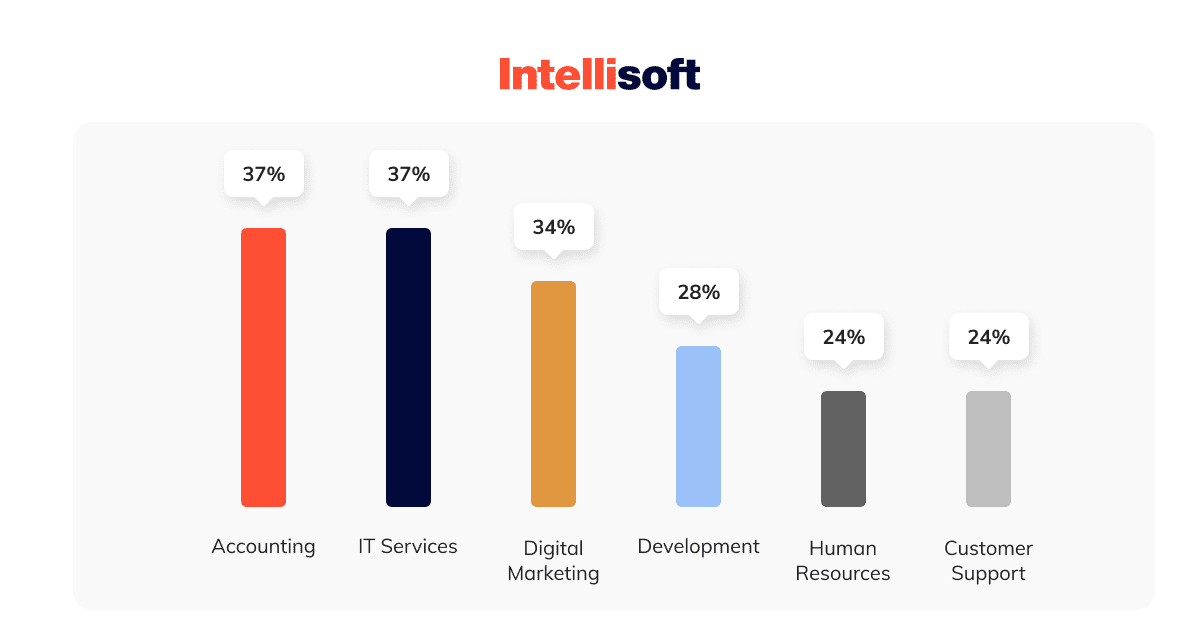 Look around – a lot of services are being outsourced today. Some examples include cleaning services, minor repairs, talent recruitment, and IT services. It is more common than you might think.
What is the best example of outsourcing processes? Undoubtedly, IKEA has to be on the list. What do you know about Kodak? This company is also one of the most famous successful outsourcing examples we know.
You have to learn more about these cases. Read further.
Outsourcing Case Study: IKEA
An example of an outsourcing company is IKEA. This is one example that comes first to your mind when thinking about thought-out delegation. No production belongs to IKEA; instead, it partners with 2,500 suppliers. IKEA also delegates logistics. The company directs all its resources to the retail process. Remote contractors cover all other processes.
Offshoring Technology Services: Kodak
Another example of an offshoring company is Kodak. This company was one of the first to delegate functions. In the early 1990s, the management of Kodak decided that leadership in high technology wasn't their strategic goal. They transferred the technology services of Kodak to IBM, which was trying hard to gain leadership in this segment.
Extensively Outsourcing Processes: Nike
Nike is exclusively engaged in developing design projects for clothing and footwear. The actual production of clothing and sneakers, as well as PR, is delegated.
SaaS Platform Development: GrowthWheel
In 2014, GrowthWheel decided to develop its own SaaS platform. However, the project failed. After this, GrowthWheel chose to delegate this project to IntelliSoft. The contractors refactored the existing architecture and fixed some issues.
Why You Should Outsource
There is an opinion that in the context of globalization and the rapid development of the business segment of the global economy, it is extremely unprofitable to be a narrow-focused field expert. It is an entirely false statement. The narrower the specialization, the higher the demand on the labor market. Many organizations choose off-, near- or onshoring to hire field experts and, in this way, to save their money.
What pushes most companies to outsource some of their processes? First of all, most international enterprises don't want to waste their resources on things they can easily transfer.
Globalization and smart technologies allow companies to save their resources and optimize business processes. One of the most common methods is outsourcing. The transfer of some business functions reduces costs and provides more flexibility. In addition, the transfer of work is a simple way to attract additional resources.
By now, mature organizations and start-ups are transferring accounting and creative projects. But the most remarkable industry segment is the IT market. Over the past years, Computer Economics conducted a survey on outsourcing tendencies. This survey showed that most companies in the United States and Canada increasingly started delegating projects.
Here is a list of reasons why you should outsource:
You can save money and time, which are precious resources for a business leader. Delegating certain business functions will reduce your costs and increase profit.
You get access to countless external resources. Delegating projects to an IT team from Poland or Ukraine provides you access to knowledge and experience in a narrow field.
You gain more independence. Delegation of certain tasks can reduce your dependence on individual internal employees.
You reduce the burden of management, which can be exhausting. Your managers do not have to waste time on minor tasks.
How We Can Help
Attracting an offshore/nearshore/onshore specialist allows the business owner to reduce costs significantly. As a business leader, you don't have to move to a new, bigger office, provide staff with equipment and a social package. Contacting a remote employee is simple and profitable, even despite the risks.
Offshoring services allow you to concentrate your resources on critical things. Offshoring specialists and teams can help you improve operational control as well. In addition, a delegation of projects eases introducing new technologies and new management operations, which is also a great advantage.
The technical side of offshoring processes opens up access to higher technologies. If you don't have the necessary field experts, they can be recruited through an outsourcing program from nearly every country. The quality of service in the case of delegating tasks is increased. And, what is more, it is the third party company who controls the quality of the carried out work performed by the attracted specialist.
Are you struggling with finding skilled IT specialists to help you create outstanding products? Contact IntelliSoft! We hold expertise in Web, Mobile, eCommerce and IoT Development, Product Design, UX/UI Design, and other IT services (MEAN/MERN, LAMP/LEMP, and .NET). Contact us either for a project or for your team extension needs – all services can be found on our website.
FAQ