The 21st century has been undergoing a revolution in the way businesses handle business tasks. In the past, establishing an in-house team was a golden rule that no business wanted to break. More and more companies are looking outside of their organizations for ways to grow their business. Outsourcing has become more than a trend now; it's necessary for businesses that face increasing production costs or labor shortages.
Outsourcing allows organizations to work with top talent, save costs, and scale up or down easily. However, many organizations are still cautious when it comes to delegating their operations to third parties because of security and delivery concerns.
To dispel these fears, our IntelliSoft experts have prepared a list of the top 10 examples of companies that outsource, and you will learn about them in this article. At IntelliSoft, we know what makes an outsourcing case successful, and we want to share this knowledge with you to help you avoid mistakes and find the best development partner. Buckle up and keep on reading.
What is IT Outsourcing?
IT outsourcing involves entrusting specific business operations to third-party providers specializing in those tasks. This strategy aims to cut costs and optimize in-house processes by allowing external experts to manage and control these operations.
According to a global IT outsourcing market study, the industry will grow by $98 million by 2024, with a Compound Annual Growth Rate (CAGR) of 5%. It's no wonder the industry will keep proliferating since outsourcing covers software as a service, utility services, various infrastructure solutions, and more. You can delegate almost any part of non-core business processes to third-party providers, and there's a vast talent pool to choose from.
IT outsourcing can be done in your country or outside it. The three types of outsourcing include onshore, nearshore, and offshore outsourcing.
Onshore outsourcing involves hiring a third-party company in your city or nearby. It allows you to control the processes, save costs, and communicate freely because you are in the same time zone and speak the same language.
Nearshore outsourcing is when you work with providers in neighboring countries. As a result, you are in the same time zone, but the costs can be cheaper.
Offshore outsourcing is when you delegate tasks to another country, often on another continent. This type of outsourcing is believed to be the cheapest.
Why do you need to outsource?
Running a business alone is impossible, even if you are the most talented business owner with years of experience and technical skills. Any business owner needs a team to succeed, and hiring an in-house team can be time- and money-consuming. Also, you can't be sure you will find skilled experts in your area, especially if you need people with knowledge in rare industries or technologies.
That is why you need to outsource – to bring your ideas to life and grow your business while saving costs and working with experienced professionals. There's a vast talent pool of experts, so why not use this opportunity?
When do you need to outsource?
The reasons why companies decide to outsource vary from business to business. Some companies opt for outsourcing when they start growing their business; others delegate their operations after establishing a brand. Thus, there's no definite answer to when you should start outsourcing your processes. To make the right decision, you need to consider the following factors:
How many people can you employ by outsourcing without affecting your internal processes
How much money can you spend on outsourcing
Whether outsourcing aligns with your business plan and will help you achieve your end goals
Whether you can find the needed experts by outsourcing
Before opting for outsourcing, you need to assess your business state, needs, goals, and budget. Then, you will realize whether outsourcing is an option or whether you should choose a different cooperation model.
Benefits of Outsourcing
If so many businesses stick to outsourcing their processes, it must have numerous benefits, right? It sure does, and it has proven to be a more effective way of collaboration than working with an in-house team.
Before talking about IT outsourcing examples, let's look at the main advantages of outsourcing and why it's believed to take over the market.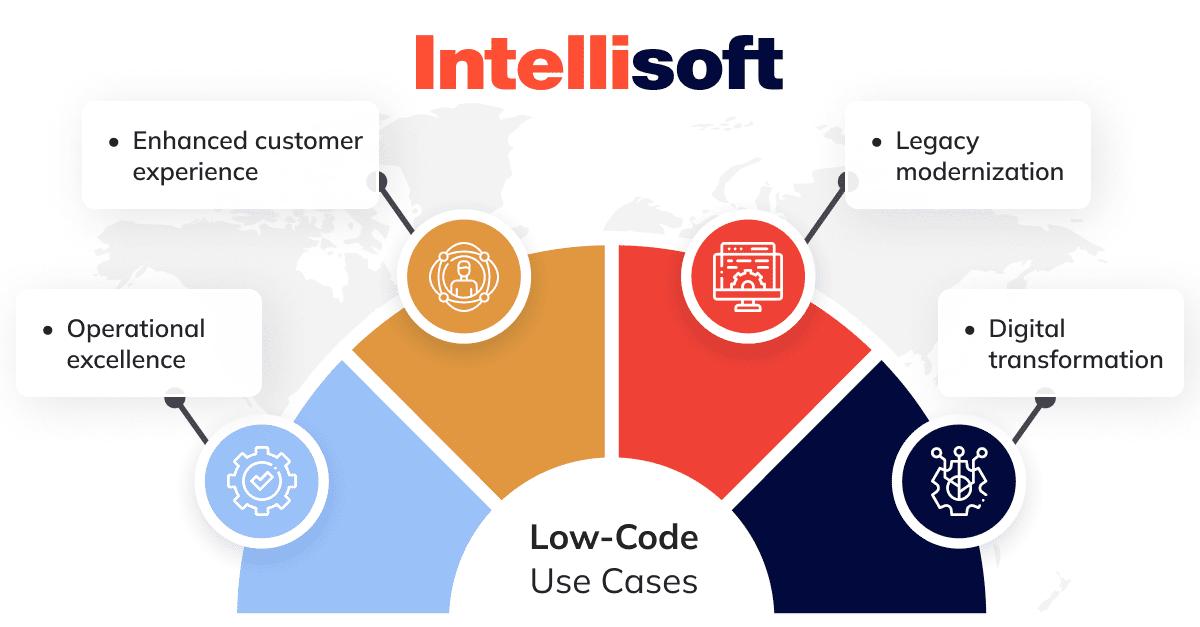 Lower costs
The key reason why businesses choose outsourcing is because of lower costs. Indeed, every company cannot handle creating an in-house team and spending money on employment, training, and purchasing tech infrastructure. With outsourcing, there's no need to spend money on any of that because the outsourcing vendor handles everything from recruitment to taxes. Moreover, outsourcing allows transforming fixed IT costs into variable costs so that you can plan your budget more efficiently.
More flexibility and agility
Challenges, issues, and bugs always accompany software development. Your task here is to ensure that you are flexible and adaptable enough to face these challenges and resolve them quickly. Fortunately, outsourcing companies can easily adapt to changing needs and respond to issues as they arise because they have a lot of experience in this. Your goal is also to resolve problems as fast as possible, meeting the demands with more agility, and outsourcing is a great way to achieve it.
Higher quality of services
Outsourcing is one of the best ways to enhance your operational efficiency and take your business to another level. With the number of outsourcing companies growing each day, they are competing for the client's attention, and what's a better way to do that than outperform competitors in terms of service quality? If you choose a specialized supplier with years of industry experience that uses the latest technology, you will receive an excellent product.
Focus on core business tasks
While an outsourcing company handles a part of your business processes, you can focus on core business tasks. The autonomy of third-party vendors is an excellent benefit that cannot be overlooked; you don't have to control every aspect of the process and waste time on management. Instead, you can focus on your business strategy and other essential tasks while your project is being developed simultaneously.
Access to the global talent pool
You can't even imagine how many talented and highly skilled experts are waiting for you to work with them. By outsourcing your processes, you open yourself to the world of talent and possibility as you can connect with the top specialists from different industries. This is a great solution to talent shortage as you are not limited to any location with outsourcing, so if there's no one in your city or country, you can look further.
Related Readings
IT Outsourcing Success Stories
Which is the best example of outsourcing, you may ask? There are numerous successful outsourcing cases, both from small and top companies. We have compiled a list of the top 10 examples of companies that outsource to inspire you and prove that outsourcing is an awesome way to grow your business.
Slack
The first among business outsourcing examples is Slack. Everyone uses Slack these days. If you're working in a tech company, the chances are that you're using Slack for collaboration. Slack has over 42.7 million daily users as of 2023, and the company is valued at $26.51 billion. These impressive numbers wouldn't be the case if Slack hadn't decided to outsource its operations at some point.
They needed to develop the beta version of their business model, so they hired an outsourcing company named MetaLab from Canada to do that. The company helped Slack build a tool for increasing traction. Slack also outsourced the design of its logo and mobile app, securing an investment of $250 million.
By understanding its needs and goals and finding the right partner, Slack was able to take the company to a whole new level and become one of the top successful cases of outsourcing.
WhatsApp
Another case study on outsourcing is WhatsApp's journey. It has more than 2 billion users, but it hasn't always been the case. WhatsApp started as a small company with 30 employees in 2012. In 2022, its annual revenue reached over $906 million. How did that happen? Through outsourcing its development operations.
Jan Koum and Brian Acton, the founders of WhatsApp, hired offshore developers from Eastern Europe to save costs and handle the app development services. Working with an offshore company allowed WhatsApp to focus on core business tasks and sell the company to Facebook for $19 billion in 2014.
Cambio
Daintel is the next example of offshoring companies. In 2007, Daintel – a clinical workspace for Intensive Care Units from Copenhagen – hired us to enhance the capacity of the Daintel R&D department and improve the performance of the existing solution used in hospitals.
We optimized the performance of Daintel's system and the connection pool using base connection storage developed on Firebird, an open-source SQL relational database management system, to omit this challenge.
We also created new modules for the Intensive Care Unit, including Prescription, Administration, the SNOMED CT, IOM Graphic, CPOE module, EMM, and others.
The IntelliSoft team started working with Daintel 4 years ago from 2 dedicated developers, and by 2018, we managed to build a dedicated R&D center. As a result, the Daintel Intensive Care Unit system has become a healthcare market leader.
CuriosityStream
CuriosityStream is also among the successful outsourcing examples. It is a global media company, and streaming service, which began outsourcing its processes in 2019. The company hired six third-party developers to work on the video feature that would increase the number of hours watched and reduce operational costs.
The company decided to opt for outsourcing when it saw its competitors do it and succeed. Once they did it, the company's CEO, Andre Silva, decided to integrate outsourced teams to help with other operations as well, and CuriosityStream continues to work with third-party developers to this day.
Google
Who would have thought: Google also outsourced its operations to third-party vendors. Even though it's an evident leader among top tech companies, and it seems that Google can easily handle all operations in-house, it still decided to outsource to reduce labor costs.
Google, perhaps the best example of offshoring companies, has an 89,000 in-house team of employees, and it still can't handle all the tasks. This made Google look for contractors in other countries. Since 2018, the number of third-party contractors has outnumbered the number of their in-house employees.
The tech giant hires talented experts worldwide and works with contractors on its AdWords project. The company does it for two reasons: it allows them to work with top talent they don't have in their in-house team and helps them cover the gaps when Google employees take parental leaves. Moreover, outsourcing helps Google majorly reduce labor costs and maintain impressive profitability.
Basecamp
Basecamp is also among the IT outsourcing examples. It is a project management tool that allows users to create to-do lists, share files, track time, and chat in forums. When the company grew, and its requirements grew, its leaders realized that it could affect their future if they didn't solve international issues like workflow management and client support. Thus, Basecamp outsourced its core development functions, and its internal teams could focus on other business processes.
SpecTec
SpecTec is another IntelliSoft's case study on outsourcing.
In 2017, we started working on a new outsourcing project SpecTec. The SpecTec company is a leading Maritime software provider, developing AMOS software (Asset Management Operating System) for Oil Gas, Maritime, and Defence industries.
Our team was responsible for working on AMOS functionality and ensuring that it was fully functional online and offline, using data transfer between mobile devices used in field operations and local databases.
We also worked on the development of the AMOS Maintenance app, AMOS Inventory app, a quality management system, and web approvals.
As a result, we optimized the company's existing architecture and ensured successful offline and online data synchronization for Inventory and Maintenance applications. It helped SpecTec increase its productivity and efficiency and meet its business goals.
Skype
Skype is another successful outsourcing case study. You have probably used Skype for communication at some point in your life or continue to use it, and yes, it also outsourced its business operations.
Skype decided to delegate the majority of its software development to European developers as it needed professional web development. Since the company did not have enough in-house developers, outsourcing was the best solution. As we can see from the success of Skype, outsourcing has worked wonders.
GitHub
GitHub is a well-known open-source website hosting software development version control using Git. Over 94 million developers are loyal fans of GitHub, using it for their projects and communication with other developers.
The company recruited Chacon as its third-party company of choice to create the website's backend. In fact, a developer who built the backbone of GitHub is now its CIO.
GitHub hired the best experts to build its backend, and outsourcing became a great solution for completing business tasks while adhering to the highest quality standards and saving resources and money.
Ingram Barge
Ingram Barge is one business outsourcing example from our portfolio. In 2016-2017, the IntelliSoft team built a custom fleet management app for a leading carrier in American inland waterways. Ingram Barge requests us to build a fleet management and freight tracking web app to visualize and manage barges in fleets.
They also needed help with creating a project that would provide rich UI capabilities and real-time synchronization between clients, integrating external services and tools via a wide-ranging API.
During the eight months of work, our talented team developed a web app that included the following functionality:
Fleet management dashboard
Time tracking
Offline mode
SignalR integration
Updates feed
Filters
We collaborated tightly with the customer's team to seamlessly integrate this app into their existing infrastructure and provide end users with an efficient tool they use daily.
How to Find the Right Outsourcing Partner?
Now that you have learned about IT outsourcing examples, it's time to pick a vendor.
Picking a partner in such a vast talent pool can be daunting, especially if you have never outsourced before. Fortunately, there are some tips and tricks on picking the right vendor, and following them will help you stress less and find a reliable partner.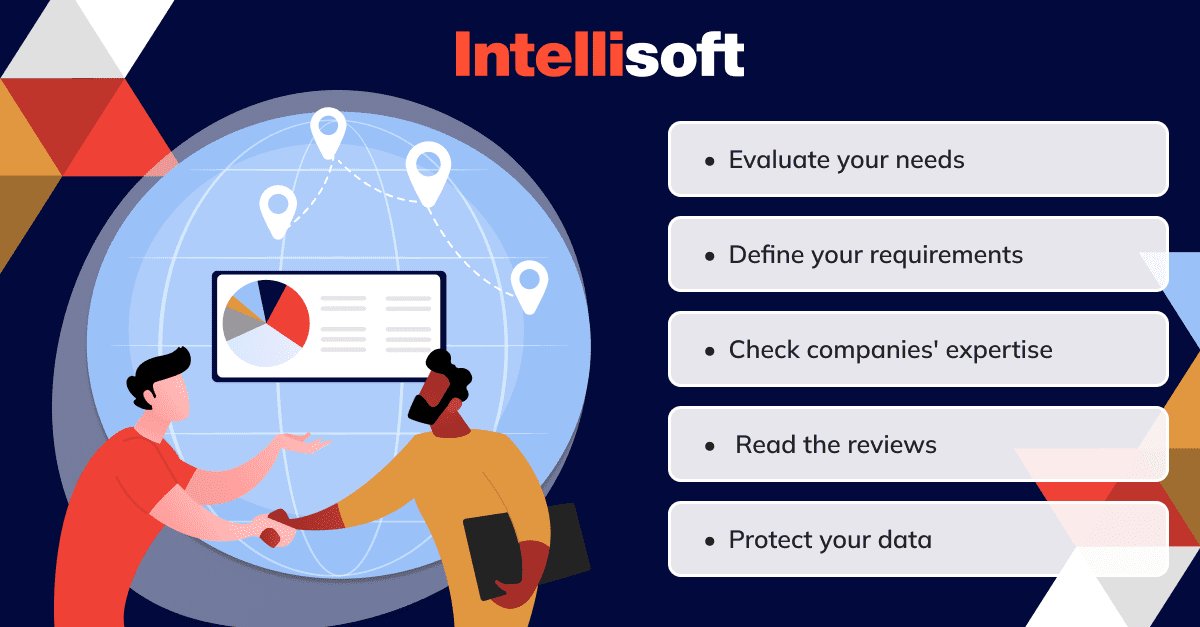 Evaluate your needs
There's no point in looking for a development partner if you don't understand what you need from this cooperation. You need to assess your business state, technological capability, and what your in-house lacks that a third-party company can provide. After you outline the strengths and weaknesses of your in-house team, you will be able to know what to look for. For example, you may have a strong team of engineers but lack expertise in design, or vice versa. Thus, your further steps will depend on determining your needs first.
Define your requirements
Next, define what kind of project you want, the market it will compete in, how much money you're ready to pay, and the approximate deadline. Write down as many requirements as possible at this point, and as your potential partner, go through them and tell you if some are unrealistic. A good development partner will help you come up with more realistic requirements and tell you how to achieve them.
Check companies' expertise
After you write down your needs and requirements, move on to the next step – reaching out to vendors. For instance, you can create a list of 5-10 vendors and evaluate them based on their tech expertise, skills, access to the latest technology, experience, and interest in your project.
Read the reviews
While evaluating your potential vendors, check their Clutch profile. Read the previous clients' reviews there, talk to them about cooperation with the vendor, and ask questions. Make sure that the vendor has worked on relevant projects to yours before and that they have great reviews.
Protect your data
Privacy and data security are essential for any business, especially when outsourcing their business operations. Working with third parties always involves sharing sensitive business information, so it has to be managed properly and protected against breaches and leaks. Make sure that your data is protected, and sign a nondisclosure agreement with your vendor.
How can IntelliSoft help?
IntelliSoft has been offering team extension services for more than 15 years, helping clients with projects of various complexity, from developing custom applications to rebuilding architectures. We have numerous IT outsourcing examples in our arsenal. At IntelliSoft, we offer a pool of smart applicants and managers to assist with selecting the best practices for your business without wasting time and other valuable resources on tiring, confusing hiring procedures.
We offer help with projects with obscure requirements, long-term projects, and startups and small companies that want to grow their businesses. The types of collaboration we offer include:
Staff augmentation
With this cooperation model, you pay for the operational expenses and have a PM on both your and our sides. The primary goal here is to offer labor and necessary tools for your projects.
Outstaffing
With outstaffing, the quality ownership is on your side, and you pay for the additional staff. The goal is to extend your in-house team with the right professionals.
Dedicated teams
Our dedicated team works as your tech partner, providing the necessary resources and people to work on your project. You pay for intellectual property in this case, and we handle all the processes.
If you have been looking for a vendor to help you with web or mobile app development, QA and testing, implementation of AI, ML, and other technologies, digital transformation of your business, or cloud computing, we are here to help.
Conclusion
Outsourcing is one of the most effective ways to save money and work with top talent worldwide without the need to move your business to another country and employ new people. It can sound too good to be true, but the successful outsourcing examples we covered in this article demonstrate that outsourcing can take your business to a whole new level if approached wisely. It's an effective collaboration model both for startups and industry leaders. All you need to do is understand your needs and know what to look for in a vendor. Contact us if you have been looking for a team to handle your business operations or need a consultation.
FAQ