If there are no practical means to implement a concept, it will stay a lovely theory. You should see the concept as the motivation and the planning of its execution as the necessary effort. The work, however, is not a discrete event but an ongoing sequence of steps. The path from concept to finished product and satisfied client is lengthy and winding.
Such process management is known as logistics management. It considers everything, including data, supplies, manufacturing, etc. The several stages of any product will swiftly devolve into a disorganized jumble without logistics management.
At the same time, digital transformation may be utilized to lower energy consumption and increase efficiency in the logistics business, which is characterized by substantial inefficiencies, including the fact that half of the trucks return empty on their return voyage.
A 35% rise in logistics management software solutions usage was observed after 2017, before the epidemic even hit. The 2019 cost of logistics management with digital transformation was $11,794.24. Experts project it to reach $23,607 by 2027, growing at a CAGR of 8.5%. At the same time, 79% of businesses with effective logistics management report more robust revenue growth. That is one reason many companies think about creating logistics platforms.
With higher competition, changing customer needs, and fast-developing technology in today's global market, logistics management is more complicated than ever. But, you can overcome certain obstacles by hiring professional software developers to work on your project. IntelliSoft is one of the outsourcing companies that offer this kind of service. We have rich experience in building various logistics solutions, including the logistics platform for Ingram Barge.
We are ready to share our knowledge in this post, offering a universal roadmap for every critical step of logistics software development. Brace yourself and buckle up — there's a lot to discuss.
What Is a Logistics Management Platform?
A logistics management platform is a centralized platform users can access via an internet browser for the administration of transportation, communicating with carriers, and regulating and clearing shipments. The deployment of the logistics platform makes it possible to centralize the transportation administration, resulting in a considerable decrease in the expenses of providing transport services.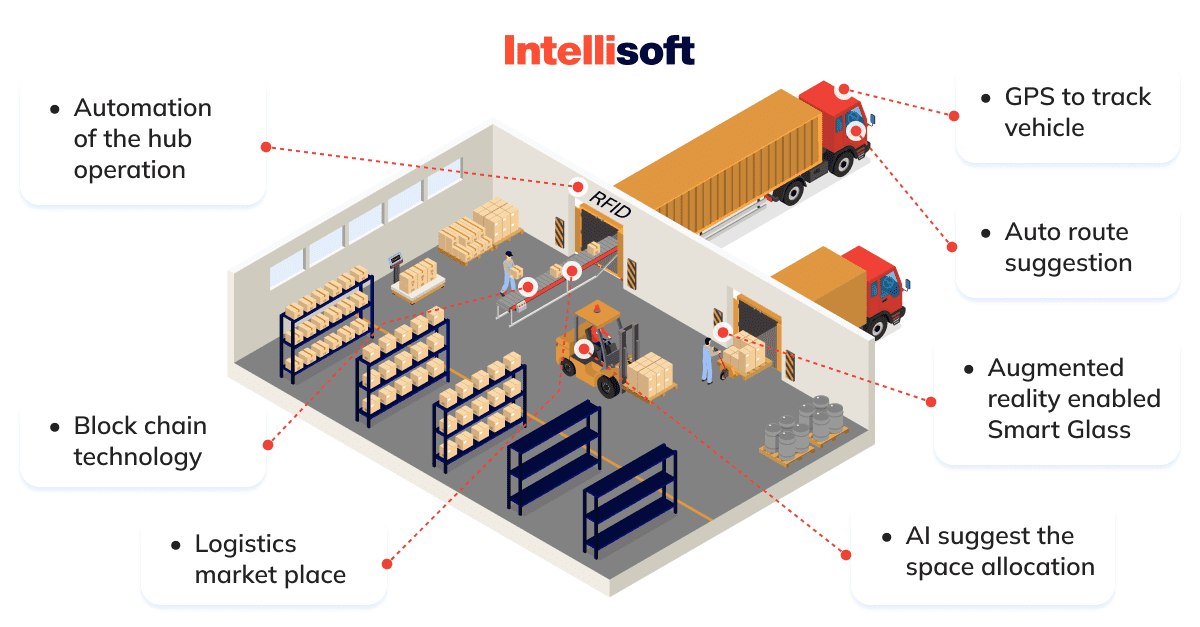 Management of public procurement logistics is characterized by a management system able to optimize the flow of goods. The logistic management system is a set of measures aimed at organizing the institution's activities in managing its resources.
Effective logistics management is essential to the smooth running of any organization. Your ability to efficiently arrange and manage the workflow from production to client purchase depends on your ability to describe each step of your company's procedures to track workflow progress.
Logistics management refers to the best ways to get resources and products to customers and serves clients that want speedier and more efficient service.
Logistics management solutions may also offer visibility in an organization's supply chains, give real-time movement data, and advise and execute change that directly affects the organization.
How Does Logistics Software Work?
Logistics management systems are software tools that optimize all operations, from placing an order to delivering it to a customer's door. Businesses use these systems to manage and automate activities in a digital environment, from when a user places an order until its delivery.
Forward and reverse logistics are standard operating procedures in every industry.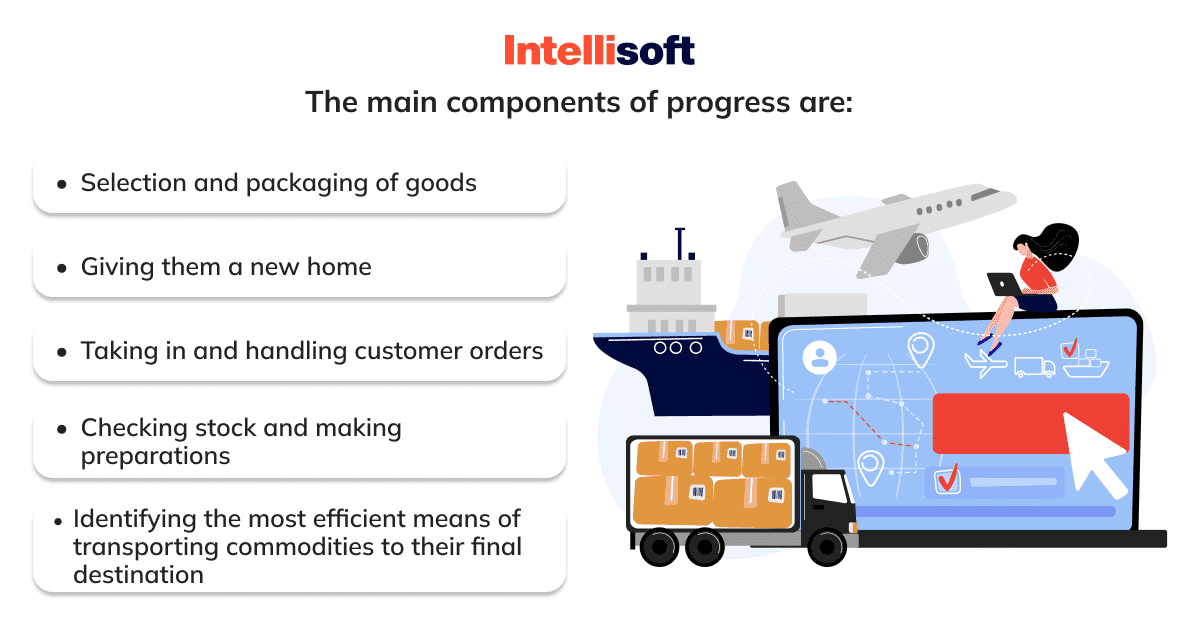 Management of returned or damaged shipments, repairs, and subsequent reuse or recycling are typical examples of such backward or reverse motions.
Why Do Logistics Management Platforms Matter?
Logistics management is crucial for the success of your business operations. What are the advantages your business can obtain?
Quicker Delivery
The logistics industry is reaping one of the most significant advantages offered by technology. It has streamlined many operations, which has resulted in a speedier process. The manufacturing and transportation rate speeds up due to this improvement.
Advanced Route Planning
You may save your petrol and mileage costs thanks to intelligent route planning. Picking the proper route using a GPS tracker and preparing ahead of time helps to deliver the services more quickly. Using the route planner, you may even adapt your reverse logistics for hassle-free return policies.
By eliminating administrative paperwork, automated verification of delivery increases efficiency. The real-time tracking function makes it possible to notify customers of their parcels' expected delivery time. You may also use this function to account for unexpected changes to your schedule.
Auto-Operational Processing
Processing carried out without the involvement of humans is known as automated processing. Every operation performed on personal data is considered processing.
Routing, tendering cargoes to carriers, and other operational activities used to take a lot of time since being planned by hand. Transportation logistics software is helpful now since all of these tasks, which used to take up a lot of staff time, are now automated. As a result, such software reduces paperwork while boosting data integrity and processing precision.
Minimized Human Errors
Human error has been drastically decreased as a result of the greater automation of crucial logistical activities made possible by logistics management software. In the logistics industry, where data is copious, automation techniques allow businesses to circumvent this traditional obstacle and manage data smoothly, hence lowering the chance of delays and the exposure to human risk.
When Your Business May Benefit from Crafting a Logistics Management App
You need to develop a custom logistics system when your business goals and initiatives are the following:
A superior degree of service to the clientele
Decreased number of human mistakes
Improved handling of available resources
Fewer piles of paperwork
Increased productivity as a result of automated processes
More economical use of resources
Enhanced data gathering for improved customer experience
When selecting appropriate software, businesses often weigh the pros and cons of adopting a pre-existing solution against building their own from scratch. Every strategy has benefits and drawbacks, so let's weigh them all.
Dedicated Logistics Solutions Vs. Off-the-Shelf Software
Building software for logistics management from scratch means catering to your unique requirements. While looking for vendors or keeping tabs on their drivers, a corporation may have exact criteria in mind.
Custom Solutions Pros
Cost-effectiveness. When investing in a custom solution, you only pay for the needed features. This decision is more flexible than buying a subscription for ready-made software.
A focus on individual requirements. Developers create tailored software following your specifications, and best complements your company procedures.
Scalability. You can change the program if your needs change since a corporation has access to the source code of their product.
Custom Solutions Cons
Higher prices. Costs are higher because boutique solutions are tailored to meet particular requirements; as a result, they cannot be priced lower than ready-made software.
Cost of development time. Developing bespoke solutions takes longer than buying off-the-shelf software, but the benefits are more significant in the long run.
Off-the-Shelf Software Pros
Short-term installation. Utilizing off-the-shelf logistics software doesn't take long after acquiring it.
Low pricing. Ready-made solutions often offer several subscription plans based on the size of a business and the breadth of its activities.
Off-the-Shelf Software Cons
Security flaws. Suppliers can't always provide top-tier protection because their products are made with the ordinary user in mind.
Minimal technical help. Software providers may only offer a small number of client technical support services, and it may take some time to resolve your problem.
Limited functionality. Off-the-shelf solutions often only give a standard set of capabilities, which may not be sufficient to fulfill the requirements of a specific firm; this limitation in functionality is the so-called "functionality creep."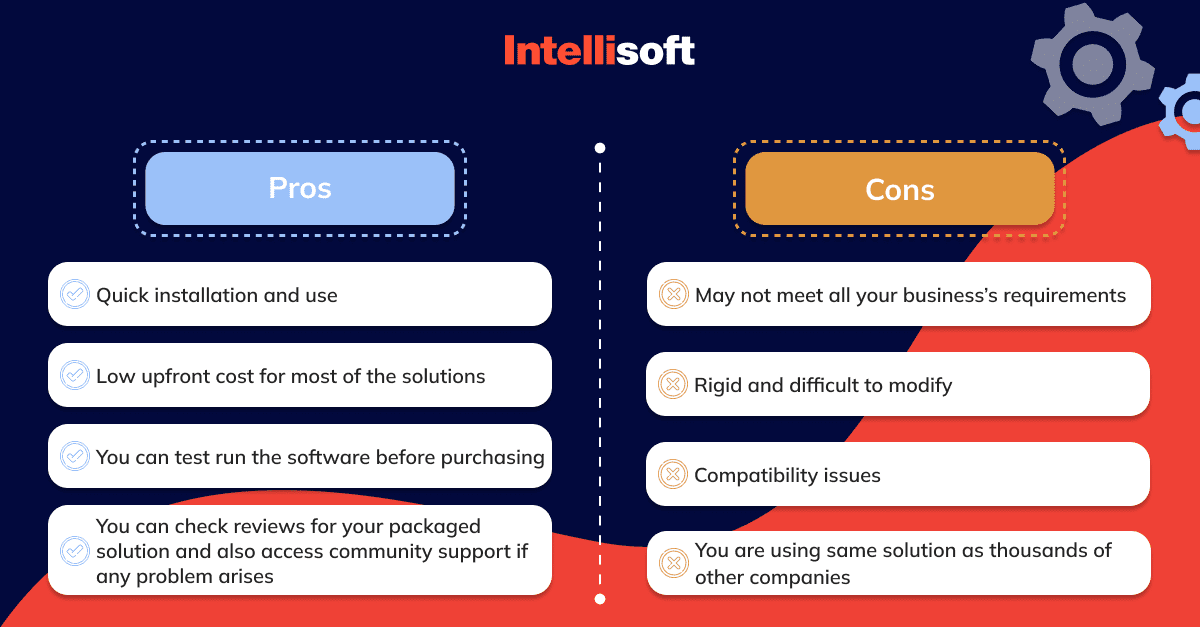 What Are the Common Modules of Logistics Systems?
Once you are willing to create a custom logistics platform, let's check out what features should it include. These modules of the logistics management system provide a variety of features to support your operations.
Order Management
When a client or customer places an order, the first thing that happens is a signal sent to the order management system. This technique streamlines the packing process and cuts down on mistakes. As a result, both operational efficiency and return on investment (ROI) are enhanced.
Warehouse Management
The warehouse operations of organizing inventory, ordering and receiving stock, supervising employees, monitoring performance, and shipping procedures are all controlled by the WMS (Warehouse Management System). Distribution center administration smoothes out day to day activities to work on the effectiveness of stock cycles.
Transportation Management
A transportation management system (TMS) is a module that helps businesses manage the logistics associated with the physical movement of products – whether by land, air, sea, or a combination of modalities. As a more extensive supply chain management component, TMS logistics software ensures timely delivery by optimizing loads and delivery routes, tracking freight across local and global routes, and automating previously time-consuming tasks, such as trade compliance documentation and freight billing. A TMS system reduces expenses for enterprises.
The transportation management module also offers documentation and information on trade compliance, timely delivery of shipments and commodities, and visibility into everyday transportation operations.
Inventory Management
The inventory management system is a combination of innovations (equipment and programming), cycles, and methods that manage the verification and support of loaded items, whether these items are organizational resources, raw materials, consumables, or finished items suitable for shipment. Inventory management is constantly changing. Accordingly, transactions, returns, new arrivals – even damage and robbery – affect your inventory levels. While overwhelming, persuasive inventory management is essential to a fruitful retail or discount business.
Analytics & Reporting
This module lets users track drivers' delivery rates and times for each route. Reports and analytics will reveal whether or not their delivery operations are running well.
This module makes it possible to determine how many different things the drivers must do during the delivery process. Also, users can examine the performance of the courier in great detail and keep an eye on how well your delivery crew and company are doing.
Supply Chain Management
The act of locating, obtaining, and managing resources and suppliers crucial to an organization's operations refers to supply management. One can boost profits by drastically lowering operational costs through a well-managed supply chain for a business. From the concept's inception through the promotion of the finished product, you can notice this efficiency throughout the whole value chain.
Freight Management
Transportation management systems assist firms with organizing the logistics of shipping items by land, air, or sea. They streamline shipments and delivery routes, track freight throughout local and worldwide routes, and automate time-consuming procedures like trade compliance documentation and freight billing to ensure timely delivery. Supply chain management includes TMS solutions. TMS lowers company and consumer expenses.
Reverse Logistics
Reverse logistics involves end consumers returning items to retailers or manufacturers. Specialists use reverse logistics when clients return things they don't need, the product life cycle has ended, or the product is broken or faulty. When objects need to be disposed of or recycled, the end user can refurbish, discard, or resell them.
What Else to Integrate to Benefit from an LMS?
The features listed above might be insufficient, so we suggest that you consider some other options.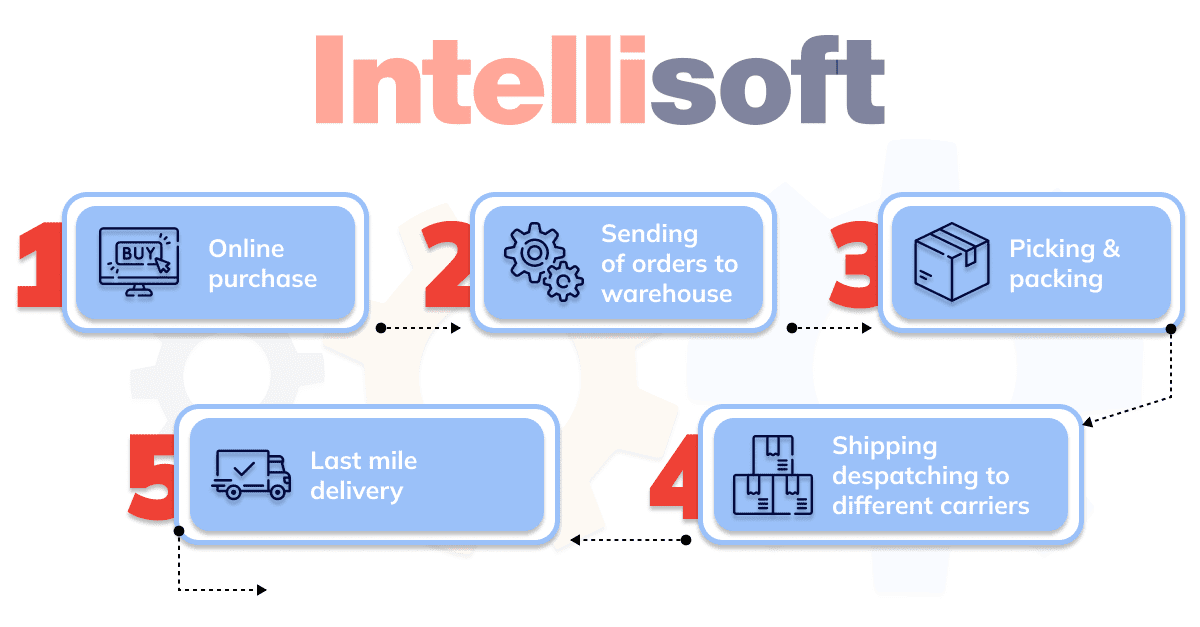 3rd Party Logistics
With third-party logistics (3PL) assistance, you may outsource the functional logistics, which includes everything from the warehouse to the delivery, and save time to focus on other organizational concerns.
APIs
The transportation hub is a part of the digitalization of the entire planet. It is essential to collect and manage massive volumes of incoming data. The APIs are the most outstanding instruments for handling it. In this way, shipping APIs may be your trustworthy partners in precisely keeping track of the delivery date and avoiding supply chain issues.
Cloud storage
With cloud storage, delivery tracking across numerous supply chain industries is simple. Not only do cloud-based logistics solutions consistently save your data, but they may also serve as useful reminders to complete tasks.
Payment gateways
With this integration, your customers can pay for your services online. You can solve your payment problems with Stripe or PayPal. But remember that each project is unique. You might need the help and advice of an IT provider who knows what they're doing when integrating a payment gateway. One can also come up with a payment gateway. Specialized outsourcing companies can assist you with this mission.
Logistics Management System Tech Stack
Before hiring a software development team, you must be aware of technologies required for creation of suh a project. Thus, by knowing the potential project's tech stack, you can form the right developers.
We can divide tech stack into four categories:
Frontend (the client's side: user interface, request processing, etc.) refers to the user interface and request handling. For creating this part of a logistics platform, you'll need specialists in React.js, Angular.js, Vue.js, jQuery.
Backend (the server side that users cannot see). For this part of the app, PHP, Node.js, Python, and Java developers are needed.
Mobile (mobile app for more convenience) Developers with expertise in React Native, Swift, and Kotlin are necessary to deliver this type of project.
Cloud (for cloud-based software, which is frequently more efficient).Hire .NET and Node.js developers to ensure seamless cloud operations.
A successful program to meet your logistical requirements requires the application of the appropriate technology at the proper time. Let's break down the process of turning a concept into a reality step by step.
How Do You Build a Logistics Management System?
The process of building a logistics management platform typically involves four main steps we describe further.
Identify Targets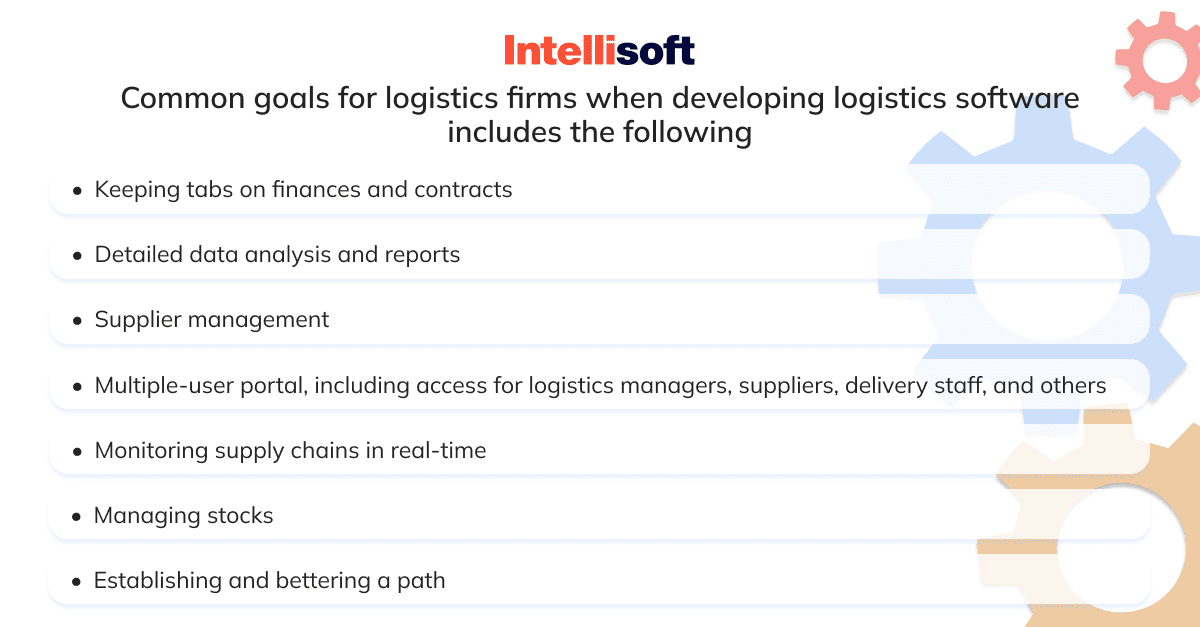 Find a Team to Custom-Craft the Solution
Employing a business that develops logistics management software can help you create complex, adaptable solutions to handle diverse logistical operations and activities. While ready-made solutions are available, creating bespoke software will give you an advantage. The customized LMS may readily adapt your company's goals, allowing you to compile the most important and precise process performance statistics.
Develop Modules
It is time to start developing the necessary features and components. You may get user feedback and make adjustments while developers work on the software. Users and programmers can collaborate on the project. The consequence is more widely used software in the long run.
Looking For A Dedicated Development Team?
Hire Us
Turn a Part of the Greater Environment
It's time to include additional IT systems with your logistics software. With sophisticated connection tools like APIs, you can connect with services like Google Maps, providing your drivers with real-time traffic updates and turn-by-turn navigation. You could integrate it with the financial system to guarantee appropriate billing and order processing or with your human resources program to recruit more delivery executives when business is brisk.
What Is the Cost of Developing a Logistics Software?
There is no set price for the development of logistics software. Usually, the starting price for a minimum viable product (MVP) of a conventional solution is 20,000 dollars. Nevertheless, the final cost is affected by several different factors, including:
The total number of functions for the site/mobile app. A common misconception is that the cheaper the solution, the simpler it must be. It is more cost-effective to build all the capabilities required for logistics software from the start rather than retrofitting older systems. In addition, a comprehensive solution quickly enhances all corporate operations, reducing operational expenses and enhancing service.
The method of deployment. As indicated, on-premises implementation costs more. If you choose a solution based on cloud technology, you won't have to spend as much money on additional gear and upkeep.
Related readings: 
How Can IntelliSoft Contribute to Your Business with Logistics Software Development?
IntelliSoft is ready to help you craft original solutions from scratch. We can help your business by providing you with the following services::
Staff augmentation
Depending on your current needs, IntelliSoft may provide a fully dedicated team, a hybrid team, or additional employees for your existing team. Find a single person to give your project a new perspective, or let us staff a whole logistics tracking software development team of 25.
CTO as a service
CTO as a service (CaaS) gives easy access to the tools and knowledge you'll need to transform your business digitally. Such a service aims to make project management more manageable and guarantee that staff uses the company's resources effectively.
Discovery Phase Services & Business Analytics
You opt for a comprehensive market and business requirements analysis by applying to the Phase completed to develop a flawless strategy for developing logistics software that meets your specific needs. Our analysts provide you with time and cost estimates and a step-by-step guide for the following action.
MVP
The goal of a minimum viable product is to collect comments and suggestions from customers, which will, in turn, assist in bringing about the modifications needed in the end product. The Minimum Viable Product (MVP) truly tests the usage scenario, which is far more helpful for the organization when making adjustments to the final product.
We have talents you require on our team, and they are available and eager to work together on the project. In any case, IntelliSoft will match you with a specialist who is familiar with the process of developing transportation software of the highest quality at a reasonable cost.
Ready To Develop Logistics Platform's MVP?
Learn More

About

Kosta Mitrofanskiy

I have 25 years of hands-on experience in the IT and software development industry. During this period, I helped 50+ companies to gain a technological edge across different industries. I can help you with dedicated teams, hiring stand-alone developers, developing a product design and MVP for your healthcare, logistics, or IoT projects. If you have questions concerning our cooperation or need an NDA to sign, contact info@intellisoftware.net.