Pretend you have just ordered a new xBox. You've been waiting for this for a while. So, you have already passed a confirmation stage. However, seconds later, you get an email from a retailer specifying all consoles are out of stock. How would you feel?
Unfortunately, such situations can happen quite often. The problem is 46% of supply chain experts still use Excel spreadsheets to keep an eye on all processes. This approach does not allow users to collect accurate data on inventory and allocate items more efficiently in the future. It all got even worse as a result of the global pandemic, as 56% of retailers faced moderate disruption.
One of the ways to make the inventory management process smooth and flawless is a barcoding system. It makes it possible to digitize inventory management. Monitoring, managing, and securing inventory fast – that is what a barcoding inventory system allows.
In this post, you will learn how barcodes function in inventory management and how to implement barcode scanning applications. You will also get expert advice from IntelliSoft, a trusted software development partner.
What Is Digital Inventory?
Digital inventory stands for the ability to oversee real-time inventory activity. To do so, various inventory tracking systems and other tech solutions are used. They collect and track data while finished goods are moving through the supply chain. Such solutions as an inventory management software or an ERP inventory system assist with tracking the availability of eCommerce inventory. ERP systems help companies to effectively manage their business, automate document flow, and improve business processes on a modern level with the help of intelligent technologies.
Inexpensive ERP software is a powerful management and forecasting tool. It is a system with advanced simulation capabilities and one-click calculations. The program is best suited for small and medium-sized businesses associated with trade on marketplaces, wholesale, retail & commission trade, manufacturing, production from give-and-take raw materials, consignment of goods in warehouses, and transport logistics.
The proper digital inventory system makes it possible for data ro be auto-recorded. That is how brands oversee inventory control and make better forecasts and informed decisions.
Traditional vs. Digital Inventory: What's the Difference?
Traditional inventory is all about paperwork. Hours of tedious paperwork. It's about making updates and changes to tables or docs manually, each time the quantity of inventory changes for various reasons (e.g., new orders or sales). Except for being rather time-consuming, the manual process has risks associated with a human factor. Tired employees are prone to making mistakes, which can lead to adverse results. It is all different with digital inventory best practices. They can minimize human error, streamline data, and enhance productivity and efficiency. For more accurate order completion and quicker execution, it is recommended to integrate both a digital inventory system and a warehouse automation system or 3PL's software. First, let's have a closer look at why traditional inventory should better be replaced or accompanied by the digital one.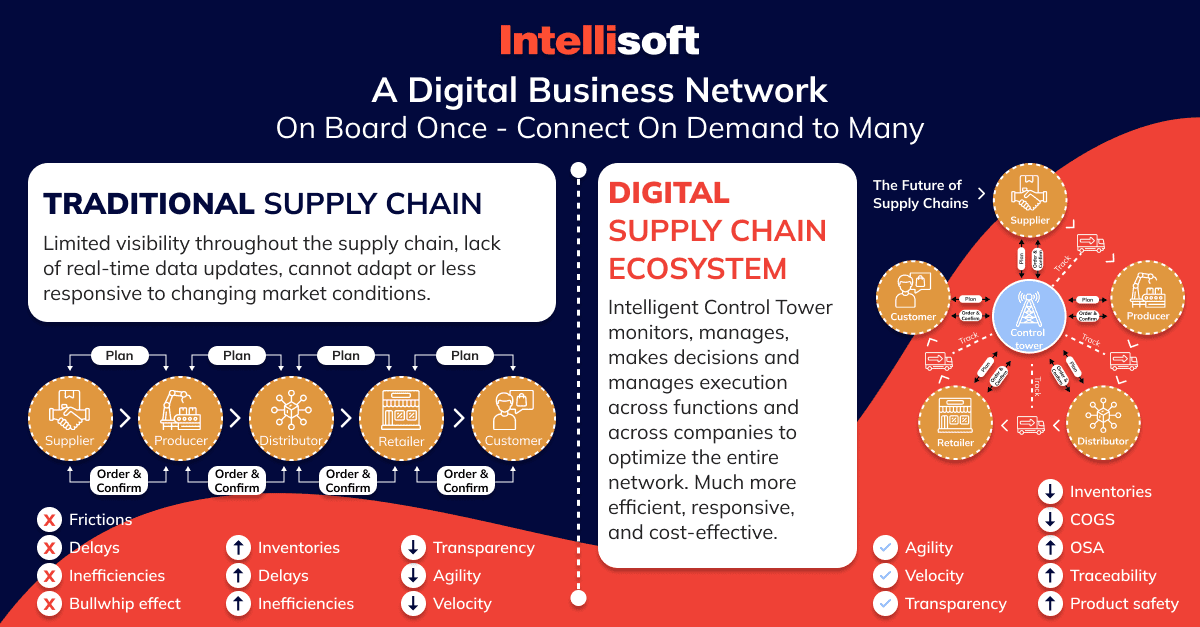 Challenges Traditional Inventory Management Faces
On-demand logistics are constantly developing. It's obvious that traditional inventory methods are insufficient to maintain supply chain efficiency. That is why our company offers up-to-date software solutions for the logistics industry. We can help change old classic methods, implementing modern systems.
Here is an overview of why digital inventory methods are replacing traditional inventory management.
Inaccurate, Insufficient Demand Forecasting
When done properly and accurately, inventory predictions can result in a competitive advantage to businesses of all sizes. Professionals may lack information to prepare accurate forecasts when dealing only with traditional inventory management. Digital inventory is needed to make predictions that would prevent such experts as suppliers and retailers from making mistakes. Based on analysis, specialists make more informed decisions like allocating inventory smartly.
Digital solutions work this way: they connect upstream manufacturing activities with downstream sales. The information obtained allows specialists to estimate how much inventory they need or lack within a certain period, including the SKU level.
Siloed Supply Chain Communication
Tracking inventory between inbound and outbound logistics operations is of utmost importance. It is a challenge without having digital inventory solutions on hand. Sometimes, communication turns into a nightmare even within a single warehouse. Without digital solutions, it would be hard to imagine expanding logistics operations. Moreover, traditional inventory management makes tracking and managing inventory via your network complicated. All of these lead to such pitfalls as increased logistics costs, stockouts, and low client satisfaction rates. The best solution is digital inventory.
Limited Inventory Visibility
Having a system at hands that make viewing and tracking inventory possible and simple is a must when growing the supply chain. Wondering how many SKUs are in stock? What about defining how many units are available in every location? With a traditional inventory, it would be hard to detect. On the other hand, digital inventory systems can provide experts with a clear picture of SKU availability across multiple locations. In other words, digital inventory stands for greater visibility.
How Inventory Digitalization Improves Business Outcomes: Stats
As digital transformation is actively spreading across all aspects of our life, inventory management is not an exception. Numerous statistics prove that. MHI Annual Industry Report, for instance, claims 80% of this market's representatives think the digital supply chain will dominate the industry at least until 2027. 20% of respondents say it's the dominant model nowadays.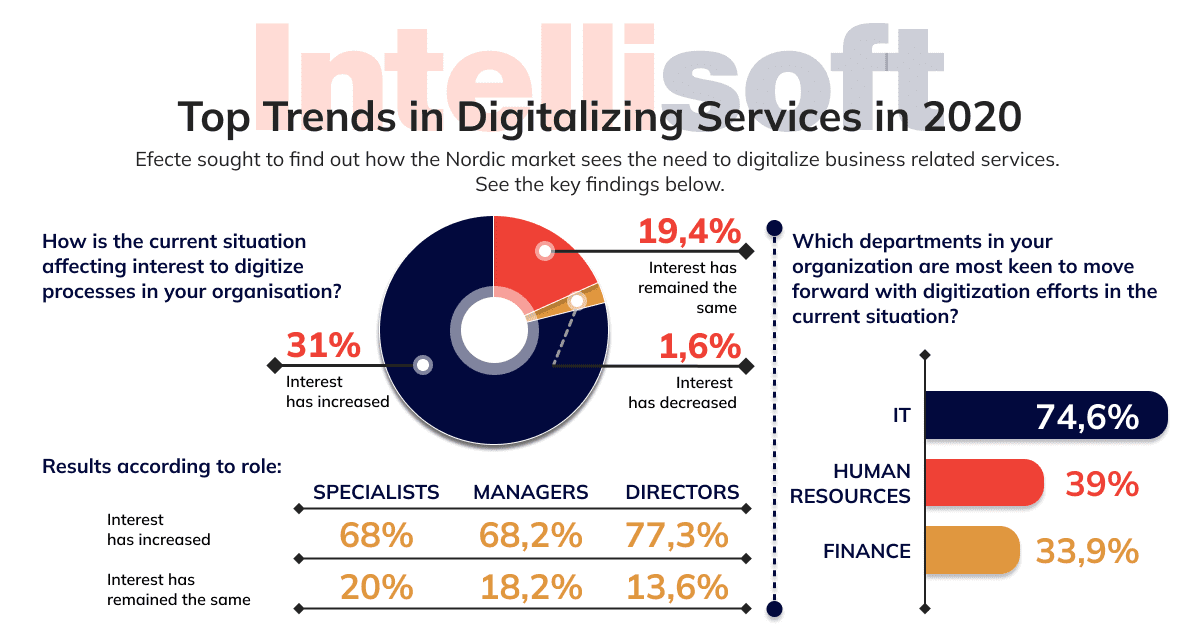 In general, the utilization of tools and systems for inventory management assists companies with becoming more efficient and competitive. Inventory control solutions help businesses detect and get rid of inefficiencies and bugs in the movement of inventory. You may be interested in learning some figures proving the need for ultimate inventory digitalization.
Thus, it's not about time to stop – the age of new opportunities is only coming. It is impossible to deny the advantages of digitizing inventory with modern systems.
Benefits of Digitizing Inventory with Up-to-Date Systems
eCommerce retailers can get the most of digital inventory today. Below, they can see how they can benefit if they choose digitalization ASAP.
Omnichannel Inventory Tracking
Staying competitive, expanding business quickly, and increasing customer base is possible after developing and implementing an omnichannel strategy. Organizations want to track inventory across all sales channels. It will allow them to sell products on a great number of platforms. Tools for auto-tracking inventory are gaining more and more popularity. With them, it is possible to cover numerous channels through a single streamlined dashboard.
Decreased Inventory Carrying Costs
To avoid overspending, a company should have access to the right information and insights. That is how it can balance between inventory level and costs. The balance means optimized storage and met demand. By analyzing inventory storage effectively, businesses obtain a deeper understanding of which units lead to increase in expenses and can be removed. The best way to avoid overspending in various categories, including labor and warehousing, is to optimize inventory using modern digital tools.
Access to Real-Time Inventory
For a retail business to be successful, it's vital to realize how much inventory you possess across various platforms. Digital inventory management is the means by which a company can obtain access to real-time inventory.
Automated Inventory Reorder Points
Fulfilling inventory for meeting the demand can result in high expenses in case order volumes are exceeding the plan. Reducing costs might be a challenge without proper, on-time solutions.
Digital tech can assist with automating inventory processes and letting know when inventory levels dramatically go down. That is how retailers can significantly reduce time required for reordering inventory and enhance efficiency.
Decreased Inventory Failures
Inventory mistakes have an adverse impact on customer satisfaction. All of them. Thus, digital inventory management pay prevents businesses from losing clients. This solution will erase the gap between physical items stored in a warehouse and the registered inventory.
Digital inventory makes it possible to use shipping barcodes. They carry necessary item details that make it original. It prevents specialists from entering data manually and making mistakes. Such inventory also allows pros to auto-record real-time data for enhanced accuracy and decreased chances of poor accounting experience.
Boosted Supply Chain Productivity
Digital inventory helps businesses improve supply chain planning, choosing the best strategy. The implemented practices obviously improve customer satisfaction rates.
Digital inventory management speeds up the supply chain, making it running much smoother.
In other words, retailers and reps of other industries may establish processes for different operational stages to maximize effectiveness using digital inventory solutions.
Unfortunately, many businesses perceive the need to move to digital inventory management as a challenge. The problem is they don't want to buy equipment and tools like hardware scanners. That's true that such scanners are not cheap, and they might not be included in the initial budget. The thing is that just one scanner might not be enough.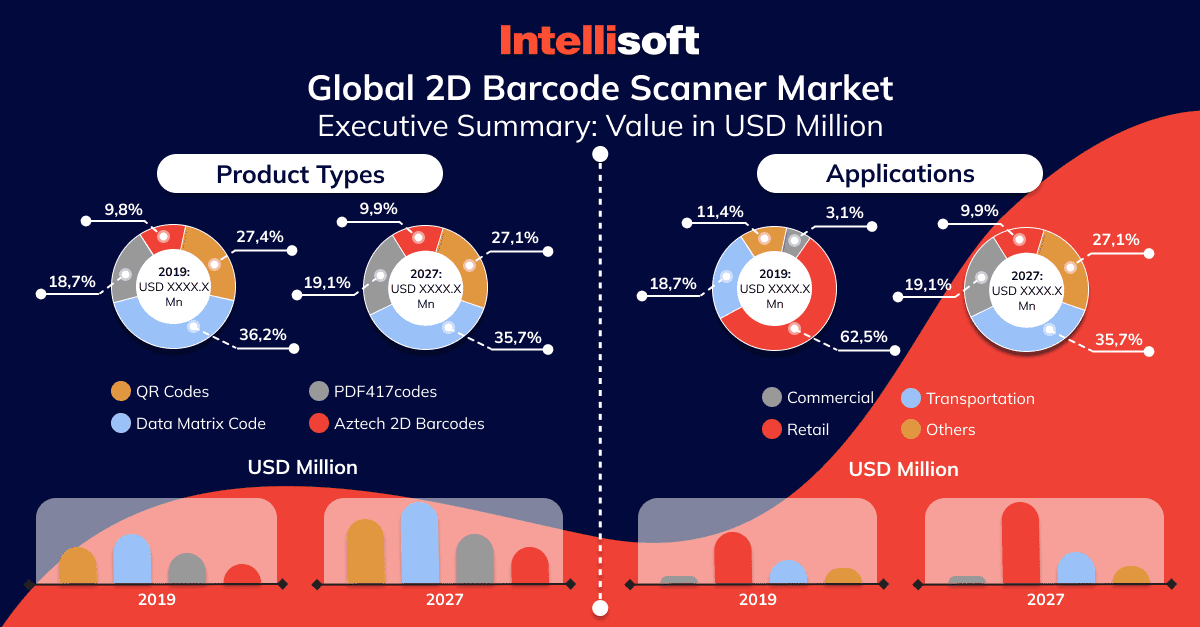 Those who use ERP for barcode scanners have all chances to succeed. Still, an employee will have to move to another location to edit data as even scanners do not permit it in real-time. However, solving similar issues is possible via professional inventory scan app development. A barcode inventory software shows enough info about the inventory. Users can view everything from restocking data to updates.
Smart applications for scanning codes apply the inserted device's camera to scan the barcode. After that, the obtained information is sent to the ERP system or the local database.
Are you the one who wishes to create barcode scanner app for ultimate inventory digitalization? A solution is right in front of you. IntelliSoft is an IT Services company offering a variety of services that cover issues that many industries face. For retail and logistics, we have experts ready to build excellent warehousing and digital inventory solutions. We have experience integrating barcode scanning functionality in the project.
We have done such a job for SpecTec, for instance. In particular, that was AMOS Inventory App for carrying out all stock control processes. You can read the full case on our website.
AMOS Inventory Application
There is no need to explain how much the barcode scanner app facilitates personnel tasks and increases the efficiency of the enterprise as a whole. It saves time, provides an accurate understanding of inventory quantities, and gives a chance to plan purchases in a reasonable way and predict profits. How should one choose the appropriate solution based on the needs and specifics of the enterprise?
So, our team has worked with AMOS Inventory App. With full scan-to-go barcode and QR support, this tool makes it possible for users to register stock in/out, transfer stock, receive goods,
and print labels. In addition:
A user can keep track of important stock items.
A user can plan and place new orders.
A user can detect broken or used parts.
A user realizes which components are missing and searches for the missing parts via their mobile device.
A user can see how many details are left across various locations.
A barcode scanner is the main data input for the inventory module. By scanning the barcode, adding data and location of the items, new or used, is easy. Every component obtains its ID to make it more visible and simple for search across various locations.
At the beginning, the client had to use the mobile device camera for the scanning feature. However, it did not guarantee quality results.
Our professionals carefully studied the client's requirements and expectations along with the IT ecosystem. That is how we discovered the best solution could be Honeywell's batch scan feature. It is based on smart field-proven algorithms, allowing for image accuracy, high performance, and a great scanning range.
In this video, you can find out more about how we deal with barcode scanner integration.
IntelliSoft will be happy to implement existing technologies to upgrade the warehouse and achieve ultimate digitalization of the stock supply. Based on our previous experience, we recommend using the tech stack mentioned in the next paragraph.
Related readings:
Best SDKs for Barcode Scanning Implementation
Experts recommend developing an application from scratch instead of using the one already available in the market. Our professional mobile software developers can speed up the process if you decide to hire them. You can also consider some of the leading market tools.
ML Kit Inventory Scanning App
This 2d scanner app allows users to view encoded data. While applying 2D formats such as QR codes, encoding structured data such as Wi-Fi credentials and contact info is possible. The thing is ML Kit can auto-recognize this data. It reads formats like 2D and linear formats.
The tool auto-parses structured data saved in a 2D format. It supports SMS, URLs, email addresses, calendars, Wi-Fi connection data, geo-location, phone numbers, etc. Some other features are listed below.
It is not necessary to specify the required format to scan for supported formats or speed up the scanning process by limiting the tool to certain formats.
The process of scanning a barcode takes place on the device, with no need for a network connection.
Deals with any orientation
No matter what the parameters of a bardcore are, this tool recognizes it and scans in any direction.
Cognex Mobile Barcode SDK
Cognex Mobile Barcode SDK application for keeping order in the warehouse, speeding up delivery of parcels and products, quickly scanning driver's licenses and discs, scanning boarding passes for airplanes and trains, etc, You can add powerful data collection analyzer plug-ins at no additional cost by purchasing an SDK license.
This barcode inventory app can decode pictures with borders of any supported symbologies. It's enough to upload an image file to the server. You'll see if it can be decoded.
Scandit Barcode Scanner SDK
Add high-performance barcode scanning, AR, and text recognition to native mobile applications with Scandit Smart Data Capture. With this software, adding barcode scanning to an application is super easy. That is because Scandit applies high-level API SDK.
The scanner offers one of the most robust and accurate barcode reading technology.
As a tool designed for logistics, retail, manufacturing, healthcare, and commercial services, it is designed with efficiency in mind for the end user as well as simplicity for the developers.
A Robust Barcode Scanner SDK from Dynamsoft
This barcode scanner app for Android and iPhone offers barcode scanning at a speed of 500+ per minute, allowing to scan 40+ different symbologies with a single solution. Users get instant access to content by simply scanning codes on printed advertisements, publications, packages, etc.
After scanning a code, this barcode app allows users to do the following: find detailed info about a product, connect to mobile Internet, make a phone call or send a text message, find and save contact information, auto-configure Wi-Fi, etc. All standard 1-D and 2-D codes are supported including QR, Data Matrix, Aztec, EAN, UPC, Code 39, Code 128, PDF 417 and many others.
Anyline Barcode Scanner
Except for automatic code recognition and reading, Anyline Barcode Scanner offers real-time multiplane scanning for mobile devices. No cropping or alignment is required.
Users can quickly share results via email, SMS, Facebook, or Twitter or even create their own QR codes. They can also view a history of scans. Front camera support is included. The tool supports all major barcode symbols.
Steps for Barcode Scanning App for Android and iOS Development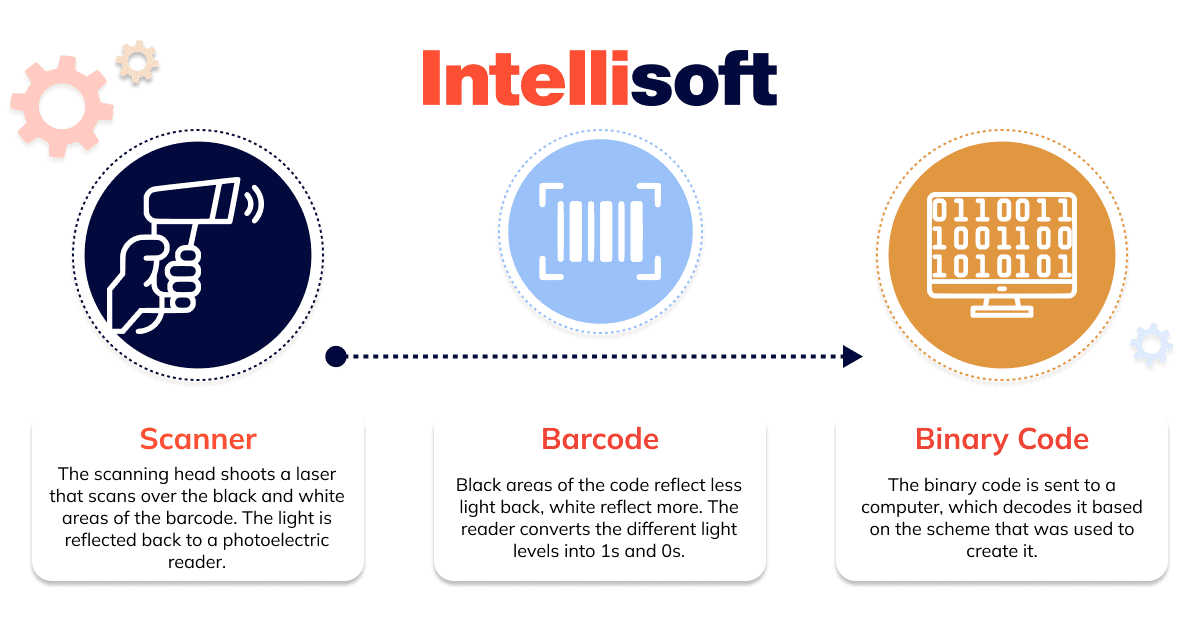 Now, once you have enough reasons to build a barcode app and digitize your inventory management system, observe the main development stages.
Stage 1. Send us a query
Formulate a quote and send it to us. Describe your project in as many details as possible.
Stage 2. Specify the requirements
One of our managers will get back to you to discuss project requirements and agree on a call or personal meeting. Just keep a pulse on your email box.
Stage 3. Sign NDA
Get acquainted with a non-disclosure agreement (NDA) prepared by our team and study it carefully. Do you accept each point? If not, we can discuss. Once you are done, put your signature and schedule a meeting with a business analyst to move on to the project discovery phase.
Stage 4. Develop tech documentation
At the discovery stage, our PM and business analyst will come up with corresponding tech docs with both functional and non-functional specifications. Discuss the peculiarities with our solution architect.
Stage 5. Welcome to the development stage
That is when our professionals make a barcode scanner. This phase involves the development of mockups, wireframes, and prototypes. We can schedule regular meet-ups to discuss the progress and answer any of your questions.
Looking for Pro Help with Your Barcode Scanner App for Inventory?
It's impossible to overestimate the significant role an inventory management plays. No matter if you apply your POS system or standalone inventory solutions, inventory barcodes will streamline operations and positively influence your bottom line by providing a greater inventory control.
Having difficult times creating your own barcode scanning system? No worries! Contact IntelliSoft—a logistics software development company and a reliable IT partner for all businesses willing to digitize their inventory management and implement barcode scanning functionality to their existing ecosystems. Learn how much it would cost you now!

About

Kosta Mitrofanskiy

I have 25 years of hands-on experience in the IT and software development industry. During this period, I helped 50+ companies to gain a technological edge across different industries. I can help you with dedicated teams, hiring stand-alone developers, developing a product design and MVP for your healthcare, logistics, or IoT projects. If you have questions concerning our cooperation or need an NDA to sign, contact info@intellisoftware.net.