The world of smart warehousing can be a difficult one to navigate, especially if you consider the rate with which new products are being created. New trade formats, needs, products, and emerging retail trends led to increased demand for warehousing and logistics services in recent years.
Several factors, including high competition and increasing customer demands for product delivery, are forcing retailers to look for solutions that enable them to operate more efficiently, meaning faster and at lower costs. That is why retailers used to spend a total $2.5 billion in 2020 for updated IoT hardware and installation of smart warehouse technologies.
If you do not want the day-to-day operations of a warehouse to cost a lot of resources, effort, and time, it's better to use smart technologies for optimizing warehouses. So, why not implement measures that improve operations and increase efficiency just like 80% of the warehouses today? After all, you can always get innovative software solutions for the logistics industry from IntelliSoft. Here's a look at what smart warehousing is and how to optimize it properly.
What Is a Smart Warehouse?
The demand for warehousing and logistics services increases every year. This market sector is developing rapidly as can be seen from these tables. Factors such as the growing demand of customers to deliver products and competition are forcing many to find solutions for faster operation and the lowest costs. That is when it's worth considering a smart warehouse as a solution.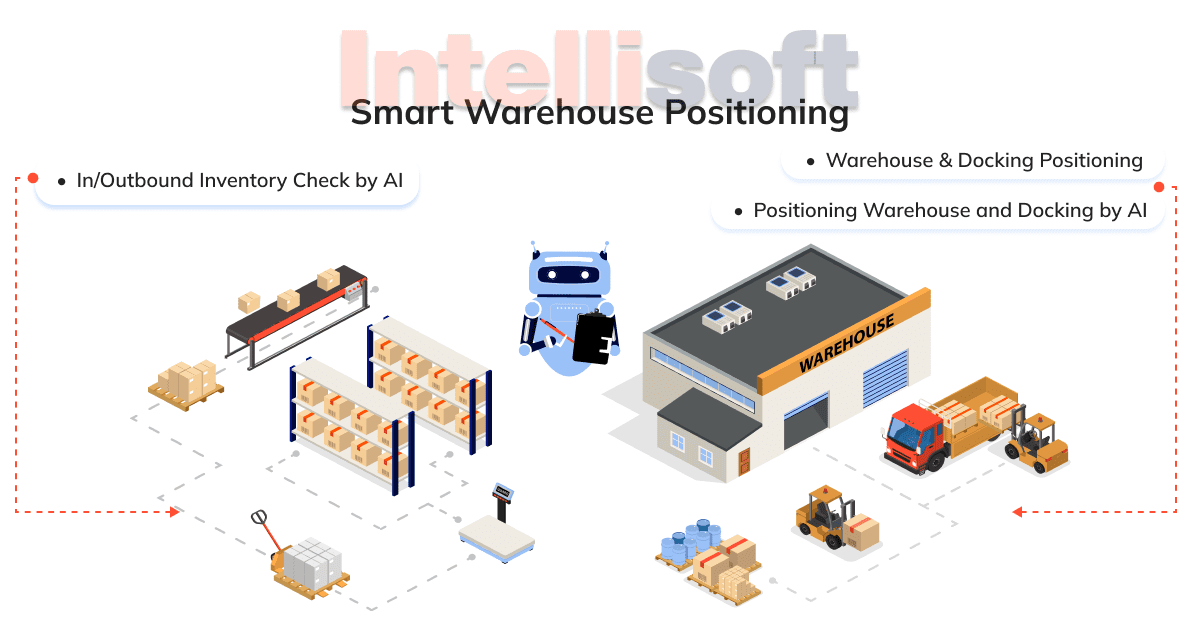 Perhaps, you are currently working on a smart warehouse project or think about adding another feature to a software for technicians, engineers, or warehouse workers. In any of these cases, remember that you can get a reliable development partner to speed up the processes and increase efficiency.
IntelliSoft is an experienced logistics and warehouse software development and outsourcing provider, ready to integrate SaaS and IoT solutions to create warehouse automation software from scratch or come up with new features for your tools. Need more information? Check out our SpecTec case study where we explain how we adopted AMOS functionality to real-life tasks of fieldwork employees and more for our respected clients.
In brief, the company invented the AMOS Inventory app some time ago. This software allows carrying out all stock control processes directly in storerooms. With complete scan-to-go barcode and QR support, the app makes it possible to register stock in/out, transfer stock, receive goods, and print labels all from one Android device. Our goal was to ensure that the application was fully functional online and offline, using data transfer between mobile devices used in field operations and local databases. That is what we achieved by doing the following: architecture refactoring, re-implementation of data access layer, offline data synchronization, and QMS real-time data update.
Recently, the term "smart warehouse" has been appearing more and more often in the logistics and retail markets. A smart warehouse is a solution that allows you to solve warehouse logistics problems in the best and most efficient way. Robotic warehouses and software solutions have a number of unique technologies:
AGV mobile robots
Stationary robotic stations
Mobile shelving units
Robotic cranes
Inner and transport packaging
Software
An automated warehouse system makes it possible to adjust warehouse systems to the specifics of a particular enterprise. They usually allow organizing effective management of warehouse processes in real time (arrival of goods to the warehouse, operative storage and picking, and sorting and shipment).
Related readings: 
What Are the Smart Warehouse Benefits?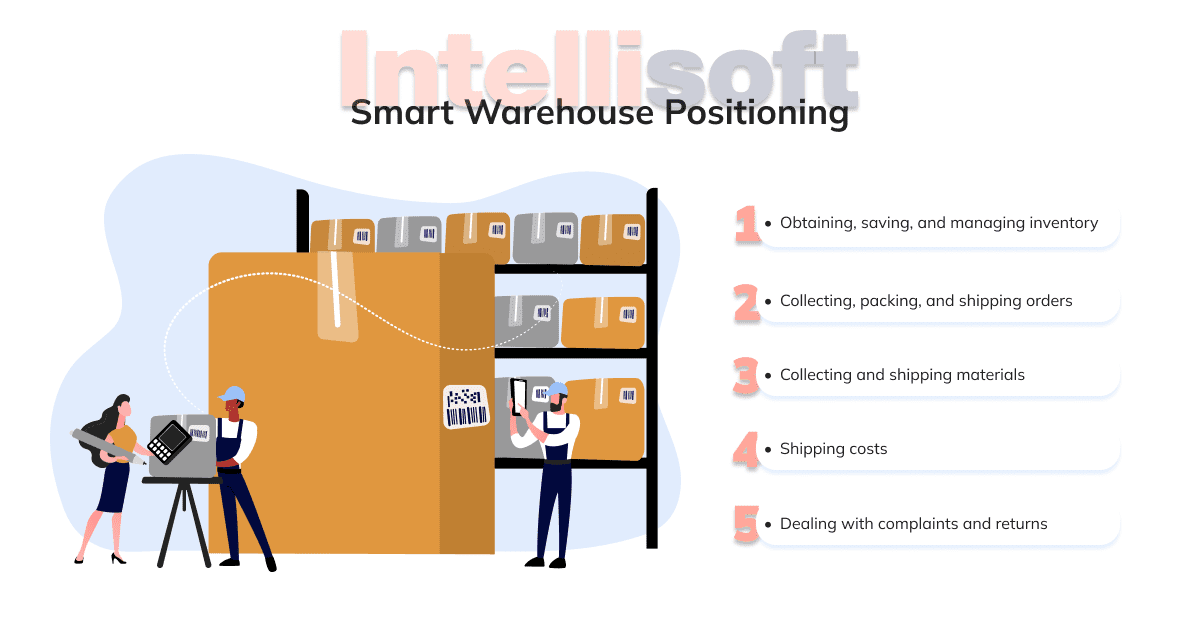 A report from GlobenewsWire proves how beneficial this technology is. Here are a few of the benefits of investing in smart warehousing to grow an online brand.
Minimizes human errors
When operating without a management system, a retailer cannot effectively optimize inventory allocation within the warehouse structure. Often, inventory is placed according to the logic of a particular employee rather than according to accepted general warehouse principles.
Without being able to identify the stock keeping unit (SKU) by code when picking up an order, the picker may take goods with a volume of 0.7 instead of the ordered 0.5, which leads to oversorting and the subsequent need to process returns from customers. Such situations affect the reputation of the company and lead to additional costs for inventory, settling disputes with customers, repeated preparation and dispatch of orders. The warehouse management system cannot guarantee the exclusion of such situations, but it significantly reduces human erros, making it possible to specifically identify staff incompetence, providing a tool for managerial decisions. With the right smart warehouse systems, you can also save on labor costs.
Minimizes paperwork
The warehouse employee no longer needs to run to the shift supervisor or the network printer location to receive the next warehouse task – a smart warehouse system transmits them directly to the data collection terminal. With a smart warehouse, the retailer gets an opportunity to conduct and control warehouse order processing online, fix merchandise balances and reorganize them, and receive analytical reports on transactions and balances of almost any level of complexity. Smart warehouses also help control emerging discrepancies between accounting and balances.
Improves inventory management
In the process of working with a specific stock location, the employee has the opportunity to take an operative inventory in case the stock is exhausted. This way, there is a confirmation of zero stock or a correction if the stock data diverges from the actual stock. The same happens when the actual stock is insufficient and the warehouse task cannot be fully executed. In all of these cases, stock leveling operations are in place, and the resulting deltas are passed on to a special control service for further investigation of the causes. The business also has the option of assigning periodic inventory processes to a group of warehouse locations without completely stopping the warehouse.
By centralizing inventory tracking into a single system, it's possible to get accurate inventory data across the logistics network. Then, one can obtain answers to the following questions:
What is a perfect product allocation strategy?
How many orders are completed timely?
Which items are not generating sales?
How many units of every SKU is available?
How many orders can't be carried out due to inadequate stock levels?
Etc.
Quicker order execution
The automated system takes into account the movement and quantitative indicators of goods. It can also prepare a task for warehouse personnel almost instantly by transmitting it to the mobile device of the employee available at the moment. In doing so, it considers any characteristics of the stock.
When such a function is taken over by a person, even a highly qualified one, it takes dozens or hundreds of times longer to prepare and perform the work. Since the number of tasks for the inventory movement in a large distribution center daily can be estimated in the thousands, the delay leads to serious financial losses for the company as it can not quickly process a large package of customer orders.
Smart warehousing tech gathers and aggregates data, delivering insights on how to improve order execution. As a result, the company obtains an accurate and rapid working process that meets customer expectations.
Leads to fewer order returns
Organizations spend 8% of their total sales on reverse logistics. Avoiding returns is possible by picking and packing products properly. Smart warehousing can do that by improving procedures to ensure consistency across operations. Access to analytics allows getting insights on how to decrease return rates.
Provides with an addressable storage
A smart warehouse with an addressable inventory storage system enables a business to know exactly where a particular stock is and where it needs to be placed within the process chain. Each warehouse location has its own dimensions in length, width, and height, as well as coordinates in three dimensions, to calculate the most optimal movement for an employee, for example, when picking a complex order. The system sequentially directs the performer along a predetermined movement trajectory.
Makes independent from specific people
When the warehouse is not automated, the key factor in the efficiency of its work becomes the dependence on specific employees. This is a narrow circle of people who know the location of the stock, the patterns of bypassing, the principles of placement and withdrawal, the sequence and specifics of processing a particular SKU, and the requirements of a particular customer. As a result, the retailer cannot replace the person painlessly for the business in case of any force majeure. Along with the dismissed employee, the information only they possess will also disappear. The process of transferring data to a new employee is time-consuming and often inefficient, which in turn increases the company's costs. With a smart house, the activities of the warehouse would not be paralyzed even in case of an employee's dismissal.
Decreases order fulfillment costs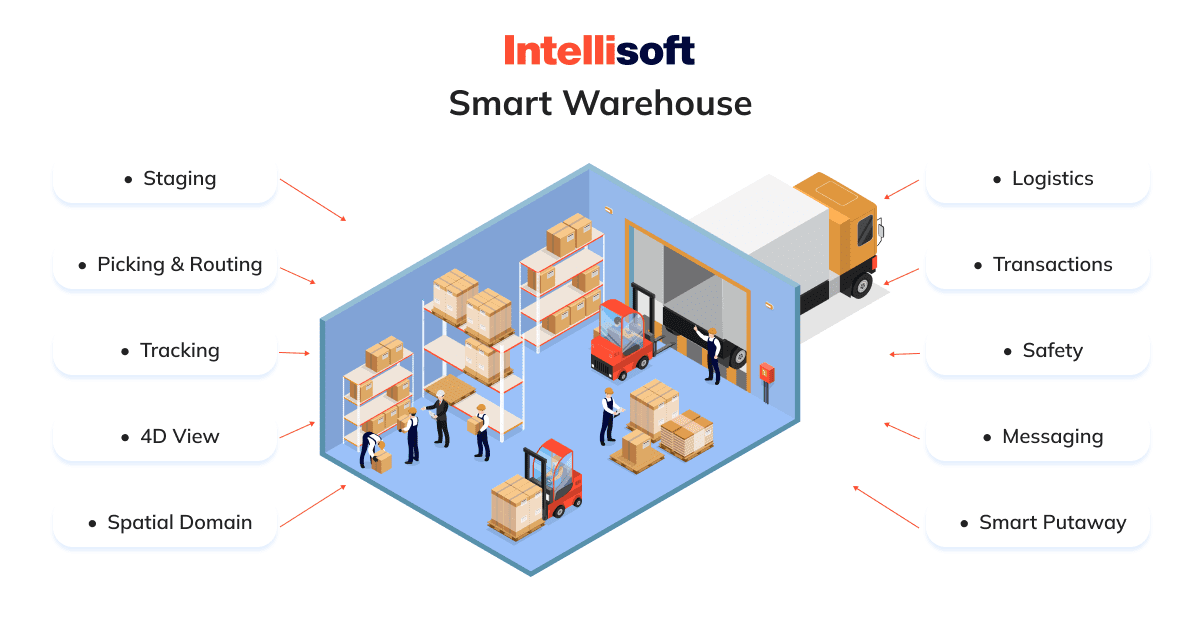 Once a company can successfully integrate smart warehousing into a centralized tech and automated system, it can speed up the fulfillment process and significantly cut costs. IntelliSoft can either help develop a unique software solution for warehousing or add new features that your users will love for sure. If you wonder how many developers from our company you may need to work on your project, we suggest that you read our FREE eBook on this question.
Smart Warehouse Technologies: Market Dynamics
A high demand for smart warehouse tech solutions can be noticed globally. This demand can be explained by the need of eCommerce companies and retailers with large warehousing operations and sales networks.
Warehouse mobility is a challenge for inventory managers. Many situations imply requirements of transport for fast trips in warehouses and ladders to reach certain shelf levels. It all may reduce productivity and boost injury risks. Smart warehouse technologies, like drones and robots, assist with handling such inconveniences.
Looking For A Dedicated Development Team?
Hire Us
IoT makes it possible for experts to scan items instantly, track geo-locations, and keep an eye on these items in real-time. Smart warehouses prevent humans from injuries.
To make it clear, the world's smart warehousing industry size has all chances to achieve $25.4 billion by 2026, at a CAGR of 11.5% for five years. This growth is caused by such factors as the increasing advancement in the eCommerce industry due to the onset of the pandemic, globalization of supply chain networks, the emergence of multi-channel distribution networks, and proliferation of mobile phones for quicker management of goods.
Here are the key players in the global smart warehouse tech market for you to consider:
Eurotech S.P.A.
IBM
Software AG
Tecsys, Inc.
Zebra Technologies
Argos Software
GT Nexus
Omnitracs LLC
SecureRF Corporation
UltraShip TMS
You can expand and grow your business in this field by focusing on research and innovations, as well as the supply of extensive contractual integration and support services. IntelliSoft can help improve your warehouse software and other technologies.
Now, it is time to talk about about smart warehousing techniques & technologies to implement.
Warehouse robotics
Warehouse robotics work with people and has a higher degree of flexibility and efficiency in e-commerce, automotive, fashion, and production logistics. Modern manufacturing is inefficient without industrial robots. Automobiles are almost exclusively built by giant machines that perform the same movements and work stages precisely and quickly. This is possible in a completely static environment using a conventional set of algorithms. Conventional automated guided vehicles require a modified working environment or the specification of fixed routes, such as optical guideways or ground tags.
Mobile automated guided vehicles (AGVs) are most often used to transport/move goods. These robots work along preset routes, moving goods 24/7 for shipment and storage. AGVs play an important role in reducing logistics costs and optimizing the supply chain.
Warehouse robotics in action:
Automates picking: Robots speed up the process of picking and delivering products. They collaborate with humans to minimize chances of errors.
Improves inventory visibility: Drones autonomously move throughout a warehouse to conduct inventory audits, item searches, etc.
Artificial intelligence
If we speak about voice assistants, we can't overlook technologies like Pick-by-Voice – the first Siri in warehouses, which has been around for a long time. Logia is an example of a company that provides such a solution. Voice-activated warehouse management systems have significantly changed the way companies operate on all levels. Such systems lead to improved key performance indicators, such as productivity and order accuracy.
Many Japanese companies use so-called robot managers. This Robot-as-a-Service can not only monitor the production process and the staff duties in real time, but also find ways to improve employee performance.
These smart managers can access data based on analysis of employee communications in meetings to identify the most discussed issues, risks, and where people plan to place key resources.
Ready To Develop Logistics Platform's MVP?
Learn More
Here is one more example. Recently, an automatic scheduling system was created for intermodal cargo shipments. Data was entered into the system: placement of trucks, schedules of transport vessels and trains, as well as a description of customer orders (container placement, route, type of goods, etc.).
Artificial intelligence in action:
Optimizes storage: AI-powered systems check whether there is enough room to store goods. It lets users know when to increase warehouse space.
Averts threats: AI can help forecast and even prevent problems (e.g., understocking and delays in shipping. This is done by assessing various factors like inventory levels or historical sales.
Warehouse management systems
Warehouse Management System (WMS) is a program designed to automate the management of warehouse processes and operations. As of today, the popular WMS providers include Sortly, NetSuite WMS, Softeon, HighJump, Astro WMS, etc.
The functionality of WMS allows the user to perform warehouse operations centrally, under the control of WMS software, using mobile and voice terminals. Operation of the warehouse with the implemented WMS system is simple and effective, allowing organizations to minimize losses at execution of warehouse operations.
The introduction of a warehouse management system gives businesses huge benefits, ranging from the ability to quickly make decisions based on the data provided by the WMS system and to significantly reduce costs during the order execution and costs for their processing.
WMS systems in action:
Decreases fulfillment time: The current highly competitive environment requires suppliers to reduce order fulfillment times to a day or even a few hours, and this is already becoming the norm in the work of the enterprise. The WMS is the tool that can improve processes and take order delivery to the next level.
Fast decision making: The WMS reflects all inventory information and works in real time. In other words, management can see and evaluate the current situation in the warehouse and can quickly identify high-risk factors such as theft, damage to goods, etc. It's also possible to assess the productivity of staff more quickly and know exactly when a certain operation is being performed.
Predictive analytics
One can automate various inventory operations and set reorder points to minimize shortages. Understanding how to restock inventory is vital.
Inventory tracking systems help stay on top of reordering. Such software assists with setting up auto-reorder point notifications to optimize inventory.
By evaluating first-mile delivery timelines and inventory turnover rate, executors can make more informed decisions on when it is the right time to restock inventory by applying the reorder point formula.
Reorder point automation in action:
Reminders when units for SKU are low: Once the inventory level bypasses the threshold (hits the reorder point), a user receives an auto-alert to realize when it is time to reorder stock from the supplier.
Inventory forecasting: By analyzing inventory trends, it is possible to make adjustments to your reorder point based on the data. It's about getting predictions on time to prevent issues in the future.
Automated guided vehicles
Automated guided vehicles (AGVs) are cargo vehicles that move autonomously around a warehouse, distribution center, or production facility without an on-board operator or driver. They are used for tasks that are normally handled by forklifts, conveyor systems, or hand carts that move large volumes of goods repetitively. The AGVs are thus designed to automate tasks for which humans are not needed.
AGVs are often used to transport raw materials from receiving to storage or to production lines. The vehicles are also used when processing incoming and outgoing orders for replenishment and picking. For example, to transport goods (pallets) from picking locations to storage locations. The main benefits include reduced labor and equipment costs, enhanced efficiency and productivity, increased security, increased precision, flexibility, and scalability.
Automated guided vehicles in action:
Automates inventory receiving/storage/shipping: Such vehicles allow for a hands-off approach when it comes to all possible actions with warehouse inventory.
Automates unloading & loading pallets: AGVs make it possible to significantly decrease pallet carrying, loading, and unloading time.
Inventory management system
Inventory management system is a set of measures for the creation and replenishment of stocks, the organization of continuous control and operational planning of supplies. The system contains tools that allow one to take into account assortment specifics and store arbitrary information about products and their properties. A variety of navigation tools are available for quick search of goods with the required consumer characteristics. Special product configurators make it possible to work with complex products consisting of a large number of interdependent components and accessories.
An inventory management system is about improved inventory data management by tracking and recording real-time SKU quantities and performance, inventory turnover, and much more.
Inventory management in action:
Improves inventory efficiency: Inventory management system allows its owners to easily and quickly allocate items across distribution networks, pick assignees for the task, and enhance packaging processes.
Improves inventory control: Peaks and troughs to inventory levels at every channel across the supply chain network makes one realize that at a glance, while centralizing operations.
Internet of Things (IoT)
The Internet of Things is the interaction of devices with each other and the world around, which excludes human involvement, and, therefore, has the potential to change some economic norms. Kevin Ashten, a British technology pioneer who co-founded the Auto-ID Center at the Massachusetts Institute of Technology (MIT), introduced the IoT in logistics – each product had an RFID radio-frequency identification tag attached to it, which tracked the movement of goods through the sales chain, from the warehouse to the purchase. All information about the movement of products was transmitted to the network, and when it was necessary to replenish the stock, the goods were sent to the store.
IoT is not just automation that we encounter in everyday life, but something more. To understand the differences between process automation and the Internet of Things concept, consider the example of making coffee. In order to drink coffee at a certain moment, you put the beans into the machine and set a time for the machine to start. At the strictly designated hour, the machine will start its work.
At the same time, your preferences may have changed, and instead of coffee, you suddenly wanted tea or milkshakes. If you automate the process with the implementation of IoT, no matter what, you will still get coffee. In this case, the command center is a person, and if they don't reprogram the coffee machine for a different time or do not turn it off, this beverage will still be brewed.
Using the Internet of Things concept, you simply change the command through a smart gadget that gives the signal to turn off the coffee machine and turn on the kettle. In this way, you get the beverage you want now. In other words, IoT implementation makes it possible not to set a program to achieve a goal but only allows a person to form a goal, which will be fulfilled by the interaction between the main device, which acts as a single center, and the household device that will do the job.
Internet of things implementation in action:
Offers accurate predictive analytics solutions: Data collected by the network of devices assists with carefully forecasting when the products will be delivered or when you risk running out of inventory, as well as other helpful things.
Locates items: A smart warehouse with networked security devices assists with monitoring every item's location to prevent theft, mistakes, or misplacement.
Automated Storage and Retrieval System
An Automated Storage and Retrieval System (AS/RS) is a computer-controlled technology designed to automate warehouse operations. It efficiently stores and retrieves inventory from defined locations within a warehouse. AS/RS systems are essential for modern warehousing due to their ability to save space, enhance picking accuracy, and improve overall efficiency.
Who created an automated storage and retrieval system?

The first Automated Storage and Retrieval System (ASRS) was designed and built by the company Demag in the 1950s. Demag is the predecessor of the automation giant Dematic. This groundbreaking technology laid the foundation for modern ASRS systems, which are now used in various industries to automatically place and retrieve loads from defined storage locations in warehouses and distribution centers.
Demag's ASRS innovation was a significant advancement in warehousing and logistics. It streamlined warehouse operations and revolutionized inventory management. Over the years, ASRS technology has continued to advance, making it an essential component of modern warehouse automation, order fulfillment, and supply chain efficiency.
Here's how AS/RS works to automate a warehouse:
Inventory Management: AS/RS systems manage the storage of goods, ensuring they are stored in an organized manner and optimizing available space.
Automation: These systems use robotics, conveyors, and computer software to automate the movement of goods. They can transport items to and from storage locations with precision and speed.
Accuracy: AS/RS systems reduce human errors in picking and packing by automating these processes. This leads to higher accuracy and fewer mistakes in order fulfillment.
Space Optimization: AS/RS systems use vertical space efficiently, allowing warehouses to store more goods in a smaller footprint, which is especially valuable in high-cost real estate areas.
Efficiency: Warehouse operations become more efficient as AS/RS eliminates the need for manual material handling. This leads to faster order fulfillment and reduced labor costs.
Inventory Visibility: AS/RS systems often come with advanced software that provides real-time visibility into inventory levels, helping businesses manage stock more effectively.
Automated Picking Tools
Automated picking tools are technologies and systems used in warehouses to streamline and automate the process of selecting items from inventory for order fulfillment. These tools are essential for modern warehouse management as they significantly improve efficiency and accuracy in the picking process.
Here's how automated picking tools can automate warehouse management:
Robotics and Automation: Automated picking tools often involve the use of robotics, including autonomous robots, robotic arms, and automated conveyor systems. These robots are equipped with sensors and software to identify and pick items from shelves or bins.
Vision Systems: Many automated picking systems utilize advanced vision systems and cameras to identify and locate items accurately. These systems can even read barcodes or QR codes for precise item identification.
Pick-to-Light and Put-to-Light Systems: These systems use visual cues such as lights or displays to guide warehouse workers to the exact location of items to be picked or packed. This reduces picking errors and increases speed.
IoT Integration: The Internet of Things (IoT) is increasingly integrated into automated picking tools. IoT enables real-time monitoring of inventory levels, equipment health, and even predictive maintenance, ensuring a smooth and efficient operation.
Improved Speed and Accuracy: Automated picking tools can significantly increase the speed of order fulfillment, reducing turnaround times. Moreover, they minimize picking errors, leading to higher customer satisfaction.
Scalability: These tools can be scaled up or down to match the changing needs of a warehouse, making them adaptable to seasonal or growth-related fluctuations in demand.
Smart Warehousing Best Practices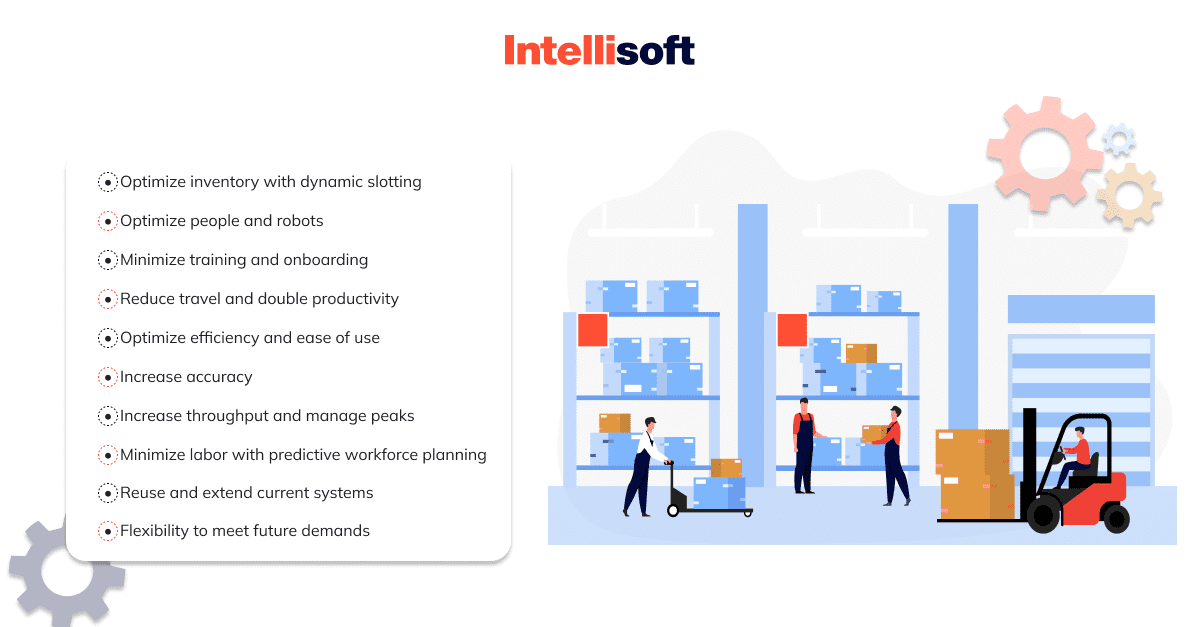 Smart warehousing helps to avoid empty shelves and costly bottlenecks. Here is a list of smart warehousing best practices to help supply chain decision-makers gain the most from technology in warehouse and automation solutions.
Optimize your warehouse regularly
There are several recommendations that will help you. Each product category must belong to its own zone. For example, a long-term storage area, a shipment waiting area, and a picking area. Develop clear routes for the movement of goods from the loading area to the storage area. This will help minimize physical efforts and time costs, as well as avoid unwanted collisions.
Organizing addressable storage in a warehouse is not very difficult. To do this, you need to divide the warehouse into three main zones: storage, goods entry, and exit, as well as into two more categories – dynamic and static.
Create a reject (defect) zone, which is a special zone where goods that do not meet the established requirements and standards are placed.
Use light motion sensors. Then, only the premise needed at the moment will be illuminated.
You should also check machines for malfunctions before each unloading, or better yet, assign each piece of equipment to a specific person or robot to increase the degree of responsibility. In addition, if you buy from one supplier rather than from several different suppliers, the chance of getting a defective machine is reduced. In addition, parts from decommissioned equipment will be suitable for repairing new equipment.
Establish the correct tech requirements for packaging so that it is sufficiently strong, lightweight, and inexpensive. Ensure the safety of cargo during transportation, loading, and unloading.
So, everything from inventory and storage optimization to packaging matters when optimizing the warehouse.
Implement demand forecasting
Demand forecasting is an indispensable business tool. It allows you to avoid unnecessary costs of creating useless inventory stock and maximize customer satisfaction. This approach helps define goods that users want at different times of the year under various conditions.
Using AI and predictive analytics, retailers are improving demand forecasting and inventory management. Studying and forecasting customer demand allows you to optimize your production planning. Although 100% accurate forecasts are still not available, the higher the accuracy of the forecast, the more efficient you can run your business. With demand forecasting, you can optimize deliveries to dealers or stores, prevent overstocking, shortages, or, conversely, spoilage of expired products.
Rethink your warehouse layout
Designing a new layout is a massive undertaking. The best way to do your warehouse redesign is to have a plan of action. Often companies are faced with the question of where to start. We'll give you a clue:
The first thing you need to do is develop a map or diagram of your warehouse. You can base it on an existing one or create a new one.
Make a plan to optimize space. Only part of the warehouse space is used for storage of goods; the rest is planned for work areas where employees will unload, handle, and sort cargo.
Speed up the work of the warehouse by selecting special equipment. You need to choose it depending on what type of products you have. For example, if you work with boxes or pallets, you may need a forklift.
Before you design or modify your warehouse, test the new layout. To do this, it is best to measure the proposed layout and set up a perimeter and then walk through it. You don't need to test the entire storage area, but rather the most important areas.
How to Automate Your Warehouse?
Automating your warehouse with smart technologies can significantly improve efficiency and reduce errors. Here are steps to achieve this:
Assess Your Needs: Evaluate your warehouse operations to identify areas that can benefit from automation, such as receiving, sorting, inventory management, picking, packing, and shipping.
Choose the Right Technologies: Select appropriate smart warehouse technologies, including automated storage and retrieval systems, robots, inventory management systems, and software. These tools can help optimize various aspects of your warehouse operations.
Implement Automation Gradually: Introduce automation gradually to minimize disruption. Begin with processes that offer the most significant improvements and gradually expand to other areas.
Invest in Software: Utilize warehouse management software to integrate and control automated processes effectively. This software helps manage inventory, track orders, and optimize routing for efficient operations.
Train Your Staff: Ensure your employees are trained to work alongside automation. They should understand how to operate and troubleshoot the technology.
Monitor and Optimize: Continuously monitor the performance of your automated systems and make adjustments as needed to maximize efficiency and cost savings.
Embrace Data Analysis: Utilize real-time data and predictive analytics provided by smart technologies to make informed decisions and adapt to changing demands.
Automated Inventory Control Platforms
Automated inventory control is crucial for efficient supply chain management. The best automated inventory control platforms in 2023 include:
Cin7 Core – Considered the best overall option by USNews, Cin7 Core offers comprehensive inventory management capabilities.
Zoho Inventory – Known for its budget-friendly approach with scalability options, making it suitable for businesses of various sizes.
Vend by Lightspeed – Ideal for retail businesses, offering features tailored to the unique needs of the retail sector.
Sortly – A top choice for small businesses, providing user-friendly inventory management solutions.
InFlow Inventory – Suited for B2B operations, InFlow Inventory is designed to meet the demands of business-to-business inventory management.
When selecting the right automated inventory control platform for your specific needs, it's important to consider factors such as your business size, budget, industry, and scalability requirements. These autonomous warehouse systems offer a range of features and capabilities to streamline your inventory management processes and optimize supply chain operations.
What's Next?
As a result of the warehouse optimization using the technologies mentioned above, it is possible to achieve KPIs, significantly reduce logistics costs, accelerate shipments, make the business less dependent on the warehouse operation, boost staff productivity, and increase team's competence as it becomes capable of introducing changes independently.
If you have questions about optimizing logistics processes in your warehouse or develop/improve your warehousing software, contact IntelliSoft. We have been designing, developing, and maintaining warehouse systems and apps for 15 years. Our specialists will consult you, estimate the price of your project, as well as help you develop and successfully implement a strategy to improve the efficiency of your solution.

About

Kosta Mitrofanskiy

I have 25 years of hands-on experience in the IT and software development industry. During this period, I helped 50+ companies to gain a technological edge across different industries. I can help you with dedicated teams, hiring stand-alone developers, developing a product design and MVP for your healthcare, logistics, or IoT projects. If you have questions concerning our cooperation or need an NDA to sign, contact info@intellisoftware.net.