Patients who suffer from drug addiction can turn to healthcare professionals and get back to everyday life. People with Alzheimer's start remembering things once again after proper treatment of their mental disorder. Young adults forget about depression and start enjoying life after getting help from experts.
That is all great, but COVID-19 forces many people to stay home. Social distancing is a severe obstacle to obtaining professional help in hospitals. On the other hand, public places are dangerous to visit now. Well, it will be so until 80% of our planet's population is vaccinated. So, is there a way out? How should we get proper medical treatment in the epoch of lockdown?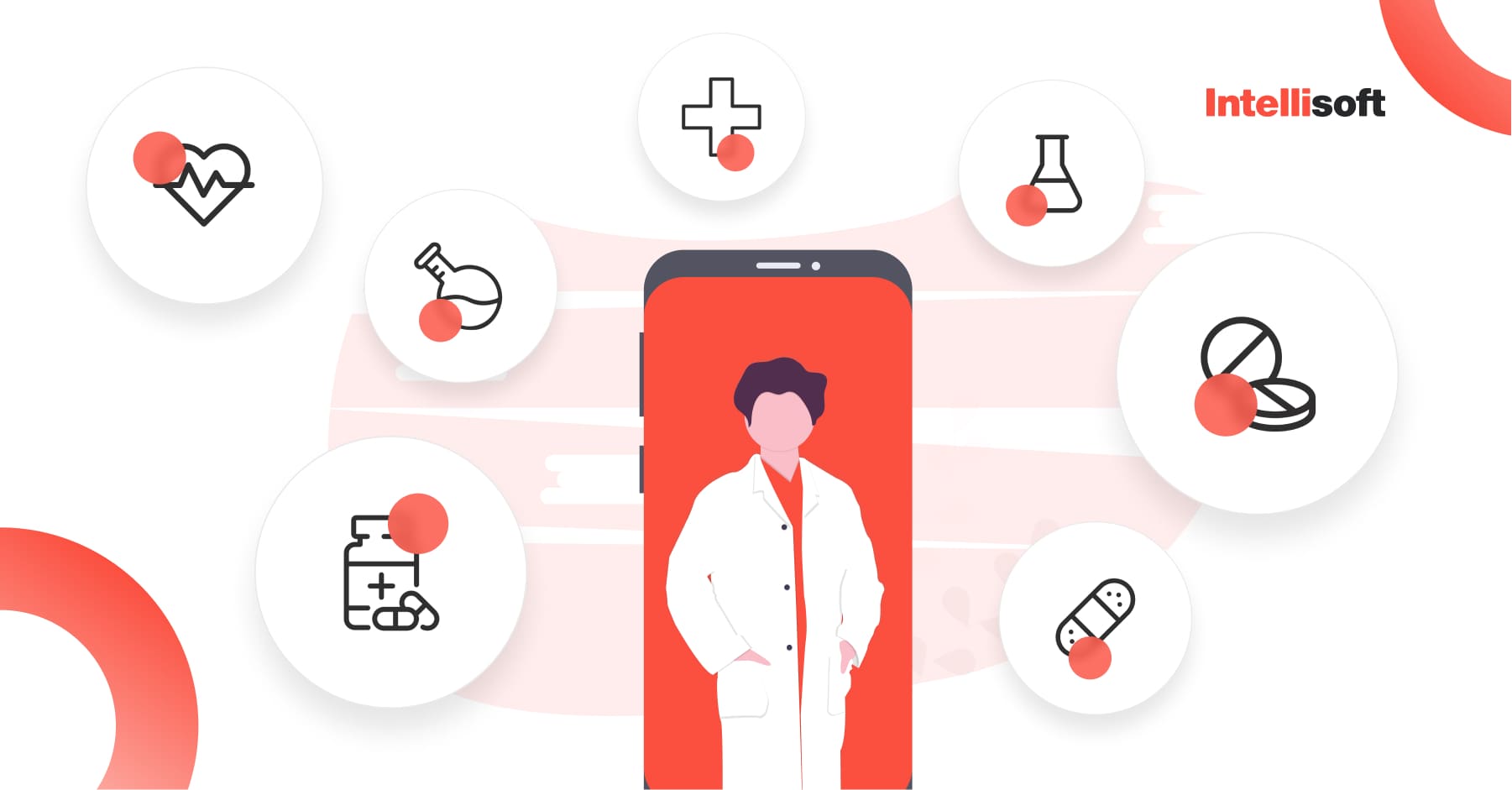 The key is telemedicine. Telehealth platforms can serve patients just like real doctors without meeting a professional in person and risking your health.
Telemedicine applications for healthcare are not that easy to create as not everyone understands how virtual doctors work. Intellisoft provides a premium-quality telehealth app development service. We will tell you how telehealth platforms function and which trends should be considered to succeed in this field.
Related readings: 
Primary Factors to Consider in the Telemedicine Software Market
Are you planning to start a telehealth business? Telehealth software is necessary to boost employee performance within the healthcare environment. At the same time, such apps positively impact patients, who are the clients, in fact. Telemedicine tools have already spread to many areas and continue to adopt throughout.
What are some of the perks you can gain when owning a telehealth application? Brian William Hasselfeld, M.D., Digital Health and Telemedicine at Johns Hopkins Community Physicians, is ready to list the main reasons to use such software in a modern medical system (or turn to a professional telemedicine app development service).
Family connection
Patients all have people they can trust, and they should address them in an emergency case. By activating the corresponding feature, you'll be informed about the health condition of your loved ones. It prevents illness progression.
Improved assessment
Without special software, physicians can only measure body temperature, pulse, and blood pressure. Telehealth tools provide more opportunities. From health history records to the home environment., professionals will obtain access to a greater share of data to analyze. It's necessary for accurate diagnosis and further treatment.
Primary healthcare management
Different telemedicine solutions simplify and speed up the process of getting in touch with physicians/patients at any time, any place. In case the particular doctor is busy, a patient is automatically re-addressed to another expert or gets an opportunity to choose one on their own. In other words, patients can see the schedule and pick convenient dates and times for visits independently without having to call anywhere and waste time in a waiting line.
The intelligent app scans numerous medical platforms, making it easier to find the right healthcare professional in a blink of an eye. If the patient has any doubts, they can first get a consultation, which is often free. Zoom video calls are good for discussing the details in real time. It all allows the creation of more sophisticated care methods.
Experts realize the importance of integrating telemedicine software online. It's especially crucial in the epoch of the COVID-19 pandemic.
Impressive Statistics & Forecasts
The telehealth market size is expected to achieve $559.52 billion by 2027, with a CAGR of 25.2%. What are some of the reasons for such dynamic growth?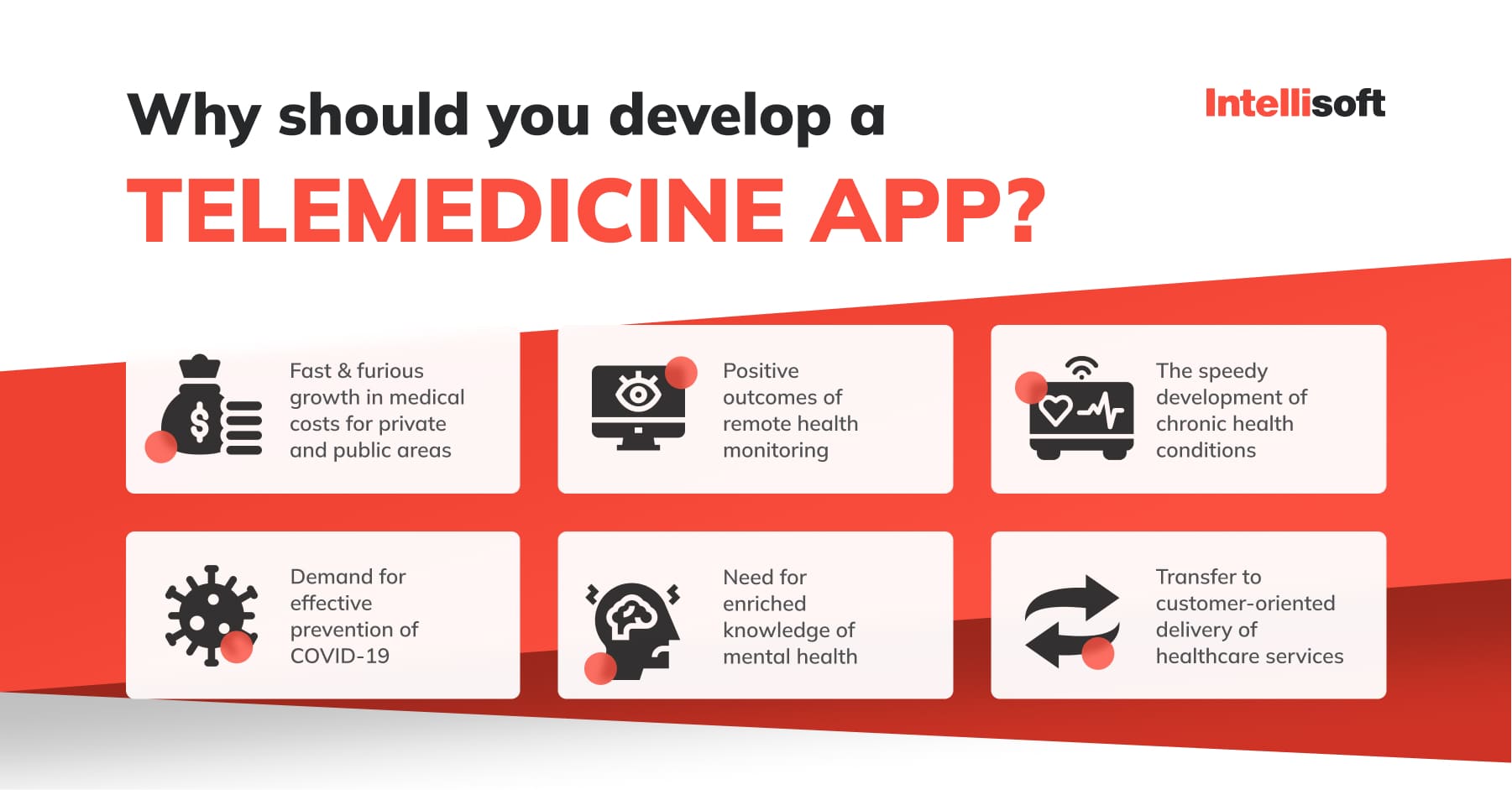 The recent events in the world force healthcare communities to optimize staff workload. Usually, professionals separate telehealth delivery into three groups:
Asynchronous telemedicine is about exchanging personal information between a patient and a physician. The data remains confidential. A doctor may answer with a delay if they are busy at the moment, but it won't take too long to wait.
Synch telehealth takes place when doctors and patients contact each other with the help of desktop computers and mobile devices.
Remote patient control is provided round-the-clock via particular telehealth apps. Such software delivers medical records to hospitals.
No matter which telemedicine app to choose, one thing is for sure: this tech has greatly expanded access to medical care, as McKinsey concluded. Thanks to the features offered by telehealth applications, people can obtain on-time help even when having to stay at home.
In the first half of 2020, the US population that set up and used telehealth platforms grew by 154%, in contrast to Spring 2019. Web-based apps are the "hottest" trend during the pandemic because of the following:
Enhanced flexibility
No need to download apps
No software licensing fees
No on-site server installation
Simple to scale with the growing demands
Quick video conferencing features without installation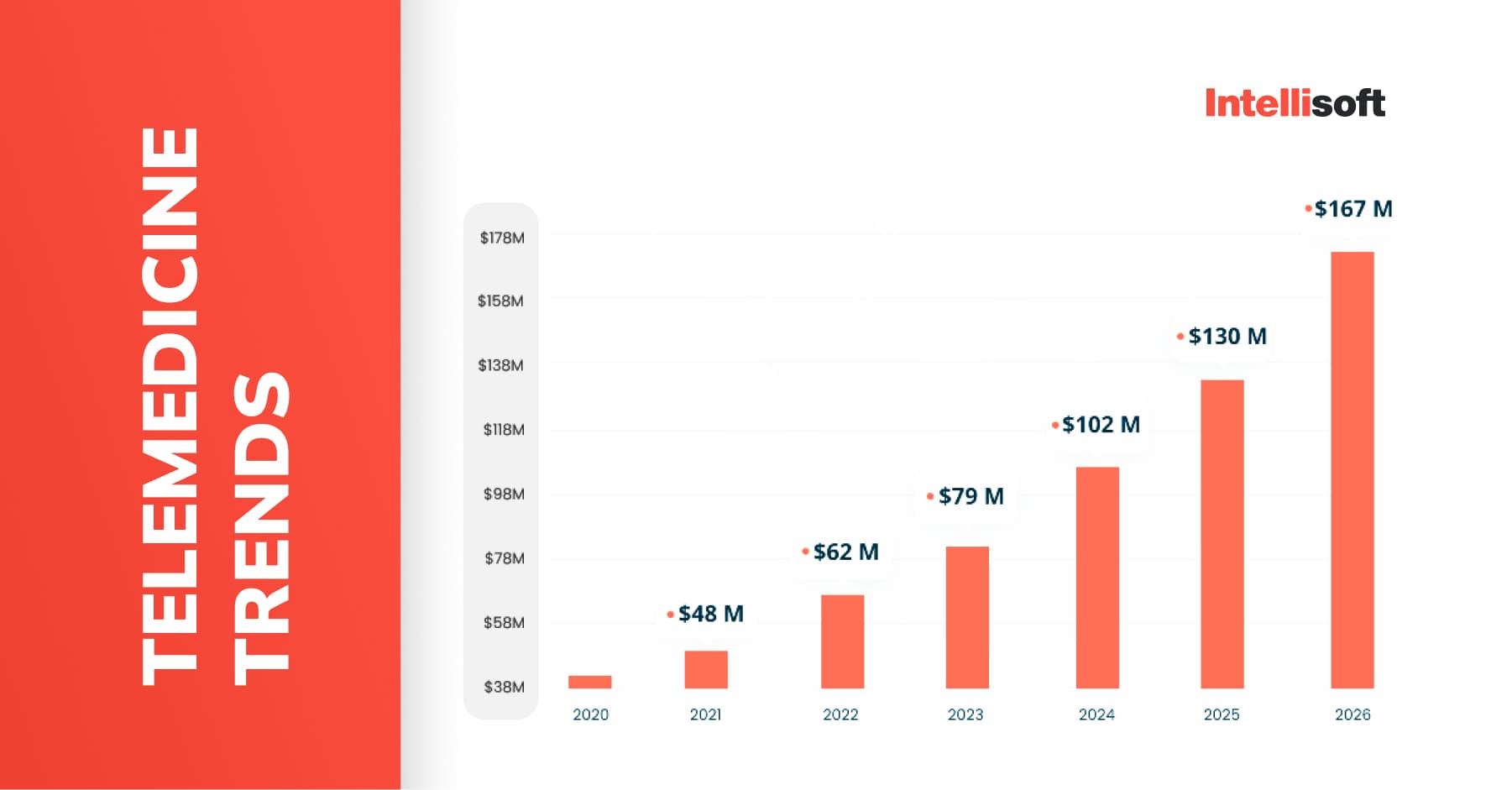 Another question that bothers many telehealth app development companies is how much telehealth video apps can cost. The price varies from $30-$300 monthly per user to thousands of dollars.
Let's consider some examples of successful telehealth platforms. Teladoc is an application that serves around 20,000 users daily. Perhaps you have heard about Amwell. This makes it possible to connect to the physician using video chat. That is the most-wanted feature for telehealth solutions, as video chats exclude any need to see the doctor in person. There are other things that prevent patients from risking their health during the pandemic:
Hassle-free access to gadgets and devices, is vital for getting medical help without having to go out.
Faster delivery of healthcare services and assistance.
Security and confidentiality of user's data.
All-time expanding virtual primary healthcare.
Telemedicine applications and waiting room solutions will replace onsite treatment during hard times when people should better stay at home. The future of telehealth doctors was fully reshaped during the last couple of years.
Recent Telemedicine App Development Trends That Influence the Future of Healthcare
Social distancing is not the only factor that accelerates the adoption of telehealth technologies. Other factors involve overloaded hospitals, a lack of professionals, and a rapidly growing need for prompt counseling and support. Interestingly, 83% of users report that they plan to use special telehealth doctors even once the pandemic is over. They cannot deny the benefits of these tech advancements. By 2026, the telemedicine market may reach the mark of $175.7 bln. If you plan to join this market, find out more about the trends to consider in 2022.
AI and Big Data
These solutions are excellent add-ons as they collect, process, and assess large shares of data. That is how professionals decide on treatment strategies. Artificial Intelligence empowers chatbots to customer service. Examples of applications that actively use AI technologies include HealthTap and Ada. AI usually goes hand in hand with ML. ML stands for Machine Learning. It allows accessing and analyzing telemedical devices' geo-location without any obstacles.
When mixing AI and ML, it's possible to detect all the factors that may impact the treatment, including age, social status, personality traits, etc. Artificial Intelligence will perhaps expand fast, exceeding $34 bln by 2025. That is why a telehealth app development company should involve one of these technologies when developing a solution.
EHR Telemedicine
One of the "hottest" telemedicine business opportunities. This abbreviation stands for electronic health records. Professionals must be able to access information about their patients whenever they need it. Telehealth solutions enter the necessary data automatically instead of forcing experts to add the info manually. Some examples of software that allows doing so involve AdvancedMD and ChARM Health.
Being able to simply and fast access telemedicine services 24/7 prevents patients from facing severe issues. One bright example of promoting such solutions is when President Obama made EHRs the heart of the 2010 Affordable Care Act (ACA).
AR for High-Quality Care
Using Augmented Reality significantly increases the accuracy of different processes. It eliminates the need to fix numerous bugs later. Also, AR tools help to identify effective methods to treat patients. Examples of AR involve dentist instruments, smart glasses, and vein scanners. Surgeons should put on different AR technologies to benefit from these innovations. Examples of apps that apply AR include BioFlightVR and Vipaar. Your telehealth app development company will benefit from implementing augmented reality solutions.
A Team-Focused Care Approach
This one is method that would benefit both physicians and patients. Telehealth solutions made it possible to incorporate team-based healthcare into virtual care to serve patients remotely. If you're looking for more details, take a look at the info provided by the National Academy of Medicine.
Telehealth IoMT & Wearables
The idea of the last couple of years was to create tools that would connect healthcare professionals with their patients as fast as possible. IoMT stands for internet-of-medical-things. By 2029, this area is expected to go up to $285.5 billion.
What are some of the examples of IoMT? They are ECG/EKG monitors, smart beds, inhalers, and more. Such tools can reduce the workload, improve customers' mobility, and simplify health control.
An Enhanced Focus on Data Security
Patients don't want the outflow of their private information, and it makes sense. HIPAA protects health records. That's why it matters for any telemedicine software. A telemedicine app developer should ensure data encryption. In addition, regular security examinations are necessary to make patients feel safe. If you choose to cooperate with our outsourcing company, our developers will guarantee the security of your software. Intellisoft will prevent you from such issues as, for instance, Blackbaud and DCA Alliance faced.
Mental Telemedicine Solutions
We can name at least three types of telemedicine for patients who suffer from mental disorders. For instance, those are Vectera, athenaOne, and Simple Practice. These are examples of tools that can handle Alzheimer's, depression, or sleep disorders. Such telemedicine programs allow for better communication and management.
Simplification of Telemedicine Programs Policies & Instructions
Instead of attending doctors face-to-face and taking certain risks during the pandemic, users can benefit from telemedicine services. Besides, an app makes it possible to save at least half an hour on visits and consulting. That is because patients can settle appointments in the comfort of their homes. You may have a look at a couple of examples, such as Lemonaid: Same Day Online Care and LiveHealth Online.
Drug Development Tools
These instruments make it possible to obtain counseling distantly, as well as incorporate remote clinical tests. All parties win in such a situation. Digital health technologies (DHTs) offer up-to-date methods of gathering and recognizing sensitive information from users without interrupting their daily activities.
A Hybrid Model of Telehealth
It is possible to mix telemedicine programs and face-to-face treatment. After all, the pandemic won't last forever, but many people are already acquainted with remote services. To combine both approaches, parties should use video conferencing technologies like Skype, Zoom, or Google Meets, patient monitoring software for doctors, apps for scheduling and follow-up, etc. The telehealth platforms for primary care help to decide whether a patient requires in-person treatment or can receive remote help and treatment. Some examples of tools applying a hybrid model include MDLive and Doctor on Demand.
Software for Wellness and Relaxation
When starting a telehealth business, think about creating apps for recreation. Recreation can prevent many physical and mental disorders. It is part of a healthy lifestyle, which is so popular now. It all boosted the popularity of recreation & fitness telemedicine software development. Such solutions as Fitocracy Macros and MyFitnessPal allow for staying fit. When combined with applications on proper nutrition, these solutions have a double effect. It makes no wonder that the fitness and nutrition app industry can reach $14.7 bln by 2026, as shared by Market Watch.
Specific Field Apps
Health & medicine have multiple categories and subcategories. Instead of installing general healthcare applications, it is way more comfortable to have software suitable for the patient's specific diagnosis. Those are apps related to narrow fields, such as gynecology, cardiology, pathology, etc. Examples of such tools involve Mobile ODT and Practo.
Higher Demand for Digital Channels
Digital channels allow seeking out important medical data and applying it to different cases. Curiously, more than 100 mln people have an Apple Watch today, and many similar gadgets have become ubiquitous in their daily lives. Among all, smartwatches make it possible to watch your health condition and make proper health-related decisions.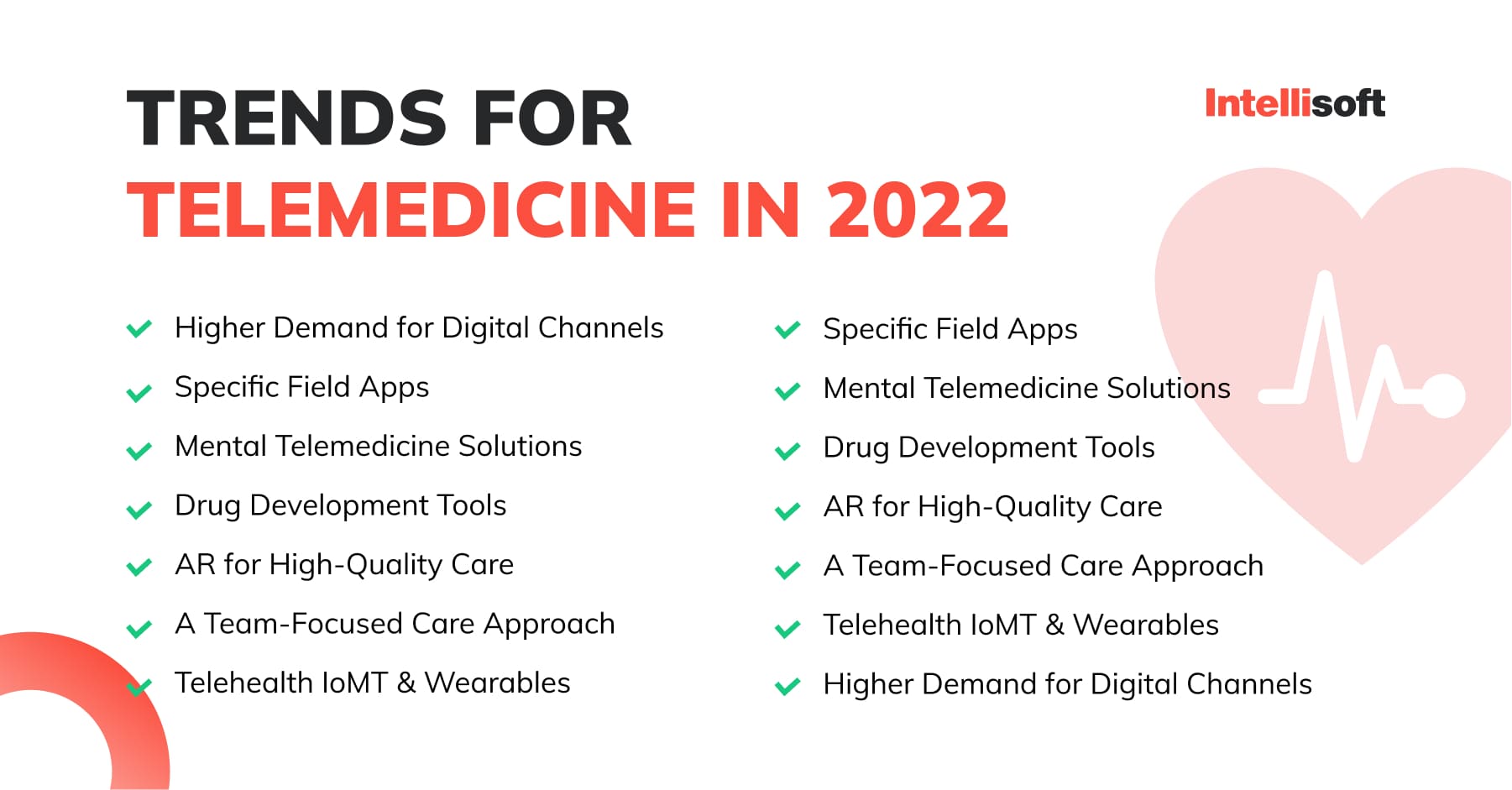 Final Thoughts: Need an Excellent Telehealth Software Right Away?
We believe that these facts and stats are enough to point to the significant role of telemedicine and telehealth software in particular. Even when the pandemic is over, do not expect these technologies to lose popularity. We provided enough reasons why you may need qualified telemedicine app developers.
Developing telemedicine apps is a way more responsible activity than creating other types of software. There is nothing more valuable than our health, after all. If you're unsure if your current development team can handle all the nuances, grab a helping hand from a trusted partner – Intellisoft. We can provide you with qualified specialists to create a unique virtual care app for your or your customer's business. We've been delivering pro-development services for years, so schedule a free consultation today to become a market leader tomorrow or to learn about telemedicine software costs.