Nowadays data is the new gold. And the science that help businesses get benefits from it is Data analytics. Thanks to this science, yiu can predict the level or revenue you'll receive the next month or what clients are more likelly will buy from you.
From predicting future purchases to customer churn, more than 4 in 5 marketers report needing help making data-driven decisions despite having access to data. Although many companies can record large amounts of data, they cannot efficiently process and analyze this information. The challenge is accessing technologies capable of analyzing loads of data in a short time.
IntelliSoft has rich expertise in dealing with business data analytics. For instance, the ZyLab clients' servers were used to run the previous product, the on-premise ZyLAB IM Platform (Information Management Platform), for extensive data analysis. We helped with its development so that the user can choose from various resources for data collection, extract and parse the data, convert it into text, index it, and make it searchable by keywords.
Let's find out how organizations may profit from big data analytics and the technology that makes it possible.
What Is Data Analytics for Business?
What is business analytics definition? Business data analysis aims to provide managers with actionable insights that will allow them to accomplish organizational goals and solve complicated challenges. The use of data analytics can assist a company in optimizing its performance, functioning more effectively, maximizing profits, or making decisions that better guide strategy. There are typically six principal fields of a company data study:
Strategic analysis. The process of collecting valuable information for the management of a firm in setting its priorities and establishing its long-term direction. Reviewing the company's goals, mission, core values, and internal and external environments helps develop this strategy.
Market research. Various methods are utilized in market research to acquire data and comprehend the demands and demographics of a company's target market. A product or service's viability, possible market gaps, and competitors are all determined using this information.
Financial analysis. It uses financial data to evaluate a company's viability, stability, and profitability. Several reports and financial records, such as balance sheets, income statements, cash flow statements, and statements of shareholders' equity, were used to compile this data.
Competitive analysis. Gathering, evaluating, and acting on information about rivals, consumers, and other market elements that provide a company an edge in the marketplace is what we call "competitive intelligence." Experts then utilize the information to enhance advertising, strategic preparation, financial management, and daily operations.
Risk management. Risk management aims to discover, analyze, and manage possible organizational hazards. These risks include accidents, legal liabilities, strategic management blunders, and financial insecurity.
Stakeholder analysis. This study helps a corporation or team decide whose interests they should consider when creating a product, policy, or program. It identifies, prioritizes, and understands possible stakeholders to get corporate support.
Key Types of Data Analytics for Business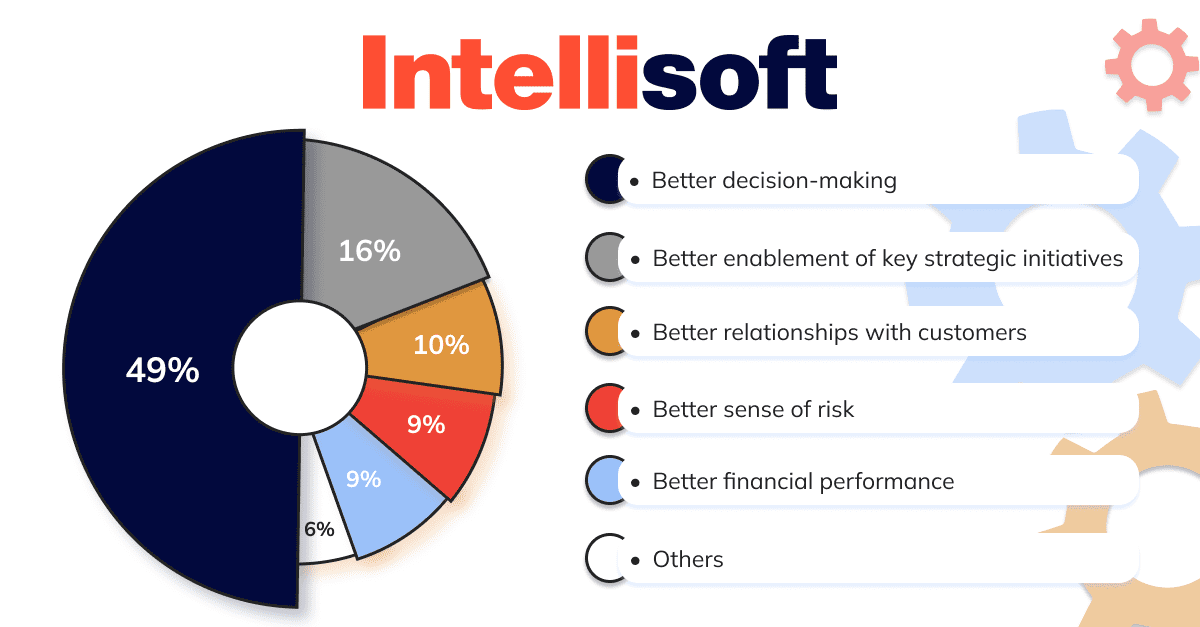 Diagnostic Analytics
Diagnostic analytics analyzes information to answer the question, "Why did this happen?" It uses statistical data analysis techniques to cluster, classify, disaggregate, and correlate data to identify the main influencing factors on the results. In the Industrial Internet of Things (IIoT) example discussed above, diagnostic analytics will show that a failure of the raw material acceptance module caused the crash.
Descriptive Analytics
The query "What happened?" is addressed by descriptive analytics by putting together a summary of the data from the past for later analysis. For instance, the endless assortment of data from creation hardware utilizing savvy sensors and other Internet of Things (IoT) and Industrial Internet of Things (IIT) devices will enable exact identifiable proof that exists independent from anything else of failure in the mechanical cycle.
Predictive Analytics
Predictive analytics answers the question, "What may happen?" based on data analysis. Predictive analytics of manufacturing equipment's current and previous performance will calculate its preventive maintenance schedule to minimize costly breakdow. Mathematical statistics, modeling, machine learning, data science for business, and intelligent data analysis are employed here (data mining).
Prescriptive Analytics
Prescriptive analytics answers the main managerial question, "What to do?" Here machine learning and other artificial intelligence methods analyze all the accumulated and processed data to find the best solutions for a particular situation. For example, the prescriptive analytics module will tell you which part of the production equipment is most worn out and how to fix it economically optimally: replace it with a new one or repair it.
Business Analytics vs Data Analytics
Both business analytics and data analytics entail working with and manipulating data, drawing conclusions from data, and employing those conclusions to improve the operation of an organization. But what are the primary distinctions between these two functions?
Data analytics is the process of analyzing data from large databases to discover hidden relationships, test ideas, and back up business choices with factual evidence. Data analysis aims to address how geographical and seasonal factors affect consumer preferences and how likely it is that a customer may defect to a rival. Data analytics is a broad field that spans various methods and approaches.
Business analytics focuses on the data's broader commercial implications and appropriate responses, such as whether a corporation should create a new product line or prioritize a specific project. Business analytics refers to a set of abilities, resources, and software that enables organizations to assess and enhance the efficiency of key business operations like marketing, customer support, sales, or IT.
Importance and Strategies of Data Analytics for Business Growth
Advanced Audience Targeting
Predictive analytics can make use of a lot of data to help make a customer's experience with a brand easier. Finding the right business analytics tools to study your customers' buying and Internet browsing habits and putting them into place to provide accurate and actionable information may pique their buyer's instincts and cement your brand in their minds.
Decision-Making
Experienced business leaders can frequently make well-informed decisions that benefit the company and increase profits. While some prior experience may influence decisions, precise data-driven conclusions have a more significant impact. When determining the optimal response to altering trends, data analytics can aid. With data analytics, pricing, and inventory planning, experts can make choices confidently.
Customer Retention
It is crucial to the success of a business to keep its existing customers and attract new ones. If a company's dissatisfied clientele, it will be there for a while. Data analytics for business is essential in locating significant patterns and critical in making product and service recommendations to clients. By doing so, you lock the client into a particular mindset, which in turn helps increase customer retention.
Objective Setting
The primary reason to approach Data Analytics for Businesses is to set attainable goals. Setting goals is only possible with data analytics. You don't say that your business goals should change all the time. Instead, you say it's better to lay them out with the correct data than guess at them. Data analytics makes collecting records and analyzing historical data more accessible to find trends. Setting appropriate goals will be made more accessible by engaging in these activities.
Assessing Data to Define Business Opportunities
Businesses can use data analytics-based computer models to see patterns in customer purchases and determine which products should be emphasized or updated. Analytics may assist you in identifying significant areas of concern affecting your company's capacity to generate a profit, whether it is a production issue, a customer service issue, or a personnel weakness.
Things to Understand About Data
A business needs to develop a long-term strategy and objective before collecting large amounts of data. Analyzing data can be even more expensive than storing it.
As a result, prioritizing the identification of your company's data goals (use the KPI toolkit as a guide) is essential. Study some basic steps of data analysis.
Gather Data
Determine how your company intends to gather customer data. The options are nearly limitless. It is possible to collect data in various ways, including:
Search engine data, such as Google Analytics surveys
Transactional tracking (such as past purchases)
Lead generation forms
Sign-ups or free trials
Online or website tracking
Customer journey or user observation
Remember there are different types of data, from first-party (consensual data, such as an email address) to third-party data (cookies from external websites being phased out by Google) and social media networks like Facebook and Twitter.
Assess Data Relevance
According to The State of B2B Sales 2022, bad data quality causes two-thirds of sales leads not to close, and up to 25% of client and prospect records contain critical data errors that directly affect sales.
As a result, before you spend time or money on data analysis, you must check the accuracy of your data. This step will assist you in determining whether the data will provide insightful information. Before proceeding, gather the data with greater precision if it does not.
Visualize Data
Because it lets you show the data in a way that makes it easier to understand, data visualization is an integral part of this process.
There will probably be a few people on your team who prefer to avoid numbers. Visualizing the data is necessary to ensure that it is utilized effectively.
One can transform them into graphs and charts by utilizing specific tools like Datawrapper or Google Charts.
Use In-House Opportunities
To effectively search through the data and use the software that comes with it, you need a lot of skill and experience.
According to the U.S. Bureau of Labor Statistics, experts expect that the demand for operations research analysts will rise by 23% between 2021 and 2031, much faster than the average for all occupations. As a result, there is a lot of competition for these skills.
At the same time, many businesses have trouble keeping and managing their employees. Dedicating resources solely to data analytics programs may appear a good idea, but it could cost a lot in the long run.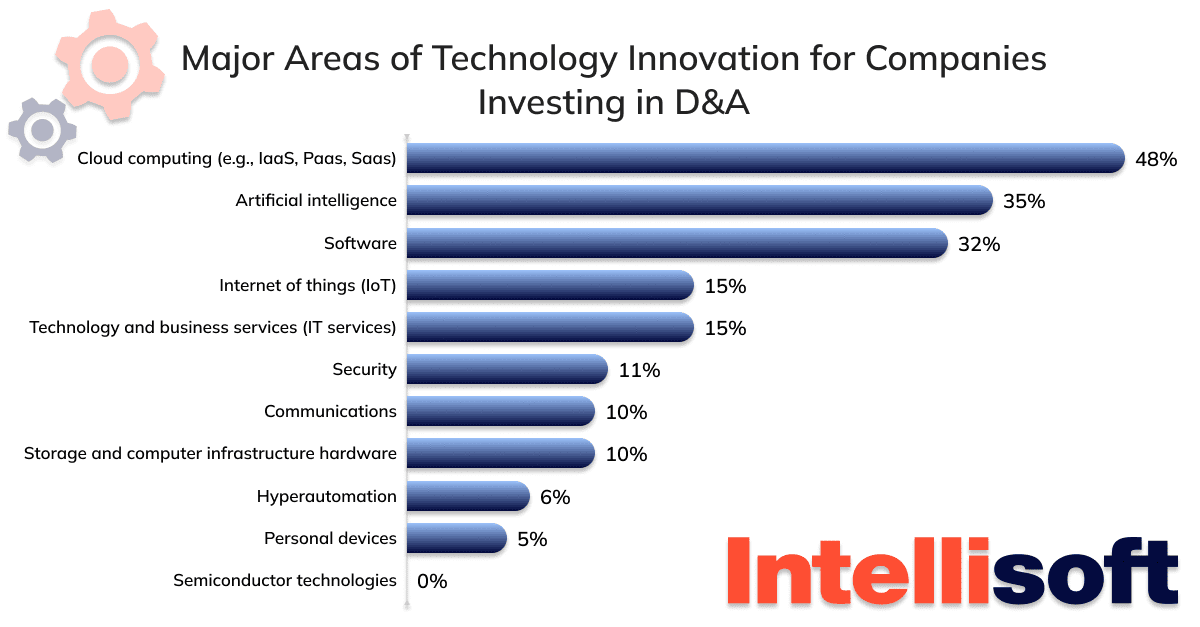 The main areas of technology innovation for businesses that invest in data and analytics are depicted in this Gartner graph.
Obtain In-Depth Insights
The majority of modern businesses already regularly store enough data. Prior to gaining a better understanding, answer the following questions:
How much do you know about how your company collects data?
Where is the data stored, and how frequently is it updated?
Is the data regularly examined?
Are there any concerns regarding the stored information's confidentiality or security?
Turn Insights into Actions
You should figure out how to transform the knowledge into business insights, regardless of whether your ultimate objective is to increase security or profits.
At every level, customer insights should be incorporated into the decision-making process. The CEO and senior executives should use these business analytics for marketing purposes, whether coming up with a new advertising strategy or planning something else.
Related readings:
How Can Big Data Assist with Business Development?
Improved productivity
The ability to make sound decisions directly affects an organization's overall productivity because it enables the flexibility and agility required to keep up with the pace of the market.
The provision of Agile pricing models
Adapting pricing models to changing market conditions is one of the most challenging tasks for sales teams. As a result, relying on big data patterns can help keep you ahead of the competition and make the necessary price adjustments quickly.

Looking For Experienced Data Analysts?

Hire Us

Sales funnels optimization
One can make effective decisions that allow for the design and creation of new data-driven sales funnels or the fine-tuning of existing sales funnels, thanks to the insights provided by the data.
Sales streamlining
One of the many benefits of data-driven businesses is that they can assist in identifying sales processes that can be automated or enhanced. This fact makes it possible to speed up processes and improve the customer experience.
Accurate detection of optimal client profiles
When it comes to comprehending what consumers are looking for, having access to up-to-date data and consumer behavior patterns is of the utmost importance. This data permits organizations to make better client profiles and improve advertising systems.
Cutting organizational expenses
Big data solutions make it easier to establish efficient manufacturing processes by allowing for production driven by demand and the best possible utilization of raw materials. Automation and artificial intelligence (AI) are other methods for reducing manual labor and achieving operational and production cost efficiency. To develop strategies that encourage agile work environments and cut costs overall, managers gain additional insight into the sales and finance departments.
Recalibrating business strategies
Big data strategies provide organizations with better decision-making power and the tools to validate the results of those decisions. With the help of these tried-and-true methods for conducting business, companies can rethink their approaches and adapt to changing conditions.
Driving brand loyalty
Customers are more likely to respond to relationship-based marketing. With the help of data analytics, businesses can leverage prior knowledge of customer needs and expectations and provide responsive services. This knowledge dramatically increases the chances of repeat orders and builds long-term relationships.
Recruiting top-qualified professionals
Big data technologies have become a valuable tool for HR managers to identify candidates by accessing data from social media, public databases, companies, and job search engines. This step allows companies to recruit more quickly and reliably than traditional recruitment techniques that always involve an element of uncertainty. Additionally, as organizations use analytics across all platforms, they must hire candidates that align with their policies.
Possessing demographics-based sales strategies
Customers are more likely to respond to relationship-based marketing. With the help of data analytics, businesses can leverage prior knowledge of customer needs and expectations and provide responsive services. This knowledge dramatically increases the chances of repeat orders and builds long-term relationships.
Two Primary Benefits of Big Data Adoption
Implementing Data Analytics in any business is challenging. It's a lengthy and laborious procedure. The advantages may take some time to materialize, and it will need significant investment from many parties. Is it worth adopting Big Data for business development?
Need Help With Data Analytics Integration?
Learn More
According to Gartner, 42% of sales leaders rate their sales analytics return on investment (ROI) significantly higher than expected. Such numbers offer cause for optimism. Yet to take full advantage of the benefits of big data, keep the following in mind.
Data quality is of utmost importance
The most valuable raw material today is data. However, some organizations mistakenly focus on data collection without considering the quality. High-quality data leads to better decision-making. Conversely, accurate, reliable, and consistent data accomplishes the opposite of what was intended. Data-driven firms must therefore take great care to ensure that only high-quality data is fed to their analytics systems.
Fostering a data-driven culture is a must
Sales operations should drive the concepts of a data-driven culture if the full potential of data analytics is to be realized. That's why stakeholders need to know where the data comes from, why they analyze it, what metrics to use, and how to interpret data. Simply put: to achieve the objectives set, everyone must be on the same page and speak the same language.
There's no denying the efficacy of using big data and analytics to inform business choices.
Data Analytics For Business: Best Examples
Walmart
According to ProjectPro, Walmart collects 2.45 terabytes of unstructured data from one million customers every hour from nearly 20,000 stores serving over 245 million customers worldwide.
It uses this data in a variety of ways to increase revenue, increase customer acquisition and retention, and improve customer service. Walmart optimizes bidding by analyzing 100 million keywords daily as part of its PPC strategy. It also keeps track of everything you do, like what you do on social media, what you buy in stores and online, and local events you can attend.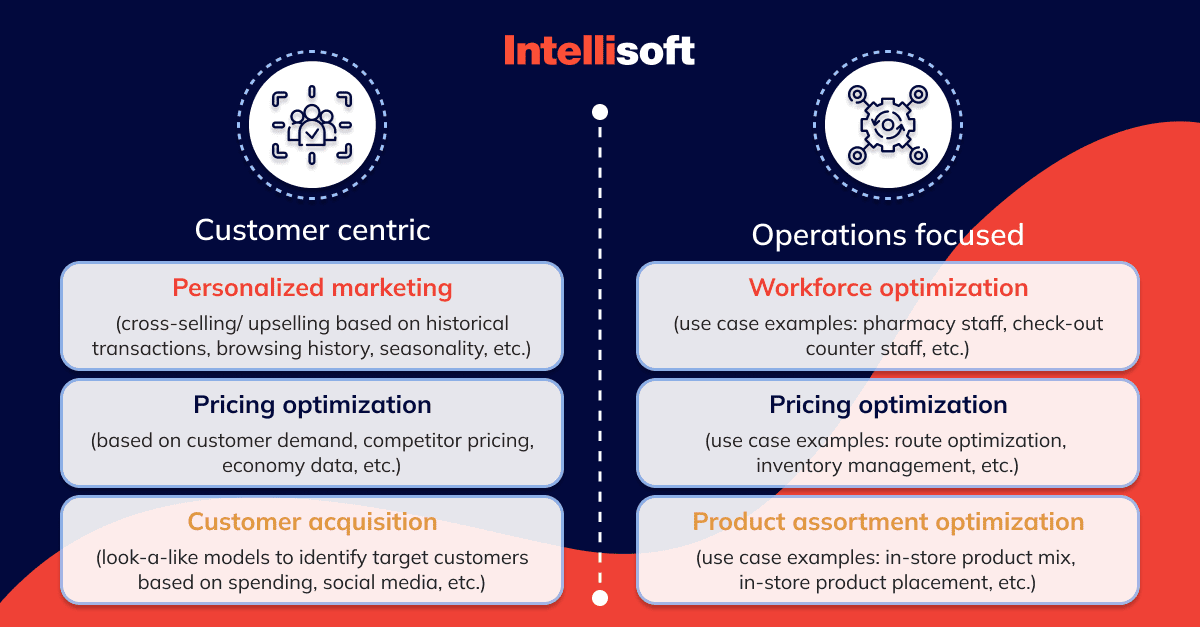 The superstore uses data to be customer-centric and also focuses on improving operations and processes, as shown in the Harvard graphic.
Netflix
You've probably heard of Netflix, the most popular streaming service, which boasts 223 million paid subscribers, according to Statista.
Netflix's use of data analytics is one reason. The company has one of the lowest churn rates for subscription services, at just 2.4%, compared to others like Hulu, because it understands what customers want.
Using data analytics to analyze user behavior, Netflix tailors personalized content to user behavior. For instance, they track information like how long it took their customers to finish a show, whether they watched it all at once or in chunks.
Netflix invested in AI technology in 2019 to automate trailers for movies and television shows. The company could save money by using this technology to make trailers and simultaneously personalize them for its subscribers.
Ways to Use Data Analytics to Improve Business Management
We recommend using some best practices along with our data analytics service to improve business management.
Streamline operations to boost business efficiency
Using data analytics, corporate executives can uncover ineffective internal procedures and create new, streamlined workflows that improve operational efficiency. By assisting managers in evaluating the efficacy of current workflows, examining the results of the processes, automating new workflows, and continuously improving them, data analytics contributes to better company management.
Data also enables leaders to assess whether processes are cumbersome, expensive, or difficult. Leaders may speed up their digital initiatives by switching from cumbersome manual workflows to optimized procedures.
Enrich customer experiences
A robust data analytics approach is crucial for the future of customer service. Tracking consumer behavior to enhance UX and CX is one of the most prevalent uses of data analytics to boost corporate results (CX).
Thus, companies can more accurately gauge client reaction to new offerings, tailor existing ones, and create products and services they know will be hitting.
Control data to support and boost cybersecurity
Risk management and compliance are at the top of business leaders' minds today. During the COVID-19 pandemic, fraud, account takeover, and other cyber threats increased. Leaders are rushing to find solutions that will work to reduce risk and meet new regulations. Research shows that integrating data analytics into risk management is more critical than ever. The power of analytics makes it possible to find risks, put them in order of importance, find ways to deal with them, monitor them, and report on them.
Data scientists build analytical models to find possible risks, figure out how bad they will be, and weigh the investment's financial and strategic costs and benefits against the threats to manage them. More data also means more risk around data privacy and data usage compliance. Thus, big companies that use internal and third-party data must use risk management analytics to protect their assets, customers, and reputation.
Evaluate the performance of marketing campaigns
Data-driven marketing campaigns are essential. Teams develop KPIs to measure success in data-driven marketing campaigns. Next, marketing teams need descriptive data about their target market, distribution routes, trends, etc. Marketing teams can A/B test ads to see which ones work.
Ultimately, marketing teams analyze campaign results for strengths and weaknesses. Spotify's "Spotify Wrapped" function packages and gives users' top songs, genres, and moods each year using user data. Social media users enthusiastically share their listening habits, turning the feature into a fantastic data-driven, user-generated marketing campaign.
Lead staff with data-driven decision making
Business leaders benefit most from employees with a firm grasp of business analytics. These leaders use logic, reason, and facts rather than relying on guesswork or subjective opinions to govern their choices. Leaders should make decisions supported by data and have a positive impact on their teams and the organization as a whole.
According to Forbes, there are two ways to use data as a leader — data-driven or data-informed. Data-driven leaders listen to the data and allow the facts to verify or refute their hypotheses. These leaders are not afraid to be proven wrong by data. On the other hand, data-informed leaders pick and choose which data they use to back up their decisions.
Optimize workflows to enhance staff productivity
Companies are struggling with "The Great Resignation," a phenomenon in which millions of workers are leaving their positions for other, better opportunities. Better employee performance, engagement, personnel, organization, recruitment, training, and salary management can be achieved through the use of an HRMS integrated with enterprise data. As a result, company heads started looking into boosting employee morale and retaining top talent. With the help of Big Data, HR departments can implement cutting-edge platforms that facilitate output and employee loyalty.
Keep an eye on market trends to release new products/services
Successful businesses are agile and can quickly bring new products to market. Companies use data analytics to monitor market changes, such as customer demands, to develop new product and service concepts, prototype models, and test their market offerings. Companies can use data to improve products and services by more than just retailers.
Retailers, for example, can track their customers' purchase frequency among high-value customer segments to better understand the products they want. The same retailers can also track when customers switch to new products to determine which SKUs are unique and which are redundant.
Digital-first companies such as Uber, Netflix, and Google use customer data to track how people use their products and make changes.
Apply data insights
Data is the lifeblood of any business strategy. Data-driven company plans are effective because they use historical information to foresee potential outcomes and advise top executives on the optimal action.
Netflix is a well-known example of a company that has employed big data and business intelligence to create a household name. Specialists use predictive analysis in Netflix's entertainment recommendations and original content productions. Netflix started original programming like "House of Cards" and "Arrested Development" by examining 30 million daily streaming habits, 4 million daily subscriber ratings, and 3 million daily searches. A company established on a data-driven business plan, like this one, has a much better chance of succeeding.
Key Tech Solutions Enabling Big Data Analytics for Businesses
Predictive Analytics
Predictive analytics is the process of making predictions based on data. For example, we look at customer behavior over the past year and can guess the demand for specific products on a particular day. Or determine which parameters influence customer behavior.
Experts apply predictive analytics to predict currency fluctuations, customer behavior, logistics delivery times, and the financial performance of companies.
For predictive analytics, big data is scrutinized, and then correlations and graphs are calculated to predict how the situation will turn out.
Simulation Modeling
Predictive analytics helps predict what will happen if nothing changes and the system continues to exist in the same data. Simulation, on the other hand, helps answer the question, "What if…?" To do this, build as accurate a model of the situation as possible based on big data and then change parameters in it: increase the price of goods, boost the flow of customers, and change the size of the part on the machine. The model reacts to this and shows what will happen: how profits will change, what will happen to customer loyalty, and whether production speed will decrease.
Machine learning (ML) & neural networks
Using big data to make automated systems that can make decisions independently is possible. In simplest form, these are chatbots that can recognize user responses. They are large distributed purchasing or production management systems at their most complex.
To make such systems work, they need established patterns of behavior. These patterns are derived precisely from working with big data. The system looks at how the data has changed in the past and acts on it in the present. Such systems are called neural networks.
In training, one can learn neural networks to analyze big data. For example, a neural network could be fed thousands of photos of women and men. And then, it will learn to identify gender from a photo or video, which makes it possible to use it to classify customer behavior.
Distributed Storage
Distributed file stores have duplicated data to protect against independent node failures and the loss or corruption of massive data sources. These databases don't rely on relationships between rows. Sometimes the data is replicated for low latency quick access on large computer networks.
NoSQL Databases
Programmers utilize these databases to ensure the accuracy and efficacy of data management across an unlimited number of storage nodes. NoSQL databases store data as relational database tables, JSON docs, or key-value pairings.
Stream Analytics
Experts may occasionally store the data a company needs to process on various platforms and formats. Stream analytics software is very beneficial for the filtration, collection, and analysis of this big data. Stream analytics also allows connection to external data sources and their integration into the application flow.
Data Virtualization
Data virtualization is one of the most popular big data technologies. It enables applications to retrieve data without implementing technical restrictions such as data formats, the physical location of data, etc. Apache Hadoop distributed data stores use it to give users real-time or almost real-time access to data stored on different platforms.
Data Integration
A key operational challenge for most organizations handling big data is to process terabytes of data in a way that can be useful for customer deliverables. Data integration tools allow businesses to streamline data across big data solutions such as Amazon EMR, MongoDB, Apache Spark, Couchbase, Hadoop, and MapReduce.
Data Quality
Data quality is an essential factor in big data processing. The data quality software can clean and enrich large data sets by utilizing parallel processing. Specialists widely use
these programs to obtain consistent and dependable results from big data processing.
Understanding what data to collect and how to use it to engage customers and increase revenue can be challenging. The short data and web analytics course might be a solution, but turning for help to IntelliSoft will significantly ease and speed up work with business analytics for your business. Start today to make use of your data.

About

Kosta Mitrofanskiy

I have 25 years of hands-on experience in the IT and software development industry. During this period, I helped 50+ companies to gain a technological edge across different industries. I can help you with dedicated teams, hiring stand-alone developers, developing a product design and MVP for your healthcare, logistics, or IoT projects. If you have questions concerning our cooperation or need an NDA to sign, contact info@intellisoftware.net.