The world of mobile apps and games is constantly evolving and expanding every day. From humble beginnings in the early days of the smartphone era to the massive industry it is today, the growth of mobile device software quantity is astounding.
With the increasing ubiquity of smartphones and mobile devices, the mobile application industry has become a behemoth, with millions of apps and games available for download across various platforms. Users have endless options, from the App Store and Google Play to the Amazon Appstore and beyond.
Launching a new mobile software product now may feel like throwing a rock into the sea, hoping someone will eventually find it. The pool of online content is more like an ocean – it continues to expand. Your product will reach the desired exposure only with proper optimization tools designed for app stores. Luckily, there are tools and methods that you can use to help your product reach your target audience.
Our clients often express concerns about standing out in the crowded global market, so we compiled this short guide on App Store Optimization (ASO). What's ASO, you may ask? Let's take a closer look.
What is App Store Optimization?
Simply put, ASO is a set of measures you can take to expose your application to the audience better. It is similar to search engine optimization (SEO) but has different specifics. By following certain recommendations, you can:
Make sure your product reaches the targeted audience
Increase the number of downloads
Improve your brand visibility
Why Is ASO Important?
Recent research by Google shows that more than 80% of mobile software downloads resulted from people scrolling through the Apple App Store or Google Play or following search platform suggestions. It means that if your application is not in the Top 10 search results of the app store, it will never see the light of day. That's why it is crucial to utilize tried and tested methods of ASO.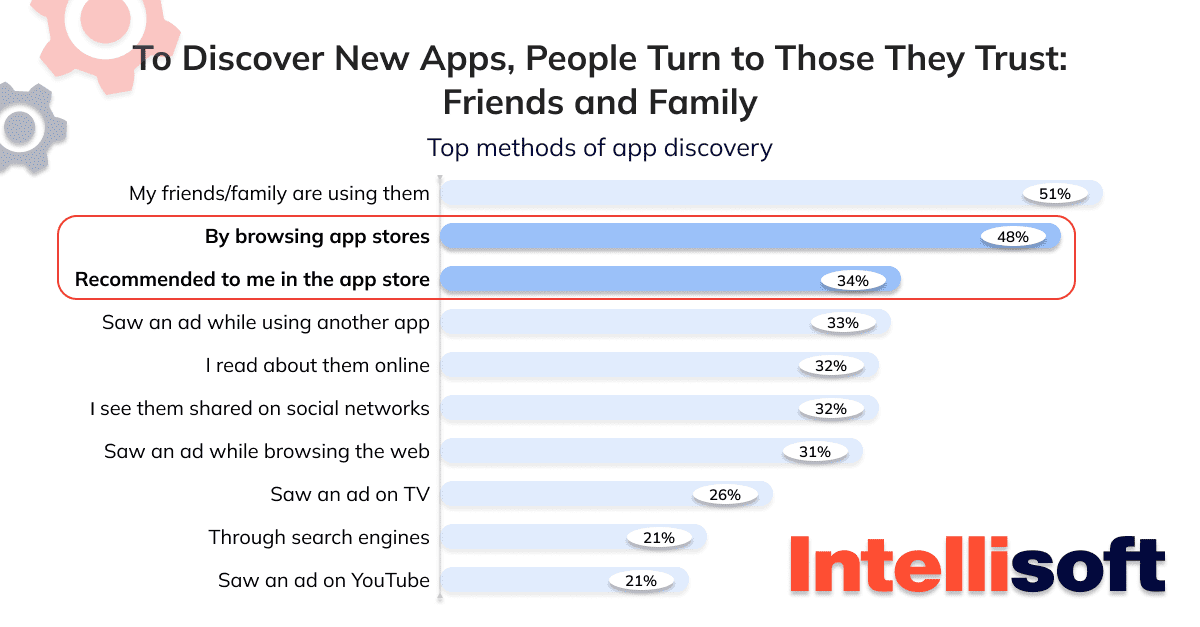 Difference between ASO and SEO
Web search engines like Google, Yahoo, or Bing use complex algorithms to assess multiple site ranking factors, resulting in better or worse website position in search results. SEO specialists know how to optimize those factors when clients want to make their websites more visible online. On the other hand, ASO methods focus on much fewer ranking factors for mobile software influencing App Store and Google Play search results. While SEO works to attract more visitors to websites, ASO provides more app downloads.
At the same time, both principles involve such processes as:
Keyword search
Conversion rate optimization
Backlinking
The following image shows the main differences and similarities between SEO and ASO.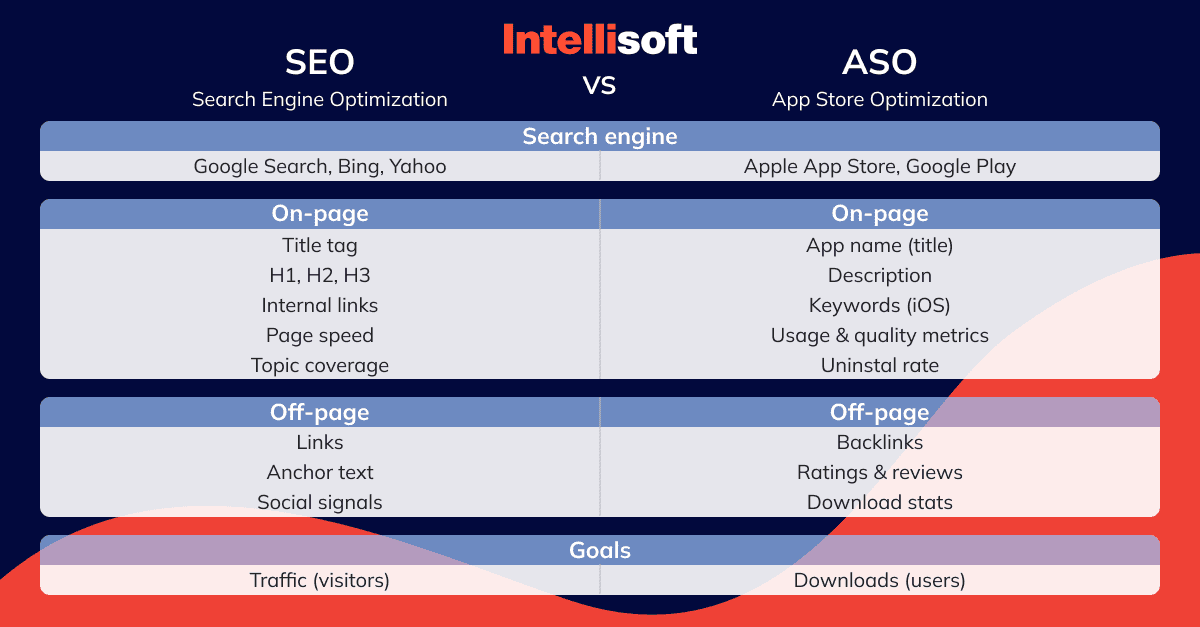 Benefits of Using the Right Services for ASO
Mobile applications have become a crucial part of businesses in today's digital age. With millions of software products available in app stores, it has become more challenging for developers to make their products visible and attract more users. App Store Optimization (ASO) is a technique that can help business owners increase their product visibility and attract more users. Using the right ASO services can provide many benefits that can help achieve success in promoting an app.
The main objective of mobile app optimization is to increase the visibility of an application on the app store. By using the right ASO services, you can optimize the app's title, description, and keywords, making it easier for users to find. Also, you can use the right tools to optimize the visual elements of the software, such as the icon and screenshots, which attracts more users and increases the chance of a download.
Using ASO services helps improve the mobile application's ranking on the app store. As a result, it becomes more visible to users and attracts more downloads. Special App Store Optimization tools can help optimize the keywords, description, and other metadata for better ranking. Additionally, ASO services can help developers identify their product's strengths and provide recommendations on eliminating weaknesses.
User engagement is one of the most critical factors for the success of an application. Using the correct App Store Optimization services, you can improve metadata to help users understand what the application does and how it can benefit them. People are more interested in software with clear and concise descriptions of its features. Visual elements like screenshots and videos help users better understand the app's capabilities and functionalities.
The ultimate goal of App Store Optimization is to increase downloads. ASO services can help developers identify the best keywords to target a specific audience and optimize their app's description and title to make it more attractive to users. The same services can provide recommendations on improving user experience with the application, which results in a higher user retention rate, better user reviews, and, thus, more downloads. All the above improvements should lead to users' decision to download the app.
Better Return on Investment (ROI)
Investing in the right ASO services leads to a better return on investment (ROI). An optimized mobile application reaches its intended users quicker, works better, and generates more revenue. Besides, well-established ASO services can identify areas for improvement and provide recommendations for further app optimization resulting in better user retention rates and higher revenue.
As you can see, choosing the right ASO services that can provide you with the tools and recommendations to optimize your mobile product and achieve success on the app store is essential.
Related readings:
ASO for Different App Stores
ASO strategies may differ depending on the platform on which you try to promote your app. Let's discuss ASO for different app stores and their key differences.
Apple App Store vs. Google Play
While there are some similarities between the principles of ASO for Google Play Store and Apple App Store, such as the importance of app ratings and reviews and regular software updates, there are also some differences. For instance, the Google Play Store emphasizes the title and description, while the Apple App Store prioritizes the application name and subtitle. Additionally, while visual elements are essential for both app stores, the emphasis on specific design elements may differ.
Google Play Store is the largest app store for Android devices. The Apple App Store is the primary software provider for iOS users. To optimize an app for a specific store, developers should focus on the following factors:
Title and Description (Google) or Name, Subtitle, and URL (Apple): The application title and short and long descriptions (Google) are essential factors that can influence the app's ranking on the app store. To optimize the application, you must provide information that accurately describes its functionality. Instead of a short description, Apple App Store offers a separate field for relevant keywords that users may enter while entering the search query for the app.
Ratings and Reviews: Ratings and reviews can significantly impact an app's ranking on the App Store. The idea is to encourage users to leave positive reviews and give higher ratings while promptly addressing negative feedback.
Frequent Updates: Any app store prioritizes applications updated regularly with the addition of new features and bug fixes. You must update your software frequently to maintain relevance and improve its ranking.
Visual Elements: Visual elements such as the app icon and screenshots can attract users and influence their decision to download the application. A video preview also helps a software product to stand out from the competition. You should create eye-catching visual elements that accurately represent the app's features.
Size and Performance: App stores consider application size and performance when ranking them. Apps that are smaller and faster are typically ranked higher than those that are larger and slower. The apps that crash a lot get a lower rank.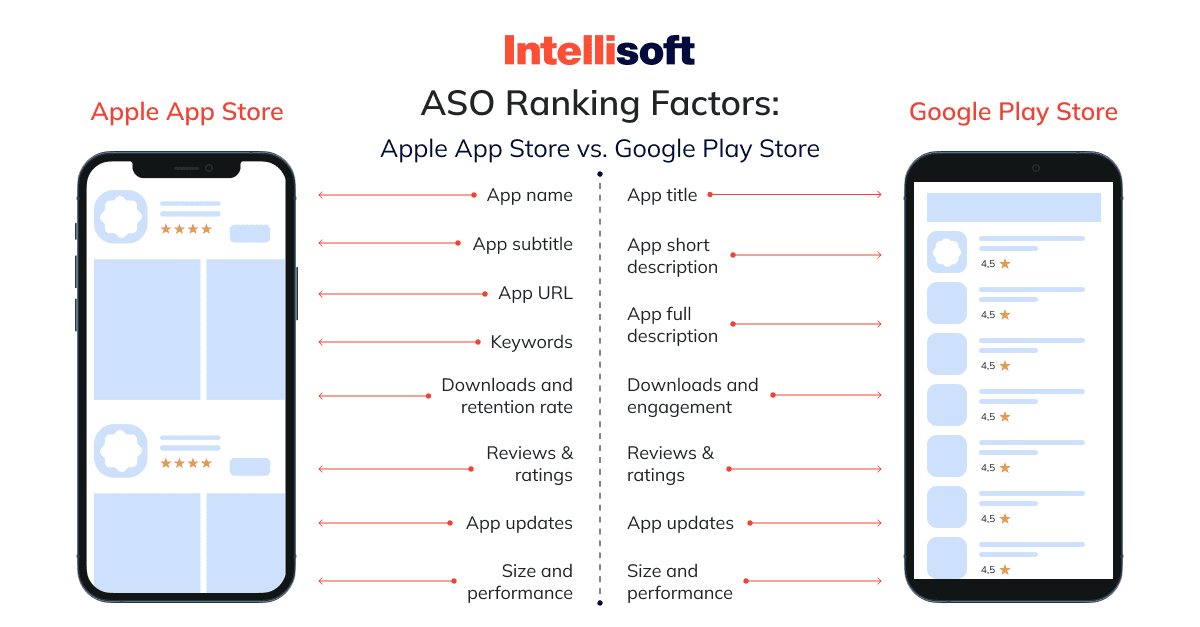 Apple App Store Ranking Factors
The Apple App Store is home to around 2 million apps. Here is the sorted list of ranking factors on which you should focus your attention first when optimizing your app:
Name and subtitle
URL
Keywords
Downloads and retention rate
Ratings and reviews
Updates
Size and performance
Google Play Store Ranking Factors
The Google Play Store hosts over 3.5 million apps for Android devices. Take a look at ranking factors prioritized by Google Play Store:
Title
Short description
Full description
Downloads and engagement
Ratings and reviews
Updates
Size and performance
ASO for Other App Stores
Besides Google Play Store and Apple App Store, there are several other platforms, such as Amazon Appstore, Microsoft Store, and Samsung Galaxy Store. They are oriented on their own specific ASO strategies and prioritize applications optimized for compatible devices or operating systems.
ASO is a crucial technique for the success of a mobile application. By optimizing an app for a specific platform, developers can significantly improve its visibility and ranking and increase the number of downloads and revenue.
Steps to Do for App Store Optimization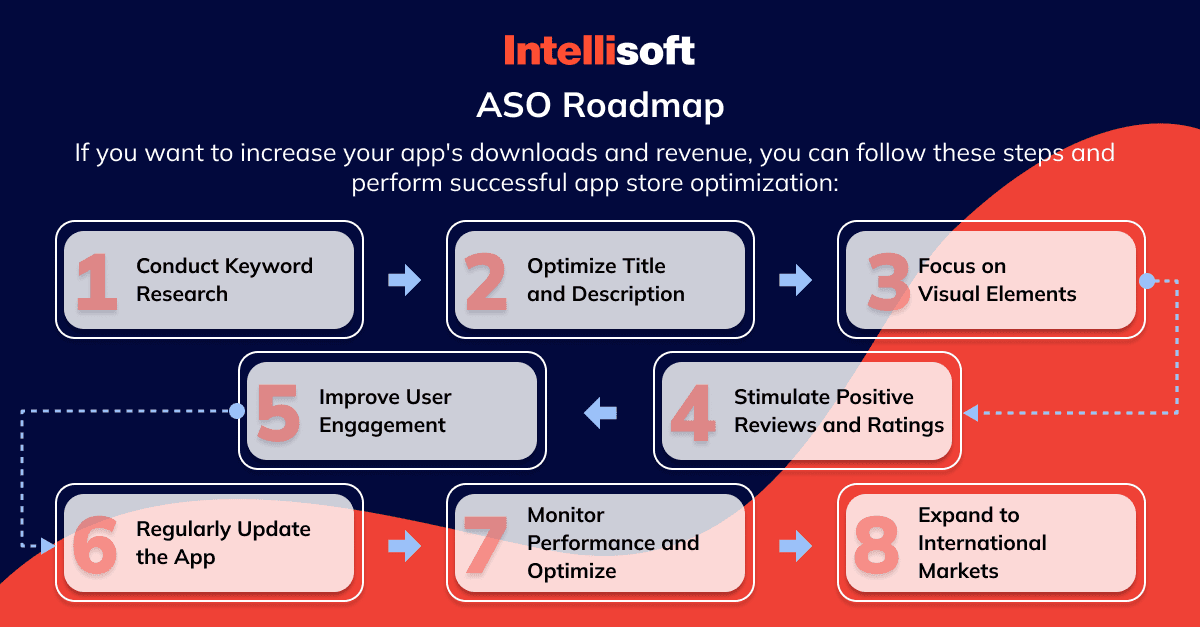 If you want to increase your app's downloads and revenue, you can follow these steps and perform successful app store optimization:
Conduct Keyword Research
The first step in ASO is conducting keyword search. Dedicated keyword optimization app store research tools can help identify specific words you should include in your mobile application's or game's title and description. These terms or phrases should describe the app's functionality. It helps identify the most relevant and popular keywords users enter when searching for new software.
Optimize Title and Description
For the Apple App Store, you optimize the app's name and subtitle and add keywords to a dedicated panel. Once you identify relevant keywords, add them to optimize the title and description. In a perfect scenario, the application's title should include the most relevant keywords while describing what the software does. Write an attention-grabbing description that explains the app's work and how it can solve users' problems.
Focus on Visual Elements
The design of the app's icon, screenshots, and videos are also essential for ASO. These are the first things that users see on an app store page. Make the images eye-catching and accurately represent the application's features and functionalities. Emphasize your product's benefits, and use text elements to encourage users to download your application.
Stimulate Positive Reviews and Ratings
It would be best to encourage users to leave positive reviews and ratings by providing a seamless user experience and requesting feedback. Channel all negative feedback to a direct chat with developers or a support center, for quick problem mitigation and to keep the positive rankings intact. The more reviews the app gets, the higher it ranks. The app store will promote popular applications and games.
Improve User Engagement
Software download numbers, app usage, and user retention are essential factors for a successful ASO. You can improve user engagement by providing a seamless user experience, adding new features, and using in-app messaging to inform users about upcoming positive changes. It is easy to tailor those messages to target different gender or age groups of users.
Regularly Update the App
Regular updates can significantly impact your product's ranking in an app store's search results. Both Google Play and Apple App Stores consider the "freshness" of the software and update regularity as major ranking factors. Update your application with new features and fix bugs to maintain its relevance.
Monitor Performance and Optimize
Continuous testing and performance monitoring provide valuable data for revealing areas for further improvements. You can use analytics services such as SimilarWeb or AndroidRank to monitor the app's rankings, downloads, ratings, and more.
Expand to International Markets
People use Android and iOS App Stores worldwide, enjoying mobile products in dozens of languages. Invest in the localization of your app to expand your user base. Take your time to perform comprehensive research to consider cultural differences and adjust visual design and service approaches accordingly.
What Tools to Use for App Store Optimization?
Let's quickly review some of the most popular ASO tools.
AppTweak – a simple, easy-to-use service that employs machine learning to provide customers with the most viable ASO strategies in any given case. It has an intuitive interface which makes it easier to access valuable data.
AppFollow – this service allows for constant monitoring of the app's performance, better user engagement through targeted messaging using market analysis, and building the best ASO plan by tracking every aspect of app store optimization.
App Radar – does all the hard work for you. It includes keyword research, market intelligence, reviews and rating management, tracking app performance, and more.
ASOdesk Analytics – another one-stop solution for managing and tracking your application performance in both Google and Apple App Stores.
But if you don't need a comprehensive ASO solution like those listed above, you may find yourself using these types of tools for app search optimization:
Whatever strategy you choose, you should always look for services that best meet your application's needs by conducting keyword search, monitoring user behavior, tracking app rankings, and analyzing software performance metrics. You aim to make data-driven decisions and optimize your app for maximum visibility and downloads.
Conclusion
In conclusion, App Store Optimization (ASO) became crucial to any successful mobile application marketing strategy. By improving your app's visibility and increasing the number of downloads, you can boost your product's chances of success and help it reach its full potential.
In this article, we have explored the various aspects of ASO, including:
Ranking factors for both the Apple App Store and the Google Play Store
Best practices for optimizing your app's metadata
How to improve visuals
How to enhance user experience
Popular tools and resources available
However, it is necessary to note that ASO is not a one-time process. It requires ongoing monitoring, testing, and optimization to ensure your application performs at its best. By staying up-to-date on the latest ASO trends and strategies and refining your app's optimization over time, you can ensure that your mobile software product remains competitive in a crowded and constantly evolving marketplace.
As the world of mobile apps and games continues to evolve and expand, there are endless possibilities for developers and users alike. There is always something new and exciting to explore, from new technologies like augmented and virtual reality to the latest user experience and design trends.
Ultimately, the success of your mobile application depends on many factors, including the quality of your software, the value it provides to users, and the effectiveness of your marketing and promotion efforts. By incorporating ASO into your overall mobile application strategy, you can give your app the best possible chance of success and help it stand out.

About

Kosta Mitrofanskiy

I have 25 years of hands-on experience in the IT and software development industry. During this period, I helped 50+ companies to gain a technological edge across different industries. I can help you with dedicated teams, hiring stand-alone developers, developing a product design and MVP for your healthcare, logistics, or IoT projects. If you have questions concerning our cooperation or need an NDA to sign, contact info@intellisoftware.net.