Any business has to be efficient, and this requires three factors: a reduction in the cost of serving the company, an increase in revenue by expanding the customer base, and competitive advantages that increase loyalty.
Previously, only large transport and industrial companies needed logistics management systems (LMS). However, increasing competition and the crisis require flexibility from the transportation business. Digitalization helps to account for costs, take control, and optimize business processes to present services to the consumer in a worthy manner.
As experts fairly admit, the size of the global market for transportation management systems achieved USD 8.78 billion in 2020 and USD 10.75 billion in 2021. Transportation management systems (TMS) lead 56% of warehouse management software (WMS) usage.
Every organization relies on logistics management to make sure that shipping, distribution, and supply chain management run as smoothly as possible. We at IntelliSoft understand that and offer help as we have been on the logistics software development market for over 10 years. One example of our success stories is Ingram Barge.
The customer required IntelliSoft's assistance with developing a unique online application for fleet management and freight monitoring that could visualize and manage barges in fleets on top of already-existing IT infrastructure. The IntelliSoft team created a robust user interface (UI) app that allows for collaboration between shore-side staff and boat captains and includes visualization of the location of barges.
Another example of our cooperation is the SpecTec project. The SpecTec company sought to apply AMOS functionality to actual fieldwork tasks performed by employees, including technicians, engineers, and warehouse workers, who work in locations without access to the Internet.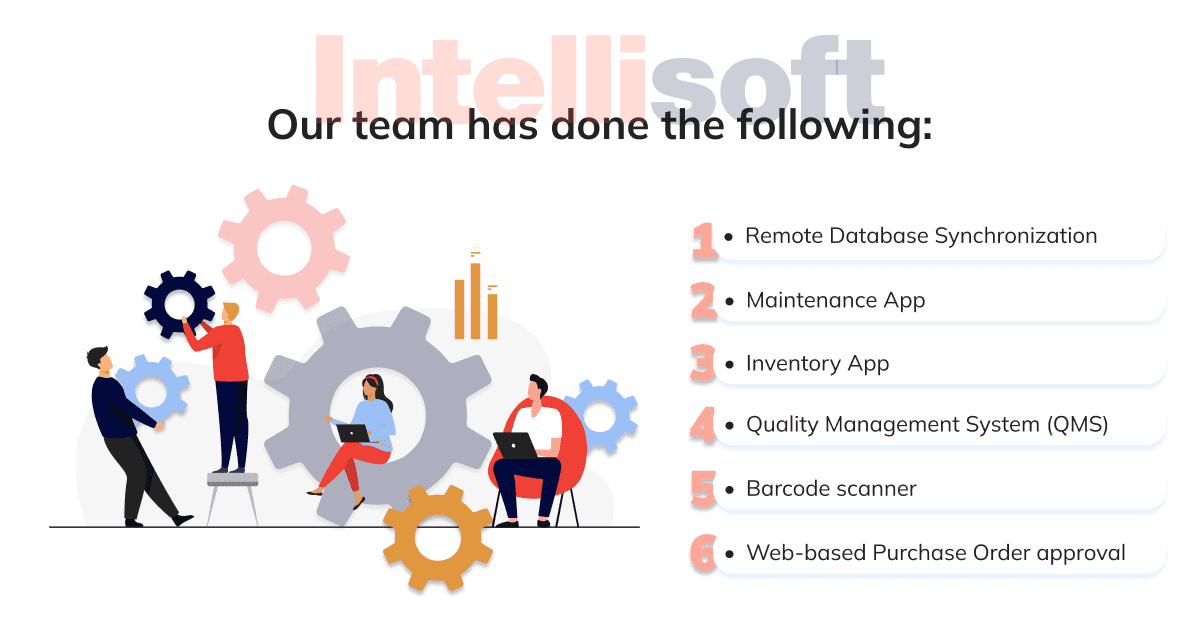 Improving the logistics management process is the first step in boosting operational effectiveness and productivity for organizations looking to surpass the competition. So, waste no more minutes – learn more about how LMS can be helpful for your business from our post!
Benefits of Logistic Management System
What are transportation management systems? What are their benefits? Before we focus on particular advantages, we offer a thesis to make it clear and precise:
Fleet management programs allow you to build a route in the most efficient way.
LMS controls the movement of the vehicle in real time.
LMS instantly reacts to any changes on the road and realigns the route.
The software eliminates downtime and helps to set up logistics processes.
LMS controls the amount of fuel, monitors its consumption, and makes recommendations to improve efficiency.
The program captures indicators of vehicle management efficiency and transmits them to the dispatcher, based on these data the employee's performance is evaluated.
LMS can transmit the exact location to the customer, so they understand where their load is.
The system makes sure the driver does not violate traffic rules and adheres to company requirements.
LMS collects data on the route based on previous performance and generates recommendations for future routes.
Check out these readings to learn more:
As the logistics market experiences impressive growth, PR Newswire forecasts that it will grow at a 6.5% CAGR to $12,975.64 billion by 2027. Obviously, that may happen due to the multiple benefits logistics management systems provide. You can gain several significant advantages if you choose logistic app development – check them below.
Reduced mechanical errors in operations
Automating the operations of a company's transportation departments helps reduce mechanical errors and the role of human mistake to a minimum. Many transportation management systems (TMSs) integrate with internal accounting systems, allowing access to additional information.
Improved Online carrier relationship management
Cloud-based transportation and logistics systems provide real-time online interaction with other delivery parties. This increases the visibility of the shipment management process and builds transparent and efficient relationships with carriers. The additional functionality of online monitoring of shipments in transit and carrier rating management allows you to improve the quality of your services and ensure on-time delivery.
Businesses can have a thorough understanding of their operations through logistics management, which improves client connections and lowers the need for maintaining surplus inventory. This helps to increase the order fulfillment rate, which raises the profitability of the business.
Increased efficiency of warehouse operations and reduce inventory
TMS systems optimize your transportation processes, including time-slot management (TSM), which allows you to manage staffing levels and warehouse inventory planning. Your shipments get to your customers on time, so there's no need to stockpile expensive warehouse meters.
Increased productivity & efficiency in delivery
Logistics focuses on increasing operational efficiency without affecting profit margins by eliminating resource waste, meeting quality requirements, and reducing failures, deviations, and defects.
Reduced operational expenses
The logistic management system aids in the analysis of historical data to provide route optimization that lowers fuel consumption and improves asset utilization while lowering operational costs and raising business effectiveness.
Improved transparency with advanced analytics and statistics on shipments
Using the analytics and reporting tools provided by TMS, you can see and analyze the results of your previous selections at any time. For instance, you need to select the right carrier for your shipments based on price and reliability criteria. You make your choice. The result is that 10 times your freight is delivered by the carrier who offered the lowest price on the market, and five times it is delivered by a low-cost carrier whose prices vary depending on different conditions.
Here is the potential scenario. After a month, looking at the analytics, you see the following: the cheapest carrier delivers goods on time only in 60% of the cases, while the other supplier succeeds in 100% of the cases. This is very valuable analytical information for further management decisions. It is worth mentioning that it is preferable to use systems which offer a carrier rating management tool. This will allow you to select reliable and verified transport partners and improve the level of service to your customers.
Increased the level of customer service
You probably know that a loyal customer is hard to get, but very easy to lose – it only takes one time to "screw up" a customer when meeting your obligations. Functionality of transport and logistic systems provides timeliness of delivery, since not only increases efficiency of operational processes but also allows real-time management of delivery with such features as online tracking of vehicles, transport arrival time planning, transport partners rating management, instant delivery notifications, and increased transparency of delivery process.
In general, the company receives up-to-date data on orders, capacity and resource utilization, keeps documents in order, and optimizes interaction between departments. Overall, the implementation of stable and clear business processes measurably increases the efficiency of the organization's logistics.
You know all the benefits of having a logistics management system. Interested in developing one for your company or clients? Read how you can do that and which features to include.
How to Obtain a Logistics Management System
Automation, as we can see, with the proper attitude to it, makes it possible to increase the efficiency of key business processes, and in the area of transport logistics, it also makes it possible to noticeably reduce transport costs.
That is what Matthew York, a SAP analyst of sales and distribution, logistics execution, and warehouse management modules thinks:
"Businesses employ logistics management systems, a mix of software tools that optimize all operations from placing an order to delivering it to a customer's door, to manage activities discussed above and get a competitive advantage in a digital environment.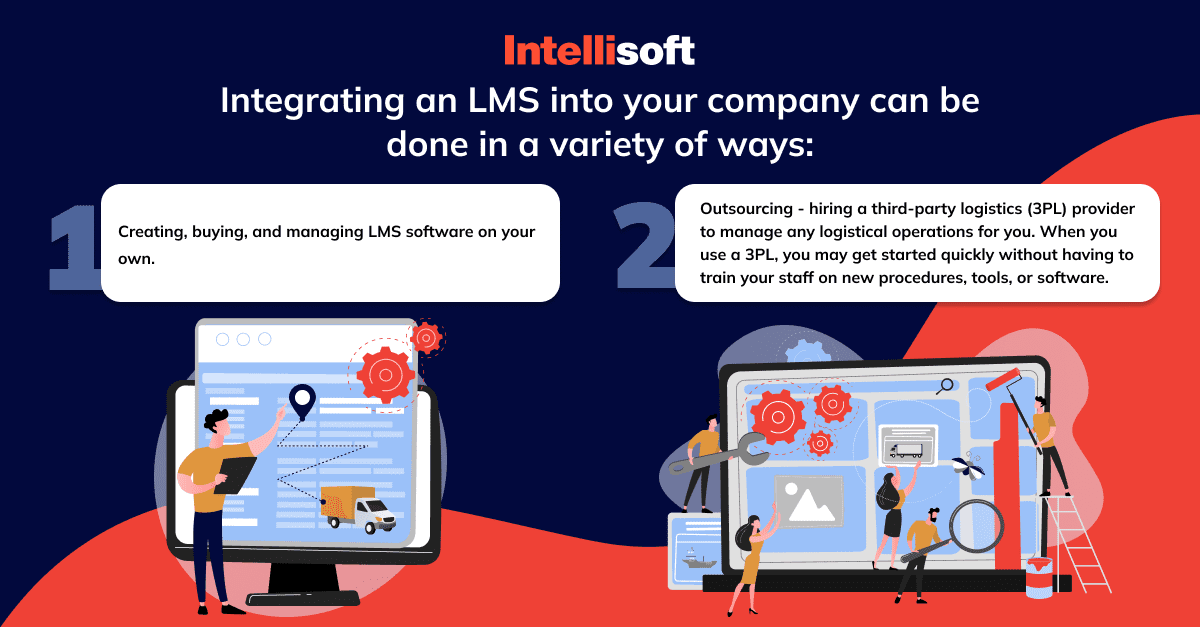 Still, one more question to cover is what the modules of a logistics management system are
Main Features of a Logistics Management System
Functionality of a logistics management system should be defined individually after studying the specifics of the business and selecting a solution. Still, there are a number of mandatory features that users expect. That's why we recommend implementing them.
​​GPS vehicle tracking
GPS trackers are used to determine the location of the vehicle. The system allows you to manage the fleet in a single ecosystem, thanks to which there is full control over the movement. It helps to build logistics and choose the best route.
GPS shows the position of the vehicle in real time. Since a fleet management program can have several sections, including a client section, you can provide access to this data to the customer. For example, to learn where their goods are.
The navigation system doesn't just show exactly where the vehicles are. It collects data on when the vehicle has left, how many stops it makes, and how long they are. Collecting such data greatly increases productivity and vehicle control, as well as improves interaction with the customer. GPS is a must-have tool for fleet management.
Order management
The activities of producing and revising inventory, managing customer support, accepting payments, detecting fraud, and handling paperwork between manufacturers, suppliers, warehousing, and shipping businesses are typically included in receiving and processing an online order.
Looking For A Dedicated Development Team?
Hire Us
Orders, inventory, supplier, and customer data must be synced in one system in order to manage them efficiently and prevent double handling errors. All of your sales channels send orders to order management software (OMS), which collects and tracks them from the time they are placed until the customer confirms delivery. This is your primary point of connectivity where all of the order's details are visible, including routes, location, inventory, warehouse connectivity, and accounting integration to generate invoices and process payments, among other things.
Inventory management
Controlling and recording the quantity of merchandise available for sale is the responsibility of logistics inventory management, a crucial link in the supply chain. Product information management must be extremely precise in order to handle the receipt, storage, and tracking of inventory while managing its frequent and rapid changes. So, automating the transition from conventional spreadsheets to inventory management systems (IMS) provides the necessary clarity by consolidating all the data in one place.
Driver behavior analysis
A quality fleet management application includes a driver condition monitoring system. Many treat such a tool as technology that undermines trust between the company and the driver. Driver behavior analysis allows you to track driver actions along the way, which minimizes wrongdoing and prevents the employee from acting in bad faith.
The main objective is to take care of the driver's health, both physical and mental. The system monitors behavior and detects sudden braking, acceleration, speeding violations, and other data. Based on the data received, the dispatcher can contact the driver and make recommendations. This makes it easy to get rid of undesirable driving habits, reduce the likelihood of injuries and accidents, and improve driving efficiency.
Warehouse management
A collection of procedures called "warehouse management" is used to monitor, control, and automate warehouse activities. As part of this, items must be received, moved, managed by warehouse staff using KPIs, kept in a safe environment, and tracked using hardware and software.
A warehouse management system is made up of tools that simplify the process of managing items from delivery to the warehouse, storage and tracking there, order management, and onward dispatch. Warehouse management software "can give a major break with delivery and stock tracking," according to SAP analyst Matthew York. In the case of 3PL firms, Matt continues, they also offer a sizable storage room for an organization's goods.
The following tasks are usually carried out via WMS: warehouse design, picking, and packing, and that is where logistics management solutions can be handy.
Alarms and notifications
A system of alerts and alarms during movement gives the business tremendous advantages. The dispatcher can reconfigure the route in real time, change the approach to cargo delivery, and react quickly to any traffic situation. What if an accident takes place? The dispatcher immediately receives the information and not only relays it to the driver via the fleet management application, but also corrects their route.
This approach avoids downtime, delays, fuel consumption, and other problems. Alarms are customizable to the customer's needs. For example, you can add notifications when a driver violates the speed limit to warn them of the danger immediately.
Strategic transport planning
The final step before an order leaves the warehouse is to optimize its shipment, namely by selecting a shipping method, once it has been built and packaged. LMS determines which of several transportation logistics choices will best meet your freight demands. Shipping techniques range from dry van freight for goods that don't require refrigeration to refrigerated freight for goods that need to be kept at a specific temperature.
The process of joining the carrier network is another thing to take care of. Shipping logistics software links shippers and carriers, giving everyone involved visibility to find the best shipping solution. There are procurement tools for transportation that can be used to select the cheapest carrier. These tools make it easier to respond to inquiries, personalize requests for proposals from clients, collect proposals, and assess bids.
Route planning & monitoring
The cost of shipping and the overall well-being of a company depends on the efficiency of the route. It is important not just to calculate the shortest way to get a shipment from one point to another. It is necessary to anticipate events on the roads, respond to any changes in real time, and maintain communication with the driver during the work.
Ready To Develop Logistics Platform's MVP?
Learn More
LMS allows you to do this automatically and reduces the burden on managers. It simplifies communication and controls many logistics processes. Thanks to modern technology, you can not only instantly respond to changes in the way, but also plan the route in the most profitable way. This leads to lower fuel consumption, driver well-being control, and an increase in the overall productivity of the company.
Defining customs fees
Even though export control regulations are constantly changing and there is a lot of paperwork involved in international shipping, LMS can make it much simpler. The system computes value-added taxes, cross-border fees, and freight forwarding costs while supporting a variety of languages and currencies. LMS also oversees the management of required shipping papers, ensuring compliance with both domestic and international regulatory programs.
Fuel tracking
One of the main problems in fleet management is fuel efficiency. Unfortunately, there are unscrupulous workers who drain fuel. Losses can be significant due to illiterate routing, unforeseen circumstances, vehicle breakdowns, etc. LMS can monitor fuel consumption during the whole period of work. Additionally, a notification system can be set up for the driver to know that there is a fuel problem.
The system controls the fuel level, immediately reacts to the slightest non-standard changes, and monitors the quality of the vehicle. This is not only a guarantee of financial security of business, but also protection from breakdowns and unforeseen situations.
Reverse logistics
The logistics of managing returns from the consumer to the producer are difficult. Therefore, it is worthwhile to implement a reverse logistics system (RLS) that will aid in streamlining the procedures of product reallocation, return, and repair.
First, the location of the merchandise and the reason for the return must be recorded whenever one is made. RLS can assist in managing this data so that you are aware of the things that have been returned and the reason(s) for that.
Second, customers will be more satisfied if you give them access to their returns information. Giving immediate feedback on the return activities for their order in the returns portal or by using email/SMS notifications is a good way to accomplish this.
Finally, tracking for quality assurance matters. The system will alert the appropriate parties so they can take action when quality problems occur and products need to be quarantined, recalled, or repaired.
Logistics analytics
The software can analyze previous shipments and enhance client operations to cut down on logistical expenses and expedite shipment delivery times. LMS can develop performance metrics and KPIs and build computer models to anticipate supply chain problems using business intelligence.
Such systems gather a wide variety of data, so it should be utilized. Better visibility and control over upcoming logistics outcomes are made possible by the reporting features of a logistics analytics software (LAS).
The first report to come out is on freight accruals to keep track of the expenses related to shipping your products to a customer. They make it easier to determine the business's actual net revenue at any given time.
Then, lowest-cost carriers can be found using carrier reports, which can also monitor their performance in terms of timely pickups and deliveries. At last, KPI reports concentrate on metrics that are particularly significant and offer a quick snapshot of the company's overall performance.
Stages of Logistic and Transport Mobile Application Development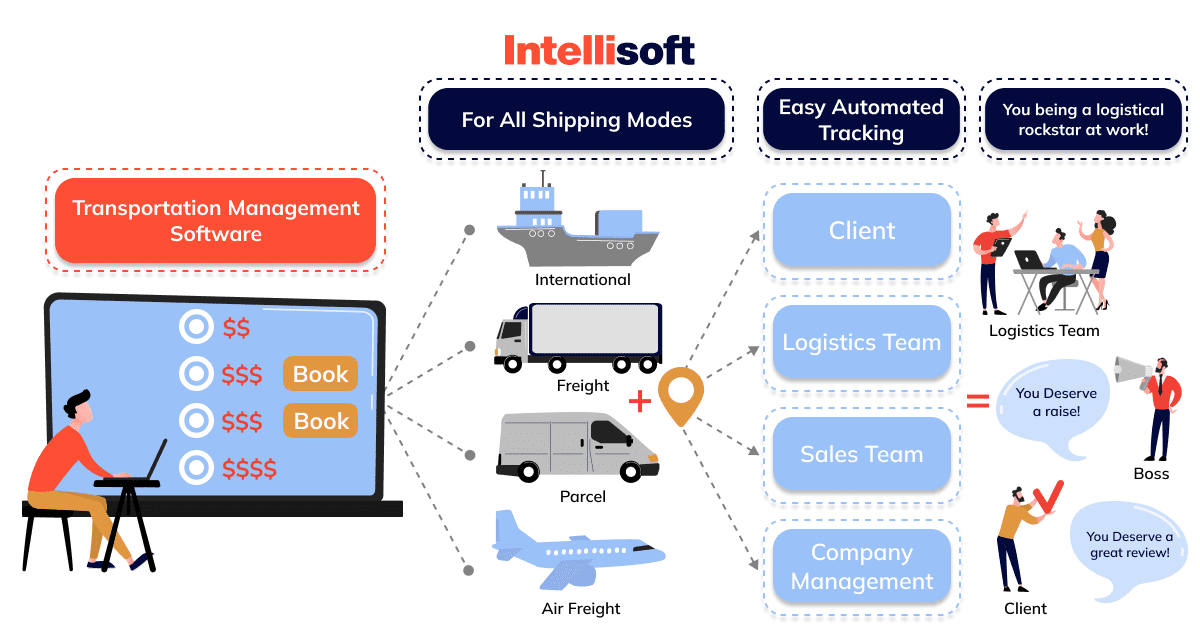 IntelliSoft offers you to develop a platform for fleet management/logistics management. We specialize in creating digital products for business that open up new opportunities. Implementation of modern technology is an integral process of company development. So why don't you get ahead of your competitors and capture the attention of more customers with the help of our logistic software development services?
We develop an LMS in several stages. At each of them, you get detailed reports on the work, and our managers are in touch, answering your questions during the process.
Stage 1. Gathering requirements for LMS
Initially, we study the characteristics and goals of the client's company. In the development process, we do not use typical template solutions. Individual tools are selected for each business to help create a quality product.
Our team has a number of cases of creating logistics software, so our specialists have a good understanding of the industry specifics. We will study your business, competitors, target audience, and principles of work.
To make sure you're not worried about personal data, we'll sign a non-disclosure agreement (NDA).
After collecting characteristics and studying the business, specialists form a development concept. This creates an understanding of what the final product should be.
Stage 2. Choosing the technology stack
Once we have an idea of what the program of fleet management should be like, we select the technology stack based on your requirements (a framework, programming language, testing technologies, and other tools are selected). Our goal is to make the product as quickly as possible and implement it in your business so that you feel the results immediately. That is why we try to choose the best solutions to build a quality system.
Stage 3. Creating an understandable UX design
UX design is not about beauty, but about usability. LMS will look attractive as it is, and the design will be relevant for years. If you have a corporate style, our designers will make the product suitable.
UX design is focused on convenience, including the layout of buttons, elements, and the ease of use on a computer or smartphone. In addition, when analyzing your business, we collect data on employees to take into account their age and understanding of digital products. At this stage, the designers will make every effort to make the app as clear, quick to learn, and accessible as possible to everyone in your company.
Stage 4. Testing & launching
Finally, our specialists write code, use integrations to connect third-party services, and assemble the product into a single system. Now your LMS is ready. Before release, it goes through testing as during development, bugs or feature inconsistencies can arise. QA engineers examine each button and function to make sure they work properly. In addition, the increased load on the application is tested. Particular attention is paid to security and storage of personal data.
After successful tests, we prepare the logistics transport software for release. We fix the latest bugs and help with your employee training. We also provide all necessary warranties and make sure everything works as it should.
How Much Does It Cost to Develop a Logistics Management Web Application?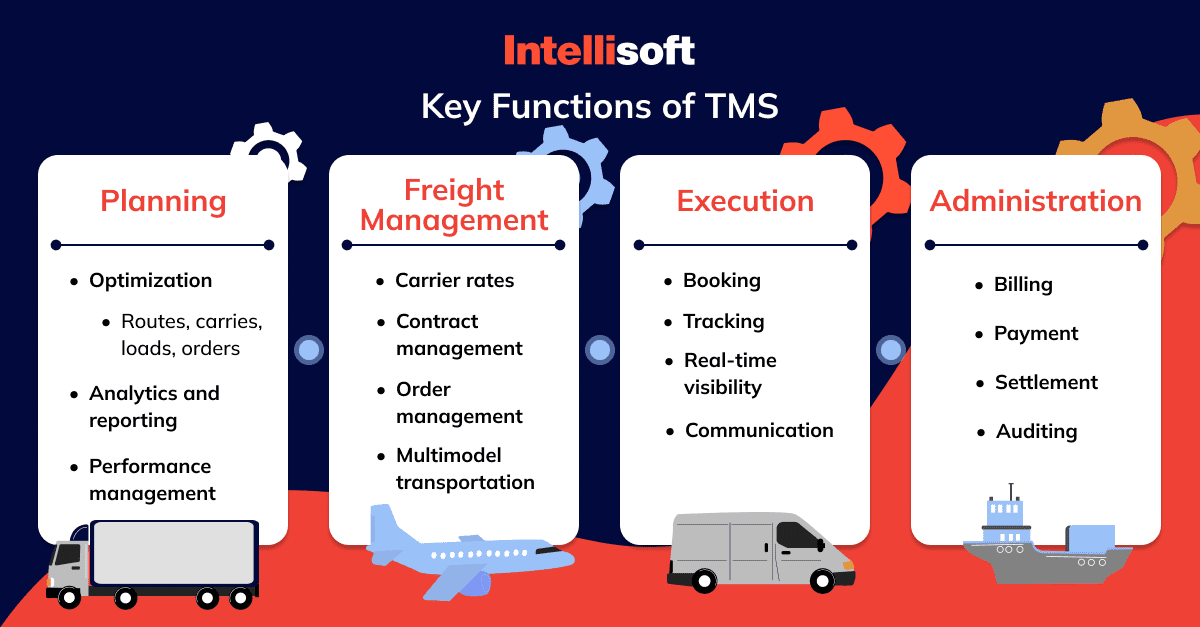 Depending on the requirements, specifications, and objectives you want to accomplish with it, the price of developing a logistics management web application can range from $30,000 to $200,000. In addition, the cost will increase depending on the kind of deployment, the amount of features, and the manner of development and maintenance.
You might have a better grasp of logistics management systems, their key characteristics, advantages, and how to create one after reading the information above.
It is wisest to rely on a knowledgeable and skilled group of developers when creating an LMS program. You can receive a unique solution at a fair price by hiring outside developers, and you'll also save money on supplies, office space, and other costs. IntelliSoft is a logistics software development company that can help you create a logistics management system from the ground up. Check what we have already done for our clients in our Portfolio.
The Bottom Line
Logistics management software significantly improves business operations, helps to set up various operations, and increases company efficiency. This is a digital tool, which is necessary if you want to develop your business, reduce costs, and increase income by optimizing work processes and attracting new customers.
Implementation of logistics IT tools allows you to expand opportunities, control working processes, monitor the efficiency of employees' work, and monitor the status of transport. It is a product that brings your business to a new level.
You can order the development of an application for logistics management in IntelliSoft. Message us to get detailed advice, learn about development terms and costs, and discuss the details. Let's digitize your business together!

About

Kosta Mitrofanskiy

I have 25 years of hands-on experience in the IT and software development industry. During this period, I helped 50+ companies to gain a technological edge across different industries. I can help you with dedicated teams, hiring stand-alone developers, developing a product design and MVP for your healthcare, logistics, or IoT projects. If you have questions concerning our cooperation or need an NDA to sign, contact info@intellisoftware.net.