The Ukrainian IT industry is becoming one of the foregoers of the country's economy and an essential part of its overall image. The pandemic that swept the world did not interfere with the potent, dynamic evolvement of the Ukrainian IT sphere.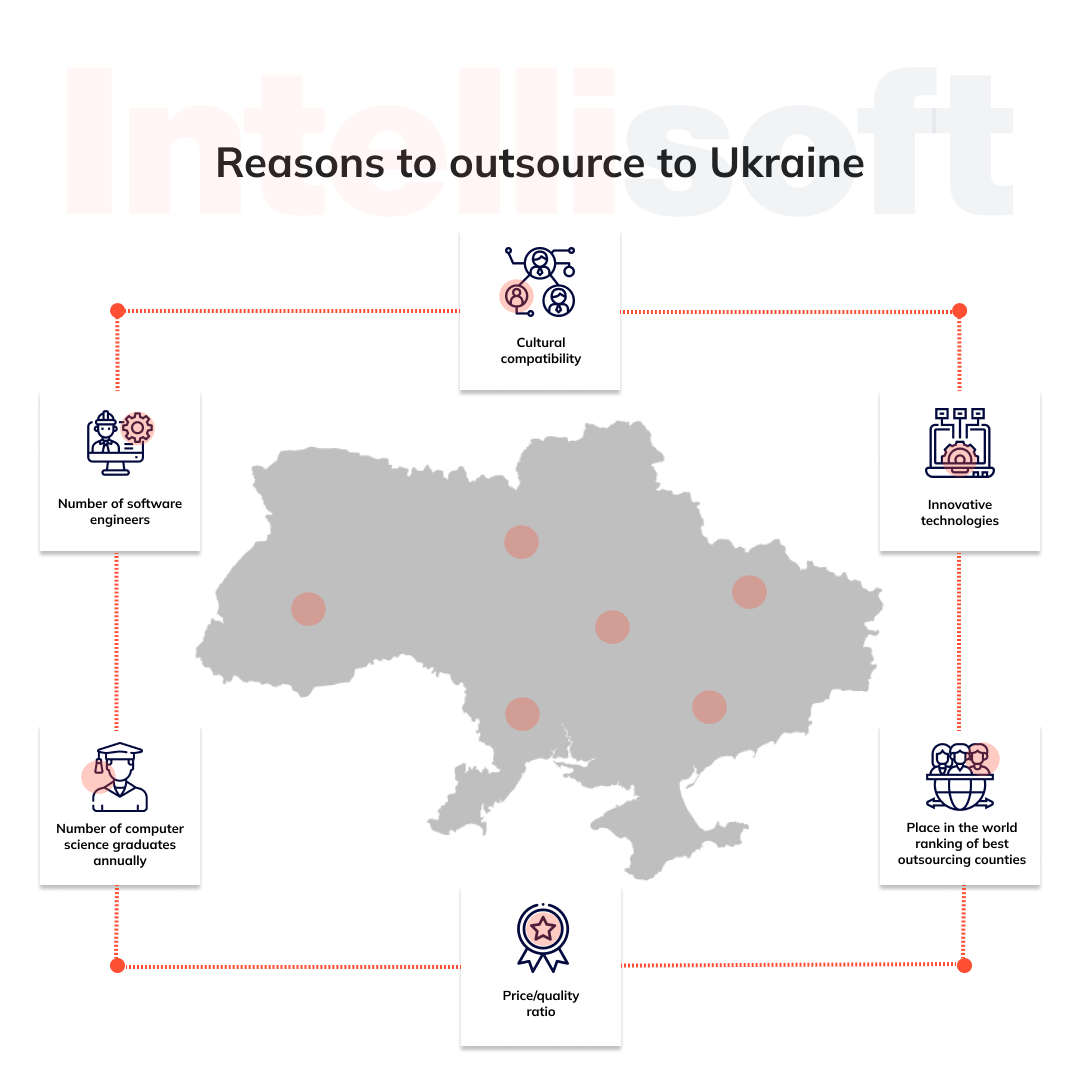 The market is recovering and breaking records – there are thousands of open positions (skilled developers, QA engineers, testers, and designers are on demand today). In 2020, there were about 10,000 open vacancies, according to the job platform DOU. The demand for specialists has doubled in the last quarter. The industry has gone beyond the pre-quarantine level.
The question is, "Why exactly are US companies hiring staff from Ukraine?" Let's go deeper into the topic.
What Is Outsourcing?
What is sourcing? It is the involvement of specialists from outside to perform any non-core functions in the work of the company. How is it different from other forms of cooperation?
The talent sourcing agreement is valid for a long period of time.

Only secondary operations (website development, advertising, cleaning of premises, etc.) are outsourced to contractors.


It also involves the outsourcing of business activities (selection of staff, maintenance, work with accounting, etc.).
However, most often it refers to information technologies (IT). Keeping a good IT expert on staff is not cheap, but loading them with tasks every day is quite problematic. This applies not only to small facilities, where the IT network is limited to ten people, but also large banking and industrial systems. Some famous corporations have long since outsourced all of their IT departments, leaving only strategically important segments. Such talent sourcing is divided into two groups: maintenance of hardware and computer equipment or creation of enterprise software and network.
That is how we define sourcing. Now, why is this service so popular in Ukraine?
Talent Sourcing in Ukraine: Main Reasons
Why do many big organizations from the United States and Western Europe look out for IT staff in Ukraine? Why do they often choose outsourced services in Ukraine when they have enough tech talent in their native countries? The answer is simple: cost efficiency and top-notch, upscale services.
Web developers in Ukraine are recognized as one of the best specialists all around the globe due to technical education, English proficiency, knowledge of various programming languages, and understanding of new technologies, such as AI, big data, and more. No wonder that a great number of giants like Epam, Slack, Grammarly, and even Google are hiring talents in Ukraine to design and implement new products. They also choose software developers from Ukraine as they are experienced in the most popular programming languages: 
Java (17.8%)

C# (14%)

JavaScript (17.7%)

PHP (12%)

Python (10.9%)
Ukrainian professionals rank second to none when it comes to the number of advanced C++ engineers. Here you can learn more about certificate programs in programming languages in this country.
The Ukrainian IT Industry: Interesting Facts
The breaking news in the Ukrainian IT industry in 2020 was the prolongation of the dynamics of growth in the IT service export. In 2020, for the first time, this mark reached a record level of more than 5 billion USD, which is almost 20% more than in 2019.
In general, compared with the previous years, the IT-sphere confidently demonstrates positive growth from year to year. At present, the percentage of IT services in the total export reached 8.3%.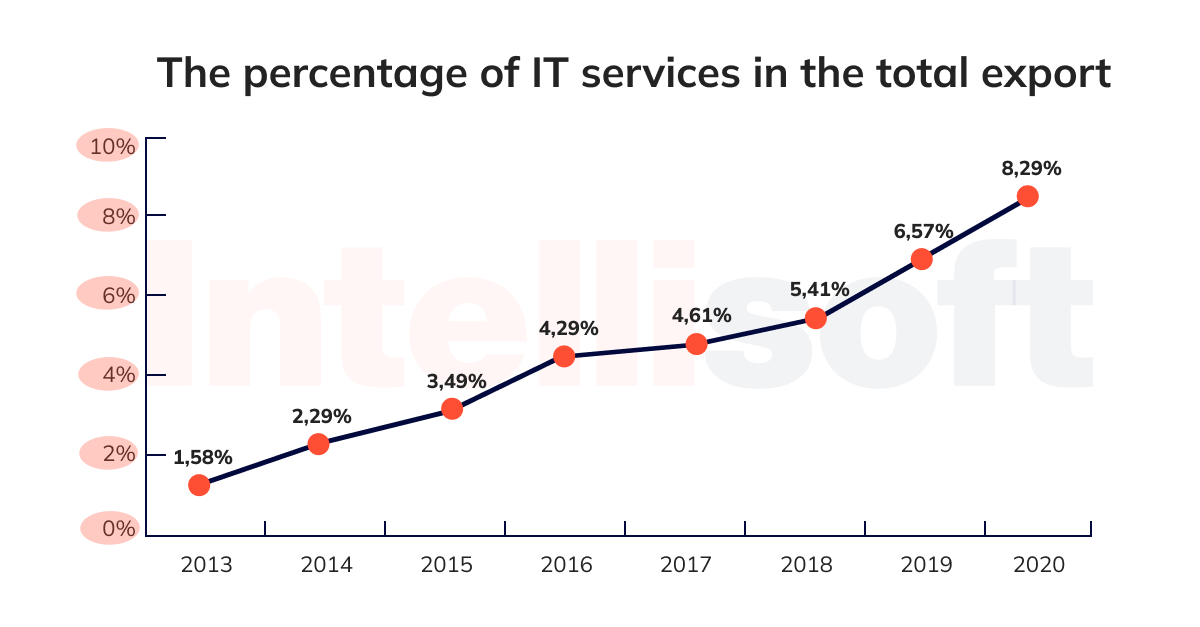 Global Center for Research and Development: IT Outsourcing and Startups
According to data compiled by Beetroot from various reliable sources and published in their tech review, the US is the first country to hire outsourced developers from Ukraine. Ukrainian programmers and other technical specialists are also popular in Western European countries, especially in Germany, the Netherlands, Sweden, and the United Kingdom.
According to the above-mentioned tech review by Beetroot, Ukrainian specialists were chosen by more than 100 organizations from the Fortune 500 list. There are more than a hundred research and development centers of mature foreign companies in Ukraine, including Google, Samsung, Siemens, and Huawei.
In 2020, Ukraine climbed two positions up in The StartupBlink rating, getting into the top-30 leaders in start-up development.
In addition, Ukraine leads the ranking of countries for offshore software development and is gradually turning into a true international IT center, according to the stats from Daxx.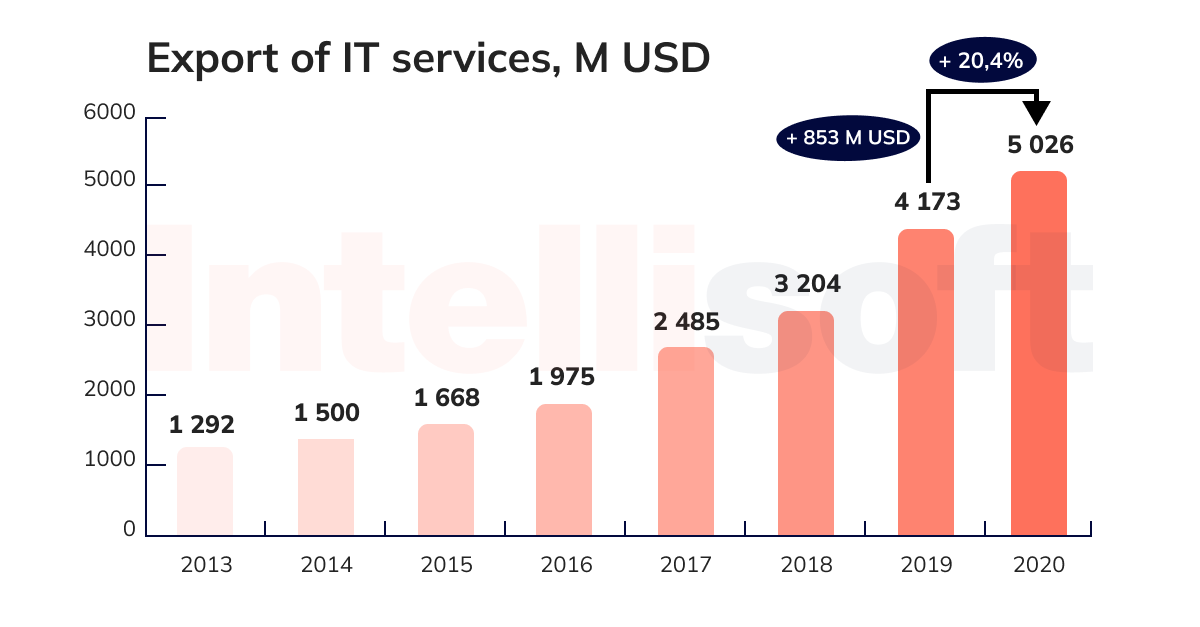 The Main Benefits of It Talent in Ukraine
The main question is, "What do you gain from hiring outsourced staff from Ukraine?" We listed some of the main reasons below.
There Are About 200,000 IT Specialists in Ukraine
That is not the limit. By 2025, the overall number of UA developers may cross the threshold of 250,000 with an IT market value of $8.4 billion.
As you can see, software development is a popular field in Ukraine. The country ranks 4th after the United States, India, and Russia when it comes to the number of tech staff.
As we mentioned above, software developers in Ukraine are familiar with Java, C#, JavaScript, PHP, and Python. IT professionals in Ukraine rank second to none when it comes to the number of experienced C++ engineers. In terms of front-end, the country ranks 5th. There is no shortage of Android and iOS app developers.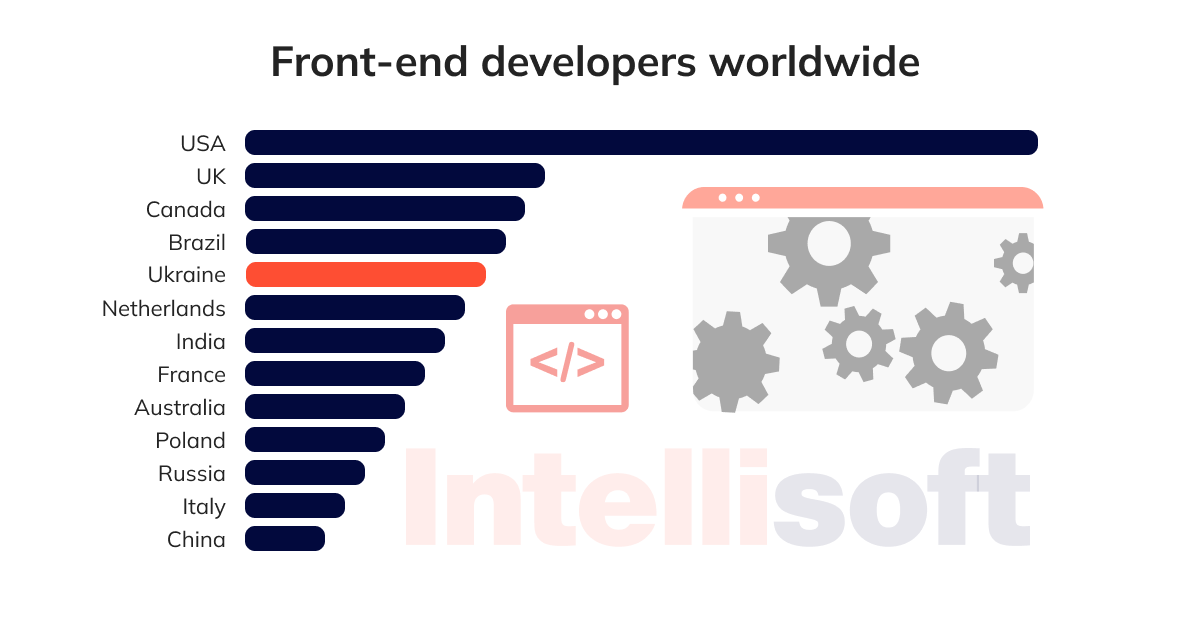 1500+ Companies and About 2000+ Promising Start-up Projects
There are 1,500 software development companies in Ukraine you can choose from. The offer includes all types of software services, such as design, QA, R&D, consulting, analytics, and development.
The country's tech scene has also fueled the rapid growth of the start-up community. DepositPhotos, Grammarly, Jooble, GitLab, PetCube, Mobalytics, Preply, Attendify, CleanMyMac, InvisibleCRM, and Looksery are just a few of the big names that have emerged in Ukraine.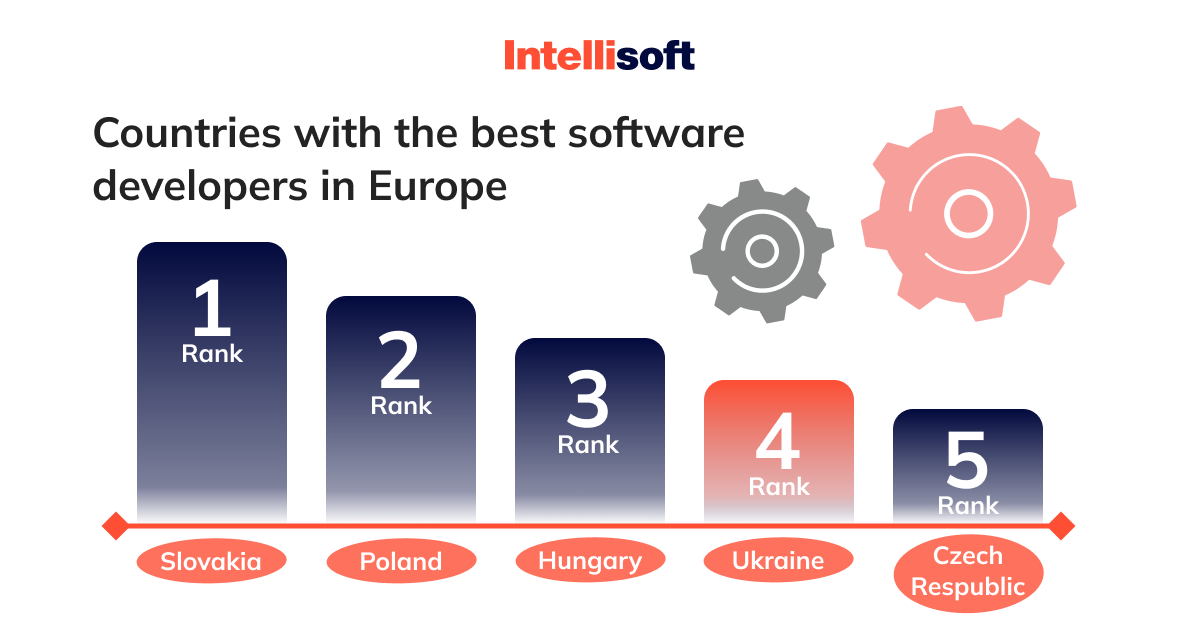 The Downsides of Hiring Managers and Developers in Ukraine
Are there any risks involved? We have to admit that hiring outsourced staff is not always so rosy. Dealing with outsourcing companies from Ukraine is not very risky as it is a time-tested practice, but it would be unfair to ignore some gaps.
The main risks include:
Wrong choice of the outsourcing agency.

The IT hiring process includes scrupulous research before choosing an outsourced company. That's important for minimizing the potential risks of this collaboration model.

Lack of experience with IT sourcing.

The IT hiring process can be a challenge if you have absolutely no experience with it. You can reduce the potential risks of this collaboration model by preparing some test tasks, observing the portfolios of your potential developers, or offering a trial period.

Waiting for a wonder.

Some companies expect to get immediate results. That is true that outsourced teams usually speed up business processes, but it does not happen in a blink of an eye. To avoid a conflict situation, one should objectively assess the possibilities and consequences of the transition to IT sourcing at the beginning of the joint work. It would help if you had clear evaluation criteria.

Leakage of confidential information.

To reduce this risk, an IT outsourcing agreement is paramount. It should unambiguously and clearly define confidential information and spell out the parties' obligations.
IT Sourcing Strategy: How to Hire Staff and Avoid Potential Risks
A well-thought-out information technology sourcing strategy includes the search for staff with work experience. The outsourcing agency you are applying to should have specific experience with the type of project you are launching. Experience is especially important when outsourcing complex projects such as software that should be developed within a particular framework and have unique features. For example, if you are looking for a tech team to develop an application on iOS, make sure they have case studies and examples of products for iOS.
Good IT sourcing hiring strategies include so-called post-project support and maintenance. At the beginning of your project development process, specify warranty and support terms. It will ensure that you can count on the outsourced supplier's assistance after launch. Agreeing on the support conditions before the actual start is even more thought-out.
Write down every detail. In the process of creating a new project, some things can change. Notify contractors of any wage or schedule changes and get written confirmation from them. Oh, and one more thing: keep copies!
Finally, clearly define the scope of your project and schedule. It may seem obvious, but any successful project always starts with a clear assignment. Those are the primary sourcing talent strategies to keep in mind.
Related readings: 
Nearshoring: What Is It and for Who?
Should You Change a Development Team in the Middle of Your Project?
What Does an Outsourcing Manager Do? Roles and Responsibilities
10 Best Countries for Hiring a Dedicated Development Team
Five Things to Look for in an Ideal IT Offshoring Destination
How We Can Help
Finding a suitable software developer or a reliable team of engineers isn't easy. We've been there too. That is why we want to help you hire outsourced developers and achieve success in the shortest period without sacrificing quality. Contact IntelliSoft, and let's turn great ideas into outstanding projects.
Our IT sourcing company offers high-quality web, mobile, eCommerce, and IoT development. The expertise of our skilled staff also includes product design, UX/UI, branding, and QA.