IT outsourcing has given a lot of business opportunities. Today, it's possible to find great specialists, assign tasks to them, and develop business overseas. In the United States, businesses have used nearshore outsourcing perks since the 1990s. They expected cost savings of up to 80% from it.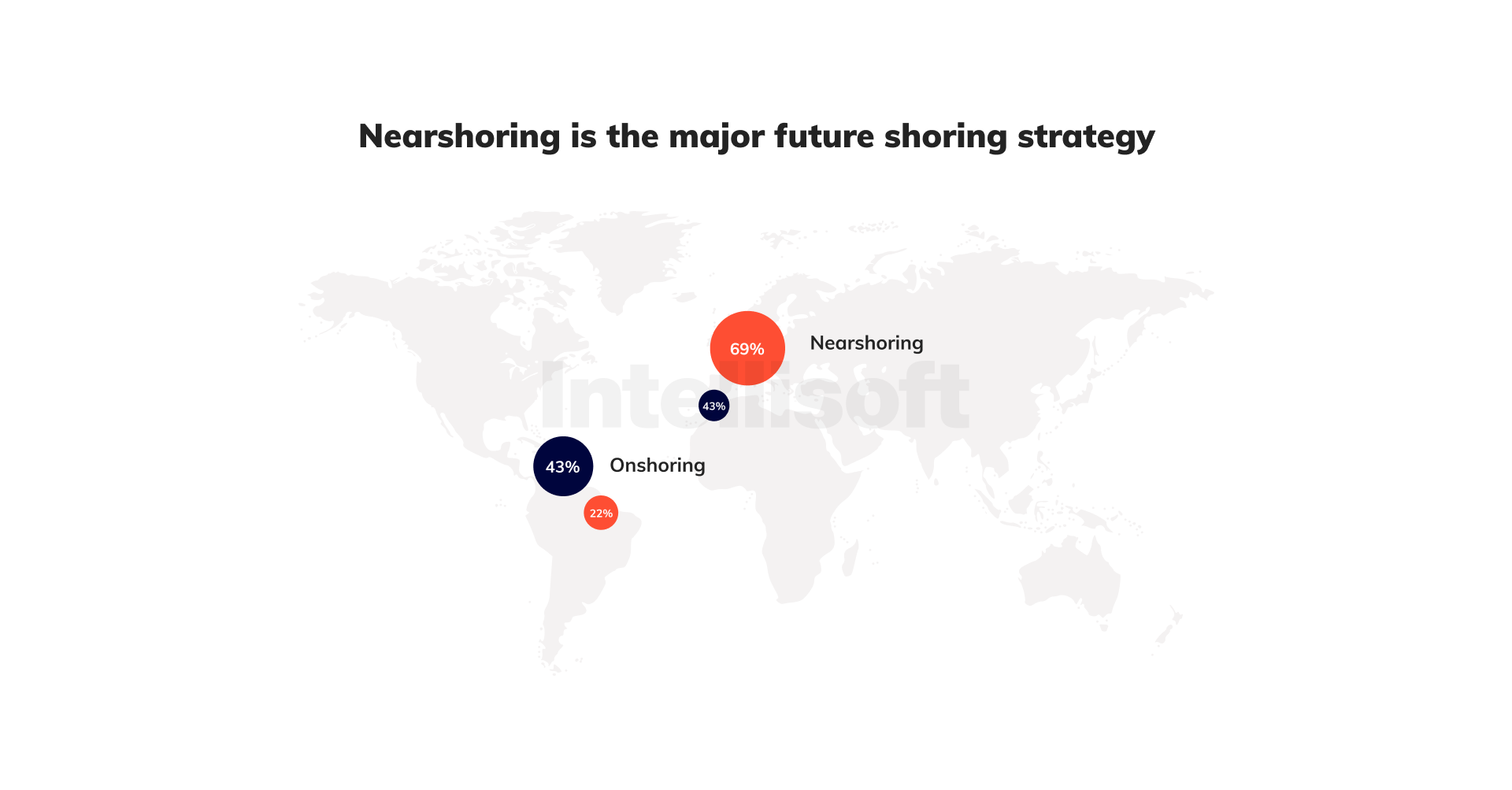 We are used to such concepts as outsourcing and offshoring, but not everyone is familiar with nearshoring. It may seem that this is an equivalent of offshoring, just closer to your office, but it's not exactly so. Then, what is nearshore outsourcing, and does it have a significant difference? In fact, it does, and it also suits certain tasks and requests. 
What Is Nearshore Outsourcing?
So, what is nearshoring in business? It is short-distance outsourcing. You entrust business tasks or other IT functions (development, web design, programming) to specialists living within your time zone or at most a couple of hours from it (neighboring country or a little further from it).
Nearshoring makes easy and comfortable communication possible. Neighboring countries have a minimum of cultural differences, and the participants in cooperation can understand each other easily. For example, a German startup hires a team from Poland or Ukraine. It would be nearshoring. 
How Does It Differ from Other Types of Outsourcing?
It's not something different but rather a subtype of this business model, like offshoring or onshoring. All these options are similar in principle: task delegating to another person or agency, which will perform the work as a full-fledged staff or a hired freelancer. The difference is in principle and some cooperation nuances. 
TYPES OF OUTSOURCING
Onshoring:

New York-based startup hires Chicago-based staff

Offshoring:

a US company hires workers from India

Nearshoring:

a US startup hires an employee from Canada
All these practices are applied with one goal: reducing costs, finding a qualified contractor, and unloading staff. 
Decide where you want to find your staff: within your country, near or far abroad — it depends only on your desires and business requirements. If you want significant savings and are not embarrassed by the big difference in time zones, then offshoring will be fine for you. What is nearshoring? This is when you get a clever specialist with a similar mentality and with a minimum difference in time zones, saving in labor costs.
What Makes Nearshoring Similar to Other Types of Outsourcing?
Outsourcing (particularly nearshoring) is prevalent in many business areas, including IT projects. This is because it provides businesses with some benefits: 
Talented and experienced performers. Any outsourcing provides access to a pool of excellent specialists looking for good cooperation.
Fewer costs — more financial opportunities. Nearshoring reduces the cost of IT projects. In addition, foreign specialists are not so demanding in terms of salaries.
Increased productivity. Such cooperation relieves your workforce, thereby increasing productivity and efficiency. It is beneficial to the implementation of business tasks.
A new look at an old problem. Some projects can get stuck. Then, there is a need to look for a "fresh look." Involved employees from abroad can find a creative and effective solution to the current problem.
Market expansion. You are also destroying the barriers by destroying geographical boundaries. This is an opportunity for new acquaintances, expanding the range of services and audience.
Business benefits. Tasks delegation, lower employee costs, and broader boundaries provide a humble start for intense sprints and breakthroughs.
Taking these advantages into consideration, it makes no wonder that procurement nearshoring is forecasted to go up by 5%. Companies that practice this approach win over competitors and often bring their IT projects to the top.
Nearshoring vs. Offshoring: The Key Differences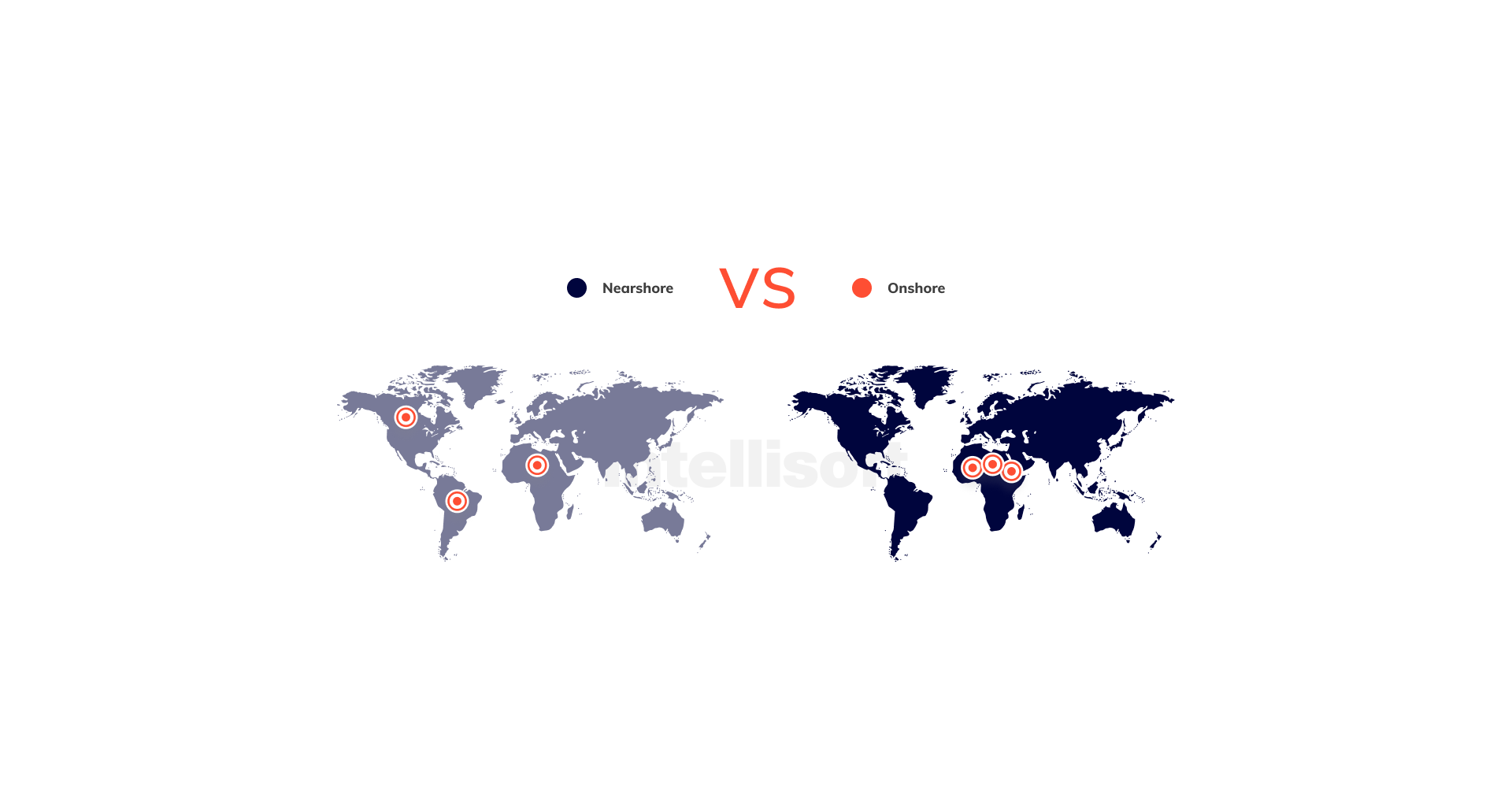 A couple of years ago, offshoring was the most popular team extension practice. This is obvious as it allows you to save at least 50% of costs. However, it showed downsides, and many startups began to consider nearshoring for some advantages over the first type of employee acquisition:
Distance. Nearshoring is the optimal solution for those who need to visit branches and subsidiaries in addition to the main office.
Time zones. A small-time difference makes it easier to control work, business calls, communication, and adherence to deadlines.
Price. Perhaps a specialist from near abroad will demand more for his\her work than his counterpart from a distant country. Nevertheless, it will be much less than your compatriot's rates with no compromise to quality.
Quality. Neighboring countries have similar technologies and quality standards as yours, which means you will lose much less than, say, when choosing long-distance offshoring.
Cultural factors. The further away the country is, the greater the difference in mentality. Sometimes, people with different cultural backgrounds have different approaches to understanding and completing a task, and this affects productivity or communication.
The similarity in legal aspects. Neighboring countries may have a similar culture or language, as well as legal principles and regulations. That is, doing business, hiring foreign employees, and signing contracts with them will be much easier and more profitable.
All this makes nearshoring a profitable and practical solution. 
Nearshoring and Its Impact on Business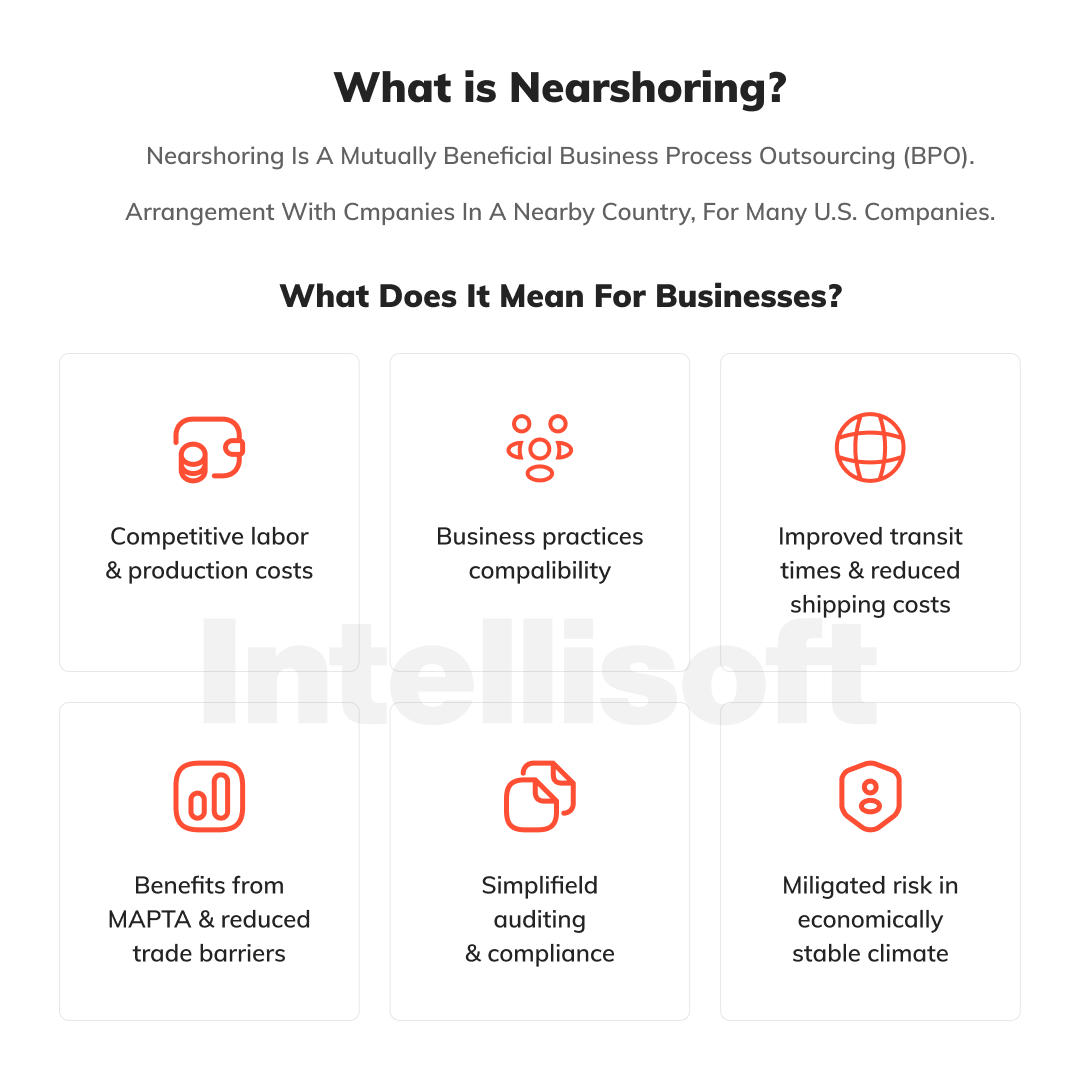 Such an option as nearshoring is of interest to those looking for profitable investment conditions, want to expand their staff, and attract new talents. So, what is nearshoring in business?
Benefits. This approach allows you to save on labor costs significantly. Specialists from neighboring countries charge significantly less for their services than onshore or offshore teams. 
Time and energy-saving. Nearshoring, like any kind of outsourcing, relieves staff by delegating the task to foreign contractors and performers.
Comfortable time frame. While offshoring involves cooperation with a significant difference in time zones, nearshoring minimizes, if not eliminates, this problem.
Convenient communication. As a rule, neighboring states don't have significant cultural and linguistic differences or barriers. It will be easier for you to understand each other and agree on time because the contractor and the customer are in identical conditions.
That is especially important for large-scale and developing IT projects that want to expand their capabilities. By the way, it often happens that neighboring countries attract customers from abroad for investments, offering them low taxes and fees in return, as well as simplified business conditions.
Related Readings:
What Kind of Business Tasks Suit Nearshoring?
The idea behind nearshoring is to simplify some business tasks and collaboration between remote workers. That is why, as numerous studies show, it is the primary future shoring strategy. Companies hire such employees both on a one-time basis (freelancers) and permanently for such tasks as:
Software Delivery

Software Development

IT Infrastructure Management

Coaching and corporate training

Marketing

Design

Content Writing
Thus you delegate important for your business tasks to competent specialists, save money, and concentrate on the key factors in your startup development.
Is Nearshoring Right for You?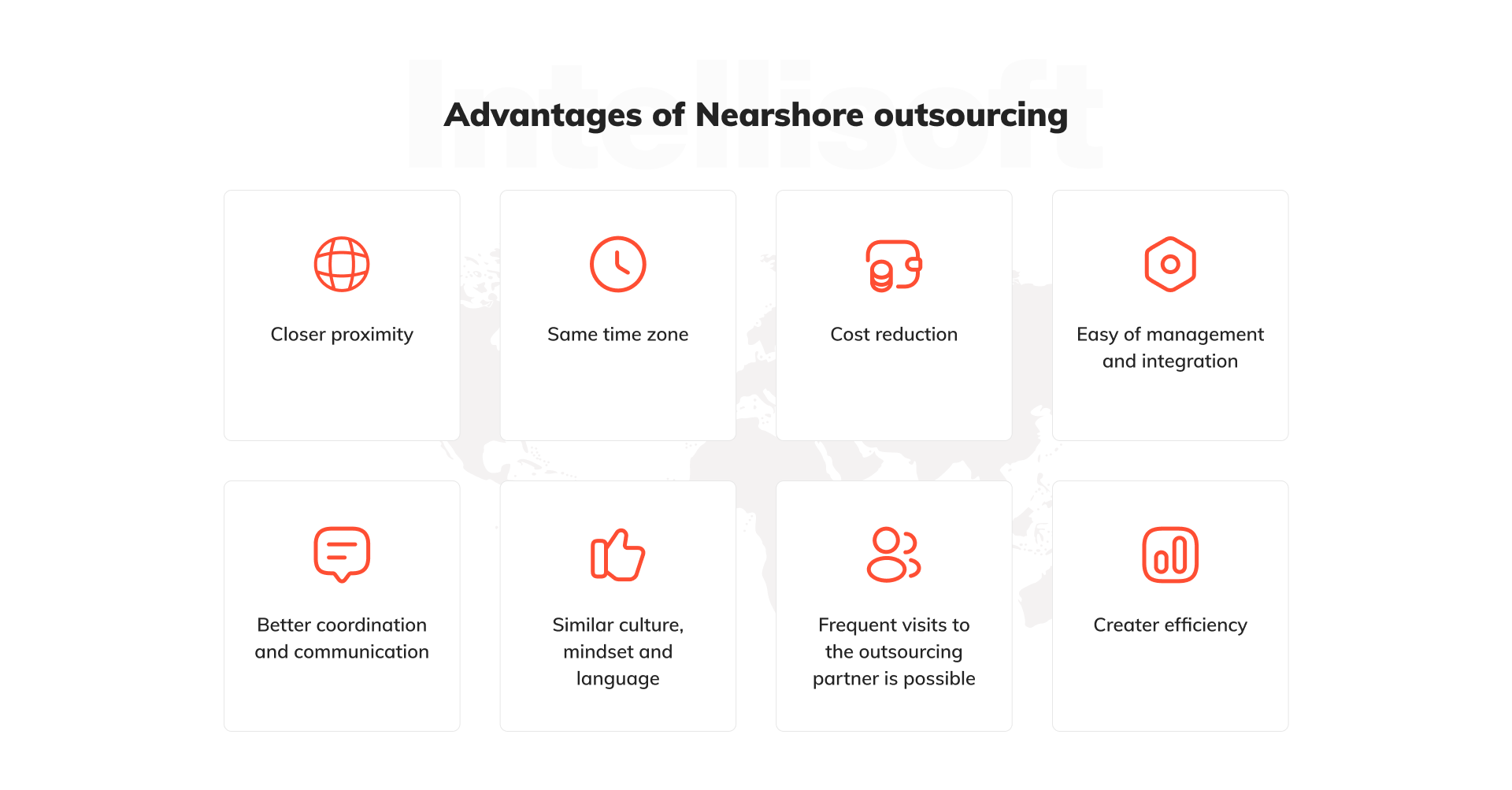 It would seem that offshoring and nearshoring have similar principles. Thus, isn't it easier to hire an IT specialist from the Philippines, for example, if they agree on lower wages than a specialist from Canada? Every business model serves a particular purpose. Nearshoring is what you need if you want to:
Expand the current staff

Get professional services at competitive prices

Avoid problems and nuances with hiring professionals

Gain access to a pool of talented and passionate professionals

Collaborate with performers in real-time

Avoid losing track of quality standards
Verdict
So, now you can answer the question, "What is nearshore?" That's why you understand if such a business model suits you and how to apply it with the best benefit for your company.
A qualified IT team is, in any case, the optimal solution for your business development. Intellisoft can help you with this issue, no matter where your office is located. Contact us and share the ideas for your project.