Getting lost in the realm of global business is easier than you could imagine, and that's why many companies are seeking a strategic compass that will guide them through this maze. Fortunately, there is such a compass, and its name is 'nearshoring'. It works like a ship looking for treasures, cost efficiency, proximity, and high quality.
Currently, most businesses are at a crossroads, hesitant to decide between offshoring, nearshoring, or developing software locally. While the first option offers lower costs, and the latter offers more familiarity, nearshoring is the golden mean. It captures the benefits of both types of cooperation, allowing businesses to work with top talent close to their location and save on costs.
At IntelliSoft, we are used to concepts such as offshoring and nearshoring, as our 15 years of experience working as a dedicated team have allowed us to explore their ups and downs. Now, we invite you to join us on a voyage of exploration through the world of nearshoring, unraveling its advantages, pitfalls, and use cases. We believe that nearshoring is worthy of your attention as it can help guide your business to success, so let's embark on this journey together.
What is Nearshoring?
If you have been looking for people to fill the gaps in your development team, and want to stick to professionals from nearby countries, then you're talking about nearshoring. It's delegating tasks to third-party providers in neighboring countries, often offering less expensive services.
In other words, nearshoring is short-distance outsourcing.
For example, suppose you are a business owner from Germany and want to delegate development, web design, or programming to third-party teams. In that case, you may choose among experts from Poland or Ukraine.
If you don't have the experts you need in your in-house team, contact a nearshore outsourcing company with a great reputation, reviews, and excellent tech expertise in Ukraine. Then, after several calls, conversations, and discussions about your needs and requirements, you can decide to work with them. This is when your nearshoring journey starts.
But why should you choose to nearshore and not the other options? Let's compare nearshoring with onshoring and offshoring and help you decide which will be your golden ticket to success.
Onshore vs Nearshore vs Offshore Outsourcing
There are three main types of outsourcing; nearshoring, onshoring, and offshoring. All of them have their advantages and disadvantages, but, in essence, they are the same; you delegate your tasks to another team/agency instead of handling these operations in-house.
Nearshoring can be described as the golden mean or the middle ground between onshoring and offshoring. Here's how the three models work: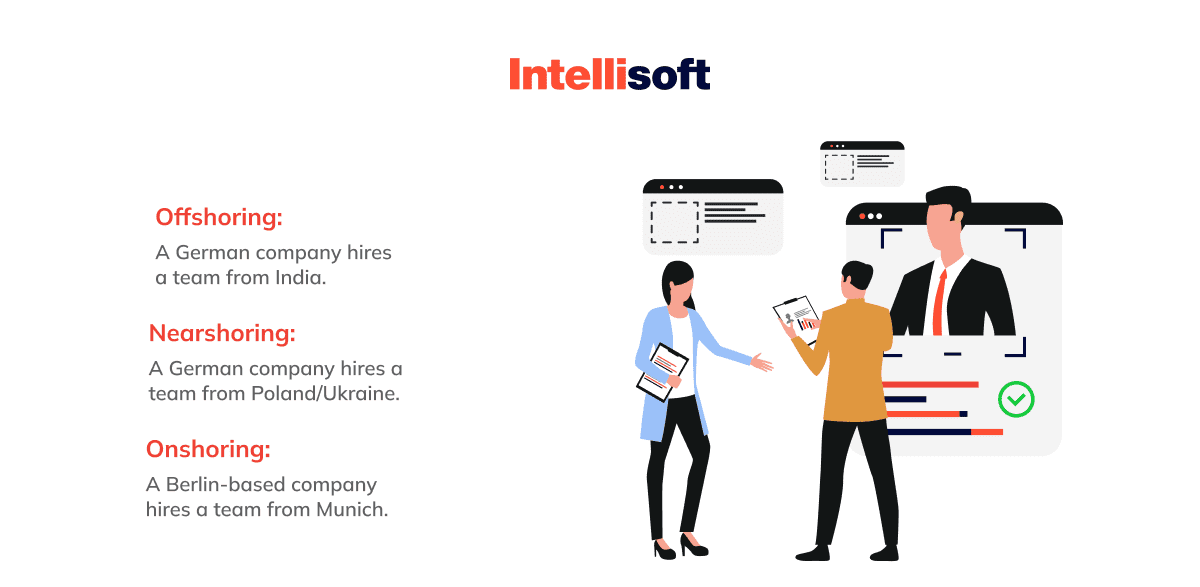 Offshoring involves working with a company far from your location, maybe even on a different continent. Consequently, it involves differences in time zones and language barriers and can involve lag time. Still, offshoring has one huge benefit; it is much cheaper than onshoring or working with an in-house team, mainly if you stick to countries like India, Ukraine, or China. Experts in these countries have excellent expertise and utilize the latest technologies, but their rates are much lower than in the US or Western Europe.
Onshoring is when you work with a company from a different city in your country. It helps you avoid language barriers, time zone differences, and cultural differences. Moreover, by choosing to go onshore, you invest in your country's economy, but be prepared to deal with higher costs.
Nearshoring is a bridge between the two: It offers lower costs but helps avoid huge differences in working hours, cultural barriers, and so on. Nearshoring teams offer higher availability and responsiveness since they are located close to your country, so you don't have to worry about communication and collaboration issues.

Nearshore Outsourcing Benefits
If you decide to opt for nearshore IT outsourcing, you may be amazed by its transformative power and the nearshore outsourcing advantages it can offer you.

Reduced Costs
Among the three types of outsourcing, nearshoring has proven to be the most cost-effective. You don't need to invest in long-distance travel, expensive software solutions for video conferencing, and pay for the recruitment process. Moreover, nearshoring teams are usually based in countries with lower rates while offering excellent quality services. It might seem that finding a cheap partner offering top-notch quality is a fairytale, but it's true with nearshoring.
Improved Code Quality
Just as you share gardening tips with your friendly neighbor, nearshoring teams collaborate closely and keep an eye on things, catching issues instantly. Their close proximity to your company results in smoother communication, more effective collaboration, and a deeper understanding of your project and business culture. Having a professional nearshoring team is like having a loyal, friendly neighbor who monitors your digital garden while you're not at home.
Improved Communication
Imagine talking on the phone with someone from a different country, and the connection is terrible. You can't hear certain words, the person gets cut off in the middle of the sentence, and there are background noises. It's highly unlikely that this communication will lead to something effective as the flow of information is constantly disrupted.
Nearshoring is like having the clearest line for smooth business conversations. The closer the team is to your country, the better the quality of calls. Cultural familiarity and shared time zones also provide clear information exchange and a better understanding of each other's needs. Nearshoring keeps information flowing seamlessly between you and the third-party provider, ensuring you are on the same page.
Time Zone Compatibility
Synchronization is the key, not only in dancing, but in software development as well. Working in different time zones can cause both teams delays, disruptions, and overall discomfort. With nearshoring, it's like finding the perfect dancing partner whose rhythm matches yours.
When you and your third-party team are located in the same time zone, you don't have to worry about missed deadlines or the inability to contact someone because they are sleeping. Nearshoring ensures that you have real-time discussions, can solve issues instantly, and the project flows smoothly.
Flexibility and Scalability
Nearshoring allows you to adapt and expand as needed. The teams can be sized up or down depending on your business needs at a given time. Nearshoring allows you to work with teams tailored perfectly for various tasks, whether you are working on a complex or short-term project. Moreover, nearshore teams provide access to the latest technologies and trends, helping you stay competitive.
More Control and Influence
With offshoring, the control over the processes is rather vague because the team is far from you, and you are in different time zones. Nearshoring makes you a conductor of a musical ensemble. You can easily influence the team's performance, adjust, and maintain direct control over the operations. This gives you a higher level of accountability and ownership.
Diversity and Innovation
Working with nearshoring teams allows you to look at your project from a new angle, bringing more diversity and innovation to the table. This fusion of diverse minds sparks a symphony of innovation, resonating with the ever-evolving demands of a global market. It can help you develop new ideas for the project and offer your customers something never before seen.
Access to a larger talent pool
Nearshoring widens the talent horizon, letting you work with top experts from neighboring countries. It is often the case that you can't find the experts you require in your area, or the rates are too high. With nearshoring, you can handpick experts who are perfectly suited for your project, have a lot of experience in a specific area, and utilize the latest technologies.
Increased in-house productivity
Delegating a part of your tasks to a nearshoring software development team can help your in-house team save time and effort and focus on core business activities. They won't feel the pressure of new projects that hang on them like a burden while they are trying to take care of core business activities. With this collaboration, each team will help each other to get closer to victory, enhancing each other's performance and efficiency.
How To Approach Nearshoring for Success
If all of these benefits sound too good to be true, get ready to experience all of them once you opt for nearshoring. To speed up this process, take the following steps: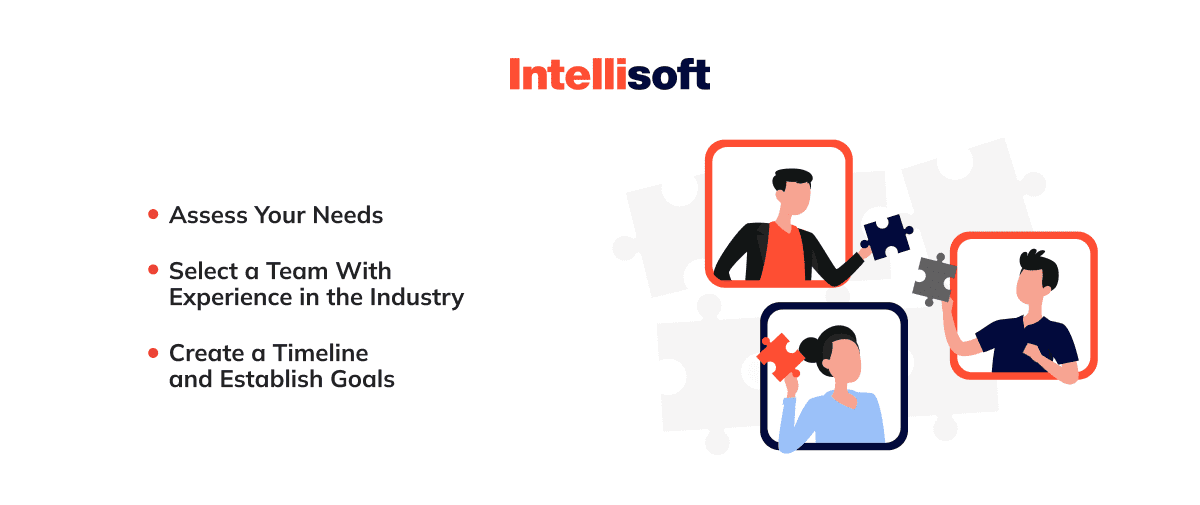 Assess Your Needs
First things first, you need to have a clear understanding of why you want to outsource your processes to third-party teams. You must outline your needs, current business capabilities, and what types of projects you want to outsource. The thing is, nearshoring is not a one-size-fits-all approach. If you need to develop a web or mobile app, for instance, then it is a great option. However, projects with high confidentiality, or those involving sensitive information, should be taken care of in-house.
Select a Team With Experience in the Industry
The nearshoring talent pool is incredibly vast, but it doesn't mean that you can choose any vendor, and it will be the right choice. Select a partner experienced in the industry you're working in or the one who has the tech stack you require. Some teams will have more experience and skills than others, so check whether they have already worked on projects similar to yours.
Create a Timeline and Establish Goals
Before you embark on your nearshoring journey, you should have a clear timeline and outlined goals. You must know what you want to achieve and in what time period. You should know what you want to receive from your partner in terms of communication, collaboration model, and budget. Once you have a clear plan, you won't get lost in this maze.
How to Know If Nearshoring is Right for Your Business
Nearshoring helps save costs, gain access to a huge talent pool, and optimize your operations, but does it mean that it is suitable for all businesses? Unfortunately, not. Before choosing between nearshoring, offshoring, and onshoring, you should consider the following factors:
Your skillset
Nearshoring can ensure success only if both parties are skilled and experienced enough. First, you should ensure that your business is ready to outsource your operations and that you can manage a nearshoring team. Second, thoroughly assess your partner's skills, check their previous cases, and read client testimonials to ensure they can handle your project.
Customer expectations
You should always consider customer expectations when choosing the type of outsourcing. Even though nearshoring can speed up the delivery of the project, you should consider your customers' expectations because nearshoring can take longer than they have anticipated.
Your nearshoring partner
Choosing the right nearshoring partner is a crucial aspect that can make or break the success of your product. You should choose a reliable and experienced vendor with the skills and experience needed to handle your project.
Budget
Everyone's talking about how nearshoring helps businesses save money and get high-quality services cheaply. That is true, nearshoring saves money in the long run, but its upfront costs may be too high for some businesses, especially startups. You need to assess your budget and decide whether you can afford to nearshore your software development, including the upfront costs, fees, and expense adjustments.
Scalability and flexibility
Nearshoring should allow your business to easily scale up or down according to the changing demands in the industry and market conditions. You should be able to add new members to the team or make it smaller, based on your current needs and capabilities.
Legal and regulatory environment
Delegating your business tasks to a third-party provider, especially from a different country, is always about certain risks. You should always consider the country's laws and rules that might influence your nearshoring experience and make sure that your arrangements comply with the legal and safety requirements.
Risk management
Before you select a nearshoring partner, assess all possible risks and issues that might arise during your cooperation. You must keep all your data secure, handle issues caused by different cultures or time zones, and decide how to establish clear and fast communication. You should come prepared for any issues and be ready to solve them in case they arise.
Cultural and communication factors
Even though there should be serious problems caused by cultural differences while nearshoring, you should still consider the language skills of your partner and your team and establish how you will communicate with each other. There should be nothing stopping you from working seamlessly and communicating clearly.
Related Readings
Choosing the Right Nearshore Partner
If you have been in your industry for a while, you know that running a business is not a piece of cake. How do you reach the right audience, stay on top of the competition, and ensure that your money and time are used for the right cause?
Many businesses these days are at a crossroads of innovation, looking for ways to improve their business operations and work with top talent. Fortunately, there's a guiding star, nearshoring. This type of outsourcing has been the choice of multiple entrepreneurs worldwide, working like a bridge between lower offshoring costs and easier onshoring management.
If nearshoring has so many benefits, how do you choose the right nearshore outsourcing software partner who helps you experience all of them? How can you know who to trust for your money, time, and the success of your project?
There's no universal answer to these questions. Choosing a nearshoring partner is like assembling an ensemble of top musicians who bring their talent and unique approach to the stage. You need to thoroughly assess their experience and skills and see whether they are suitable for your specific case.
Let's picture your ideal nearshoring partner:
The team should have enough experience and expertise in your industry and clearly understand your goals and needs.
They should be fluent in your language or a common language (English, for instance).
Your nearshoring partner should have experience in projects similar to yours.
Their references and client testimonials should prove that they have finished a number of successful cases.
Your partner should be culturally compatible with your company.
They should provide support and maintenance after the project is done.
The team should be easy to scale up or down.
You should have clearly outlined channels of communication.
The vendor should possess the infrastructure and tech stack that you require for your project.
When you choose your development partner, pay attention to whether there's synergy between you both and whether your shared goals intertwine.
How to Nearshore With IntelliSoft?
Nearshoring with IntelliSoft is like embarking on a voyage toward enhanced collaboration and optimized operations. Our team makes sure that every aspect of our collaboration creates a harmonious partnership.
Here's the process of nearshoring with IntelliSoft: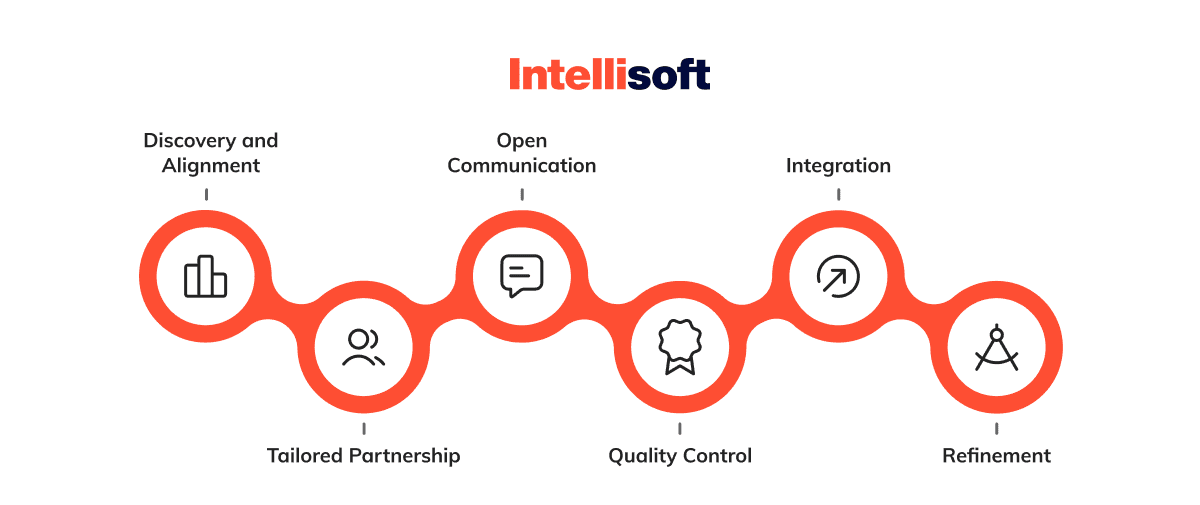 Step 1: Discovery and Alignment: First, we discuss your business goals, needs, and requirements. We dive deeply into your current processes to understand your vision and align our expertise with it. Our goal is to make our nearshoring solution a perfect fit for your objectives.
Step 2: Tailored Partnership: Each nearshore team we create is tailored to our client's project. Fortunately, we have a diverse ensemble of experts ready to create and help you, so we can assemble a unique team that meets all your requirements and more.
Step 3: Open Communication: We believe that it's not possible to achieve success without clear and open communication. For this reason, we made transparency our forte, ensuring that we have constant communication channels, update our clients on the progress regularly, and ensure that we are in sync.
Step 4: Quality Control: We are the musicians in the world of software development, ensuring that each note is pitch-perfect and the symphony created through our collaboration is nothing but flawless. To achieve that, we follow strict quality standards and review every detail of the project to ensure that it meets the highest quality benchmarks.
Step 5: Integration: We integrate our team of experts with your in-house operations seamlessly, so you won't even notice it. You don't have to worry about disruption of your in-house processes or any delays; our synergy will create a harmonious workflow, helping you improve your efficiency.
Step 6: Refinement: After the project is finished, the journey still doesn't end. We continue to fine-tune our approach, offering you our support and maintenance and looking for ways to contribute to your ongoing success.
Let's craft a harmonious partnership that resonates with your goals. Contact us today, and let's compose a journey where innovation, open communication, and collaboration are what takes your business to new heights.
FAQ