No matter how carefully we calculate the risks or choose the developers team, sometimes, our project starts falling apart in the middle of the scrum development process. This is a common problem for many companies. 71% of projects fail at some developing stages. 
If you see how deadlines thwarting your project release are delayed due to bugs and other problems, your current developers or some of its development team membership can be among them. It looks like it's time to change the development team and overall work approach. Let's see how appropriate switching development teams is and how to hind new software development company in the best way.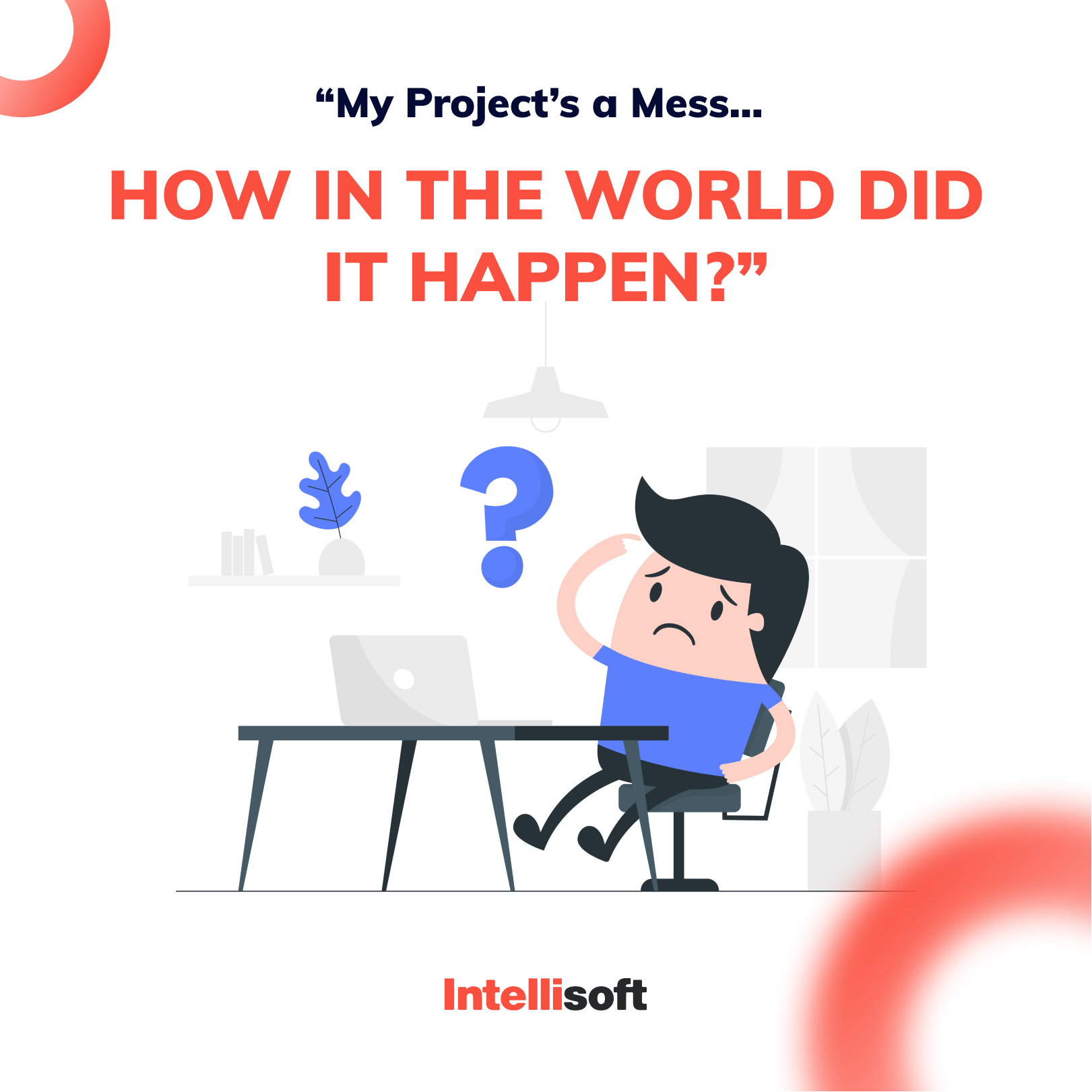 Sometimes, we all have a feeling that something goes wrong. In the case of a project crash, it may be due to various factors.
Weak Plan
As you know, the best impromptu is a planned impromptu. Many project participants (including the owners) rush into a complex project without expertise and background. They've done similar projects but have never dealt with the specific nuances. For instance, a team used to create brilliant e-stores using WordPress, but now they have to work with Weebly or Wix for some reason.
So, we have 20% agreement versus 80% uncertainty, which leads to obvious problems.
Blurred Requirements
Well-formed expectations can at least reduce the likelihood of failure by the middle of your project if you don't cut it at all.
We often disagree on the details and expectations of the project with each other. The client formulated the desired product vision, and the developers carried out the order according to the algorithm. However, no one agreed on the details and wishes. No one stipulated possible problems and ways of solving them. This usually leads to severe problems.
Savings on Performers
Let's be honest: good work doesn't come cheap. There are a lot of software companies and freelancers that offer cheap services, but such a saving has some pitfalls: 
Insufficient qualifications

Loss of budget

Legal or regulatory problems

Vague client policies
One way or another, one or more of these factors become the same sticks in the throat that negate all your efforts to create a successful project.

How to Understand That It Is Time to Switch to Another Team
Someone will say that it's time to change the software development company right away when you see that the current performers are not coping with it. Someone may advise not to rush and optimize the technical assignment, as well as instruct the team composition once again.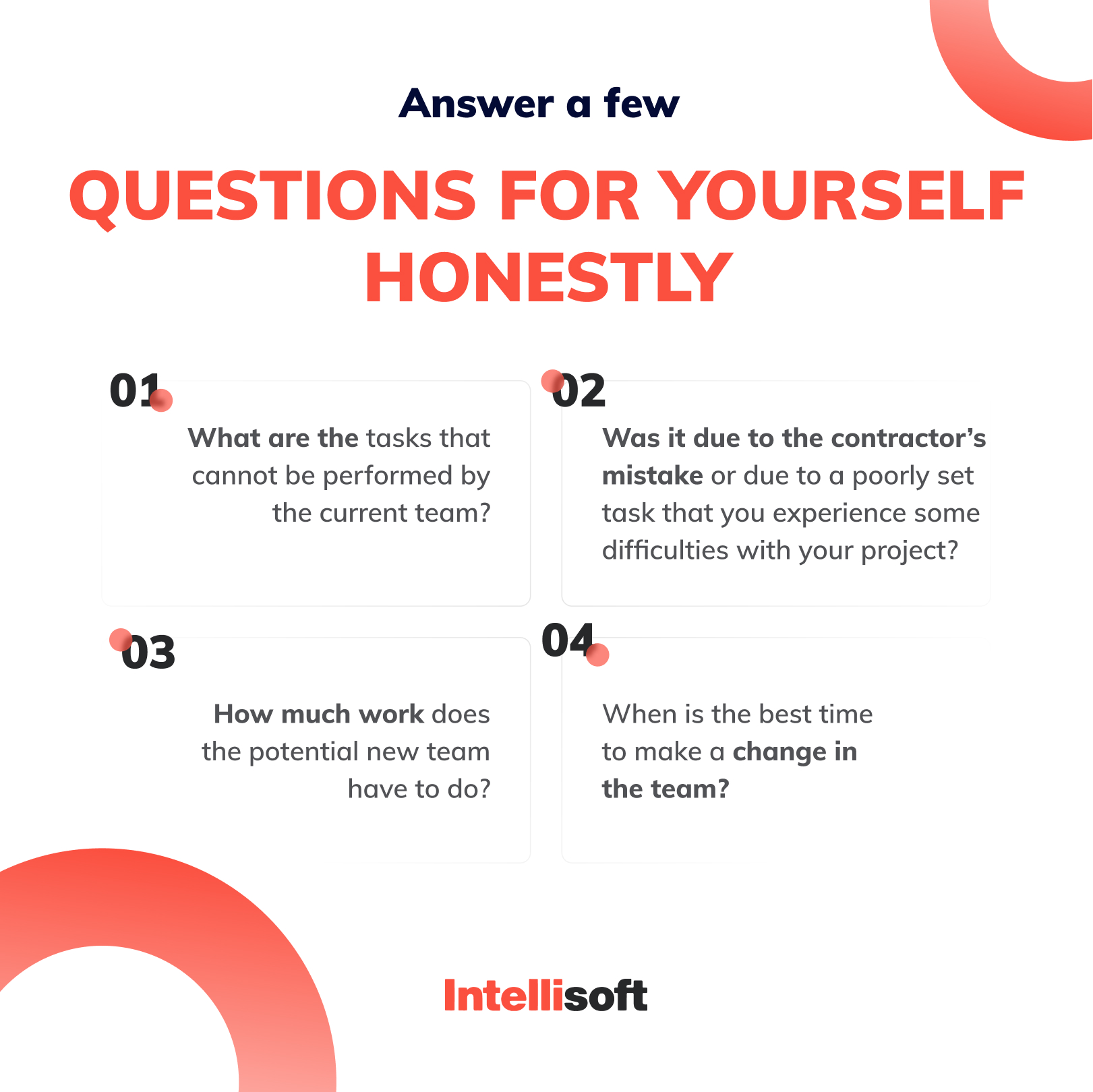 Finally, the main question is, "Is your problem a misunderstanding with the current performer? Or maybe, is it the absence of their ability to deal with your project or parts of it?" The second case can be the starting point in your team transformation or replacement.
Switching between teams requires the same thorough approach as preparing a project from scratch. It is even more complicated because you have to hire a new dedicated software development team to complete something for the already existing model and add new features, which could be a headache. Thus, change development teams smoothly and carefully in three steps.
Step 1: Terminate the Development Partner
Many startups who have had experience with mid sprint switching took these three main points, which led them to success.
Current Features
Whatever one may say, keep on coordinating the completion of some small functions with your previous staff. This will save time for new developers (and your money, accordingly). In the end, you can always instruct a new performer to re-write some parts of the code if the old one turns out to be of poor quality.
Transmitting Documents
Instruct your current performers to write the transmitting document. This will help you set a clear target for your new members as soon as you recruit them. This could include:
Comments to the code

Description of solutions

Points of failure and bugs

Weak points that need special attention

Notes on architecture
It's much better than conducting hours of research again and looking for hidden errors.
Step 2: Prepare for New Developers
Now, prepare the work area for your new hires. You have to explain to them the essence of the task and the project nuances. Make a layout or diagram where you will show:
The market and your business position in it

Your project's current problems

Optimal solutions

Description of the business model
An indication of the general lines and main points will be enough. There is no need to go into details.
Next, you need to divide your work strategy into several main points:
Cons and mistakes that previous performers made

Information about upcoming tasks: what are you going to launch, change, etc.
Remember to focus on your project and start with the items that need immediate attention and action.
Step 3: Hire a New Team
You realized your mistakes, created a new plan, defined new ways of development — it's time to hire qualified performers. Of course, you don't want to get burned again, which means it's time to change your approach to hiring developers and, perhaps, some approaches to managing teams.

Technology Stack Is a Top Priority
It is also often the main problem when switching between teams. You need specialists who work in your technology stack. Such a team helps you save time, avoid transferring your project to another language and handle other possible problems.
When dealing with an outsourcing company, check this factor on its website or with the contractor during the interview.
Exploration and Selection
If your goal is to change the development team to the descent, honest developers who will never cheat and do their best to deliver the project on time, a few simple tips will help you:
Scan the potential performers. Find their social media accounts, talk to former clients (if possible), explore previous cases and portfolios, and search for more info on reputable review sites.

Discuss their business model. Any credible company always has a transparent scheme of work, prices, and payment procedures.

Request a contract. Official agencies and performers can always provide an agreement with clear conditions.
Take a Closer Look and Evaluate Situation
Starting to change your project with small tasks assigned is the best strategy. It will help you check the quality of work, estimate the amount of time required, as well as the volume. Do not forget to consult with your future team: this will prevent you from difficulties in the future, especially with large volumes.
Let your new contributors examine the source code and make small changes if needed. They will examine the code to understand your project. You, in turn, will be able to evaluate their work.
Related Readings:
Meet New Changes
Now that you have already assembled a new team and generated an updated strategy, you only need to control the process to create a new successful scenario. Just follow your intuition, common sense, and a few simple rules:
Watch for updates

Contact the developer

Track the changes

Block access for previous employees

Request or conduct a code review on your own
Routine diagnostics will give you a better chance of a successful product release. On the other hand, you can fully rely on the assigned project manager.
Verdict
In any case, remember that switching to a new team is always a challenging step. The later this happens, the more difficult it is. Still, even such a complex move can save your project from failure, especially if you see that your current performer is not doing it well.
It's not that hard to find real pros to change the development team. IntelliSoft has a massive staff of web developers, designers, and IT specialists in all niches that will pull your project at any stage.
Start new cooperation and face positive changes with your project with us!