In today's competitive business environment, organizations seek ways to improve efficiency, cut expenses, and differentiate themselves. One strategy that has emerged as a game-changer for many businesses is IT offshoring. But how can you decide which part of the world is best for your IT offshoring requirements? IntelliSoft is here to help you with that.
IntelliSoft, a market leader in software development and information technology services, has vast experience guiding organizations through the murky waters of IT outsourcing. We're here to share the knowledge we've gained through assisting many clients in creating the best offshore software development teams for their specific needs and goals.
This article will explain what information technology offshoring is and what variables you should consider when choosing the perfect destination for your business. We will provide actionable insights and recommendations to help you make informed decisions, including reviewing cost-effectiveness, talent pool, infrastructure, and cultural fit. We'll also examine some issues that can arise from outsourcing the IT workforce overseas and provide a straightforward five-step process for finding the best offshore location.
After reading this article, you will thoroughly grasp IT offshoring best practices and tactics for making the best decision for your company and enjoying the full benefits of global offshoring. Let's dive in and see how offshoring can help you achieve your business goals.
What is Offshoring? Understanding the Basics and Beyond
Offshoring, often mistaken for outsourcing, is a distinct business strategy primarily driven by geographic considerations. The main goal of offshoring is capitalizing on cost differentials between countries with higher operational costs and those with lower ones, enabling your business to improve its profit margins and offer goods or services at competitive prices.
In the Western world, producing and distributing goods can be expensive due to the high labor costs associated with skilled workers. In contrast, developing countries often have vast, inexpensive labor pools that form the foundation of their low-cost economies. Sending work overseas allows companies to take advantage of these cost disparities by relocating their production facilities or service operations to cheaper countries while selling their products and services back in the West at a discounted price and with increased profit.
Over the years, offshoring has contributed significantly to lowering the costs of consumer goods, such as clothing and electronics, thanks to both cost-effective labor and technological advancements. However, it's essential to recognize that offshoring isn't limited to the production of physical goods. It also extends to various services, including the IT industry. For instance, Ukraine's thriving IT sector has exploded thanks to successive waves of offshoring from Western technology companies.
Outsourcing and offshoring present numerous potential benefits for businesses and consumers, such as cost savings and access to specialized talent. Offshoring advocates argue it can stimulate economic growth in some countries and create job opportunities.
Now, to prevent misunderstandings, let's compare the terms of offshoring and outsourcing.
Offshoring and Outsourcing: Understanding the Difference
Offshoring and outsourcing share similarities, such as using outsider teams to perform particular business activities and increasing productivity and cost-effectiveness. However, they also have significant differences that make them distinct. Understanding these nuances lets you choose the best option for your needs and business goals.
Work Assignment Principles
Outsourcing involves utilizing the services of a third-party provider in another country. An external staff or freelancers do the work, but they are not considered full-time or dedicated employees of your organization. The solutions provider, rather than directly team members, manages the relationship and delegation of tasks.
With offshoring, work is completed in another country by a dedicated team. Although the employment contract is often between the solutions provider and the client, staff are hired as a dedicated remote workforce exclusively for your company. The offshore team is an extension of your locally-based staff, which you can directly manage.
Functions Complexity
Outsourcing refers to hiring a workforce to perform specific tasks within a process chain. These tasks are often time-consuming, repetitive, and critical for streamlining overall business operations. Outsourcing focuses on activities you can measure in time, quantity, and quality-based metrics.
Offshoring involves assigning more complex functions to a dedicated team in another country. The offshore team consists of well-trained and experienced specialists, which implies a wide range of functions and requires greater responsibility and initiative.
Level of Your Involvement
In outsourcing, the third-party provider handles the team's recruitment process, supervision, training, and performance management without your involvement. You don't need to integrate the outsourced staff into your company.
In offshoring, you are directly involved in hiring and selecting candidates and managing the team to ensure their work meets your business standards. The offshore team members undergo an onboarding process to understand your company's culture, objectives, and procedures, ensuring alignment with your business goals.
Quality Control
When outsourcing, quality may vary depending on who's working on the project since the team members are not dedicated employees of your company. They might be handling projects from various clients affecting your production timetable.
With offshoring, you set work quality standards that your dedicated offshore team needs to adhere to. They are focused only on the tasks you assign, ensuring consistency in delivering high-quality output.
Time Table and Scalability
Outsourcing offers a quick solution for short-term, ad hoc, or hourly-based projects. It's ideal for addressing seasonal fluctuations in workload and can be quickly scaled up or down as needed.
Offshoring provides a long-term solution that is ideal for scalability. You can start with a small or large team and expand or diversify as your business grows. Offshoring is a longer-term approach, as the hiring process is more personalized.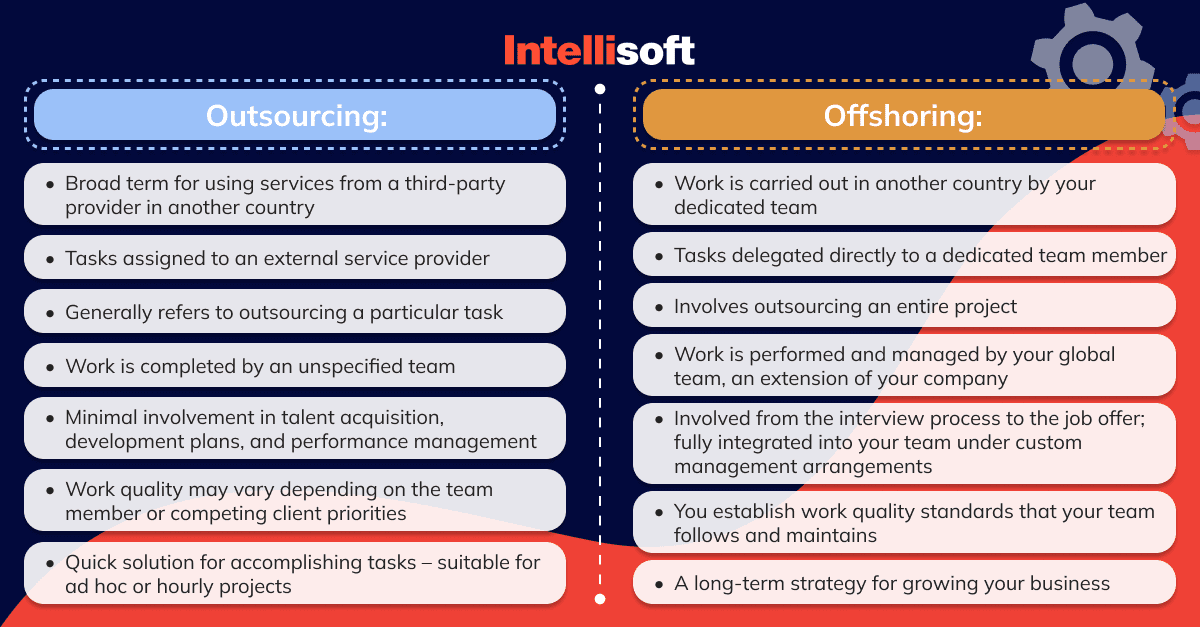 While outsourcing and offshoring can improve cost efficiency and productivity, their differences in work assignments, functions, involvement, quality of work, and scalability make them suitable for different business needs. Understanding these distinctions lets you decide which option best aligns with your project goals.
Pros and Cons of Offshoring
Offshoring has become a reliable and profitable business strategy that many successful Western companies use. It has both positive and negative aspects, just like any other method. Will the pros be more important than the cons? Let's find out and talk about the pros and cons of offshoring so that you can decide if it's a good idea for your business.
Advantages of Offshoring
Relocating business operations to international locations brings many benefits. Here are the key advantages of offshoring:
Reduced labor costs. Companies in the developed West can save money by paying less to their workers in other countries. Offshoring is a more likely beneficial concept if foreign workers can do the same jobs as their local counterparts for much less money. It is essential for employment in the IT sector and software development, where lowering labor costs can help reduce operating expenses, generate additional revenue, and make the most extra profit.
Cost savings. Besides salaries, other forms of compensation and benefits are generally lower in offshore countries than in the West. You can save money on taxes, Social Security, health insurance, and other costs associated with employees. Developing countries like Ukraine also have lower costs for utilities, infrastructure, and materials. It makes them attractive places for labor-intensive industries like manufacturing and call centers.
Tax benefits and financial incentives. Countries like the Philippines often offer tax breaks, economic incentives, and less strict business rules to attract foreign direct investment and help industries like offshoring and business process outsourcing grow. These incentives make it cheaper to move to places good for offshoring.
Bring earnings back to the home country. Companies can reach their goal of maximizing profits if they get more money from tax breaks, financial incentives, and cost savings from offshoring. They can put these profits back into their home operations by providing workers with higher wages and better benefits, investing in research and development, sharing profits with investors and shareholders, and paying taxes.
24/7 operations. Companies can cover time zones not managed by their main teams by using offshore subsidiaries or service providers that work around the clock. For business process offshoring, the local team can give the offshore team tasks they haven't finished. It keeps work on a project going until it's done.
Access to a skilled workforce. Offshoring locations like Ukraine and Poland have many skilled workers, which makes it easy for Western companies to find employees for their remote operations. People in these countries speak English well, have college degrees, and work in skilled jobs.
Drawbacks of Offshoring
While offshoring provides numerous benefits, it also comes with certain disadvantages. Here are some of the drawbacks:
Language and communication barriers. Even though English is a business and government language in many offshoring countries, there may be differences in how well offshore workers and their foreign counterparts understand and use the language. Accents can also make it hard for employees to communicate with foreigners when they have strong local accents.
Time zone challenges. IT offshoring can be tricky if your country and the offshore location are in different time zones. It can be hard to set up shift schedules that don't cause problems for both sides, and it can be difficult to determine suitable times to talk to each other. Communication problems could also affect decisions, especially when a remote team needs to speak to the home country before making important decisions about a project. If it takes you too long to make a decision, it could affect important, time-sensitive tasks and deadlines.
Cultural and social differences. Offshore countries may have different cultural and social norms from the countries where the parent companies are based. Miscommunications and misunderstandings may arise due to contrasting communication styles and cultural norms.
Quality control issues. Quality issues may occur when there are differences in the way people work, the language they use, and the industry standards. When software development happens in an offshore location, it may be hard to ensure that the products meet the parent company's standards unless the company has well-documented policies and guidelines.
Impact on domestic jobs. When jobs are sent overseas, some local employees may lose their jobs. This fact could lead to higher unemployment rates in the area and hurt its economy. Also, the remaining jobs in the affected offices may see their wages stay the same, not know if they will have a job in the future, and have low morale, which could hurt productivity and how the business runs. The public's view of the company could also be affected if there is a lot of negative media coverage of job losses in the local economy.
You can analyze this information and decide whether offshoring is a suitable business model for you or your company.
Related readings: 
Growing Trends in IT Offshoring
As the demand for IT services grows, companies increasingly use offshore strategies to access global talent and expertise. Emerging technologies, cloud computing, cybersecurity, remote work, and the adoption of standard practices are shaping the future of IT offshoring.
New Technologies
Offshore software development companies are increasingly specializing in cutting-edge technologies such as Augmented Reality (AR), Blockchain, Artificial Intelligence (AI), and Machine Learning (ML). These technologies offer businesses innovative solutions to improve efficiency, enhance customer experiences, and streamline operations. By partnering with offshore development centers, your company can access highly skilled professionals with expertise in these emerging technologies, leading to a more competitive market presence.
Cloud-Managed Services
Cloud-based services provide unparalleled flexibility and scalability, allowing businesses to scale their operations quickly and efficiently. As cloud computing becomes more popular, offshore development centers leverage this technology to create innovative solutions for their clients. Offshore development providers can help companies integrate cloud technology into their IT infrastructure, enabling more efficient data management and cost-effective deployment of applications and services.
Prioritizing Cybersecurity
Cybersecurity is a top concern for businesses worldwide, and offshore software development companies are addressing this issue by creating and implementing various cybersecurity policies to avoid data breaches. Offshore development centers can help your company protect sensitive data and maintain customer trust by prioritizing cybersecurity in an increasingly digital world.
Remote Working is Here to Stay
Back in 2020, the pandemic permanently changed how businesses operate, with remote work becoming a norm. This shift has exacerbated the skills gap in the technology sector, making it difficult for companies to find and retain skilled IT professionals. Offshore outsourcing offers a solution to this problem by providing access to a global talent pool, enabling your company to overcome the skills gap and stay competitive in the market.
DevOps Concept for Automation
Adopting DevOps practices in offshore software development has led to increased collaboration between development and operations teams. By automating key processes and workflows, offshore development centers can deliver high-quality products more quickly and efficiently. This approach to development streamlines the software development lifecycle and reduces the risk of human errors and potential delays in product deployment.
Streamlining Processes with Standard Practices
Offshore software development companies are committed to following industry standards and best practices in all aspects of their work, including coding, testing, and regulatory compliance. By adhering to these standard practices, offshore development centers can ensure a seamless development process that minimizes discrepancies and delivers high-quality products to clients.
As IT offshoring continues to evolve, the focus on standardization and compliance will remain critical in ensuring offshore partnerships' success.
These were the key trends shaping the offshore software development landscape today. Other trends include:
The increasing prevalence of multi-vendor outsourcing
Adoption of Virtual Reality (VR) technologies
The emergence of new offshore destinations
Top Five Criteria for Selecting the Perfect IT Offshoring Destination
More and more businesses increasingly turn to offshore providers to meet the rising need for IT and software development expertise. Yet, your company needs much more than an outsourcing partner to accomplish your innovation objectives – you need one that provides an optimal balance of low costs, high quality, and flexibility. Here are the top five criteria to consider when selecting the ideal offshoring destination for your business:
1. Cost-Effectiveness
A primary motivation for companies to offshore their IT operations is the potential for cost savings. Evaluate each potential location's cost structure, considering labor costs, real estate expenses, and infrastructure investments. Remember that there may be more suitable choices than the cheapest option – balancing cost considerations with quality and productivity is essential.
2. Talent Pool and Technical Expertise
A successful offshoring endeavor depends on the availability of a skilled and knowledgeable workforce. Examine the prospective destination's talent pool, focusing on the availability of professionals with the necessary technical skills. The size of the available talent pool is a crucial consideration when selecting a location for your remote team.
Access to markets with a strong community of developers and engineers allows your company to quickly assemble a team and move forward with the project at maximum speed, rather than wasting time and resources on a prolonged search for skilled professionals. Additionally, assess their proficiency in English, as language barriers can significantly impact communication and collaboration within your team.
3. Infrastructure and Innovation
Robust IT infrastructure and reliable connectivity are crucial for seamless communication and efficient data transfer. Evaluate the potential destination's internet connectivity, power stability, and access to data centers to ensure smooth and uninterrupted operations.
Modern, value-added outsourcing partnerships necessitate creative feedback loops, encouraging creativity, innovation, and participation in these activities. An offshoring partner dedicated to nurturing innovation and increasing your competitive advantage will benefit your business the most if you need more than just extra assistance for coding tasks. A company like that can help you steer your organization's technological transformation by distinguishing between game-changing ideas and temporary gimmicks.
But how do you find the most reliable offshoring partner? Find out which countries emphasize investing in the high-tech industry most and how big their startup scene is. Find out which large technology firms have opened R&D facilities there and are interested in hiring local IT professionals. By assessing these characteristics, you can identify mature technology markets leading innovation as top IT and software development services providers.
4. Cultural Compatibility and Time Zone Differences
Cultural compatibility and time zone differences can significantly influence the success of your offshoring venture. Just as a workplace culture that doesn't fit can hurt your business, a mismatch between an outsourcer and a supplier culture can have the same effect. LSA Global's research shows that culture makes up 40% of the difference between high-performing and low-performing companies.
A successful offshoring partnership depends on speaking the same language, sharing work ethics and power structures, and overlapping time zones. Some factors, like language skills, are easy to measure, while others are more complicated and require a more in-depth look at the locations where remote operations will occur.
Large companies often work with cultural advisors to help them understand and balance different values, ideas, and work methods. But smaller companies can also perform research before deciding to work with a partner in another country.
Opt for a destination with a work culture that aligns well with your own, and consider how time zone variations may affect team collaboration and project management. Establishing effective communication strategies and processes can mitigate the challenges of time zone differences.
5. Compliance with International Standards
Before partnering with any external IT provider, ensure their processes align with your company's internal policies and any legislative requirements your business must adhere to.
Your offshoring partner should follow your company's IT, data, and system security standards. Depending on where a company does business, these standards may be different.
In Europe, for example, all IT companies must follow the General Data Protection Regulation (which protects personal data), the ePrivacy directive that ensures electronic communications are kept private, and copyright law, which sets out rules for protecting software through copyright. Working with providers from countries that follow well-established international compliance rules reduces your risks and makes outsourcing easier.
The transition from offshoring relationships based on costs to collaborations based on results shows that business priorities and the customer experience are now at the forefront. But for these partnerships to have lasting value, both sides must be on the same page in many ways.
In some ways, choosing an offshoring partner to handle essential software and IT tasks is like choosing a spouse. This choice could lead to a long-term commitment that should benefit both parties and built on trust, respect, and support. And just like any other relationship, offshoring collaboration can benefit both sides or become a total disaster. Ensure your partner meets these five criteria to avoid a bad breakup and enjoy the many benefits of a long-term relationship.
Popular Destinations in the Global Offshoring Landscape
As the demand for offshoring services in the IT sector continues to grow, several regions have emerged as hotspots for offshore software development, each offering unique advantages and challenges. Let's explore popular destinations in the global landscape, focusing on Eastern Europe, Asia, Latin America, and Africa.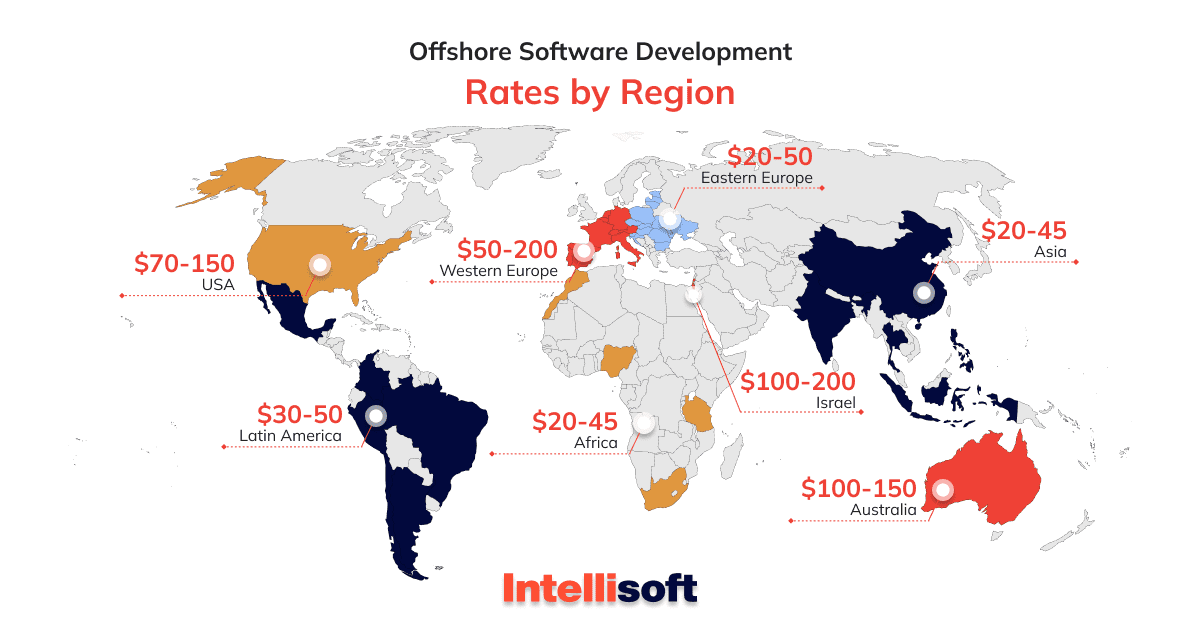 Eastern Europe
Eastern Europe has become a thriving hub for IT offshoring. Countries like Ukraine, Poland, and Romania offer a highly skilled talent pool, cost-effective solutions, and cultural compatibility with Western countries. Additionally, the widespread use of English and a convenient time zone for European and North American businesses contribute to the growing popularity of Eastern European countries as offshoring destinations.
Ukraine, in particular, stands out as a leader in the IT offshoring industry. The country boasts a large pool of software development professionals, a well-developed IT infrastructure, and strong government support for the industry. Ukrainian developers are known for their technical expertise and adaptability to project requirements. Furthermore, the cost of labor in Ukraine is significantly lower than in Western countries, making it attractive for companies looking to reduce expenses without compromising quality.
Poland has emerged as a popular offshoring destination in Eastern Europe thanks to its well-educated and skilled workforce, competitive labor costs, and a strong emphasis on technological innovation. The country boasts many IT professionals with expertise in various domains, including software development, data analytics, and cybersecurity. Moreover, Polish professionals have an excellent knowledge of the English language, making communication seamless for international businesses.
Romania is another popular offshoring destination in Eastern Europe, offering a large pool of skilled IT professionals, competitive labor costs, and a rapidly developing technology sector. The country's workforce is known for its strong technical skills and proficiency in English, ensuring smooth communication and collaboration with international businesses.
Romania's strategic location within the European Union and its proximity to Western European markets make it an attractive choice for companies looking to offshore their software development needs. The country's IT infrastructure has significantly improved recently, with increased investments in telecommunications and data centers to support the growing offshoring industry.
Asia
Asia is another popular destination for IT offshoring, with countries like India, the Philippines, and China leading the way. The region's vast pool of skilled IT professionals, competitive pricing, and focus on innovation have made it a preferred choice for companies seeking offshore software development services.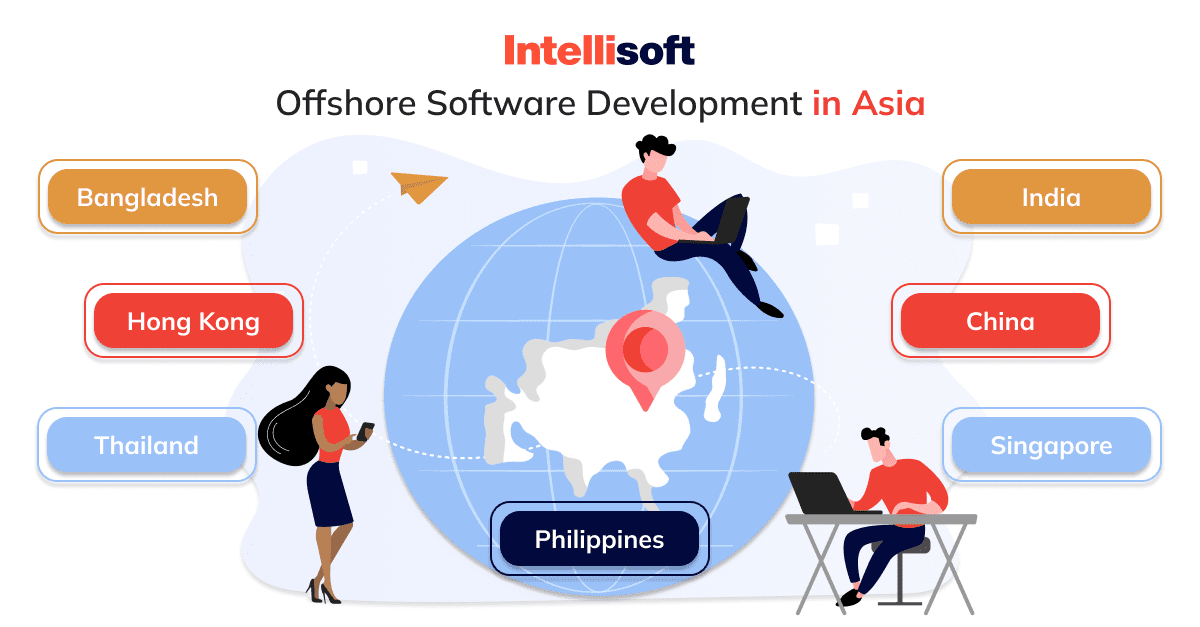 India has long been a prominent player in the offshoring industry, offering a large and diverse talent pool, a well-established IT infrastructure, and a business environment that supports the creation of remote teams. The country's English-speaking workforce and expertise in cutting-edge technologies, such as AI and ML, have made it a preferred destination for many global companies.
The Philippines, another offshoring powerhouse in Asia, is known for its strong English proficiency and a workforce that excels in customer service and technical support. The country's cost-effective labor and business-friendly environment have attracted numerous IT offshoring companies, particularly in software development and quality assurance.
While not as widely known for IT offshoring, China has become a major actor in the market. With its immense population, China offers a large and skilled workforce, competitive pricing, and a rapidly growing technology sector. But, concerns about intellectual property protection and the country's internet censorship policies may deter some businesses from offshoring to China.
Latin America
Latin America has gained momentum as an attractive offshoring destination for businesses in the United States and Europe. The region's proximity to the US, similar time zones, and cultural compatibility make it an appealing choice for companies seeking seamless communication and collaboration with their offshore teams.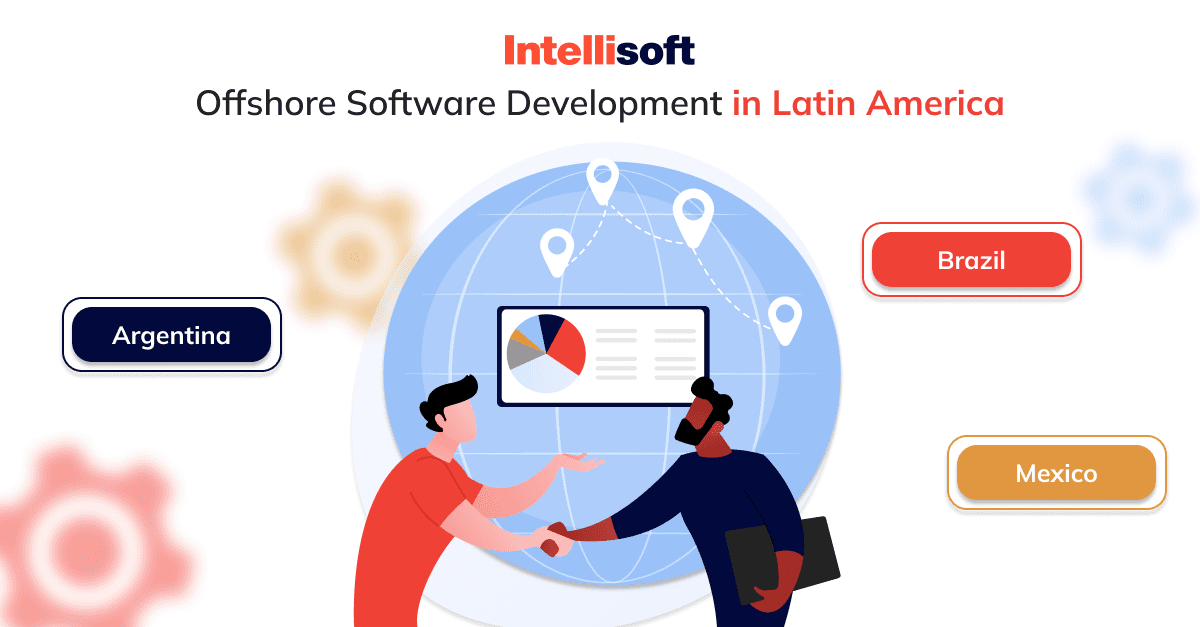 Countries like Argentina, Brazil, Mexico, and Colombia have established themselves as significant players in the IT offshoring industry. The region offers a skilled and educated workforce, competitive labor costs, and strong government support for the IT sector. Moreover, the widespread use of English and the growing adoption of agile methodologies make Latin American countries an excellent choice for businesses seeking offshore software development services.
Despite the many advantages, Latin America faces challenges, including political instability and economic fluctuations in certain countries. However, the overall growth and development of the region's IT industry continue to make it an attractive offshoring destination for businesses worldwide.
Africa
Africa is an emerging player in the global offshoring landscape, with countries like South Africa, Egypt, and Nigeria leading the way. The continent offers a growing talent pool of skilled IT professionals, competitive labor costs, and a steadily improving IT infrastructure. Additionally, the increasing focus on technological innovation and government initiatives to support the IT sector makes Africa an intriguing offshoring option for businesses.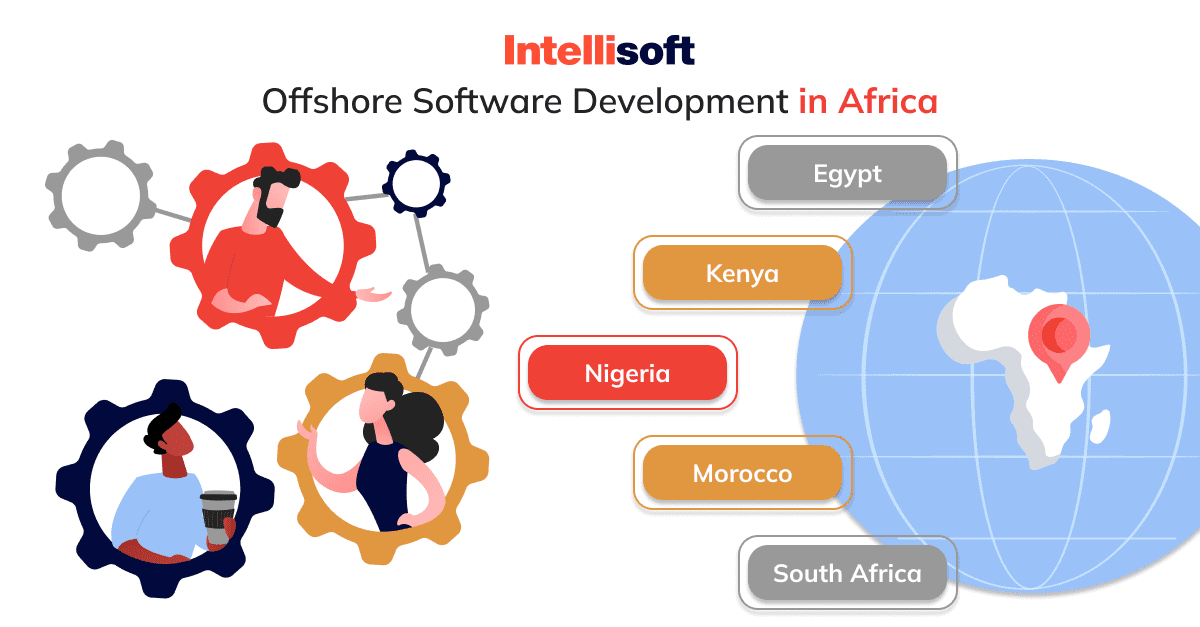 South Africa has become a prominent player in the African offshoring market, offering a skilled workforce with strong English proficiency and expertise in various IT domains. The country's stable political environment, well-developed infrastructure, and favorable time zone for European businesses make it an attractive destination.
Egypt is another notable offshoring destination in Africa, with a large talent pool of IT professionals and competitive labor costs. The country's strategic location between Europe, Asia, and Africa and its robust telecommunications infrastructure has contributed to its growing popularity as an offshoring hub.
With a young and skilled workforce, Nigeria offers a vast talent pool for businesses seeking offshore software development services. The country, with its vast population, has also seen a surge in its IT industry. Nigeria's government has introduced various initiatives to support the IT sector, including establishing technology hubs and providing tax incentives for technology companies.
While Africa presents several advantages as an offshoring destination, it faces political instability, unreliable power supply, and limited IT infrastructure in certain regions. Nevertheless, the continent's untapped potential and ongoing development efforts make it a good location for businesses seeking offshore software development services.
The global offshoring landscape offers numerous attractive destinations for businesses looking to access a skilled workforce, cost-effective solutions, and innovative technologies. Eastern Europe, Asia, Latin America, and Africa each provide unique advantages and challenges, making it essential for companies to carefully evaluate their offshoring needs and select a location that aligns with their business objectives.
Five Easy Steps for Choosing a Perfect IT Offshoring Destination
Selecting the right offshoring destination for your IT needs can be challenging. Following these five steps can help you make the best decision for your business:
Assess your business requirements
Before you begin exploring potential offshoring destinations, it's critical to have a clear understanding of your business requirements. Determine the specific IT services you need, the required expertise, and the project completion time frame. Additionally, identify any cultural, language, or time zone preferences that could impact the success of your offshoring partnership. Clearly outlining your needs will make finding a destination that aligns with your business goals easier.
Research potential destinations
With your requirements in mind, conduct thorough research on the various offshoring destinations that meet your criteria. Consider factors such as cost-effectiveness, talent pool, infrastructure, cultural compatibility, and government support when evaluating each destination. Use online resources, industry reports, and expert advice to gather information on the offshoring landscape in each country. This research will help you identify the destinations that offer the best combination of cost, quality, and flexibility to meet your IT needs.
Visit the shortlisted countries
After narrowing down your list of potential destinations, plan visits to each country to gain a first-hand understanding of the local IT industry and business environment, meet with local industry experts, visit IT parks and technology hubs, and attend relevant events or conferences to gain valuable insights into the offshoring opportunities in each destination. During these visits, pay close attention to factors such as the availability of skilled professionals, quality of infrastructure, and overall business climate to help you make a more informed decision.
Evaluate offshore partners
After identifying your preferred offshoring destination, it's time to select the right offshore partner to work with. Look for companies that have a strong track record in delivering high-quality IT services, extensive experience in your specific domain, and excellent communication skills. Be sure to ask for client references, review their portfolio of completed projects, and inquire about their data security and compliance practices. By thoroughly evaluating each potential partner, you'll increase the likelihood of finding a company that can effectively meet your offshoring needs.
Pilot a small project
Before fully committing to an offshoring partnership, consider piloting a small project with your chosen partner, such as Project Discovery Phase. It will allow you to test their capabilities, assess their work's quality, and evaluate their ability to meet deadlines and effectively communicate with your team. Based on the results of this pilot project, you can make any necessary adjustments or reevaluate your choice of offshoring partner before scaling up your engagement.
By following these five easy steps and recommendations in this article, you can identify the best IT offshoring destination that aligns with your business requirements, which will help you achieve your strategic goals quicker and easier.
In Conclusion
The IT offshoring landscape has evolved significantly in recent years, shifting from cost-driven engagements to outcome-based partnerships prioritizing innovation and customer experience. By understanding the top trends in offshore software development, identifying the ideal criteria for an offshoring destination, and following the steps described in this article, you can make informed decisions when choosing the best partner.
IntelliSoft has built a solid reputation in the IT offshoring market by helping businesses from different parts of the world to bring their projects to life. Our flexible cooperation models include the creation of dedicated teams tailored to meet each client's specific needs. We offer virtual teams comprising various types of experts who work in remote locations around the globe. Our engineers can strike a healthy work-life balance by utilizing time-tested collaboration tools, ensuring consistent productivity and high-quality results, despite being based in different locations.
By partnering with IntelliSoft, you can leverage our global talent pool's extensive experience and expertise to drive innovation, reduce costs, and achieve your strategic objectives. Using our outsourcing team cost calculator, you can assess your operating expenses for the development team.

About

Helen Rachyna-Kyselova

Helen is a marketing expert, editor-in-chief, and head of content. She demonstrated success in negotiating win-win compromises, conducting A/B testing, launching e-mail campaigns, writing personnel manuals, publishing authorized articles, implementing corporate policies, and more. She currently works for Intellisoft, being part of its marketing dept.