Offshoring has become a winning solution for many IT startups. As statistics show, 54% of all companies use third-party support teams. Organizations invested more than $75 billion in offshore outsourcing security last year.
Offshoring has helped reduce labor costs significantly while expanding business opportunities. A company that attracts offshore employees benefits in many ways: it attracts competent and involved specialists, gains a variety of experience, and moves to the international market. All this happens with the right offshoring when you have chosen the right direction and favorable conditions. This blog will provide the answers to such questions as, "What is outsourcing and offshoring?" You'll also learn which areas are priorities, as well as how this team extension model will help your business.
Why Is IT Offshoring So Profitable?
The demand for intelligent IT professionals is growing. It makes no wonder that IT specialists demand up to 70% hike for switching jobs, turning down some offers. That's why companies experience an acute shortage of talented personnel who are challenging to find and even more hard to retain.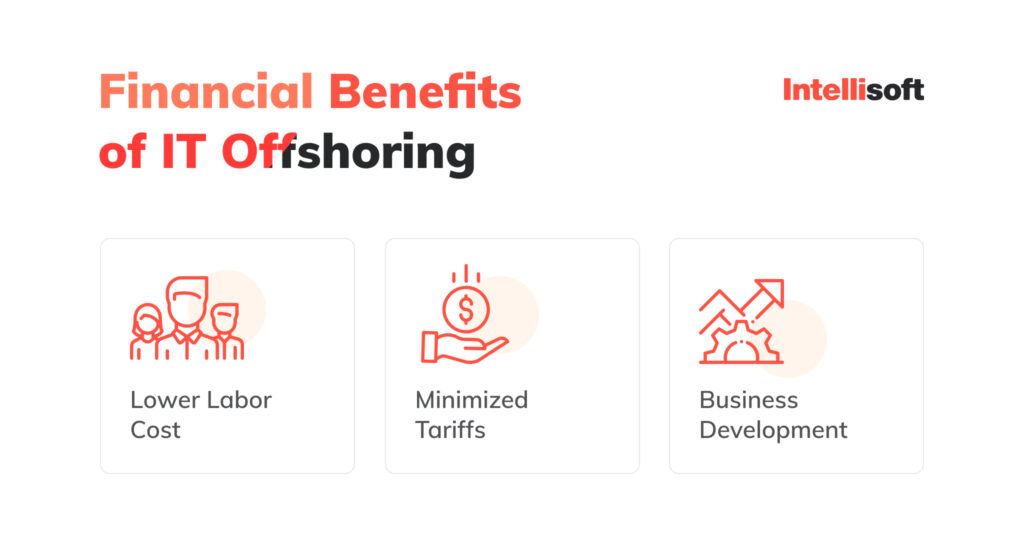 Outsourcing has become a solution for hundreds of startups, in particular IT offshoring. How can we define offshore outsourcing? It's the process of hiring overseas specialists for assigning business tasks, such as development, analytics, design, marketing tasks, etc. In the end, IT offshore has profound benefits:
Labor savings of 50% or more
Open access to a large pool of talented professionals
Fair value for money
Flexibility and ample opportunities for any IT activity
Simplification and acceleration of project development
This happens when you have chosen the right direction for offshore outsourcing. Earlier, the main criterion was cheapness, but today it is not enough just to select an IT specialist from a developing country simply because they ask for half of your compatriot rates. Judging by the 2021 market, today's startups are guided by five main things.
Cultural Comfort
It's about the cultural fit between the contractor and the customer. The practice shows that the further away from your performer's country, the more differences you have with your contractor, especially when it comes to language, mentality, and approaches to work. Research from LSA Global has shown that culturally aligned companies outperform their competitors by 40%.
We don't mean to look for the country as close as possible to you. However, to get the maximum advantages of offshoring, you need to take care of cultural consistency by:
Researching cultural differences
Making up the requirements and standards that your employee must meet
Seeking help from a cultural advisor to optimize your corporate environment
You must understand each other and have similar values and approaches to work — this pumps up your workflow.
Adherence to International Standards, Norms, & Regulations
This factor overlaps with the previous one a bit. However, if you are in a regulated business, choose only those offshoring and outsourcing service suppliers whose business policies and regulations are in the best interests of your company, not vice versa.
It might seem that international quality standards are the same for everyone, but, in fact, each country adheres to them in its way. In particular, it concerns:
General Data Protection Regulation
ePrivacy directives
Legislative norms
Copyright and other types of intellectual property (IP) protection
It has been noticed that such norms are implemented much responsibly in European countries.
So, coordination with IT specialists who work with the current quality standards will bring you maximum offshoring benefits, simplifying the lion's share of business processes.
Flexibility and Manageability
The software development market is rather dynamic, which means that your cooperation should also be like that. Now, global offshoring is acquiring the same character, which significantly contributes to the mutual development of a startup and a service provider. The bottom line is simple: look for an engineer who is capable of:
Working as fast as possible
Adapting to changes and trends
Observing and regulating deadlines
Following the recent technologies
The loyal work methods, like flexible schedules, online conferences, remote work, and other factors maximize the benefits of offshoring. They are increased efficiency, satisfied employees, and maximized revenues. Offshoring replaces the need to focus on administrative tasks and procedures, as well as reduces the time spent on projects and execution tasks, even if you are working with a small team.
Appropriate Technical Background
What is offshoring from a technical point of view? First, it is a constant, dynamic movement involving business calls, brainstorming, research, and communication with different professionals. To implement these solutions, you need a service provider who knows how to innovate and adapt to them. Experienced companies will always be able to keep track of current trends, as well as see the difference between promising and temporary innovations.
You will find such performers in countries that rely on technological investments. Also, pay attention to:
The interest of local IT giants in employees
How many large IT companies already have their research and development (R&D)
Starting price for offshore performers
These and other indicators determine the development of the technology market, and at the same time, the convenience of communication and cooperation with performers.
Wide Talent Pool
IT offshore outsourcing assumes different requests and tasks. Therefore, sometimes you may need to find another specialist with a different profile. For example, today, Java and PHP are successfully working in your state, and, in a couple of weeks, you will also need a Python specialist to implement your project. Thus, it is much more reasonable to create a team of diverse employees at once than look for a new employee every time, wasting time and resources on searches.
That is, you need a market with a large IT community and diverse areas that can satisfy a wide range of demands for work and technologies.
The Most Popular It Offshore Destinations
In response to the market trends, IT specialists all over the world offer their services. Some companies prefer to hire Asian workers; others argue that offshoring in Eastern Europe is optimal. Each region gives you its offshoring benefits and challenges.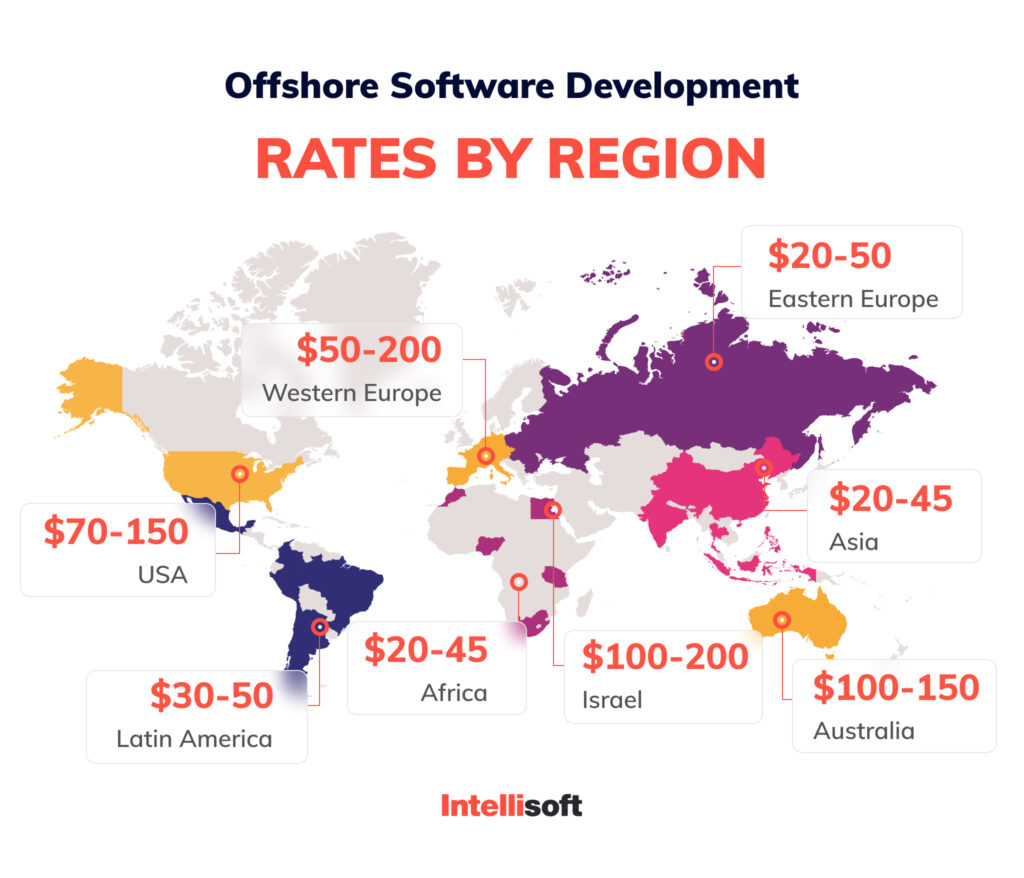 Eastern Europe
Many American and Western European companies are interested in attracting specialists from this region for many reasons. First of all, the local specialists have a decent commercial experience; they are executive, creative, and sell their services at adequate prices for favorable conditions.
Moreover, out of all other directions, Eastern European performers have a minimum of cultural differences with the US and Western Europe. Their mentality is much closer, so their approach to communication and tasks will be similar to yours. At the same time, you will pay such an employee much less than your compatriot.
Which country to choose depends on the tasks that you are going to entrust. For example, Ukrainian IT specialists are traditionally considered the best Python programmers, while PHP is Poland's most widespread program language.
Asia
If you are interested in maximum savings on labor resources, Asia is just what you need. India is a favorite country of entrepreneurs because it offers the cheapest labor. The total hourly price of local specialists in Vietnam does not exceed $30, while in Poland, for example, specialists receive at least $50.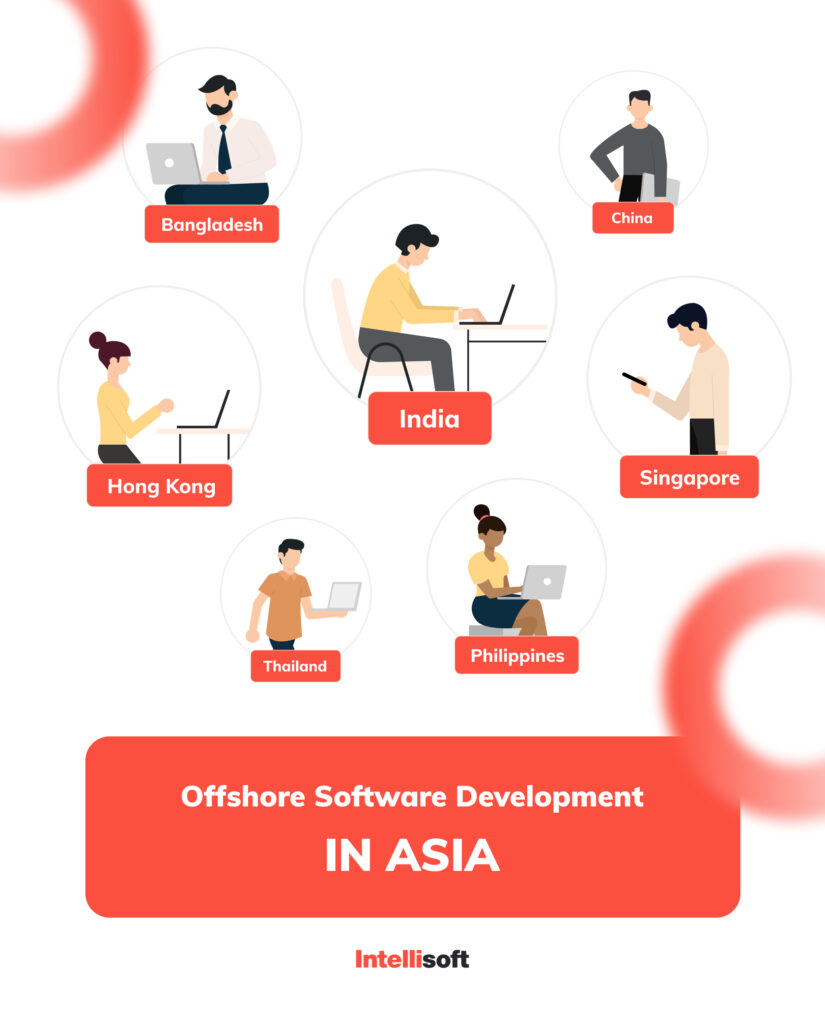 The main disadvantages of this option are possibly low quality, considerable differences in time zones, and significant cultural differences. On the other hand, the Asian region has a massive pool of IT professionals, roughly 10 million.
Latin America
This region shows the growth of the IT industry and is becoming one of the most preferred destinations. Specialists become more competent, and they demand 30-55 USD per hour. Given the geographic location, such a type of outsourcing eliminates the problems of different time zones because of the close location to the US. The most popular countries for offshoring from Latin America are: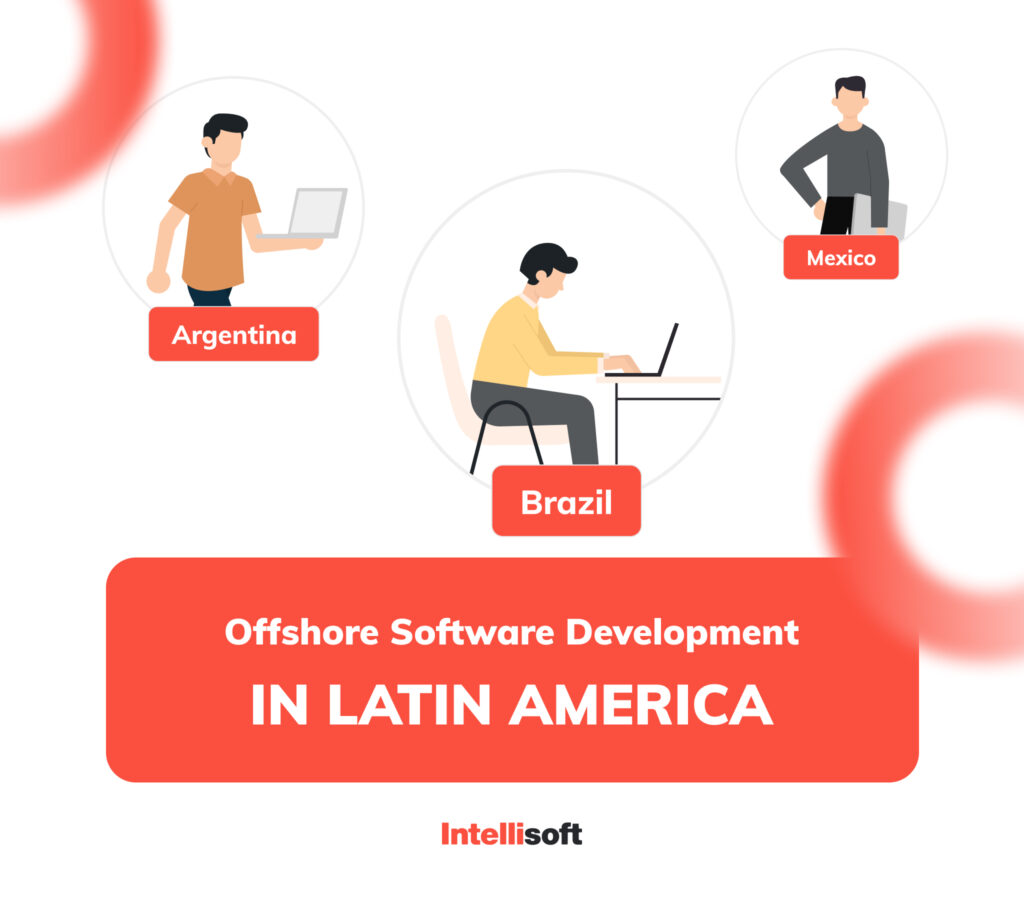 Also, advanced IT specialists can be found in Costa Rica, Peru, Panama, and Colombia. Many offshore companies in these countries are focused on cooperating with North American startups, taking into account their interests and requirements.
Africa
The hottest point on the planet is also associated with the lowest labor prices. North Africa, of course, corresponds to this opinion: experts from Egypt, Morocco, and Kenya demand $20 per hour, and sometimes less, but, in Nigeria and South Africa, rates increase significantly: $40-50.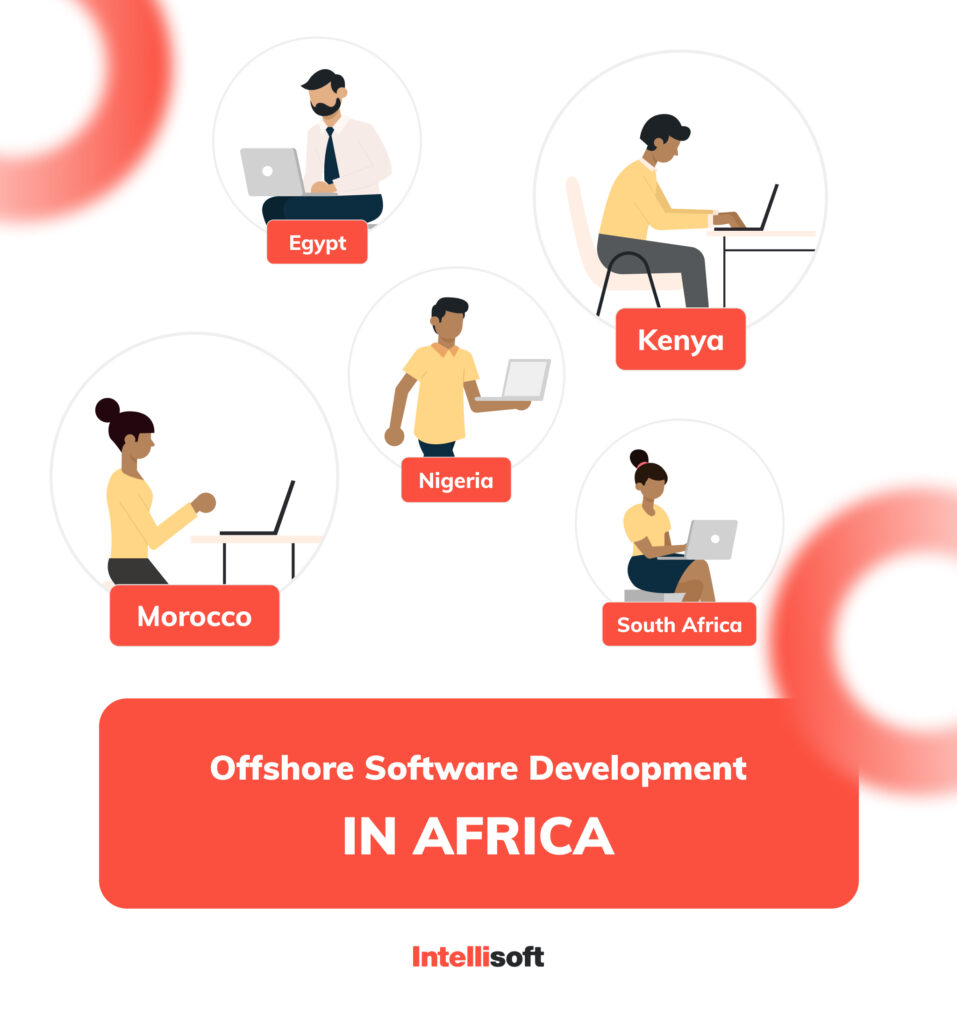 Final Thoughts
IT offshoring is developing rapidly. What are outsourcing and offshoring? Yesterday, the definition was hiring a cheap specialist from a developing country; today, everything is somewhat more complicated. For successful cooperation, you need to take into account many factors:
The right choice of destination & time zone
Cultural coherence and communication barriers
Market research and analysis
Optimization of processes
Search for the talent pool
The right strategy determines the success of your business. You can simplify your search for talent and comfort simply by trusting our specialists. We offer affordable prices, loyal conditions, an all-time expanding pool of IT experts, and more. We'll take care of your project from A to Z.
How to choose a perfect IT offshoring destination?
Look for the most suitable destination for offshoring. Eastern Europe is currently considered the best option.
Select a minimum of three BPO organizations to choose from. Except for their services and fees, mind the legitimate aspects.
Check both price and quality. Based on the previous works of a provider, decide whether the quality corresponds to the price. Can it be justified? Does it fit your budget? Sometimes, it is possible to request a trial run of services.
Ensure flexibility and manageability. Your cooperation should be dynamic just like the app development market. International offshoring is acquiring the same character, which contributes to the mutual development of both services providers and startups.
Establish communication with your offshoring partner. During the negotiations, decide on the goals you want to achieve. Discuss the results you expect at the end of your cooperation. Set up clear KPIs and make sure that the selected team can meet all of your requirements.