So you decided to hire outsourcing developers for your project. That's an excellent opportunity for your business to save money on in-house hiring. On the other hand, working with outsourcing software developers might be tricky, and there are several reasons for that. Those reasons include different time zones, several working models, etc.
The IntelliSoft team has provided software outsourcing services since 2007 and has served clients from Nordic countries, including the U.S. and Western Europe. You can check out our projects in our portfolio at the link. What is unique about IntelliSoft? We have become a reliable tech partner for our clients. How? Well, it's all about the transparency and terms we specified in the contract. This way, we created the right expectations for clients and dev teams.
If you need guidance on signing a contract with an outsourcing agency, you are in the right place. This article contains handy tips about outsourcing working models, how they differ, and other contract details that will help you to create transparency with our outsourcing team.
What Is an Outsourcing Contract?
The question of what an outsourcing contract is is bound to enter your mind in case you plan to hire some external IT experts. To define this term, we may consider the following definition,
An outsourcing contract is a legal doc that contains all the details of what you're expecting from the outsourcing agency. This document is signed upon by both partners, the vendor and the client."
In addition to requirements, the contract includes data concerning intervals of time, prices, quality features, etc. This document contains the legal problems that might occur, such as intellectual property (IP) concerns, protection of confidential information (NDA agreement), etc.
Why is this agreement important? An outsourcing contract defends your investment and defines how to pay third parties involved. Even though most outsourcing agencies have a contract like that with detailed terms and conditions, you can change it during your negotiations. Look these docs over with your legal counsel before accepting the terms of the partner.
The Different Types of Outsourcing Contracts
All of the outsourcing contracts are similar by their nature, but the details are different based on your requirements and goals. Without further ado, let's move on, studying various types of such contracts.
Time and Material (T&M)
If the software that has to be developed is a long-term project, this type of contract will do. The thing is that it's hard to calculate the required time and budget ahead. T&M agreement acts based on the IT services and time it might take to finish the product. The main benefit of this contract is that it adds to the flexibility. It ends only after the entire project is done. These are the reasons to pick this type of contract:
In case emerging tech solutions are needed to work on the software.
In case flexibility is the priority.
In case the idea sounds too innovative and it's a challenge to estimate anything in advance.
In case identifying the project's scope is impossible.
In case you wish to obtain control over the software.

Dedicated Team (DT)
If you decide to hire a specialized dedicated team to work on your product. This model is a perfect option for companies that want someone to work on nothing else but your development project. To sign this type of contract, it's necessary to determine requirements and goals. You can use such a team as your extended internal team. It's possible to select different engagement models, depending on how important communication is.
It is not vital to specify the exit strategy as such co-operation usually means a long-lasting, productive partnership. Once one project is done, often, clients keep on ordering other projects. This contract might be the right one for you in several cases:
A long-term relationship with the development team.
A project is rather complex.
Modifications are often required.
A demand for experts who would work solely on your project.
A need to obtain control over the offshore teams and tasks.

Fixed Pricing
A managed project outsourcing contract takes place when the outsourcing agency and client company place a bid on the same. Both sides should specify all requirements in the RFP along with the budget. In this case, the price is fixed. A client should pay for a certain type of service.
This type of agreement reduces the level of client's responsibility and involvement. A project manager offered by the outsourcing agency takes care of the entire process. This person also makes sure that everything is done on time. Most often, fixed pricing contracts are used for IT outsourcing services. All an outsourcing agency needs is a clear view of what a client expects from the partnership. You can benefit from choosing this agreement if:
Your project needs a relatively small time-frame.
You know what you are looking for and can describe it in detail.
You do not worry about passing the full control to the project manager from an outsourcing company.
The project is simple to carry out/does not require too many changes.

Components of the Contract: Services Rendered
Start from specifying the services or products you expect to receive from the outsourced team. It can be anything from design alone to a fully functional software. This part is created based on what you need and the company is ready to provide.
In case the team is doing a plethora of things, it might be a challenge. However, this section is a must-have to start the cooperation and stay on the same wave. It is the first thing to describe after the short intro. The client side should also list the deliverables the agency will be liable for along with the service description.
You may also add a service level agreement (SLA) in this section or as a separate part. This one sets a benchmark for the service quality that the organization would be suggesting. SLA also assists with motivating the outsourced teams and meeting your business requirements.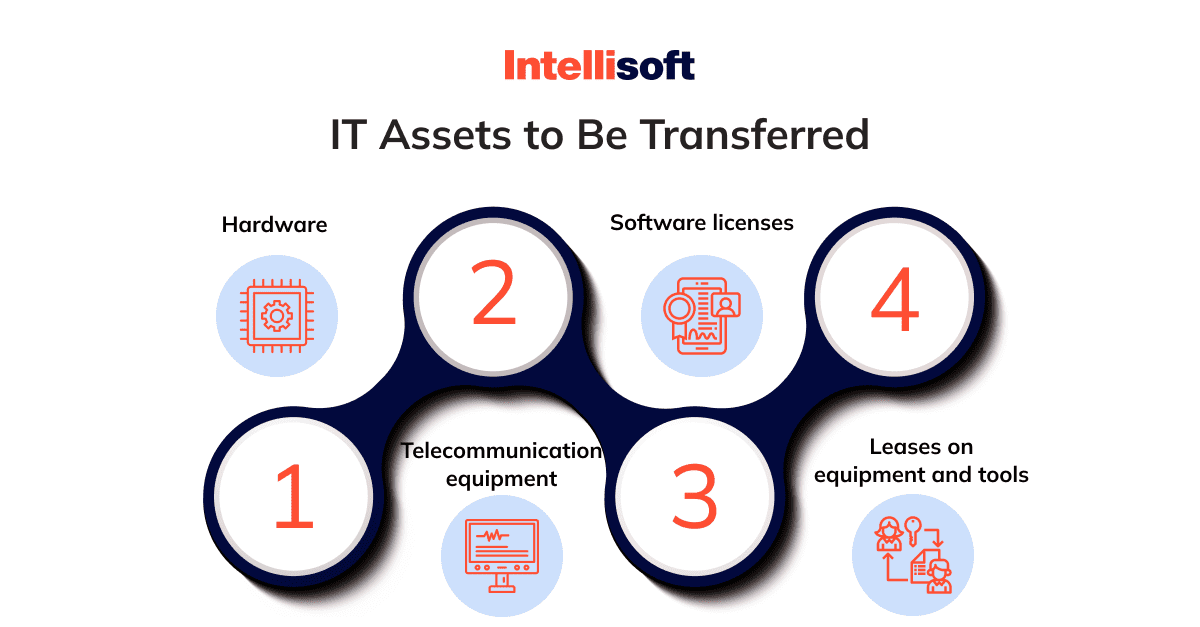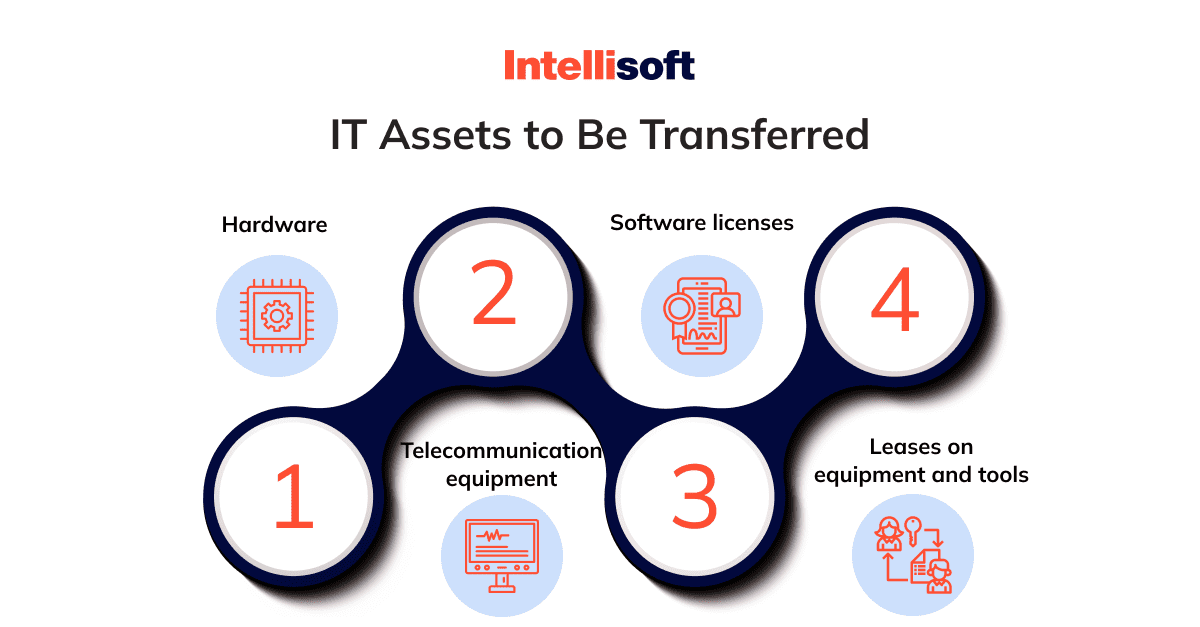 After conducting the agreement, the client side will have to transfer different IT assets under certain conditions. Those are:
Hardware
Telecommunication equipment
Software licenses
Leases on equipment and tools
Moving assets between various companies should be well-protected. It is one of the most responsible steps. It is vital to specify licensing fees and any additional costs that might occur during the process. Check whether your agreement is comprehensive of all such transferring fees.
Related readings:
Components of the Contract: Payroll
The next thing to discuss is how the party will receive the payment for the work done. Think about whether the outsourced developers are under a retainer where they get paid for N number of tasks over the specific number of months or will be getting lump sums over the course of the project based on the deliverables.
In this invoice section, make sure that you list such details as parts of the project done, price for it, and how the developers will get their rewards.
Components of the Contract: Project Guarantee
Different threats related to outsourcing are known, and it's necessary to have certain guarantees. In case the provider breaches the contract, it will help to avoid many risks. It does not mean that you should be very suspicious. However, ensuring the possible scenarios and preventing the worst of them is crucial, especially when dealing with offshore development teams that are located too far from you.
Components of the Contract: Terms & Conditions
The next one is the bread and butter of the doc. To protect your specific project and entire business, you should take this section seriously. Some nitty-gritty details might be rather confusing. Here is what you should briefly describe in this part:
Deliverable ownership. Most often, the client owns all deliverables, but there can be some exceptions.
Retained rights. It is the right place to describe pre-existing intellectual property that belongs to each party. The section also explains what kind of rights the partners will hold to their IP developed earlier. Both sides should incorporate outsourcing due diligence. You can protect your software IP in several ways: copyright, trademark, trade secret, or patent protection and application.
No rights to client IP. That is where it is stated that the third party won't retain any IP from their clients despite the last one allowing them to use this intellectual property to accomplish the agreement.
Conflict of interest statement. This one is needed just to make sure that some tricky points will be avoided.
Non-disclosure. Usually, this one contains the basic info and the right to disclose. This part covers the way data can be doled out to the public.
Confidential info. This part can have a staggering amount of legalese in it. Both parties, the contractors and contractee, should take this section very seriously.
Pre-existing IP. This piggy-backs off the initial section, basically defining what software intellectual property is and how to protect it.
Termination. Who knows how far it may get and whether you may want to terminate the contract. This part should contain all the details and conditions in case one of the parties would like to quit before the project's end.
Provider compliance. It is the last obligatory section to include in the agreement. This compliance ensures that the outsourcing agency won't infringe upon patents and accomplish the project at the premium level, following all laws and regulations.
Still, you may need professional help from the legal expert. It is way safer to trust this part to lawyers and discuss every step with outsourced development teams to avoid conflicts in the future.
Should I Add Anything Else?
Right, there are some optional sections. If you have a serious, long-term project, we recommend including as many sections as possible. Just after the previous part, come up with such sections as:
Insurance
Inspection/Acceptance
Misc
Governing law and regulations
Severability
Force majeure
Signature area
Closing Notes
Summary
IT outsourcing contracts in the easiest terms shield all organization owners from negative circumstances that can result from a partnership with an outsourced team. Those are legal docs that include all the details of what both the hiring company and the outsourcing agency expect to get. The information to be included contains detailed project description, tasks, quality expectations, schedules, costs, etc.
To sign the agreement between two parties in a win-win manner and avoid problems in the future, find a reliable outsourcing partner like Intellisoft. If you contact us today, we'll explain how we can help and discuss all the nuances of our outsourcing contract. Oh, and one more thing: we'll find the best field experts for your development project for sure!