Do you feel anxiety because you are software-reliant in a fast-paced developing environment? Would you like to secure its performance? Are you planning to enhance your developing capacity for larger projects? You may already be thinking about outsourcing teams.
According to Statista, consulting in the technology or IT-sphere accounts for the largest share in total sales of professional services worldwide. It reached 34.6 percent in 2020. Staff augmentation was 6.3 percent in 2020 and still rising. Plenty of businesses have already made their choice. It's time for you. Which collaboration model will suit your project best? In this post, we'll consider the two most common solutions: team extension vs dedicated development team. How do they work?
Look at this example. To respond to market needs, a successful offline business plans to expand online. It has to support an existing chain of stores and increase its market share. As they lack expertise and headcount for a new e-commerce platform, they hire a dedicated development team.
The client continues to do his best in his niche. Whereas his vendor's team of developers takes care of e-store development on Shopify. It includes SEO, UI/UX optimization, custom integrations of payment gateways, and plugins. As a result, cool designs and functionalities made his e-commerce store customer-friendly. It allowed him to generate more revenues with higher conversion rates.
Another case is a software-reliant and technology-driven business. A financial services company needs team extension for a certain piece of work. It tackles security and code quality issues of their current web app. An extended team deals with R&D, DevOps, UX design corrections, QA, integrations, and custom configurations. Quick beneficial deliverables helped this company to keep its market position.
The IT outsourcing segment stood for approximately US $360 billion in revenue in 2021, with an annual growth rate of 8.8 percent, as reported by Statista. The segment is growing fast. Don't lose your chance to exploit popular outsourcing options among startups and enterprises. Let's look at both dedicated team and extension models in detail. It will help you choose the best collaboration model in outsourcing software.
Models of Collaboration in Outsourcing Software
Team Extension Model (TEM) – you augment your in-house IT department with one or several developers. It will fill gaps in tech expertise and skill set for a quick fix or long-term collaboration.
Team extension or another term, staff augmentation, implies that an extended team works with your IT, like your employees. Businesses with small and middle-sized projects benefit the most from extension model collaboration. Required experts complement your in-house team as an external hire. They sign Time and Materials contracts.
Dedicated Development Team (DDT) – you hire a dedicated team from an outsourcing vendor. You transfer your project to this highly-qualified self-managed entity.
Large-scale projects are best for a dedicated team model. Complete cycle software product development from scratch will gain a lot too. Compared to an extended team, a dedicated software team covers a far more comprehensive range of services. They include front-end/ back-end development, UX, UI design, QA, project management (PM), business analysis (BA), maintenance, tech support. It provides broader and deeper involvement of your outsourcing partner, leaving more freedom for you.
Vendors are usually more interested in this collaboration model. They can show them up delivering the best possible outcomes. Still, service providers buy office supplies, hardware, and software licenses. They deal with staff training, motivation, and many more.
Related readings: 
How to Sign a Contract with an IT Outsourcing Agency
Remote Development Team Structure in a Nutshell
What Is Nearshore Outsourcing in Software Development?
Team Extension Model in Details
By applying TEM, you are always in charge of selecting and vetting processes. You pick proper candidates with the required expertise, skillset, and previous commercial record. Compared to a DDT model, with an extended team, you collaborate closer. It feels like individual direct communication rather than at a team level.
Newly-hired developers complement your existing team. They blend with a general atmosphere, motivation, and engagement. It helps you feel a tight grip on the workflow and project as a whole. Newcomers act as a part of your team, not as a separate group. You have direct total control, distribute tasks, communicate, track performance.
So, both internal and external programmers are responsible, engaged, and motivated. They deliver the best potential outcomes for your project. Plus, fresh blood can increase your team spirit and encourage professional growth. TEM is a wonderful opportunity to share experiences and develop your employees.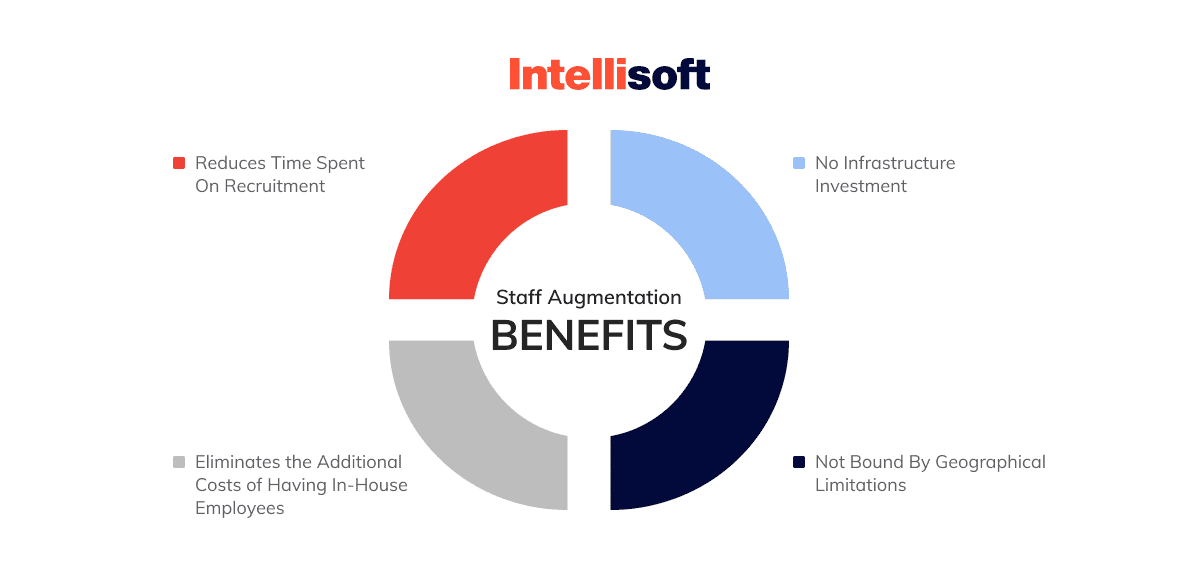 TEM Benefits:
Total control over workflow
Direct tight communication
Straight task allocation among both internal and offshore team members
Keeping strategic players, competencies, team core in-house
Winning time for speedy onboarding and development processes
An easy response to project needs with a vast talent pool possessing proper expertise and qualifications
Higher levels of engagement and motivation
New challenges with growth opportunities for your IT department
Dedicated Development Team Details
An outstanding feature of dedicated software teams is their efficiency. You receive much freedom for your operational activities. You don't waste time on hiring procedures. Due to plenty of experience, your vendor can build a professional team in several days according to your project's scale and needs. Your only trouble is to confirm your team composition. You don't bother with a bulk of details, like qualifications, skill set, previous experience.
Now your outsourcing team is ready to rush into the working process. It almost omits an adaptation period. It often works together with an in-house staff on versatile projects, getting used to each other, and demonstrates fast pace and highly-efficient performance. The most valuable advantage you gain here is your time.
Other privileges you get with a dedicated development team model are flexibility and cost-saving. Flexible engagement allows you to adjust your team composition on different stages. It means the headcount isn't fixed for your contract duration. You can rotate developers out or in again, as well as reinforce the team when needed, saving costs.
In some crises, you can roll up development capacity for a month or two. Several developers can do key steps or maintain an existing app. When conditions are favorable, you can extend to work at full capacity and speed up.
You may feel uncomfortable with less control over the development process. If you have a project manager (PM) from your company, it's easier to keep in touch and supervise the workflow. Externally hired PMs are far more experienced. In case you don't hire a PM at all, assign a responsible employee. He will be a contact person and cover all communication and managerial difficulties.
Hiring a whole dedicated team implies a ready self-managed group of professionals. They have established guidelines, rules, and working procedures. Such an approach ensures effective performance and helps reach goals with minimal resources. Software services providers have huge portfolios with similar cases.
They can boast a well-established working process, best practices, and outstanding outcomes. You enjoy professional estimation of your actual needs, risks, and opportunities. Yet, trustworthy relations with your partner are a necessary condition of your future success. Integration depth differs a lot in dedicated development team vs team extension models. The latter means providing a required number of specialists of a certain level.
This partnership is rather shallow. In extended teams, you may need to address an expert. He will estimate the needed number of developers, qualifications, skillset, and expertise. This expert can be a person on your or vendor's side. Otherwise, the kick-off process may lead to time and cost losses.
In dedicated software teams, vendors do all estimation work to offer you the best-personalized solution. They determine scope, functionalities, avoiding subjective opinions in developers' selection.
In a dedicated team model, penetration is more profound. Yet, extended developers may not be aware of your products, business structure, or niche peculiarities. They may find it hard to be as active and creative contributors to your project as your own IT staff.
No doubt, whatever model you pick up, a reliable software outsourcing partner like Intellisoft will always find an individual way to help you stand out from your rivals. We win if you win.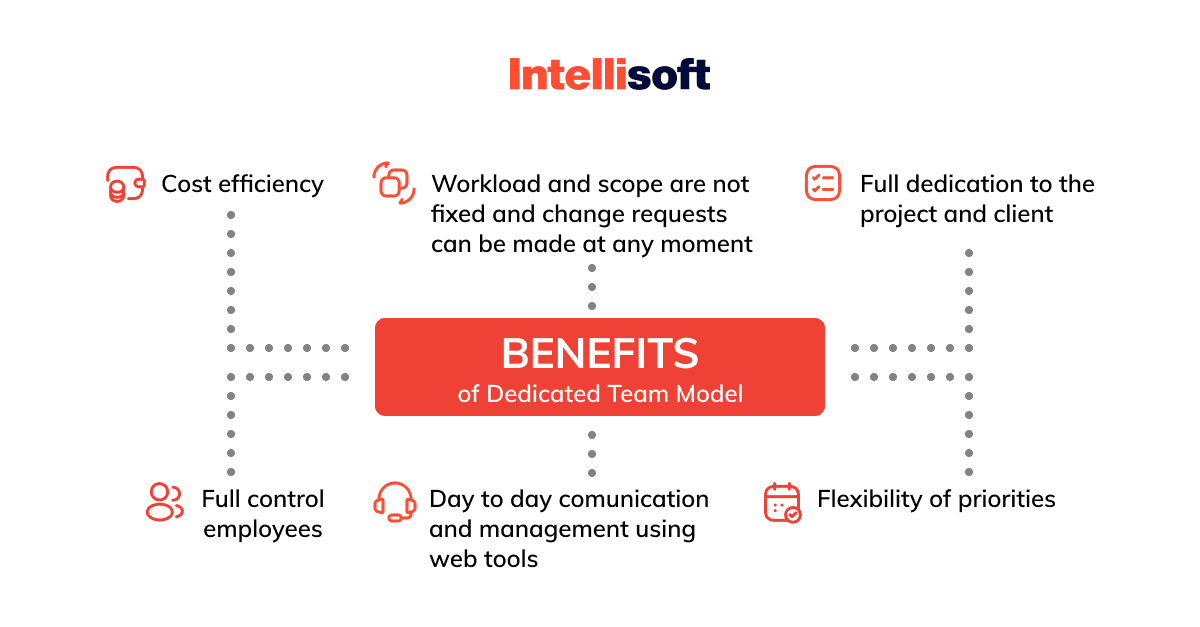 DDT Benefits:
Outstanding efficiency
A unique combination of top-notch quality with time and cost savings
Easy kickoff as your partner will make up a team or substitute members when needed
Focus on your core business expansion. Delegating responsibilities like management, staff motivation, quality control, and deliverables
The flexibility of team composition and headcount
Ready well-established working process with implemented best practices
Substantial relevant experience with similar cases
Professional estimation of your real needs through deep integration into your business
Greater contributions due to creative initiative position of developers
For clear vision, use this comparison table.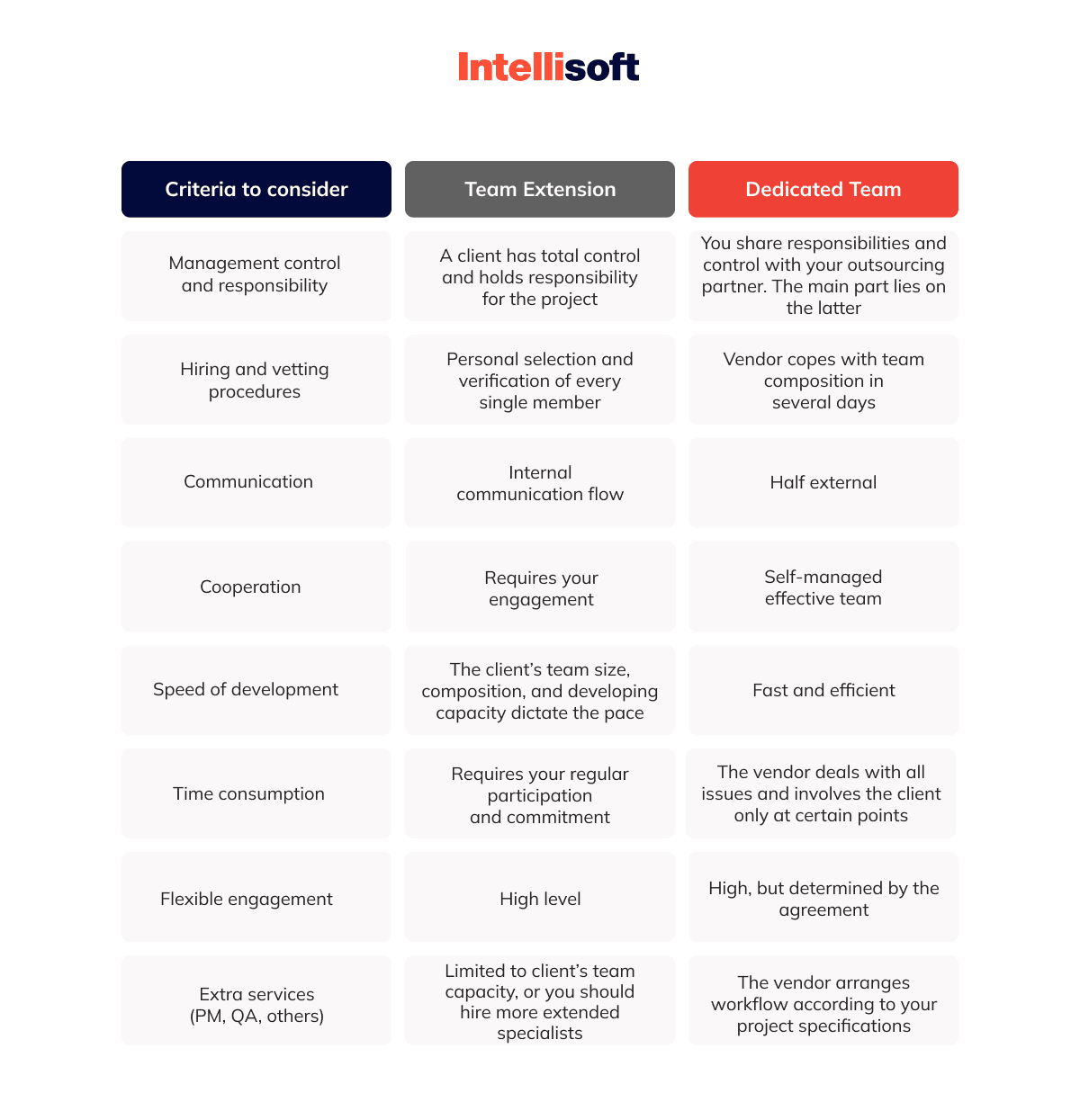 A Guide to Integrating TEM and DDT into Your Company
Looking at those models in detail, you already understand which one is for you. Still, some questions may be circulating in your head. Follow our tips to integrate each model without trouble.
TEM Integration Guidelines:
Step 1: Investigate and plan
Address an expert to get professional help, especially with large-scale projects. What amount of extra staff do you need? Specify required skill set, qualifications, expertise. It will ease your selection process a lot. You may always ask your vendor for help.
Step 2: Involve your team in the vetting process
Your employees will work with potential developers. They may add useful ideas to the general picture.
Step 3: Allow time to adapt
Having lots of experience on other projects, newly hired developers still need several days. They will incorporate with your team and study your project details.
Step 4: Adjust existing workflow
Now, you have to make some changes in your management style and company culture. Create new communication channels and working tools. Develop an effective TEM introduction strategy and act. This simple preparation will shorten an adaptation period. Your team will deliver better outputs faster.
DDT Integration Guidelines: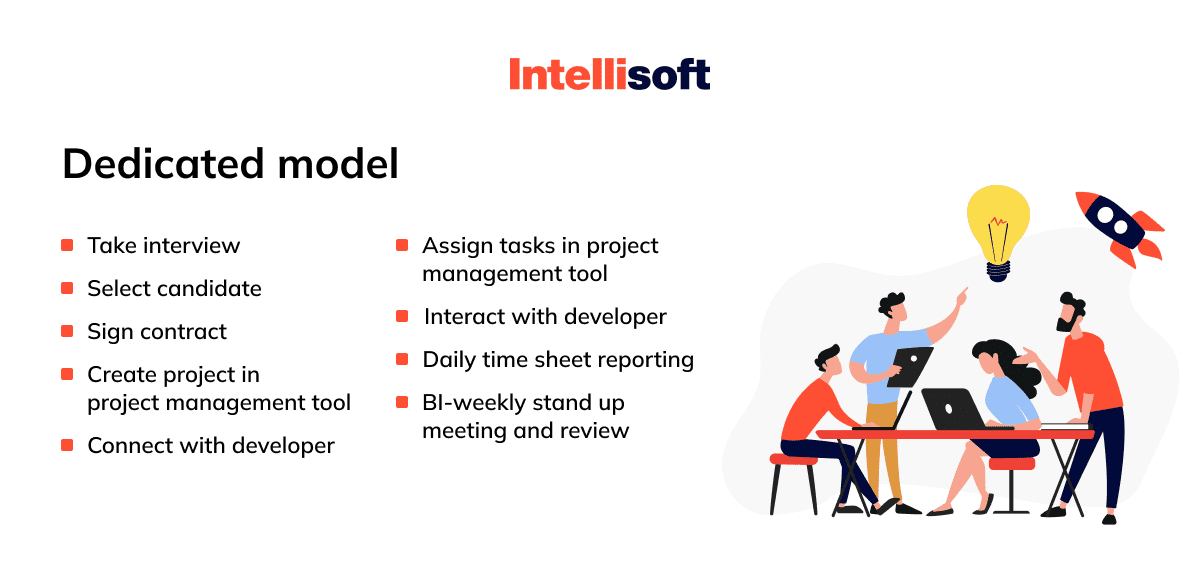 Step 1: Brainstorm the priorities
With your team, rank work tasks, challenges, and projects. Identify your needs, work volume for DDT, which projects your staff wants to focus and what exactly do they expect. Such a brainstorming session will simplify the right dedicated team selection.
Step 2: Surf the web and study before shortlisting candidates
Plenty of staff augmentation companies are ready to sell dictated team services. If you feel confused, concentrate on their previous similar cases and client testimonials. Check relevant expertise in your industry. Note that well-established market players feature better flexibility and respond to emergencies. If you are short of time and speed to market is a top priority along with high-quality code, choose bigger trustworthy providers.
Step 3: Negotiate and interview
With video conferencing tools, check your working compatibility. Pay attention to business ethics and management style. Discuss cost estimations, flexible engagement, and references.
Final Thoughts
To make a long story short, TEM is the best fit for your IT department reinforcement. This way, you keep strategic expertise in-house. The introduction phase may be quite challenging. It takes more time to return on investment. Whereas a DDT model ensures speedy project completion. A professional self-managed team will take over your project, allowing you freedom for your core business. Collaboration costs are pretty much the same. First, consider project needs, in-house team development capacity, and your expectations.
To get rid of overwhelming doubts, receive professional help. Contact now to get outstanding personalized service with Intellisoft. Our experts will recommend the best possible scenario during a free consultation. We always take into account your project specifications, tech challenges, allocated time and budget, level of flexibility.