Despite the various events affecting the labor market, there are more and more job offers here every year, but the number of job seekers is falling.
This trend suggests that businesses need to become more and more creative when looking for qualified personnel. Logically, BPO based on the nearshoring model can be rescued here.
Nearshoring definition is simple. It is a type of outsourcing that intensively develops and grows in larger volumes every year. The name of this model suggests that the capacities of vendors or subcontractors are deployed in top software outsourcing countries adjacent to the land of the corporation's base or located nearby, usually at most 2 hours flight away at most.
What is business process outsourcing? Business process outsourcing is a type of outsourcing that facilitates the functioning of the company's back office and front office. Recently, this form of cooperation has developed most intensively in IT.
Intellisoft has considerable experience with BPO since 2007. We offer outstaffing services, dedicated teams, and staff augmentation in legal, medical, and logistics, as well as in MarTech, EdTech, and IoT industries.
The Problem of Shrinking Talent Pools
In 2021-22, according to the Forbes magazine, the number of IT jobs increased by 81% while the number of applicants decreased by 39%. Thus, to fulfill their responsibilities, Human Resources departments have to be very sophisticated.
But there is a way out. We are talking about outsourcing, specifically, that part of it called BPO – or business process outsourcing. What is BPO? As we know, outsourcing can be divided geographically into onshoring, nearshoring, and offshoring. We recently published an article about this.
The first variety will save you almost no money but will strengthen the local economy. The latter is the most popular but has some disadvantages. In the context of shrinking talent pools, nearshoring is the best option for a company that wants to reduce costs without losing quality of work.
What Is Outsourcing?
In 2019, analytics estimated the size of the global market for outsourcing services at 92.5 billion US dollars, an increase of about 7 billion US dollars compared to 2018.
And already in 2021, the outsourcing market volume was estimated at about 250 billion. According to forecasts, it will receive an increase of 9% every year in the next decade.
America is the largest region. Here, in the USA and Canada, the most significant number of companies order services and production of goods to their vendors and subcontractors.
Last year the median annual salary for a worker in this field in the United States was $91,100. The global BPO industry generated $26 billion in revenue in 2019.
Why Do Companies Outsource?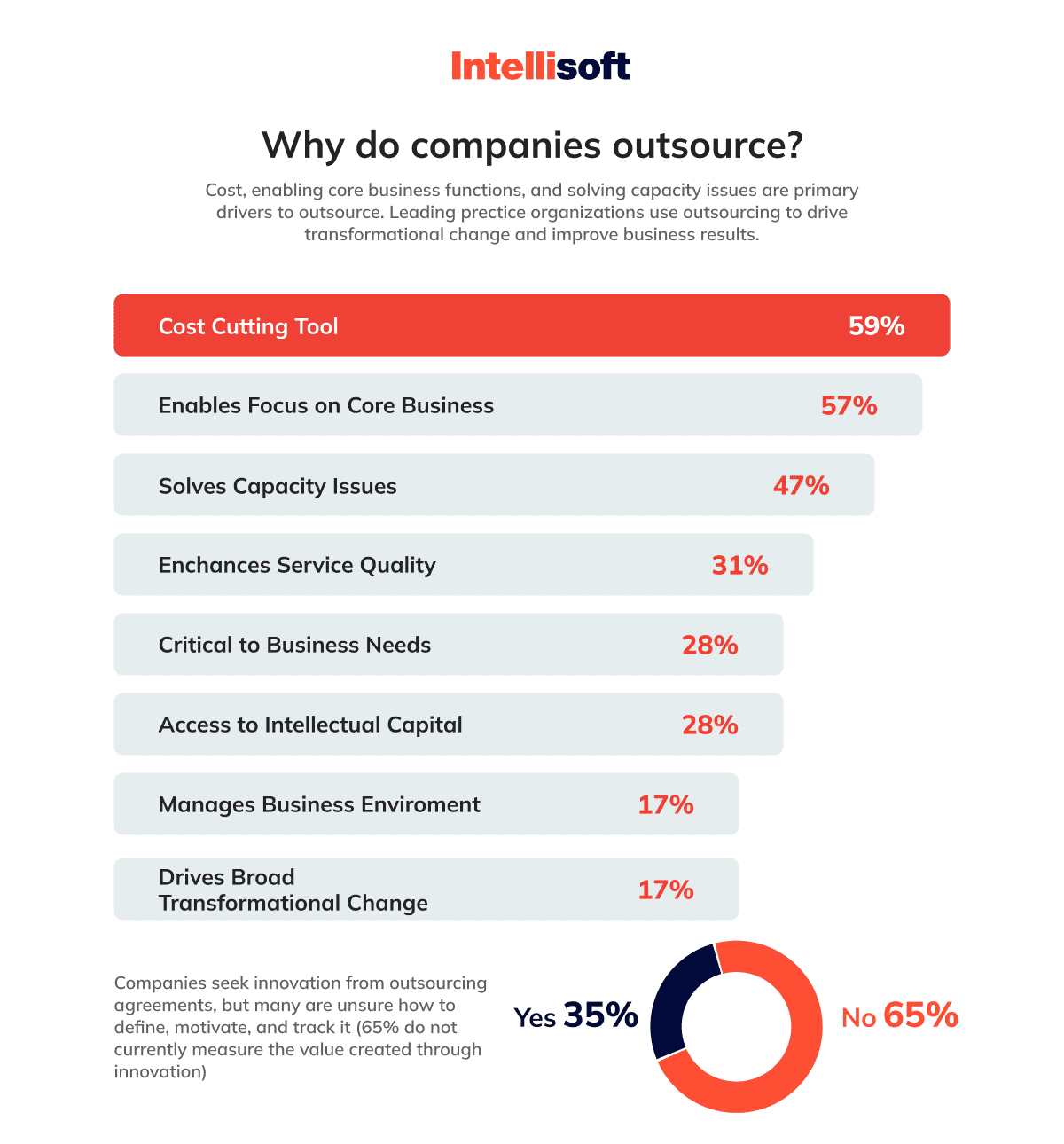 59% of companies named cost reduction as a driver of outsourcing processes. Among other reasons:
Enabling focus on core business (57%)
Solving capacity issues (47%)
Enhancing service quality (31%), critical to business needs (28%)
Accessing intellectual capital (28%)
Managing business environments (17%)
Driving broader transformational change (17%)
Another type of this phenomenon, along with BPO, is information technology outsourcing (ITO). In 2019, global ITO revenue was $66.5 billion.
What Is Nearshore Outsourcing?
What is a BPO company? Nearshore outsourcing company is a type of subcontracting company in which the vendor receiving the contract from the company is located in a neighboring country or countries.
For example, nearshoring for the USA and Canada is Mexico, but if we are talking about the work of subcontractors from India for the Americans, then this is already offshoring. And if your contractor is located in the same country as you, this is called onshoring.
Nearshore vs Onshore vs Offshore: Is There a Difference?
Some back-office functions are usually outsourced, as well as a significant portion of the front office. So, in the first case, we are talking about developing non-core IT solutions, payment processing, accounting activities, regulatory compliance, personnel issues, and the work of the QA department.
In the second – marketing activities, Public Relations issues, technical support, partly Government Relations (but this is purely onshoring), and sales. Almost all the functions listed above are critical for the company.
So, when choosing an outsourcing model, offshoring is as weak as onshoring – above, we wrote about cost savings as the primary motive for turning to outsourcing.
D-A-CH Region Companies Choose Nearshore Outsourcing For Over 75% Of Software Development Outsourcing Needs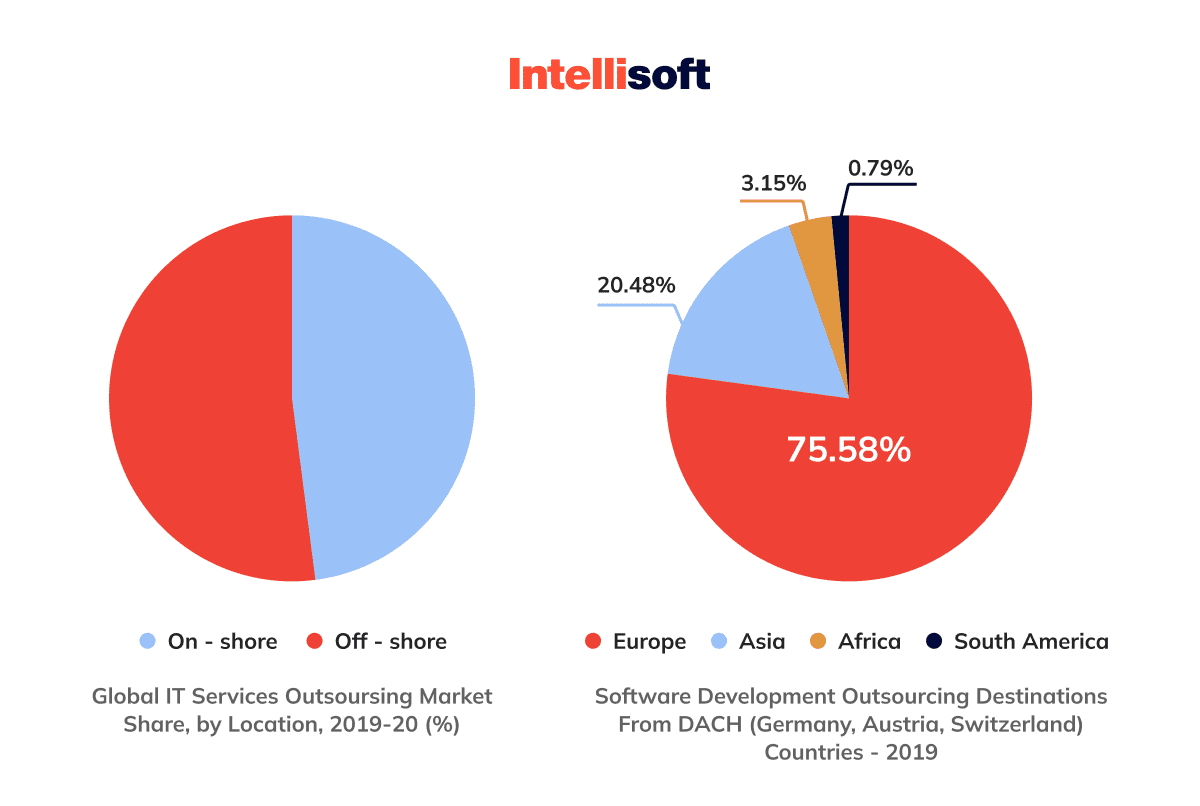 In the IT world, the ratio of offshoring to other types of outsourcing was approximately 54% to 46% in 2019.
As for companies in Central Europe, particularly the DASH region (Germany, Austria, and Switzerland), more than three-quarters of the outsourcers are from Europe. We have a vivid example of near-shoring (75.58%).
As for offshoring here, Asia accounts for 20.48%, Africa – 3.15%, and South America – 0.79%.
Cost Comparison Of Nearshore Outsourcing Destinations Compared To Offshore and Onshore (IT Roles)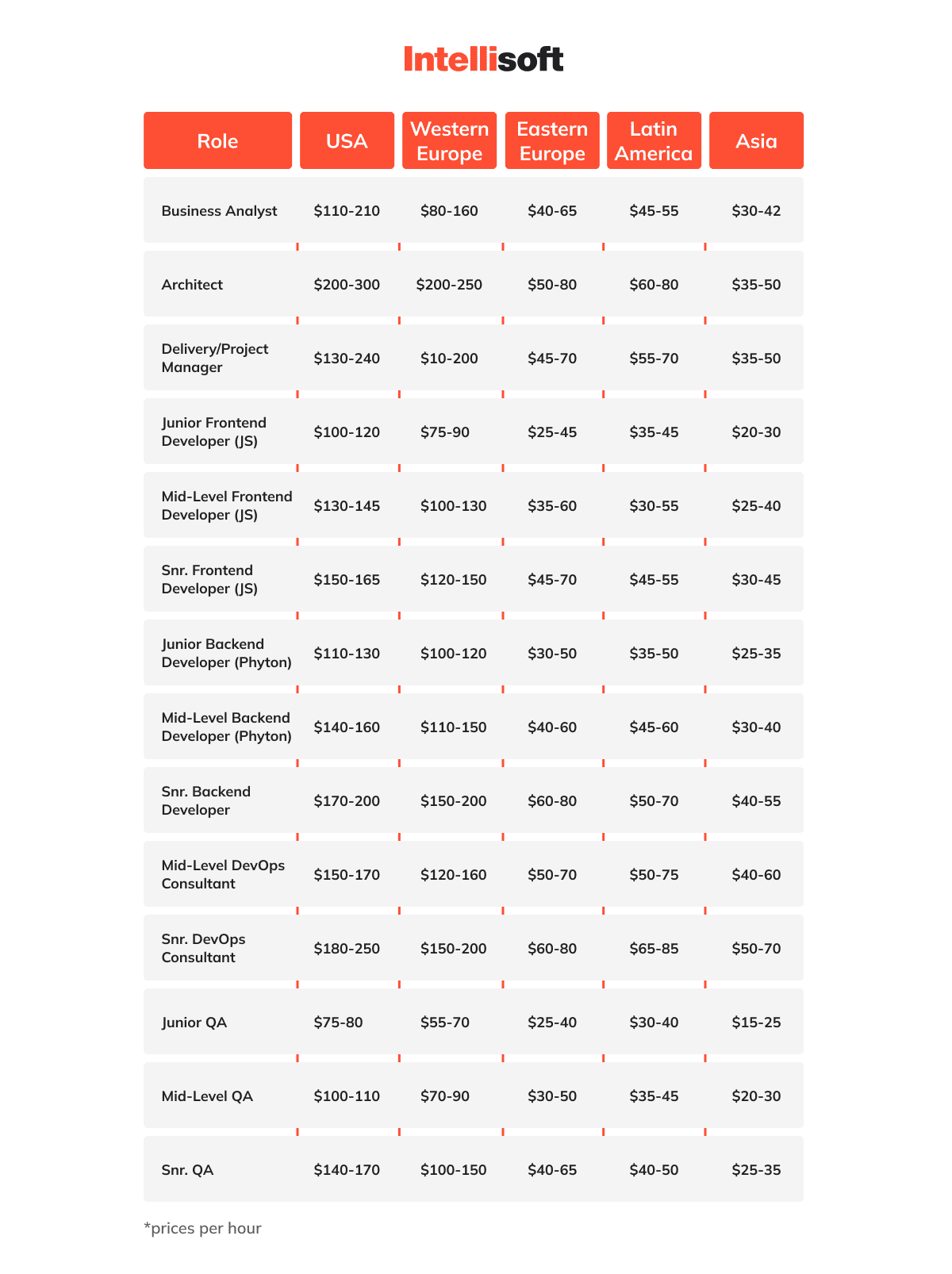 To understand how profitable this or that outsourcing model is, you just need to compare the hourly pay of different IT specialties in other regions of the Earth.
So, for example, take the numbers for 2020 — a senior back-end developer. In the US, an hour of this specialist's work costs $170-200 at the time. In Western Europe, the price is comparable – 150 – 200 dollars.
But in Eastern Europe, "only" 60 – 80 dollars. His Latin American counterpart received $50 – $70, and the Asian one between $40 and $55.
Strategic Advantages Of Nearshore Outsourcing
Lower costs
Low costs are indeed one of the key strategic advantages of Nearshoring. Reasons?
Economic efficiency. Labor and operating costs can vary significantly between countries due to differences in wage levels, taxes, and overheads.
Reduction of operating costs. It helps companies avoid expenses associated with infrastructure, office space, equipment, and other overheads.
Competitive prices. They can allow the client company to capture more market share and drive growth.
Access to qualified specialists. Nearshoring often provides access to a pool of skilled professionals at a fraction of the cost of hiring locally.
Focus on core competencies. The companies offload routine tasks and focus on value-added activities that drive innovation and growth.
Flexibility. This model provides scalability options, as companies can fast scale up based on demand fluctuations without worrying about hiring, training, or firing.
No fixed overheads
The absence of constant overhead costs (rent, utilities, equipment maintenance) will make your budget more efficient. This is why nearshoring firms often work on a variable cost model, where businesses pay only for the services they need. And companies can more accurately align their spending with their actual needs, resulting in greater cost efficiency.
Financial scalability and flexibility are especially valuable in industries with rapidly changing market conditions and seasonal fluctuations in demand. With the variable cost structure associated with outsourcing, businesses often have better budget predictability. They are usually easier to predict and manage than fixed overhead costs, which can be subject to unexpected fluctuations.
Outsourcers are specialists
What is a BPO? It is business processes outsourcing. It has become more and more popular. The statistic represents the size of the customer care BPO market in 2017 and 2018 and gives a forecast through 2027.
Statista says, the customer care BPO market is expected to grow to around 30.4 billion U.S. dollars by 2027. This is why your key to success is a pool of qualified professionals.
Client organization can focus on their core business
Focusing on core business means constant innovations search. Innovativeness involves:
Finding new solutions to existing problems
Using new opportunities
Getting ahead of competitors in the market
Innovations are not limited to technological breakthroughs, often covering various activity areas and company strategies.
Innovation is a multifaceted concept that involves both creativity and practical implementation. Companies that embrace innovation as a core principle are better positioned to thrive in the rapidly evolving business landscape.
Time zone compatibility
The operation of the parent company and the subcontractor in the same or adjacent time zones means several things.
It is a significant expansion of the hourly corridor for communication, while with offshoring, such time is reduced from 8-10 hours to a maximum of two.
In addition, this state of affairs allows you to plan work traditionally, which is very important in the "old" markets.
Professional culture compatibility
Nearshoring allows you to observe a very important thing: it is about a cultural community. And here it is important to understand that even Japanese corporations now subcontract a lot of work. For example, the IT-related BPO market in Japan was valued at 18,6 billions US dollars in 2021. Sales were forecast to grow steadily to more than 20,7 billions US dollars by 2026.
Language compatibility
As a rule, the companies developing the nearshoring model have never had problems with the language barrier. The intensive development of the IT sector in the Balkans, in the countries of Central and Eastern Europe, is in itself a strong and powerful driver for learning English, German, or French there. Therefore, there are usually very few problems with communication on this basis.
Onsite presence
The proximity of the country where the outsourcing company operates, with which your company has a long-term contract, significantly reduces the overhead costs for those management representatives who, on duty, must travel there on business trips. Therefore, nearshoring is more profitable than offshoring.
Compatibility of Legal & Tax Regimes
The issue of tax rates is part of the issue of economic costs and in nearshoring countries, this regime is much freer than in the United States. The same applies to the legal regime for ensuring the efficiency of the IT industry on outsourcing.
Ready to hire nearshore developers?
Hire now
How to master nearshore outsourcing
Successful onshoring requires diligence, focus, good communication, planning several steps, and a strategic decision to start subcontracting.
Define your needs
Before starting to prepare an outsourcing model for your company, sit down and write down a list of your needs that should be taken into account in the process of building this project. Once you have clearly articulated your goals and expectations for outsourcing, try to understand your pyramid of needs. For example, what is more important? Saving money or access to specific skills? Increasing production efficiency or capturing new market share?
Create a project estimate
After the rhetorical questions are over, you need to translate these elements of your vision into the language of numbers and money. What will be the scope of work? What KPIs, results, quality standards, deadlines, etc.? After that, write a document you will sign with your local partner later.
Document expectations in a comprehensive agreement to minimize misunderstandings. At the same time, a SWOT analysis is suitable for analyzing the situation, describing the project's strengths and weaknesses, opportunities, and threats. It also makes sense to develop strategies to mitigate potential problems. At the same time, you should be proactive – this will reduce the number of incidents in the future.
Research the nearshore country state
Researching a nearshoring country is a process that should continue. It requires adaptability, trust, cooperation, and commitment to shared success. Therefore, regularly assess the state of affairs and adjust the situation for the benefits of nearshore outsourcing and your business.
Listen to recommendations
After you have chosen the country, stop your selection of the specific vendor. By listening to the recommendations of proven people, select a team that matches your team's corporate culture, goals, and needs. But the main thing should be experience and a decent quality of products or services.
Select the right outsourcing partner
To start a relationship with the vendor, draw up a contract as specific as possible, which outlines the terms of validity, rights, and obligations of the parties. Be sure to make sure both parties clearly understand all legal and contractual aspects. Establish transparent and open communication channels with your subcontractor during the preparation process. Over time, regularly update this agreement, as well as challenges and expectations, to ensure the adequacy of partners.
Find out the data privacy and security of the company
Address data security and compliance from the start. Ensure your outsourcing partner complies with relevant data protection regulations and industry standards.
Investigate expertise
Don't spare money for a thorough inspection of your subcontractor because money is always money. At the same time, consider the cultural salinity of the nearshoring country. Promote cross-cultural understanding to avoid misunderstandings and improve relationships.
Discuss flexibility
Be flexible in your relationship. Treat your vendor as an extension of your team. Engage in team building regularly, developing productive and trusting working relationships. Have a budget for training your outsourcers. Over time, it will pay off handsomely because it will help ensure smooth adaptation, loyalty, and sustainable cooperation.
Read reviews
Be open to information about your subcontractor's activities. It may be able to save from unpleasant surprises. Be prepared to adapt to changes in your outsourcing arrangement because things change. Work in this area can begin with regular KPI implementation reporting and monitoring.
Define the specifics of the contract
Each problem has a name and surname. Therefore, appoint responsible people on both sides of the project and monitor progress by solving production and communication problems. Encourage a corporate culture of continuous improvement. Furthermore, identify areas for improvement and make changes to optimize results.
Ensure that all communication is kept clear and consistent
Use the flexibility of nearshoring to scale operations according to demand. It will allow you to respond effectively to changes in market conditions. If all communication channels are transparent and open, then partners will easily avoid the vast majority of problems on the way to success.
Related readings:

About

Kosta Mitrofanskiy

I have 25 years of hands-on experience in the IT and software development industry. During this period, I helped 50+ companies to gain a technological edge across different industries. I can help you with dedicated teams, hiring stand-alone developers, developing a product design and MVP for your healthcare, logistics, or IoT projects. If you have questions concerning our cooperation or need an NDA to sign, contact info@intellisoftware.net.