Say you are facing a challenge. Perhaps, you have a fresh concept for your start-upto try out or simply want to see how your software development team has been doing lately. Even if it appears to be simple on the surface, it may occasionally demand more than your knowledge.
A Chief Technology Officer (CTO) can fill this position at this point. The best technologies to deploy to effectively solve the problem are suggested by this specialist. One way to hire one is to turn to IntelliSoft for help.
IntelliSoft has years of hands-on experience in programming, system architecture, software design, and technical consulting. For startups, small and medium-sized companies, our team is not just an outsourcing development contractor, but also a technology consultant and business partner. We can help you find a CTO for your project in a great variety of industries.
You will learn everything there is to know about a CTO in this post, along with the benefits of using CTO services for your company.
What Is a CTO in Business?
So, what is a CTO? CaaS (CTO as a service) is a new way of cooperation with a Chief Technology Officer. In this case, the company hires an external specialist to solve technical tasks, develop and solve problems of the tech team, and help implement your ambitious ideas. CTO outsourcing allows you to apply a flexible payment model: depending on the company's needs, a freelance CTO will work for you when needed.
Several options are available: from a few hours a week to a standard full-time job, or occasionally for a meeting with your development team or investors.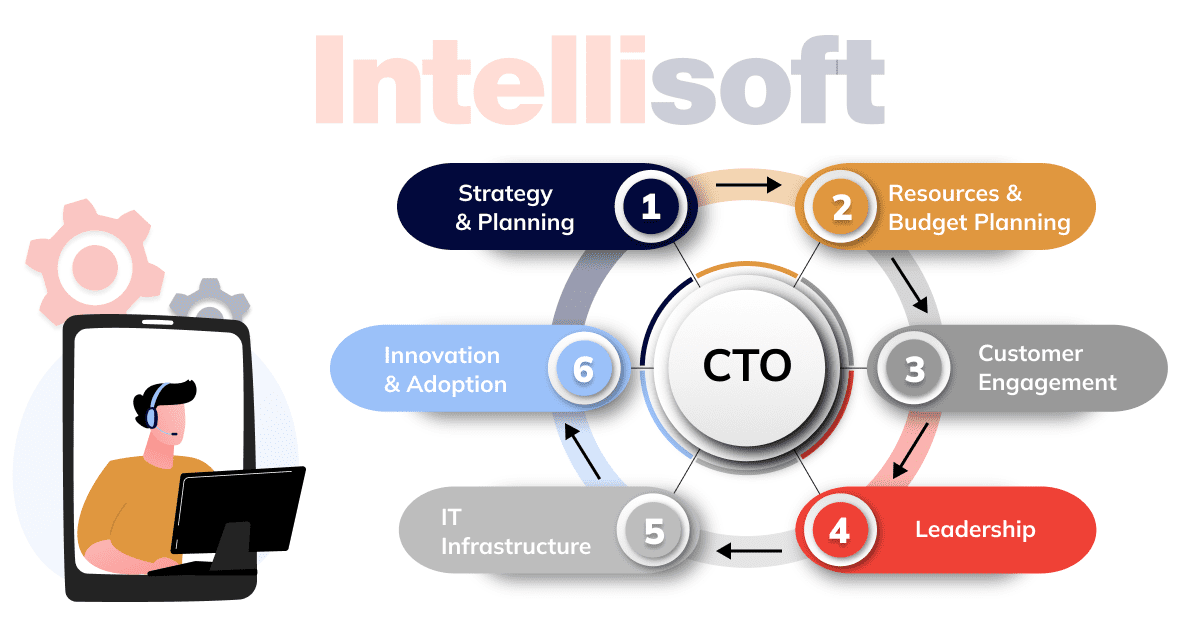 What Does a CTO Do?
The title of this position implies that the person doing the job is responsible for technology in the organization. However, this definition of the CTO role is too general and doesn't shed much light on the responsibilities of the typical CTO. Moreover, keep in mind that there is no single standard for what a CTO should actually do. While most organizations stick to the term CTO, some companies use alternative titles (e.g., Head of Development/Technical Leader, etc.).
CTO role descriptions are vague because the job title often means different things in various companies. What one company expects of its CTO may be completely different from what another organization expects. It's the same with the position of engineering manager or vice president. To avoid confusion, we will use Technical Director as a generic term and focus on the responsibilities of the position and the skills needed to perform them, as well as what CTO-as-a-Service means.
What Is the Difference between a Full-Time CTO and CaaS?
Basically, they have the same CTO responsibilities. Unlike an in-house specialist that works for your company full-time and may accomplish all technical and operational tasks across all departments and all projects,
CTO as a Service (CaaS) refers to the Chief Technology Officer's part-time technical and business consultancy services for small and medium-sized businesses (SMEs). The main advantage of a CaaS over an internal CTO is that a firm only pays for the services that are actually used.
Related readings
When You May Need a CTO in Technology Startups
CTOs at some of the most successful companies in the world have mostly management-related tasks. However, this does not apply to recently launched IT startups, where there may only be a couple of employees, and the CTO is often one of the founders. There are actually two main types of CTOs, so let's take a closer look at them.
Listed below are a few scenarios in which hiring an external CTO can be advantageous for your company:
You have a fantastic product concept, but you don't know how to implement it correctly.
Your company needs a technical leader with years of experience who can assist develop the product, communicate technological issues to investors clearly, assess contractor quality, and develop technical roadmaps for the project.
You've created your initial product or portion of an application, but you soon find that its architecture is either out of date or doesn't support further phases of your product/service.
You don't need a full-time CTO at this stage of development, but you do need the most flexibility and cost-efficiency to pay for only the services your company actually requires.
If you agree with at least one or more of the above statements, CTO outsourcing services is something that can help your company. Look at more reasons to use such a solution.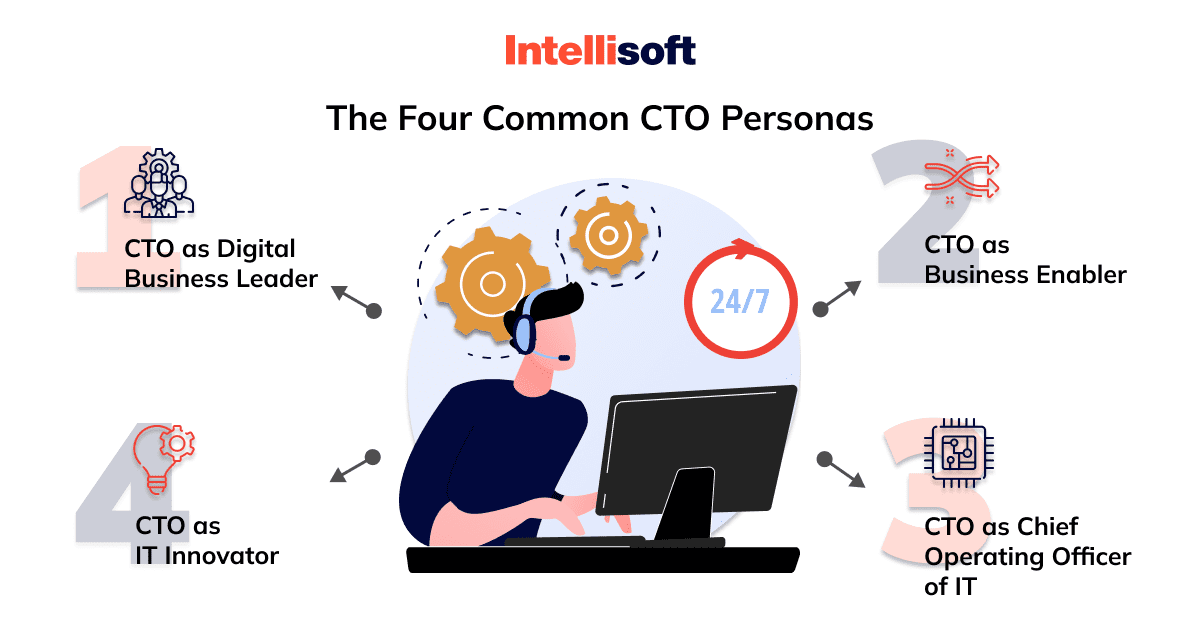 Discovery Stage
This expert will assist you with the product's discovery phase, which may involve the following actions:
Architecture design.
Technical remedy development.
Most suitable tools to use.
Definition of the project's objectives.
Features to be included in the MVP.
Risk assessment and mitigation.
Competitor research.
Selection of the best technological stack.
Tech Solutions
In general, a CTO can help a business with the following technological solutions:
Choosing the functionality based on the needs of the business.
Finding answers to technical problems.
Choosing the technologies that are both the most affordable and efficient.
Assessing the performance of the current tech stack.
Addressing tech issues the client's staff cannot resolve because they lack digital knowledge.
Extending the capabilities.
Producing and enhancing architecture.
Selecting technology for efficient scalability.
Project Planning
Planning in relation to the following areas can benefit from CTO as a service:
Enhancing the creation procedures.
Putting the features in order.
Improving the building.
Developing a blueprint for development.
Calculating costs and schedules.
Project Scaling
In order to scale, CTO can assist you with:
Making technical and architectural choices.
Locating the most time and money-saving alternatives.
Expanding projects without risk.
Examining the potential strategies.
Cloud computing, hosting, and other improvements.
Establishing a broad technical scaling plan.
Project Pitch
A CTO can help you with the following while pitching your product:
Putting together a tech pitch deck.
For investors, describing the project's tech value.
Describing the advantages for business.
Showing the project's crew has extensive knowledge.
Responding to any technical inquiries from investors.
Recruitment Process
A CTO can offer guidance on hiring-related issues like:
Establishing standards for technical staff.
Assessing the technical knowledge of potential candidates.
Interviewing technical candidates.
Assessing the soft skills of the developers and seeing if they make effective team members.
Encouraging the team when problems arise.
Regular Checks
A CTO can help you with the following during the project audit:
Assessment of the code's quality.
Staff audit to see if the team functions properly.
Analysis of the usefulness and quality of the project.
Evaluation of the external team performance.
Control of the delivery procedure.
Creation of the improvement list of suggestions.
Soft Issues
A CTO can assist you with:
A team's emotional support.
Analysis and resolution of conflicts.
Team leadership.
Creation of novel collaborative techniques.
UX
Finally, when it comes to user experience, CaaS may come in handy to do the following:
UI examination from the perspective of the customer.
UX examination in terms of practicality and reason.
Suggestions for enhancing user-friendliness and convenience.
The Main Types of CTOs
There are many classifications of CTOs, but most of them can't clearly explain what responsibilities the role encompasses. Distinguishing between, say, a technology innovation director and a business-led innovation technology director can be difficult.
The simpler, the better. So we decided to go a different way around and classify CTOs by their main activities in the organization:
Technical leadership. These CTOs are skilled developers with a lot of experience in programming, designing software architecture, setting up cloud infrastructure, etc. They write a lot of code and test codes written by other developers.
Operational management. In this case, the CTO is primarily responsible for leading the engineering team. As usual, the CTO is still an A-level developer with deep programming knowledge, but the tasks associated solely with development have been relegated to the back-end specialists. Instead of coding, these CTOs shape technology strategy and manage programmers in their organizations.
As a tech startup grows, the focus of the CTO often shifts from technology to management. Let's look at how roles of CTO change over the life cycle of a tech startup.
What Skills Does a Tech Startup CTO Need?
Even a cursory glance at the main roles and responsibilities of a technical director is enough to conclude that they must have solid experience in both software development and operational management.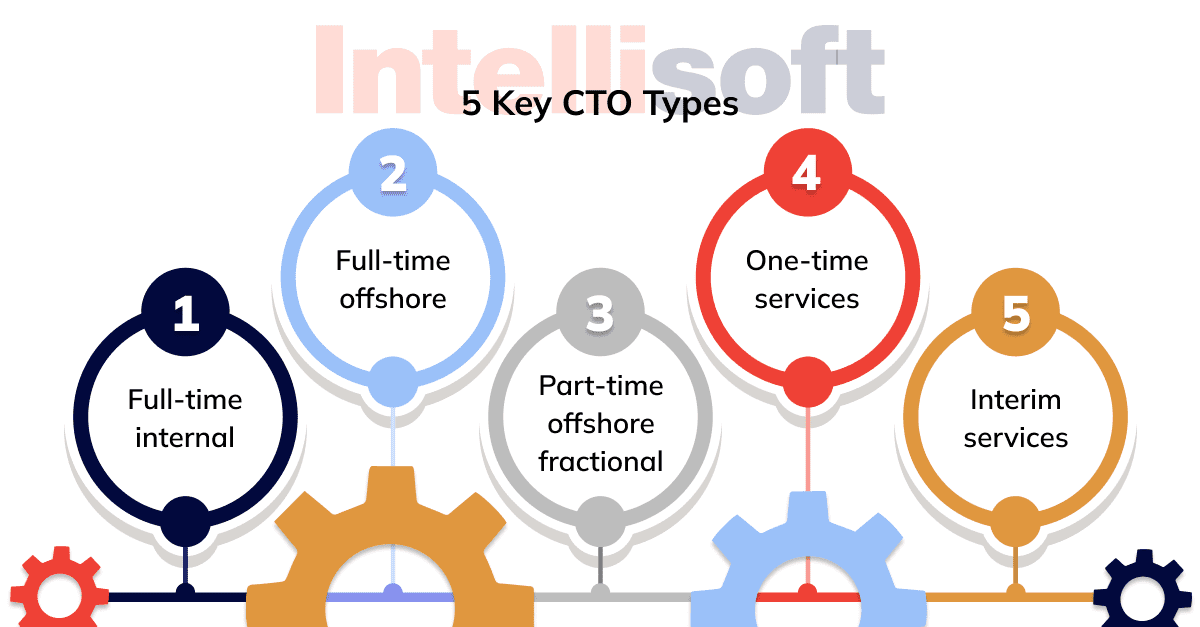 The list of skills needed for a CTO can be quite long, so for simplicity, we'll divide them into the roles a CTO plays. Here are the roles that a CTO can fill in a technology startup (as an example):
Relevant Experience
The years are not the only factor. Let's be honest. Even after 5 years of experience, a person can still be considered a middle-level developer. Even so, the practical background is one of the most important things to take into account.
Select a candidate with at least five years of experience, preferably 6-7 years. Pay attention to the fields your CTO has experience in. At last, examine a candidate's experience in front-end, back-end, and mobile development to see if they have at least a year's worth.
Software Architecture
The CTO is the lead software architect in a technology startup. They should be able to:
Design and implement software architecture
Choose a technology stack
Design and configure infrastructure
Choose development tools
Develop and implement database design
Improve and optimize application architecture
Ensure scalability of the application
Ensure scalable infrastructure
Explore new technologies and decide if they're worth implementing
Of course, the CTO may not perform each of these tasks all alone. It largely depends on the size of the startup and the number of developers on the team. Nevertheless, the skills of a software architect are essential to startup CTOs. Without them, these experts won't be able to make wise decisions related to the app architecture and infrastructure.
Development
Before a tech startup gains momentum and recruits more developers, the CTO may be the only developer. Not surprisingly, considerable experience in software development is needed. A CTO may need to:
Develop the minimum viable product (MVP)
Test the MVP
Develop an application programming interface (API)
Write software and API documentation
Manage third-party services used in the application
Lead a team of programmers
The CTO's role changes to include managing the development team when the startup hires more programmers. The CTO duties necessitate them to:
Define and implement development standards in line with current coding methodologies and best practices
Create a culture of agile development
Set up the development team's workflow
Conduct code reviews
Perform design reviews
Delegate development tasks
Supervise the process of hiring developers
Mentor newly recruited engineers
Communicate with stakeholders
Define KPI for developers
Monitor of developers progress
Manage tech risks
Being a team leader requires not only outstanding programming skills, but also good management skills. As a team leader, the CTO must communicate with team members and resolve any conflicts.
DevOps Engineering
A CTO should not only be a development team leader, but also an experienced DevOps engineer. While DevOps skills may seem superfluous to a CTO, they play an important role in the success of a tech startup because it needs an efficient deployment pipeline to deliver updates safely and regularly. Search and Evaluation, as well as additional material Interview Questions for a DevOps Engineer.
So the CTO needs to build a DevOps culture within his or her organization to be able to:
Set up an optimized deployment pipeline
Plan software releases
Manage releases, tags, and versions
Perform secure and reliable software releases
Leadership
CTOs are in charge of overseeing the work of other employees, pitching the product to investors, and sharing commercial and technical ideas with the founders and staff. A CTO won't be able to carry out the necessary activities without strong soft skills. They have to motivate and lead people, so all communications instruments are necessary for them.
System Administration
Early in the startup lifecycle, a CTO may need to act as a systems administrator to manage their organization's IT infrastructure. The CTO must be able to:
Ensure that company data is protected
Manage organization domains, SSL certificates, and related components
Develop and implement an internal communication system for the company
Monitor the performance of the company's IT infrastructure
As an organization grows, more and more IT personnel are hired to take on these responsibilities. Large organizations often appoint a chief information officer (CIO). Unlike the CTO, the CIO is responsible for the organization's internal IT operations.
The CIO
CIO stands for a chief information officer. Finally, do not forget that the technical director is the manager responsible for development. In large organizations, technical directors are primarily senior managers who do not do programming on their own, but have predominantly managerial responsibilities. The CTO should be able to:
Participate in strategic planning
Take part in corporate management
Observe and evaluate the marketplace for potential tech innovations
Offer ideas about how technology could improve the company's performance
Control the work of contractors
Track industry technology changes and pinpoint competitive advantages
Evaluate the company's technical effectiveness
Monitor IT budgets to optimize costs
The role of a senior executive requires not only technical knowledge from a CTO, but also in-depth knowledge of how technology companies operate. At this level, simply being a technician is not enough to become an effective enterprise CTO.
What a CTO May Do
The startup stage, team size, method of business management, and other aspects all affect the CTO's position and responsibilities. The Chief Technology Officer is in charge of research and development (R&D), the tech budget, as well as coordinating the company's IT strategy with its corporate objectives and creating ground-breaking products.
Difficulties with MVP and DevOps. Building products' technical aspects from start, resolving technical issues that arose during the initial iteration of the product, backups, workflows, budgeting for MVP improvement, and more.
R&D. Maintaining current knowledge of technological standards and compliance guidelines, managing research and technology development, conducting research and making recommendations for the best solutions, etc.
Tech long-term & short-term plan. Following technical, social, and scientific trends that may have an impact on the company's business objectives, taking part in management decision-making, and spotting business possibilities and hazards.
Platform choice & tech design. Maintaining the strategic direction of projects, supervising various development teams, and making important tech choices about the choice of the development platform, the layout of the product architecture, the technical design planning, controls, and other issues.
Security, product testing, & quality assurance (QA). Assignment of duties to team members for product testing and debugging, QA alignment with technological techniques, creation of security protocols and algorithms, urgent audits, and other tasks.
CaaS: A Cooperative Model
With CTO as a service, there are three basic sorts of cooperation distinct from one another. Let's examine each of them in order to decide which kind of partnership is best for your business.
CTO advisory/consulting
Companies who simply require one-time advice on any design and development difficulties should use this strategy. Consider that you have finished the product design phase, ready to move to the development phase. Your team is unable to agree on the optimal tech stack. A counsel from a knowledgeable and experienced CTO will be more helpful than ever at this point.
Furthermore, suppose you previously created a product, but some issues cropped up during testing. Your staff is unable to resolve these problems promptly and effectively. You can deal with this and successfully correct any faults with the CTO's advice. With this model, each consultation with the CTO will cost you a single fee.
Time and material (T&M)
If you select this arrangement, you will have to pay the CTO on an hourly basis. Model of time and material cooperation is ideal for businesses that must carry out significant, protracted projects.
Your suggestion merits further consideration. The development of a project that truly addresses the issues facing your business will be aided by thorough communication and discussion of all the specifics. As a result, the project will be successful, having some room for future growth.
Fixed price
Companies that want the CTO to be actively involved in their operations should use this strategy. Your cooperation will function as a Netflix subscription after you and the CTO have reached an agreement on the cost of the services.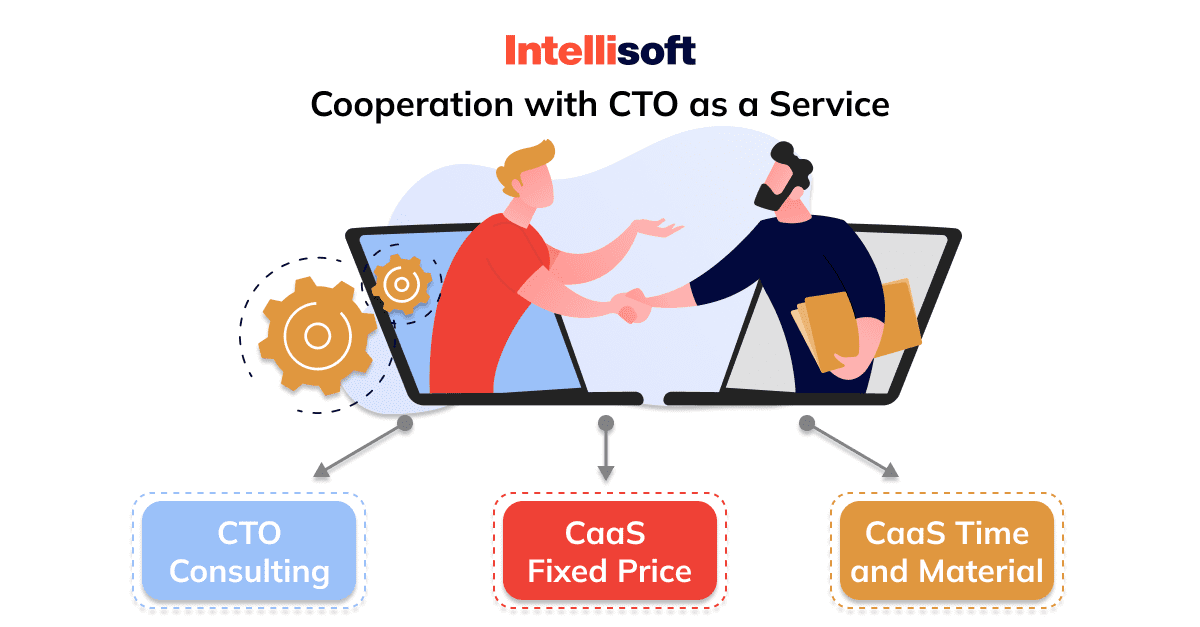 Typically, businesses who want to create sophisticated products with a lot of features, intricate logic and navigation, distinctive style, etc., choose this type of cooperative model. They require a CTO to offer continuing help and support in particular product development processes.
The Benefits of Using CTO-as-a-Service
The main benefits of CTO engagement for startups and SMBs can be summarized as follows:
Operational risk reduction. By monitoring IT budgets, streamlining resource allocation, taking part in business crisis management, addressing security concerns, utilizing shared governance and risk management, and developing new products and plans, the CTO contributes to the establishment of sustainable operations, processes, and infrastructure.
Trend analysis for the industry market. Focusing on target business markets and implementing projects to support the customer experience are vital, as well as identifying and implementing development strategies in accordance with current development processes and best practices.
Reduced costs. Many small and medium-sized enterprises and startups require a CTO. However, they are unable to pay for one full-time. It can be an excellent solution to hire a part-time or external CTO for this reason. You pay a reasonable sum for all the necessary services. For instance, the typical startup CTO compensation in Asia and Europe is fairly affordable.
A potent plan for digital transformation. By managing the transformation of each business process and offering suggestions on how technology can help the business succeed more, a digital transformation strategy is developed.
Greater expert pool. With global outsourcing, you have access to more expertise. Additionally, as already indicated, hiring an offshore CTO enables lowering development costs. A digital expert with objectivity might be hired as an outsourced CTO.
Support in team building. Mentoring the team, coaching and assisting in professional development, hiring new employees, filling in technical gaps in the process of finding the necessary technicians.
Rising management. Communicating with stakeholders and investors and presenting technology strategies and implementation plans to them.
Are There Any Drawbacks of CaaS?
Nothing is perfect. So is CaaS. However, compared to the benefits you can get, the pitfalls are not that significant. They typically involve:
Time. It takes a while to find a top-notch CTO unless you use services of IntelliSoft, which has access to the all-time expanding talent pool. You will need time to identify a professional who suits your project because talented individuals already have lucrative jobs.
Communication obstacles. In the XXI century, that is not a big deal, but you still need to be conscious of time zones and choose a CTO that is in the most convenient one for you.
Managerial issues. You can assist in projects, but you can't be in charge of everything. If you have a dependable CTO, you won't need to handle everything yourself, yet many business owners are still hesitant to delegate crucial management responsibilities.
CTO as a Service for Startups
If your business is a product, you need to plan all aspects of its development from the start, including the development team and responsibilities, the technology stack, development tools, and systematize all processes to minimize the risk of failure.
By turning to CTO consulting services like those offered by IntelliSoft, startups can get expert advice on the best technologies and architecture, professional management of the development team, operational coordination of tasks, and technical advice on the following IT services:
MVP
Prototyping, testing, application MVP development, choosing the best product/market fit, going through all the pivots in the product life and testing on real users to evaluate market response, supporting further growth and scalability of the product development team.
UI/UX design
Technical advice on architecture, website logic and visual design that communicates the value of your product to users and helps you stand out from the competition.
IoT Development
Developing IoT-compatible mobile applications and web services to manage IoT devices, minimize routine operations, and create additional competitive advantages for businesses.
AI solutions
Creating effective solutions based on artificial intelligence (AI) technologies that are both feasible and within the project budget.
Development of high-load systems
Technical design and design of fault-tolerant architecture capable of holding high loads to create efficient commercial projects.
SaaS development
Tech stack and proven processes that strike a balance between off-the-shelf components and custom development to create your unique SaaS product. Back-end/front-end development, scalable architecture, integration with back-end systems and CRM, testing, and support & maintenance after launch.
Web platform development
Architecture definition, platform design, and selection of personalized solutions.
CTO as a Service for SMBs
If a company is in the process of growth and plans to attract investments, it is very important to convince investors of the product's potential. The chances of success are much higher if you already have an experienced tech specialist on your team, or you should consider outsourcing a CTO.
We at IntelliSoft constantly monitor the technology market and offer our customers technical innovations that can be profitable or that will soon become trends. We make sure that all technologies used in the project are up-to-date and result in relevant and reliable technical solutions that do not require large investments. CTO services cover the following SMB solution categories:
Business Process Automation
Technical leadership in developing automated business management systems that ensure your business runs smoothly and allow your teams to focus on more creative tasks.
CRM
Recommendations on how to implement customer relationship management (CRM) before the start of the project, CRM implementation and configuration, and support after the launch.
AI solutions and chatbot development
Technical advice and development of effective AI-based solutions to increase the productivity of your business by minimizing the routine operations of your staff and taking communication with customers to the next level.
UI/UX design
The creation of a quality UI/UX that will serve as a competitive advantage in the eyes of users, allowing you to sell more without having to make changes to product features.
UI/UX audit
Examination of the issues leading to lower conversions and finding ways to change those processes in your favor.
Technical support
Updates to the website or app content and continuous improvement and optimization of the functionality with an involved team for further support.
Corporate websites
Creation of robust websites integrated with accounting, CRM, document management and team management systems, based on a deep understanding of the business.
Website redesign
A redesign plan, which includes changes to the visual and functional parts of the site and aims to improve conversion and visit statistics.
Development of high-load systems and eCommerce solutions
Tech design and construction of fault-tolerant high-load architecture to create efficient commercial projects. Individual approach, reliability, and choice of optimal solution to achieve the best result for your business.
Where to Find a CTO as a Service?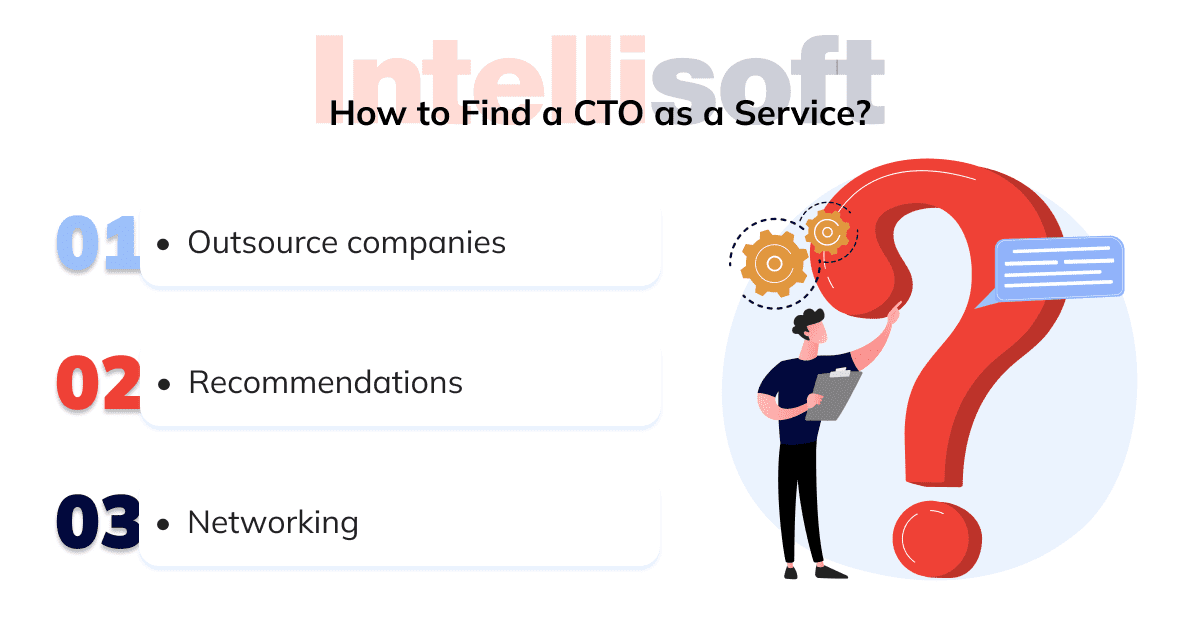 Three main sources for obtaining CaaS are known as of today. The most reliable one is the first option, which is outsourcing. Remember that our team is always here to help you.
Outsource Companies
Typically, outsourcing firms like IntelliSoft provide development and quality control. In offshore organizations, CTO as a service is still not that widespread. However, hiring CTO outside of the company is growing more popular.
Undoubtedly, outsourcing can be risky at times. Therefore, we advise you to research portfolios of businesses, get client feedback, and have a detailed conversation about your potential future collaboration.
Recommendations
When seeking for a responsible employee like CTO, references and suggestions from your coworkers or business partners may be quite beneficial. Start by seeking guidance from those you know. Perhaps some of them have previously used CTO or know someone who has? If anything goes wrong during this collaboration, these people won't lie to you about it, and vice versa. They'll probably suggest a chief technical officer to you who helps their company succeed. Success will serve as evidence of your prospective CTO's experience and competence.
Networking
You merely converse with others. You may visit tech events, software-specific conferences, or just talk to field experts.
All of these activities will undoubtedly assist you in meeting new specialists.
Final Words
With regard to almost all business and technical inquiries, CTO-as-a-Service is a respectable solution. Such a service is excellent for different types of businesses, but it is especially good for startups because it's the smartest way to incorporate a professional with extensive knowledge and skills.
You can get help from a CTO as a service with:
Choosing the appropriate technology
Solving technical project issues
Selecting the primary highlights
Does your business need a trusted technical advisor to create an effective tech strategy, manage your development team, and communicate with your investors and customers? Need support in driving your business forward with cutting-edge technology in line with your strategic priorities?
Contact IntelliSoft – we'll be happy to advise you on any professional matter. You can use our CTO-as-a-Service tested by time and respected clients. Check how easy it is to solve tech and operational tasks with the help of our professionals.