Have you ever pondered the logic behind the common V-formation used by a flock of birds when flying? They choose this shape because flying in a V-formation improves birds efficiency when traveling long distances. Each bird must follow the flight plan established by the leader if the flock is to survive the journey.
In the same way, all of your vendors' contributions are crucial to your success. The aim is to reach and satisfy as many customers as possible. You, your clients, and your suppliers will all reap the rewards of success.
Can you imagine? Almost 35% of businesses collaborate with over 1,000 outside vendors, and nearly half of those collaborate with over 10,000. To limit potential dangers and keep tabs on service quality, efficient vendor management is essential. We at IntelliSoft know how to prevent you from these risks.
Happy clients and a slew of accolades show that companies benefit from IntelliSoft's expertise in IT vendor management. We'll tell you more about this phenomenon, providing helpful recommendations for your business.
What Is Vendor Management?
It is necessary to establish and maintain strong working relationships with your vendors and the supporting paperwork to achieve business goals. This is what is meant by vendor management. Activities involved in managing vendors can include:
Forming and negotiating contracts
Settling arguments
Mitigating risks
Organizing and carrying out QBRs
Choosing a vendor, evaluating it, and signing a contract
Establishing objectives for the benefit of all parties
Reporting and monitoring KPIs
Security testing and compliance monitoring
Keeping track of escalation procedures and key contacts
Managing vendors is a complex procedure requiring careful attention to detail, including identifying reliable suppliers, developing fair contracts, monitoring costs and risks, and guaranteeing on-time delivery of products and services. Companies may run more smoothly and avoid adverse supply-side effects with proper vendor management.
Role of an IT Vendor Management Office
Organizations need the right vendor management skills in IT environments where many services are standard, and many vendors need to work together.
71% of IT leaders, according to a 2016 report by the CIO Executive Council, spend up to 50% of their overall budget on external IT/service providers. This environment is converting the corporate IT function into one primarily focused on vendor management and demands a comprehensive understanding of contracts, technology, and finance.
Vendor management addresses five key areas: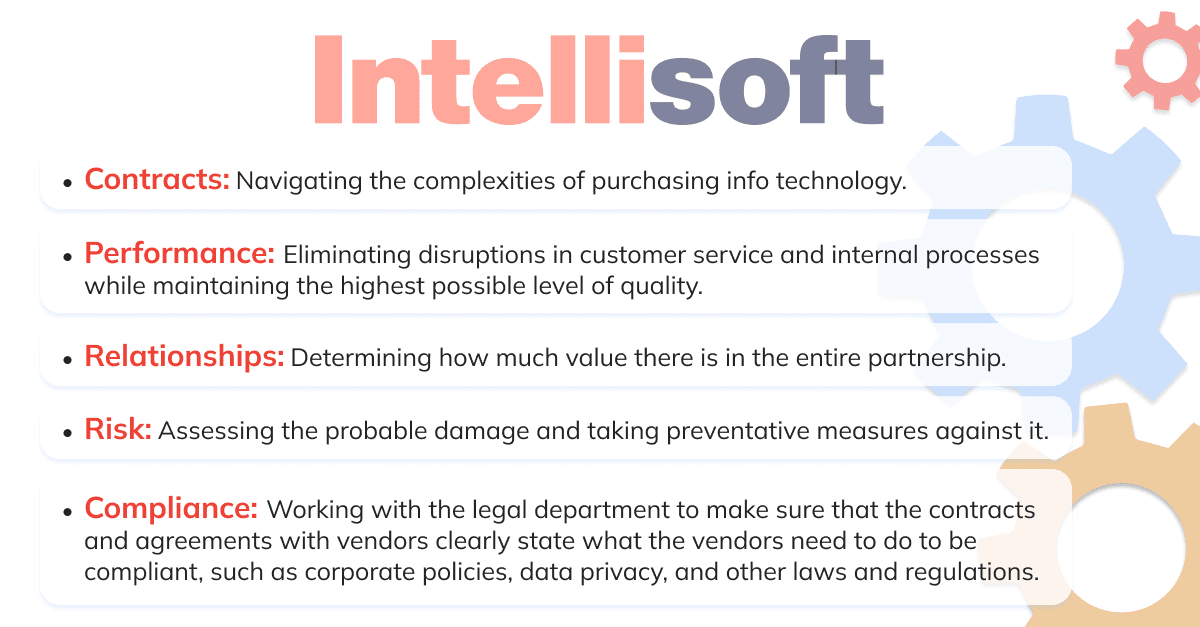 Why Is Managing Software Vendors Important?
First and foremost, by maintaining real-time compliance documents, improving communication, and automating requests for proposals (RFPs), consistent vendor management IT enables businesses to increase transparency and reduce risks.
By using modernized automated tech solutions, IT firms may monitor real-time compliance, benefiting from administrative efficiencies, faster communication, and automated RFPs throughout the vendor management process.
Businesses may increase transparency, minimize risks by ensuring current compliance, and save money by making the most of comprehensive modernization with the help of consistent vendor management.
Types of Vendor Management
Experts name several types (phases) of IT vendor management. You should not necessarily use all of them, but we highly recommend them.
Procurement
Researching and acquiring goods/services necessary for carrying out organizational operations is known as procurement. It is the initial and most crucial type of vendor management. Finding the correct source will make the rest of the journey much easier.
Recognizing the need
Asking for the purchase
Looking over the request
Evaluating vendors
Requesting estimates
Negotiating and signing a contract
Getting supplies
Onboarding
The onboarding of vendors is the second component of vendor management, and it gives vendors all the information, tools, and rights essential to activate new providers properly. An effective onboarding process can lay the foundation for healthy relationships between buyers and suppliers.
Evaluating threats
Establishing explicit requirements & expectations
Verifying vendors' documents
Formulating an exit strategy
Implementing a communication system
Providing invoicing info
Relationship Management
The term vendor relationship management (VRM) refers to the act of cultivating closer ties with one's vendor base by making sure that you pour adequate resources into the partnership. Obtaining the most significant value from a contractual arrangement is the goal of VRM, which aims to manage these relationships effectively.
Auditing & recording disagreements
Working together with distributors
Monitoring progress regularly
Participating in company workshops
Managing contracts effectively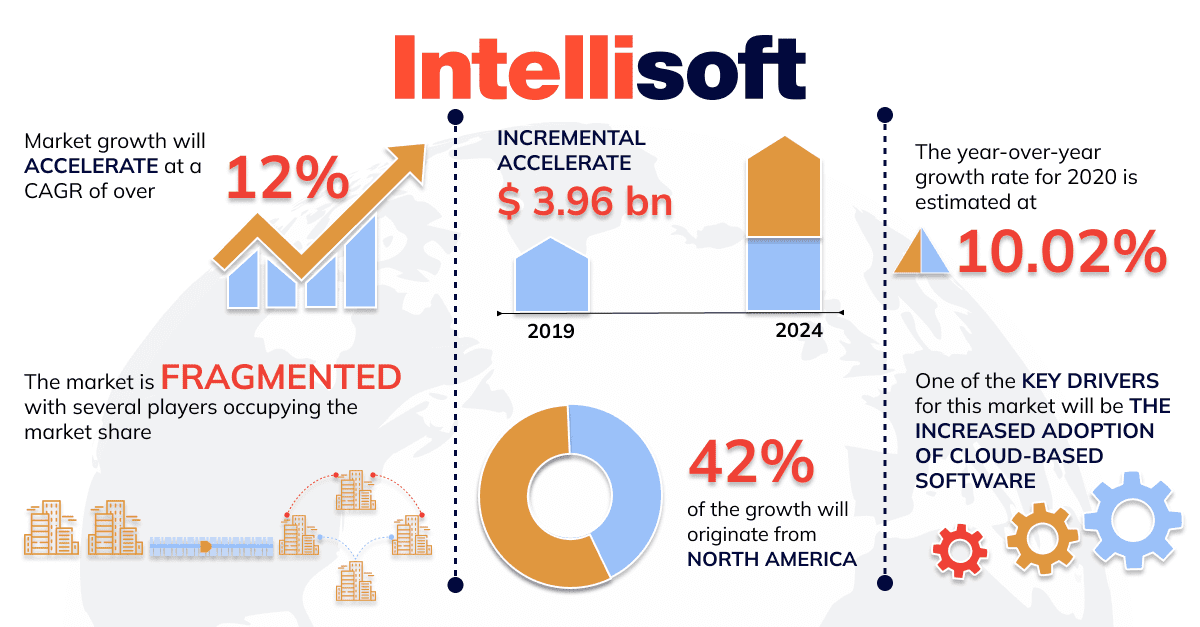 Vendor risk management (VRM) is a set of activities meant to make it less likely that a supplier will cause problems for the business or do something illegal.
In the last three years, 83% of companies have had a problem with a third party that hurt their business. 59% of those who answered said at least one of their suppliers caused a data breach at their company. To reduce these risks, you should go through the assessment process with each of your current and potential vendors.
Assessing risk to cybersecurity: potential cyberattacks or data breaches
Evaluating operational risk: disturbances to business operations
Assessing legal and compliance risk: disregard for regional laws
Preventing risk to the organization's reputation as a result of the partnership
Dealing with financial risk: decline in sales
Compliance Management
Compliance from vendors means they meet the standards a buyer has established for them.
The goal of compliance management is to help businesses meet the regulatory, legal, and tech standards set by their customers. Creating a policy with well-defined goals and rules is crucial for managing vendors' compliance with the law. At that point, it's enough to share the plan with your vendors and monitor their progress.
Performance Management
This vendor management approach aims to track and assess how well vendors are doing. You may use this method to evaluate the quality of your suppliers. Establishing Key Performance Indicators (KPIs) for service providers and defined requirements for product suppliers allows you to quickly compare the quality of service and products provided by different vendors.
When problems arise with the products or services you outsource, you can alert the provider using vendor performance management (VPM).
Contract Management
Managing contracts with vendors entail drafting and carrying out agreements with them in a way that minimizes financial risk while maximizing operational and financial returns.
Your legal team or procurement managers may find it difficult to handle vendor contract management. A contract management strategy and/or contract lifecycle management (CLM) software implementation can help. Key procedures for the entire vendor management lifecycle can be mapped out with a well-thought-out design, and software can automate those workflows and store the resulting data.
SLA Management
Service-level agreements (SLAs)define the expectations of the buyer and the vendor. It specifies details about the supply being offered, such as how and when to supply the goods or services, who is in charge of reporting errors, etc.
SLA management is the process of monitoring these contracts to ensure vendors adhere to their conditions. Buyers may specify the criteria by which to measure the service or product as part of SLA management, as well as the sanctions used if the defined requirements are not satisfied.
How Does IT Vendor Management System Work?
A vendor management system (VMS) is an easy-to-use web-based software platform that enables you to manage your organization's complete contingent workforce employment process. A VMS automates and streamlines every step related to sourcing, purchasing, managing, and paying temporary workers by functioning as a platform for your business to manage and purchase contingent employees through staffing agencies.
A VMS will enable your organization to collect requisitions from managers, automate transactions, facilitate contingent worker onboarding, store and collect data from every step of your contingent worker hiring process, and compile metrics, including candidate info, spend tracking, payroll, and invoice data.
Typically, a vendor management system is used by a firm directly to manage its independent talent pool or by a managed service provider (MSP) on behalf of a client to work better and optimize its temporary workforce.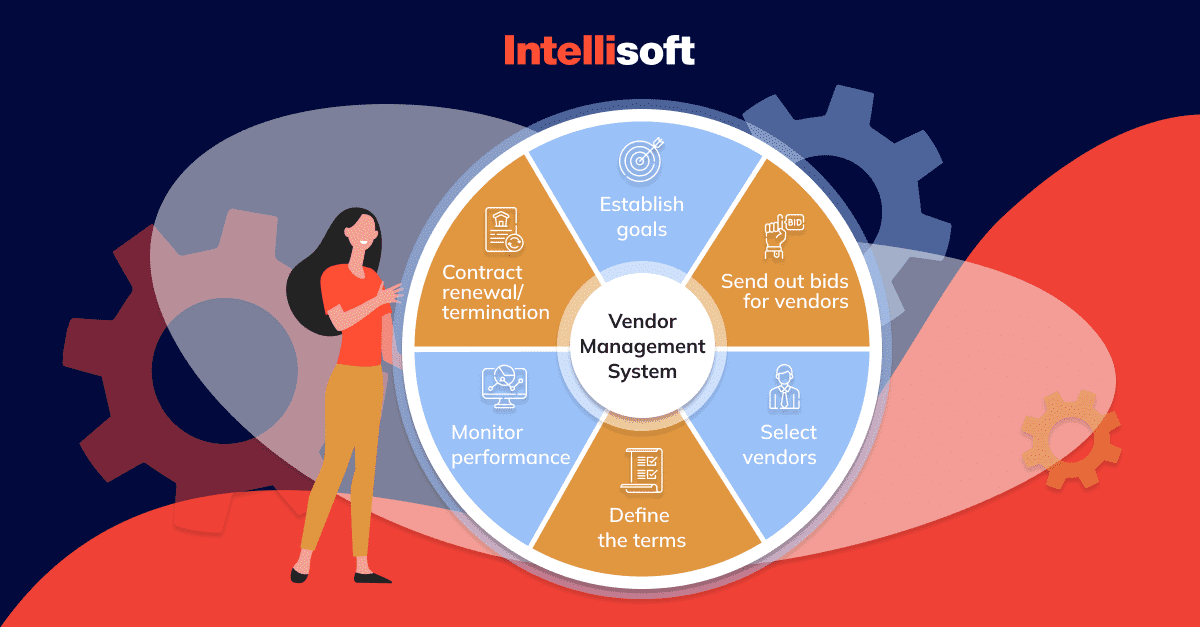 Here are the five most crucial characteristics of leading vendor management systems:
1. Candidate monitoring
A VMS's robust applicant tracking features allow businesses to find, evaluate, and recruit top-tier employees and contractors. The app eliminates manual processes from when a resource is requested until employees receive onboarding. Hiring managers can access the system from any location and accept or reject items immediately, speeding up the appropriate workflow.
2. Effective and compliant processes
Even though the applications are handled independently from one another, organizations can use a VMS to adopt vendor management strategies and practices consistent across the whole corporation, including all departments, geo-locations, brands, and divisions. This practice improves organizational efficiencies and ensures compliance with internal and local government rules.
3. Total workforce transparency
With vendor management software, a company may manage its flexible labor more structured and methodically. A VMS gives a business immediate access to its entire contingent workforce program, enabling the company to evaluate its successes, make necessary improvements, and consistently produce favorable results.
4. Data analysis
The capabilities of data analytics offered by a vendor management framework can facilitate improved decision-making processes across a whole organization. A VMS gives a business immediate access to its entire contingent workforce program, which enables the company to evaluate its successes, make any necessary improvements, and consistently produce favorable results.
5. Comprehensive reporting
By creating data-driven comprehensive reports, software for vendor management enables users to precisely evaluate quality, quantity, time, cost, and compliance. This evaluation can then be compared to other businesses operating results within the same industry.
Benefits of an IT Vendor Management Office
If you guarantee a proper vendor management IT in place, you can get a range of benefits.
Better Selection
Your company has the potential to profit from a greater number of vendors if it has effective vendor management in place. Such practice will provide your company with more options, resulting in better costs. Your business stands to gain by participating in a bidding war between suppliers, which also helps ensure you get the most value for your money.
Enhanced Exposure
When you automate your vendor management operations, you can keep tabs on every choice made and see who is supporting your business and in what capacities your vendors are located. All of this is crucial in lowering reliance on a single element, which can cause major issues during times of interruption. With this knowledge, you can lessen exposure to harm and the likelihood of deception.
Simplified Onboarding
You and your vendors will reap the benefits of an automated onboarding process when using a vendor management system. By eliminating redundant processes and consolidating vendor master data, you can save a lot of time and energy. This practice guarantees that all participants in the onboarding procedure have access to the data required to move forward. Without the distraction of paperwork, your suppliers can concentrate on meeting your company's demands for goods and services.
Cut Costs
With automated purchasing, you may adjust your supply chain to meet the changing demands of your company. Auto-purchasing cuts down on wasteful spending and overbuying. As a bonus, by automating routine processes like document consolidation, it is possible to cut administrative costs. Your staff will have more time to concentrate on strategic initiatives like forging solid partnerships with suppliers and negotiating better deals.
Performance Monitoring
You'll be able to obtain useful data on the performance of outsourced resources if you have automated processes. To ensure that contractual commitments are met, you can monitor this against KPIs. You will also be able to convey your expectations to your vendors using a vendor management system, ensuring everyone is on the same page.
Better Value
The ultimate purpose of a vendor management system is to maximize the return on investment (ROI) achieved via the use of the system. Therefore, the effective deployment of a vendor management system can result in long-term savings as well as higher earnings over a while, provided that the implementation is carried out correctly.
Simple Compliance
A robust vendor management system allows you to ensure that your vendors are aware of and comply with the most recent regulations and that they are immediately updated on any changes to avoid the risk of noncompliance. In addition, it will maintain a paper trail to facilitate audits, notify you of upcoming license expirations, and help you minimize inaccuracies in data with a single point of input.
Accurate Reporting & Analytics
By centralizing all of your vendor data in one location and synchronizing master data across all your systems, you can ensure that your entire company always uses the same version of the truth. Utilizing this data clarity to obtain insight into spending and discover methods to enhance productivity and efficiency is a great use of time.
Optimized Invoicing
Invoicing and payment processing are things your vendor management system can handle. You can ensure that bills are always paid on time, reduce time spent on administration, and ensure that reconciliation data is correct if you automate the approval process.
Challenges of IT Vendor Management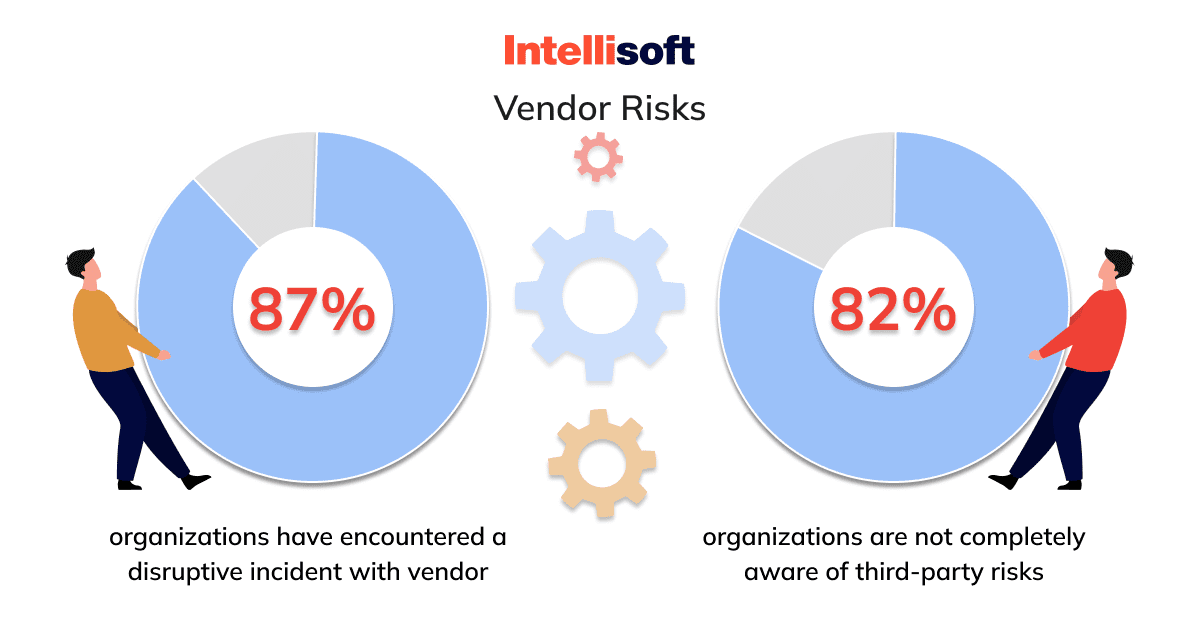 Some of your vendors adhere to the policies you've established for managing vendors and work cooperatively with you throughout the process. Then, certain suppliers put your patience to the test by choosing the wrong path in every situation. So, what are the main challenges of IT vendor management?
Do you know how and what you can do to save the time and money you spend? TNot all of the vendors you are in contact with can perform to your specifications. Among the number of vendors you have, it is necessary to select the best one to achieve objectives, adhere to organizational standards and your predetermined principles, and provide outstanding performance. All of this is possible with the appropriate workforce management software.
Having a single location for all of your data is crucial. With this consolidated perspective, you can better manage your vendor data and your business. As a result, increased efficiency enhances resource allocation. In a nutshell, you stay up-to-date on everything that is going on in and around your company, including the hiring procedure, the contingent workforce, the evaluation of potential employees, and much more.
Your company has several suppliers. Before entering into a contract with multiple suppliers, evaluate the quality of their work. Some may perform your job easier, while others may demonstrate poor performance.
This could further result in missed deadlines. Therefore, before making any pick, it's required to do a comprehensive background check and identify the relevant acquisition talent. Why? This is essential since it offers you a preview of vital details you may have first overlooked.
Payment periods are often standard in the sector, but some suppliers may have their policies. Among these, determining their payment terms is the most critical. When you include in the sheer volume of vendors you already deal with, making sure payments are accurate and completed on time becomes an enormous challenge.
The difficulties mentioned above occur at many points in the vendor management process, especially for companies with a broad geographical footprint and an extensive supplier network. Methods for managing vendors include collecting the appropriate paperwork from suppliers and doing in-depth risk analyses.
Eventually, you'll need some kind of data storage solution. Data storage and retrieval can be challenging without a vendor management system, especially if you are juggle many projects with multiple providers. For example, with a VMS portal such as FlentisPRO, you may store all of your sensitive data in a single, safe location from which you can quickly and easily retrieve any files.
Manual vendor management system
When you manually handle vendor functionalities, your system opens itself up to the possibility of errors, incorrect entries, and data loss. The inefficiencies that come with manual chores will make it take far longer to repair errors from the past and incorporate new information. Imagine wasting your employees' time and your company's resources on data that serves no purpose.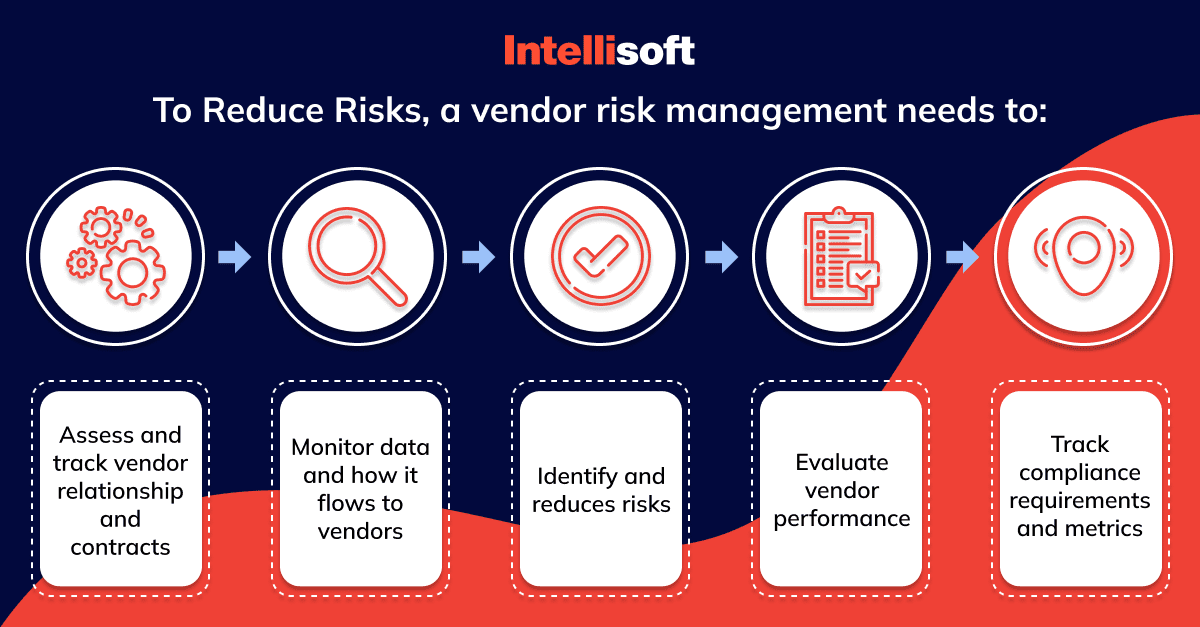 What Are the Steps of Vendor Management?
The steps below should be carried out in the order listed, but it may be necessary to revisit each step of the vendor management process over some time. After all, the needs of an organization, the IT requirements, and the vendors' capabilities are evolving.
Come Up with Business/IT Objectives
Other stages of vendor management cannot occur until the business and IT goals that suppliers should help you achieve and the metrics by which you will evaluate their performance have been established. To do this, you must develop success measures for your vendor-management procedures.
You need to be aware of the trade-off between price and quality if you want your vendor management efforts to be successful. Is it, instead, to enhance service quality—and if so, in what way?
Select Vendors
Here is what matters: their experience and skills, the number of completed projects in the target segment, and customer feedback. It's essential to approach the analysis and collection of statistical data competently.
There is no need to cut off young vendors right away, as they can be flexible and motivated to implement the solution, as well as provide a reasonable price. A young vendor can expand and become popular in a few years. So at this point, separate the vendors by distinguishing characteristics in this category. Do not forget to review their portfolios!
Why should you search for cases? This information may tell you more about implemented projects to understand how well the vendor has solved other companies' problems. In this step, identify the differences between vendors, which includes their weaknesses, bugs, strengths, and flexible troubleshooting solutions.
Agree on Contracts with Vendors
A customer and a supplier will always enter into a legally binding agreement. Any agreement to supply goods or services constitutes such a contract, whether it is written, signed, and lays out the terms and conditions, or whether it is implicit.
"One of the most important parts of managing vendors is becoming familiar with the different kinds of contracts and the specific requirements they contain. It's common practice to agree to the terms and conditions set forth by vendors, especially for commodities and utility services like power provision. In this phase of vendor management, unless you explicitly state otherwise, you are agreeing to the vendor's regular contractual terms and conditions when placing an order with the vendor. They might not fit in with what you're trying to accomplish or how you plan to handle vendors."
Kosta Mitrofanskiy – CEO @ IntelliSoft A technology expert and entrepreneur with 20+ years of experience in the web & software development business.
When dealing with vendors who provide mission-critical or custom services, such as outsourcing, you may want to enlist the help of a specialist, such as a procurement or legal advisor, to assist with this aspect of vendor management. If that's the case, it's crucial that the professionals you hire will learn about your needs, IT infrastructure, and goals for working with a specific vendor.
Provide Onboarding
It's crucial to incorporate onboarding vendors in your vendor management strategy for all vendor categories except for those providing utilities and commodities. Achieving your objectives successfully requires you to maintain positive vendor management relationships.
In a multi-vendor environment, your onboarding strategy should also involve introducing suppliers to each other and encouraging them to collaborate when their IT products and services are interdependent. Sometimes, service integrators are utilized to assist with this part of vendor management, as they have experience coercing disparate vendors to collaborate efficiently.
Manage Vendors
After bringing in suppliers, the next step is to oversee the distribution of their IT wares and services. The IT staff members in charge of vendor management should check in regularly to see how the vendor is doing in terms of meeting service levels, as well as reviewing the contract to make sure all terms are being adhered to, making any necessary adjustments, giving the vendor feedback, and maintaining a positive working relationship.
The frequency and specifics of the vendor-management actions listed above will vary depending on the vendor categories involved, the importance of each vendor, the nature of your current relationship with each vendor, and the level of cooperation each vendor is willing to provide. You should begin your vendor management operations ASAP after deliveries begin; waiting until problems arise will make them more difficult to resolve and will result in lower service quality.
Review How Goals Are Achieved
The last step in managing your vendors is to frequently assess if your intended objectives are met. At least once a year, this audit should be done. Conducting quarterly reviews throughout the initial year of delivery is an excellent technique for managing your vendors since it will be simpler to influence any necessary modifications to your vendors' deliveries or expectations during this time.
As a result, investing in the relationship management parts of vendor management will pay off when persuading vendors to meet the established performance objectives. This demands good working relationships with vendors.
The Secrets of an Effective IT Vendor Management Process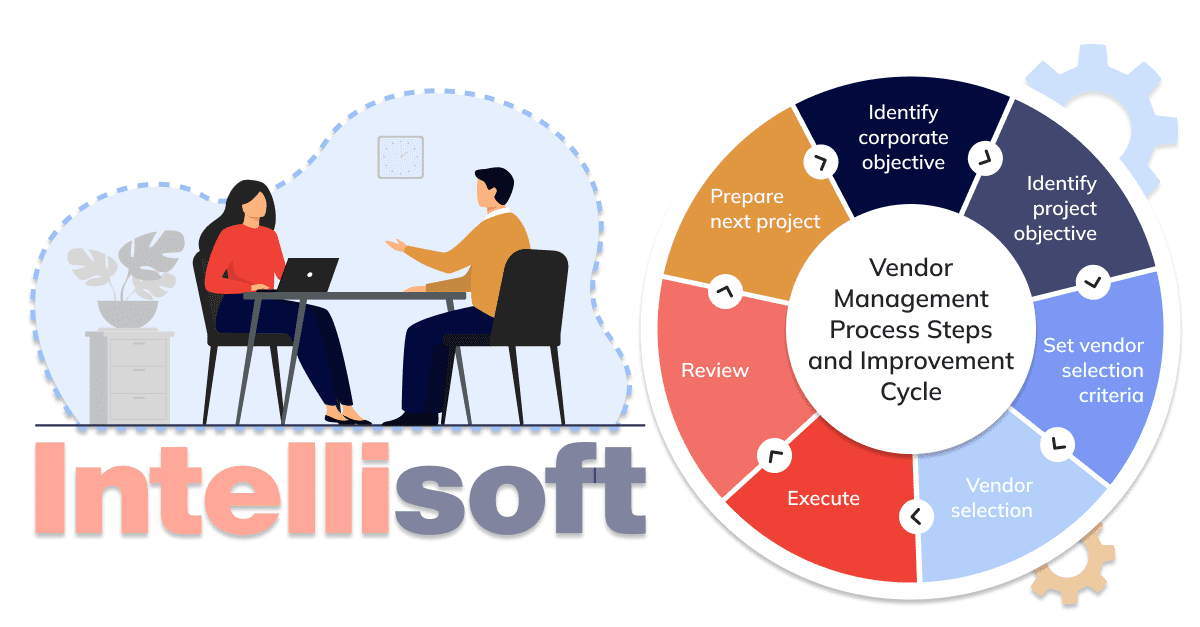 Our experts know some tips and tricks that can help you maximize the efficiency of vendor management processes.
Establish win-win relationships
Both you and your vendors gain from having positive relationships. Instead of concentrating on specific tasks, think of your provider as a partner with a shared objective. Establish clear team roles, measurable goals, and good communication.
Focus on long-term partnership
We've already discussed how forming lasting alliances with your suppliers can improve your working relationship and ultimately help you save money. Greater credibility, lower prices, and even insider info are to be anticipated. Last but not least, you have a greater shot at preserving service quality, a constant nemesis of businesses that frequently move suppliers.
Rely on your vendors' skills and expertise
Allow your suppliers to contribute to your strategy. For instance, you should encourage your dedicated development staff to get involved in the product planning process. They may be able to identify a better technical solution to your problem or point out system vulnerabilities that need to be addressed by you.
Related readings:
How Can Vendor Management Help Organizations Reduce IT Costs?
One method in which effective vendor management can save you money is by ensuring that you select the most cost-effective suppliers possible. When managing your vendors, first establish your goals, so you know how you want to strike a balance between price and quality before you start accepting bids from potential suppliers. If cutting back on IT expenses is a top priority, this will help you concentrate your vendor-management efforts in that direction.
If you want to save money, you need to make sure your contracts with suppliers are easy to manage. Organizations that don't use the best practices in vendor management may quickly learn that their suppliers seek to charge extra for services they had previously assumed would be covered by the agreement. For instance, a hosting provider may request additional payment to install critical upgrades to the underlying database system. Vendor management may help you avoid this problem by helping you define your needs, find suppliers who can help you achieve those needs, and write up contracts that spell out precisely what those suppliers will provide.
Vendor management can reduce costs by ensuring that a company only pays for the services rendered. One example is a long-term contract in which a vendor agrees to update the IT technology it employs as those technologies change. Vendor management can prevent situations in which you must perform vendor-responsible assignments due to ignorance of the terms of vendor contracts or inadequate task management. These situations entail expenses.
Adopting vendor management might result in savings on administrative expenses. It's possible to attain these savings by consolidating vendor management tasks under the purview of a single specialized function, and data duplication, job duplication, and errors can be minimized by creating a central repository of information on present and prospective vendors. solutions also promote efficiency in the relationship-management tasks of vendor management using standardized methods and a single reliable data source,
How Do You Select an IT Vendor Management Software Provider? Explain Why IntelliSoft
Choosing vendors and maintaining good working ties with them might be difficult. Choose partners like IntelliSoft who are familiar with and appreciate the value of an established IT vendor management approach. Our benefits include:
Qualified IT experts available
Flexibility
Direct, hassle-free communication
Tax-free
Risk mitigation and more
A 9/10 client satisfaction rating and clients from various industries, including healthcare IoT, logistics, and more, attest to our outstanding expertise. Learn more about how IntelliSoft can improve the way you manage your IT services. If you contact us today, one of our trained staff members would be pleased to speak with you and provide help.

About

Kosta Mitrofanskiy

I have 25 years of hands-on experience in the IT and software development industry. During this period, I helped 50+ companies to gain a technological edge across different industries. I can help you with dedicated teams, hiring stand-alone developers, developing a product design and MVP for your healthcare, logistics, or IoT projects. If you have questions concerning our cooperation or need an NDA to sign, contact info@intellisoftware.net.