The main asset of any IT startup is software intellectual property (IP). This term stands for a software solution or computer code. Indeed, monetization and success in the market depend on whether you can competently protect your innovations. Logically, if your product is available to everyone without permission, you won't get paid for using it. However, the security issue is more acute because there is a high risk of copying promising innovations, theft, or other unauthorized use both inside and outside your company. In this article, we will take a closer look at IP and its licensing technology.
1. What is the meaning of software intellectual property?
According to WIPO, your software may be categorized as IP. It means that others can use all programs only if the owner allows this. The exclusive right belongs to the company that: 1) created the object (software solution or code); 2) acquired the rights to it. Using the object without its consent is considered illegal.
IP is a valuable intangible asset for both a startup and an "experienced" IT enterprise. Working with innovative technologies comes with increased security risks. But the main threat lies inside the company. Yes, employees may be involved in theft as well. There are also many dangers outside of business: scammers, cybercriminals, and rivals.
There are many options to protect your product before it is released to the market, such as signing an NDA with each employee or restricting team members from accessing a product under development. However, a security guarantee can be obtained only in one case: if you get a legal right. So, there are four types of IP rights applicable to software intellectual property. Note that the first three refer to protecting the product itself and the last to its name, motto, etc.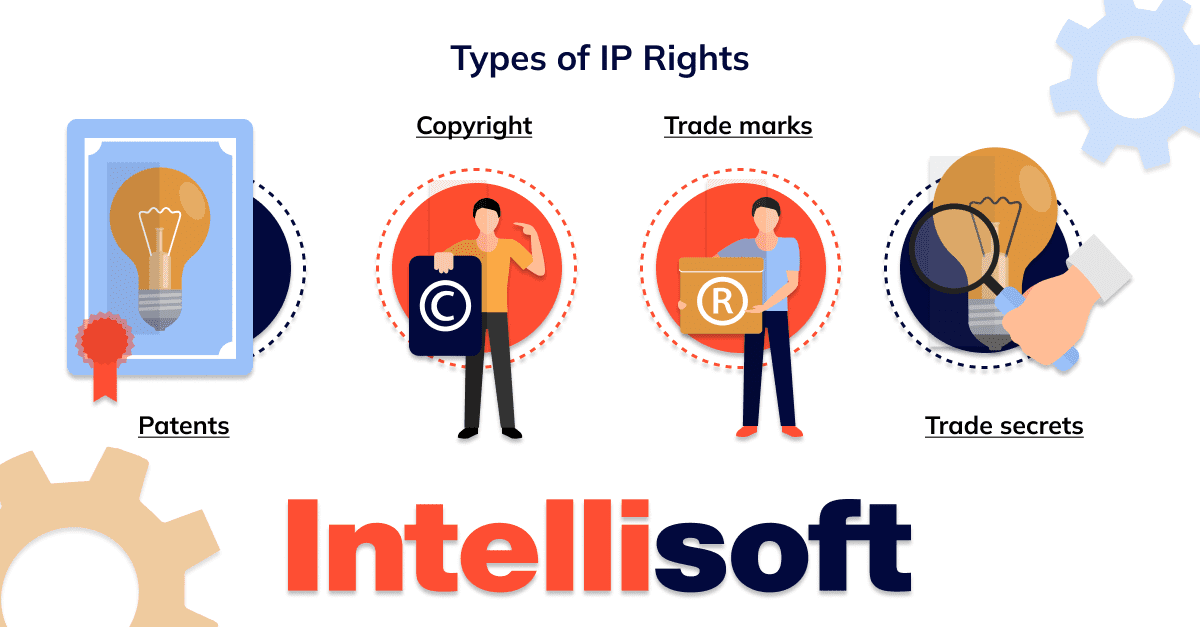 Types of IP rights
The point is to protect the functional part of the software as an invention. It allows you to dispose of the object at your discretion: produce, use, or sell it. To do this, describe the program's algorithm implemented with technical devices and the results of its use.
For your application to be approved (for example, in the US, the Patent Office does this), the object must meet critical conditions: uniqueness, a benefit for users, and innovativeness. Patentability also plays a major role, i.e., whether your object meets the criteria established in a particular country. No one can legally manipulate a patented object other than its owner.
A patent makes you a long-term monopolist for 20 years. During this time, you can get tremendous benefits from owning the invention. In addition, patenting helps you protect features that other rights do not qualify for (authorship or privacy). It applies to ideas, algorithms, and methods implemented in the product, for example, unique UI features or editing functions.
If it's about an idea, then this right won't suit you. Copyright can only extend to the results of ideas: code (object, source) and even UI elements. Such a right arises with the program's author and remains with them for life (plus 70 years) or passes to a third party. If the product was created by hired professionals, then the period is 95 years from publication (or 120 years from creation).
Copying, editing, distributing, and selling copies are included in the list of your rights. Unauthorized actions of others with your product are regarded as copyright infringement. It applies to both plagiarism and piracy, such as using the program after the subscription ends or selling counterfeit versions.
This right is acquired automatically in many countries, including the United States. However, you can only bring the violator to justice after registering your rights. As a rule, such objects are equated with literary works. When registering, you should list elements taken from third-party sources (audio, graphics, text).
This term refers to information that your company prevents from disclosing. The goal is to obtain commercial benefits and avoid unnecessary costs and risks. For example, the original design of clothes belongs to authorship, but the method of its manufacture is a trade secret. It is important that competitors do not access it and do not use the data for personal gain.
You may keep in secret the following:
source codes and object codes not distributed publicly;
trial versions of programs;
project design;
formulas and algorithms;
ideas that shape your competitive advantage;
information about products under development and their functions
information about customers and contractors;
information about project management: methods, decisions (planned, adopted, and in progress), etc.;
data on financial and economic activities and marketing;
data on business relations with other companies;
data on the methods of protecting information and equipment.
In fact, such data can be hidden while the owner maintains its privacy or a third party does not discover it. This software intellectual property does not include elements that can be studied with legal methods, such as reverse engineering (research of the principle of operation of a ready-made solution).
Unlike previous rights, it does not protect your technology from being recreated or imitated. For example, when it comes to design, it's about copyright. A trademark refers to a name, logo, or slogan that you use to sell or promote your product.
You can trademark any material that identifies you as the creator. It will prevent another company from using your brand name if it has the same type of product and market.
The owner may declare that the trademark belongs to them and is protected in certain territories. There are distinguishing symbols and designations: ® (registered) and ™ (not registered). The second character is used for new products or when you apply for registration.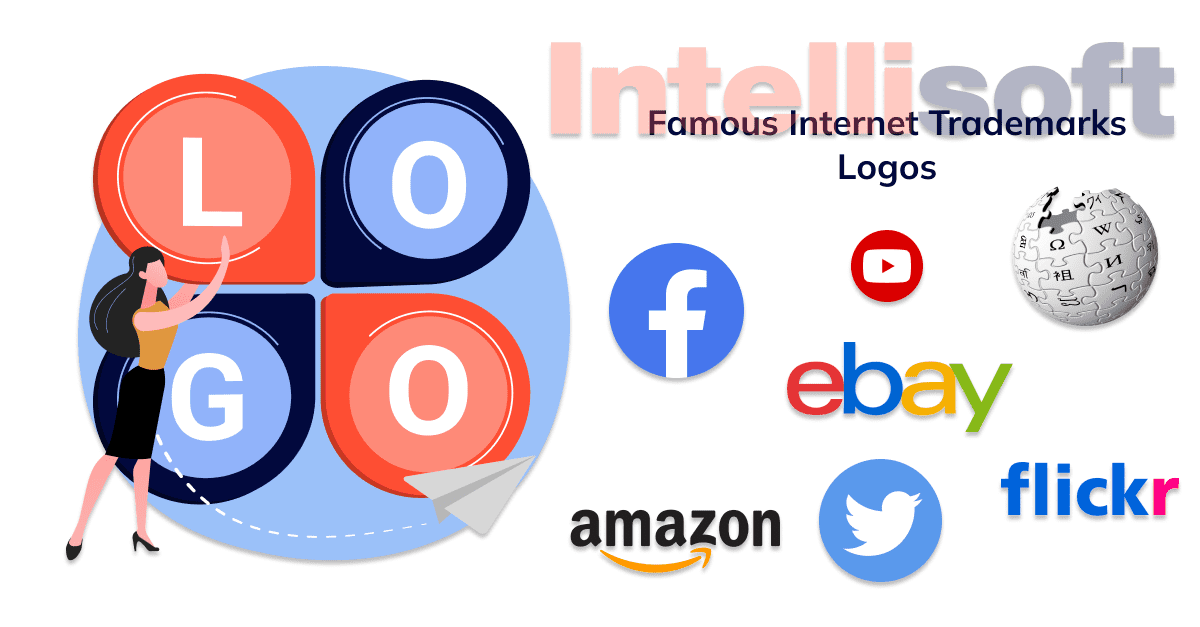 You should protect your product before it is released to the market and presented to the audience. First of all, hire a competent lawyer with experience working with IT companies to study your rights and understand how to protect them. We also recommend patenting technologies and registering trademarks wherever possible. It will be good to ask all your team members and contractors to sign the NDA.
Now your product is ready to be marketed and distributed. What's next? You need to arrange its licensing.
Related Readings:
2. Licensing as a reliable way to protect software intellectual property
A license is a legal instrument that determines the peculiarities of using a product. Also, it's another source of income for businesses: many are willing to pay big money for the opportunity to work with the IP of another company. You can license all kinds of ownership discussed above (except for trade secrets, of course).
In fact, a license is an agreement between the owner (licensor) and a person who wants to use the product in their activities (licensee). Such an agreement contains detailed descriptions of the possible actions of both parties and measures in case of their violation. Thus, the client gains access to your property and undertakes to use it on your terms and following your restrictions.
If you want a guarantee that your code won't be copied and the product won't end up in the hands of third-party users, a licensing management system is vital for you. It also allows you to take control of all licenses that have been sold. The main goal is to build a strong strategy based on the licensing model.
Each model contains parameters that characterize software deployment and the use of your intellectual property. It would be best if you offered different licensing options to suit the wants and needs of all customers while still providing a decent level of protection. Next, we will look at common models that you can apply in your practice.
Models of license delivery
This type implies that the user connects a physical device to their PC on which the program will be used. Access is provided through a hardware key, which contains the code. Why is it convenient? There is no need to turn to cloud technologies for activation. No Internet connection is required, which reduces the risks too.
Furthermore, your program will be available only to the user who has the key. For example, if a copy of the product is transferred to a third party, they can not use it without a physical key. The limitations of this model are the impossibility of customization and the need for a physical object.
According to this approach, the license is tied to a specific node such as a PC, smartphone, or IoT device. Unlike the previous type, you do not need a physical object for activation: just install or download.
The node has a unique identifier that the user enters during setup or first checkout. You get a guarantee that the program will not be transferred to another person and installed on a third-party PC. Due to its features, this model is known as single-use.
Floating, network, or concurrent licenses
It's also about code that needs to be downloaded or installed on a PC. However, the difference is that it is available to multiple network users and different devices. If you are looking to improve the security of your property online, we recommend that you pay attention to this option.
It is also beneficial if your client wants the software to be available to several employees (or on many devices). For example, 15 out of 150 employees may have access at the same time. By offering a floating model, you ensure the correct distribution of assets between users over time (in turn or depending on demand).
It is similar to the host node model, but there is a person instead of a computer. What's the point? A specific user can activate the code. To gain access, it is required to enter your credentials. This approach is also called single-seat.
It makes sense to offer this option if your client is interested in providing access to the product to specific employees (for example, an invoicing tool for accountants or a graphics editor for designers).
Such licenses are only valid for the current user and PC for which they were obtained. The license is removed from the free license pool and needs to be returned. The fee is charged for the entire period of its use, which makes this option the most expensive.
The main advantage is that the user does not need to connect to the license server and have a stable Internet connection. That's why this option is in demand for employees who are often on business trips or are forced to work without access to the network.
You can combine many of the listed models to adapt to the requirements and wishes of each licensed customer. For example, provide USB keys only to 2 or 3 employees of the client's company (it is beneficial if there is no stable Internet connection, but you need to secure data) and give the rest access through the cloud. Or offer a per-seat model for specialists from the department who use the program regularly and a concurrent model for those who do it not so often.
So, you have a thousand and one opportunities to create reliable conditions for the release of your software and secure your intellectual property. Consulting with a lawyer, signing an NDA by your team, registering your rights, taking steps to protect business data… All this will help you protect the product even before it goes to market. But before distributing it, build a strategy for its use based on licensing. Offer your customers flexible, easy, and cost-effective access to the software. It is the only way to protect your IP from unauthorized activities.