According to Avasant, more than 60% of companies delegate at least part of their app development tasks to third-party performers, choosing an outsourcing model. It allows them to omit significant initial investments to launch projects and reduce operating costs for staff. It is one of the advantages of this work model. This article will look at five main reasons why businesses hire outside developers and upgrade app. We'll start with basic concepts and trends.
What Is Mobile App Development?
The number of app downloads is growing every year. According to Statista, this figure was $192 billion in 2018 and $204 billion in 2019, increasing to $218 billion in 2020. Experts predict that mobile app revenue will reach $613+ billion by 2025. That's why companies strive to create and bring their applications to the market. To do this, they need to outsource development with the help of field experts.
Mobile developers are professionals who develop complex software applications for mobile devices from scratch. User interface (UI) and software functionality have improved a lot in recent years. With the introduction of gesture and voice technologies, professional mobile app development agencies have become more competitive.
Mobile devices do not only mean portable electronics such as smartphones and tablets. They can also be components of the Internet of Things (IoT) and research systems based on gadgets and scientific devices. Both ordinary users and businesses from various industries need such apps: trade, including e-commerce, medicine, finance, science, entertainment, and more.
When you decide to outsource development to experts, remember that such specialists are most often divided into two categories in the labor market, depending on the operating system (OS): iOS or Android. It also determines their knowledge and skills requirements since the tech stack is strikingly different. Outsource app development agencies offer specialists from both branches.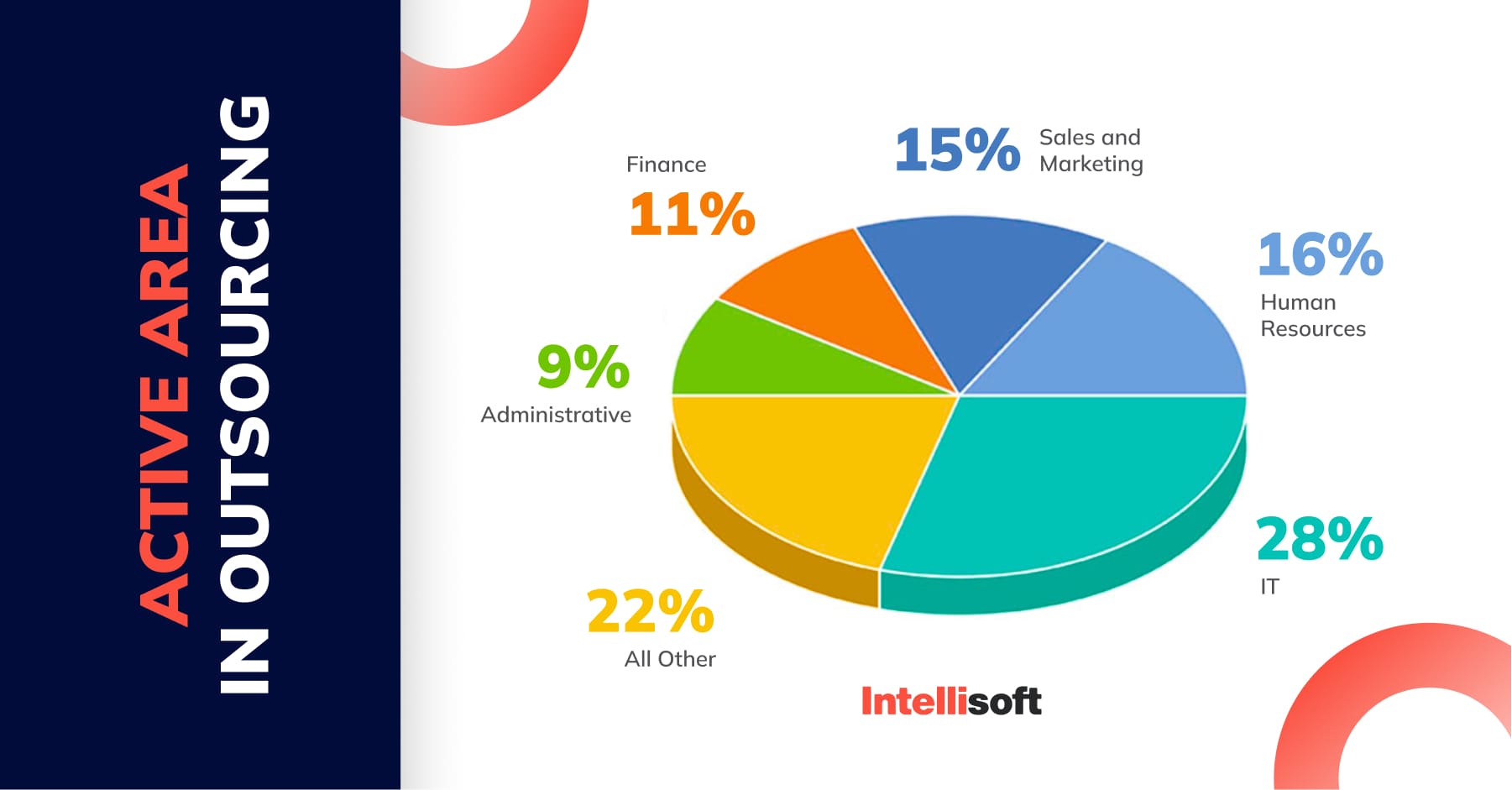 What does a developer have to deal with?
iOS: Objective-C, Swift, C#, Apple Development Guidelines and competently apply them in practice.
Android: Android SDK, Java, Kotlin, Scala (more rarely), Rest architectural style and SOAP protocol, API technologies, SQLite, etc.
Some competencies do not depend on the platform. For example, those are knowledge of structures and algorithms, network protocols, SQL language, or fundamental principles of mobile design and engineering. It also includes the experience of working with platforms that host apps for iOS and Android, i.e., App Store and Google Play.
Developers take responsibility for all project stages: building the architecture, configuring the interface, testing, publishing, and eliminating vulnerabilities. They should also upgrade app regularly. There is no division into front-end and back-end (unlike the web); the tasks include working with the interface and the internal logic. Specialists must follow trends and know how to introduce new technologies.
What Industry Trends Await Us in 2022?
5G
The "fifth-generation" communication networks are components of digitization and the digital economy. They greatly enhance the functionality of previous network generations. First and foremost, 5G speeds up data exchange with radio access technologies (RAT) and new radio frequency spectra (NR). Users get a wide communication channel for home or corporate purposes.
More than 551 million connections are expected to be completed in 2022. Data exchange will be 100 times faster than with 4G. As a result, mobile applications will become more functional and support complex IoT and VR/AR solutions. It is an excellent option for business-critical applications (e-Health, Tactile Internet) and software within the Smart Home systems (home appliances automation, climate control, content storage) and Smart City (e-education, healthcare, banking).
IoT
IoT is not a new trend: applications supporting IoT have already taken root in almost every ​​business area. However, this technology will continue to evolve rapidly in the coming years. By 2027, the market promises to grow by 3 billion compared to 2019.
We noticed that enterprises started outsourcing apps in this area more often. Everyone wants to have round-the-clock access to connected infrastructure via a smartphone. One of the reasons for such popularity is the impact of the pandemic on the healthcare industry. Today, people want to monitor their health in a Smart Hospital in real-time.
AR and VR
As the Internet of Things, these technologies are also used by businesses. Tech companies like Samsung, Sony, and Facebook have already implemented them in their devices to improve UX and attract new customers. This trend is expected to cover many industries in the future.
Statista reports that the global AR and VR (and MR) market will grow to $300 billion by 2024. It is good news for developers. The immersive technology allows them to add visual layers to mobile devices, including with the help of ARKit (Apple) and ARCore (Google). The user experience in the education, shopping, marketing, travel, and medical industries is reaching a new level.
AI & ML
Such prominent players implement AI-based technologies as Google and Amazon. In 2027, the market is expected to increase to $267 billion. We can identify the three most promising areas for outsourcing development: natural language processing (NLP), chatbots, and biometric identification. They all can become nice additions to applications.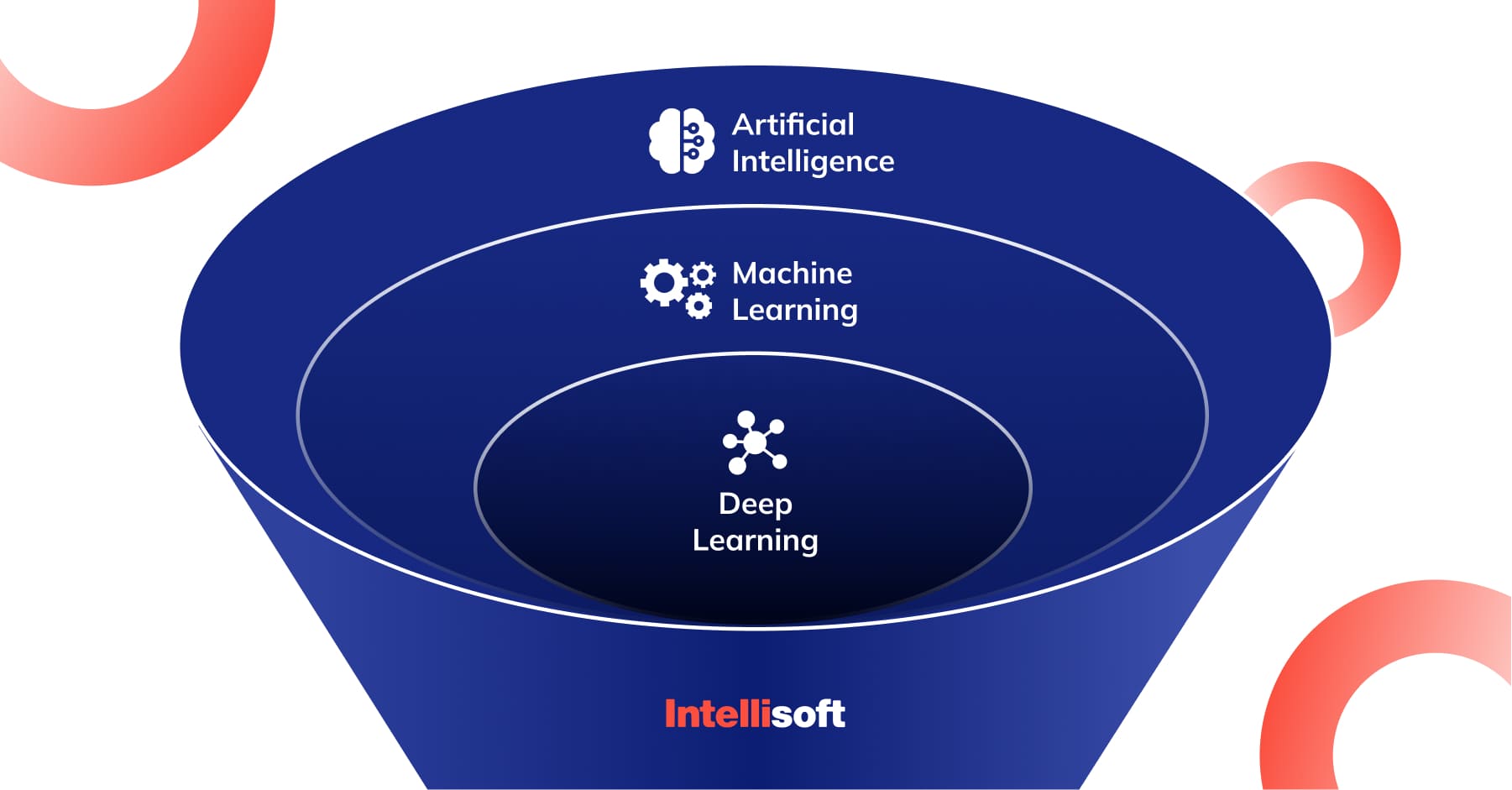 NLP is used for speech recognition, written and oral search, display of relevant online ads, auto-translation, customer sentiment analysis, and automated customer assistance. Сhatbotіs consist of NLP and internal chat systems (e.g., PUSH notifications). Biometrics help identify a person by fingerprints, face, iris, or voice. It is vital for mobile banking, healthcare, and e-commerce sectors.
Blockchain
This technology is designed to improve the security of applications. With decentralized databases and end-to-end encryption, the risk of system hacking and personal data leakage is reduced to zero. Blockchain is expected to be used in data storage, financial transfers, personal identification, online retail, copyright protection, and even health monitoring.
From a business perspective, this approach ensures the rational use of resources, minimizes the risk of information fraud, and opens up new ways to generate revenue. A deep understanding of dApps and cryptography is required from developers working in blockchain programming.
Mobile Wallets
Contactless payments have become widespread due to the pandemic. Also, their popularity is associated with the proliferation of NFC-enabled devices. The most popular wallets on the market are developed by Apple, Google, Amazon, and Samsung. More and more people appreciate the opportunity to provide financial transactions in one click.
Shortly, wallet integration will become a standard feature for every application. It will ensure efficient transactions and data storage security regarding bank cards, passports, driver's licenses. Overall, the number of transactions via smartphones will grow by 74% in 2025 compared to 2020. Every second person will use a digital wallet.
iBeacon
Another technology that is by no means new: it was born in 2013. Now it is gaining popularity with renewed vigor. iBeacon is a solution from Apple designed to transmit Bluetooth signals to devices located within the range of Bluetooth beacons.
The mini beacon communicates with smartphones via Bluetooth Low Energy. When a person is nearby, it "wakes up" the application on their smartphone and distributes informational or advertising materials. Statista predicts that market capital will grow by 60% in 2026 compared to 2016.
5 Reasons Why You May Want to Outsource Mobile App Development Service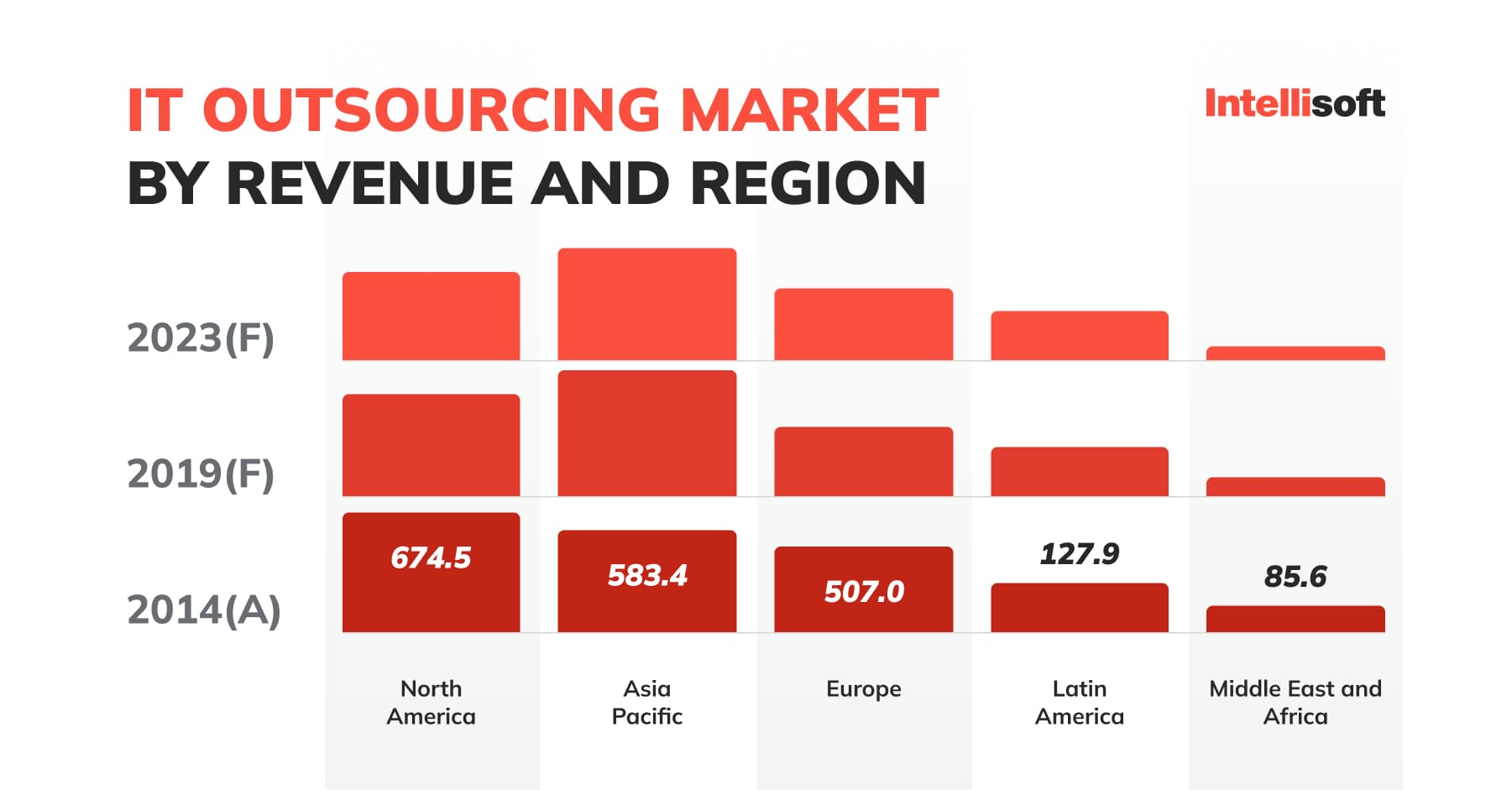 Innovative solutions
This advantage of outsourcing is closely related to trends discussed previously. By delegating tasks to third parties, you are sure they will follow market trends and involve the latest technologies. Most often, these are resources that are expensive for house teams and freelance developers.
In addition, outsourcing companies usually have IT consultants who can recommend the best technologies to integrate into a thematic application. For example, it is helpful to implement blockchain and AI-based identification tools in mobile banking and use exciting VR elements in games.
Minimum costs
Savings are one of the main mobile outsourcing benefits. An experienced outsourcer will analyze your needs before concluding the contract and offer the best tariff plan that matches your goals and deadlines. The savings are achieved mostly through reducing expenses for maintaining full-time staff: salaries, sick leave, maternity, taxes, pension fund contributions, compensations, and overtime payments.
Moreover, you don't need to look for new employees (and pay for this to HR), rent additional premises, or buy equipment and software licenses. The outsourcer assumes responsibility for managing operating costs. You just have to remotely monitor the work and timely pay for mobile app development services at the agreed rate.
Access to skills
Many companies outsource mobile development to get access to extended talent pools. Your staff may face problems bringing mobile development to the final due to a lack of skills, but outsourcing solves this problem. Several specialists usually work on an IT project: developers, testers, designers, business analysts, and marketers. You must admit that maintaining such a large staff is unprofitable for small and medium-sized businesses, so delegating tasks to nearshoring and offshoring is better.
An outsourcer gives you access to skills and knowledge from any direction and industry. People with relevant experience in your business niche work on the project, which means they need less time understanding and solving the tasks. In addition, you can change the team composition at any time, for example, if you need a professional with skills in ML technologies.
Focus on the essentials
According to Deloitte, almost 60% of companies choose this cooperation model to focus on priority areas. It is beneficial to outsource non-core and time-consuming tasks or some part of the main work. In any case, it is a chance for you to direct all available resources (both labor and financial) to accomplish critical tasks.
You can devote time to marketing, promotion, expanding your customer base, or building partner networks. In such conditions, it is easier to introduce new technological and managerial operations and make decisions that determine the future of your business. It also makes sense to turn to an outsourcer if your infrastructure (service departments) growth rate is lower than that of your primary business.
Speed and flexibility
Development outsourcing increases your chances of gaining an advantageous position in the market ahead of your competitors. It is possible thanks to the accelerated work on the project: it is 2-3 times faster than the internal team will do. An outsourcer uses all the necessary resources to guarantee prompt completion of tasks and high quality.
The secret is in a competent approach to management and planning. The work is based on flexible methodologies such as Scrum, Kanban, etc. Work over your product will be divided into sprints, i.e., several iterations with a fixed duration (1-2 weeks). Breaking down a complex project into small tasks helps distribute tasks and adapt to changes appropriately. The result is a quick delivery of the product to market.
Conclusions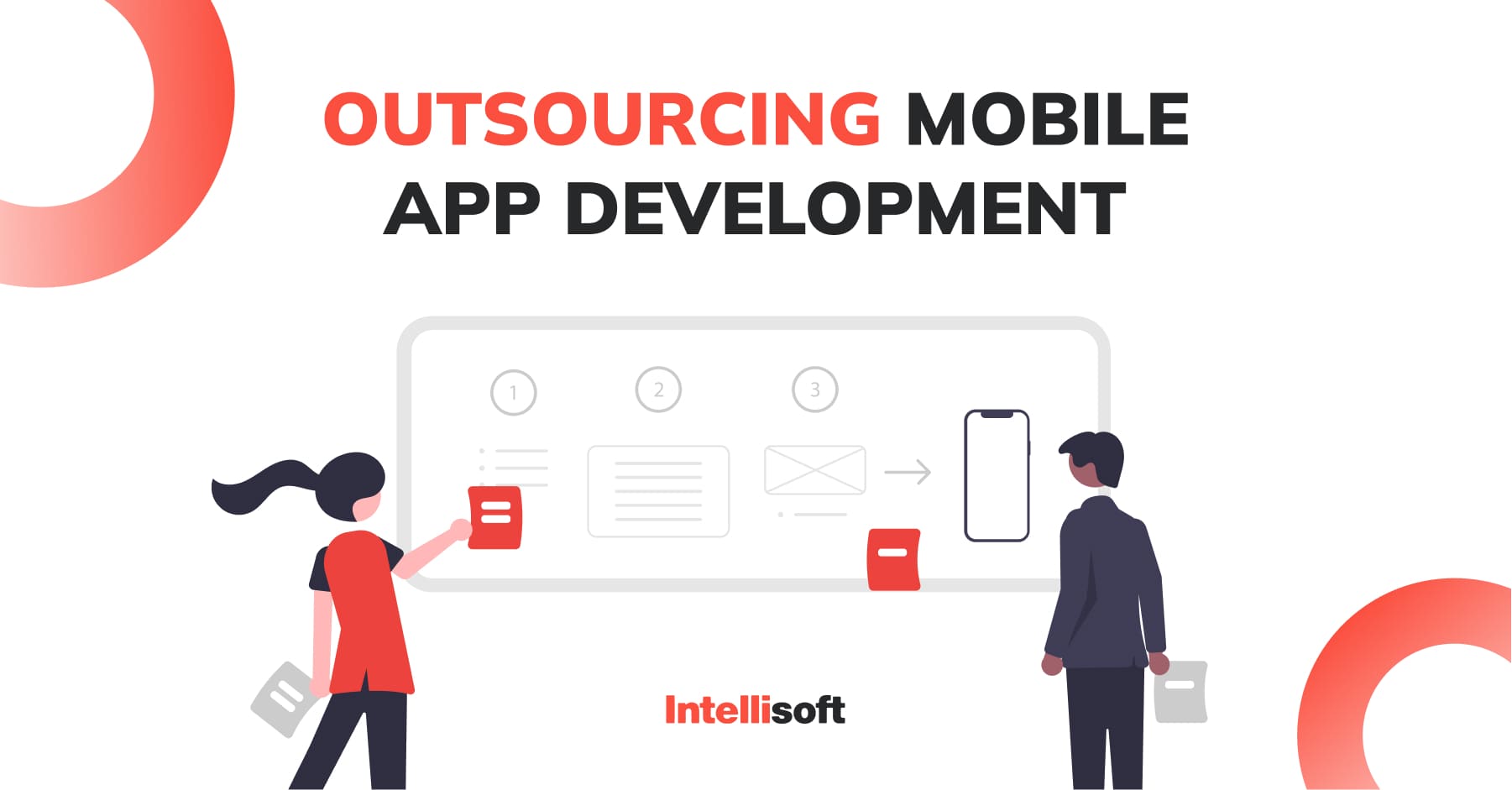 Cooperation with an app development agency helps achieve business goals quickly and without problems. You gain access to a talent base and fill up your team's skill gaps. At the same time, you do not need to select specialists on your own, provide them with all the working tools, and manage costs. Outsourced experts know how to create a piece of software and when to upgrade app.
Do you want to appreciate the benefits of this work model? Entrust your development tasks to Intellisoft experts. We offer three options for cooperation: Outstaffing as additional human resources; Staff Augmentation as access to talent, advanced technology, and established processes; and Dedicated Team as a mutually beneficial technology partnership. Feel free to contact us and ask your questions!