Let's imagine you got the idea of an IT healthcare start-up. A new game-changing fitness app, doctor-on-demand app, application for mental health, you name it. What should you do next? Because apart from hiring a software development team to get your project done, you also need to consider the perfect geographical location – a country that will need your innovative healthcare start-up. Besides this, it is a common practice when established healthcare providers buy start-ups to use their tech innovations in their products.
One example is Daintel, a clinical workspace for Intensive Care Units IntelliSoft team developed in 2007. In 2018, Cambio Healthcare Systems bought this start-up to enhance its EMR (Electronic Medical Records) product with Daintel Intensive Care Unit functionality. Why should you care?
That way, you can see how healthcare innovations can bring profit to a healthcare start-up owner and how the IT healthcare product can be applied in real life and help save lives. This example also shows that working with a reliable software outsourcing team, such as IntelliSoft, is as important as other elements of your healthcare start-up, including pitching a business idea to investors and marketing the product to the public.
In this article, we've gathered evidence that the IT healthcare market is the right place to invest your resources and its current trends. You'll also learn why Denmark is the right place to establish your healthcare start-up and see successful examples of innovative Danish top healthcare companies that nailed it to achieve success so that you can use them as an inspiration source.
Healthcare technology market overview
The healthcare IT market was estimated at USD 167.4 billion. It is expected to reach USD 1,305.1 billion in 2030 and exhibit a CAGR of 29.3% in the forecast period.
But why is this segment growing? The main reason for such an extent is a rising demand for preventive healthcare technologies and the growing trend of leveraging digitalization in healthcare. Other reasons are constant improvements of solutions providers offer to customers and the increasing prevalence of chronic diseases, which, together with high healthcare and medical costs, increase the customer demand for patient monitoring solutions.
Moreover, consider rising healthcare IT spending related to network access and infrastructure improvements because healthcare providers have increased the amount of medical data they can receive. Thus, they need more robust solutions to protect and store this data.
To keep up with the rising demand, key digital healthcare industry players integrate advanced technologies into their healthcare solutions, including big data, artificial intelligence, and the Internet of Things. That way, medical specialists can provide more accurate diagnostics, prepare more efficient treatment plans, and forecast medication outcomes, supporting market growth.
With this in mind, let's learn more about digital healthcare trends and how digital health startups serve humanity.
What are the Trends in Healthcare Technologies?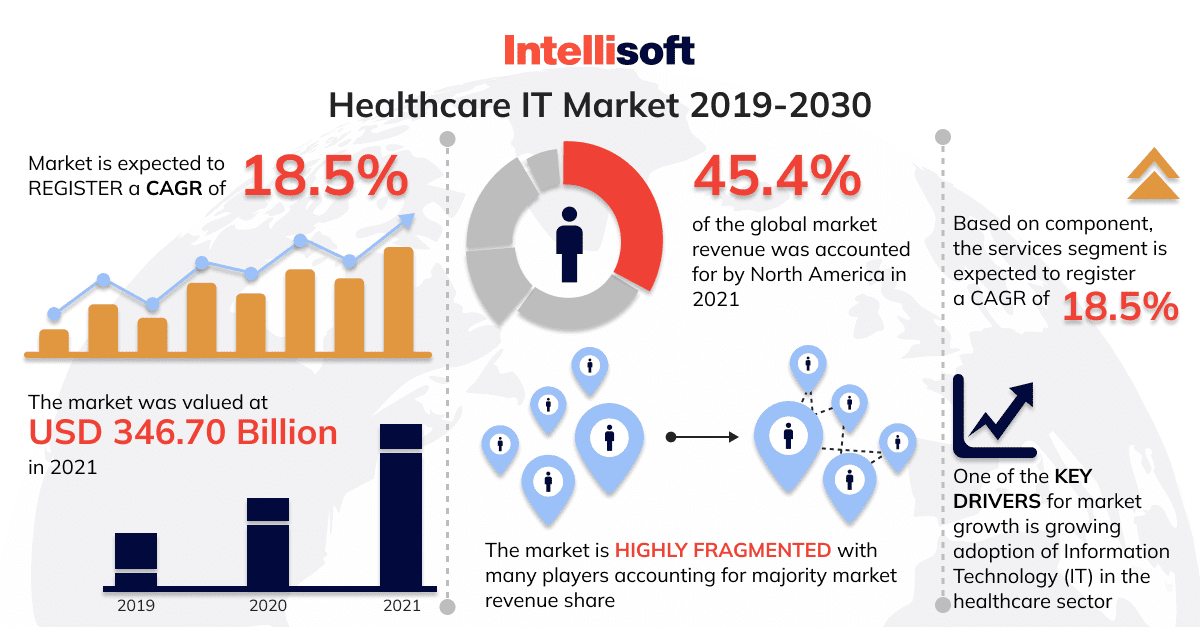 As we said, relying on digital healthcare solutions is a common practice. To provide you with a deeper understanding of how those technologies can improve medication outcomes, we have gathered the list of the most prominent technologies and examples of how they are used in healthcare.
Artificial Intelligence (AI)
This technology is often handy for examining patient information, creating new medication, and improving the effectiveness of diagnostic procedures. Machine learning algorithms that leverage AI algorithms are also beneficial regarding healthcare treatment.
The main benefits of using AI and machine learning are receiving composite, panoramic views of patients' medical data, improving decision-making, avoiding medical errors such as unnecessary procedures and misdiagnosis, helping interpret tests, and suggesting treatment based on current guidance and treatment protocols.
One example is machine learning algorithms that were trained to analyze CT scans and came up with predictions of coronavirus effects. Apart from the pandemic treatment, medical specialists also use AI to improve cancer diagnosis.
For decades biopsy was the primary method for medical specialists to diagnose cancer. The main drawback of this method is that it didn't provide a complete picture of tissues and organs. The contemporary histopathology technique leverages digital scans of a particular body region. This way, psychologists can receive data on how cell mutation impacts the tissue of considerably more significant portions of the human body at once by receiving data from slide pictures, also known as WSI (whole-slide imaging).
Another example of leveraging AI in medicine is Microsoft's project called Project InnerEye. The software applies radiation AI technology to improve clinicians' capacity by arranging radiotherapy 13 times more quickly.
Integrating Data and Predictive Analysis
Data integration and predictive analytics help extract relevant insights into patients' conditions and forecast treatment outcomes. Those technologies help medical staff understand patient health better by analyzing electronic medical records and suggesting more accurate diagnoses and personalized treatment plans.
Other usages for predictive analytics include predicting what disease is more likely to develop and how the patient will respond to different treatment plans. Algorithms can even indicate whether the patient will attend the medical appointment and whether the patient will return to the hospital within 30 days of discharge.
At a bigger scale, predictive analytics can also be used for managing public health – spotting chronic diseases and conditions. Such people can receive preventive care before the disease progresses, thus saving time and money and increasing the chances of positive treatment outcomes.
The algorithm analyzes such factors as demographics, disabilities, age, and past patterns of care to come up with such a prediction. Then, the algorithm scores the patient based on those factors.
The study published by Diabetes Care showcased that predictive algorithms can determine a five to ten years life expectancy for older adults with diabetes. This information allows doctors to prepare a personalized treatment plan for every patient.
Mental Tech
The World Health Organisation reported that there had been a 13% increase in mental health issues during the past 10 years. The reasons for such an increase include not only the demographic shift but also unhealthy habits of using social media and the COVID-19 pandemic, which increased the prevalence of depression and anxiety disorders by up to 25%.
Technology helps people to cope with their mental health issues in many ways. People can check whether their symptoms can relate to any mental health illness via online services and receive an initial diagnosis without visiting mental health specialists. Video communication solutions like doctor-on-demand allow people to receive mental health support without leaving home.
Online therapy platforms, such as Calmerry, provide a wide range of therapists with experience in psychology and psychotherapy so that users can choose therapists that match their needs and the problems they want to overcome.
Now that you know about significant trends in applying technology in healthcare let's see why healthcare in Denmark is the perfect sector for starting your medical healthcare start-up.
Denmark Healthcare Technology Market Today And Tomorrow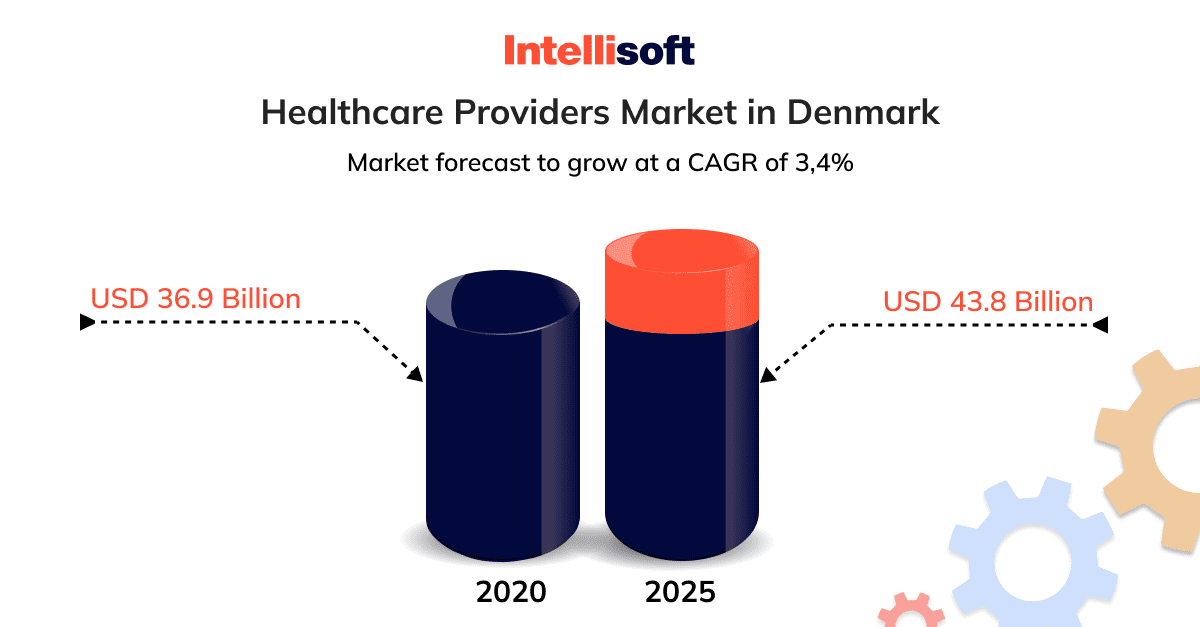 When launching a healthcare startup, you must ensure that your innovations and technologies will be in demand among the population. To achieve that goal, you can use the Global Innovation Index, which rates the adoption of tech innovations in most developed countries. Besides this, the World Index of Healthcare Innovation will also tell you which countries are investing in creating their healthcare systems.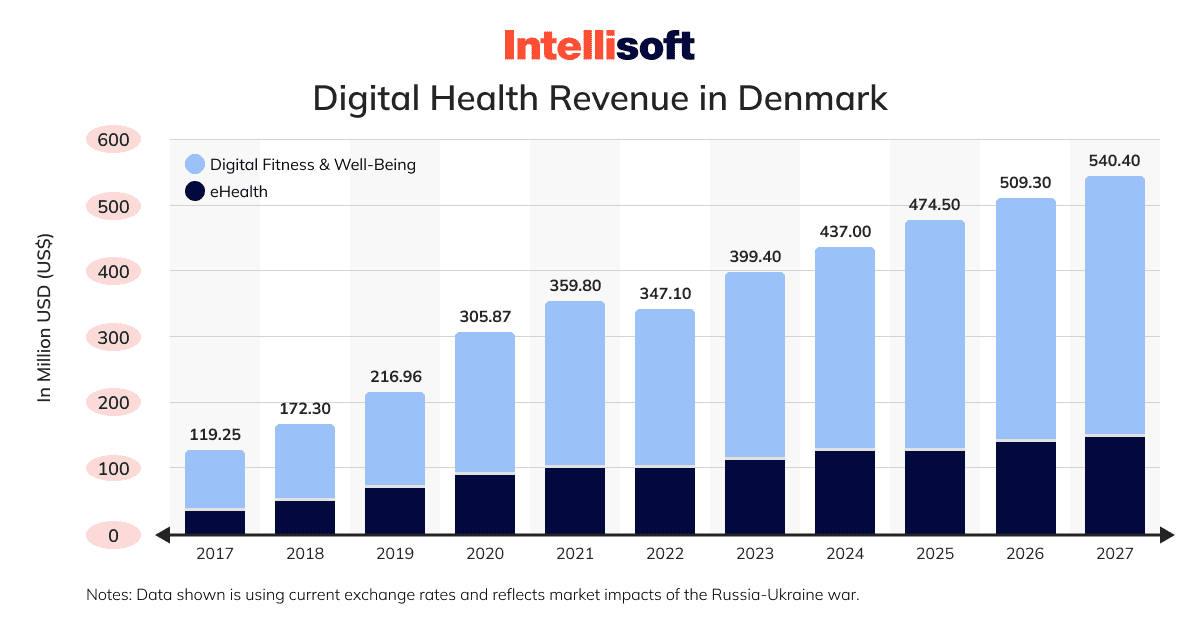 In 2021, Denmark was ranked #11 on the World Index of Healthcare Innovation and got an overall score of 49.87. Such a high rating was dedicated to the country's contribution to scientific discoveries and the adoption of health information technology across the country. But what perspectives will you have after launching a healthcare start-up in Denmark? Let's see.
There are over 900 companies that operate in the Denmark MedTech field, while 250 of them are dedicated MedTech companies.
Over 95% of revenue Danish companies generate through export, which makes Denmark the third most prominent exporter of med tech products in Europe per capita.
In Denmark, the productivity of the MedTech industry is twice as high as the business community in general.
Over 15,000 people work in dedicated MedTech companies, while 22,000 employees are subcontractors.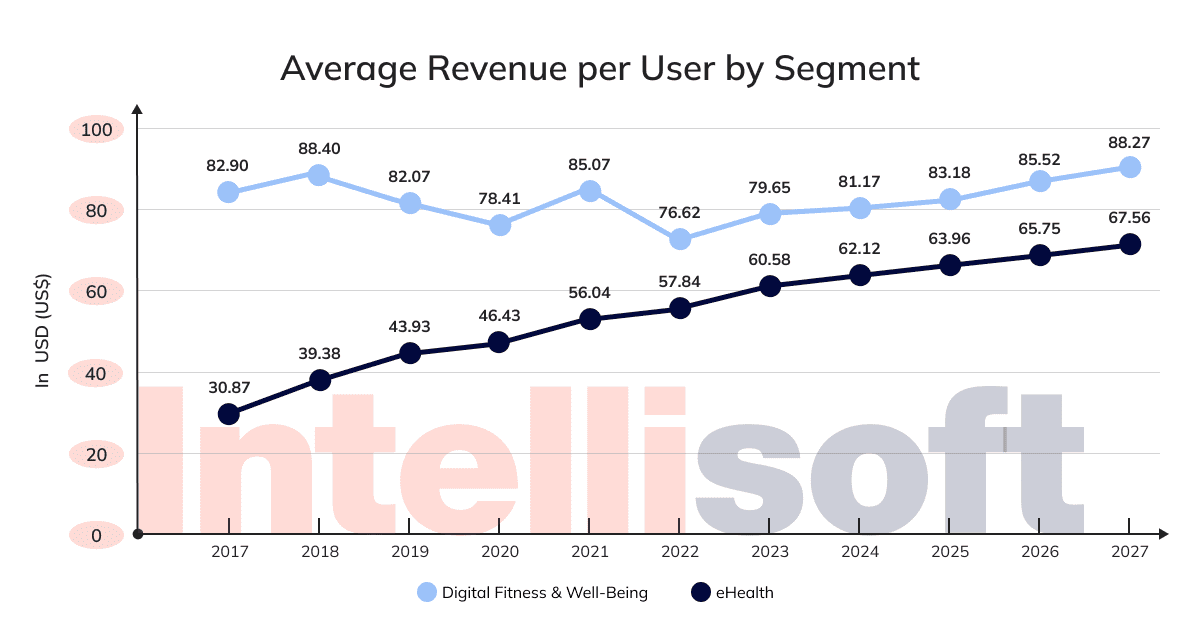 By choosing Denmark as a homeland for your medical technology start-up, you will receive the opportunity to hire top talents in this sphere and export your tech solution to other countries, thus, growing your business. With this in mind, let's look at Denmark's most successful examples of healthcare tech companies and the innovations they brought.
Top Healthcare Companies From Denmark
Denmark is rich in healthcare start-ups that leverage advanced technology for many spheres – disease management, emergencies, therapy of chronic diseases, medical imaging, and mental health. You can use these examples of top healthcare companies as an inspiration source for your MedTech start-up. Now, let's take a look at them.
Liva Healthcare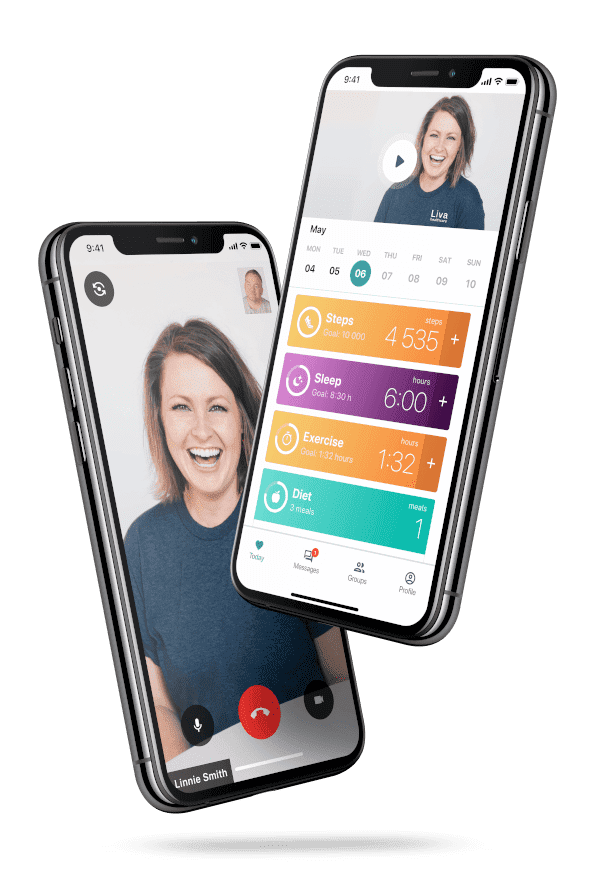 Founded in 2015
Funding $30.2M
Liva Healthcare is one of the best healthcare companies that developed a digital healthcare platform to help users live a healthy lifestyle and manage chronic diseases. The platform includes three types of users – coaches, general practitioners, and patients.
The platform is targeted at people with such chronic illnesses as Type 2 diabetes, obesity, and heart disease and is aimed at changing patient behavior to a more healthy one. Thanks to this platform, patients receive personalized health recommendations and build strong bonds with therapists and coaches. To make significant changes in patient behavior, specialists need 9 to 18 months. Coaches can manage up to 500 people per year.
Corti