Living the life of a busy healthcare professional, juggling the pressures of saving lives and maintaining patient records, is a challenge. You surely want someone or something to help you out and make your life easier. This is when cloud computing swoops in like a caped superhero bringing efficiency, security, and power to your fingertips.
With the healthcare cloud computing market skyrocketing to an estimated $89.4 billion by 2027, there's never been a better time to unmask the true potential of this cutting-edge technology. So get ready for a journey into cloud computing in healthcare, exploring its core features, applications, and technologies.
But first, let us introduce ourselves. We are IntelliSoft, the masterminds behind developing electronic medical records (EMR) for industry giants like Daintel (Cambio). We have ample experience in the field, so we know a thing or two about the power of cloud computing in healthcare. So, trust us when we say you're in good hands.
We'll look into the ins and outs of what cloud computing in healthcare is. We'll delve into its benefits for medical facilities, examining how it revolutionizes patient care, data management, and collaboration. Along the way, we'll draw from real-life examples to demonstrate the tangible impact of these technologies.
By the end of this journey, you'll be equipped with the knowledge and understanding to harness the power of the cloud for the greater good of your patients, colleagues, and the world.
Tackling the Challenges of Healthcare Services
When navigating the stormy seas of the healthcare industry, organizations struggle with managing heaps of sensitive data daily. Among the most frequent challenges healthcare companies face, you can underscore data security, accessibility, and cost optimization.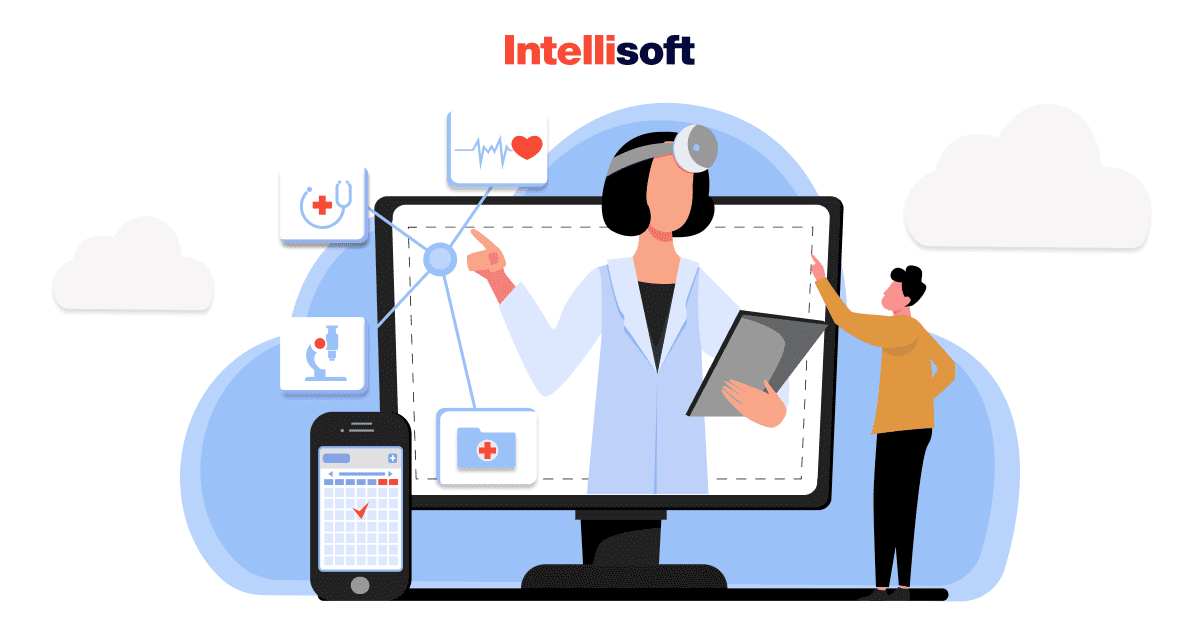 Data Storage Costs
Medical organizations process colossal amounts of data from many devices. Storing this data on hardware necessitates relentless maintenance and a king's ransom. Cloud computing applications in healthcare swoop in to save the day, providing scalable solutions tailored to ever-expanding storage needs without the enormous costs of on-site hardware.
According to a Thomson Reuters report, the US healthcare system wastes $600-850 billion annually due to administrative inefficiency and unnecessary treatments—problems cloud computing can help solve.
Providers like Azure and AWS offer a pay-as-you-go model for over 160 services, providing organizations unparalleled flexibility. They pay only for the services they need and for the duration they use them. This strategy enables healthcare providers to allocate funds more efficiently, such as investing in cutting-edge diagnostic equipment or trimming service fees.
Solving Accessibility Issues
Healthcare organizations are intricate webs, frequently involving multiple physicians or teams collaborating on a single patient's care. Sharing up-to-the-minute patient information without additional communication can be a challenging and resource-draining task.
Healthcare cloud services come to the rescue enabling real-time data updates and granting authorized specialists the power to access and modify information as needed. This streamlined approach dramatically simplifies workflows for medical professionals and, by extension, patients who can view changes in their prescriptions and appointments online without visiting the hospital.
Cloud Security in Healthcare
The risk of data loss without the hope of recovery remains high when relying on hardware resources. Since the healthcare industry constantly juggles sensitive data such as diagnostics, lab tests, medical history, and billing records, losing this information can spell disaster for the organization.
In this situation, cloud service providers have your back. Ensuring backups, as servers are typically dispersed across various geographical locations, security is their most remarkable feature and one of the main advantages of employing cloud computing in healthcare. Cloud storage safeguards data, even in natural disasters or similar misfortunes.
Additionally, IoT-connected medical devices are vulnerable to hacker attacks. Cloud healthcare solutions step up to the plate, offering superior security compared to on-premises systems. Cloud servers come armed with an arsenal of security measures such as IDS/IPS, firewalls, and end-to-end encryption, shielding healthcare data from potential threats.
High costs, accessibility hurdles, and security concerns are some of the most significant challenges healthcare organizations face. Cloud computing extends a lifeline, enabling cost savings, improved accessibility, and strengthened security measures. As the industry continues to embrace cloud-based IT solutions for the healthcare industry, it will be better equipped to deliver top-notch patient care and navigate the complex issues that you can face in this sector.
Core Benefits of Cloud Computing in Healthcare
Let's dig deeper into the benefits that cloud computing brings to the table, such as its scalability, wallet-friendly cost-effectiveness, ironclad security measures, and awe-inspiring flexibility.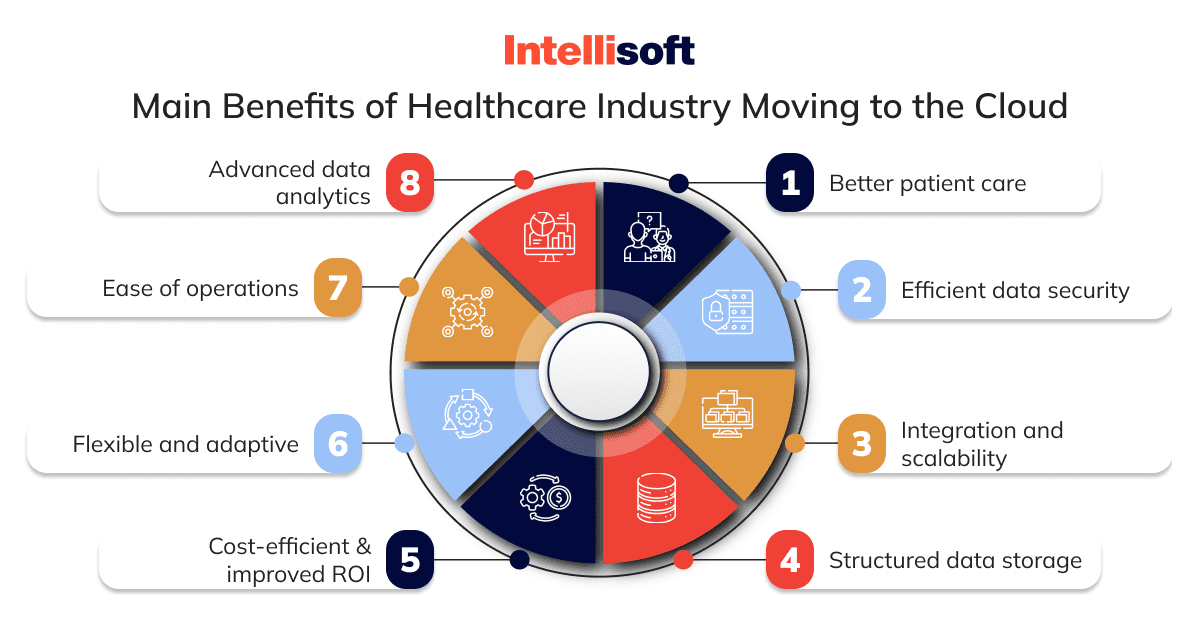 Scalability: When Your Needs Grow, So Does Your Cloud
Picture this: you're running a healthcare organization experiencing rapid growth. You've got more patients, more data, and more demands on your IT infrastructure than ever before. You're faced with a crucial decision: do you invest in expensive hardware and software upgrades or choose an adaptable solution that grows with your needs? Enter cloud computing – your one-stop shop for all things scalable.
With cloud computing, you can quickly adjust your IT infrastructure to accommodate your ever-changing workload and storage requirements. No more concerns about running out of space or resources when there's a sudden influx of patient data. The cloud has your back, ensuring you're always prepared for the unexpected.
Cost-Effectiveness: Smart Savings
We know what you're thinking: "Sure, cloud computing sounds fantastic, but how much will it cost me?" Hold onto your stethoscope because we're about to drop a big surprise: cloud computing is incredibly cost-effective.
By reducing operational and capital expenses, cloud computing allows you to streamline your IT infrastructure without breaking the bank. The pay-as-you-go model offered by cloud providers is like the all-you-can-eat buffet of IT solutions – you only pay for what you consume. It means you can put those hard-earned dollars towards more important things, like patient care and research. Your wallet, your patients, and your conscience will thank you.
Security: Guarding Your Data
In healthcare, sensitive patient data is the holy grail; protecting it is your sworn duty. Сloud computing has your back in keeping your patients' information safe and secure. With advanced security measures from cloud providers, you can be sure that your data is guarded like Fort Knox.
What's more, cloud services are all about compliance. They follow strict regulations to ensure patient data is handled with the maximum care and respect. In modern times when data breaches and cyberattacks are all too common, you can rely on your cloud provider to keep your data locked up tight.
Flexibility: Unleash Your Inner Healthcare Superhero
You've got patients to see, diagnoses to make, and lives to save – you don't have time to be tied down by outdated technology. Cloud computing is here to give you the flexibility you need to be the healthcare superhero you've always dreamed of becoming.
With the power to access data from anywhere, at any time, you can provide remote consultations to patients in need, no matter where they are. No more barriers to accessing top-notch medical expertise – just you, your cloud-based solutions, and a world of patients waiting for your help.
And that's not all. Cloud computing enables seamless collaboration among healthcare teams, allowing you to share vital patient information in the blink of an eye. With everyone on the same page, you and your team can work together more effectively than ever before.
With scalability, cost-effectiveness, security, and flexibility at your fingertips, it's time to embrace the cloud and take your healthcare organization to new heights. Just remember, with great computing power comes great responsibility.
Related readings:
A Practical Approach to Cloud Computing in Healthcare
In healthcare, cloud computing is an essential tool that revolutionizes how medical organizations operate. From storing, managing, and processing data to accessing patient records, collaborating with colleagues, and making data-driven decisions efficiently, cloud computing has ingrained itself into the very fabric of the healthcare industry. To better appreciate the practical use of cloud computing in healthcare, let's dive into some real-world examples and applications.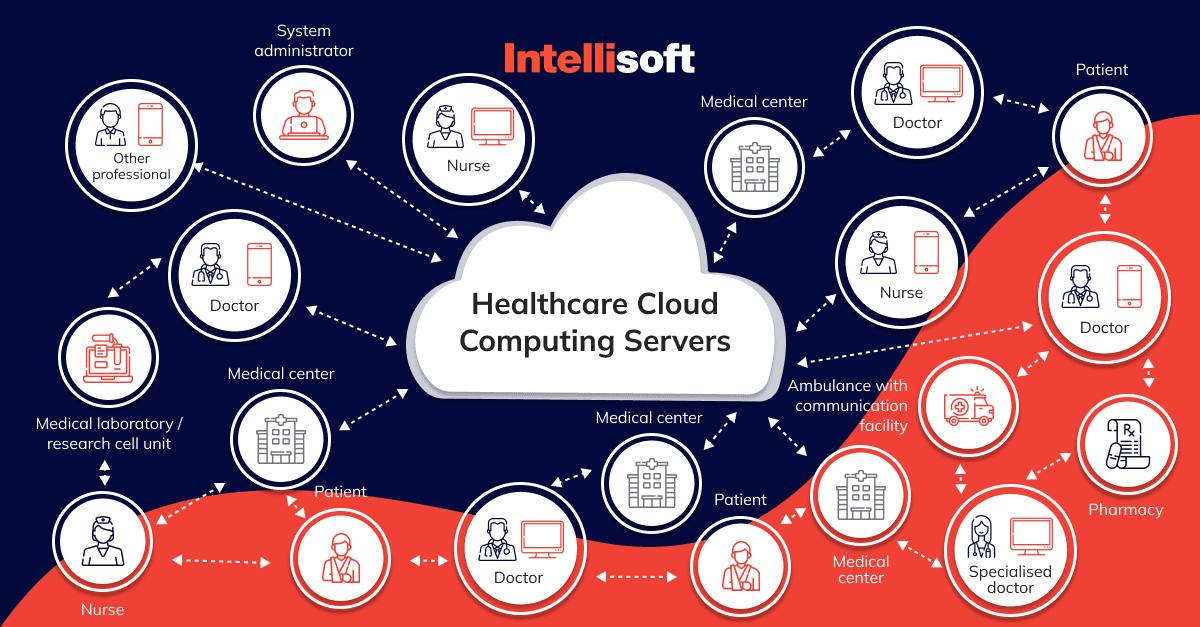 Storing, Managing, and Processing Data
In the digital age, healthcare organizations generate massive amounts of data daily, from patient records to diagnostic tests, research, and more. With the power of cloud computing, healthcare professionals can access vital information on demand, ensuring timely and accurate diagnoses and treatment plans. Cloud computing offers scalable and secure storage solutions that enable healthcare providers to store, manage, and process data efficiently.
Accessing Patient Records
Cloud computing allows healthcare providers to securely store patient records in the cloud, facilitating seamless access from any location and device. With a few clicks, medical professionals can now retrieve up-to-date patient information, eliminating the time-consuming and error-prone process of sifting through physical files. Consequently, patients enjoy a more streamlined experience as they can view their cloud medical records, prescriptions, and appointments online without visiting the hospital.
Collaborating with Colleagues
Healthcare professionals often work in teams to address complex medical cases. Cloud computing nurtures collaboration by enabling real-time communication and information sharing among team members, regardless of their physical location. With cloud-based tools such as video conferencing, file sharing, and project management applications, healthcare teams can now work together more effectively, improving patient outcomes and overall efficiency.
Making Data-Driven Decisions Efficiently
Healthcare providers must make crucial decisions daily, from diagnosis and treatment plans to resource allocation and more. Cloud computing empowers medical professionals to make data-driven decisions quickly and efficiently by providing instant access to relevant information and analytics tools. The cloud also supports advanced technologies such as artificial intelligence and machine learning, which can analyze vast amounts of data, identify patterns, and suggest the best course of action based on evidence.
Applications and Companies Harnessing Cloud Computing in Healthcare
NetApp is a data management and storage company that offers cloud-based solutions for healthcare providers to manage their data effectively. Their data management platform enables organizations to store, process, and analyze data securely, ensuring compliance with regulations and delivering top-notch patient care.
Medsphere provides cloud-based electronic health records (EHR) solutions, including CareVue, a comprehensive EHR platform that supports clinical, financial, and administrative tasks. By leveraging the cloud, Medsphere ensures that healthcare organizations can access, manage, and share patient records effortlessly, resulting in improved patient outcomes and streamlined workflows.
ClearDATA is a healthcare-exclusive cloud services provider that offers a suite of cloud computing solutions, including secure storage, computing, and network services. With a focus on security and compliance, ClearDATA ensures healthcare providers can embrace the cloud without worrying about data breaches or regulatory violations.
Nintex is a process management and automation company that provides cloud-based solutions for healthcare organizations. Their platform helps streamline workflows, improve collaboration and enhance patient care by automating time-consuming manual processes, such as patient onboarding, appointment scheduling, and billing.
CareCloud offers a comprehensive cloud-based platform for healthcare providers, including practice management, electronic health records, and medical billing services. By leveraging the cloud, CareCloud ensures seamless clinical, administrative, and financial data integration, leading to a more efficient healthcare environment and improved patient outcomes.
Pfizer, a global pharmaceutical giant, utilizes cloud computing to accelerate drug discovery and development. By harnessing the power of cloud-based tools and resources, Pfizer can process and analyze vast amounts of data, identify potential drug candidates, and streamline clinical trials. This innovative approach not only accelerates the drug development process, but also reduces costs and improves the likelihood of successful outcomes.
It's time to bid farewell to the era of bulky file cabinets and embrace the cloud. As we can see, cloud computing is transforming the healthcare landscape in numerous ways. As more healthcare organizations adopt cloud-based solutions, the possibilities are infinite, and the future looks bright. After all, a healthy dose of cloud computing may just be the perfect prescription for your situation.
HIPAA-Compliant Cloud Healthcare: Key Functionality
In the ever-evolving world of healthcare, protecting patient data is paramount. Enter HIPAA-compliant cloud computing: the cutting-edge solution ensuring that sensitive health information remains confidential and secure while still accessible to authorized healthcare professionals. Embrace the future of healthcare with this powerful, trust-inducing solution that combines cloud computing, containerization, data storage and management, data exchange, health data analytics, and data security.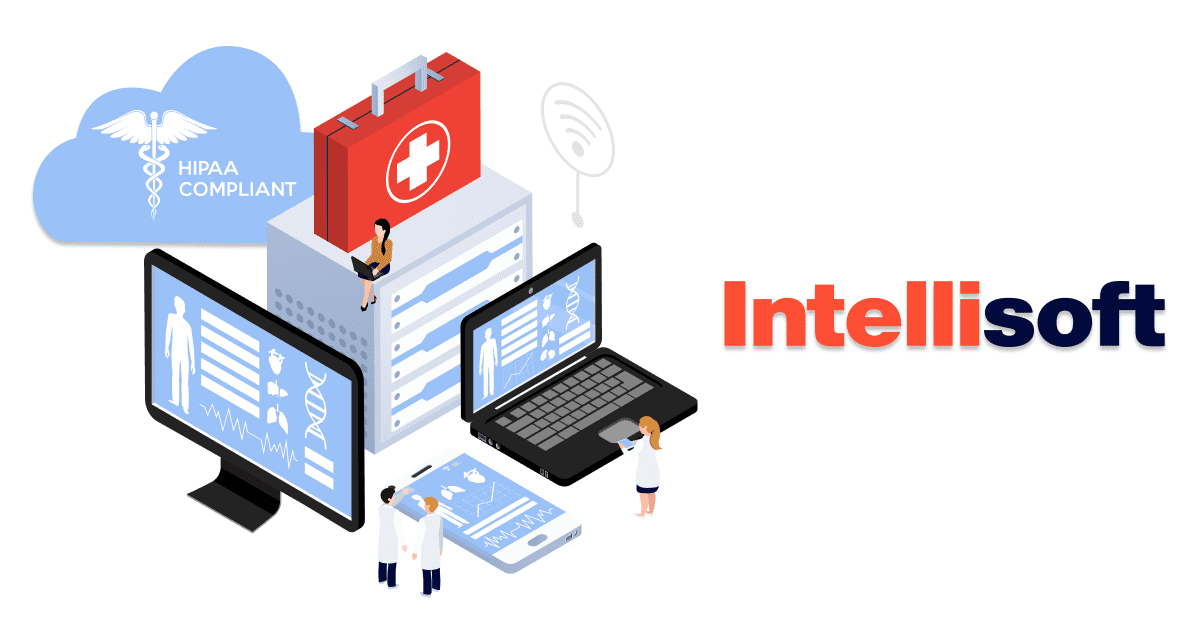 Cloud Computing: The Powerhouse Behind the Scenes
By harnessing the colossal capabilities of cloud computing, HIPAA-compliant cloud solutions provide healthcare organizations with unparalleled flexibility, scalability, and cost savings. This innovative approach allows healthcare providers to adapt to fluctuating workloads, storage requirements, and the ever-changing landscape of patient needs. With the cloud by your side, you can conquer today's challenges and prepare for tomorrow's medical marvels.
Containerization: Unleashing Unprecedented Flexibility
Containerization, a cutting-edge technology that encapsulates applications and their dependencies in lightweight, portable containers, is revolutionizing the way healthcare organizations deploy and manage software. With containerization, healthcare providers can deploy applications rapidly and consistently, regardless of the underlying infrastructure. This results in increased agility, streamlined workflows, and enhanced collaboration, ensuring that healthcare professionals can deliver top-notch patient care while maintaining the highest levels of data security.
Data Storage and Management: The Bedrock of Trust
Trust in the cloud to safeguard your precious patient data while keeping it readily accessible to those who need it most. HIPAA-compliant cloud solutions are built on a solid foundation of secure data storage and management. By employing advanced encryption techniques and adhering to strict regulatory requirements, these cloud solutions ensure that patient data remains confidential and protected at all times. Moreover, healthcare organizations can harness the power of cloud storage to effortlessly scale their infrastructure, accommodate growing data volumes, and maintain seamless access to vital patient information.
Looking For DevOps For Your Cloud App Support?
Write To Us
Data Exchange: Fostering Collaboration and Connectivity
In the interconnected world of modern healthcare, seamless data exchange is crucial for delivering optimal patient care. HIPAA-compliant cloud solutions for healthcare facilitate secure, real-time sharing of patient information among healthcare professionals, enabling them to collaborate effectively and make informed decisions. With the cloud as your trusted partner, you can bridge the gap between medical teams, foster a connected healthcare ecosystem, and ensure that patient needs are met swiftly and efficiently.
Health Data Analytics: The Power of Insight
Data-driven decision-making is the cornerstone of modern healthcare. HIPAA-compliant cloud solutions unlock the full potential of health data analytics, empowering healthcare professionals to derive valuable insights from vast amounts of patient information. Healthcare providers can uncover hidden patterns, predict patient outcomes, and develop personalized treatment plans by leveraging advanced data analytics tools and machine learning algorithms. Trust in the cloud to equip you with the analytical prowess needed to revolutionize patient care and transform the healthcare landscape.
Data Security: The Guardian of Patient Privacy
Data security is a non-negotiable aspect of HIPAA-compliant cloud solutions. By adhering to stringent compliance requirements and implementing state-of-the-art security technologies, HIPAA-compliant cloud solutions ensure that your patient data remains safe from potential threats and breaches. These cloud offerings come equipped with an arsenal of robust security measures, including intrusion detection systems (IDS), firewalls, and end-to-end encryption.
HIPAA-compliant cloud solutions are the ultimate weapon in the battle for secure, efficient, and high-quality patient care. By merging the limitless potential of cloud computing with advanced technologies like containerization, data storage and management, data exchange, health data analytics, and data security, these solutions enable healthcare organizations to thrive in an ever-changing industry. Trust in the power of HIPAA-compliant cloud solutions to safeguard your sensitive patient data, streamline your workflows, and unlock new possibilities in patient care.
6 Best HIPAA-Compliant Clouds
In the dynamic world of healthcare, navigating the complexities of HIPAA compliance can be a daunting task. Here are our picks of the top 6 HIPAA-compliant cloud platforms, each offering a unique blend of features. Let's dive in and explore these powerful tools that can transform your healthcare organization.
1. Microsoft Azure
Microsoft Azure is a leading cloud computing platform, providing a robust suite of tools and services specifically designed for the healthcare industry. With its comprehensive compliance offerings, Azure ensures that your organization adheres to HIPAA requirements while delivering cutting-edge solutions.
Advantages:
Seamless integration with other Microsoft products
Wide range of services tailored to healthcare needs
Great PaaS functionality
Advanced security measures and compliance certifications
Offers great value for money
Disadvantages:
Can be complex to navigate for beginners
Pricing can be less predictable than other platforms
Low availability of technical support
2. Amazon Web Services (AWS)
As one of the biggest and most widespread cloud platforms, AWS offers an impressive array of services designed to meet the demands of healthcare organizations. With a strong focus on security and compliance, AWS provides a solid foundation for HIPAA-compliant data storage and processing.
Advantages:
Extensive range of tools and services in the cloud for healthcare
Highly scalable and cost-effective
Strong security features and compliance offerings
Disadvantages:
Steeper learning curve for non-technical users
Security limitations
Potential for hidden costs and fees
3. Atlantic.Net Cloud
Atlantic.Net Cloud is a HIPAA-compliant hosting provider that offers tailored solutions for healthcare organizations. With its focus on simplicity and ease of use, Atlantic.Net Cloud is a great choice for organizations looking for a straightforward, reliable solution.
Advantages:
Simple, user-friendly interface
24/7 expert support and guidance
Competitive pricing and transparent billing
Disadvantages:
Limited range of services compared to larger platforms
May lack advanced features and customization options
4. Google Cloud Platform
Google Cloud is a powerful, reliable, and innovative platform with solutions for healthcare organizations seeking a HIPAA-compliant cloud. With its robust suite of tools, such as Google Drive, Cloud IoT Core, Cloud SQL, and Cloud Storage, Google Cloud Platform can help you manage and process your sensitive patient data securely and efficiently.
Advantages:
Seamless integration with other Google products
Innovative machine learning and AI capabilities
Strong security measures and compliance certifications
Disadvantages:
Less focus on healthcare-specific services
Can be complex for non-technical users
5. Oracle Cloud
Oracle Cloud is a comprehensive cloud computing platform with services designed to meet the unique needs of healthcare organizations. Oracle Cloud is a strong contender in the HIPAA-compliant cloud with its robust security features, compliance certifications, and healthcare-focused solutions. Oracle provides over 80 HIPAA-compliant cloud services, encompassing identity and access management, load balancing, handling block storage volumes, PHI storage, and a robust system for preventing data leakage.
Advantages:
Wide range of healthcare-specific services
Strong focus on security and compliance
Highly scalable and flexible
Disadvantages:
Higher price point compared to other platforms
Can be challenging to navigate for beginners
6. IBM Cloud
IBM Cloud offers a diverse range of tools and services tailored to the healthcare industry. The company claims that it is the sole cloud services provider employing FIPS 140-2 Level 4 (the highest level of encryption certification) and the KYOK (keep your own key) feature in conjunction with a dedicated hardware-security module (HSM). IBM delivers over 40 HIPAA-compliant cloud services, such as Cloud Databases, Cloud App ID, Cloud Block Storage, Cloud File Storage, Cloud for VMware Solutions, and numerous others.
With its strong commitment to security, compliance, and innovation, IBM Cloud is a reliable choice for organizations looking to implement a HIPAA-compliant cloud solution.
Advantages:
Healthcare-specific services and solutions
Advanced security features and compliance offerings
Integration with other IBM products
Disadvantages:
Can be complex and challenging for non-technical users
Pricing may be less competitive than other platforms
Finding the right HIPAA-compliant cloud platform is a crucial step in ensuring your healthcare organization's security, efficiency, and compliance. By carefully considering the unique features, advantages, and disadvantages of each option, you can make a well-informed decision that will propel your organization toward success in the ever-evolving world of healthcare technology.
Overcoming Challenges in Implementing Cloud Computing in Healthcare
The adoption of cloud computing in healthcare has been a game-changer, however, implementing cloud technology also comes with its share of challenges. Let's explore the obstacles you need to overcome when implementing cloud computing, including security concerns, regulatory compliance, downtimes, and integration issues.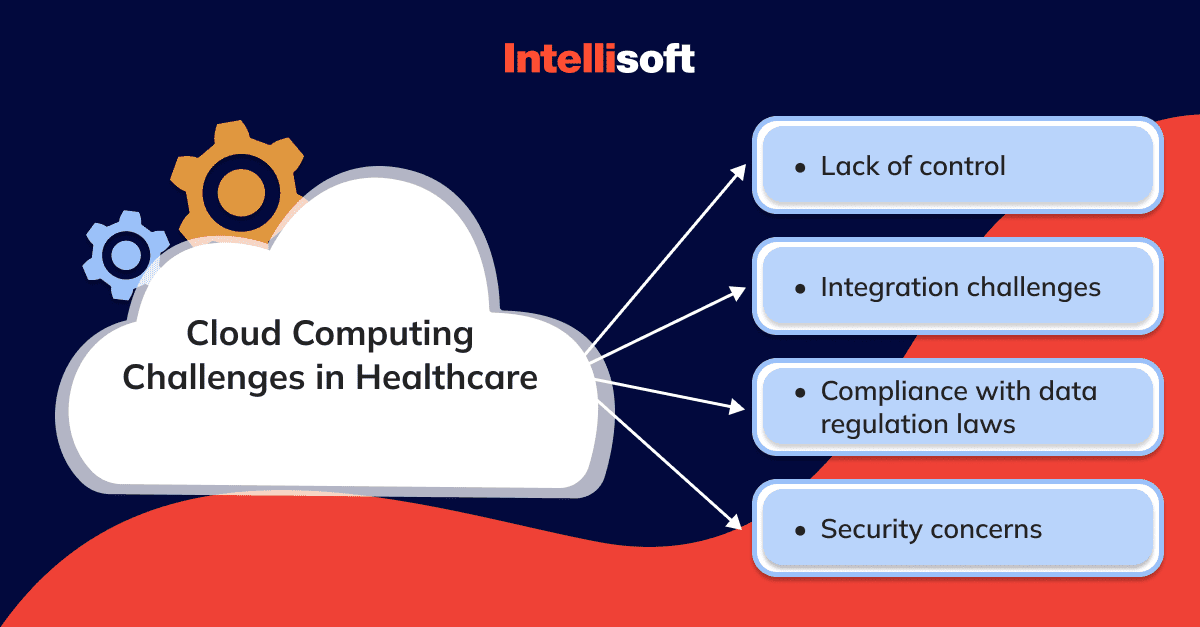 Addressing Cloud Computing Security Concerns
Security is paramount in the healthcare industry as organizations handle a wealth of sensitive patient data that must be protected at all costs. While cloud computing providers offer robust security measures, healthcare organizations must still be vigilant in managing potential risks.
To overcome security challenges, you should:
Conduct thorough research to select a reputable cloud service provider with a strong track record of security and compliance.
Implement rigorous access control measures, such as multi-factor authentication and role-based access control.
Continuously monitor and assess the cloud environment for potential threats and vulnerabilities.
Develop and enforce comprehensive security policies and guidelines for employees and vendors.
Invest in regular security training and awareness programs for staff members.
Ensuring Compliance with Data Regulation Laws
Compliance with data protection laws is crucial when implementing cloud computing in healthcare. Regulations such as HIPAA, CCPA, GDPR, NIST, HiTECH, and PIPEDA govern the handling and storage of patient data, and you must adhere to these rules to avoid costly penalties.
To tackle compliance challenges, you should:
Work closely with cloud service providers to ensure their services are compliant with relevant regulations.
Create and maintain an inventory of all data stored in the cloud, mapping its flow across the organization.
Implement strict data classification policies and procedures to ensure the appropriate handling of sensitive information.
Regularly review and update compliance policies in response to changes in regulations and industry standards.
Conduct periodic audits and assessments to verify compliance and identify potential gaps.
Addressing Lack of Control in Cloud Computing
Downtimes can be a significant challenge for healthcare organizations that rely on cloud services. While cloud providers strive to maintain consistent uptime, they can't entirely eliminate the risk of outages. A lack of control over downtime can lead to service disruptions and hinder your organization's ability to provide critical patient care.
To mitigate downtime risks, you should:
Choose a cloud provider with a proven track record of reliability and high uptime guarantees.
Develop and implement a comprehensive disaster recovery and business continuity plan.
Regularly review and update contingency plans to ensure they remain effective in the face of new risks and challenges.
Train staff to handle potential downtime situations, including accessing offline copies of essential data and applications.
Monitor the cloud environment for potential issues and work closely with the provider to address any concerns promptly.
Overcoming Cloud Computing Integration Challenges
Integrating cloud services with existing healthcare systems can be a complex undertaking. You must ensure seamless integration to avoid disruptions to workflows and maintain the integrity of patient data.
To conquer integration challenges, you should:
Develop a clear and detailed integration plan, outlining the steps and timelines for migrating systems to the cloud.
Engage skilled IT professionals with expertise in both healthcare systems and cloud technology.
Test the integration thoroughly to identify and address any compatibility issues or potential bottlenecks.
Develop a robust change management strategy to minimize disruptions to workflows and ensure a smooth transition for staff.
Continuously evaluate and optimize the integration to ensure maximum efficiency and effectiveness.
Implementing cloud computing in healthcare comes with a unique set of challenges that organizations must address to fully harness the potential of this technology. Healthcare providers can successfully navigate these turbulent skies and reap the benefits of cloud computing by proactively addressing security concerns, ensuring compliance with data protection laws, mitigating downtime risks, and overcoming integration challenges.
How to Avoid Risks when Implementing Cloud Computing in Healthcare
Transitioning to cloud computing in healthcare can seem daunting, but with the right strategy, your organization can safely and effectively harness the power of this technology. Let's explore the key steps to take when implementing cloud computing in healthcare to minimize risks and maximize benefits.
Start with a Clear Vision: Define Your Implementation Goals
Before embarking on the cloud computing journey, it's crucial to clearly define your goals and objectives. Consider what you want to achieve by implementing cloud computing, such as improved patient care, cost savings, increased efficiency, or enhanced data security. By establishing clear goals, you can create a focused strategy that addresses your organization's specific needs and challenges.
Chart Your Course: Develop a Clear Migration Plan
A well-defined migration plan is essential for a smooth transition to the cloud. Begin by inventorying your existing IT assets, including hardware, software and data, and determine what needs to be migrated or replaced. Develop a phased migration strategy to minimize disruption to your operations and allow time to address any unexpected issues that may arise. Don't forget to include a timeline, allocated resources, and responsibilities to ensure everyone is on the same page.
Choose Wisely: Select a Reputable Cloud Service Provider
One of the most crucial decisions you'll make during your cloud computing journey is selecting a cloud service provider. Look for a provider with a solid reputation in healthcare, as well as robust security measures, compliance with relevant data regulations, and a flexible, scalable infrastructure. Research each provider's customer reviews, case studies and industry certifications to ensure they can meet your organization's needs and expectations.
Check the Terrain: Conduct a Thorough Risk Assessment
Before migrating to the cloud, conduct an extensive risk assessment to identify potential dangers and vulnerabilities within your organization. This process will help you determine the appropriate security measures, backup strategies, and disaster recovery plans needed to protect your sensitive healthcare data. Be sure to involve key stakeholders from various departments such as IT, compliance and legal to ensure all perspectives are considered.
Calculate the Costs: Outsourcing Cloud Integration vs. Hiring In-House Developers
When considering the financial aspect of cloud computing, it's essential to weigh the benefits of outsourcing cloud integration against hiring in-house developers. Outsourcing offers significant cost savings as it allows you to access a team of experienced professionals without the overhead costs associated with hiring, training, and retaining full-time employees.
Furthermore, an outsourced team can quickly scale to meet your organization's changing needs, ensuring you have the right resources at the right time. In contrast, building an in-house team can be a time-consuming and costly endeavor that may not provide the same level of expertise or flexibility.
Implement Robust Data Encryption, Access Controls, and Monitoring
Data security should be a top priority when implementing cloud computing in healthcare. To protect sensitive patient information, invest in strong encryption methods such as end-to-end encryption for both data in transit and at rest.
Implement strict access controls to ensure only authorized personnel can access your cloud-based resources, and regularly monitor your systems for any suspicious activity or potential breaches. By taking these preventive measures, you can substantially reduce the risk of data loss or unauthorized access.
Establish a Contingency Plan to Address Vendor Lock-In
While cloud service providers offer numerous benefits, it's essential to consider the potential risks associated with vendor lock-in. This occurs when a provider's services or infrastructure are so tightly integrated with your organization that it becomes challenging or costly to switch to a different provider.
To minimize the risk of vendor lock-in, develop a contingency plan that describes the steps your organization will take in the event that you need to change providers. It may include identifying alternative providers, evaluating the costs and timeframes associated with transitioning, and ensuring your data is stored in a format that can be easily transferred between providers.
Train for Success: Provide Regular Training to Healthcare Staff
Finally, to fully realize the benefits of cloud computing in healthcare, it's essential to provide regular training for your healthcare staff. As new cloud health technologies and methods are introduced, employees must be adequately trained to use them effectively and safely. Training should cover topics such as data security best practices, how to use cloud-based applications, and understanding the implications of data privacy regulations.
By taking these steps to mitigate risks, your organization can confidently embrace cloud computing in healthcare, unlocking new levels of efficiency, cost savings and patient care. With a clear strategy, robust security measures, and ongoing training, your healthcare organization can navigate the cloud computing landscape and reap the rewards of this transformative technology.
Conclusion
We've come to the end of today's journey through the world of cloud computing in healthcare. From the challenges that healthcare organizations face to the remarkable benefits and practical applications, we've seen how cloud computing is revolutionizing the industry one byte at a time.
We've tackled the importance of HIPAA-compliant clouds and their key functionalities, as well as explored the best cloud platforms available for healthcare organizations. We've also delved into the challenges and risks that come with implementing cloud computing, but fear not – with our top-notch advice on avoiding those risks, you'll be on cloud nine in no time.
So, what's next? It's time to embrace the future and harness the power of cloud computing for your healthcare organization. But don't worry, you don't have to do it alone. IntelliSoft is here to be your trusty partner in this epic digital transformation adventure.
How IntelliSoft Can Help
With our extensive experience in developing EMR solutions for the healthcare industry, we can easily guide you through the cloud computing landscape. From migration planning to risk assessment and robust security measures, we've got your back every step of the way. We'll help you choose the best cloud service provider that suits your organization's unique needs and ensure a smooth transition without breaking a sweat.
Outsourcing cloud integration to IntelliSoft is not only cost-effective, but also safe, as it guarantees that you're collaborating with a team of experts who know the ins and outs of the healthcare industry. Our clients sign an NDA (a non-disclosure agreement) before we start the cooperation.
Reach out to IntelliSoft, and we'll embark on this exciting journey together, making your healthcare organization a bright example of the infinite possibilities that cloud computing has to offer.

About

Kosta Mitrofanskiy

I have 25 years of hands-on experience in the IT and software development industry. During this period, I helped 50+ companies to gain a technological edge across different industries. I can help you with dedicated teams, hiring stand-alone developers, developing a product design and MVP for your healthcare, logistics, or IoT projects. If you have questions concerning our cooperation or need an NDA to sign, contact info@intellisoftware.net.