When a master chef tries to whip up a culinary masterpiece while all the ingredients are scattered across different kitchens, he must constantly run around trying to gather everything needed. Before you know it, the soufflé is deflated, and the dinner guests are less than impressed. Now, imagine you're a healthcare professional, trying to provide the best care for your patients, but their vital information is scattered across multiple systems. Sounds like a recipe for disaster, isn't it?
Today, we're here to serve you a delectable dish of knowledge on integrating the Health Level Seven (HL7) interface engine into healthcare information systems. In this article, we'll take you on a journey through the world of health data, exploring how the HL7 interface engine can turn your healthcare experience from a scrambled mess into a perfectly prepared plate of seamless, efficient care.
IntelliSoft is a cutting-edge software development company with years of experience in the healthcare industry. We've successfully integrated HL7 Interface Engines into Cambio, the EMR provider from Denmark , making us your go-to sous chefs in this technological kitchen. We have the know-how, the skills, and the passion for making healthcare information systems more efficient, more connected, and more deliciously satisfying for everyone involved.
So, pull up a chair, grab your fork and knife, and prepare to dig into this juicy feast of knowledge on integrating the HL7 interface engine into healthcare information systems. With IntelliSoft as your guide, you'll soon understand why this crucial ingredient is the key to unlocking a world of seamless healthcare data exchange and overall positive experience for healthcare professionals and patients.
What Is HL7 in Healthcare Communication?
Health Level Seven (HL7) is a collection of formatting standards and guidelines designed to assist healthcare providers in the transmission and sharing of data. Healthcare providers employ various software and electronic systems to carry out tasks such as billing, maintaining medical records, telehealth, and updating patient records.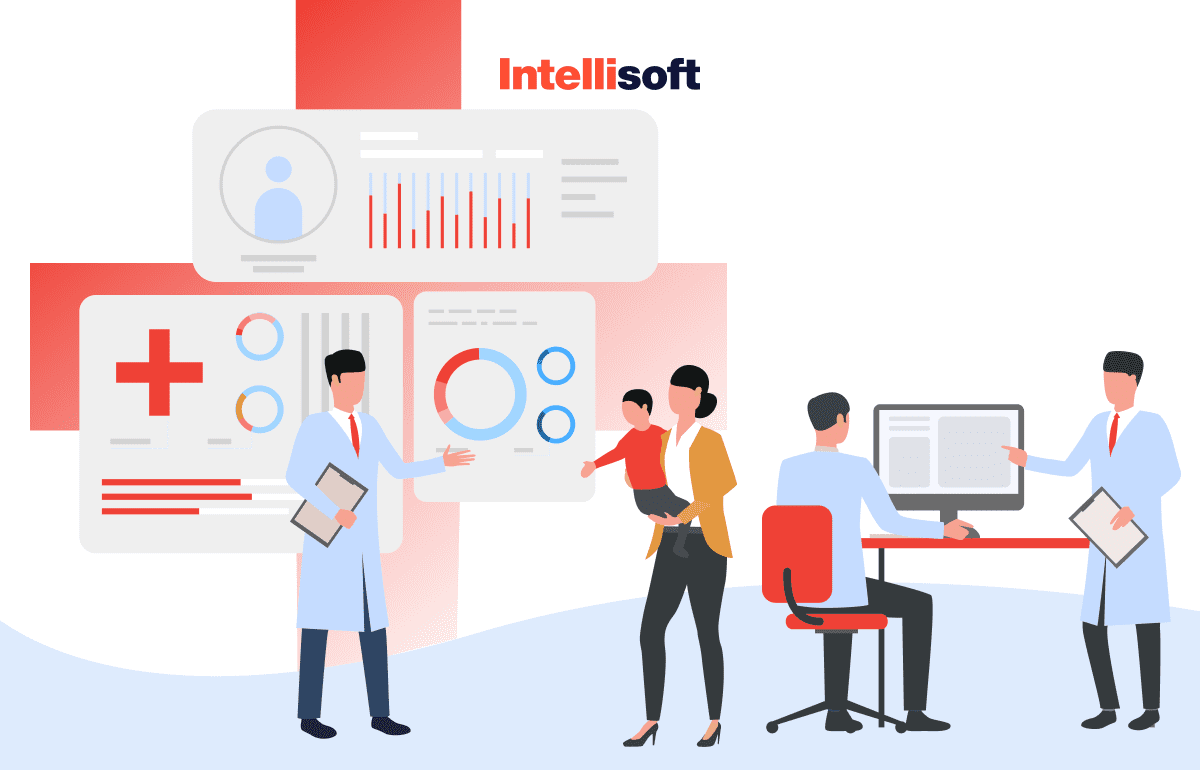 Hospital information systems, including electronic medical and health records, lab and radiology information systems, picture archiving and communication systems use different languages and formats, which complicates the communication and data collection process. That is why it's essential to use HL7's guidelines to ensure that data can be seamlessly integrated across all healthcare systems.
The main objective of HL7 is to ensure that different healthcare information systems can communicate and exchange data efficiently and accurately, regardless of their unique technological infrastructure. HL7 promotes the use of a standardized messaging format, which makes it easier for healthcare professionals to access vital patient information without ambiguity or the risk of misinterpretation, leading to more informed decisions and better patient care.
Moreover, as data sharing becomes more streamlined, it reduces the administrative and logistical burden on providers.
How Is HL7 Used in Healthcare Industry
The healthcare industry relies heavily on the Health Level 7 standard for seamless and efficient data exchange between different healthcare organizations. From hospitals and diagnostic laboratories to healthcare providers and electronic medical record systems, HL7 plays a pivotal role in optimizing patient care and streamlining administrative processes. Let's explore the various ways the healthcare industry uses HL7 to improve operations and patient outcomes.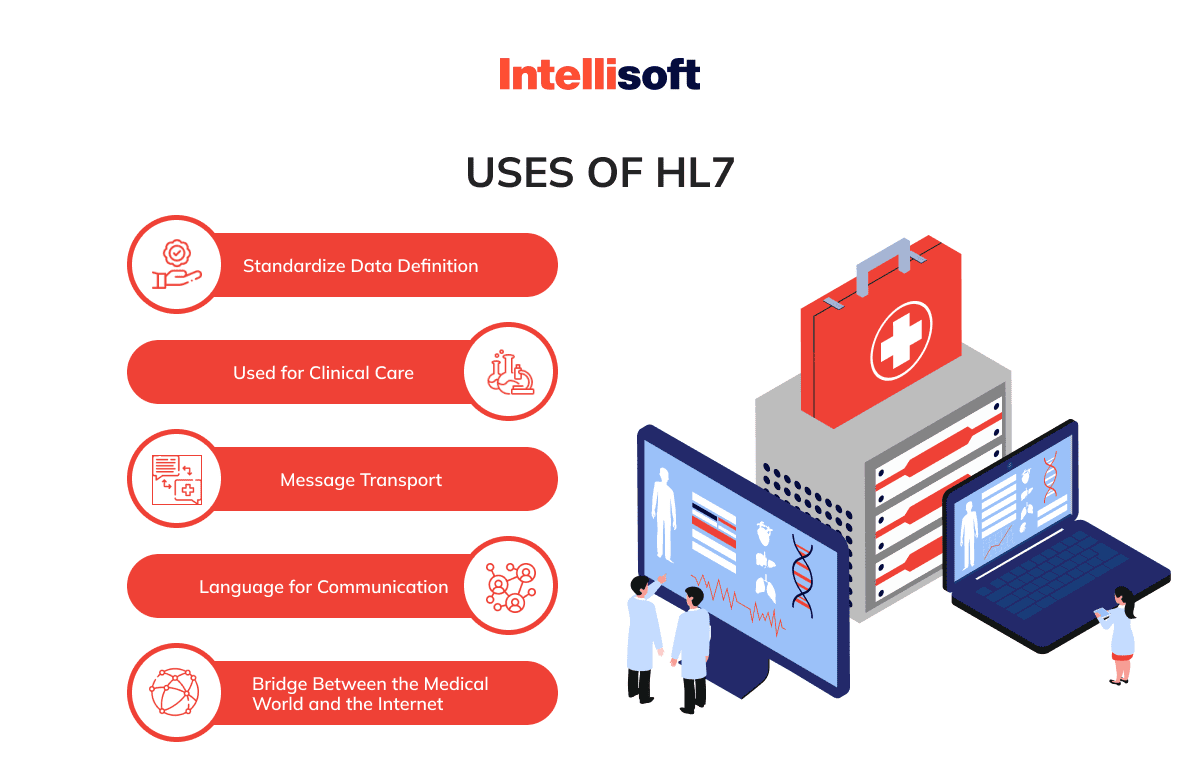 Hospitals
Hospitals generate and manage vast amounts of patient data, from medical histories and lab results to billing information and physician notes. Managing this data efficiently is essential for providing high-quality care and ensuring smooth hospital operations. By adopting HL7 standards, hospitals can easily exchange patient records with other healthcare facilities and maintain up-to-date, accurate, and comprehensive patient records.
When a patient is admitted to a hospital, their electronic health record (EHR) is updated with relevant information, such as demographics, diagnoses, medications, and treatment plans. As the patient receives care, additional data is captured and stored in the EHR, creating a comprehensive record of the patient's healthcare journey. By using HL7 messaging, hospitals can efficiently share this information with other healthcare facilities, enabling seamless care transitions and improving patient outcomes.
Diagnostic Laboratories
Diagnostic laboratories play a critical role in the healthcare system by providing essential information for diagnosis, treatment, and disease management. By implementing HL7 messaging, these laboratories can streamline the exchange of test orders and results with hospitals, clinics, and other healthcare providers.
When a physician orders a diagnostic test, an HL7 message is sent to the laboratory, containing the relevant patient information and test specifications. Once the test is complete, the laboratory sends the results back to the physician using another HL7 message. This process ensures accurate and timely communication of critical test data, enabling healthcare providers to make informed decisions and provide the best possible care to their patients.
Healthcare Providers
Healthcare providers, such as physicians, hospitals, and clinics, are responsible for submitting claims to insurance companies for reimbursement of services provided to patients. The claim processing workflow involves multiple steps, including patient registration, claim creation, claim submission, and claim adjudication. By leveraging HL7 messaging, healthcare providers can automate and streamline these processes, reducing manual work, minimizing errors, and accelerating reimbursement.
For instance, when a patient visits a healthcare provider, their demographic and insurance information can be captured and stored in the provider's electronic health record (EHR) system. Using HL7 messaging, the EHR system can automatically generate a claim containing the necessary patient and service information, and submit it to the insurance company for processing. This efficient and automated workflow reduces the risk of errors, shortens the time to reimbursement, and ultimately helps to ensure the financial sustainability of healthcare providers.
Provider-to-Provider Interoperability
In today's complex healthcare landscape, patients often receive care from multiple providers across various healthcare settings. To ensure seamless care coordination and optimal patient outcomes, it is crucial for healthcare providers to have access to accurate and up-to-date patient information. HL7 messaging enables provider-to-provider interoperability, allowing healthcare organizations to exchange patient data efficiently and securely.
For example, when a patient is referred to a specialist, the referring physician can use HL7 messaging to share the patient's medical history, test results, and treatment plans with the specialist. This information exchange enables the specialist to have a complete understanding of the patient's health and develop an appropriate care plan. Similarly, when a patient is discharged from a hospital and requires follow-up care, the hospital can use HL7 messaging to send the patient's records to their primary care physician, ensuring continuity of care.
Electronic Medical Record Systems
Electronic Medical Record (EMR) systems are digital versions of traditional paper-based patient charts, used by healthcare providers to document patient care, track health data, and improve overall care coordination. Health Level 7 plays a crucial role in EMR systems by enabling the exchange of patient data between different healthcare entities, including hospitals, clinics, laboratories, and pharmacies.
By integrating HL7 messaging capabilities, EMR systems can receive and send patient data in a standardized format, facilitating seamless communication between various healthcare providers. This interoperability helps to create a more comprehensive and accurate picture of a patient's health, which can lead to better-informed clinical decisions, improved care coordination, and ultimately, enhanced patient outcomes.
The adoption of HL7 standards within the healthcare industry has significantly improved the way patient data is managed, shared, and utilized. From optimizing patient records in hospitals and enhancing testing results in diagnostic laboratories to automating claim processing and enabling provider-to-provider interoperability, Health Level 7 messaging plays a vital role in streamlining operations and elevating patient care.
Related readings:
Introduction to HL7 Interfaces
The healthcare industry is continuously striving to improve patient care and outcomes through the use of electronic devices, digital media, and effective data sharing and communication. With HL7 interfaces, healthcare providers can streamline healthcare information systems and make them work seamlessly together. Let's look deeper into what HL7 interfaces are, how they benefit healthcare organizations, and who uses them in the industry.
What is an HL7 Interface?
While HL7 standards offer significant benefits, conventional integration methods fall short in addressing the requirements of modern healthcare providers. As the industry and technologies advance, medical professionals must accept non-clinical applications.
Mobile and SaaS applications have become increasingly interwoven with the online healthcare landscape. However, they utilize data formats that remain incompatible with most clinical systems. To effortlessly link these vastly different message standards, Application Programming Interfaces or APIs must be employed to facilitate scalable integrations.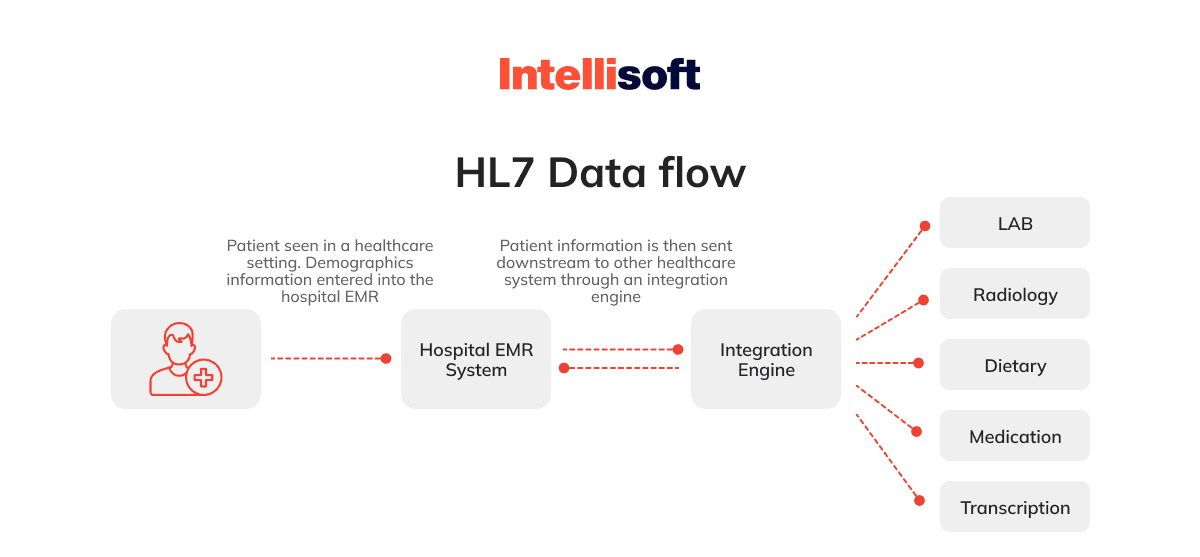 An HL7 interface is an API that provides a standardized and public interface for healthcare information systems to communicate using the HL7 messaging standards. It acts as a translator between different systems, allowing them to share patient data and other essential information seamlessly. HL7 interfaces are designed to simplify the process of connecting disparate healthcare applications, reducing the time and effort required to establish secure, reliable communication channels.
Benefits of HL7 Integration in Healthcare Information Systems
Integrating HL7 into healthcare information systems offers numerous advantages for healthcare providers and organizations.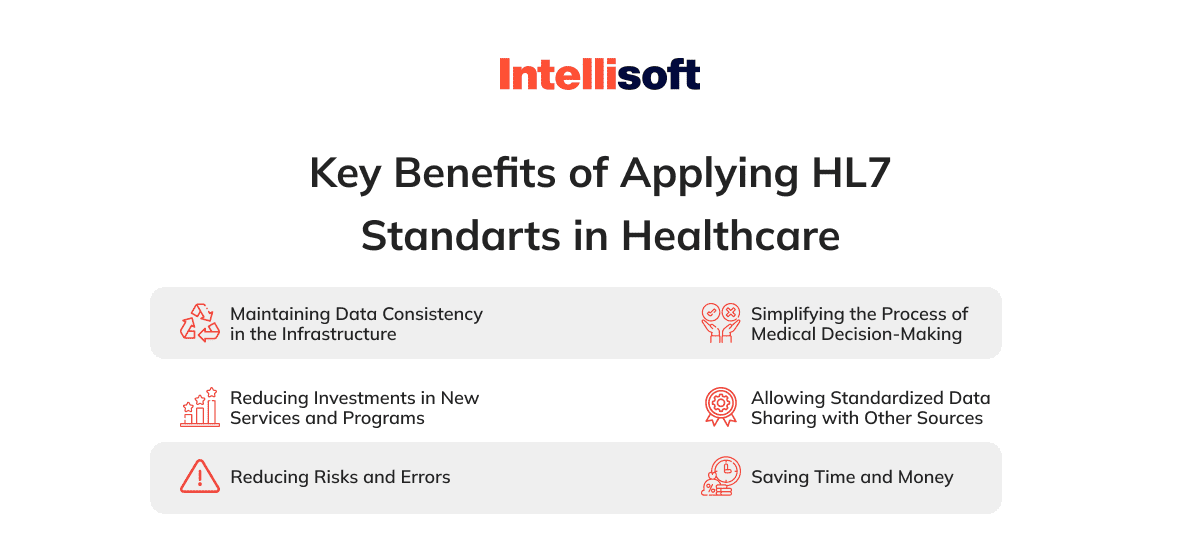 Let's discuss some of the main benefits.
Streamlined Processes for Medical Decision-Making
HL7 interfaces facilitate easy access to patient records, lab results, and other critical information, allowing medical professionals to make informed decisions based on accurate, up-to-date data.
Unification in the Healthcare Network
By integrating HL7 interfaces, healthcare organizations can create a more unified and interconnected network, enabling efficient collaboration among various departments and facilities.
Improved Patient Care Management
The use of HL7 interfaces helps healthcare providers manage patient care more effectively by ensuring that all necessary information is available at the right time and place, leading to better outcomes.
Establishing a Standardized Methodology of Data Sharing
HL7 interfaces provide a standardized means of sharing healthcare data, ensuring that different systems can communicate effectively, regardless of their unique technological infrastructure.
Minimizing Expenses on New Services and Programs
By employing the HL7 interface engine, healthcare providers can extend the longevity and return on investment (ROI) of their existing information systems, eliminating the need to invest heavily in new services and programs.
Reducing Risks and Errors
As HL7 comprises a set of formatting standards, it minimizes ambiguity within health records, subsequently reducing the likelihood of errors.
Saving Time and Resources
Health Level 7 streamlines and expedites data exchanges, decreasing administrative and operational time and expenses.
Enhancing Patient Experience
Patients can conveniently access their results and records online, sparing them the time-consuming task of physically transporting documents between specialists.
Delivering Improved Patient Care
HL7 integration not only facilitates smoother health data exchange for patients but also empowers doctors to enhance their medical services. With comprehensive access to health data, prescriptions, and treatment standards, doctors can make more informed decisions for their patients.
Categories of HL7 Users
HL7 is employed by various healthcare organizations, including hospitals, medical imaging centers, physicians, government clinics, laboratories, care homes, pharmacies, medical research institutions, and medical software and hardware suppliers.
Additionally, HL7 is utilized within medical facilities where message exchanges occur between diverse internal departments such as radiology, pharmacy, physiotherapy, patient administration, human resources, and finance.
HL7 users encompass IT system developers, specialized clinical interface developers, medical researchers, and medical organizations that require data sharing with other healthcare institutions and users.
Some other common categories of HL7 users include:
Clinical Interface Specialists
These professionals are responsible for designing, implementing, and maintaining HL7 interfaces, ensuring that healthcare information systems can communicate effectively.
Government or Regulatory Authorities
Authorities at the national and regional levels rely on Health Level 7 interfaces to access and exchange healthcare data, which is crucial for monitoring public health, setting policy, and enforcing regulations.
Medical Informaticists
Medical informaticists analyze and evaluate healthcare data to improve patient care, clinical workflows, and overall efficiency within the healthcare system. They rely on HL7 interfaces to access and exchange relevant data.
When Do You Need to Use an HL7 Interface?
The integration of HL7 interfaces is essential in today's healthcare landscape. With approximately 1,600 members from over 50 countries, including hospitals and private clinics, having integrated HL7 into their information systems, the need for a standardized means of data sharing and communication is greater than ever.
How To Develop Secures Healthcare Software?
Read Now
Organizations should consider implementing HL7 interfaces when:
Upgrading or implementing new healthcare information systems to ensure seamless data exchange between different applications and platforms.
Expanding their healthcare network and collaborating with other organizations, making efficient communication and data sharing critical.
Seeking to improve patient care and outcomes by streamlining workflows and enhancing data accessibility for medical professionals.
Ensuring compliance with government regulations and industry standards related to healthcare data exchange and interoperability.
With a wide range of stakeholders relying on Health Level 7 for efficient data exchange and communication, understanding the importance of HL7 interfaces and their role in the healthcare industry is crucial for any organization looking to optimize their information systems and deliver better patient care.
How Does HL7 Work?
To fully understand the importance of Health Level 7 in healthcare information systems, it is crucial to learn how it works. Let's discuss the details of HL7 message types, the software involved, and the process of sending and receiving HL7 messages.
HL7 Message Type List
HL7 messages are the building blocks of communication between different healthcare information systems. Each message type represents a specific type of data exchange, such as patient admission, laboratory results, or medication orders. Some common HL7 message types include:
ADT (Admission, Discharge, and Transfer)
These messages contain information related to patient admission, discharge, and transfer within a healthcare facility.
ORM (Order Message)
ORM messages are used to transmit information about orders, such as medication or diagnostic tests, from one system to another.
ORU (Observation Result)
ORU messages convey the results of diagnostic tests or other observations, such as lab results or vital signs, to the appropriate healthcare providers.
MDM (Medical Document Management)
MDM messages are used to exchange information about medical documents, such as patient records, discharge summaries, or referral letters.
RDE (Pharmacy/Treatment Encoded Order)
RDE messages contain information about medication orders, including dosages, instructions, and other relevant details.
This is not an exhaustive list, as there are numerous other HL7 message types designed to support various healthcare processes and data exchanges.
HL7 Software and Its Functionality
Several software tools and applications are available to help healthcare organizations effectively utilize HL7 for communication and data exchange. These tools can simplify the process of creating, sending, receiving, and processing HL7 messages. Some common HL7 software functionalities include:
Message creation
HL7 software allows users to create messages using predefined templates that adhere to the HL7 standard. This ensures that the messages are properly formatted and contain all the necessary information for successful data exchange. For example, a healthcare professional, such as a physician or nurse, enters patient data or updates existing information in an electronic health record (EHR) system. The EHR system then generates an HL7 message containing the relevant data.
Message validation
Before sending an HL7 message, the software can validate it to ensure that it adheres to the HL7 standard and contains all the required data elements. It helps to minimize errors and improve the reliability of data exchange.
Message transmission
HL7 software facilitates the transmission of messages between different healthcare information systems using various communication protocols, such as TCP/IP, HTTP, or Web Services.
Message parsing and processing
Upon receiving an HL7 message, the software parses the message and processes the data, updating the relevant information systems with the new information.
Message logging and auditing
HL7 software can log and audit all message exchanges to ensure traceability and support regulatory compliance. This logged information can be used to monitor the performance of the communication process, identify and resolve issues, and optimize the overall data exchange process.
After processing the HL7 message, the receiving system sends an acknowledgment message back to the sender, indicating that the message was successfully received and processed. If there are any issues with the message, such as missing data elements or invalid formatting, the receiving system may send an error message instead, allowing the sender to address the issue and resend the message if necessary.
HL7 Integration Engine
Currently, healthcare facilities typically utilize multiple HL7-enabled systems and applications. To fully harness the potential of the universal medical language and achieve increased efficiency, reduced costs, and superior services, healthcare facilities require an HL7 integration engine to facilitate HL7 integration among all systems and applications.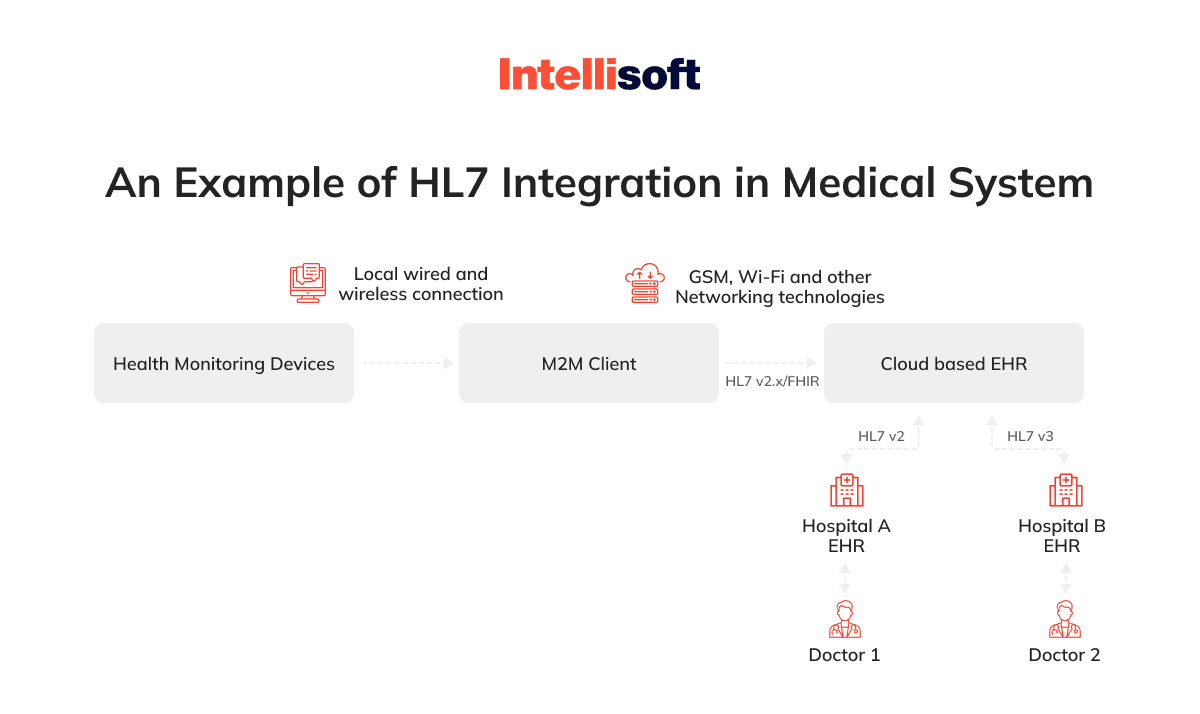 HL7 integration can be accomplished in one of two ways:
Point-to-Point
The Point-to-Point interface HL7 integration is the most straightforward approach to ensuring data communication between various medical systems and applications. In this method, dedicated interfaces (point-to-point) are created to transmit and receive data between two systems or applications.
Since there is a dedicated link or interface between the systems or applications, the data format used for communication between them is easily recognizable. However, the challenge of this approach lies in the large number of interfaces or links that need to be generated between the systems or applications. For example, connecting four systems with ADT data would require the creation of four distinct interfaces/links.
Interface and HL7 Integration Engine
The HL7 integration engine serves as a type of middleware designed to connect different systems. It can convert data formats to meet the requirements of various systems and orchestrate the message workflow. The advantage of this approach is that it eliminates the need for individual (point-to-point) interfaces between systems. While it can be difficult to differentiate between interfaces (from the point-to-point approach) and integration engines, the primary distinction lies in the range of functionalities supported by each method.
When considering HL7 integration, the main factor should be your integration strategy, regardless of the HL7 version you select. For example, you need to understand your facility's needs: whether an HL7 integration engine or a point-to-point interface would be more suitable, and what integration functionalities are required at your facility. It is crucial to develop a strategy outlining the scope of integration.
Comparing Versions: HL7 2.X vs. HL7 3.0
HL7 Version 2.x is a widely adopted series of HL7 messaging standards that have been in use since the 1980s. The primary goal of Version 2.x is to support the exchange, management, and integration of electronic healthcare data. This version uses a simple, easy-to-understand format based on the ASCII character set, which allows it to be widely adopted and easily integrated into various systems. HL7 2.x is an event-driven protocol, where a trigger event, such as a patient admission or discharge, initiates the exchange of information between systems. Despite its popularity, one of the main drawbacks of HL7 2.x is that it lacks rigorous implementation specifications, which can result in significant variations in how different systems interpret and process the messages.
HL7 Version 3.0, on the other hand, was introduced to address the limitations of Version 2.x, offering a more robust and standardized approach to healthcare data exchange. It is based on the Reference Information Model (RIM), which provides a consistent framework for defining and representing healthcare data. This model allows for greater interoperability and data consistency across different systems. Version 3.0 also utilizes XML (eXtensible Markup Language) for message encoding, which facilitates better readability and extensibility. However, despite its improvements and advanced features, HL7 Version 3.0 adoption has been relatively slow due to the complexity of the RIM, the learning curve associated with XML, and the widespread use of Version 2.x, which has proven sufficient for many healthcare organizations' needs.
As we can see, HL7 Versions 2.x and 3.0 each have their own strengths and weaknesses. Version 2.x offers simplicity and a wide adoption base, while Version 3.0 provides a more standardized and extensible framework for healthcare data exchange. The choice between the two versions largely depends on the specific needs and requirements of your healthcare organization and the systems you aim to integrate.
How to Select the Right HL7 Integration Engine for Your System
When choosing an HL7 integration engine, it is essential to consider several factors, including whether to use open-source or commercial solutions, key features, and popular options available in the market.
Open-Source vs. Commercial Solutions
Open-source Health Level Seven engines offer a cost-effective option for organizations with limited budgets. They usually have an active community of developers that continuously contribute to and improve the software. However, open-source solutions may lack professional support and comprehensive documentation. On the other hand, commercial solutions often come with dedicated customer support, better documentation, and advanced features, but at a higher cost.
Key Features to Consider
Some essential features to consider when selecting an HL7 integration engine include:
Ease of use
Scalability
Flexibility
Security
Support for various data formats and communication protocols
It is also crucial to ensure that the chosen engine aligns with your organization's specific needs and goals.
Comparing Popular HL7 Interface Engine Options
There are several popular HL7 integration engines available in the market, each has its strengths and weaknesses. Some of the widely used options include:
Iguana
Known for its flexibility and ease of use, Iguana is a popular choice for small to medium-sized healthcare organizations. It supports various data formats and communication protocols and offers a user-friendly interface for managing and monitoring HL7 interfaces.
Mirth Connect
Mirth Connect by NextGen is an open-source integration system that supports a wide range of data formats and standards, including DICOM, HL7, ANSI X12, XML, and ASCII. It is specifically designed to facilitate the seamless transfer of messages and data between various systems. NextGen Connect leverages the capabilities of HL7 V2/V3 messaging protocols in its integration solutions, providing users with advanced functionality, support, cost-effectiveness, and limitless interoperability.
Rhapsody
Rhapsody is a comprehensive HL7 integration engine that provides a robust and secure platform for managing and transforming healthcare data. It supports various communication protocols and data formats and is highly scalable, making it ideal for organizations of all sizes.
Corepoint
Corepoint is a user-friendly and powerful HL7 integration engine that simplifies the process of managing and exchanging healthcare data. With an intuitive user interface, it allows healthcare organizations to create, monitor, and manage HL7 interfaces with minimal technical expertise.
Cloverleaf
Cloverleaf is an enterprise-level HL7 integration engine that offers advanced features such as message routing, data transformation, and secure data exchange. It is highly customizable and scalable, making it suitable for large healthcare organizations with complex integration needs.
Challenges when Integrating an HL7 Interface Engine
Despite the benefits offered by Health Level Seven engines, there are several challenges that organizations may face during the integration process:
Variance in the implementation of HL7 standards
Different healthcare applications may implement HL7 standards in slightly different ways, leading to compatibility issues and making integration more complex.
Unreliable HL7 data semantics may lead to misinterpretation
Inaccurate or incomplete HL7 messages may cause issues when interpreting the data, potentially leading to errors in patient care or other healthcare processes.
Unplanned EHR migration may lead to legacy data loss
When migrating from one EHR system to another, organizations must ensure that all legacy data is accurately transferred and converted to the new system's format. Failure to do so may result in data loss or corruption, negatively impacting patient care and other healthcare operations.
Selecting the right HL7 integration engine is crucial for successful data exchange and interoperability among various healthcare systems. By carefully considering the factors discussed above, you can make an informed decision that best suits your organization's needs and goals. Additionally, being aware of the challenges associated with HL7 interface engine integration can help you plan effectively and address potential issues before they become critical problems.
Conclusion
To summarize the key points of the article, we can say that HL7 interfaces play a crucial role in healthcare information systems, enabling seamless communication and data sharing among various healthcare applications and systems. By integrating HL7 interfaces, healthcare organizations can streamline processes, improve patient care management, and establish a standardized methodology for data sharing.
As the healthcare industry continues to evolve, HL7 will remain a critical component in driving interoperability and enhancing collaboration among healthcare providers, organizations, and other key stakeholders.
The future of HL7 promises even greater advancements in healthcare information systems, with the potential to revolutionize the way patient data is managed and utilized. As new technologies and standards emerge, such as FHIR, HL7 will continue to adapt and innovate, paving the way for more efficient, data-driven healthcare solutions.
How IntelliSoft Can Help
At IntelliSoft, we understand the importance of integrating Health Level Seven engines into your healthcare information systems, and we're here to help you navigate this complex process. Our team of experts has extensive experience in HL7 integration, and can ensure that your organization can seamlessly connect various systems and leverage the full potential of HL7 standards for improved patient care and decision-making.
When partnering with IntelliSoft, you can be sure that you're working with a team that is well-versed in the intricacies of HL7 and committed to delivering tailored solutions that meet the unique needs of your organization. You can contact us for more information or even assess your expenses using our convenient development team cost calculator. Let us help you take your healthcare information system to the next level with the integration of Health Level Seven engines, and together, we can work towards a more connected and efficient healthcare industry.

About

Kosta Mitrofanskiy

I have 25 years of hands-on experience in the IT and software development industry. During this period, I helped 50+ companies to gain a technological edge across different industries. I can help you with dedicated teams, hiring stand-alone developers, developing a product design and MVP for your healthcare, logistics, or IoT projects. If you have questions concerning our cooperation or need an NDA to sign, contact info@intellisoftware.net.