Automation saves time on tedious manual tasks. Besides, automation also helps to prove accurate data, which is extremely useful in such an industry as healthcare. Thanks to this technology, healthcare specialists can suggest better treatment plans, monitor patients' critical conditions, and predict the treatment outcome.
The IntelliSoft team has experience in healthcare automation because we participated in developing Daintel CIS, its further integration into Cambio ERM, and connecting medical devices that help collect, store, and disseminate patient data in real time.
This article will discuss the importance of automation in healthcare, the main benefits of using automation solutions in this industry, and what you need to do to implement automation in your healthcare project.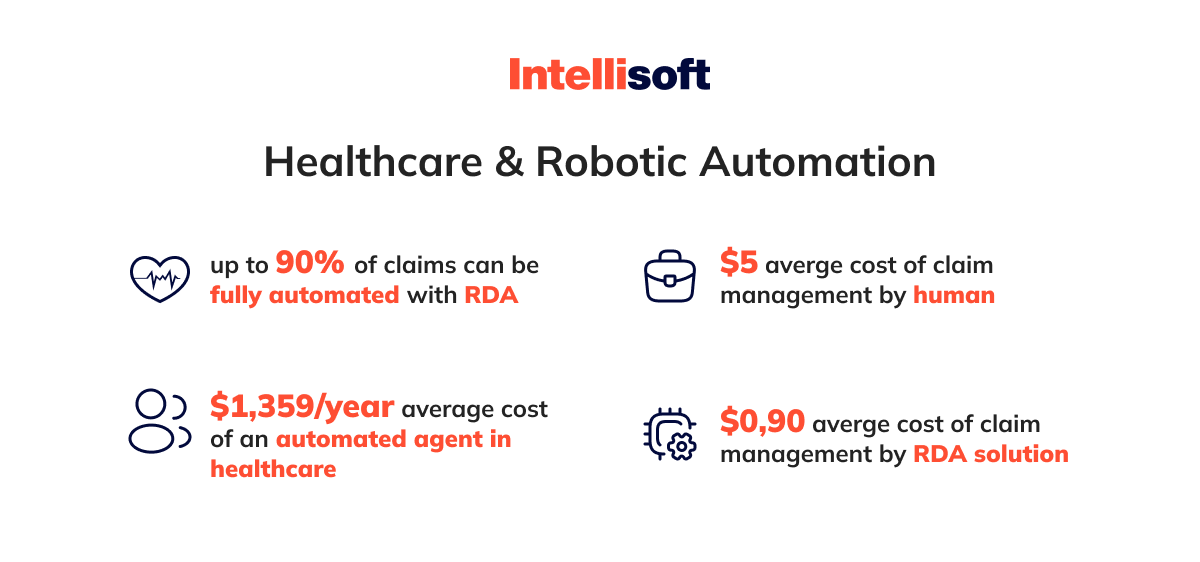 Healthcare Statistics to Keep in Mind Today
According to the World Health Organization, there is a global shortage of 4.3 million
healthcare professionals. Advanced technology in medicine can be the answer. Other stats also prove that.
93% of practicing clinicians believe telehealth is an acceptable method, and about two thirds think it is very effective overall. No wonder medical institutions all over the world are allocating resources to adopt new digital solutions.
According to the Transparency Market Research, the revenue of telehealth in the United States is expected to reach almost 20 billion USD in 2025. Impressive, right?
The Importance of Automation in Medicine
Automated healthcare processes are defined as the management of diagnostics and therapy. Digital solutions enhance the ability of medical personnel to monitor their patients and make right decisions. Automation in industrial production has made it possible to achieve an increase in efficiency and quality of the final product for the potential consumer. Hospital automation essentially borrows many components from the field of factory automation, transferring them to the medical industry.
Healthcare automation solutions for medical institutions and automation of the provision of medical services at home both increase the quality and reduce the cost of the named services. Digital solutions are developed to reduce the risks and increase the flexibility of healthcare system management. There is another reason to implement modern technology in medicine. Digital technologies like AI or ML notably increase the efficiency of investments. Another point is that innovative technology reduces the administrative burden. Medical workers get the chance to spend more time communicating and making treatment decisions.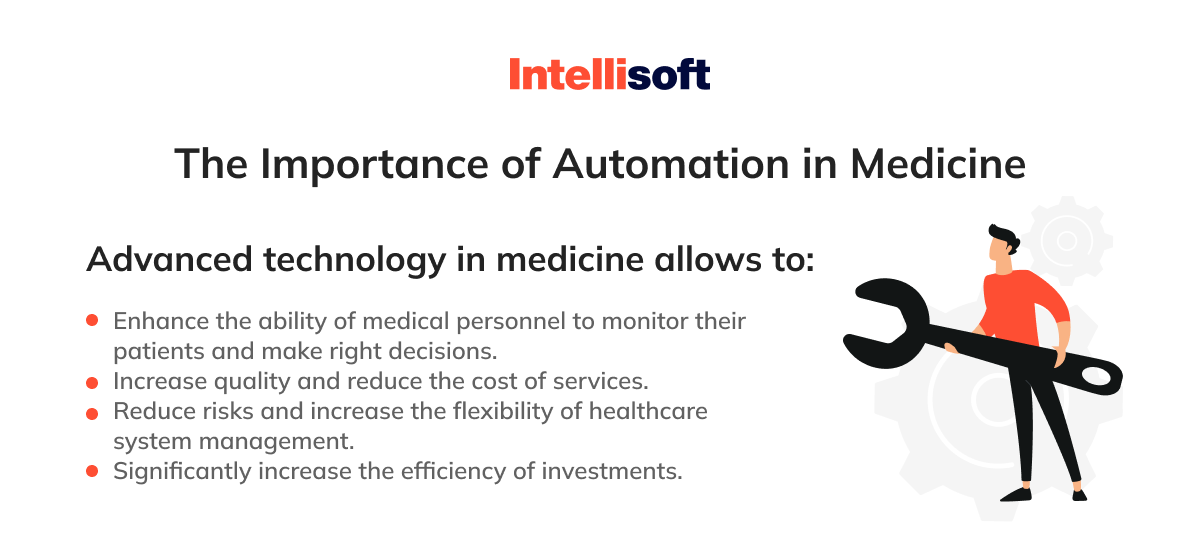 Even before the pandemic, 60% of younger patients reported that they would switch their healthcare providers because of a poor digital experience. Innovative solutions develop quickly, and, just like professionals in sectors not related to medicine, medical institutions have to invest in software development.
As stated by Frost and Sullivan, we can expect a 700% growth of modern healthcare solutions by 2025. This is due to the fact that people are becoming more used to the convenience of virtual doctors.
Related readings: 
Analytics, Processing, Machine Learning
So-called RPA in healthcare (or robotic process automation in healthcare) is changing the world of healthcare. CT, MRT, ultrasound, mammography, blood tests, lung X-rays, as well as other examination methods are already being analyzed by AI in several healthcare institutions. The more diagnostic equipment appears in medical institutions, the more significant the issue of fast data processing becomes. This is when AI comes into the game.
Machine learning and a complex system of neural network algorithms form AI. And this is the complex technology behind the greatest solutions in healthcare. The more it develops, analyzing more and more important information, the more accurate results it returns. And that without false positive diagnoses or missing dangerous pathology.
Automation in Daily Life
Automation in hospital care for diagnosis of diseases and the further treatment is not the only important reason to automate and make medical activities technologically advanced. We have to consider the little simple things – for example, administrative and organizational work.
Automation in medical care can bring order to daily affairs. It is especially useful, for example, to those medical departments that can be attributed to the "back office". These include accounting, pharmacy, ACS, office, and other. Let's dive deeper into that topic.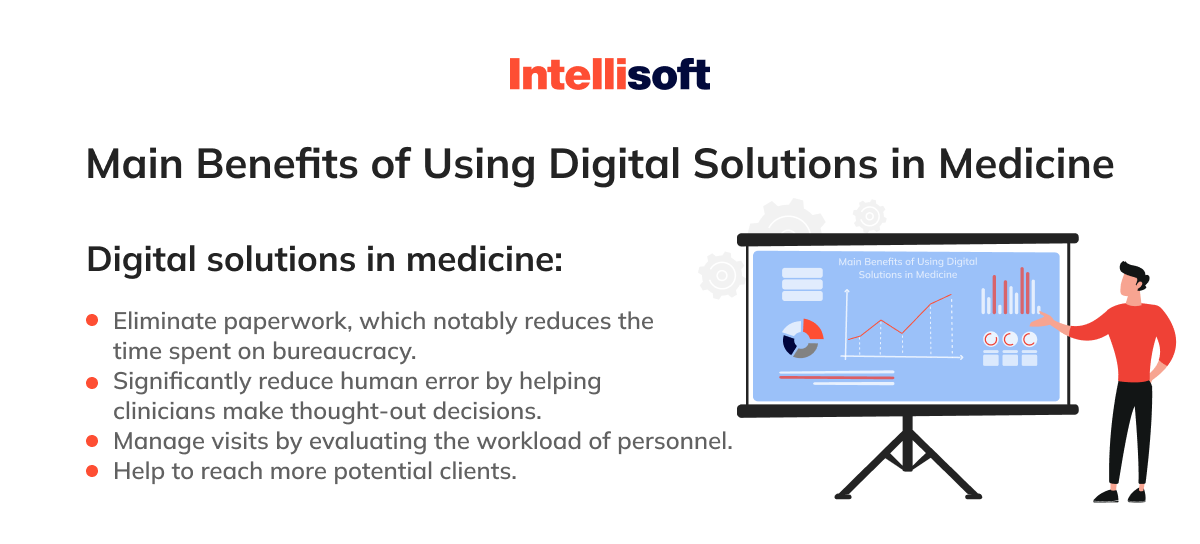 Here are some examples of using digital solutions in order to improve patient care:
Easier diagnosis. AI systems can recognize diseases even at an early stage. Services such as Zebra Medical Vision and Arterys help clinicians to focus more on treating patients, instead of studying ultrasounds.
The creation of drugs. Vaccine development and further clinical trials are long and very expensive processes. AI systems can reduce the time spent on the creation and testing of drugs.
Artificial intelligence in surgery. AI solutions in surgery are one of the greatest examples of automation in healthcare. We're talking about robots involved in surgical operations and accompanying surgery experts. Smart robots are being increasingly involved in microsurgical procedures. But do not expect them to conduct procedures by themselves in the near future.
Artificial mind health applications. AI applications are also considered as great examples of automation in healthcare. The biggest potential benefit is to help people stay healthy, so they do not have to go to the doctor, or at least not too often. Smart technologies are already gradually changing the paradigm from "reactive" patient care to "proactive". And the Internet of Medical Things is also a part of this complex process.
Reducing Costs
Robotic healthcare automation solutions help to reduce costs and number of errors made by medical personnel. This improves the performance of hospitals. Rapidly rising healthcare costs and smaller sectoral budgets make it necessary to implement cost containment strategies. These budgets often fail to take into account population aging, economic crises, and other potential issues.
Reducing the Risk of Medical Error
Healthcare robotic process automation reduces the risk of medical error. As you might know, human error is a much more common problem in medicine than in other industries like the automotive industry, for example. Objectively and subjectively determined actions of a doctor that harm the health of patients are a common issue. Wrong planning, wrong appointments and other wrong decisions lead to wrong treatment.
Main Benefits of Using Digital Solutions in Medicine
Most people usually associate the use of AI in the automotive industry. Of course, if your personal vehicle can take you anywhere you wish to go, it is very exciting. But only few people think about how much can be achieved with the help of AI in more important areas such as patient care, for example. Let's dive deeper into that topic.
What are the most important benefits of using digital solutions in medicine? We have listed the main benefits hereunder, so keep reading.

Digital solutions in medicine help to:
Eliminate paperwork. There is no need to duplicate entries and enter information completely manually. Medical personnel who have the access to the patient's card automatically get the access to the patient's history of illness, the course of treatment, the results of studies, and more from a single database.
Significantly reduce human error. Modern technology significantly improves the quality of service and reduces the impact of the human factor. It is easier for medical workers to make thought-out decisions when they are not distracted by standard bureaucracy.
Manage visits. Automation of medical institutions using CRM allows to manage visits completely online. All information about the medical personnel can be found online. This allows the administrator to see a complete picture of the workload of each specialist hourly. This way, managing visits becomes easier.
Reach more potential clients. The system is saving all requests and calls the institution receives daily. Over time, the institution gets access to an information base that allows it to conduct marketing research.
How We Can Help
Artificial intelligence is already used to paint pieces of art, answer calls, drive cars, and more. But what about medicine? In this complex field, artificial intelligence is also gaining popularity. Even now, smart solutions help clinicians with bureaucracy, process information about patients, and suggest treatment options.
If you are working in the healthcare industry and understand that it is time to introduce artificial intelligence into your daily work to improve some processes, you are in the right place. Are you thinking about developing a revolutionary solution from scratch? No worries. Our team has the field experience to bring your ideas to life.
Our experts hold expertise in web, mobile and IoT development, QA engineering, and design. Contact us for a free consultation and let's grow your business' success. Don't wait to implement new solutions!