The impact of the pandemic is overwhelming for IoT in health care (IoMT). According to the industry report, the global market grew by 24% in 2020 (compared to the 2017-2019 averages). Experts predict that the market will increase by $357.45 billion from 2021 to 2028. This growth is driven by demand for wearable devices, automated patient care, and government investment in technology development, including remote access to medical services. Today we will discuss IoMT and provide practical examples of its use.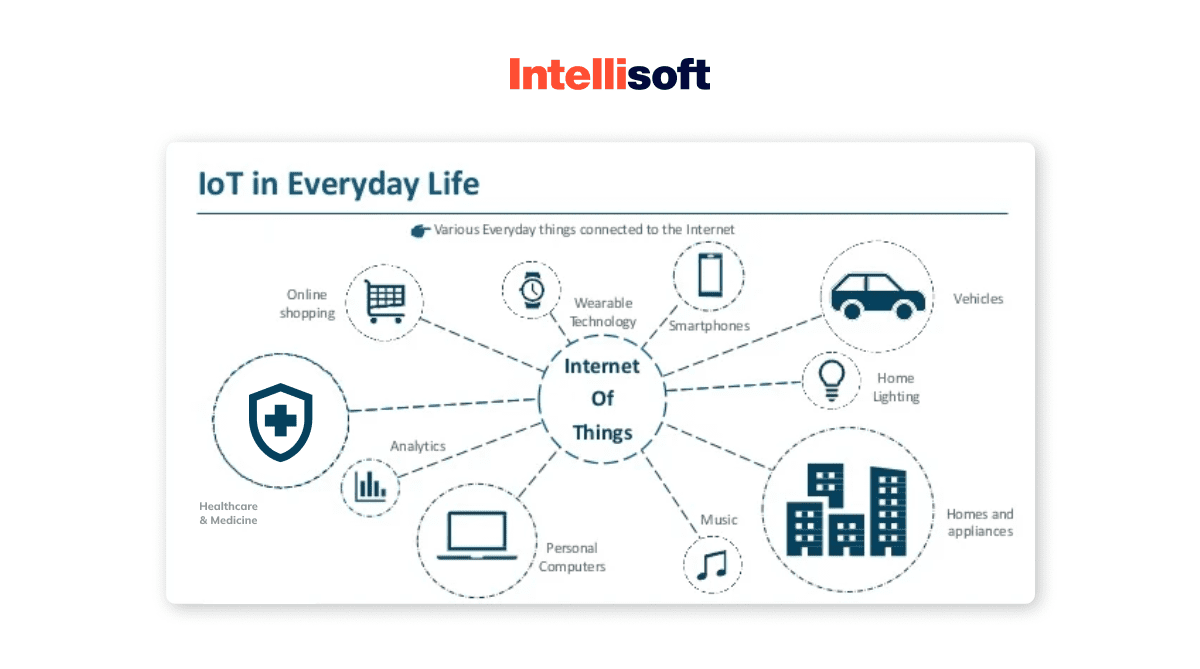 What Is IoMT?
It is an infrastructure of internet-connected medical smart devices, systems, software, and hardware. All these elements can collect data (whether about the health of patients or the state of medical assets) and share it in real-time. Experts say that such data is critical for medicine in 2022.
IoT in healthcare applications solves many problems at different levels:
1. Hospitals: facility management
Equipment monitoring and fault warning.
Room control (temperature in rooms, laboratories, and freezers).
Maintenance of appropriate temperature and pressure in shipping containers.
Accounting of equipment, medicines, and consumables.
Determining the location of equipment (wheelchairs, defibrillators, nebulizers, etc.).
Personnel performance analysis.
rRegulation of the flow of patients.
2. Doctors: Improving the efficiency of medical care
Monitoring the vital signs of patients' health in operating and postoperative wards.
Round-the-clock monitoring of severely ill patients in intensive care units, cardiology, and epileptology.
Online diagnostics through telemedicine solutions during treatment and rehabilitation at home.
Formation of statistics of patients and their medical records based on the collected data.
3. Patients: self-diagnosis using wearable devices, maintaining communication with doctors
Checking health indicators during the day with fitness bracelets, glucometers, and cuffs for measuring pulse.
Automatic reminders for activities, medications, or doctor visits.
Notification of changes in vital signs with data sent to doctors and family Members.
4. Insurance companies: making insurance decisions based on monitoring data
Monitoring compliance with precautionary measures.
Detection of fraud with insurance payments.
Assessment of the feasibility of issuing insurance in particular cases.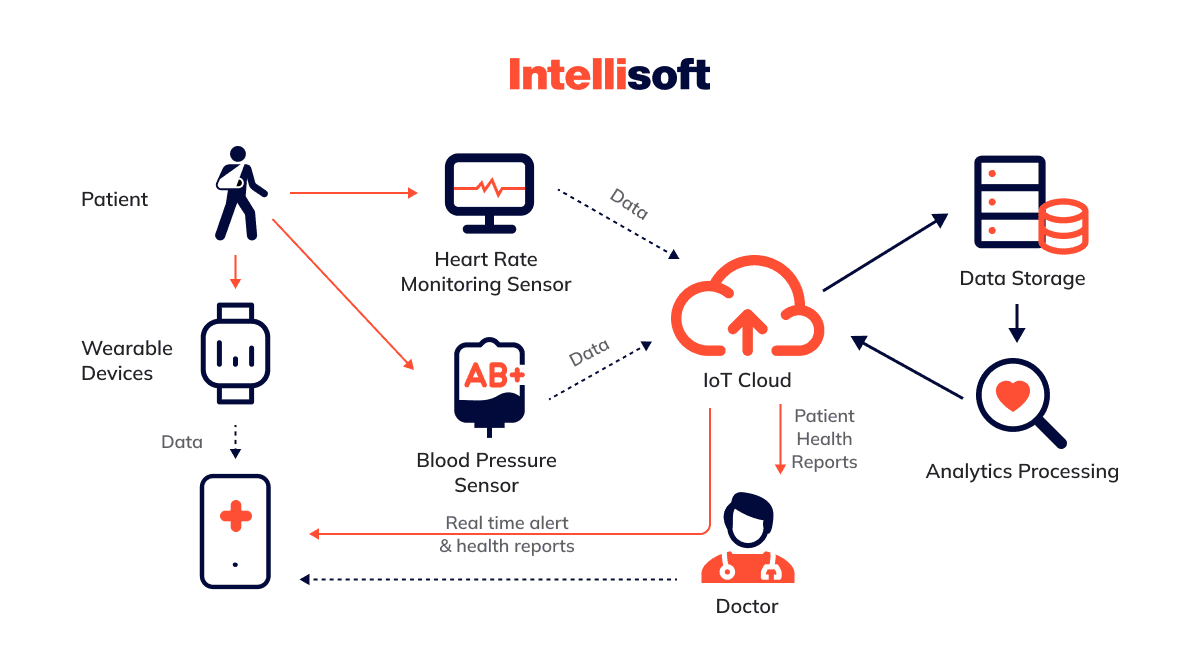 The work of medical institutions is reaching a new level. The performance of administrative and management tasks becomes much more simple, for example, controlling the supply of medical assets, keeping records, monitoring the movement of personnel, or processing data. More advantages are related to the service quality. It is vital for patients with limited mobility, for example, after spinal surgery. Also, IoT has proven itself in orthopedics during COVID-19.
Wearable devices allow patients to independently control their wellbeing and adjust their daily routine, activity, and nutrition according to current indicators. Such sensors automatically notify healthcare workers about reaching critical values, which reduces health risks. There are many examples of using IoT in healthcare, and now we are going to look at several use cases.
IoT in Healthcare: 5 Excellent Examples
1. Wellbeing monitoring
It is perhaps the most common application of the technology. As we mentioned above, such devices can automatically collect essential health data: pulse, blood pressure, temperature, glucose levels, etc. They are sent to healthcare professionals to make informed treatment decisions. It's possible to track the status of any disease, including Parkinson's syndrome, mental disorders, heart problems, and diabetes.
Let's give a couple of examples from the practice of market players. The DexCom system integrates with third-party apps to help control diabetes as part of non-intensive insulin therapy. Boston Scientific's mCRM solution manages a patient's heart rate. Such technologies are valuable for the elderly and people with disabilities.
Eugene, back-end/front-end developer @IntelliSoft:
When it comes to IoT in healthcare, I can draw up one of our cases, Cambio Device Connectivity (CDC), known as Medical Device Information Collection (MDIC). We took part in creating the platform for gathering, storing, and disseminating data from medical devices in real-time. The idea is that MDIC connects with the built-in data interface of medical devices via device-manufacturer-provided software across the hospital network.

IntelliSoft has also worked on various wearables that a patient could use at home. Applying such tools to different parts of the body, it is possible to measure pulse, blood pressure, temperature, glucose levels, and then report data to the CDC solution. Thus, this app is helpful for both patients and clinical labs, especially nowadays, when many people are forced to or prefer to stay at home.
2. Compliance with sanitary standards
IoT helps maintain optimal sanitation conditions in hospitals and clinics. How? For instance, by reminding staff to wash and sanitize their hands upon entering the room and immediately after contact with the patient. Such sensors are installed on soap dispensers and disinfectants. They check if the doctor has entered the room and send a voice reminder of hygiene procedures.
The sensors can even recommend disinfection methods according to each patient's needs. Experts believe that it reduces the risk of infection by more than 60%. This approach also strengthens patients' trust in healthcare professionals, as they see that the hospital cares about their protection and follows the rules.
3. Mood tracking
It is another type of patient data that is problematic to collect and process. Doctors usually just ask their patients how they feel. The problem is that they often cannot accurately describe their condition and mood. Moreover, it is impossible to quickly determine mood swings, especially associated with psychiatric disorders.
Wearable sensors come to the rescue. They analyze the state based on various data like a heartbeat, blood pressure, and even eye movement. And since anxiety symptoms affect not only thoughts and feelings but also behavior and the whole body, it is possible to draw conclusions about a person's emotions. Of course, it does not predict depression, but it gives an idea of ​​the general mood.
4. Smart Pills
Completely new ways of monitoring health are being introduced thanks to the IoT. There are pills with built-in miniature sensors that begin their own examinations when ingested. They collect the necessary information from the digestive system and others.
It helps avoid invasive procedures such as colonoscopy and inserting a nasogastric tube into the stomach. Doctors can check the acidity of the patient's stomach, identify internal bleeding, or determine irritable bowel syndrome and even cancer. As a rule, such pills just dissolve or pass through the entire body.
5. Medication control
If the treatment is provided at home, the doctor cannot control the medication. Non-compliance with the prescriptions of patients leads to deterioration, relapses, and repeated hospitalizations. With the help of IoT, the doctor (or another person responsible for patient care) can track the medication schedule remotely while the patient is at home.
A smart pillbox is another way to control medication. For example, smart technology from AdhereTech automatically sends information about medication time. If a person misses it, they receive a notification in the form of an automatic call or text message.
And now let's look at the main advantages of the technology and highlight a few problems that may arise during its implementation and use.
Related readings:
What Are the Advantages of IoMT?

Real-time monitoring. Medical professionals can respond to emergencies timely and reduce the risk of death, such as heart failure. It is also the basis for telemedicine, when diagnostics and treatment are provided remotely without visiting a doctor.
Medication compliance guarantee. Doctors can no longer rely on patient responses about how they feel. IoT provides info on activity, daily routines, and medication schedules, allowing for out-of-hospital treatment monitoring.
Increased patient engagement. Wearable sensors are used for self-diagnosis and assessment of wellbeing. A person receives more health information and, based on it, can make informed decisions, for example, about adjusting the daily routine or nutrition.
Convenient asset management. Smart sensors help you check your equipment and alert you when repairs are needed, keep track of medicines and consumables, and even see the current location of devices.
Reduced costs. Automated data collection eliminates the human factor. Constant monitoring and timely assistance prevent repeated hospitalizations and improve treatment quality. All this reduces the cost of hospitals when dealing with a large flow of patients.
Research accuracy. Devices generate large amounts of data, which creates a solid foundation for research activities. Doctors can better understand the causes of diseases, identify patterns, and find new methods of prevention and treatment.
What Are the Challenges Regarding IoMT?
Like any technology, IoMT has weaknesses and limitations. First of all, they relate to the disclosure of data. The devices operate wirelessly and collect a lot of information, including personal data. To solve the problem, encryption and security protocols must be implemented. However, it is difficult due to the large number of devices. It is also necessary to protect them from physical manipulation and software, hardware, and network attacks.
There may be difficulties with constant access to the Internet or integration with devices from other manufacturers. Moreover, doctors need time to understand the algorithms and start using the technology effectively. There is only one way to avoid problems: entrust it to IoT software development specialists with experience in health care.
So, IoMT is a valuable technology for all parties: public hospitals, private clinics, medical professionals of various profiles, insurance companies, and, of course, patients. Involve professionals in IoT software development to reduce costs, ensure data security, and simplify IoMT setup and deployment! For instance, you can ask for help at the official website of IntelliSoft!

About

Helen Rachyna-Kyselova

Helen is a marketing expert, editor-in-chief, and head of content. She demonstrated success in negotiating win-win compromises, conducting A/B testing, launching e-mail campaigns, writing personnel manuals, publishing authorized articles, implementing corporate policies, and more. She currently works for Intellisoft, being part of its marketing dept.