Do you wish to gain access to the best IT industry talents? Are you interested in saving costs on your current software development project? Would you like to speed up the process? So many organizations are using outsourcing services today, so you, probably, should not fall behind this trend.

Before the invention of outsourcing, it was difficult for companies to minimize their expenses. Until 1981, businesses did not think about trusting their tasks to third parties. Today, outsourcing is a common practice. The primary reason for outsourcing (70%) is cost reduction, as most businesses admit. Many other benefits make this team extension model attractive as well.
It's not that easy to select an outsourcing company as the competition in this field is sharp. It makes sense as the demand for outsourced IT teams is growing with the speed of light, especially in the age of COVID-19. About 300,000 jobs are outsourced by the United States annually. It's very convenient as third-party companies that offer skilled experts possess the appropriate resources, competencies, and opportunities to develop a unique project based on the client's requirements and business goals.
In this post, Intellisoft will take a look at the methods to extend a software development team. Let's start with exploring some of the main industry trends that may re-shape outsourcing in the upcoming years.
Global Trends in Outsourcing 2021-22
What is software outsourcing? We can define this process as the transfer of IT tasks to a separate team. Outsourcing companies form teams that take care of pre-development procedures, testing, launch, support, and maintenance. In general, outsourcing of IT specialists is the process of delegating tasks and transferring the authority to manage a certain project to a qualified contractor. Even Google, Slack, Microsoft, Alibaba, and GitHub outsource some of their software development tasks to speed up the processes.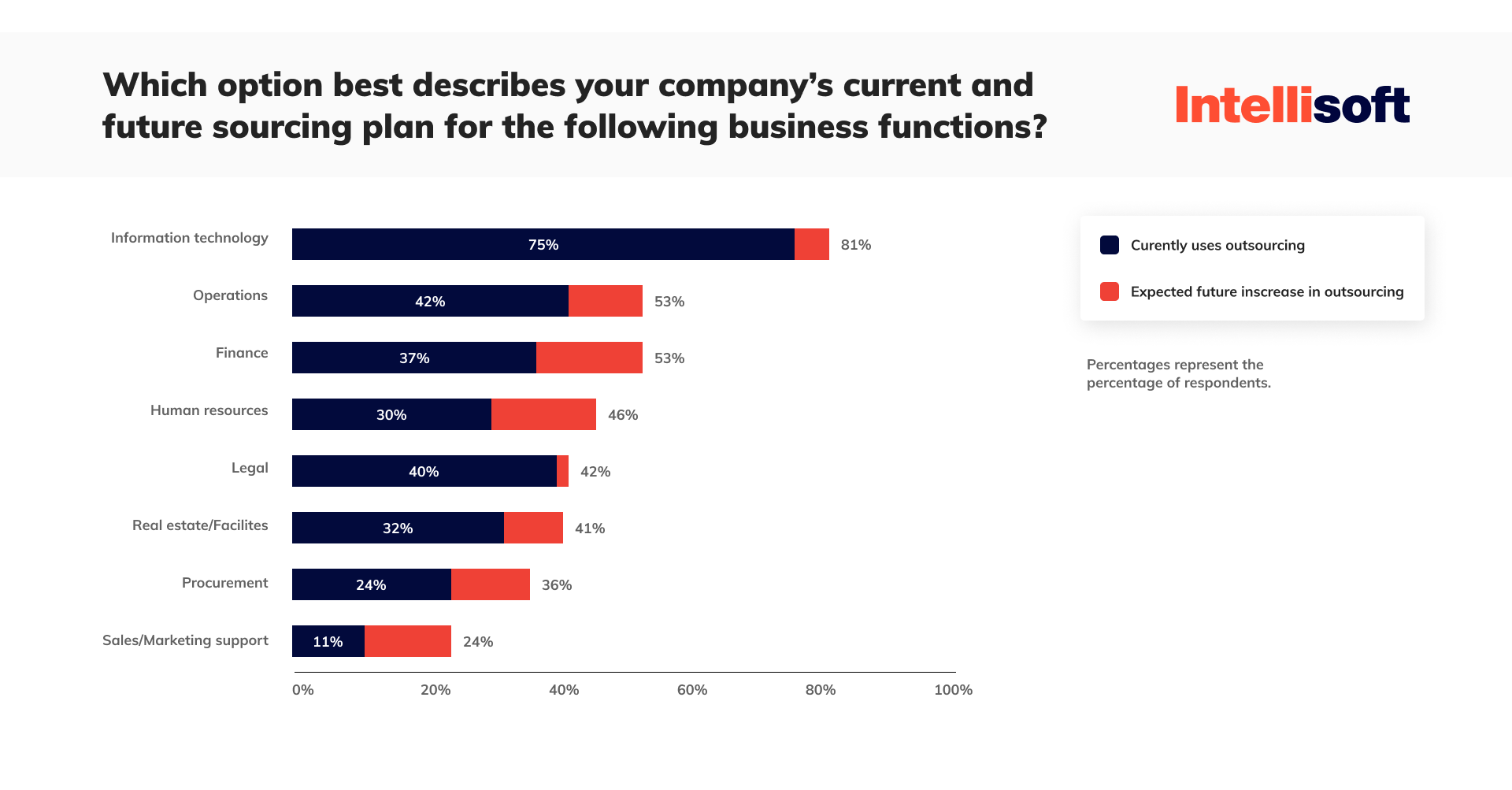 As for the global trends of IT outsourcing, today, this format of software development is more relevant than ever. Surviving in this field is not that easy. The competition grows with each new day. The worldwide business process outsourcing market size is expected to register a compound annual growth rate (CAGR) of 8.5% in 2021-28. With such a solid expansion, both outsourcing companies and their clients have to watch new industry trends and introduce innovations.
Many start-ups and small businesses are shifting their IT strategy towards outsourcing. Large corporations already have trusted staff providers, and most of them do not plan to switch to other options. Anyway, outsourcing as a team extension model helps to solve complex business problems caused by high competition, limited budget, restricted time, and other factors.
One of the companies that can prove that is Slack. Slack is one of the far-famed devices that owes its amazing popularity to outsourcing. This team uses services of both Canadian and Ukrainian software developers. Slack used to delegate such tasks as logo design and web/mobile app development. Thanks to such a decision, this business communication platform managed to raise a $250 million investment for a total valuation of $5 billion back in 2017. Since then, the valuation only keeps on growing, crossing the threshold of $8 billion. Outsourced teams made it possible for Slack to come up with a platform that reached 15,000 users within just a couple of weeks of launching.
Attracting an outsourcing team of qualified programmers allows saving 20-60% of software development costs. Thus, 40% of companies keep on increasing their outsourcing spending. 64% of the respondents recalled app development as the primary reason. However, you should not outsource development company and just everything. This practice suits specific business tasks.
What Tasks and Products Can Be Outsourced?
There are many ways to benefit outsourcing solutions. When choosing to outsource, know what you can transfer to the third-party development teams. It will help to focus on the core business activities. In particular, the following products are often developed by external teams:
Web applications

Mobile apps

Process automation systems

Analytical software

Games
Key competencies associated with the main share of the project cost should not be outsourced. The rest of your tasks can be safely delegated to external experts. By "key competencies," we mean software development and the creation of effective mechanics for interactive interaction between the speaker and the audience. Remember "the golden rule:" in a growing market, it is much more profitable for companies to outsource part of the processes. When the market falls, in-house staff will help to avoid unnecessary costs and increase competitiveness.  
What Kind of Companies Benefit from Outsourcing Development?
App and web development is outsourced to different companies, regardless of the direction and business scale. As large corporations tend to have powerful, extended in-house teams, they turn to outsourcing agencies less frequently. However, start-ups and small businesses often have no other choice, and they benefit from hiring external teams a lot. Outsourcing allows creating specialized, unique software that makes it possible to increase the level of information security, boost sales, and automate business processes.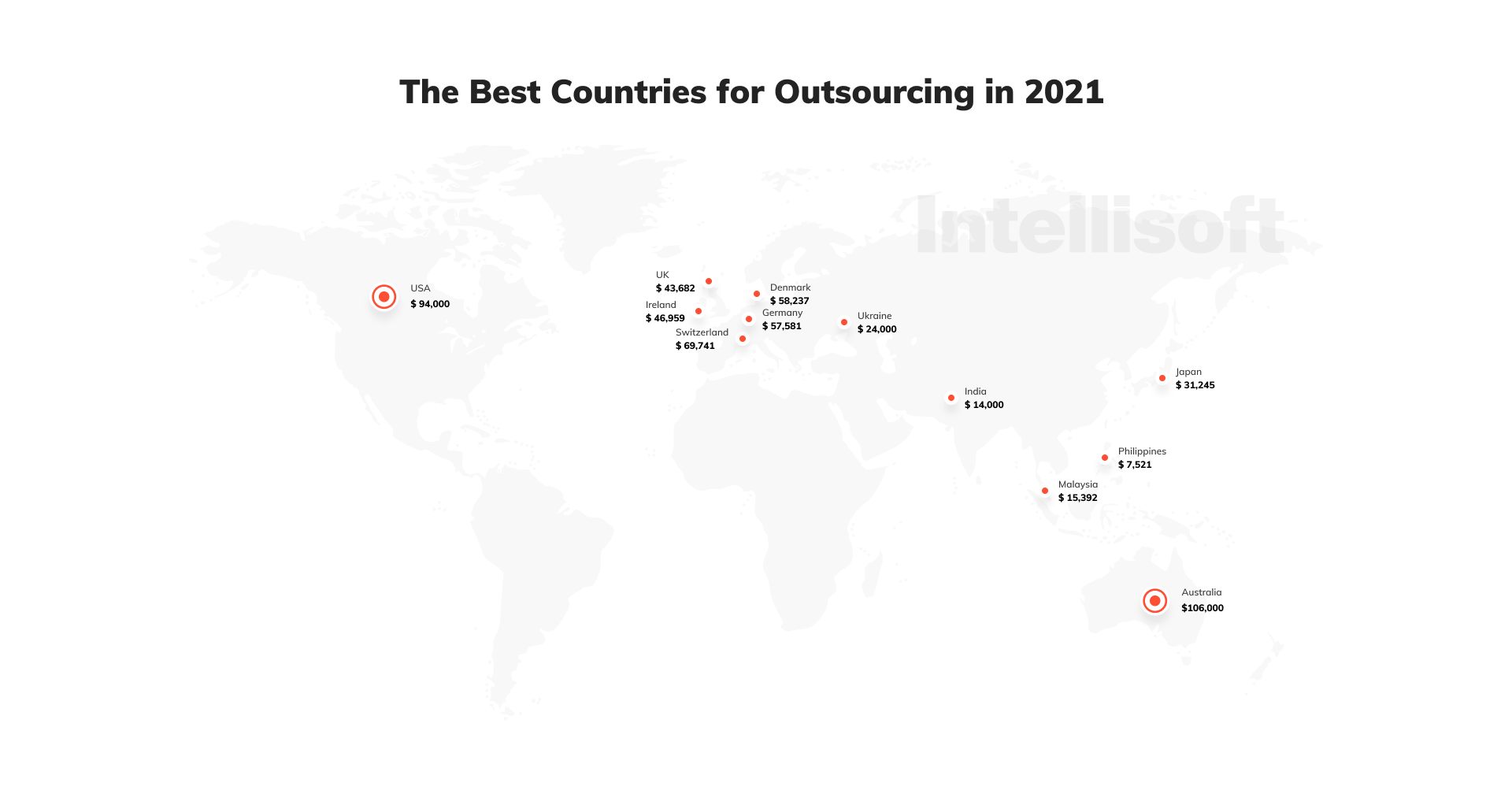 To optimize costs, reduce risks, and obtain high-quality software products, organizations that are engaged in the outsourced development and distribution of software products under their own brand are often used. 
The Best Countries for Outsourcing in 2021
| | |
| --- | --- |
| Country | Average Annual Salary |
| Australia | $106,000 |
| USA | $94,000 |
| Switzerland | $69,741 |
| Denmark | $58,237 |
| Germany | $57,581 |
| Ireland | $46,959 |
| UK | $43,682 |
| Japan | $31,245 |
| Ukraine | $24,000 |
| Malaysia | $15,392 |
| India | $14,000 |
| Philippines | $7,521 |
Sources: Time Doctor, DOU.
Advantages of Software Development Outsourcing
The use of development outsourcing allows businesses to solve the most important and urgent tasks. We'll list some benefits below.

Ability to Focus on Core Business Activities
By transferring complex, time-consuming processes to outsourcing team of developers, the customer can focus on the main activity and direct all resources to meet the basic needs of the business, the development of the company. 
Outsourcing testing, or the entire software development process, allows you to focus on such important areas as management, marketing, customer service, etc. Basecamp and WhatsApp realized these perks before anyone else did. The second one, for example, has never relied on 35 in-house employees alone. These guys have been focusing on the core business tasks since the company's foundation in 2009. They cooperate closely with the outsourced development teams from Russia and Ukraine, and some of them were successfully relocated to the United States as part of WhatsApp.
New Experience and Opportunities
When cooperating with highly qualified, talented developers from different parts of the world, your in-house staff has a great opportunity to expand their horizons and learn more from their new colleagues. For instance, your internal team "speaks" Java and C++ while the guys your outsourcing partner hires can write in React and Python. They can exchange this information further. Thanks to such partnerships, many IT companies gain new experience, which allows them to introduce new projects. That is how they can scale up their business, developing faster and more dynamically.
Besides, your external employees can always join your in-house, full-time team if you both agree on that. Skype, for instance, has outsourced the back-end to three software developers from Estonia. Later, they brought them in as partners.
Cut Software Development and Labor Costs
Organizations usually look for every single opportunity to detect hidden reserves. Reducing expenses directly impacts the profitability of the business. One of the effective ways to minimize costs is to save on wages, insurances, taxes, and staff training. In case the company hires external teams of developers, they do not have to purchase extra software or equipment. 
For many companies, such savings are enough to think about software development outsourcing. Just think about how much you would spend by hiring more in-house employees and expanding your premise. On the whole, research claims that on average, a company can save roughly 60 percent in operational costs with an outsourced team.
Accelerate App & Web Development
Faster time-to-market (TTM) is one of the primary perks that you can count on when recruiting outsourced teams. When you hire an individual with the help of your internal HR department, be ready that this specialist will require some time to adapt and get used to your software, equipment, tools, and project peculiarities.
However, outsourced developers are already properly trained and possess extensive experience in your specific niche, as the hiring company does its best to pick experts right for your business, targeting your audience. That is why, there is no need to waste precious time on adaptation and preparation when dealing with outsourcing agencies. They will take care of it. The attracted specialists effectively organize their schedule and can work 24/7/365 to launch the project on time.
In addition, most of the companies that specialize in team extension possess advanced tech solutions and competencies in IT. These competitive advantages allow us to quickly solve the problems of any client.
Flexible Approach
Being flexible matters in highly dynamic business environments. It means adapting to the changing conditions of the industry. In our case, it is the IT industry, which role changes all the time with the growing demands of society. 
It is up to you to decide whether you are looking for short-term or long-term cooperation with an external team. Perhaps, you don't plan to delegate the entire project, or, vice versa, wish to outsource all of its stages. When it is profitable and makes sense, third-party developers are involved in performing certain operations, and you can attract several companies to work on different projects. This option minimizes time and resources. 
What Are Some Models of Collaboration?
You have to decide on the models of cooperation with outsourcing agencies. The parties can pick any cooperation model, as well as change it in accordance with their own requirements and objectives. Depending on the chosen model and the specifics of cooperation, payments to the hired developers can be:
1) Fixed
2) Hourly
The organization of the workflow can be in either of these two formats:
1) Outstaffing
2) A dedicated development team
When it comes to outsourcing, the contractor does more than simply provide employees. They also supply equipment, as well as other resources necessary for working on the project. In fact, a new department is created for some period of time. The management is carried out by the service provider. It takes care of the strategy development, methods of project implementation, management of development processes, etc. The customer only sets the task and receives the finished product.
How Much Does Software Development Outsourcing Cost?
The cost of outsourcing software development varies, depending on a number of factors.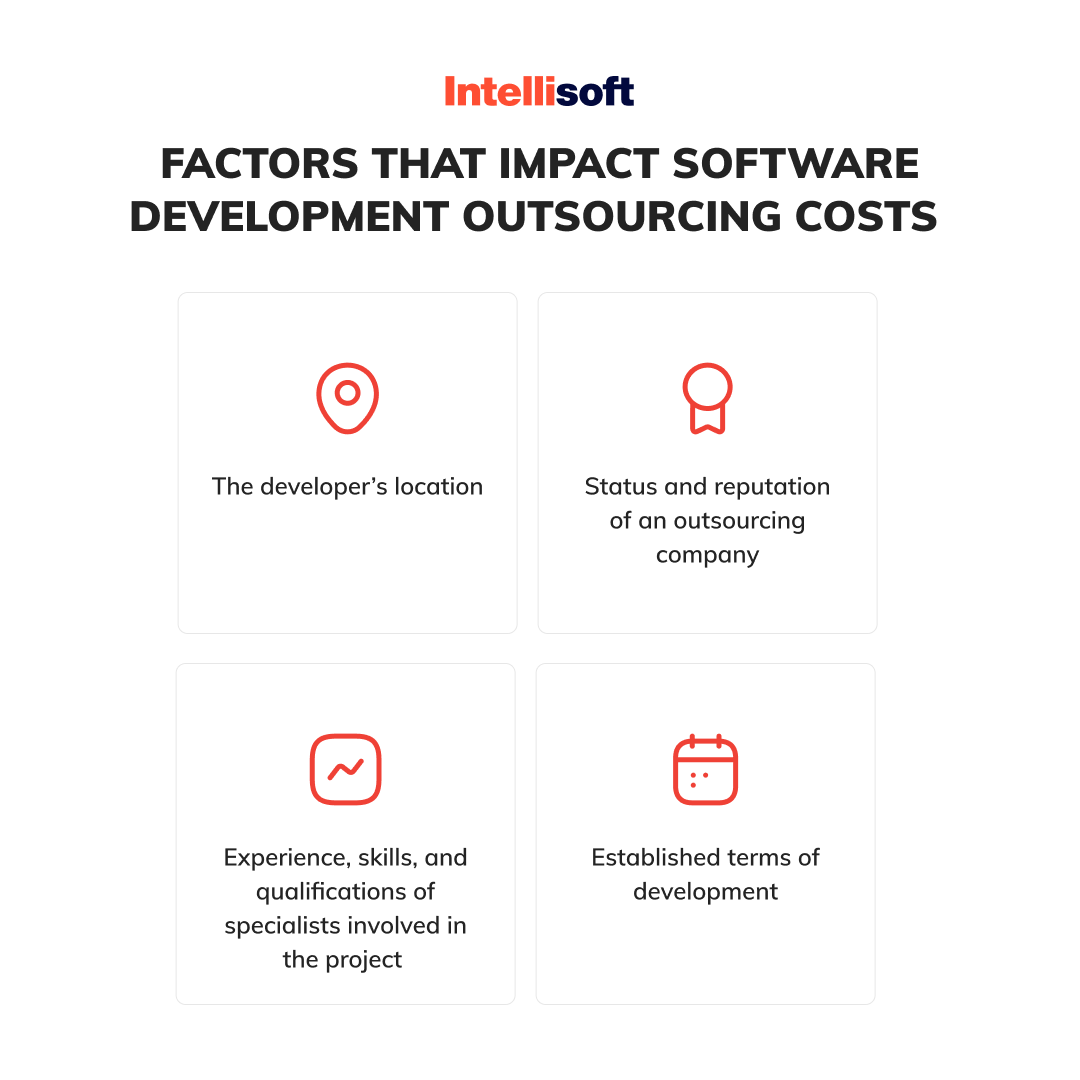 You can review Glassdoor reports to learn how much it may cost you to hire a development team in various parts of the world. The most expensive dev outsourcing services from American companies, on average, range from 95 to 170 dollars per hour. In South America, the cost of such services falls in the range from 30 to 50 dollars per hour; in Eastern Europe – from 25 to 50 dollars per hour; in Asia and Africa – from 18 to 40 dollars per hour.
However, these figures can shift at times. Anyway, many companies wish to know how to save on IT outsourcing. The customer can save money by outsourcing only part of the project or certain development tasks. Proper prioritization and selection of the contractor ensures that a high-quality software product will be developed to meet all the initial requirements with minimal costs and risks.
Final Thoughts
After analyzing the benefits of hiring outsourced IT teams, you may decide that your project needs some help from the outside. Global trends are important to know if you want to make the right choice. You should also divide the list of tasks into core business activities and secondary tasks. Finally, it's necessary to know how you can benefit from dev outsourcing agencies.
If you still need more arguments, we can share our vast experience in the field of IT team extension. Intellisoft guarantees that your company will obtain all the above-mentioned advantages if you choose to cooperate with us. Submit your quote ASAP, and we'll lend a helping hand with your project!