Operating a business can be expensive. You would need substantial capital to launch a startup. Is it possible to find a more effective method of reducing development team expenses than delegating tasks to individuals living in regions with a more affordable workforce across the globe? The chances are slim.
Forecasts say IT outsourcing segment revenue will reach US$430.50bn in 2023. With an expected annual growth of around 8%, it will reach US$587.30bn by 2027. But it's worth noting that financial motivations aren't the sole driving force behind outsourcing. Organizations worldwide save a lot of money by extending their development teams. The absence of specialized knowledge is another reason companies seek external experts at local, national, or international levels.
IntelliSoft has extensive experience creating dedicated teams for companies worldwide, and we will gladly share some valuable tips in this field. But first things first, let's discuss what outsourcing is all about. Let's shed some light on both the advantages and drawbacks of this practice, addressing crucial questions on the subject.
What Is Outsourcing?
In today's dynamic economy, businesses constantly seek opportunities to expand while improving operations and reducing expenses. Outsourcing is a strategy that has grown in popularity in recent years. But just what does it mean to outsource? Putting a job out to contractors rather than keeping it in-house is an example of outsourcing. It allows businesses to concentrate on what they do best while taking advantage of the knowledge and experience of specialists outside the company. Let's look at the benefits of outsourcing software development and the main reasons your company might decide to hire outsource experts.
Main Reasons to Choose Outsourcing for Your Business
Every organization eventually encounters the necessity to expand its software engineering team. Various factors can trigger this requirement. Remember that multiple approaches may address each aspect simultaneously, depending on your work philosophy and vision for your company's growth.
Some methods for tech team expansion can yield immediate results, but they may be less effective in the short term. In contrast, other strategies may not deliver instant outcomes, but they can ensure long-term financial success and grant you complete control over the situation. Let's review why businesses look to grow their software development team expertise.
Businesses might save money by outsourcing their work to other companies rather than recruiting employees directly. As a result, you can not only save money without sacrificing quality but also:
Gain competitive advantage
Hire professionals with new knowledge
Improve time to market
Make your workforce scalable and flexible
Increase efficiency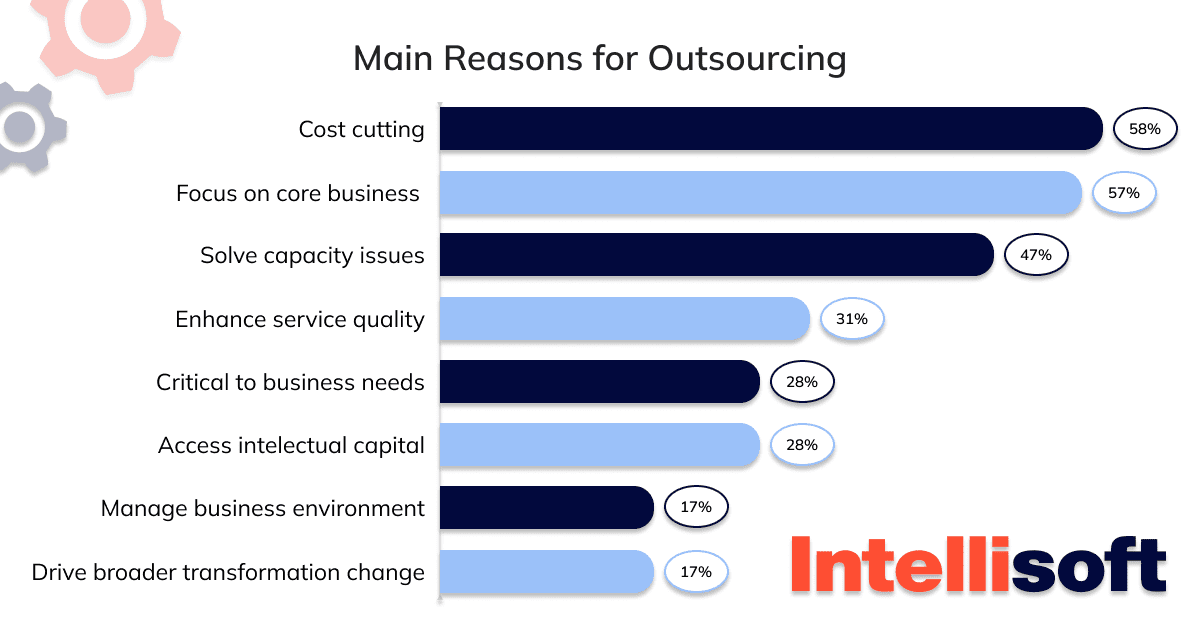 Access to a Larger Talent Pool
Outsourcing provides you with a competitive advantage because it enables access to expertise and resources that may be unavailable in-house. You can maintain a market advantage and stay ahead of the competition by using outside professionals' skills without restricting yourself to geographical boundaries.
Cost efficiency
One of the most convincing reasons for outsourcing software development is the potential for cost savings. Your company can benefit from lower labor costs in countries with a lower cost of living while reducing hiring, training, and managing in-house staff expenses.
New knowledge
Outsourcing allows you to access experts with cutting-edge knowledge. Staying up-to-date with ever-evolving technologies and trends can be difficult in today's fast-paced world. If you outsource, you can tap into the expertise of professionals who are always learning new things, keeping your company on the cutting edge.
Your company might be hesitant to undertake specific new projects due to the lack of required expertise among your employees. Yet, you're eager to secure these projects. As a result, you need to promptly locate a professional possessing specific knowledge and an appropriate portfolio.
You could find a developer with the right skill set within IT outsource companies. Consequently, you can engage your recruiters to search for a suitable candidate in the job market. By doing so, your next project could benefit from a fully-equipped team that meets the demands of the ever-changing IT market.
Improved Time-to-Market
You can accelerate bringing a new product or service to the market. You can even cut it in half by using outsourcing. This approach can be beneficial in competitive fields where rapid innovation is essential. This faster time-to-market can translate into a competitive advantage, as businesses can better respond to changing market conditions and customer demands.
Focus on core business functions
Outsourcing minor projects allows companies to concentrate on their core expertise and devote more resources to initiatives with greater strategic significance. Your tech team may need help to keep up with the workload, which affects their morale and motivation. While you're pleased with the quality and pace of their work, you want to ensure a comfortable work environment and prevent burnout.
That's why you should assign large projects to your existing software engineers and delegate medium and small tasks to outsource specialists. Adopting this approach can positively impact the team's overall work atmosphere.
Scalability and flexibility
Companies can adjust the size of their development teams as needed with the help of outsourcing. It can be particularly advantageous for companies experiencing rapid growth or those with fluctuating project demands.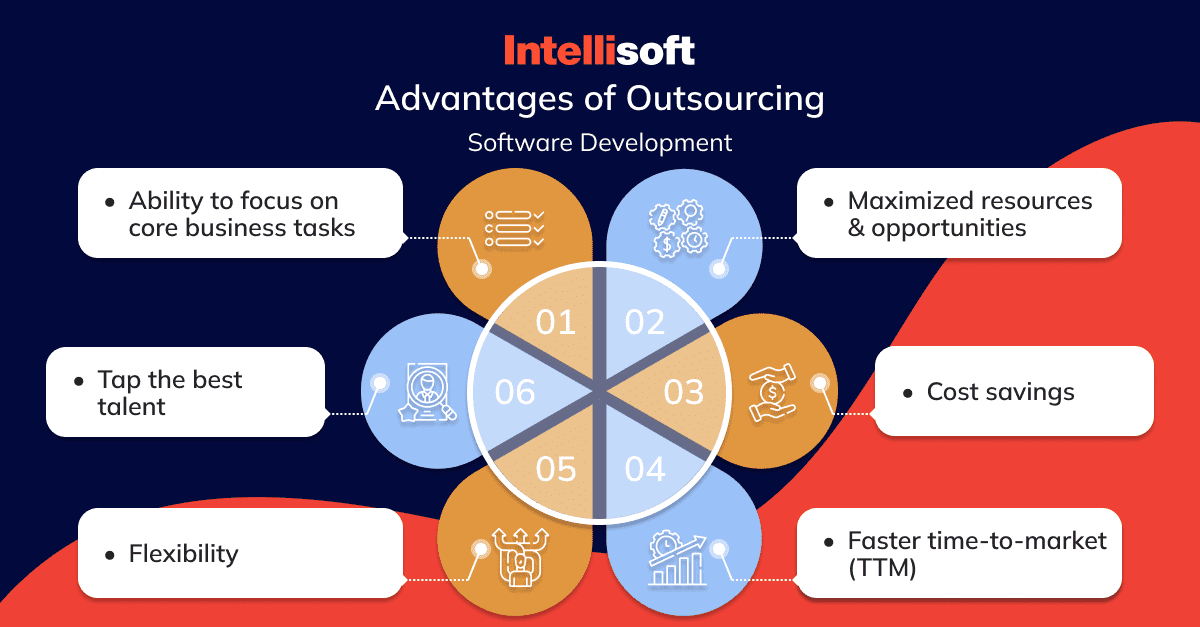 There are many positive aspects of outsourcing that can help businesses thrive in the modern dynamic global economy. Your company can improve scalability and responsiveness to shifting market conditions, cut costs, and access specialist expertise through strategic partnerships with external service providers. Outsourcing can be especially beneficial for software development because it can lead to faster product releases, lower development costs, greater scalability, and access to a larger talent pool worldwide.
Global Trends in Outsourcing 2023-2025
As we venture further into 2023 and try to predict the IT market trends of 2025, we see that outsourcing continues to evolve and adapt to the changing business landscape. This year, we've witnessed many trends shaping the future of outsourcing, driven by the need for cost efficiency, access to specialized talent, and the ongoing digital transformation of industries. Let's discuss some of the most prominent trends in outsourcing for the near future, including staff augmentation, offshore development, and the technological advancements influencing this rapidly evolving sector.
Staff Augmentation: A Popular Trend in 2023
Staff augmentation is the most common model of the modern contingent workforce. The remarkable increase in the employment of contingent workers throughout organizations worldwide is one of the most noticeable trends in the current business world. And it is not a brand new phenomenon – it dates back to when managers would borrow their colleagues from other departments to fill in for them during vacations, sick leaves, and other absences.
Staff augmentation allows businesses to scale their workforce with agility and precision. By adding external resources to their existing teams, companies can quickly and efficiently address skills gaps, enhance their capabilities, and manage fluctuations in project demands. Staff augmentation offers several benefits over traditional outsourcing models, including increased control over projects, seamless integration of external resources, and reduced onboarding and training costs.
Offshore Development
Offshore development continues to gain traction in 2023 as businesses seek to leverage the cost benefits and talent pool offered by countries with lower living costs. By working with agile development teams in countries such as Ukraine, the Philippines, and India, companies can access skilled professionals at a fraction of the cost of hiring in-house staff in developed countries. Offshore development also allows businesses to work around the clock, ensuring faster project completion and improved time-to-market.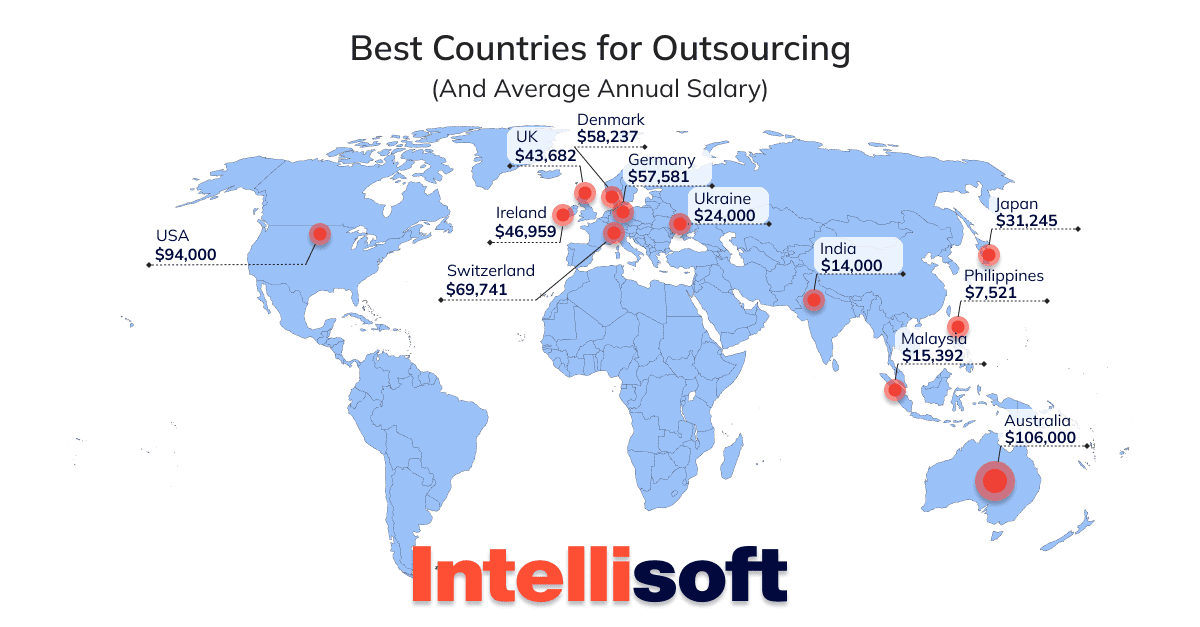 Key Outsourcing Trends
Outsourcing trends vary across industries, with some sectors more inclined to outsource than others. For instance, the technology, finance, and healthcare industries are increasingly embracing software development outsourcing to address the growing demand for innovative solutions and to stay ahead of the competition.
The global economy has undergone dramatic shifts since the start of the Covid-19 pandemic. One change has been the rise of remote work and outsourcing. Look at some of the most prominent outsourcing trends in the software development industry.
Hyper-specialization: In 2023, we've witnessed a growing demand for highly specialized service providers who can offer niche expertise in areas such as artificial intelligence, machine learning, and data analytics. This trend towards hyper-specialization allows businesses to access cutting-edge knowledge and skills, enabling them to stay ahead of the competition.
Focus on strategic partnerships: Today's businesses are increasingly seeking long-term partnerships with outsourcing providers rather than engaging in transactional relationships. These partnerships enable enterprises to better understand each other's goals, processes, and values, leading to more effective collaboration and mutual success.
Emphasis on security and data protection: With the ever-increasing threat of cyberattacks and the growing importance of data privacy regulations, security, and data protection have become top priorities for businesses engaging in outsourcing. Companies are now more diligent in assessing their outsourcing partners' security protocols and practices, ensuring that sensitive data remains protected at all times.
Technological Advancements Influencing Outsourcing
One of the most exciting developments in outsourcing over the recent years was the shift from focusing on service to technology. Some of the most recent developments include the rise of cloud computing, data security, automation, artificial intelligence (AI), digital communication, and remote work.
Automation and AI: The rise of automation and artificial intelligence (AI) significantly influences the outsourcing industry, as these technologies streamline processes, enhance efficiency, and reduce human error. Outsourcing providers now leverage AI-powered tools to offer intelligent solutions that can adapt to changing business needs.
Cloud computing: Cloud-based solutions have become increasingly popular in outsourcing, enabling businesses to access scalable, flexible, and secure IT resources without costly infrastructure investments. Adopting cloud technologies is particularly prevalent in software development outsourcing, where cloud-based development environments facilitate collaboration, version control, and remote access.
The Internet of Things (IoT): This technology is transforming industries worldwide, creating new opportunities and challenges for outsourcing providers. As businesses integrate IoT devices and systems into their operations, outsourcing companies must adapt to offer specialized services in IoT development, integration, and management.
The global trends in outsourcing reflect the changing needs of businesses in a rapidly evolving digital landscape. Staff augmentation, offshore development, and a focus on strategic partnerships and security are just some of the trends shaping the future of outsourcing. At the same time, technological advancements such as automation, AI, cloud computing, and the Internet of Things are transforming the way outsourcing providers deliver their services, driving innovation and offering businesses new avenues for growth and competitive advantage.
In the coming years, we expect further technological advancements to shape the outsourcing industry, with emerging fields like quantum computing, edge computing, and blockchain technology potentially revolutionizing how businesses collaborate with their outsourcing partners. As these technologies mature, the possibilities for outsourcing will continue to expand, offering even better opportunities for companies to streamline their operations, reduce costs, and access specialized talent on a global scale.
Related readings:
What Tasks and Products Can Be Outsourced?
Outsourcing has evolved to cover different tasks and products, enabling businesses to access specialized expertise and reduce costs across various operations. Let's explore some of the critical functions and products that you can outsource, including:
Software development tasks
Quality assurance and testing
Mobile application development
Cloud services and infrastructure management
Software Development Tasks. Outsourcing software development tasks is a popular choice for businesses looking to leverage external expertise and reduce the time and cost associated with in-house development. By working with skilled professionals with experience in specific technologies and programming languages, you can ensure high-quality results and maintain a competitive edge in their industry. Outsourcing providers can handle various tasks, such as custom software development, web application development, and enterprise software solutions.
Quality Assurance and Testing. Ensuring the quality and reliability of software products is critical to any business's success. Outsourcing quality assurance (QA) and testing tasks can help your company access specialized skills and tools, enabling you to identify and address software defects more effectively. Depending on the specific requirements of the project, QA and testing services may include:
Functional testing
Performance testing
Security testing
Automated testing
Mobile Application Development. As mobile devices continue to dominate the technology landscape, the demand for mobile applications is higher than ever. Outsourcing mobile application development allows businesses to access a global talent pool of skilled software developers specializing in various platforms, such as iOS, Android, and cross-platform development. By partnering with experienced mobile app developers, companies can bring their applications to market faster and ensure they meet the high standards of quality and usability that users expect.
Cloud Services and Infrastructure Management. The widespread adoption of cloud computing has transformed how businesses manage their IT resources. Outsourcing cloud services and infrastructure management tasks can help your company to access the expertise needed to design, implement, and maintain complex cloud-based environments. Some general cloud services that you can outsource include cloud migration, infrastructure-as-a-service (IaaS) management, platform-as-a-service (PaaS) management, and software-as-a-service (SaaS) management. Outsourcing these tasks optimizes your company's cloud infrastructure for performance, security, and cost-efficiency.
As the world becomes progressively digital and interconnected, the scope of tasks and products you can outsource will expand further, offering businesses new ways to grow and succeed in a competitive global market.
What Kind of Companies Benefit from Outsourcing Development?
Outsourcing development offers a range of advantages that various types of organizations can leverage. From startups and small companies to large enterprises, government organizations, and nonprofit organizations, outsourcing can provide access to specialized expertise, cost savings, and increased efficiency. Let's see how these types of organizations can benefit from outsourcing.
Startups and Small Businesses
Startups and small businesses with limited budgets can benefit from the cost savings associated with outsourcing. By working with external providers, these organizations can access skilled professionals at a lower cost than hiring full-time employees.
Outsourcing allows startups and small businesses to scale their development efforts up or down as needed without the commitment of hiring permanent staff. This flexibility is essential for organizations experiencing rapid growth or fluctuations in project demands.
If your startup needs the in-house expertise required for specific development tasks, you can access a global pool of specialized talent through outsourcing.
Large Enterprises
Outsourcing non-core development tasks can help large enterprises focus on their primary objectives and streamline their operations. It can lead to increased efficiency and a more agile approach to business.
Whenever a large enterprise needs the best expertise for a project, the world's best specialists are always available for hire, and geographical boundaries do not restrict you.
Large enterprises can distribute project risks across multiple external providers by outsourcing development tasks. It helps mitigate risks and reduce the impact of any potential setbacks or challenges.
Government Organizations
Outsourcing can help government organizations reduce hiring, training, and managing in-house staff costs. It can lead to more effective use of taxpayer funds and better allocation of resources.
By outsourcing development tasks and leveraging external providers' expertise, government organizations can improve service delivery. It can lead to better outcomes for citizens and more effective use of public budgets.
Government organizations often have stringent compliance and security requirements. By working with specialized outsourcing providers, these organizations can ensure their development projects adhere to necessary standards and regulations.
Nonprofit Organizations
It is common for nonprofit organizations to have limited financial resources, and these organizations may need a solution instead of hiring and maintaining a dedicated software development team. With the help of outsourcing, these organizations can create forward-thinking solutions and digital tools to support their mission and expand their reach without putting a strain on their budgets.
As we can see, various organizations, including startups, small-to-medium enterprises, government organizations, and nonprofits, can significantly benefit from software development outsourcing. Having understood the potential advantages of outsourcing, it's now crucial to explore the most common models of collaboration that can cater to the diverse needs of these businesses.
What Are Some Collaboration Models in IT Outsourcing?
In IT outsourcing, various collaboration models have emerged to suit organizations' diverse needs and objectives. By choosing a suitable model for their specific requirements, you can optimize collaboration with external providers and maximize the benefits of outsourcing. Let's discuss three popular collaboration models in IT outsourcing: the extended team model, the dedicated development team model, and the project-based model.
The Extended Team Model
The extended team model, also known as staff augmentation, is a collaboration model in which an organization supplements its in-house development team with external professionals. This model is beneficial when a business needs to fill specific skill gaps, handle temporary fluctuations in workload, or expand its development capabilities.
Key benefits of the extended team model include the following:
Seamless integration: External team members can be integrated into the existing in-house team, allowing for seamless collaboration and efficient knowledge transfer.
Increased control: Since the external resources work as part of the in-house team, the organization maintains control over the project direction, management, and decision-making processes.
Flexibility: The extended team model offers flexibility in terms of the size and composition of the team, allowing businesses to scale their resources up or down as required.
The Dedicated Development Team Model
The dedicated development team model involves establishing a long-term collaboration between an organization and an external team of professionals. The dedicated team works exclusively on the organization's projects, functioning as an extension of the in-house development team.
Key benefits of the dedicated development team model include the following:
Long-term commitment: A dedicated team can focus on a single client's project, fostering a deep understanding of the organization's goals, processes, and values.
Cost efficiency: Businesses can benefit from cost savings associated with hiring and managing an in-house team while still accessing expertise.
Shared risk and responsibility: The dedicated team assumes responsibility for project success, sharing risks and liabilities with the client organization.
The Project-Based Model
The project-based model is a collaboration model in which an organization outsources an entire project or a specific part of a project to an external provider. The provider takes responsibility for delivering the project within the agreed-upon timeline, budget, and quality parameters.
Key benefits of the project-based model include the following:
Clear scope and deliverables: The project-based model is well-suited for projects with clearly defined objectives, requirements, and milestones, ensuring that both parties have a shared understanding of the project's goals and expectations.
Limited involvement: Outsourcing minimizes the organization's participation in project management and oversight, allowing them to focus on their core competencies and strategic objectives.
Access to diverse expertise: Since the external provider is responsible for delivering the entire project, they can tap into a wide range of skills and expertise to meet the project's specific requirements.
The comparison table below highlights the differences between the three outsourcing models regarding control, flexibility, client involvement, client tech expertise, communication, project management, and responsibility. This table can help businesses choose the most suitable collaboration model for their needs and objectives.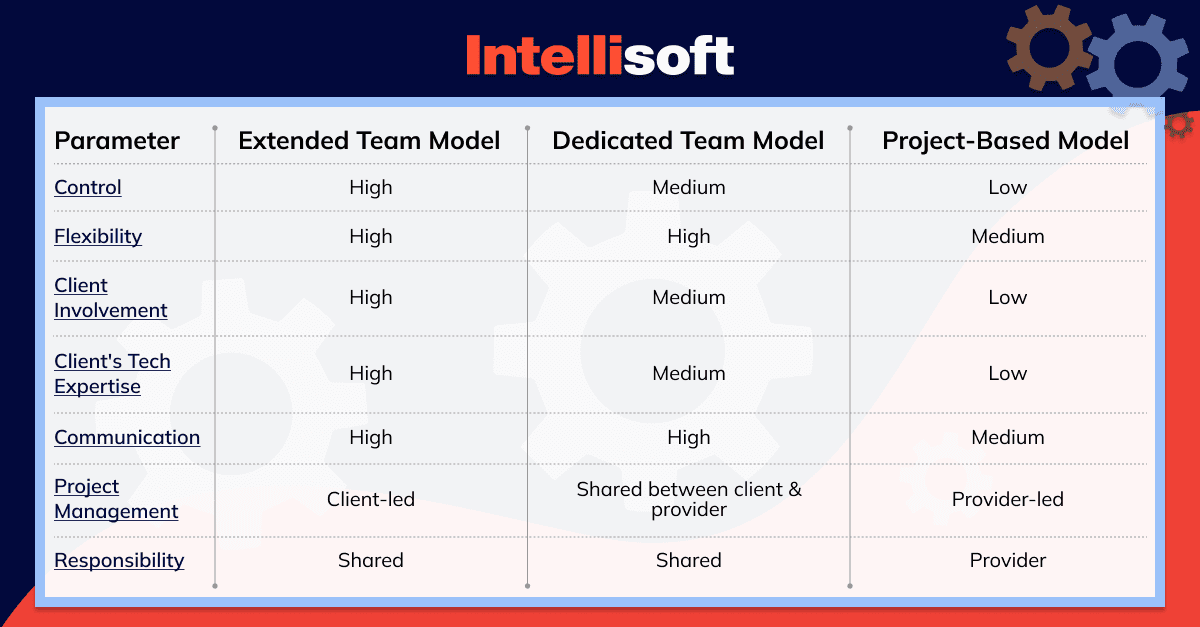 The choice for a collaboration model in IT outsourcing depends on the organization's needs, objectives, and the nature of the project. By selecting the suitable model, you can optimize collaboration with external providers and maximize the benefits of IT outsourcing.
How Much Does Software Development Outsourcing Cost?
If you are talking about outsourcing from a purely business perspective, you should expect it to improve your company's bottom line by lowering the costs of its operations. If you don't foresee this happening early, there is a good chance you will spend more than you save.
You don't need to be a professional analyst with years of experience to figure out where you're going. The only thing left is to determine whether outsourcing will save you significant capital in hiring employees and purchasing equipment.
Determining the cost of software development outsourcing can be a complicated process, as it relies on several factors, such as:
Scope of the project
Expertise required
Chosen collaboration model
Geographic location
Let's review some factors influencing outsourcing costs and provide budgeting tips for outsourcing software development.
Factors Influencing Outsourcing Costs
The most significant factors that can impact the overall cost of software development outsourcing include the following:
Project scope. The scope and complexity of the project play a significant role in determining the cost of outsourcing. Larger projects with more intricate features will require more time and resources, increasing expenses.
Expertise required. The expertise needed for the project can also influence costs. The associated outsourcing costs may be higher if a project requires highly specialized skills or experience in a specific technology.
Collaboration model. The chosen collaboration model can impact the cost of outsourcing. For example, a dedicated development team model might have higher fees than an extended team model, requiring a long-term commitment and a more substantial resource investment.
Geographic location. The location of the outsourcing provider can have a significant impact on costs. Providers in regions with lower living costs, such as Eastern Europe or Asia, may offer more competitive rates than Western Europe or North America providers.
Communication and management. You should also factor the costs associated with project management, communication, and collaboration tools into the outsourcing budget.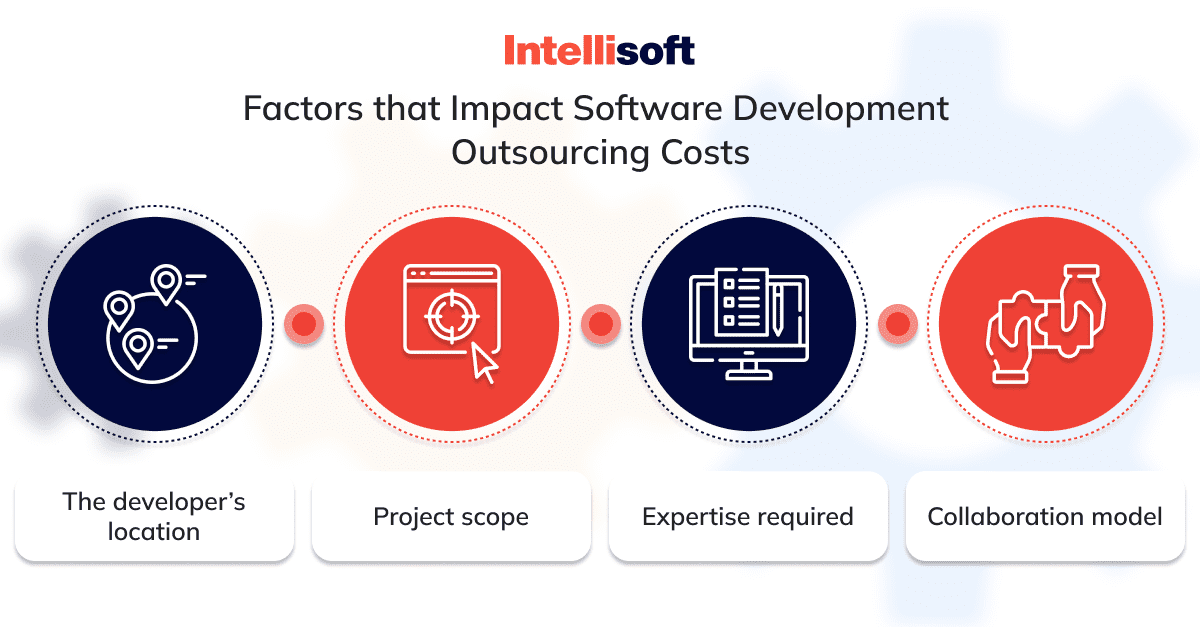 Budgeting Tips for Outsourcing Software Development
Each software development outsourcing team is a unique case depending on the preferred payment schedule and contract terms. In general, to optimize the costs of software development outsourcing, consider the following budgeting tips:
Clearly define the project scope. Before engaging an outsourcing provider, ensure the assignment is clearly defined, including the features, requirements, and expected deliverables. A well-defined scope can help avoid costly scope creep and ensure accurate cost estimates.
Choose the suitable collaboration model. Select the one that best aligns with your project requirements, budget, and desired level of control. It can help optimize the costs associated with outsourcing and ensure a successful partnership.
Compare providers. Research and compare multiple outsourcing providers to find the best value for your needs. Consider factors such as their expertise, location, and pricing models when making your decision.
Set a realistic budget. Establish a realistic budget for your outsourcing project, considering not only the development costs but also the costs associated with project management, communication, and any additional services you may require.
Monitor and control costs. Throughout the project, monitor and control expenses to ensure they remain within the established budget. Regular communication with your outsourcing provider can help identify potential issues early on, allowing for proactive cost management.
As you can see, the cost of software development outsourcing can vary significantly depending on factors such as project scope, the expertise required, collaboration model, and geographic location. If you follow these four guidelines, you should be able to find an outsourcing software development company that is compatible with your company's values, can meet your needs, and fit your budget.
Best Practices for Managing Your Extended Development Team
Managing a large development team is difficult, especially when you must account for members in different locations, time zones, and perhaps even cultures. However, businesses can efficiently manage their extended development teams and guarantee productive collaboration by adhering to a few best practices. Let's talk about how to administer an extended development team more effectively.
Establish clear goals and expectations. First, you should ensure everyone on the development team knows what they're working toward and what you expect of them. Please ensure everyone on the team is on the same page regarding their responsibilities and the project's goals. Getting everyone on the same page about the project's objectives is the first step toward building a solid working relationship.
Keeping the lines of communication open and frequently updating everyone is essential when working with a large development team. To make sure everybody is in sync and to address any problems that may arise, it's important to meet regularly. Use tools like video conferencing, instant messaging, and project management software to keep everyone on the same page.
Establish a culture of trust and transparency. Encourage open communication and honest feedback to foster a culture of trust and openness within the larger development team. When team members can trust one another and work together effectively, it is because of the open sharing of information and the proactive resolution of problems.
Implement effective project management. Ensure the project stays on track and under budget with the help of project management tools and methodologies. Put someone in charge of managing the project, keeping tabs on its development, and ensuring it hits its targets. Regularly checking project schedules and milestones for signs of trouble is essential.
Provide ongoing support and training. Make sure your extended development team has the knowledge and expertise they need to do their jobs successfully by providing them with continuing support and training. It could be through workshops, one-on-one guidance, or access to online tutorials.
Encourage collaboration and knowledge sharing. Foster an environment where team members feel comfortable sharing their ideas, knowledge, and expertise to further the group's goals. In addition to boosting morale, this tactic shows increased productivity and creativity in teams.
Recognize and celebrate success. Show appreciation for the efforts of everyone involved in the project's development. Motivated employees in a pleasant work environment show better results.
Be mindful of cultural differences. It's essential to be aware of and respectful of cultural differences when collaborating with an extended development team. It's crucial to get to know your team members' cultural norms and customs and to keep those differences in mind as you work together.
In summary, to successfully manage an extended development team, it is essential to:
Set clear objectives
Keep lines of communication open
Encourage a culture of trust
Employ rigorous project management techniques
It can be challenging to manage an extended development team. Still, by adhering to these guidelines, you can collaborate with an extended team more effectively and produce high-quality results.
How to Hire Offshore Developers
Consider hiring developers in offshore locations when looking to expand your development capabilities and tap into a global talent pool. However, finding the right software developers and ensuring a productive partnership calls for meticulous planning and execution. When done incorrectly, offshore team outsourcing can be very frustrating for everyone involved. We'll review some things to consider before hiring a team of offshore developers. Following these guidelines will ensure your organization's hiring and training efforts succeed. Let's see how to find and work with developers in other countries.
Define your project requirements. Before beginning the hiring process, it is crucial to have a firm grasp of the specifics of your project. It encompasses the scope of the project, the specific technical abilities required, and the desired level of proficiency. Identifying competent offshore software developers and establishing reasonable goals for the partnership will be less of a challenge with a clearly defined project.
Research potential offshore development locations. Do your homework on potential offshore development locations to find the best place for your project's needs. Consider developer availability, time zone differences, language barriers, cultural fit, and language availability.
Select a collaboration model by analyzing your project's requirements and preferred management approach. A dedicated development team, an extended team, or a project-based model are all viable options, each with benefits and drawbacks.
Find a reliable outsourcing partner. Research and evaluate several potential partners to determine which of them fits your project's needs, budget, and preferred working method best. Find service providers who have worked with clients like you before, have a solid reputation, and have experience working with the technologies and industries you use.
Evaluate developer skills and expertise. Assess prospective offshore programmers' competence by reviewing their resumes, having them go through technical interviews, and giving them tests to complete. It will help you find developers with the experience and skills you need for your project.
Implement a solid onboarding process. After hiring your offshore developers, you should provide a thorough onboarding process to acquaint them with your business, the project, and your expectations. You may require training sessions, documentation, and ongoing support to ensure a smooth onboarding process.
Monitor progress and provide feedback. Maintain a close eye on the work done by your offshore developers and give them regular feedback to help them improve. Establishing milestones and key performance indicators (KPIs) facilitates tracking progress toward project goals.
Develop a solid working partnership by keeping lines of communication open, providing resources, and celebrating successes with your offshore developers. It will help create a collaborative and productive work environment.
By following these steps, your company can reap the benefits of outsourcing software development by hiring offshore developers. This way, you can increase the returns on your outsourcing investment and guarantee a productive relationship with offshore developers.
Discover the Benefits of IntelliSoft Outsourcing Solutions
In today's competitive business environment, outsourcing partners can make or break a company's efforts to streamline operations and achieve a competitive advantage. IntelliSoft guarantees on-time and high-quality project completion by assembling exceptional virtual teams and using state-of-the-art collaboration tools. Our company provides a variety of collaboration models to meet companies' individual requirements in a wide range of sectors. Let's discuss the different types of collaboration offered by IntelliSoft and how they can benefit your business.
Staff Augmentation: Enhance Your Capabilities with Expert Assistance
IntelliSoft's staff augmentation services provide a flexible solution for businesses looking to supplement their in-house teams with skilled professionals. Staff augmentation allows you to quickly grow your team and accomplish more without the expense of adding new full-time workers. IntelliSoft provides the workforce and requisite resources for smooth incorporation into your current operations, focusing on quality ownership from both sides. Your company and IntelliSoft will share project management duties to maximize efficiency and effectiveness.
Outstaffing: Expand Your Team with the Right Talent
IntelliSoft's outstaffing services can help you grow your team with the right people, providing the additional labor needed to achieve your desired outcomes. With your quality ownership, you can take advantage of IntelliSoft's vast talent pool without giving up project control. By keeping project management in-house, you can be sure that our team always meets your vision and objectives. You can confidently take on new challenges by expanding your team without increasing overhead costs through outstaffing.
Dedicated Teams: Experience the Power of a Tech Partnership
IntelliSoft's dedicated teams provide a range of business services for businesses seeking a more comprehensive solution with forecasted outcomes. IntelliSoft has quality ownership on their side, so you know you'll get great work from them. IntelliSoft's skilled professionals will manage the projects while your team focuses on building a solid technological partnership. Businesses can concentrate their resources on achieving results and developing novel approaches by employing specialized groups and only paying for the IP they produce.
IntelliSoft provides multiple collaboration models for outsourcing software development and other technical projects to meet the needs of a wide range of businesses. IntelliSoft's dedication to quality, flexibility, and seamless collaboration guarantees that your organization will reap the benefits of its expertise and global talent pool, whether you require staff augmentation, outstaffing, or dedicated teams. IntelliSoft can be your reliable outsourcing partner in today's cutthroat business environment.
In Conclusion
To help your organization adapt to the dynamic nature of the modern business environment, tap into a global talent pool, and maximize efficiency, consider outsourcing a crucial expansion tactic. We've discussed the primary motivations behind outsourcing, the benefits of outsourcing software development to global outsourcing trends, and the various collaboration models that exist today and will continue to develop.
We've covered the benefits of outsourcing development to various businesses, including startups, large corporations, government agencies, and nonprofit organizations, and discussed the tasks and products you can outsource.
IntelliSoft is an industry-leading software development service provider, making us an attractive option when choosing an outsourcing partner. IntelliSoft guarantees your company has access to the right talent and expertise to achieve its goals by maintaining a relentless focus on quality, adaptability, and coordinated effort.
Working with an established outsourcing company like IntelliSoft allows your organization to tap into the expertise of people worldwide, take advantage of cutting-edge technology, and streamline its project management. Start moving in the right direction by learning more about IntelliSoft services and how they can help your business succeed in today's market.

About

Kosta Mitrofanskiy

I have 25 years of hands-on experience in the IT and software development industry. During this period, I helped 50+ companies to gain a technological edge across different industries. I can help you with dedicated teams, hiring stand-alone developers, developing a product design and MVP for your healthcare, logistics, or IoT projects. If you have questions concerning our cooperation or need an NDA to sign, contact info@intellisoftware.net.