What is artificial intelligence in healthcare, and why is it a popular topic in the IT community? How can medical institutions greatly benefit from using artificial intelligence in healthcare? Experienced specialists from our IT team have undertaken research on this topic. Keep reading to learn more about how innovations are changing our lives.
Mechanical Intelligence is a modern data analysis technology. It is created based on the neural connections of the human brain. It is as complicated as it might sound. It uses layers of information, including algorithms, pattern matching, cognitive computing, etc.
Artificial mind and machine learning technologies are revolutionizing services worldwide. Medical organizations have accumulated huge amounts of data. This includes medical records and images, demographics, clinical trial results, and more important information. Digital tools are ideal for analyzing this data. Modern technologies make it possible to find patterns and connections usually unrecognizable to people. This allows institutions worldwide to improve medical care and patients' overall well-being.
Innovative technologies in healthcare before the COVID-19 pandemic were undoubtedly actively developing. The industry has been filled with many developments – smartwatches, robots for hospital disinfection, and smart solutions for faster drug development. The pandemic became a powerful driver for the use of modern technology by millions of doctors and patients all over the globe. And AI, of course, is a striking example.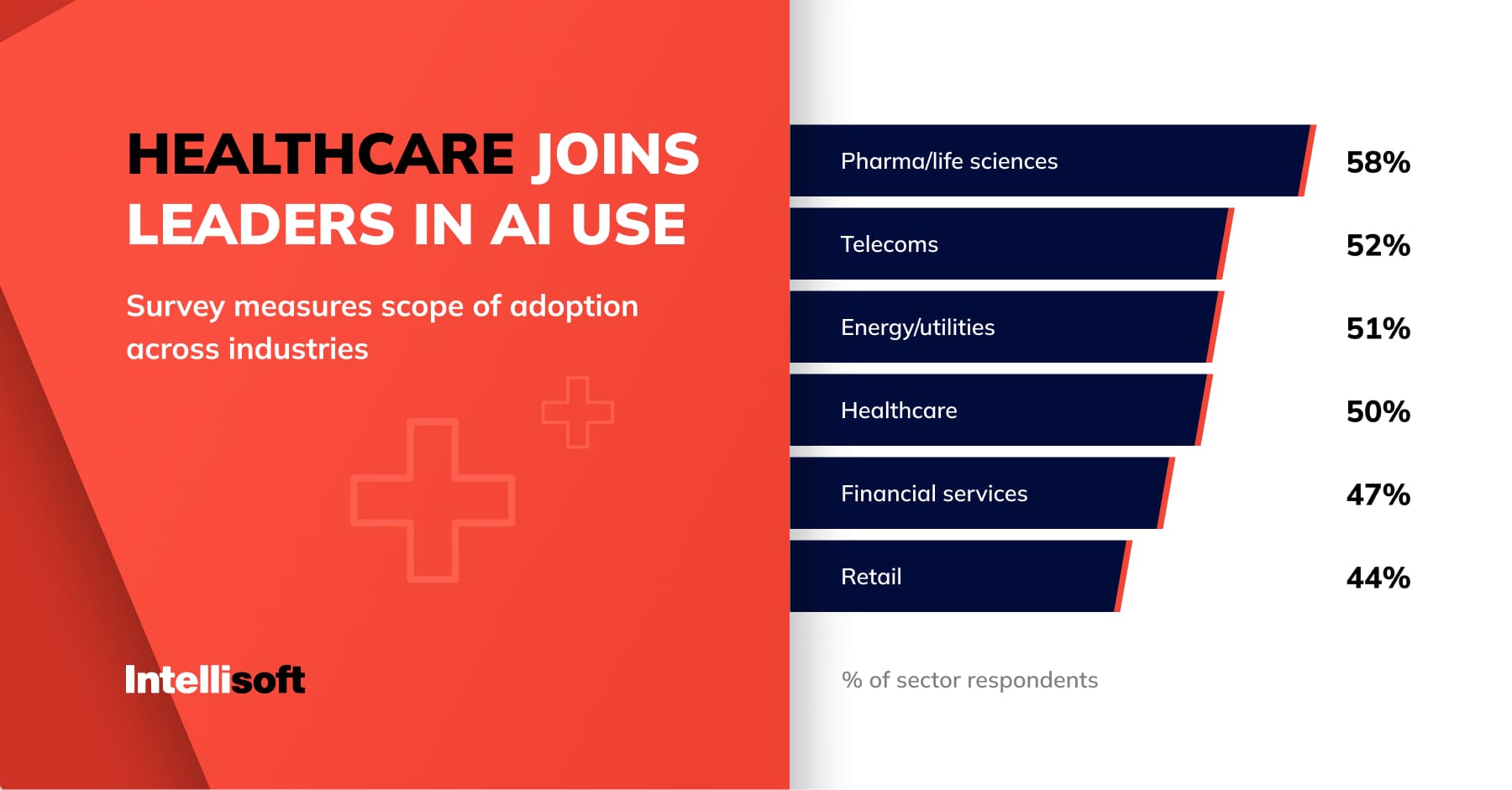 How AI Is Used in Public Health Services
But how exactly do institutions use artificial intelligence in healthcare in today's realities? What about artificial intelligence in-hospital patient care?
Technology empowers healthcare workers to tackle highly complex, time-consuming tasks. Technology proves to be an indispensable resource for healthcare professionals, helping them realize their full expertise and potential across the entire ecosystem. AI-powered tools can be used to reveal meaningful relationships in raw data. They can be applied to most complex areas of medicine, including new drug creation and testing, medical decision-making, patient care, money transfers, and more.
What's Happening in Public Health Service Right Now
How much do you know about artificial intelligence in the medical field in today's realities? Let's discuss healthcare and artificial intelligence in 2022.
Most leading IT corporations are developing medical products to keep up with the latest IT trends. In total, according to the research conducted by the company Venture Scanner, medical development is carried out by about 2 thousand organizations at the very moment.
The artificial mind or intelligence is one of the most promising digital technologies in medicine because it can help:
Improve the accuracy of diagnostic
Automate the doctor's work
Choose the best method of treatment
Create and test drugs
Not so long ago, the tech company Microsoft launched the AI for Health program. At the beginning of the year 2021, about 180 tech companies managed to receive grants from Microsoft for their healthcare projects and continue their research and development. Fascinating, right? Thanks to such grants, more and more solutions appear in the industry from day today.
Examples and Benefits of Using AI in Medicine
Earlier in this article, we wrote a lot about AI and how this industry is developing in times of a global pandemic. New solutions that save hundreds of patients' lives appear daily. But what striking examples of AI in medicine can you really name? Let's take a look at the most common use cases of AI.
Here are our top 10 examples of using AI in medicine: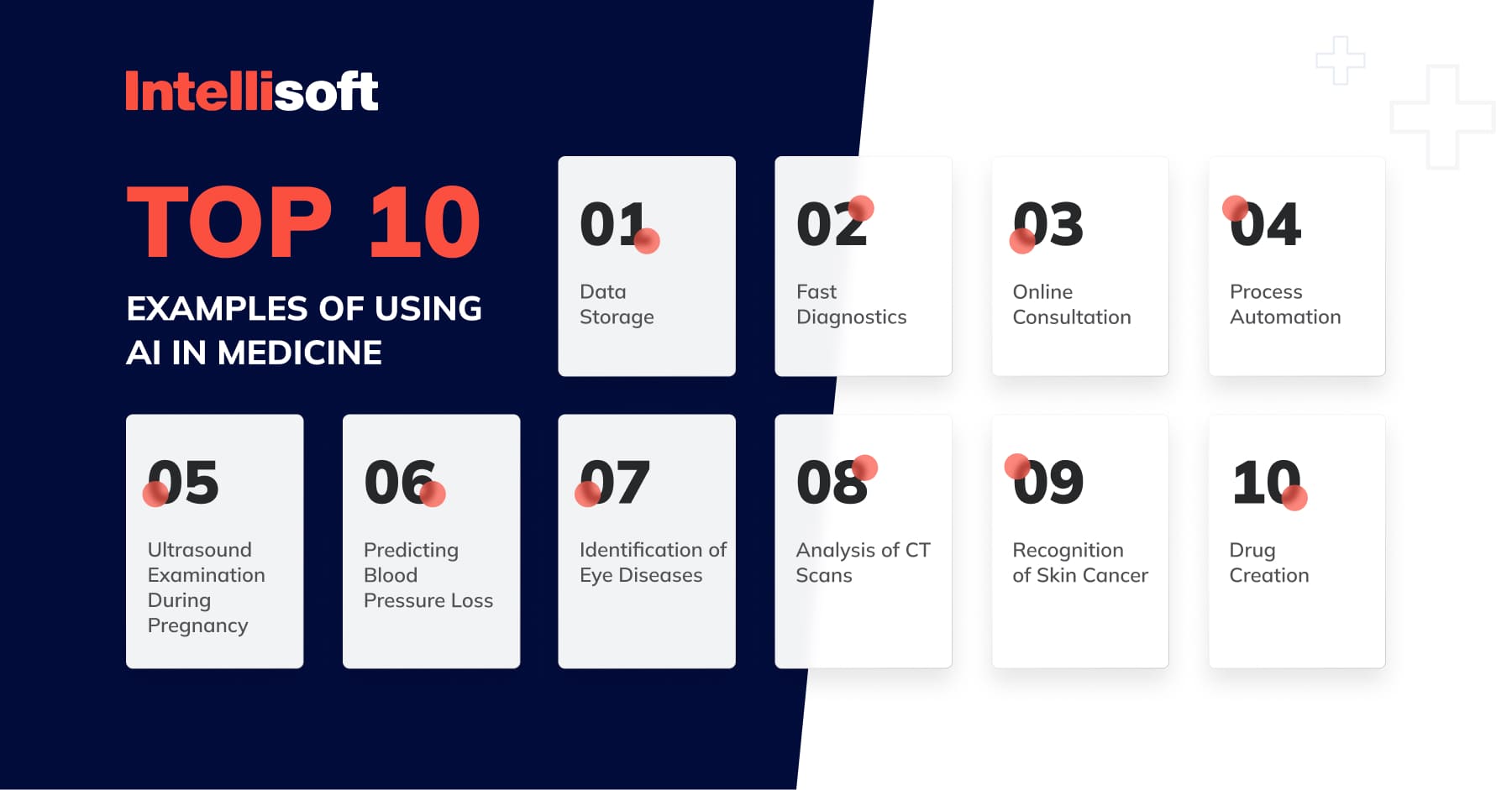 Top 10 Examples of Using AI in Medicine
Data Storage
Fast Diagnostics
Online Consultation
Process Automation
Ultrasound Examination During Pregnancy
Predicting Blood Pressure Loss
Identification of Eye Diseases
Analysis of CT Scans
Recognition of Skin Cancer
Drug Creation
Related readings: 
Data Storage
Patient information is stored in dozens of clinics and numerous medical records. It means the collection of anamnesis and diagnosis is complicated. Innovative technology can eliminate this problem. Thus, doctors only need to submit a query to a search engine.
Fast Diagnostics
Digital solutions make it possible to recognize diseases at the early stages. Most importantly, digital tools can be used both by doctors and patients.
Online Consultation
Remote consultations expand access to quality health care. That's especially important in sparsely populated areas where it is most needed. In addition, remote consultation provides an opportunity to reduce costs. In countries with relatively low quality of life, this can be life-changing.
Process Automation
There was an imbalance and shortage of personnel all over the world even before the outbreak of the COVID-19 pandemic. According to the World Health Organization, for people to have access to medical services by the year 2030, low-income countries need additional 18 million health workers. Digital solutions can help handle routine daily tasks. Smart technology can take care of entering information into a medical record, detailed analysis of an extensive array of data, and more.
Eugene, back-end/front-end developer @IntelliSoft:
For our Cambio project, we use medical protocols as artificial intelligence. CPOE module makes it possible to compare the effectiveness of various healthcare protocols in different regions of the world. 

Each time a doctor prescribes some drugs, they show up in the protocols. Our customer can save protocols right to a single database. Every hospital has its own protocols. Different files are used for ICU (MICU).

The module also makes it possible to pick the most suitable treatment plans for every patient on the individual basis. Currently, it has over 200 protocols and 1,000+ drug dosage suggestions. It is not exactly the example of AI in healthcare, but still closely connected as it allows for some automation in processes.
Ultrasound Examination During Pregnancy
Today, some institutions in England are using new methodologies of testing the fetus for pathologies that are very difficult or impossible to detect by any other means. The system contains more than 350 thousand images of fetuses with various dangerous deviations.
Predicting Blood Pressure Loss
In 2018, the results of studies conducted by several scientists were published. They developed an algorithm that predicts abnormal blood pressure drop or hypotension during surgery.
Identification of Eye Diseases
Google's collaboration with Moorfields Eye Hospital is also a cool case study worth mentioning. Google's solution is used to analyze eye images and identify primary symptoms of blindness.
Analysis of CT Scans
MedyMatch Technology is designed to diagnose stroke correctly. Israeli developers design the innovative system. MedyMatch Technology compares scans of the patient's brain with images of others. This way, it identifies and confirms any abnormalities.
Recognition of Skin Cancer
Artificial intelligence in healthcare shows impressive results in solving the problem of early detection of skin cancer. In the course of the experiment, the machine coped with the task better than human specialists.
Drug Creation
Drug development and subsequent clinical trials are long and very costly processes. AI can reduce the time spent on the development and testing of new drugs. It analyzes the molecular structures of existing drugs. Then it simply proposes new ones according to the given requirements.
Here are some other notable examples worth mentioning:
Top 4 Applications Based on AI That Are Being Used by Hundreds of People
Pocket Cardiologist
Animated Nurse
Assistant for Cancer Patients
Electronic Assistant for Hospitals
Pocket Cardiologist
The app called AliveCor allows you to process information from your cardiogram sensor easily. The program analyzes the patient's data, monitors any alarm signals, and recommends the user consult a doctor if there's a risk of a heart attack.
Animated Nurse
The app called Sense.ly asks the patient about his overall well-being, complaints, and blood pressure. Based on the data it receives, this application sends information to the attending physician.
Assistant for Cancer Patients
Mendel.ai analyzes ongoing trials of new and experimental drugs for cancer. The program compares the important characteristics of the trial tests with the state of health of the patient and recommends appropriate ones.
Electronic Assistant for Hospitals
The Bright.md acts as an intermediary between the patient and the doctor. With the help of this application, medical personnel are fed from many bureaucratic procedures.
The Main Advantages of Using Modern Technologies in Medicine
Innovative deep learning algorithms do not only help healthcare professionals to make administrative and medical decisions. They make it possible to improve the quality and efficacy of public health services in general.
How To Develop Secures Healthcare Software?
Read Now
Let's take a look at the main benefits of using digital technology in public health services:
Graphic example/suggestion: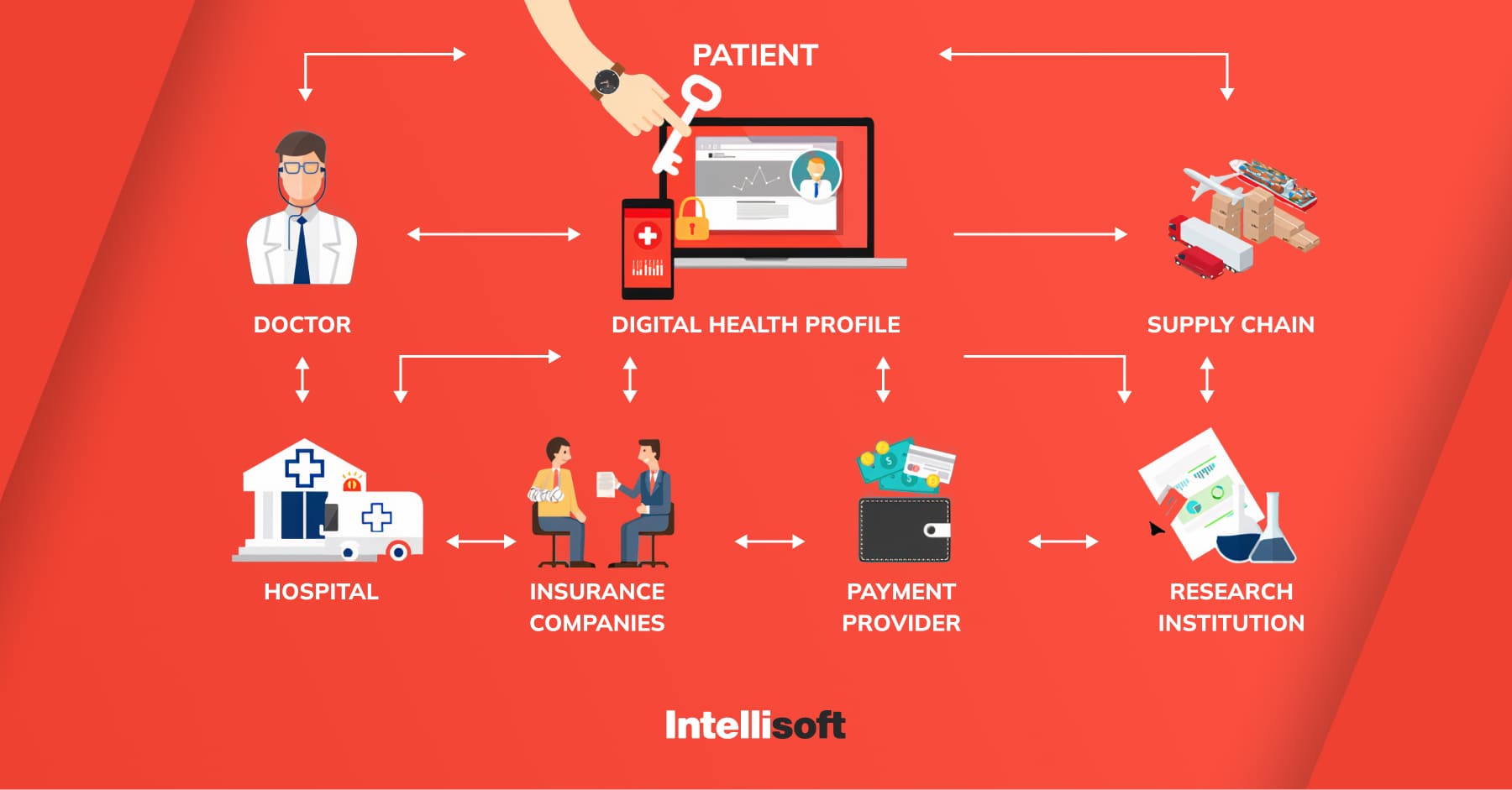 With innovative deep machine learning, healthcare personnel can analyze data blocks faster and more accurately.
Technologies used to analyze pattern matching enable institutions to leverage their data and resources to the maximum benefit.
AI algorithms do not get tired, distracted, or subject to mood swings.
AI automation allows doctors to spend less time entering data and working with daily paperwork so that they spend much more time communicating.
How We Can Help
Artificial intelligence technology in healthcare is a true breakthrough in science. Earlier in this article, we have discussed how artificial intelligence is used in healthcare and is saving people's lives daily. The introduction of AI in the medical field is a promising prerequisite for improving the quality and duration of a patient's life. Modern technology is undoubtedly the future of medicine.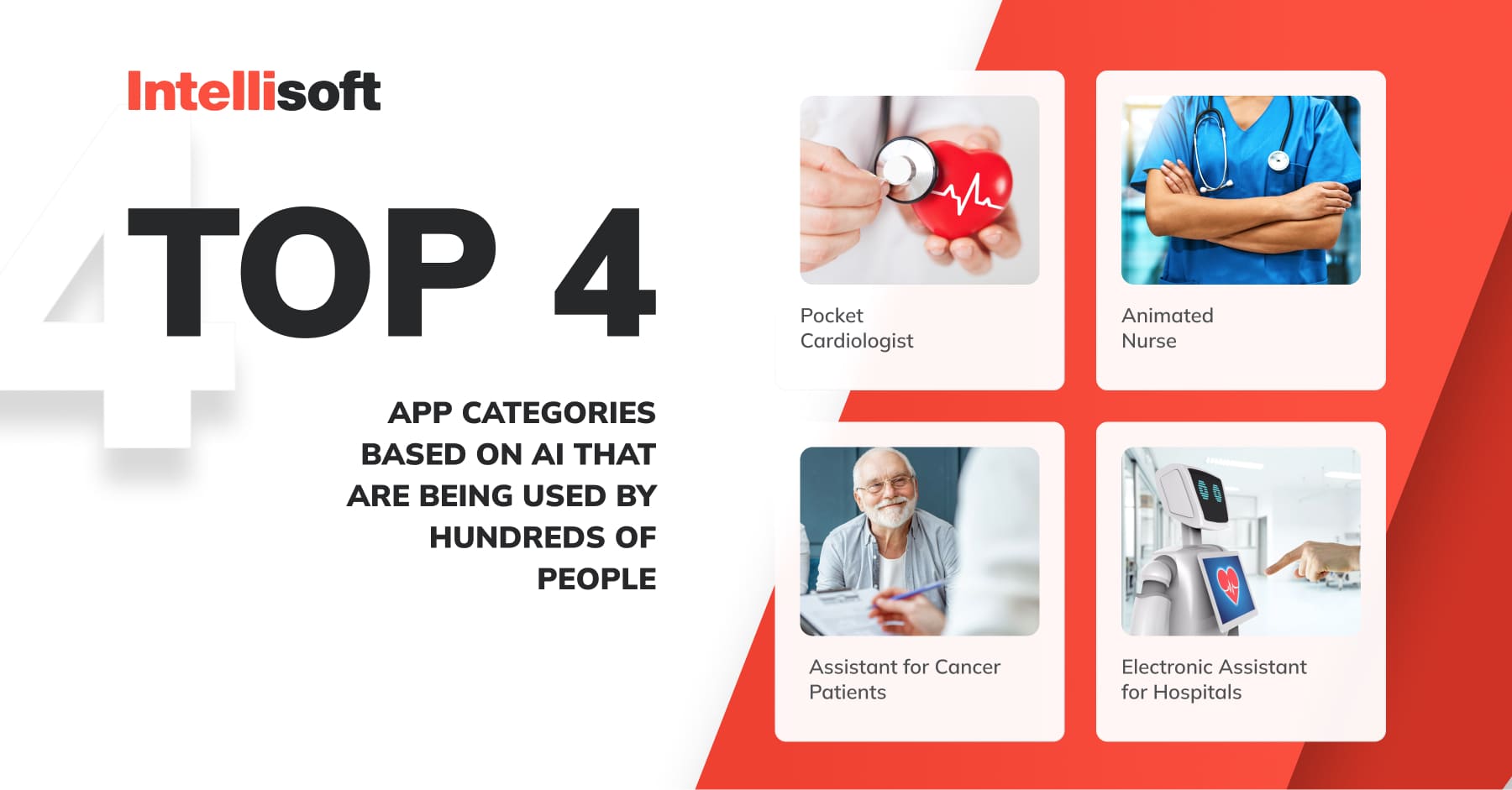 Are you currently working in the medical field and think that it is time for your company to introduce modern advanced technology to improve the quality of your medical services? Contact IntelliSoft for a free consultation on MedTech! Our team of skilled software developers, QA engineers, and designers proves their professional expertise in MedTech every day to build high-quality products for our tech partners!
Don't wait to bring your ideas to life! Contact us, and let's get started!

About

Kosta Mitrofanskiy

I have 25 years of hands-on experience in the IT and software development industry. During this period, I helped 50+ companies to gain a technological edge across different industries. I can help you with dedicated teams, hiring stand-alone developers, developing a product design and MVP for your healthcare, logistics, or IoT projects. If you have questions concerning our cooperation or need an NDA to sign, contact info@intellisoftware.net.