Programming outsourcing is the assignment of software development tasks to an external specialist. This model of collaboration helps optimize the company's operational processes, speeds up project execution, saves costs, and improves the quality of the final product.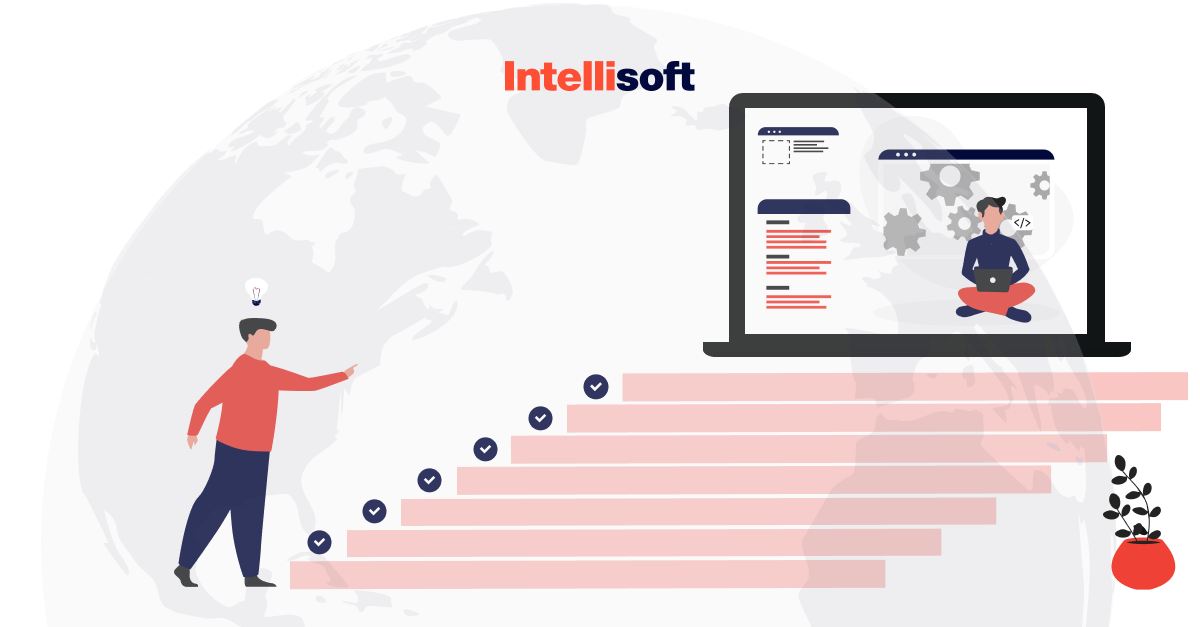 In a rapidly developing globalized society, there is a large number of field experts. This means there are experienced specialists who can provide services reliably, fast, and cheap. Here's a striking example: large companies all over the globe transfer their call centers to India due to lower wages. Those are Amazon, Dell, CISCO, Ford Motors, and more. This practice allows them to save resources, and we're talking not only about wages, but also telecommunications, taxes, rent, and more. 
Mature organizations are giving away development to third parties today, and another example is Slack and Google who have plenty of outsourced developers from Ukraine and other countries of Eastern Europe.
According to SharpMinds statistics, web and mobile developers make up 60% of the global outsourcing industry. This points to the evident fact that this collaboration model is effective. Web and mobile development services outsourcing is the process of project implementation carried out by an external specialist. This process also includes technical support, testing, fixing, and further maintenance. Usually, all these functions are performed by different team members. Therefore, it is customary to hire a whole team instead of a single person.
According to Statista stats, most of the outsourcing industry's revenue is generated in the United States. However, this does not mean that you have to look for a suitable specialist in the United States if you're currently hiring. There are many more affordable options. For example, many companies shift projects to staff from Argentina, The Philippines, or Poland because of cost-efficiency.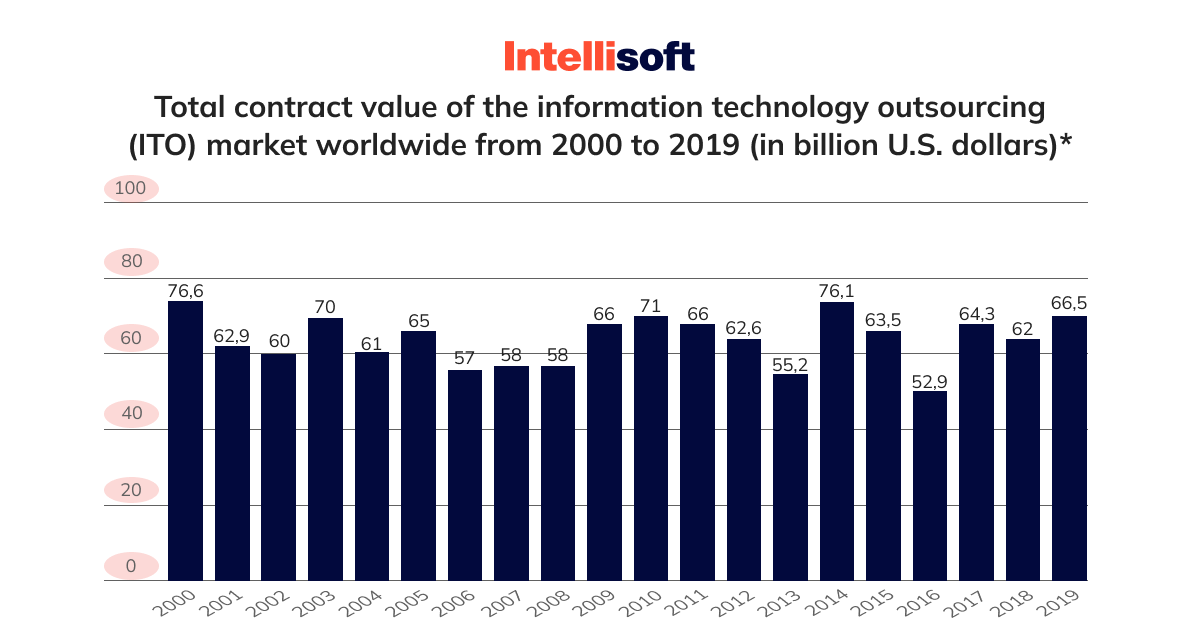 Outsourcing Development: Let's Break Down the Technical Terminology
The main task of a programmer is to take care of the entire development process, from the get-go development to debugging of the developed software and post-support. Normally, companies hire programmers along with their teams. Such teams include a project manager, an architect, an analyst, a tester, and a UX/UI designer. The structure of an IT team may differ depending on the project.
Every programmer is also involved in the implementation of the developed software. At the same time, a programmer tracks down possible problems that may arise during the operation of the developed website, platform, application, or algorithm.
For the IT project to be a success, the team must have a thought-out development and implementation approach. This approach should necessarily be based on transparency of the business communication with the client company. Also, such factors as openness, stable work, honesty of project estimates, and the ability to scale the involved team are essential. One more vital thing is the desire for long-term cooperation.
Please remember that the team must have the significant industry experience to make the product and its further implementation a success. Don't forget that in the future, you'll also need quality assurance and maintenance, so think of that in advance.
What Is Most Important When Working with an Outsourced Employee or Team?
Roughly 300,000 jobs are outsourced by the United States every year, and larger IT organizations are 66 percent more likely to hire external teams than small businesses. Sure thing, to achieve success, they should know the rules of the game. There are several factors that you definitely need to pay attention to when working with an outsource specialist or team:
Industry experience. Choose people who understand your business from the inside out.
High-level technical performance. The experience and skills of the staff involved in the implementation of a project affect its future success.
Good communication. Trusting an outsourced employee requires transparency and a high level of responsibility from the hired specialist.
Work ethic. The specificity of software development projects cannot be narrowed to implementation only. This is creative work. For high-quality project implementation, outsourced employees must be truly passionate about the project itself.

Why You Should Choose an Outsourced Development Team
In-house implementation or outsourcing software development? What's better? Every business faces the question of whether to turn to this model or not. There are several factors to consider before hiring a freelance outsource programmer.
This type of collaboration has become very popular in the IT industry. The main benefits of outsourcing software development:
Thoughtful choice of employees for the next project

High-quality end product or service

Full control over all necessary processes

Deadlines always met on time with no delays and excuses
Quality Level
According to the stats provided by CareerBuilder, 74% of surveyed companies lose an average of 14,900 USD due to not thought-out hiring decisions. Outsource services help to minimize risks.
Providing staff is the main income source for outsourcing providers. This means these providers cannot afford to fail at this. Outsourcing companies always pay a lot of attention to the services they provide. This refers to the technical equipment of employees, professional training, industry experience, and more.
Thoughtful Selection of Staff
As stated by the popular platform People Matters, team motivation can also suffer from a bad hiring decision made by the management. Outsourcing can solve this issue too.
Outsourcing companies know exactly all strengths and weaknesses of each provided employee. The projects are distributed taking into account the team's capabilities. Programmers, testers, and other IT specialists are selected taking into account their professional skills and experience. In addition, you are given guarantees and can always have a look at the experts' portfolios and feedback from other clients.
Full Control
One of the most important preconditions for a successful project is control. Without control, the management is unable to make significant decisions on time.
By outsourcing development needs, you get full control, as you are kept regularly informed about all valid processes. The provider takes care of your development needs, from setting realistic deadlines to dividing and assigning the tasks, so you can focus on your business goals instead of thinking about the implementation of the hard stuff.
Deadlines Met on Time
By outsourcing IT needs, you increase the chances to meet your deadlines. Outsource agencies are better at planning and meeting estimated deadlines, as this is basically their job. Based on the Intellisoft experience, we can say that it may take roughly 4-8 weeks setup time to get the new staff handling the support queue.
You don't have to worry about possible issues. The agency has the trump cards up her sleeve in the form of experienced HHs and HR specialists if the hired team finds it is unable to meet estimated deadlines without an additional specialist.
Main Downsides to Take Into Account
Not everything is so rosy when it comes to outsourcing. The main pitfalls include:
The risk of poor-quality problem-solving. The contractor may position himself as a skilled field expert. Remember that the quality of services can be assessed only after the project is actually finished.
The risk of a wrong understanding of the corporate style. The contractor may be a good, experienced specialist, but the right understanding of the corporate style and culture are crucial for a successful collaboration. Besides, some obstacles are caused by the possible language and mentality barriers. Nearshoring outsourcing might help to avoid these issues.
The risk of leakage. Confidentiality conditions are prescribed in the contract and officially enshrined. Yet, it is almost impossible to prove the contractor's involvement in the disclosure of your sensitive information.
Dependence on external performers. To entrust high-quality performance to an outsourced developer means to disrupt the company's unity. If the outsourcing specialist does not bring the desired result, the company incurs losses.
To make it short, consider the main downsides of outsourcing software development.

Where to Find the Right Talent
Outsourcing was first recognized as a business strategy in 1989. Used throughout the 90s, outsourcing has become firmly integrated into international business.
Outsourcing was initially used in the areas of security services, logistics, manufacturing, cleaning services, infrastructure management, catering, etc. A new historical lap began after the global financial crisis in 2008.
India, China, and some countries of Eastern Europe (Ukraine, Poland, Romania) are today's leaders among outsourced service providers. These countries, together with Latin America, are a popular choice in the United States. At the same time, there is a trend that the United States is gradually reducing the number of outsourcing projects in other parts of the world. Entrepreneurs plan to reorient themselves to outsourcing projects within their own country whenever possible.
India, China, and the Philippines are popular choices in Europe. Ukraine, as a country focused on service export, supplies mainly to the United States, European countries, and Israel. 
Future Trends and Prospects
With the fast-paced development of technology, one of the newest types of service outsourcing is crowdsourcing. Thanks to service crowdsourcing, a large number of field experts can be involved in a project at the same time. One of the most significant advantages of crowdsourcing is the remote location of the hired staff. As a consequence, the cost savings are weighty. 
Many companies oftentimes lack the required resources to solve certain issues, despite the availability of highly qualified specialists. For example, to bring creative solutions, some organizations address tasks or projects on specially created platforms or on their own websites. The most successful solutions to the assigned tasks receive the right to be implemented. Their authors even get the chance to become long-term partners to the client company.
You might think that service crowdsourcing is used only by international corporations, but you are wrong. In 2011, the government of Iceland approached its citizens with a request to amend the Constitution. Everyone had the right to submit their proposals on the official page or the Facebook network.
Most companies, especially those involved in digital services, support crowdsourcing. They see this trend as a new form of cooperation without the old restrictions imposed by classical forms of employment.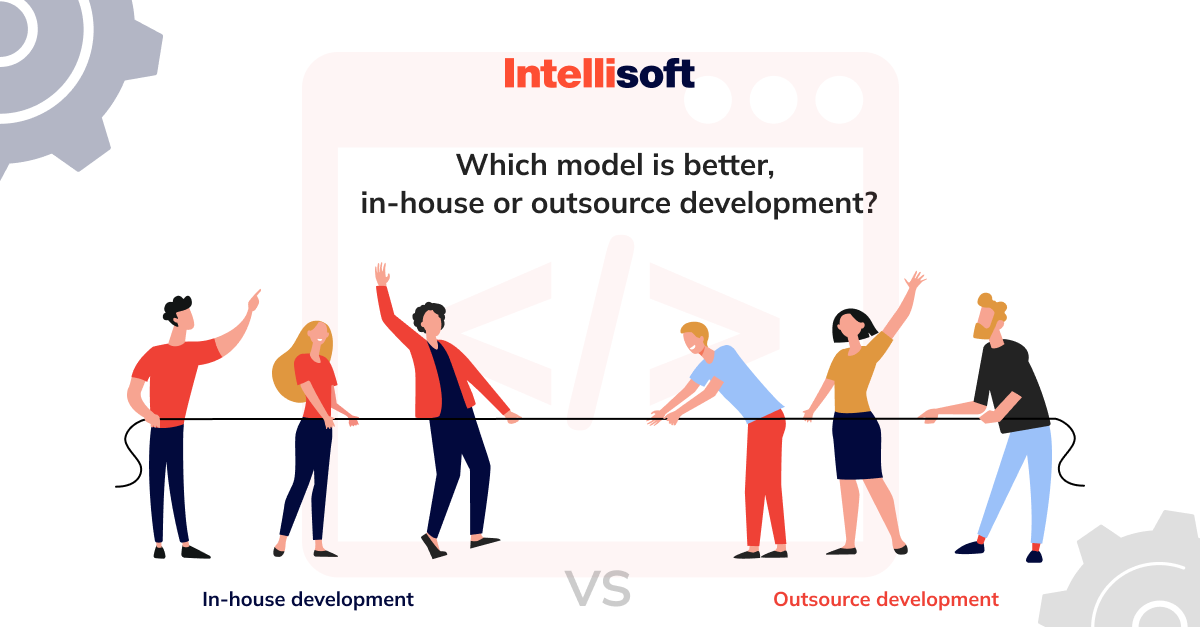 Regardless of the opinions about the numerous benefits or harms of crowdsourcing, the fact remains that the development of this new format cannot be stopped anymore. The popularity and use of crowdsourcing will entail a revision of the well-established contractual social and labor relations all over the world.
Conclusion
In today's fast-paced society, a lot of jobs can and are actively being outsourced. A sweeping labor revolution is taking place in the world.
Our normal work environment, to which we are used to, is changing radically today. More new business strategies are arising, in which the concept of territorial boundaries is often absent and talents are mainly in demand for a short-term collaboration. 
Mature companies, as well as start-ups, are more and more turning to outsource software development companies. These software development companies provide programmers, product designers, QA engineers, and other field experts for creating high-quality products.
What is your opinion on the new trend of outsourcing software development? If you're currently thinking about hiring an outsourced web or mobile developer, contact IntelliSoft – turn a great idea into an outstanding product with the help of an experienced IT team.
We have been recognized as one of Top Website Development Companies in the United States by DesignRush.
FAQ
Have some questions left? We have prepared some vital points for you to consider when it comes to expanding your team.