Building a software application can be compared to baking a complex, multilayered cake. Traditionally, you'd meticulously gather and measure all the ingredients, mix them together, and carefully monitor the baking process. But what if you could just get premade cake layers and decorations and assemble your cake in a fraction of the time without sacrificing quality or taste? Welcome to the world of low-code development.
In the bustling kitchen of software development, we at IntelliSoft have sharpened our knives and pre-heated our ovens for years, becoming seasoned chefs in crafting exquisite technology 'cakes.' With our solid experience in a wide range of industries, we've acquired the 'secret recipes' to technological success and can help you whip up your software faster, better, and more efficiently, all thanks to low-code development.
Today, we'll explain what low-code development is, contrast low code vs high code approaches, and explain the benefits of low-code development. We'll serve up some tasty examples of how various sectors can use this approach and, finally, offer you some practical tips on choosing between low-code and high-code methodologies.
So get ready for a rewarding journey into the world of low-code development, starting from the appetizer and ending with a delightful dessert.
What is Low-Code or No-Code Development?
As you make your way through the realm of modern software development, you will undoubtedly encounter two intriguing concepts – Low-Code and No-Code. These groundbreaking approaches to software development are currently revolutionizing the technology industry, similar to the way ready-to-assemble furniture transformed home decor.
Low-Code and No-Code (LCNC) are modular approaches to software creation that echo the ethos of IKEA furniture. If you've ever built an IKEA bookshelf, you know it comes with prefabricated pieces and a set of instructions that require more interpretation than advanced carpentry skills. Similarly, low-code and no-code platforms offer pre-built components and a visual interface that simplifies the creation of software applications. But enough of furniture, let's dive into the specifics.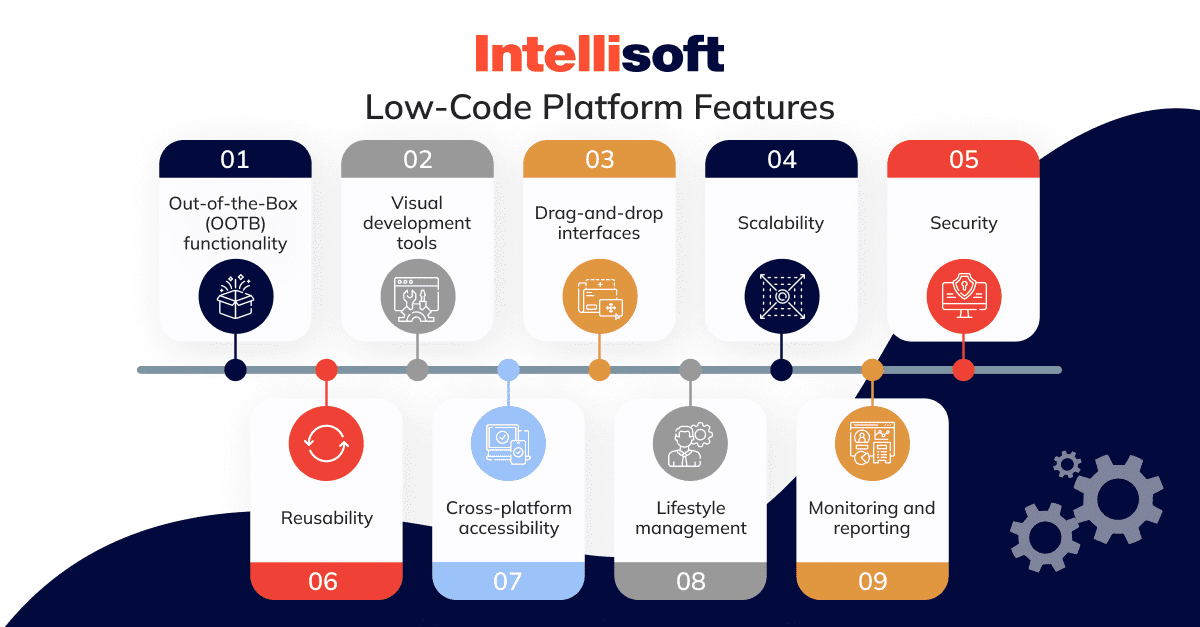 Introducing the Concept
When comparing software development to a large construction project, traditional coding can be likened to manually molding each brick. This requires intricate craftsmanship, technical know-how, and a significant amount of time. On the other hand, low-code and no-code development is like using a set of LEGO blocks. Instead of creating each block from scratch, you can simply connect existing ones according to a predetermined pattern. This allows for a faster and more efficient building process.
Low-code development involves coding, but not to the same extent as traditional coding. This method enables users to construct applications by selecting pre-built components and connecting them using a visual interface. If a specific feature is necessary, traditional coding can be added for customization purposes.
No-code development, on the other hand, is what it sounds like – a zero-coding-needed approach. It empowers even non-technical users to create applications, again, by using a visual, drag-and-drop interface and pre-built modules. It's like arranging a jigsaw puzzle where all the pieces are ready, and you just need to fit them together correctly.
How Does Low-Code Development Work?
The heart of low-code development is its visual interface. Here, software creation resembles drawing more than writing. Developers can visualize their software like an architect plans a building, creating blueprints that illustrate the software's structure, functionality, and flow.
Developers can "draw" their software by connecting one function to another, similar to creating a flowchart or a map. It drastically simplifies and speeds up the coding process. Instead of writing long, complex strings of code, you can assemble applications by arranging and connecting pre-built components like LEGO blocks.
In the world of low code, developing a software application could look like this: First, you select a user interface (UI) element, such as a form or button from a menu, and drag it into your workspace. You then connect it to a database or another UI element, like connecting a sequence of events in a flowchart. Rinse and repeat these steps until you've constructed your entire application.
The drag-and-drop approach, combined with pre-built components, takes a massive load off the developer's shoulders. Suddenly, building software isn't about creating every piece by hand but about developing a master plan and intelligently arranging the bricks to create a sturdy, functional structure.
The ease and speed of low-code development have democratized software creation, opening up the field to a broader range of people, not just those who speak the arcane languages of Java, Python, or C++. Suddenly, we have a universal translator in the realm of software creation, breaking down barriers and enabling a diverse workforce to contribute to digital transformation.
In the fast-paced world of software development, being slow means being on the road to bankruptcy. But if you can keep up with the pace of change without sacrificing quality, you're in the winner's circle. Low-code and no-code development can become your turbocharged engines in this race.
Benefits of Low-Code Development
Think about the last time you helped your kid put together a LEGO set. Wasn't it fantastic how easily the pieces clicked together, transforming a pile of blocks into a spaceship or a castle in no time? Now imagine having the same seamless, rapid, and fun experience while developing software applications. It seems too good to be true, but that's exactly what low-code development brings to the table and so much more!
The world of low-code development is like a gourmet fast-food restaurant. You get the speed and convenience of fast food with the taste and quality of gourmet cuisine. And just as fast food doesn't replace fine dining, low code technology doesn't replace traditional coding. It just offers an alternative for when you need to cook up something delicious fast.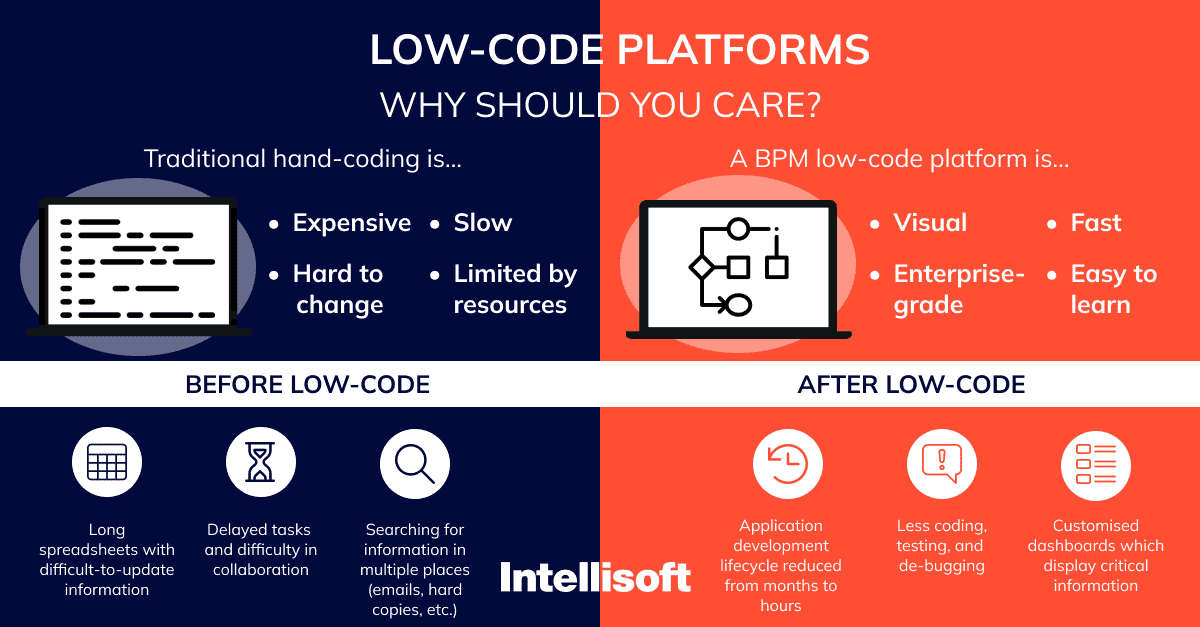 Rapid Application Development
The first, and one of the most obvious low code platform benefits, is speed. As the name suggests, low code reduces the amount of manual coding required, which in turn reduces the time it takes to go from a concept to a working software application.
With low code, you can assemble applications almost as quickly as you can assemble LEGO blocks. You just pick and place, and voila! You have a software application ready in a fraction of the time it would have taken with traditional coding approaches.
This means businesses can meet their digital needs promptly, addressing market shifts and customer demands faster than ever before. In the age of digital transformation, where the landscape is shifting at warp speed, being able to roll out applications rapidly gives businesses a critical competitive edge.
Greater Business Agility
The beauty of low-code development is not just about speed. It's also about flexibility and adaptability. With low-code platforms, businesses can easily modify or expand their applications as needed without having to go back to the drawing board.
Low code technology enables businesses to quickly adapt to market changes, respond to customer feedback, and pivot their strategies as needed. If a part of your application isn't working as expected, or if you want to add a new feature, you don't have to write lines and lines of complex code. You can simply rearrange your existing blocks or add new ones. That's what we call business agility on steroids!
Reduced Development Costs
As technology continues to evolve and advance, so does the process of application development. Traditional coding methods have proven to be effective in creating complex applications, but the maintenance of such applications can be a real challenge. The more intricate the code, the harder it is to sustain over time. This can lead to increased costs and decreased efficiency, which is not ideal for any business or organization.
Low-code development has emerged as a highly popular alternative to conventional coding. This method optimizes the development process by minimizing the need for complex coding. Instead, it relies on pre-built components and a user-friendly interface to construct applications. This simplifies application maintenance and updates, making it as easy as rearranging or swapping LEGO blocks. With the adoption of low-code development, businesses and organizations can create applications more efficiently and productively while also reducing costs.
This simplicity translates into significant cost savings. With fewer lines of code to write, businesses can reduce the amount of time and resources they spend on development. Plus, with quicker turnaround times, they can bring their products to market faster, thereby increasing their return on investment.
Low-code development offers a range of benefits, from rapid application development to increased business agility and reduced costs. It's a silver bullet for organizations looking to accelerate their digital transformation while staying agile and cost-effective. And the best part? You don't have to be a programming guru to reap these low code benefits. With low code, everyone can become a software developer.
Related readings:
Use Cases of Low-Code Development
Imagine you've just purchased a new multi-tool gadget. You're thrilled by the range of functions it offers – from a screwdriver to a bottle opener, from a pair of scissors to a mini knife. It's versatile, it's practical, and it can solve a multitude of problems with just one tool. Now, let's translate this into the software development world. Meet your multi-tool equivalent, the low-code development platform. Let's delve into some of the remarkable use cases of this incredible software swiss-army-knife.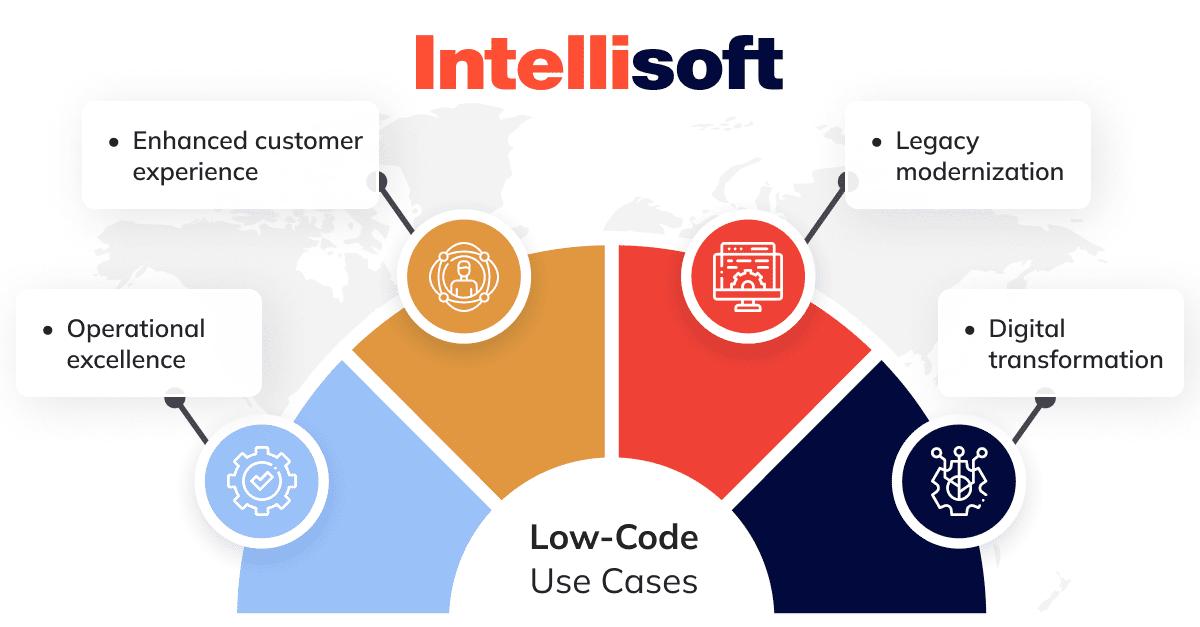 Enhancing Customer Experience
In this age of digital transformation, providing a positive customer experience has become a crucial competitive factor. Companies are not just selling products or services anymore – they're selling experiences. Low-code development can be your magic wand in this realm.
Much like a custom-made suit tailored to fit perfectly, low-code platforms enable businesses to craft personalized customer experiences. Whether it's an app that recommends products based on a customer's browsing history, or a chatbot that provides 24/7 support, low-code can help you rapidly create and modify applications to meet the unique needs of your customers.
Employee Management and Corporate Services
Behind every successful business there is a well-oiled machine of daily operations and processes. But managing these can sometimes feel tricky, to say the least. Here's where low-code development comes to the rescue.
Low-code platforms can help streamline a wide range of daily corporate tasks, from request management and audit management to internal service and support. You can create your own virtual assistant who handles all the mundane tasks, freeing up your time for more strategic endeavors.
For example, the HR and administrative teams can leverage low-code platforms to automate workflows, increasing productivity and reducing the time spent on routine tasks, thus achieving more in less time with fewer errors.
Automating Business Processes
The implementation of business process automation (BPA) can be a game-changer for companies as it streamlines operational workflows and enhances overall efficiency. Low code technology has made it easier than ever to develop automation applications quickly and efficiently, which can lead to significant benefits for organizations.
By automating repetitive tasks, companies can reduce the risk of human error, freeing up employees to focus on more complex and creative tasks. This approach not only improves the quality of work but also increases employee satisfaction, leading to a more productive and successful business.
Using low-code development to automate business processes is a promising solution for companies striving for efficiency and adaptability. This approach allows more individuals within an organization to contribute to application development, promoting innovation and accelerating time-to-market. It also enables agile responses to changing business requirements.
Modernizing or Replacing Legacy Systems
In the digital age, sticking to old, outdated systems can be as promising as trying to win a car race with a horse-drawn carriage. You might get there eventually, but you'll be far behind the competition.
Low-code platforms offer a lifeline to businesses stuck in the rut of legacy systems. They allow for a quick and smooth transition to modern, open, and highly customizable software ecosystems. Whether you're revamping an existing application or creating a new one from scratch, low code can make the process faster, more efficient, and less disruptive.
Integrating IoT solutions into your business processes can be simplified using low-code development methods. With low code IoT, you can rapidly build and deploy IoT applications, bringing your devices and systems into a connected, efficient ecosystem faster than ever.
From enhancing customer experience to streamlining operations, from automating processes to modernizing systems, low-code development is a versatile tool that can address a wide range of challenges. And with businesses in a constant race against time, low code can be the turbo boost they need to stay ahead in the digital game. By harnessing the power of low code IoT, businesses can quickly design and implement smart, connected environments, transforming their operations with the efficiency and innovation of the Internet of Things. After all, who wouldn't want a multi-tool gadget that can do it all?
The Evolution of LCNC Development Methods
Let's hop into our time machine and take a trip down memory lane back to the early days of software development. When the first computer programmers were punching holes into cards, little did they know they were setting the stage for a revolution in software development – a revolution known as Low-Code/No-Code (LCNC) development.
Early Beginnings: RAD Tools
Our story begins with Rapid Application Development (RAD) tools, the forefathers of today's LCNC platforms. These tools, such as Excel, Lotus Notes, and Microsoft Access, were like the first wheels invented by early humans – rudimentary yet revolutionary.
These RAD tools allowed users to build applications relatively quickly compared to hand-coding, but they came with a significant catch. Users needed to thoroughly understand both the business apps they were building and their development environments in order to effectively use these tools.
The Arrival of Low-Code Development
As technology advanced, the limitations of RAD tools became more apparent. In response, the software world saw the advent of low-code platforms. These platforms were like upgrading from a bicycle to a motorcycle – faster, more powerful, and easier to use.
Low-code platforms took the concept of RAD and turned it up several notches. They offered visual interfaces, pre-built components, and drag-and-drop functionality, significantly reducing the amount of manual coding required.
The Revolution: No-Code Development
While low code was a huge leap forward, the quest for simplicity and accessibility didn't stop there. The software world continued to evolve, leading to the advent of no-code platforms. The arrival of no-code was akin to upgrading from a bike to a self-driving car – you could get from point A to B without needing to know how to drive!
No-code platforms removed the need for coding altogether, making application development accessible even to non-technical users. They expanded upon the visual interface of low-code platforms and offered more intuitive, user-friendly tools.
Low-Code and No-Code Today: Democratizing Software Development
Fast forward to today, low-code and no-code platforms have revolutionized software development, democratizing it in a way that was unthinkable just a few decades ago. They've opened the doors to a whole new pool of creators who can build functional, robust applications without needing to learn the intricacies of traditional coding. It can be compared to the advent of smartphone cameras, democratizing photography and enabling anyone to take high-quality photos without needing to understand the intricacies of a DSLR.
While RAD tools laid the groundwork for rapid software development, low-code, and no-code platforms have taken it to new heights. They've made software development faster, easier, and more accessible, much like how the printing press revolutionized the written word. And just like the printing press, the impact of LCNC development on the world of software is only just beginning to be realized. We're excited to see where this journey takes us next.
Examples of Low-Code Development Platform Vendors
Do you remember when you were a kid, standing wide-eyed in a candy store, spoilt for choice with all the different treats before your eyes? Well, welcome to the candy store of low-code development! With numerous platforms on the market, each offering a unique flavor of low-code magic, your choice ultimately depends on your taste and needs. To help you get started, here's a sampler of some top-notch low-code development platform vendors.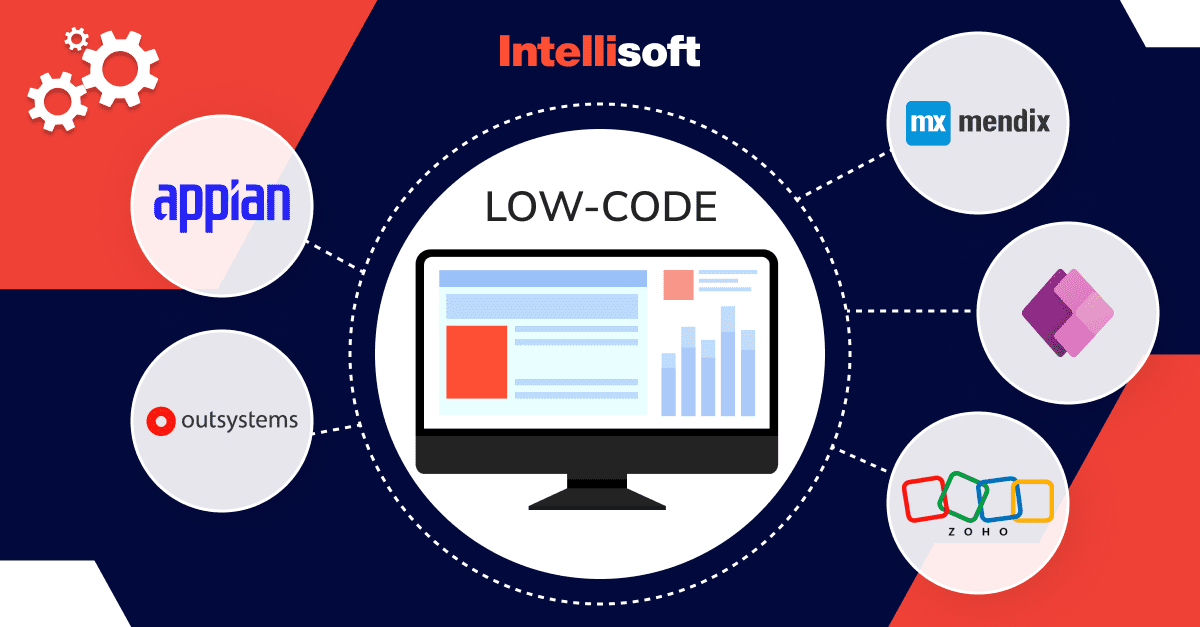 OutSystems
Kicking off our list is OutSystems, often compared to the Swiss army knife of low-code platforms. It enables companies and organizations to develop, deploy, and manage enterprise-grade applications at a high speed. The service is designed to streamline the application development process by reducing the need for traditional hand-coding. It's used by developers of varying skill levels, from seasoned professionals to so-called "citizen developers" with little or no coding experience.
Besides the development aspect, OutSystems also offers robust capabilities for application lifecycle management, including deployment, management, and version control of applications. Furthermore, it includes features for real-time performance monitoring and troubleshooting, allowing for proactive maintenance and quick resolution of any issues.
Additionally, OutSystems places a strong emphasis on security. The platform includes built-in security features and automated checks to help ensure that the applications built on it meet high-security standards.
Mendix
Next up is Mendix, a low-code platform that puts the 'rapid' in Rapid Application Development. This platform allows users to efficiently create mobile and web applications with minimal coding required. It also allows for ongoing improvements and scalability. It includes pre-built templates, widgets, and app services to accelerate the development process.
One of the defining features, and one of the main benefits of low code platforms, such as Mendix, is its ability to support the entire application lifecycle. It offers robust capabilities for versioning, deployment, management, and monitoring of applications, allowing for a smooth transition from development to production. Mendix also provides capabilities to incorporate user feedback directly into the development process, thereby promoting a user-centered approach to application development.
Mendix supports multi-cloud deployment, meaning the applications built on it can be deployed on various cloud platforms such as AWS, Google Cloud, IBM Cloud, Microsoft Azure, or on-premises, depending on the specific needs of the organization. Furthermore, it enables integration with various other systems and technologies through pre-built connectors, APIs, and other services.
Microsoft Power Apps
The Microsoft Power Apps platform provides powerful capabilities to build custom applications quickly. This suite of tools, apps, and services is a part of Microsoft's Power Platform that enables the rapid development of custom business applications with minimal coding. Users can leverage pre-built templates, configure ready-to-go controls, and employ simple logic to design their apps, without the need for extensive programming knowledge.
The platform consists of three types of apps – Canvas Apps, Model-Driven Apps, and Portal Apps. Canvas Apps offers users the flexibility to design the app layout to suit their specific business needs. Model-Driven Apps, on the other hand, are based on the data model and processes of the underlying Microsoft Dataverse, automatically generating a user interface. Portal Apps enable external users to interact with Microsoft Dataverse data through a responsive web portal.
One of Power Apps' significant features is its seamless integration with other Microsoft products, such as Microsoft 365, Dynamics 365, and Azure, as well as various other third-party apps and services. This ensures data consistency and allows for the creation of apps that can enhance productivity within the familiar Microsoft ecosystem.
Appian
Appian takes a holistic approach to low-code development, combining automation, AI, and low-code in one integrated platform. If you're looking for a service that goes the extra mile, Appian might just be your cup of tea.
Appian stands out for its Business Process Management (BPM) capabilities, which aid businesses in managing and optimizing their operations. Additionally, its unified data view, Appian Records, integrates data from various sources into a single view, which is valuable for businesses with data in multiple systems.
Designed with a mobile-first approach, Appian ensures applications are optimized for mobile use. It offers robust security features and supports deployment in cloud, on-premises, and hybrid environments. In essence, Appian is a comprehensive low-code platform that enhances operational efficiency and simplifies digital transformation.
Zoho Creator
Last but not least, Zoho Creator offers a user-friendly, intuitive platform that makes low-code development a breeze. With over 50 pre-built templates to choose from, you can conjure up an app for virtually any business need. Its form-driven model helps in building lists and creating forms without any coding. It also comes with a host of pre-built applications that can be customized, allowing businesses to get started quickly.
Additionally, Zoho Creator includes powerful features for automating workflows, enabling businesses to optimize their processes and increase productivity. It also supports integration with other Zoho applications and numerous third-party systems, allowing data to flow seamlessly across different platforms.
In terms of deployment, Zoho Creator supports both web and mobile platforms, with the created applications automatically optimized for mobile devices. Overall, Zoho Creator offers a comprehensive low-code platform for businesses to build, integrate, automate, and manage custom applications efficiently and effectively.
These are just a few examples of the myriad low-code platform vendors out there. Each one offers a unique blend of features, functionality, and ease of use, so take your time, do your research, and choose the one that best fits your business needs. But remember, much like in a candy store, there's no rule against trying more than one.
Examples of No-Code Development Platform Vendors
Now that we've had a taste of the low-code universe, let's dive into the world of no-code. Let's explore some of the top no-code development platform vendors that are shaking up the tech world.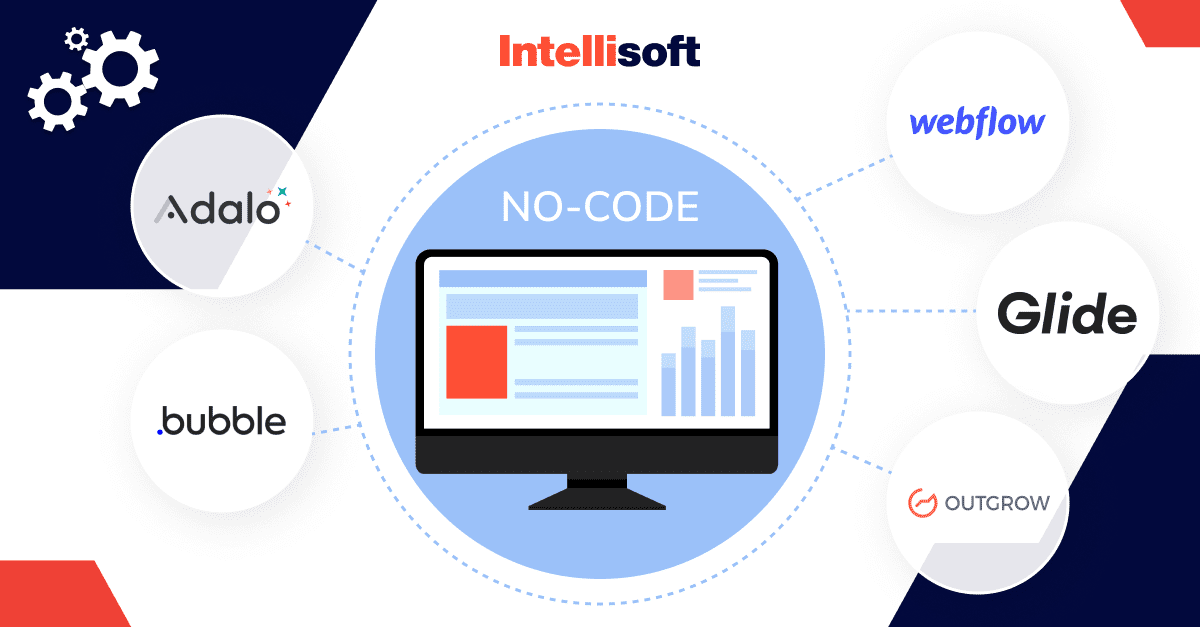 Adalo
First up on our list is Adalo, a no-code platform that makes building apps as easy as baking a pie using a premade crust and filling. It centers around a visual interface where users can select from a range of components such as lists, buttons, forms, and more to create their applications. The platform allows for establishing custom databases, enabling users to define the data structure that underpins their app.
Furthermore, Adalo offers powerful tools to create and manage relationships between different data points, facilitating the creation of complex and interactive apps. The platform also supports the automation of tasks, allowing users to design workflows and processes within their applications.
In terms of deployment, Adalo-built apps can be published directly to the Apple App Store, Google Play Store, or as a web app, providing flexibility for end users. Also, the platform can be integrated with various third-party applications and services, enhancing its functionality.
Bubble
Next up, we have Bubble, a powerful no-code tool that allows you to design, develop, and launch your own web applications. It's like a DIY kit that empowers you to build your own digital castle, brick by brick, without needing to know anything about masonry. With Bubble, you're the architect, the engineer, and the builder all rolled into one.
The platform supports the creation of custom databases and allows users to establish relationships between different data types, giving them the ability to build complex and dynamic applications. Bubble's platform also enables users to deploy their applications directly to the web and includes built-in functionality for SEO optimization.
Additionally, Bubble provides robust security features, including SSL encryption, data privacy controls, and regular security audits. Bubble also allows for integration with various third-party services. Overall, the platform offers a comprehensive toolset for non-technical users to design, build, and launch their own web applications.
Webflow
Stepping into the spotlight is Webflow, a no-code platform that bridges the gap between web design and development. Webflow allows you to design, build, and launch responsive websites visually while the platform takes care of the coding behind the scenes. It can automatically generate HTML, CSS, and JavaScript to bring users' designs to life on the web.
Also, Webflow features a fully integrated CMS (Content Management System), which allows users to define custom content types, known as "Collections," such as blog posts, products, or portfolio pieces. This content can then be dynamically linked to and displayed on their website. This gives designers and content creators a great deal of flexibility and control in managing and displaying content.
Webflow also offers robust site hosting that includes features such as automatic scaling, fast page loads, SSL certificates, and more. It also integrates with numerous third-party tools and services, including Google Analytics, Mailchimp, and Zapier, among others.
Glide
Gliding in next is Glide, a no-code app builder that turns spreadsheets into beautiful, easy-to-use apps. Yes, you heard that right. If you know how to use Google Sheets, you can build an app with Glide. You can manipulate and organize data within your spreadsheet, and Glide dynamically creates the app around that data. The user interface is drag-and-drop, and there are a variety of components, such as lists, images, buttons, and more, that users can add to their applications. This allows for significant customization to meet the specific needs of different applications.
In addition to its core features, Glide offers functionalities such as the ability to filter and sort data, add conditional visibility to components, and create custom actions. This can enable users to create relatively complex applications. Glide also supports user authentication and allows for different levels of access to be given to different users, providing a level of security and data privacy. The apps created on Glide are web apps that can be shared via a link and used on any device with a web browser.
Outgrow
Last but certainly not least is Outgrow. As its name suggests, this no-code platform helps businesses outgrow their competition by creating engaging quizzes, calculators, chatbots, and more. It's a box of creative tools that allows you to craft interactive content, turning your audience from passive observers into active participants.
Outgrow offers a wide range of pre-designed templates that cater to different industries and use cases, making it easier for users to create tailored content. The platform also allows for customization, enabling users to align the interactive content with their brand's look and feel.
Beyond content creation, Outgrow provides robust analytical tools, enabling users to track and analyze user engagement, identify trends, and capture lead information. These insights can be used to fine-tune marketing strategies and improve lead conversion rates. Additionally, Outgrow integrates seamlessly with various marketing software and CRM systems, allowing businesses to synchronize the captured lead data for further use.
These no-code platform vendors represent just a slice of the larger no-code pie. Each brings a unique flavor to the table, providing users with the means to turn their ideas into reality without having to wrangle with the intricacies of coding.
Dealing with Problems of Low-Code or No-Code Development
As exciting as low-code and no-code development platforms may seem, it's not all rainbows and unicorns in this realm. Like that thrilling roller coaster ride at the amusement park that leaves you dizzy and a bit nauseous, LCNC platforms come with their own set of challenges that can give businesses a rough ride if not managed properly. Let's talk about some of these issues and explore how to navigate them effectively.
Losing Track: The Shadow IT Conundrum
Imagine you've given your kids a box of LEGOs to play with. A few hours later, you walk into the room and discover a bunch of creations spread all over the floor. You're amazed at their creativity, but you also realize you have no idea what's what. This scenario mirrors the issue of "Shadow IT" in the LCNC world, where, due to the ease and accessibility of these platforms, employees across different departments start building their own applications without IT oversight.
So how do you keep track of all the "LEGO pieces"? One approach is to establish clear policies around the use of LCNC platforms. Encourage employees to collaborate with the IT department during the app development process, ensuring that all applications align with company standards and IT can keep track of them.
Managing, Maintaining, and Scaling LCNC Apps
Managing, maintaining, and scaling LCNC apps can sometimes feel like tending to a garden. It's fun and fulfilling when the plants are small, but as they grow bigger and start spreading, it can become quite a chore. LCNC apps, due to their ease of creation, can quickly proliferate across a company, leading to a large portfolio that requires considerable effort to manage and scale.
The solution? Implement a robust LCNC governance framework that involves periodic reviews of the app portfolio, identifying apps that are no longer needed, and retiring them. Regularly update and scale apps based on user feedback and performance metrics. You need to prune your garden regularly to keep it tidy and ensure that the plants have room to grow and flourish.
Waste of Resources on Unsuitable Tasks
Using LCNC platforms for high-level, complex tasks is like using a butter knife to cut a thick steak – it's just not the right tool for the job. LCNC platforms, while powerful, are not suitable for every task. Using them for complex, high-level tasks can lead to inefficient, sub-par solutions and a waste of resources.
To avoid this pitfall, you need to be clear about when and where to use LCNC platforms. They work best for relatively straightforward, repeatable tasks that require less complexity. For more intricate tasks, traditional coding approaches might be a better fit. It's about using the right tool for the right job.
While LCNC platforms come with their fair share of challenges, with the right strategies in place, you can effectively navigate them. It's about understanding the landscape, knowing when to step on the gas, and when to pump the brakes. Much like that roller coaster ride, with the right safety measures and a steady hand on the controls, you can turn what initially seemed daunting into an exhilarating, rewarding journey.
Low Code vs High Code Approaches
Picking between low-code and high-code development is kind of like choosing between a pre-cooked meal from the supermarket and a gourmet dish prepared from scratch. Both serve the purpose of satiating your hunger, but the experience, effort, time, and skill needed vary greatly. Let's unravel this concept to understand the essence of low code vs high code approaches in the software development world.
High-code development can be compared to cooking from scratch. You have full control over the ingredients, the cooking process, and, ultimately, the taste and presentation of the dish. Similarly, high-code development is the traditional method of software development, involving extensive hand-coding and requiring deep knowledge of programming languages. It offers developers full control over the application, allowing them to create highly customized solutions.
On the flip side, low-code development is like heating a pre-cooked meal in the oven. It's quick, efficient, and requires minimal effort. You may not have control over every single ingredient, but you've got a meal in record time. In software terms, low-code platforms allow for rapid application development with minimal hand-coding.
How to Choose the Right Development Method?
So, how do you choose the winner in the battle of low code vs high code development? It boils down to your organization's needs, resources, and appetite for complexity (or lack thereof).
If your organization craves a highly customized solution, has the resources in terms of skilled developers and time, and relishes the thought of cooking up a storm from scratch, high-code development might be the right choice. Time-consuming? Yes. Labor-intensive? Absolutely. But the result is a unique dish tailored to your palate.
On the other hand, if your organization is hungry for speed, efficiency, and the ability to quickly adapt to changes, low code could be your best bet. It's fast, convenient, and while it may not offer the unique features of a custom product, it still gets the job done.
But what if you want the best of both worlds? Well, you're in luck. Low-code and high-code are not mutually exclusive and can be combined in a hybrid approach. You can spruce up your supermarket meal with some extra spices and ingredients from your pantry. With a hybrid approach, you can leverage the speed and efficiency of low code for certain parts of the application while using high code for areas that require more customization.
To choose the right development method, you need to assess your needs, consider your resources, and pick the approach that satisfies your organization's needs for development best. Whether you choose to cook from scratch, grab a pre-cooked meal, or opt for a mix of both, make sure it serves up a delightful user experience.
Conclusion
It's evident that low-code and no-code development methods become increasingly attractive to organizations across the globe. We've explored the breadth and depth of the low-code benefits that these methodologies bring to the table. From enhancing customer experience to streamlining business processes, and even modernizing legacy systems – the possibilities for using low-code development in real-world scenarios are endless.
All you need to do is ensure that these methods are used for suitable tasks. There are challenges, but you can address them by employing effective strategies. In a nutshell, whether you opt for low-code, high-code, or a mix of the two, depends on your organization's specific needs and resources. There isn't a one-size-fits-all answer, but rather, a spectrum of possibilities that can be tailored to fit your unique circumstances.
Now, are you ready to dig deeper into this exciting realm? Explore the vast opportunities for efficiency, innovation, and savings on software development with IntelliSoft. Reach out to us any time, and together, we'll unlock the incredible potential of low-code and high-code development for your business!
FAQ