We are standing on the precipice of a revolution. Only this isn't the stuff of history books – it's the digitized, cutting-edge world of healthcare. Studies show that by 2025, almost half of US citizens are projected to become regular telehealth users, and nearly 50% of physicians are already treating patients via telemedicine.
The complex world of radiography, magnetic resonance, ultrasound, and computed tomography, is no longer exclusive to only seasoned clinicians and large healthcare organizations. Thanks to the marvels of medical imaging technology, anyone from an executive to an avid techie (like you and me) can find their way.
As your trusty guide through this terrain, IntelliSoft – a prominent player in the software development arena – will unravel the intricacies of medical imaging. Why should you pay attention, you might ask? Well, we've got the experience, the know-how, and a laser-focused dedication to healthcare solutions that are nothing short of transformative.
From the "what's what" of medical imaging to the head-spinning technological advancements, we're about to dig into a story where healthcare and technology dance a tango. Let's discover why developing your own custom medical imaging software might be the key to a chest full of golden opportunities.
What is Diagnostic Medical Imaging?
In its simplest form, diagnostic medical imaging is one of the best tools of modern medicine. It's a collection of techniques that allow us to safely peek inside the human body without a single incision. The goal? To diagnose, observe, and treat a variety of diseases. In other words, it's a medical crystal ball, giving doctors the power to see the unseen long before symptoms manifest or when symptoms don't clearly point to the culprit.
Imagine being able to detect a potential health threat, such as a tumor or heart disease, at its most manageable stage. Diagnostic medical imaging makes this possible. The detection and treatment of cancer or heart diseases have seen significant advances thanks to these non-invasive techniques.
Diagnostic medical imaging is a doctor's high-tech investigation tool, providing crucial insights and minimizing the need for potentially harmful invasive procedures. The power of this technology lies in its ability to allow physicians to understand what's happening beneath the surface. In healthcare, this knowledge is not just power – it's the key to life-saving interventions.
Types of Diagnostic Medical Imaging
Diagnostic medical imaging uses various techniques playing key roles in disease diagnosis and treatment planning. In essence, it is a sophisticated way to view the human body's inner workings to identify abnormalities. Each method has its unique benefits, and their applications vary widely based on the area of the body under examination and the nature of the suspected issue.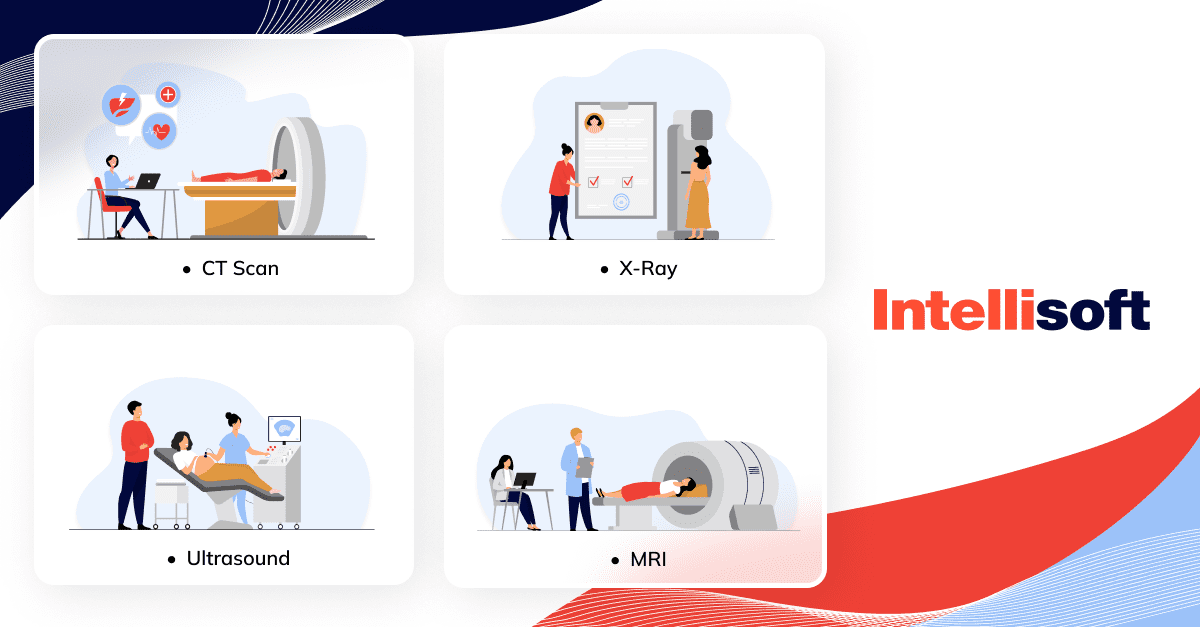 Radiography (X-Rays)
Radiography, also known as X-ray imaging, is one of the oldest and most commonly used forms of medical imaging. By passing a controlled amount of radiation through the body and capturing the resulting image on a specialized plate, radiography provides a static image of the internal structures. This technique is effective for visualizing bones, detecting fractures, locating foreign objects, and diagnosing conditions like infections and lung diseases. It's also used in mammography for early detection of breast cancer and in bone density scans for diagnosing osteoporosis.
Radiography operates on a fairly straightforward principle. The X-rays are absorbed to different extents by different tissues in the body. Dense structures, such as bones, absorb more X-rays and appear white on the X-ray film. Less dense tissues, such as muscles and organs, allow more X-rays to pass through and appear in shades of gray. This difference in absorption creates a detailed image of the body's internal structures.
Computed Tomography (CT) Scans
Computed Tomography (CT) scans elevate the capabilities of traditional radiography by utilizing a series of X-ray measurements taken from different perspectives to produce cross-sectional images of the body. This process creates a multi-dimensional view of the body's interior, allowing for greater detail and aiding in the diagnosis and monitoring of conditions such as cancer, heart disease, and lung disorders.
A CT scanner rotates around the patient's body, capturing images from multiple perspectives. These individual images are then processed by a computer to produce a detailed, cross-sectional view that provides more information than a standard X-ray. This technique can highlight abnormalities with greater precision, allowing for earlier detection and treatment of various health conditions.
Magnetic Resonance Imaging (MRI)
Magnetic Resonance Imaging (MRI) is another sophisticated imaging method that involves the use of powerful magnets and radio waves instead of radiation. It is specifically useful for imaging soft tissues, including the brain, muscles, and heart. A variant known as Magnetic Resonance Angiogram (MRA) provides detailed images of blood vessels, aiding in the diagnosis of conditions related to the circulatory system.
When the patient is placed inside the MRI scanner, the magnetic field temporarily realigns the hydrogen atoms in the body. Radio waves are then sent to these atoms, which produces signals that are picked up by a receiver in the MRI machine. These signals are processed by a computer to create detailed images of the body's soft tissues and organs, giving physicians a clear view of parts of the body that can't be seen as well with X-rays or CT scans.
Ultrasound Imaging
Ultrasound imaging, or sonography, utilizes sound waves to generate images of the body's internal structures. It's widely used in pregnancy check-ups due to its safety for both mother and fetus. Additionally, it's used for diagnosing conditions related to blood vessels, joints, the heart, kidneys, and other organs.
A special device called a transducer is used to send sound waves into the body. These waves bounce off the tissues inside, creating echoes that are picked up by the transducer and processed by a computer to form images. Ultrasound is particularly useful for examining soft tissues and fluid-filled structures.
Nuclear or Radioisotope Medicine Imaging
Nuclear or radioisotope imaging involves using a small amount of radioactive material to highlight specific areas of the body. This method is very safe and highly effective in showing the function of an organ or tissue. The radioactive substance can be inhaled, swallowed, or injected, allowing a variety of body systems to be imaged.
Nuclear medicine imaging techniques, such as Positron Emission Tomography (PET) and Single Photon Emission Computed Tomography (SPECT), use small amounts of radioactive substances or tracers. The material is introduced into the body, where it travels to specific cells or organs. A special camera then detects the energy emitted by the tracer to create images. These techniques can show how tissues and organs function on a molecular level, providing information that can't be obtained with other types of imaging.
The comprehensive range of diagnostic medical imaging techniques available today, each with its unique applications and benefits, underscores the significant advancements in medical technology. Whether it's the skeletal detail provided by X-rays, the soft tissue clarity of MRI, or the metabolic insights offered by nuclear medicine, these methods provide critical information that helps healthcare professionals diagnose, monitor, and treat a myriad of health conditions more accurately and effectively.
Benefits and Risks of Diagnostic Medical Imaging
Diagnostic medical imaging has irrefutably transformed the landscape of healthcare, offering an unprecedented look into the mysterious recesses of the human body. Like any medical procedure, however, it comes with its fair share of benefits and risks. Let's discuss these aspects to gain a balanced understanding of this crucial area of healthcare.
The benefits of diagnostic medical imaging are vast and profound. Besides allowing healthcare professionals to accurately diagnose a multitude of health conditions, diagnostic imaging became an essential tool in monitoring disease progression and evaluating the effectiveness of treatments. By comparing images taken at different times, physicians can track the course of an illness or the healing process and make informed decisions about a patient's treatment plan.
Another significant benefit of diagnostic imaging is its role in preventive medicine. Early detection of diseases, especially those such as cancer, can drastically increase the chances of successful treatment and survival. Regular screenings using mammography or CT scans, for example, can identify abnormalities before symptoms even appear, facilitating early intervention and improving patient outcomes.
But despite its innumerable benefits, diagnostic medical imaging is not without risks. The most notable concern is the exposure to radiation, particularly with techniques such as X-rays and CT scans. While the radiation doses used in medical imaging are generally low and considered safe, unnecessary or repeated exposure can potentially increase the risk of harmful effects, including cancer.
Furthermore, the interpretation of imaging results is not always straightforward and can sometimes lead to false positives or negatives. A false positive, where a test incorrectly indicates the presence of a disease, can cause undue stress and lead to additional testing or treatment that might not be necessary. On the other hand, a false negative, where a test fails to detect a disease that is present, can delay treatment and negatively impact the prognosis.
Overuse or inappropriate use of diagnostic imaging is a growing concern in healthcare.
Unnecessary testing not only exposes patients to potential harm from radiation but also contributes to increasing healthcare costs. Therefore, it's crucial for healthcare providers to follow established guidelines for when and which type of imaging is appropriate, considering the potential risks and benefits for each patient.
Related readings:
Medical Image Analysis Solutions: Areas of Application
Diagnostic medical imaging is versatile and widely applicable in numerous areas of healthcare, offering a clear view of the body's internal structures and functions. Let's explore how medical imaging and special image analysis software are employed in various specialties, profoundly impacting patient care.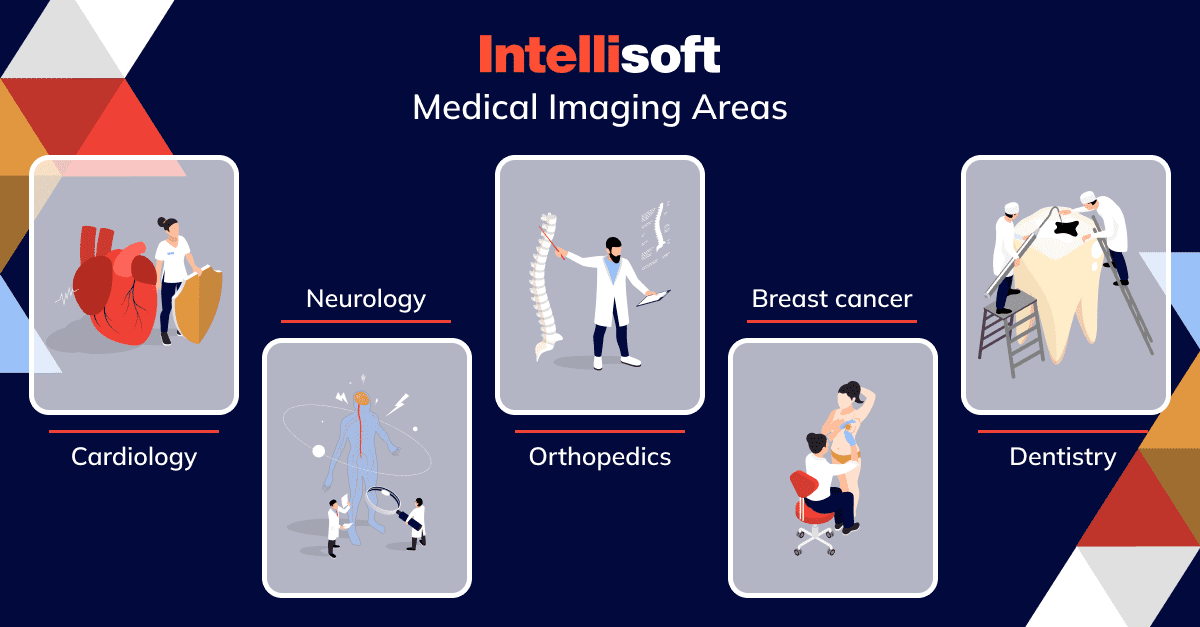 Orthopedics
In orthopedics, diagnostic imaging is indispensable in diagnosing and managing musculoskeletal conditions. X-rays are the most commonly used modality, providing clear images of bones to identify fractures, dislocations, and degenerative diseases like osteoarthritis. MRI, with its excellent soft tissue resolution, is particularly valuable in diagnosing conditions affecting muscles, ligaments, and tendons, such as rotator cuff tears or anterior cruciate ligament (ACL) injuries. CT scans can be used for complex fractures, enabling 3D reconstruction of the images for better surgical planning.
Within the realm of orthopedics, machine learning (ML) algorithms are revolutionizing the field of 3D reconstruction. Consider a scenario where a patient presents with a fractured bone or limb – an ML-enabled 3D modeling system can autonomously realign the bone fragments, bypassing the common issue of slight misalignments that often occur in manual reconstructions.
A meticulously constructed image becomes a crucial reference point for subsequent treatments, ranging from surgical procedures to the design of implants. Moreover, due to their robust image segmentation capabilities, medical image analysis tools used in orthopedics can be highly effective in detecting osteosarcoma, a form of bone cancer.
Cardiology
In cardiology, a variety of imaging techniques are used to diagnose and manage heart diseases. Echocardiography, a form of ultrasound imaging, is widely used to assess the heart's structure and function, including the size, shape, and motion of the heart chambers and valves. CT and MRI scans offer detailed images of the heart and surrounding blood vessels, aiding in diagnosing conditions like coronary artery disease and congenital heart defects. Nuclear imaging techniques like PET and SPECT provide information on blood flow to the heart, helping to detect areas of reduced flow in conditions such as heart attacks.
Sophisticated algorithms are employed across multiple phases of cardiovascular image analysis. For instance, Arterys Cardio AI, a renowned MRI tool, streamlines standard processes in a cardiac analysis workflow. This includes functions such as 2D visualization, 3D and 4D reconstructions, quantitative delayed enhancement, semi-quantitative perfusion, and tissue characterization. Arterys is known for its efficiency. Providers claim it can trim as much as 25 minutes off each study.
Dentistry
Dental imaging is a cornerstone of modern dentistry. Traditional X-rays are used to detect cavities, monitor teeth and jaw development, and evaluate the health of the bones supporting the teeth. Cone Beam Computed Tomography (CBCT), a type of CT scan, produces a three-dimensional view of the teeth, soft tissues, and nerves, greatly assisting in the planning of procedures such as dental implants and root canals.
For optimal diagnostic precision and workflow efficiency, dentists and radiologists often turn to medical image analysis software. Such tools are especially effective for identifying conditions such as caries and osteoporosis, among other pathologies. Beyond the realm of abnormality detection, image analysis tools – more specifically known as computer-aided design and computer-aided manufacturing systems – are also harnessed for the creation of orthodontic appliances and dental prostheses.
Neurology
In neurology, imaging plays a critical role in diagnosing and handling a wide range of conditions affecting the brain and nervous system. CT and MRI scans are commonly used to detect strokes, brain tumors, and various neurological disorders such as multiple sclerosis. PET scans are used to assess brain metabolism and function, aiding in the diagnosis of conditions like Alzheimer's disease and epilepsy.
AI-powered analysis tools in brain imaging are providing clinicians with the ability to spot pathologies that may otherwise escape the human eye. For instance, a team of researchers from the University of California discovered that AI can detect early indications of Alzheimer's. They developed a machine learning model that could identify the disease by analyzing brain images taken six years prior to the patients receiving their Alzheimer's diagnosis.
In another instance, a clinical study led by Canadian epilepsy specialists demonstrated the power of AI in neurology. They successfully trained a machine learning model to scrutinize the brain scans of epilepsy patients, even when these scans didn't exhibit any noticeable signs of the condition. Consequently, the AI solution enabled them to pinpoint and surgically remove the seizure source in the young woman's brain.
Breast Oncology
In breast oncology, imaging is pivotal in the early detection, diagnosis, and management of breast cancer. Mammography is the standard imaging modality for breast cancer screening, capable of detecting early-stage cancers even before symptoms appear. Ultrasound is used to further evaluate suspicious findings on a mammogram and guide biopsies. MRI offers detailed images of the breast tissue and is particularly useful in women with an elevated risk of breast cancer or dense breast tissue.
AI models have demonstrated a remarkable ability to identify tumors that would otherwise remain undetected through traditional methods. These advanced algorithms can sift through intricate medical images, highlighting abnormalities with unprecedented precision. Such capabilities of AI are transforming the field of oncology by enabling early detection and, therefore, timely treatment.
Meanwhile, research conducted by the National Center for Biotechnology Information (NCBI) indicates that deep-learning models can match the diagnostic accuracy of seasoned radiologists during breast cancer screening. This means AI technologies are not only capable of supplementing human expertise, but in some instances, they may perform on par with medical professionals.
Diagnostic medical imaging serves a myriad of applications across various healthcare specialties, enhancing our ability to diagnose, treat, and control a wide variety of conditions. As technology continues to move forward, the role of imaging in healthcare is set to become even more vital. The remarkable achievements of AI showcase its potential to revolutionize healthcare, making diagnostics more efficient and accurate, potentially saving countless lives in the process.
How Medical Imaging Software Drives Healthcare Transformation
The world of healthcare is rapidly evolving, and medical imaging software stands at the forefront of this transformation. By harnessing the power of advanced imaging technologies, healthcare professionals can diagnose and treat conditions with greater accuracy and speed, leading to improved patient outcomes and more efficient healthcare delivery. However, the path towards this transformation isn't without its challenges, and several factors could either propel or impede the adoption of these technologies.
Growth Factors
Several elements are driving the growth of medical imaging software in the healthcare sector. One such factor is the increasing demand for early disease detection and diagnosis. By offering high-resolution, detailed images of the body's internal structures, diagnostic medical imaging can detect abnormalities at their earliest stages, thus enabling timely interventions.
As electronic health records become more prevalent for preserving, sharing, and managing patient health data via medical imaging, it's expected that the global market for medical imaging software will see substantial growth. This projection is predicated on the increasing use of medical imaging software in hospitals and clinics, where it serves as a tool to monitor patients and consequently offer them suitable medical imaging solutions.
Additionally, the ongoing advancements in imaging technologies and the introduction of innovative software solutions are propelling this growth. The integration of Artificial Intelligence (AI) and Machine Learning (ML) algorithms has revolutionized medical imaging, making it possible to automate complex tasks, increase productivity, and improve diagnostic accuracy.
Main Barriers
Despite its potential benefits, the adoption of medical imaging software in healthcare faces several challenges. The high cost of implementing and maintaining advanced imaging systems can pose a significant barrier, especially for small and medium-sized healthcare providers. Furthermore, concerns related to data security and patient privacy need to be addressed, given the sensitive nature of medical images.
Other barriers include the need for adequate training and education for healthcare professionals to effectively use these advanced systems. Finally, regulatory compliance poses another significant challenge as medical imaging software must adhere to stringent standards and guidelines to ensure patient safety and data integrity.
Medical Image Analysis Software: Top Market Trends
The market for medical image analysis software is growing, driven by technological advancements and increasing demand for improved diagnostic tools. According to a study conducted by Mordor Intelligence, this market is expected to grow at a compound annual growth rate (CAGR) of 7.6%.
AI Adoption
The integration of AI in medical image analysis is a significant trend driving market growth. AI algorithms can analyze complex medical images with high precision and speed, assisting clinicians in diagnosing conditions and planning treatment strategies.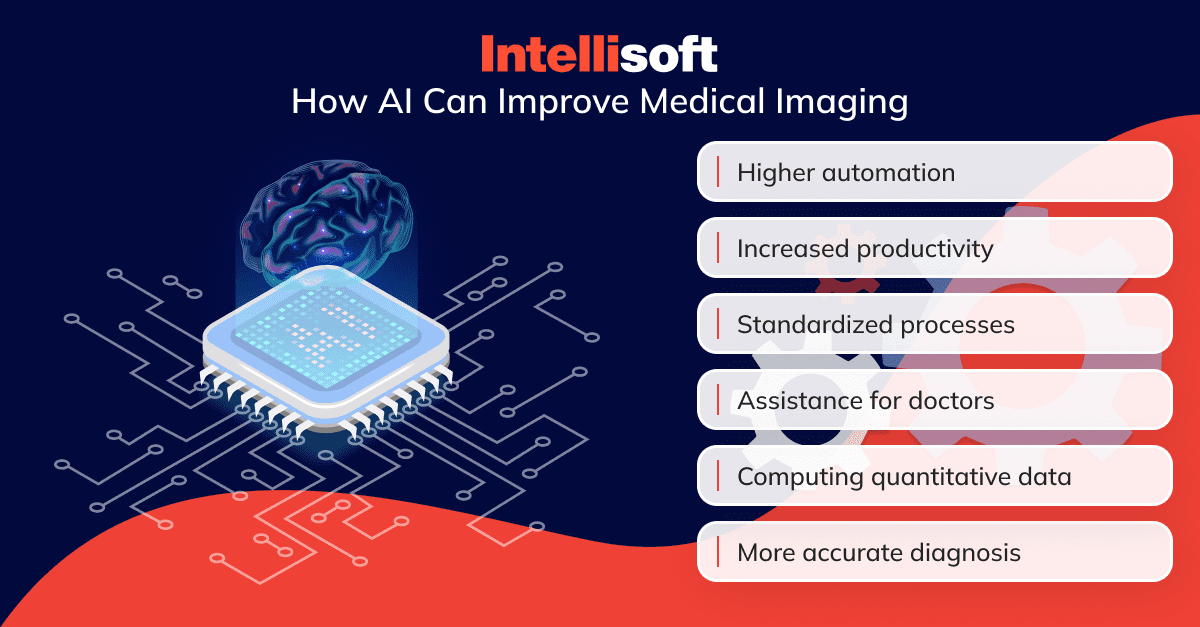 A Shift to 3D Imaging
3D imaging provides more detailed and comprehensive views of the body's internal structures which can enhance diagnostic accuracy and aid in treatment planning. This shift from traditional 2D imaging to more advanced 3D techniques is a key trend in the market.
Cloud Computing
The use of cloud-based solutions for storing and analyzing medical images is another significant trend. Cloud computing offers scalable storage solutions and enables real-time access to images, which can facilitate collaboration among healthcare professionals and improve patient care.
Integrated Software
The integration of various software solutions into a single, streamlined system is becoming increasingly common. This trend towards integrated systems can improve workflow efficiency, facilitate data management, and enhance the overall quality of care.
Medical imaging software is set to play a pivotal role in the future of healthcare, driving transformation and improving patient outcomes. However, to fully realize its potential, healthcare providers must address the challenges associated with its adoption and stay updated on the current market trends.
Medical Imaging Software Types
In the dynamic world of healthcare, medical imaging software has become an indispensable tool, transforming the way diagnoses are made and treatments are planned. Broadly speaking, there are three types of medical imaging software that healthcare providers commonly use: Medical Image Analysis Software, Medical Image Processing Software, and Medical Image Management Software. Each serves a unique purpose and contributes to the effective functioning of healthcare operations.
Medical Image Analysis Software
Medical image analysis software is designed to analyze, interpret, and visualize medical images in a meaningful way. This type of software harnesses the power of advanced algorithms and machine learning to detect abnormalities and patterns in the images that might otherwise escape the human eye. From identifying tumors in MRI scans to spotting signs of cardiovascular disease in CT scans, medical image analysis software assists healthcare professionals in making precise, evidence-based diagnoses. This software's utility extends across various medical fields, including oncology, neurology, cardiology, and more, making it a versatile tool in the diagnostic process.
Medical Image Processing Software
The second type of software, designed for image processing, plays a critical role in enhancing, refining, and manipulating medical images. By applying a range of image processing techniques – such as filtering, contrasting, and segmentation – this software can significantly improve image quality and clarity. Whether it's removing noise from ultrasound images, adjusting the contrast in X-ray images, or performing 3D reconstruction of CT scans, medical image processing software is pivotal in ensuring that healthcare professionals can view and interpret medical images with the highest accuracy and detail.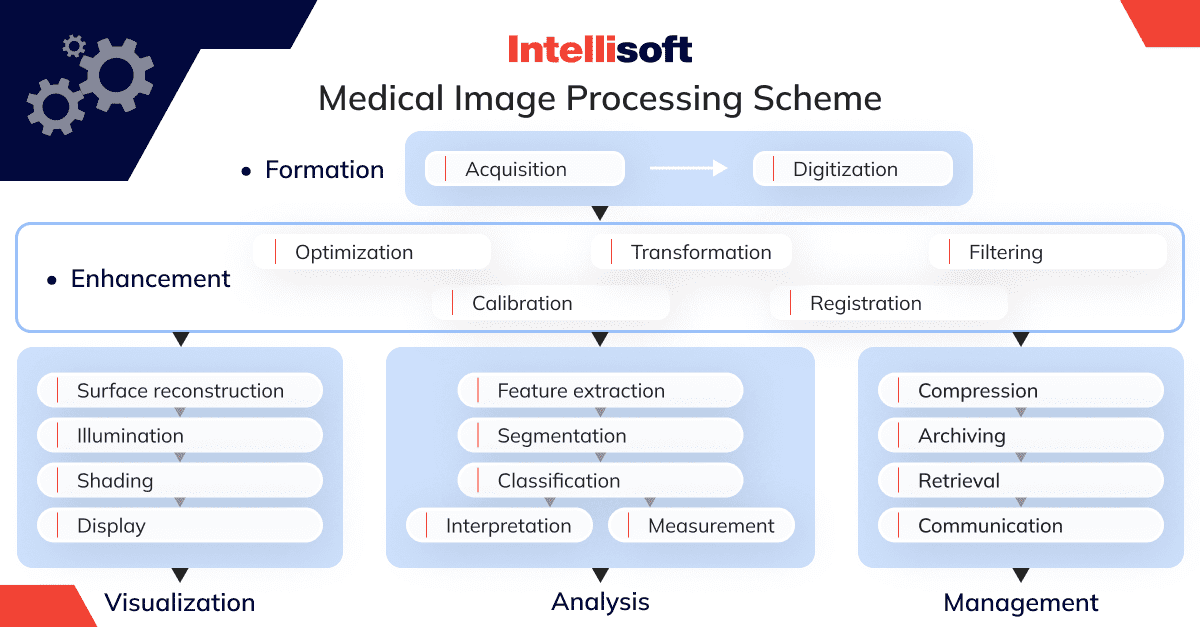 Medical Image Management Software
The last in this trifecta is the medical image management software. As the name suggests, this software type is responsible for the efficient storage, retrieval, and sharing of medical images. Given the vast amount of imaging data generated in healthcare settings, it is crucial to manage these images effectively. Medical image management software allows healthcare providers to store images in a structured and organized manner, making it easy to retrieve specific images when needed. Furthermore, with features such as cloud storage and secure data sharing, this software facilitates collaboration among healthcare professionals and aids in providing coordinated, timely care to patients.
Together, these three types of medical imaging software work in synergy, providing doctors and other healthcare professionals with the tools they need to fully leverage medical imaging. By enhancing diagnostic accuracy, improving image quality, and ensuring efficient data management, they are paving the way for more effective and efficient patient care.
The Main Features of Medical Image Analysis Software
The realm of medical imaging is nothing short of fascinating, with powerful software leading the way in transforming raw data into detailed, meaningful images. These technologies are complex masterpieces adorned with an array of features that augment the quality and precision of medical imaging. Let's delve into some of the key features that make medical image analysis software an invaluable tool in the healthcare industry.
Quality Improvement
At the core of medical imaging is the pursuit of clarity, and this begins with image quality. Quality Improvement is a foundational feature of medical image analysis software, designed to refine the sharpness, contrast, and resolution of images. Whether it's reducing background noise, adjusting brightness, or enhancing edge definition, the quality improvement capabilities ensure that every image is displayed in its best possible form, facilitating accurate diagnosis and treatment planning.
Segmentation
Next on the roster is segmentation – a technique that allows for the isolation and analysis of specific regions within an image. From distinguishing healthy tissue from diseased areas, differentiating between various organs, or identifying lesions, segmentation creates a precise roadmap for healthcare professionals to follow. This feature not only aids in accurate diagnoses but also enables personalized treatment planning, ultimately contributing to better patient outcomes.
Registration
Registration, or the fusion of data from different sources, is another indispensable feature. It involves aligning multiple images – either from the same or different imaging modalities – into a single, unified image. This could involve the fusion of MRI and CT scan images or the correlation of images taken at different times (4D fusion). The result is a comprehensive, layered image that provides a complete picture of the patient's condition, enhancing the depth and breadth of information available to the clinician.
3D Reconstruction and 2D Visualization
The ability to construct 3D images from a series of 2D scans is another significant leap forward in medical imaging. The 3D reconstruction feature does exactly that – creating a three-dimensional model that offers a holistic, multi-angled view of the body's internals. Alongside this, 2D visualization remains a key feature, enabling clinicians to view images in two dimensions, each offering unique insights. Together, they provide a well-rounded perspective, enhancing understanding and interpretation of medical images.
Quantification
Last, but certainly not least, is quantification – the process of associating image segments with diagnostic information. This feature takes segmentation a step further by not just isolating regions of interest but associating them with quantifiable data. Whether it's measuring the size of a tumor, calculating the density of a bone, or determining the rate of blood flow, quantification provides objective, measurable information that supports evidence-based diagnosis and treatment.
These features, combined, constitute the powerhouse that is medical image analysis software. By continually improving image quality, enabling detailed analysis, and providing a comprehensive view of patient anatomy, this software revolutionizes the way healthcare providers approach diagnosis and treatment.
How to Develop a Diagnostic Imaging Solution
Developing a diagnostic imaging solution can be compared to crafting a custom masterpiece. It requires a harmonious blend of scientific acumen, technical prowess, and creative ingenuity. The process can be broken down into several key stages, each as crucial as the other. Here's a step-by-step guide on how to transform an abstract idea into a fully functional diagnostic imaging solution.
Step 1. Market Analysis and Idea Validation
Before embarking on the development journey, it's essential to conduct a thorough analysis of your idea. Ask yourself – What is the problem your software aims to solve? How does it fill a gap in the existing market? Who are your potential competitors, and what unique value does your solution bring? Conducting market research, analyzing trends, and understanding user needs at this stage will help you craft a solution that is not only technologically advanced but also commercially viable and user-friendly.
Step 2. Coming Up with the List of Features
After clarifying your idea and its market relevance, it's time to outline the features your diagnostic imaging solution will offer. Consider the primary functions it needs to perform, such as image analysis, segmentation, 3D reconstruction, etc. Then, think about additional features that would enhance its usability, such as integration with other healthcare systems, data security measures, or user-friendly interfaces. Remember, each feature should add value and contribute to a seamless user experience.
Step 3. Monetization Strategy
Next, consider how you plan to monetize your solution. Will you adopt a subscription-based model, or will it be a one-time purchase? Alternatively, you could consider a freemium model, offering basic features for free with the option for users to pay for additional premium features. Your monetization strategy should align with your target market's preferences and willingness to pay.
Step 4. Recruiting a Development Team
Recruiting a skilled development team is perhaps the most critical step. This team will be the architects of your diagnostic imaging software, translating your vision into reality. Look for professionals like IntelliSoft, with expertise in medical imaging technologies, software development, data security, and user experience design. The team's composition may vary depending on the scale and complexity of your project.
Step 5. Creating the MVP Version
With your team on board, it's time to start developing the Minimum Viable Product (MVP) – a simplified version of your software that includes only its core features. The MVP serves as a testbed for your ideas, allowing you to gather user feedback and make necessary adjustments before investing time and resources into full-scale development.
Step 6. Support and Scale
Once your MVP has been tested and refined, you're ready to move towards full-scale development, adding additional features and enhancing user experience. Remember, the development process doesn't end with the launch of your software. Ongoing support and scalability are crucial. Ensure you have a plan in place to address user queries and issues promptly. Furthermore, your software should be scalable, ready to adapt, and grow as the healthcare landscape evolves.
Developing a diagnostic imaging solution is a challenging yet rewarding endeavor. By following these steps, you'll be well on your way to creating a solution that stands at the intersection of technology and healthcare, delivering significant value to its users.
The Key Challenges of Custom Medical Image Analysis Software Development
While the potential benefits of creating custom medical image analysis software are transformative, the journey to developing such a product isn't without its bumps and curves. There are a number of key challenges to navigate. Let's discuss the hurdles that developers might encounter.
Security and Compliance
At the forefront of these challenges is the paramount concern for security and compliance. Medical imaging software handles sensitive patient data, a veritable treasure trove for any malicious entity. Consequently, developers are tasked with implementing robust security measures to safeguard this information. This includes encryption protocols, secure access controls, and intrusion detection systems.
Compliance is another critical aspect. Various regulatory standards such as HIPAA in the US, GDPR in Europe, and others worldwide govern the handling and storage of health data. Ensuring your software meets these stringent regulations can be a difficult task requiring a deep understanding of the legal landscape.
AI Model Training
AI and machine learning algorithms are at the heart of medical image analysis. However, training these models to identify and analyze medical images accurately is no mean feat. It involves providing the algorithms with a vast array of images, each correctly annotated, to help the models learn and improve. The lack of quality, annotated data can limit the effectiveness of the AI models, making this one of the most significant challenges in the field.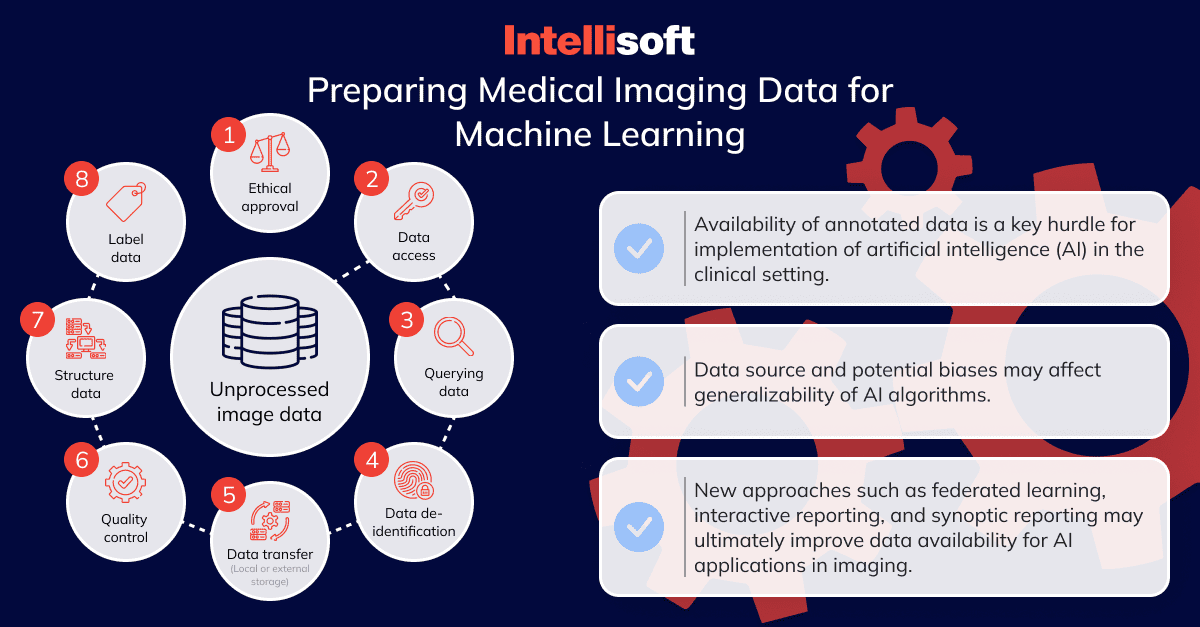 Training Data
Challenges with the training of an AI model are related to acquiring suitable training data. Not only should this data be extensive, but it must also be diverse, representing various conditions, demographics, and scenarios. However, acquiring such a comprehensive dataset, especially considering the privacy regulations around health data, can be a significant hurdle. Additionally, the data needs to be correctly labeled and annotated, requiring considerable time and expertise.
Multimodality Issues
Modern medical imaging involves various modalities, including X-rays, CT scans, MRIs, and more. Each modality presents its unique characteristics and challenges, making the development of universal medical image analysis software complex. Moreover, integrating data from different modalities and creating a comprehensive view of the patient's condition is a challenging task, requiring sophisticated algorithms and data processing techniques.
Despite these challenges, the field of medical image analysis software development continues to advance, driven by the promise of better patient outcomes, more accurate diagnoses, and improved healthcare efficiency. However, overcoming these hurdles requires a skilled development team, a comprehensive understanding of the healthcare landscape, and a steadfast commitment to quality and security.
Core Medical Practices to Consider
Developing healthcare imaging software sometimes feels like walking a tightrope where a keen balance between usability, security, regulatory compliance, and technical excellence must be maintained. Here are some core medical practices to consider during the development process that could serve as balancing poles to ensure a successful and safe product.
Image Quality
High-quality imaging is vital in diagnosing and monitoring diseases. Implement advanced image processing algorithms to enhance image quality and provide doctors with clear, detailed visuals.
Scalability
As your healthcare facility grows, your software should grow with it. Design your software to accommodate increasing amounts of data and users without impacting performance.
Integration with Other Systems
Ensure your software integrates smoothly with other healthcare systems like Electronic Health Records (EHR), picture archiving and communication systems (PACS), and billing systems. Seamless integration leads to streamlined workflows and improved productivity.
User Experience
Healthcare professionals have demanding jobs, and complex software only adds to their woes. A user-friendly interface and intuitive navigation can significantly enhance the user experience, saving precious time for healthcare providers.
Workflow Optimization
Software should complement and enhance existing workflows, not complicate them. Identify the workflows in your healthcare facility and tailor your software to optimize these processes.
Support for Multiple Devices
In today's mobile era, healthcare providers expect access to medical data from any device, anywhere. Ensure your software supports multiple devices, from desktop computers to smartphones, for maximum accessibility.
Reporting and Analytics
A comprehensive reporting and analytics feature can provide valuable insights into healthcare processes. This could include patient diagnosis trends, resource usage, and more, aiding in strategic decision-making.
Maintenance and Support
Developing the software is just the first step – ensuring its smooth operation over time is another challenge altogether. Regular software updates, prompt troubleshooting, and 24/7 support are vital to maintain the software's reliability and efficiency.
By considering these core practices, you're setting a solid foundation for a healthcare imaging software solution that not only meets the immediate needs of healthcare providers but also caters to long-term growth and advancements in healthcare technology.
Conclusion
With a metaphorical stethoscope, we've listened to the heartbeat of diagnostic medical imaging software in modern healthcare. We've unraveled the meaning behind medical imaging, unveiled its main types, and peeked into its intricate workings. We've navigated the choppy waters of its benefits and risks, visited the arenas where it's applied, and witnessed its transformative power in the healthcare landscape.
We went further on a journey through different types of medical imaging software, marveled at their remarkable features, and sketched a roadmap to develop such profound solutions. We've identified the boulders in the path and guided you through the core practices that are essential when building healthcare imaging software.
Yet, every journey needs a capable guide, and every complex piece of software needs an experienced developer.
Why Choose IntelliSoft for Your Healthcare Software Development
At IntelliSoft, we take immense pride in our team's profound expertise and dedication. Equipped with a thorough understanding of the industry, we're more than just developers – we're your reliable tech partners committed to bringing your vision to life.
Our wide spectrum of services, spanning from initial business analysis and MVP development to crafting fully-fledged mobile products and code optimization, ensures you'll receive a comprehensive solution custom-made to meet your specific needs. We understand the challenges of creating healthcare imaging software and have the skills to turn them into opportunities for innovation.
IntelliSoft is about building partnerships and trust. We focus on long-term relationships where transparency, commitment, and quality are at the forefront. We understand that choosing a software development partner is a significant decision, and we value the trust that our clients place in us.
In a world where the delicate threads of healthcare and technology are increasingly intertwined, let IntelliSoft be the weaver of your diagnostic medical imaging software, crafting a solution that's as unique and innovative as your vision.
FAQ