In the dynamic business landscape, staying ahead of the curve is as crucial as getting your morning caffeine fix, and custom enterprise applications serve as the perfect catalyst. According to an industry report, the global enterprise application market was estimated at $238.36 billion in 2020 and will grow to $289.04 billion by 2030.
Welcome to our all-encompassing guide, curated by well-rounded experts at IntelliSoft. We've been flexing our tech muscles and creating magic with codes for over a decade now, enabling businesses to revolutionize their processes swiftly and efficiently.
Our portfolio is as diverse as it is vast, spanning across multiple industries, from healthcare to IoT and more. As we delve into the world of building enterprise applications, let IntelliSoft become your reliable guide in this digital journey. Let's fuel your enterprise's growth together, one custom application at a time.
What is Enterprise Application Development?
Let's compare enterprise software development with solving an intricate jigsaw puzzle. Each piece, unique in its shape and design, is essential to complete the entire picture. Similarly, an enterprise is composed of various departments, each one performing its distinct functions, but all aiming to achieve a common business goal. Now, imagine trying to fit these puzzle pieces together without a guide or a preview of the complete picture. Daunting, isn't it? That's where enterprise application development comes in, acting as the guide that helps you place each piece correctly.
Enterprise application development is the process involved in creating large-scale, complex software systems specifically designed to integrate with a company's diverse business environment and ensure its smooth operations. These applications are usually designed to interface or integrate with other existing enterprise applications used within the organization and are deployed on a range of platforms throughout corporate networks, intranets, or the Internet.
Think of these applications as the glue that binds various facets of an enterprise together, making sure that all the departments can work seamlessly, even when they're not in the same physical location. They help manage, streamline, and automate numerous business processes, from customer relationship management and human resources to supply chain management and business intelligence.
Enterprise applications are designed to increase productivity and efficiency, lower overhead costs, and improve workflow and data flow within an organization. They are customized to meet specific business needs that cannot be addressed by standard, pre-made software. These applications can also interact with external businesses and services, expanding the company's reach beyond its own ecosystem.
However, the task of enterprise software development isn't a walk in the park. It involves various stages, from initial planning, requirements analysis, and system design to system testing, deployment, and maintenance. Due to their large-scale and complex nature, enterprise applications often require a collaborative effort involving business analysts, developers, stakeholders, and end-users to ensure a successful outcome.
The Significance of Enterprise Applications
What is enterprise applications' main purpose? With the evolution of the digital landscape, enterprise applications have transformed into essential tools in today's business world. Their ability to streamline and automate business processes, facilitate informed decision-making, and enhance customer engagement, among other things, gives them a role of paramount importance in steering the ship of modern businesses. Let's explore each of these points in detail.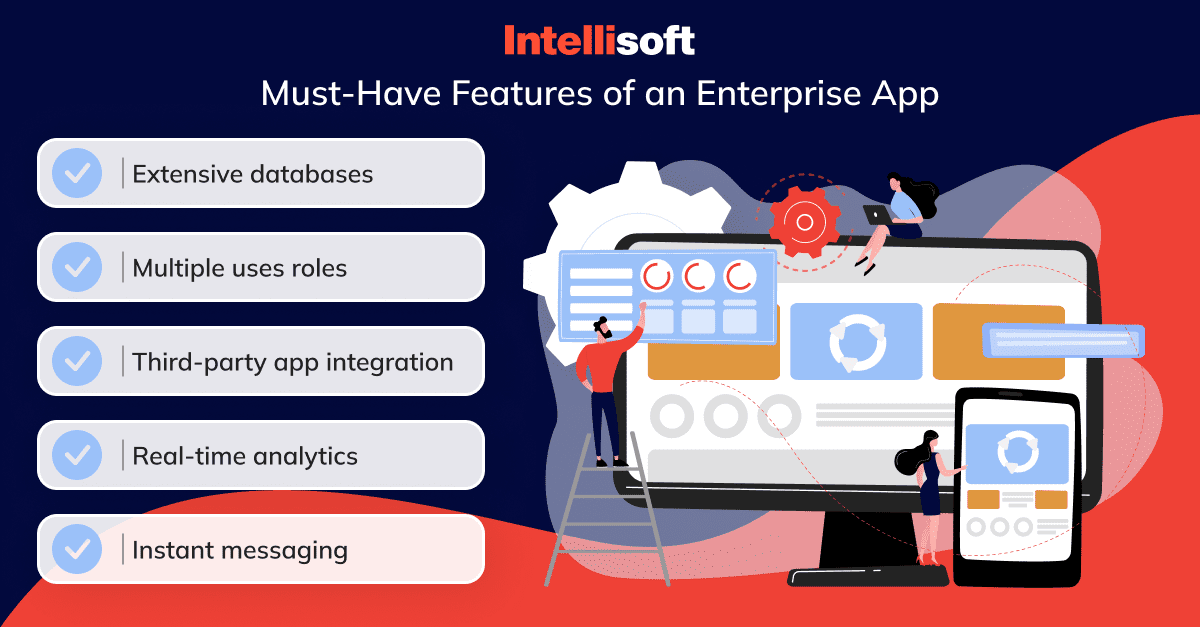 Boosting Efficiency
Think of how beautifully an orchestra operates when every musician plays their part in harmony, guided by the conductor. Enterprise applications do much the same thing for your business, acting as the conductor that orchestrates different operations, ensuring each one works in harmony with the others, thereby enhancing overall efficiency.
By automating mundane tasks and streamlining complex business processes, enterprise applications make business operations faster and more efficient. For instance, instead of manually tracking inventory and generating invoices, an enterprise application can automate these processes, saving you a considerable amount of time and minimizing the chances of human errors.
Moreover, these applications can facilitate seamless communication and collaboration across different departments. Whether it's sharing real-time data, accessing crucial documents, or even planning a meeting, enterprise applications have got you covered. In essence, they act as a central hub where all business operations converge, leading to improved coordination and a marked increase in productivity.
Supporting Decision-Making Processes
To stay afloat in the competitive business world, making informed decisions is not just an option – it's a necessity. And informed decision-making requires easy access to information and analysis of business data, something that enterprise applications are particularly good at.
Enterprise applications come equipped with tools that can gather, store, manage, and analyze vast amounts of data from various sources within the organization. You can easily create detailed reports, understand patterns, track performance metrics, and gain actionable insights with a few clicks.
For instance, with a well-implemented enterprise application, a sales manager can quickly assess the sales performance of their team, identify the best-selling products, recognize market trends, and accordingly, tweak their sales strategy. Such precise, data-driven decision-making can give your business a significant edge over competitors and set you on the path to success.
Enhancing Customer Engagement
Delivering personalized experiences can allow you to gain a deep understanding of your customers, enabling you to deliver services that align with their expectations, thereby enhancing customer engagement.
For example, an enterprise application can track customer interactions, preferences, and purchasing patterns. Such data can be invaluable in crafting personalized marketing campaigns, recommending suitable products, or providing tailor-made solutions. When customers see that you understand their needs and cater to them, their engagement with your brand naturally increases.
Additionally, enterprise applications can also improve the customer experience by streamlining customer service operations. Whether it's addressing customer queries promptly, offering 24/7 support, or even managing customer feedback, an enterprise application can deal with it all, thereby, taking your customer engagement to new heights.
To sum it up, enterprise applications are more than just tools – they are the lifeblood of modern businesses. By boosting efficiency, aiding decision-making, and enhancing customer engagement, they serve as a catalyst for business growth and success. Keep on reading and see how these applications can revolutionize your business operations.
Classifying Enterprise Applications
Now that we've established the significance of enterprise applications let's take a look at the different types of these apps and understand their unique functions. From managing resources to automating marketing strategies, each application has its specific role in streamlining business processes. Let's hop on the enterprise application train and explore the diverse landscape!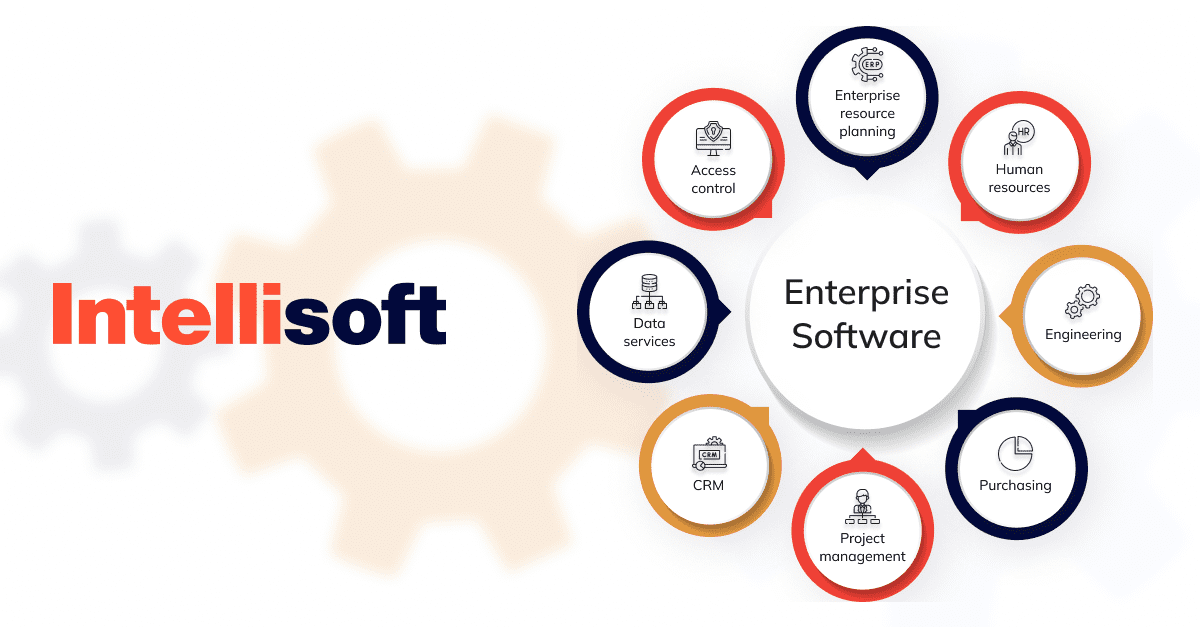 Enterprise Resource Planning (ERP)
The first stop is ERP. Enterprise resource planning applications are the cornerstone of many organizations responsible for integrating various business processes into one unified system. Like a versatile multitasker, ERP can manage everything from finance and accounting to procurement and supply chain, making it the Swiss Army knife of enterprise applications.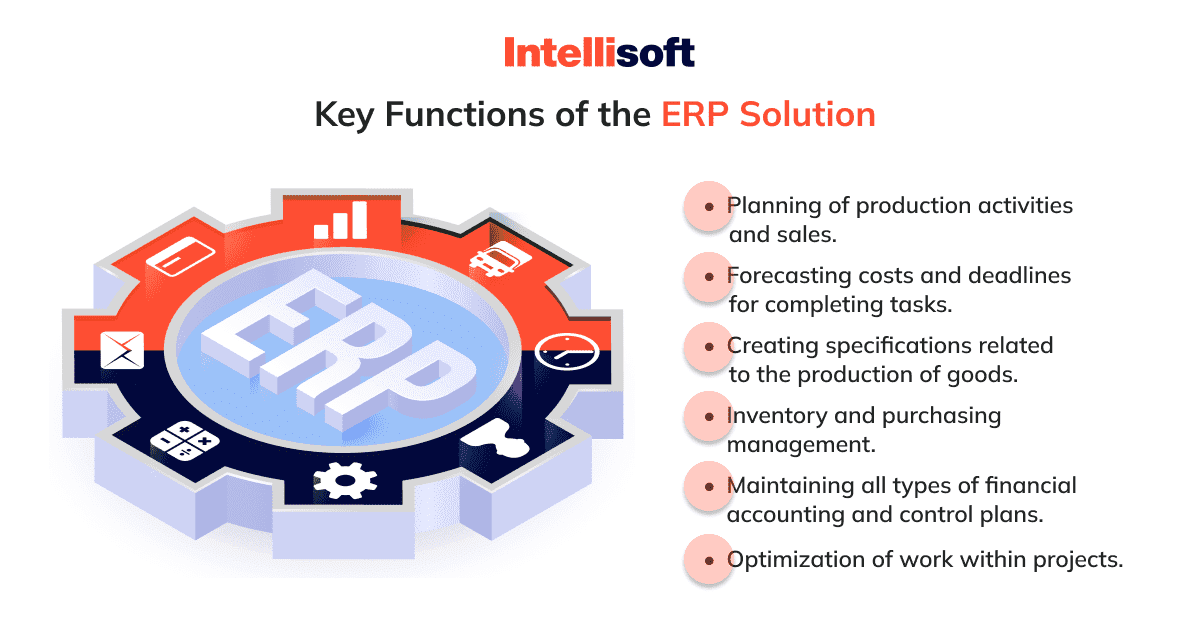 Customer Relationship Management (CRM)
Next, we have the CRM system. Think of it as your organization's personal assistant, dedicated to all things customer-related. CRM applications manage interactions with existing and potential customers. They track customer behaviors and preferences, enabling personalized marketing and improved customer service. It's like having a giant, digital Rolodex that does more than just store contact details—it helps you form and nurture meaningful customer relationships.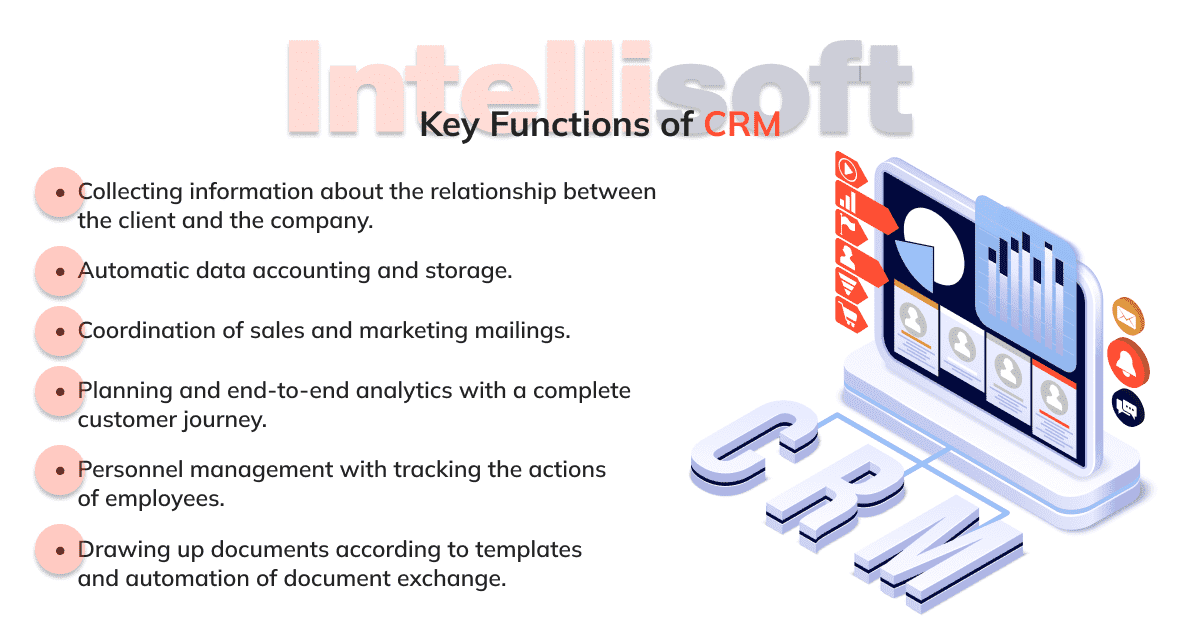 Supply Chain Management (SCM)
Our next stop is the SCM system. This is the enterprise application that ensures all the gears in your supply chain are running smoothly. From inventory and warehouse management to distribution and logistics, SCM applications oversee all supply chain processes. It's like having a super-efficient logistics manager who ensures that the right goods reach the right place at the right time.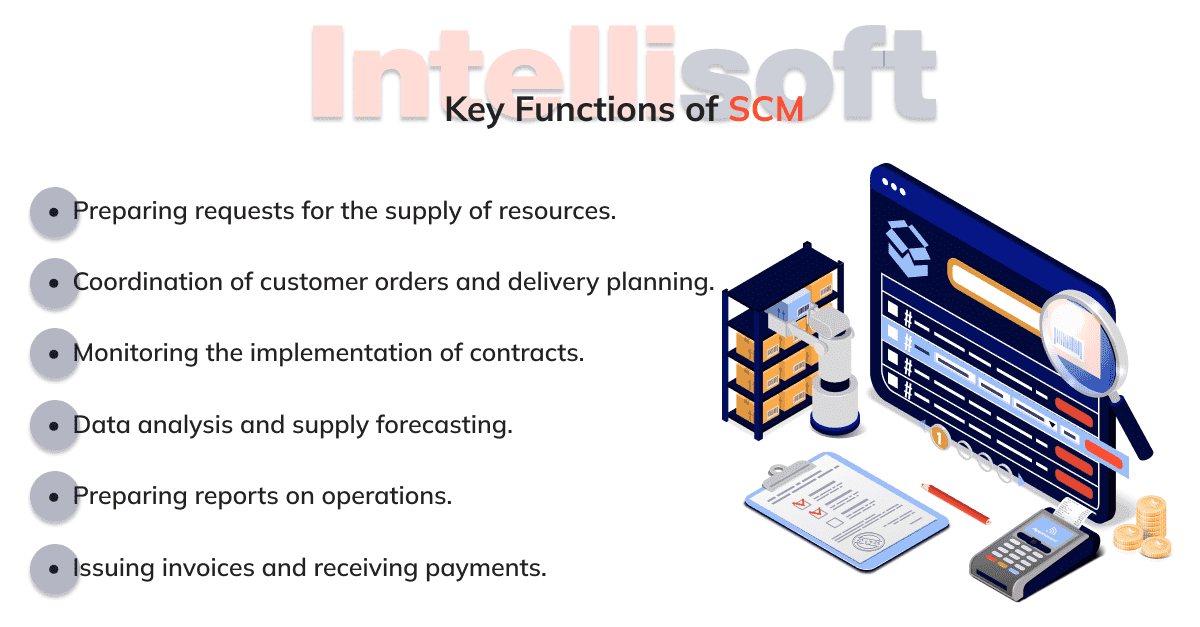 Treasury Management System (TMS)
The TMS, on the other hand, is like your company's financial advisor. It takes care of all treasury functions, such as cash management, financial planning, risk management, and more. You can use it to improve the efficiency of the treasury management process through automation.
Automating financial operations improves insight into cash and liquidity while also increasing control over bank accounts, adhering to compliance rules, and managing financial activities. With a TMS, you can ensure your financial assets are safe, well-managed, and ready to be put to use when opportunity knocks.
Business Intelligence (BI) Applications
Moving on to BI applications, these are your organization's intelligence agents. They gather, analyze, and present business data in a digestible form, giving you valuable insights into your business performance and market trends. From detailed reports to interactive dashboards, BI tools deliver data-driven insights, empowering you to make informed business decisions.
HR Management Systems
Then we have the HR management (HRM) systems, the backbone of any organization's human resource department. Think of them as digital HR managers that automate processes like recruitment, payroll, performance evaluation, and employee engagement. With an HRMS in place, your HR department can bid goodbye to the mountain of paperwork and focus on what truly matters – your people.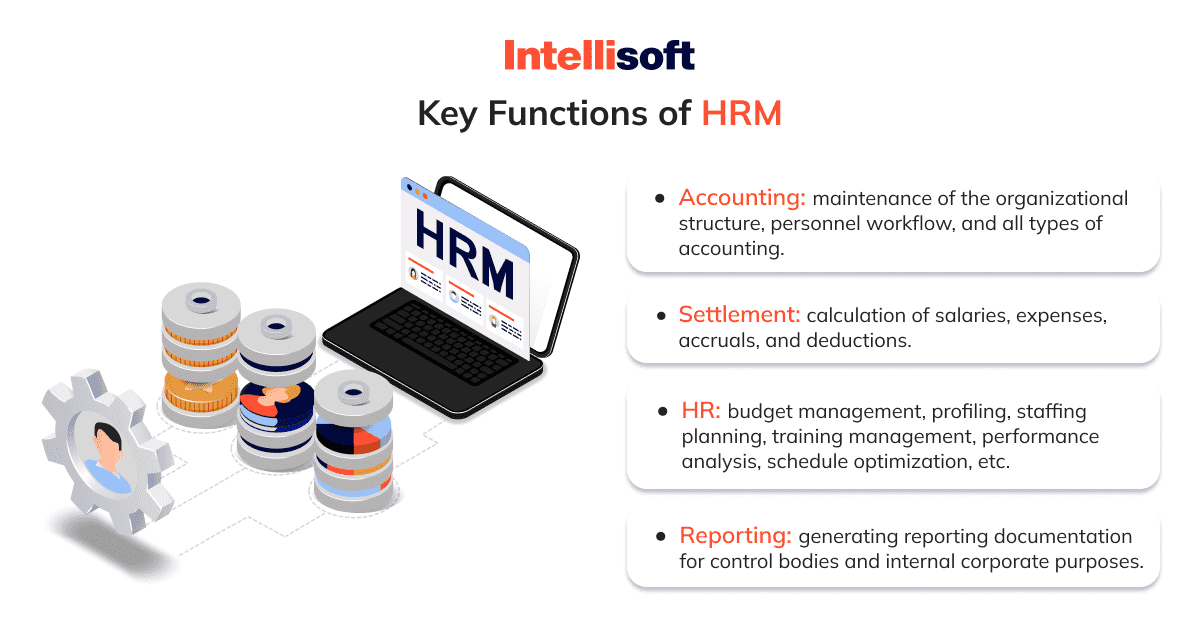 Project Management Tools
Project management tools provide a platform for planning, organizing, and tracking projects, ensuring everything is on schedule and within budget. Manual project management can be difficult, time-consuming, and error-prone. Project management software, which offers a wide range of features and functionalities, has evolved as a solution to these challenges. From setting deadlines to allocating resources to tracking progress, these tools keep your projects running like a well-oiled machine.
Marketing Automation
Finally, we arrive at marketing automation tools. They automate repetitive marketing tasks, from sending out emails to managing social media posts. With these tools you can create personalized marketing campaigns that reach the right people at the right time, all with minimal effort.
Each of these enterprise applications plays a vital role in different facets of business operations. By leveraging their capabilities, you can streamline your processes, improve efficiency, and drive business growth. But remember, these are merely tools. Their effectiveness lies in how you implement and use them in your organization. In the next sections, we'll dive deeper into the process of enterprise application development, so you can learn how to customize these tools to perfectly fit your business needs.
Developing Custom Apps vs. SaaS
As we journey through the world of enterprise applications, we encounter a fork in the road: Should we opt for software as a Service (SaaS) solutions or invest in developing custom applications? It's a question that can be compared to choosing between a ready-made suit and a tailored one. Each has its benefits, but your choice ultimately depends on your specific needs. Let's roll up our sleeves and explore the pros and cons of each.
Seamless Integration with Custom Apps
First off, imagine wearing a suit tailored to your exact measurements. It fits seamlessly, and you can flaunt it confidently at any business meeting. That's what it feels like to have a custom enterprise application. It's developed to align with your existing business ecosystem perfectly. Whether it's your business workflows, data models, or user roles, a custom application can cater to all these specificities. When you get the team to design software specifically for your business, you ensure a seamless fit with your existing systems and processes.
Get the Features You Need
Next, think about the freedom you have when designing a custom suit. You have lots of options here: the style, fabric, color, and even the number of pockets. Similarly, with custom apps, you get the features you need and nothing you don't. You can decide what functionalities your application should have based on your unique business requirements. On the flip side, with off-the-shelf SaaS solutions, you often get a bunch of unnecessary features bundled in. It's like buying a suit with extra pockets that you don't need – why pay for something you won't use?
Custom Apps are Cost-Effective for Large Businesses
Now, let's talk about costs. It's often assumed that developing a custom app is expensive. While it's true that the initial investment can be substantial, the overall costs can be less for larger businesses. Consider a business with over 15,000 employees. The running costs of a SaaS solution for such a large user base could be higher than the cost of developing and maintaining a custom app. It's like choosing to buy a costly branded suit every year versus investing in a quality tailored suit that lasts for years. The upfront costs might be higher for the tailored suit, but in the long run, it can prove to be more cost-effective.
| | Custom Enterprise Applications  | SaaS Solutions |
| --- | --- | --- |
| Features | Customized functionality to meet your business needs. You can scale and modify as you wish. | Standard features for a wide audience. Extended access to the functionality is possible for an additional fee as part of the premium tariff. |
| Time required for new releases  | Several weeks, involving the development team. | Depends on the provider. You may wait several years. |
| Security | High level. The software is created for a specific company. It reduces the risk of third parties gaining access to your data.  | There are some risks associated with easy third-party access to data, uncertainty about the location of data, as well as upfront and long-term payments. |
| Maintenance | Technical support and maintenance are performed by the IT team that created the product. | The provider is responsible for problem-solving (technical failures, cyberattacks, or downtime during peak hours), support, and maintenance. |
As an example, let's consider a popular SaaS provider's pricing policy. At an average rate of $150 per user per month, the annual cost for a SaaS solution for a company with 15,000 employees would be $27 million! Now, developing a custom app might require a significant upfront investment, but the running costs, including maintenance and upgrades, will be substantially lower than this figure.
Ultimately, the decision between developing custom apps and opting for SaaS solutions depends on various factors, including your business size, specific requirements, budget, and long-term plans. Each choice has its advantages and can serve different needs effectively. If you value tailor-made solutions that offer seamless integration, precise features, and potentially lower costs for large-scale operations, custom apps might be the right fit for your business. On the other hand, if you prefer ready-made solutions with quick deployment and less initial investment, SaaS solutions could be your go-to option.
Navigating this crossroad might seem challenging, but it's crucial to make an informed decision that aligns with your business goals. Remember, the right enterprise application can empower your business, boost efficiency, and drive growth. So, choose wisely!
Key Components of Enterprise Software Development
Embarking on a custom enterprise application development journey is like constructing a state-of-the-art building. Just as you wouldn't start erecting a skyscraper without a blueprint, you need to identify and understand the key components of enterprise software development before breaking ground on your project. Three critical elements serve as the foundation of an effective enterprise application: business logic, data access layer, and user interface. Let's dig into the nuts and bolts of these components.
Business Logic
The business logic is the architectural equivalent of the load-bearing walls in our skyscraper. It defines the rules and operations of your application—the laws of physics, if you will, for your enterprise application universe. These are the rules for how data is created, displayed, stored, and changed.
When defining business logic, it's important to keep your business objectives front and center. The rules should reflect your specific operational needs, from data validation and calculations to workflow and database manipulations. Just as the integrity of a skyscraper depends on the strength of its load-bearing walls, the efficacy of an enterprise application lies in its business logic.
Data Access Layer
Now, let's talk about the plumbing and electrical systems that keep a skyscraper running smoothly. It is comparable to the data access layer of your enterprise application. It serves as the connection point between your application and databases, ensuring a smooth and secure data flow.
The data access layer's main function is to perform CRUD operations—create, read, update, and delete—on the data. However, it's not just about moving data around. A well-designed data access layer is like a well-planned building infrastructure—it enables efficient data management, minimizes resource usage, and ensures data security.
This layer is designed to be adaptable, much like the utility systems in a skyscraper. If you want to switch from one database system to another (say, from Oracle to MySQL), you only need to modify the data access layer without touching the business logic. This compartmentalization of concerns is what makes the data access layer a crucial part of enterprise application development.
User Interface (UI)
Finally, we arrive at the aesthetic aspect of our building—its design, decor, and how it appears to the people who use it. This is your application's user interface, the part of your application that users interact with directly.
A good user interface isn't just about looking pretty, just as a skyscraper isn't just about shiny glass windows and swanky interiors. The UI must be user-friendly and easy to navigate, allowing users to perform tasks efficiently and intuitively. It should be designed keeping the end-user in mind, offering a smooth journey from the entrance lobby (the login screen) to the topmost floor (completing a task).
Just as architects and designers pay attention to the layout, lighting, signage, and even the elevator music in a building, you must focus on the layout, color schemes, typography, navigation, and feedback in your UI design. Remember, even the most powerful application can fail if the users find it unattractive or hard to navigate.
In the grand scheme of enterprise application development, understanding and appropriately implementing these key components—business logic, data access layer, and user interface—are fundamental to building a robust, efficient, and user-friendly application. By getting these elements right, you'll be well on your way to constructing an enterprise application that's not just a functional tool but a veritable skyscraper in the landscape of your business operations.
Related readings:
Illustrative Examples of Enterprise Applications
Just as the landmarks of the world inspire architects, we can find inspiration in the tech landscape's towering examples of enterprise applications. These are the "skyscrapers" that have shaped the digital skyline and become industry standards. Let's take a look at some of these stalwarts: Salesforce, SAP, Oracle, Tableau, and Microsoft Power BI.
Salesforce
Salesforce stands tall in the realm of customer relationship management (CRM). This cloud-based platform provides businesses with tools to manage and optimize their relationships and interactions with customers and prospects. Salesforce is renowned for its scalability, user-friendly interface, and customizability. It provides a comprehensive dashboard that offers a complete view of customer activities, enabling efficient management of marketing, sales, and support functions.
SAP ERP
In the field of enterprise resource planning (ERP), SAP (Systems, Applications, and Products in data processing) is a formidable presence. SAP ERP is an integrated suite designed to centralize and streamline various business processes, such as finance, human resources, supply chain management, and procurement. With its adaptable modules, SAP is capable of catering to the different needs of a wide array of industries, promoting efficient and interconnected operations within any organization.
Oracle ERP
Another significant player in the ERP arena is Oracle. The Oracle ERP Cloud suite includes a selection of cloud-based applications designed to manage key business functions, including finance, project management, procurement, and risk management. Oracle is recognized for its robust features, real-time data access, and its ability to support complex business processes. It is the preferred choice for large organizations seeking a comprehensive and integrated approach to resource management.
Tableau
When it comes to business intelligence (BI), Tableau is a powerful tool. This interactive data visualization software enables businesses to transform raw data into easy-to-understand, interactive, and up-to-the-minute visual displays. Tableau's compatibility with various data sources, and its intuitive user interface, makes it popular, especially among non-technical users.
Microsoft Power BI
Microsoft Power BI is another highly-regarded figure in the business intelligence field. This suite of business analytics tools helps businesses convert diverse data into insightful and actionable reports. Power BI's integration capabilities are particularly noteworthy, especially its synergy with other Microsoft products like Excel and Azure. Its user-friendly interface, and visually appealing dashboards and reports, make data analysis an engaging experience.
In summary, these industry-leading examples offer insight into the capabilities, variety, and potential of enterprise applications. Each of these – Salesforce, SAP, Oracle, Tableau, and Microsoft Power BI – provides unique and powerful solutions that have transformed the way businesses operate and make informed decisions. They showcase the ways in which custom applications can truly become game-changers in the corporate world.
Exploring the Challenges in Enterprise Application Development
Enterprise application development isn't a walk in the park. It's a complex undertaking, where encountering hurdles is almost a certainty. To help you prepare and create a smooth roadmap, let's discuss some of the common challenges businesses often face in enterprise software development.
Managing Complex Business Processes
One of the main reasons enterprises turn to applications is to handle intricate and multi-tiered business processes. Nevertheless, outlining these processes accurately in an application can be a daunting task. Understanding the detailed workflow and the roles of various users and accurately reflecting this in an application requires deep business acumen, technical prowess, and an organized approach.
Ensuring Data Security and Privacy
With digital data becoming the new gold, its security, and privacy have never been more important. Applications that handle sensitive information must meet stringent security standards to make data breaches virtually impossible and ensure compliance with data protection regulations. Implementing robust security measures without compromising usability is a challenge that requires expertise and vigilance.
Integrating with Existing Systems
Enterprise applications rarely operate in a vacuum. They need to interact with existing systems, databases, and applications. The process of integration can be complicated, often requiring API (Application Programming Interface) development, dealing with legacy systems, or managing disparate data formats. Seamless integration is crucial to avoid bottlenecks and data inconsistencies.
Maintaining Application Performance
Performance is key in enterprise applications. Slow response times or frequent crashes can lead to user frustration, lost productivity, and, ultimately, a decline in business performance. Ensuring optimal application performance, especially during peak usage times and as data volumes grow, is a challenge that demands meticulous planning, testing, and optimization.
Meeting Deadlines and Budgets
Application development projects are often under pressure to deliver within tight timelines and budgets. Balancing the quality, scope, time, and cost of a project is a delicate dance. It's easy for projects to go over budget or miss deadlines due to unforeseen issues, scope creep, or changes in business requirements.
Dealing with Inexperienced Developers
The expertise of your development team plays a crucial role in the success of your enterprise application project. Inexperienced developers might lack the understanding of business processes, fail to consider the scalability and future-proofing of the application, or simply lack the skills to execute the project successfully. One solution to this challenge is partnering with an experienced software and enterprise application development company like IntelliSoft. With a team of skilled developers, IntelliSoft can navigate all these challenges and deliver a successful enterprise application that meets your business needs.
While these challenges may seem daunting, they are by no means unbeatable. Understanding them is the first step towards strategizing and creating a successful enterprise application.
Diving Into the Costs of Enterprise Solution Software Development
Let's not beat around the bush – enterprise software development can be a substantial investment. However, it's an investment that often pays dividends in improved efficiency, data-driven decision-making, and enhanced customer engagement. To help you understand the financial commitment involved, we'll explore the factors that influence the costs of enterprise application development.
Complexity of the Application
The more complex the application, the higher the cost. An application that merely digitizes a few paper forms will be significantly less costly than a full-fledged ERP system integrating multiple business functions. Complexity can come in many forms, such as intricate business logic, sophisticated user interfaces, multiple user roles, and high data volumes. Each added layer of complexity requires additional design, development, testing, and maintenance effort, driving up the cost.
Resources Required
Enterprise app development involves a range of resources, including project managers, business analysts, software developers, UI/UX designers, quality assurance engineers, and more. The size and skill level of the team needed will be directly proportional to the complexity of your application. More complex applications may also require more advanced or specialized technology stacks, which could add to the cost.
Development Time
Time is money, and in software development, it's no different. The longer it takes to develop the software, the higher the cost. Factors such as the application's complexity, the team's expertise, and the efficiency of the development process can significantly influence the development time. Agile development methodologies can often help to control costs by prioritizing high-value features and delivering a functional application more quickly.
Choice Between an In-house Team and an Enterprise Application Development Company
Lastly, your choice of development resources can greatly impact the cost. Building and managing an in-house team can be expensive and time-consuming, considering the costs of hiring, training, salaries, benefits, and infrastructure. On the other hand, working with an outsourcing enterprise mobile application development company, such as IntelliSoft, you'll have access to a ready team of experienced professionals and pay only for the services you need. You can even calculate development costs before starting the project.
While costs can vary widely, a well-planned and efficiently executed enterprise application development project can be a valuable investment. Understanding these cost factors can help you budget more effectively and make informed decisions about your development strategy.
A Step-By-Step Guide to Building Enterprise Applications
Taking the plunge into developing enterprise applications can be an exhilarating journey. With a roadmap in hand, it can also be a structured and well-organized one. Here, we present a step-by-step guide to navigating the maze of enterprise application development, from identifying business needs to maintaining the application post-deployment.
Identifying Business Needs
The first step towards building an enterprise application is identifying your business needs. This involves a deep dive into your business processes, challenges, and goals. You need to determine the answers to these questions:
What functions will the application perform?
Who will the users be?
What kind of data will it handle?
What kind of interface would be most effective?
This phase, often referred to as 'requirement gathering,' is the cornerstone upon which the rest of the development process will be based. The more thorough and accurate your requirements, the smoother the development process will be.
Hiring a Development Team
Unless you have an in-house team with the required expertise, the next step is to hire an enterprise application development team. An experienced team like IntelliSoft can guide you through the development process, offer expert insights, and ensure that the application is built to a high standard. When choosing a development team, consider factors such as their experience, portfolio, communication skills, and understanding of your industry.
Design and Development
With a clear set of requirements and a skilled team, you're ready to move into the design and development phase. This stage begins with designing the application architecture, a blueprint that outlines how the application's components will interact. It defines the structure, behaviors, and more of the application, setting the stage for smooth development.
Next comes the development stage, where the design is transformed into a functioning application. This involves writing code, creating databases, integrating systems, and building user interfaces. This is the stage where the vision for your application begins to take shape.
Testing and Deployment
Once the application is developed, it's time for the testing phase. Testing is crucial to ensure that the application functions as intended, is user-friendly, and is free from bugs. It involves a variety of tests such as functionality testing, user acceptance testing, performance testing, and security testing.
After testing and refining the application, it's ready for deployment. Deployment involves installing the application in a live environment, setting up databases, configuring systems, and getting it ready for users.
Post-deployment, regular maintenance is essential to keep the application running smoothly. Maintenance can include updates, bug fixes, performance optimization, and adding new features. This ensures that the application continues to serve your business needs effectively and stays current with technological advancements.
This step-by-step guide gives you a high-level view of the enterprise application development process. However, each development project is unique and may involve additional or different steps based on specific business needs and challenges. Having a reliable development partner can ensure that your enterprise application project is executed smoothly, efficiently, and to your utmost satisfaction.
The Revolutionary Role of High Productivity Cloud Platforms
In the kaleidoscope of mobile app for enterprise development, high-productivity cloud platforms have emerged as game-changers. They are steadily redefining the landscape by dismantling traditional barriers and reimagining the processes involved in application development.
One of the critical barriers in enterprise application development has always been the cost and complexity of setting up and sustaining the necessary infrastructure. High-productivity cloud platforms virtually eliminate this barrier by providing a ready-to-use, scalable, and robust infrastructure. This means businesses can focus on developing their application without getting bogged down by hardware requirements or server management.
Scalability is another area where these platforms shine brightly. The need to scale up (or down) is a constant in today's dynamic business environment. High-productivity cloud platforms offer an elasticity that traditional setups often struggle to match. Whether it's accommodating a sudden surge in users or expanding to handle more extensive data, these platforms allow for seamless scaling without disrupting operations.
The speed of development is a significant advantage that these platforms bring to the table. By providing pre-built modules, drag-and-drop interfaces, and automated workflows, high-productivity cloud platforms expedite the development process. The reduced reliance on coding allows for quicker turnaround times, which can be crucial in a competitive market.
Then there's the flexibility. These platforms allow for customization, enabling businesses to build software that is tailored to their specific needs. Furthermore, they facilitate integration with other systems, enhancing overall business functionality and interconnectivity.
The benefits high productivity cloud platforms offer are substantial, making them an attractive proposition for businesses looking to leverage the power of enterprise applications. However, their adoption should be aligned with the specific requirements, capabilities, and goals of the business to ensure the optimal return on investment.
Factors to Consider When Selecting a Cloud Platform for Application Development
Given the myriad of options available today, it could be hard to choose the right cloud platform for enterprise mobile application development. But, focusing on a few key factors can streamline the selection process and ensure that the chosen platform aligns well with your business needs.
Scalability
When it comes to enterprise applications, scalability is a critical consideration. The cloud platform you select should be capable of accommodating growth and changes in business demand. It should provide options to increase or decrease resources as needed without causing disruption or unnecessary complexity.
Security
The security of your business data should be a top priority. Make sure the cloud platform you choose has robust security measures in place, including encryption, intrusion detection, and identity management. It's also crucial to understand the provider's policy on data ownership and access, as well as how they handle potential security breaches.
Integration Capabilities
The ability to seamlessly work with existing systems and applications is another crucial factor. A cloud platform that easily integrates with your current tech stack can greatly simplify operations and boost efficiency. Is it compatible with your current operating systems, databases, and development tools? A platform that clashes with your tech environment can lead to extra work and potential roadblocks down the line. Look for a provider that offers API integrations and ensures they're compatible with the other tools your business relies on.
Cost-Effectiveness
While cloud platforms can eliminate a lot of upfront infrastructure costs, it's still important to consider the long-term financial impact. Understand the platform's pricing model – is it pay-as-you-go, subscription-based, or does it involve fixed contracts? Also, factor in potential costs associated with data migration, training, and future scaling.
Selecting the right cloud platform for application development is a strategic decision that can significantly influence the effectiveness and efficiency of your operations. It requires a comprehensive evaluation of various factors to ensure that the platform can support your business' unique needs and growth ambitions.
Unfolding the Trends in Enterprise Systems Development
Keeping pace with rapid technological advancements, enterprise systems development has witnessed significant evolution. Certain trends are rising to the fore, reshaping how businesses approach application development. Here, we unravel some key trends dominating the enterprise systems development landscape.
Integration of AI and Machine Learning
Artificial intelligence (AI) and machine learning (ML) are becoming integral to enterprise systems development. With their ability to analyze vast amounts of data, predict outcomes, and automate routine tasks, AI and ML are fostering more intelligent, responsive, and efficient enterprise applications. From predictive analytics in business intelligence tools to AI-driven customer service bots, the integration of AI and ML is revolutionizing how businesses operate and interact with their customers.
The Rise of Microservices Architecture
Microservices architecture is gaining popularity in enterprise systems development. Unlike monolithic architecture, where the application is a single indivisible unit, microservices architecture breaks down the application into a compilation of loosely coupled services. This approach facilitates better scalability, easier debugging and maintenance, and continuous delivery and deployment of large, complex applications. As businesses strive for agility and speed, the adoption of microservices architecture is set to rise.
Increased Focus on User Experience
Enterprise applications are no longer just about functionality – user experience (UX) has become equally important. Businesses are realizing that providing a seamless, intuitive, and engaging user experience can drive user satisfaction and productivity. As a result, there's an increased focus on adopting design thinking and user-centric approaches in enterprise systems development. This trend signifies a shift from purely technical considerations to a more balanced focus on both technical and user-experience aspects.
The landscape of enterprise systems development is evolving, with AI and ML integration, microservices architecture, and an increased focus on user experience as the guiding trends. These trends are not merely about adopting new technologies – they signify a more profound shift towards smarter, more scalable, user-centric enterprise applications that can drive business growth and innovation.
Why Develop Your Custom Enterprise Application with IntelliSoft?
As we conclude our guide to custom enterprise application development, it's clear that these applications are instrumental in today's business landscape. They not only streamline operations but also support decision-making, boost efficiency, and enhance customer engagement. From exploring different types of enterprise applications to diving into the nitty-gritty of their development process, we've covered a lot of ground. We've also discussed the challenges, costs, and revolutionary role of high-productivity cloud platforms in this realm.
As you can imagine, it's not easy to build enterprise applications, but it's not impossible. All you need to do is contact IntelliSoft and we'll come up with a perfect plan for your case. With our rich experience and deep expertise, we bridge the gap between your business needs and the technology required to fulfill them. We provide a full range of services, from identifying your business needs and designing a robust architecture, to developing, testing, and maintaining your application.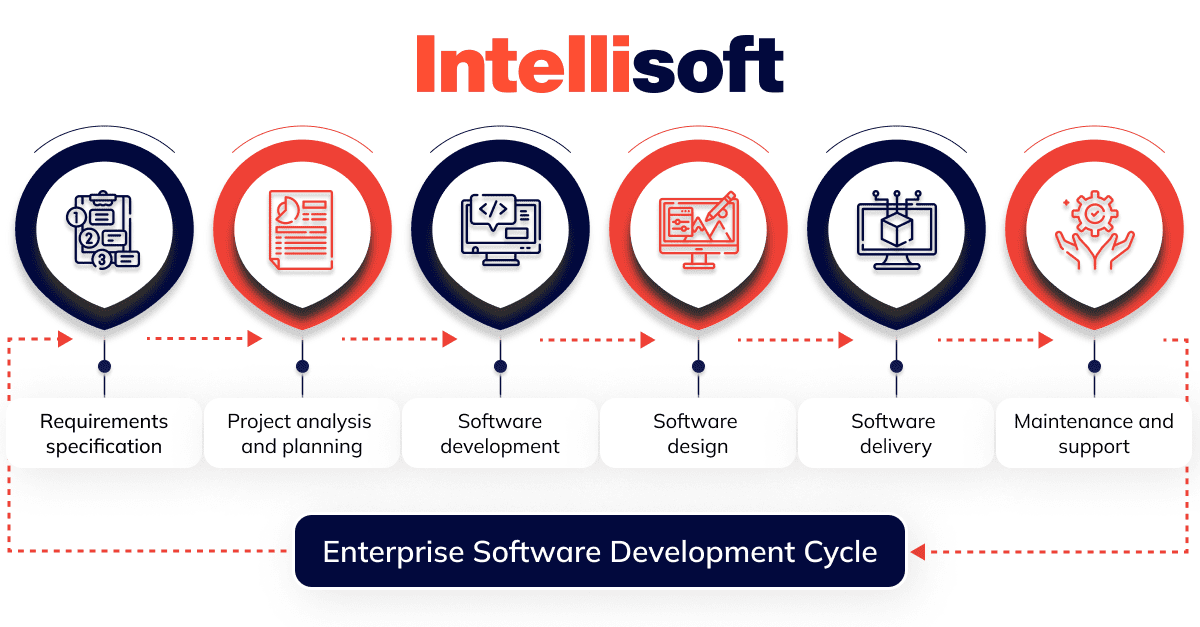 At IntelliSoft, we stay at the cutting edge of technology, keeping pace with the latest trends such as AI integration, microservices architecture, and enhanced focus on user experience. We understand that every business is unique and has distinct needs. Therefore, we don't offer a one-size-fits-all solution. Instead, we provide tailored solutions that align perfectly with your business objectives and IT ecosystem.
Developing an enterprise application is a significant investment—one that will shape the future of your business. Why not entrust this task to a partner who has the knowledge, skills, and dedication to make your investment worthwhile? Partner with IntelliSoft, where we don't just build applications—we build partnerships, foster growth, and drive innovation. Reach out to us any time to kick-start your journey toward a custom-built enterprise application that fits your business like a glove.
FAQ