Business solutions are becoming more and more popular every year. According to the industry report, the global enterprise application market was estimated at $238.36 billion in 2020 and will grow to $289.04 billion by 2030. Many companies are looking to move to a single solution that fits individual needs, can be deployed across the corporate network, and integrates with other systems.
Why is enterprise app (EA) development critical to your company? The fact is that it provides helpful tools for building key business processes. For large enterprises, it's an opportunity to gain a competitive and strategic advantage in the market, and for small and medium-sized enterprises, it's a chance to increase their productivity. With EA, you can automate tasks at the level of an employee, department, team, and the entire company. The main thing is to choose the right solution, and we'll show you how to do it. So, what are the main types of enterprise software?
Enterprise Resource Planning
It's one of the most common enterprise solutions. It integrates vital business processes: finance, operations, supply chains, production, reporting, and personnel. It allows you to store and process data by linking them into a single mechanism. The results of working with information resources become the basis for making management decisions.
According to SoftwarePath, 30% of companies choose ERP to support business growth. About 20% of entrepreneurs seek to expand functionality, and 13% seek to increase efficiency.
ERP solves the following business tasks:
Combining business processes (production, personnel, finance, etc.) within the enterprise and running the business according to uniform standards.
Creating a common information environment and database to integrate tasks for all employees, teams, and departments.
Building long-term plans aimed at developing activities, increasing the customer base and attracting profits.
Cash flow management and transparent budgeting at all levels.
Automation of document exchange and providing quick access to data for all participants.
Remote control of work of divisions, departments, and employees.
The basis for building such enterprise applications is a united database. It ensures the accuracy and efficiency of decision-making and control over the implementation of tasks. A modern ERP system is a single complex where you can work with all the data, without which your enterprise cannot operate normally.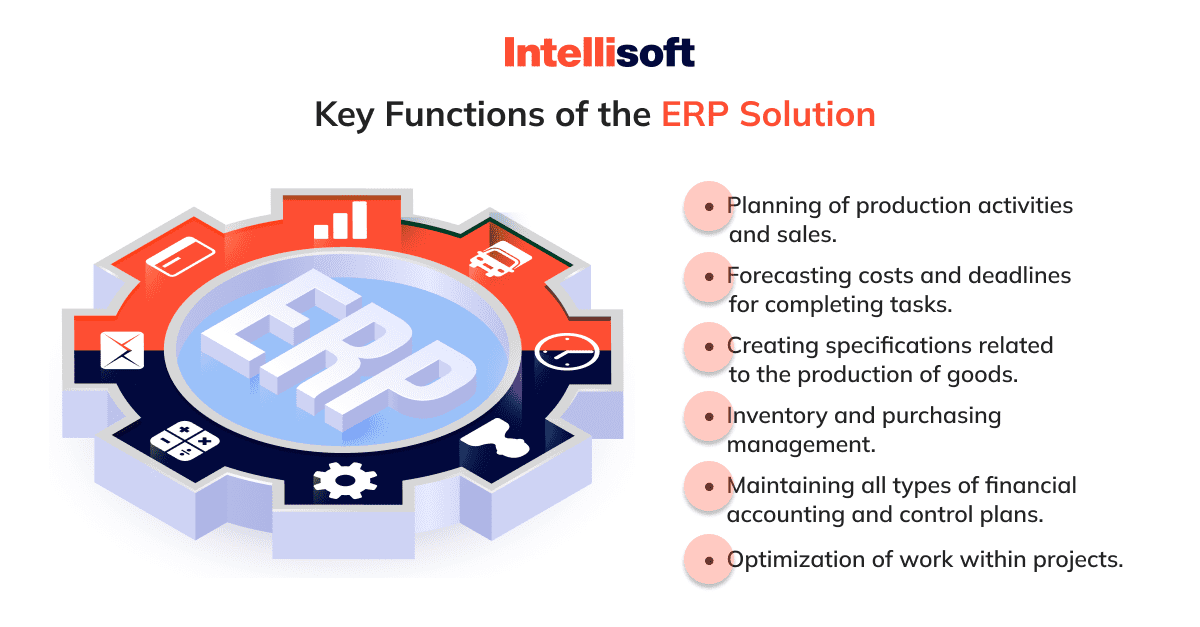 There are many similar solutions on the market. According to SelectHub, the top three are JD Edwards EnterpriseOne, SAP Business ByDesign, and Sage Business Cloud X3. SYSPRO and Microsoft Dynamics follow them.
One of the ERP modules can be BI, which provides unified access to information in real-time.
Business Intelligence
It is a set of technologies and tools that collect data from all available sources and transform it into understandable and useful information. It is generated in reports, dashboards, charts, and tables. Using data obtained, your business can make effective decisions, forecasts, and strategies to increase competitiveness.
About 67% of employees have access to multiple BI applications in their companies.
BI solves the following business tasks:
Determining the current position of the company in the market.
Researching various activities and the causes of their occurrence.
Identifying trends and dependencies in the industry.
Analysis of customer behavior and experience.
Track performance indicators.
For an ordinary user, the principle of operation looks simple: you need to connect data sources (cloud, relational, file) to the system, after which they enter the storage and are processed. As a result, information is displayed in the form of reports. However, behind this lies complex algorithms for processing and generating advanced analytics, as well as a whole range of functions.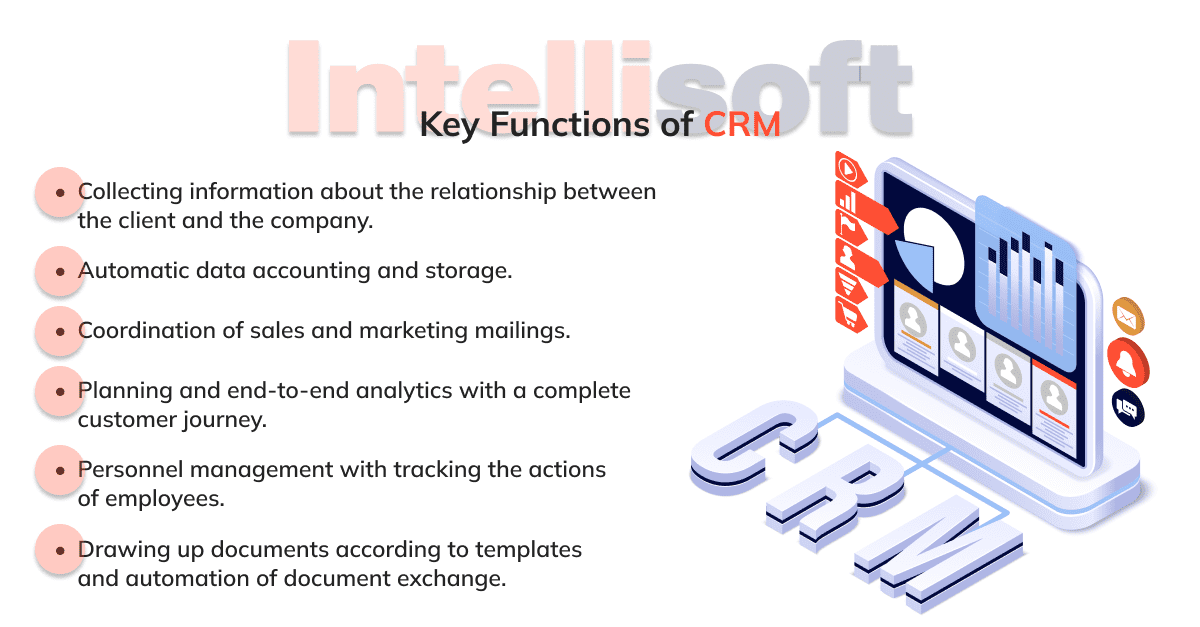 According to Trustradius, Microsoft Power BI was the leader in this field, with a market share of 36% in 2021. It is a comprehensive solution that connects to different sources, transforms important business data, and visualizes it.
Other even more powerful analytics tools cover the entire life cycle of data science projects.
Big Data Analytics Platforms
This platform includes a set of tools indispensable when working in data science. They can help simplify every stage of a project, from ideation and exploration of industry data to building analytical models. The data obtained as a result of the analysis is integrated into operational activities, which positively affects decision-making.
According to Forbes, data interactions have increased by 5,000% in 10 years (from 2010 to 2020). It proves the importance of using analytics platforms.
The platform solves the following business tasks:
Accelerating the work of specialists due to quick access to data.
Sharing precise, readable results between employees.
Preservation of developments and their involvement in the following projects.
Access control to each project and differentiation of rights.
Creation of a common knowledge base for training new employees.
Dynamic analysis of metrics and forecasting.
The question may arise: why do we need such a platform if there is BI? Traditionally, BI has been used to create statistical reports related to the current and past state of businesses. The analysis results are presented in an interactive format. But the Big Data solution provides dynamic and predictive analysis.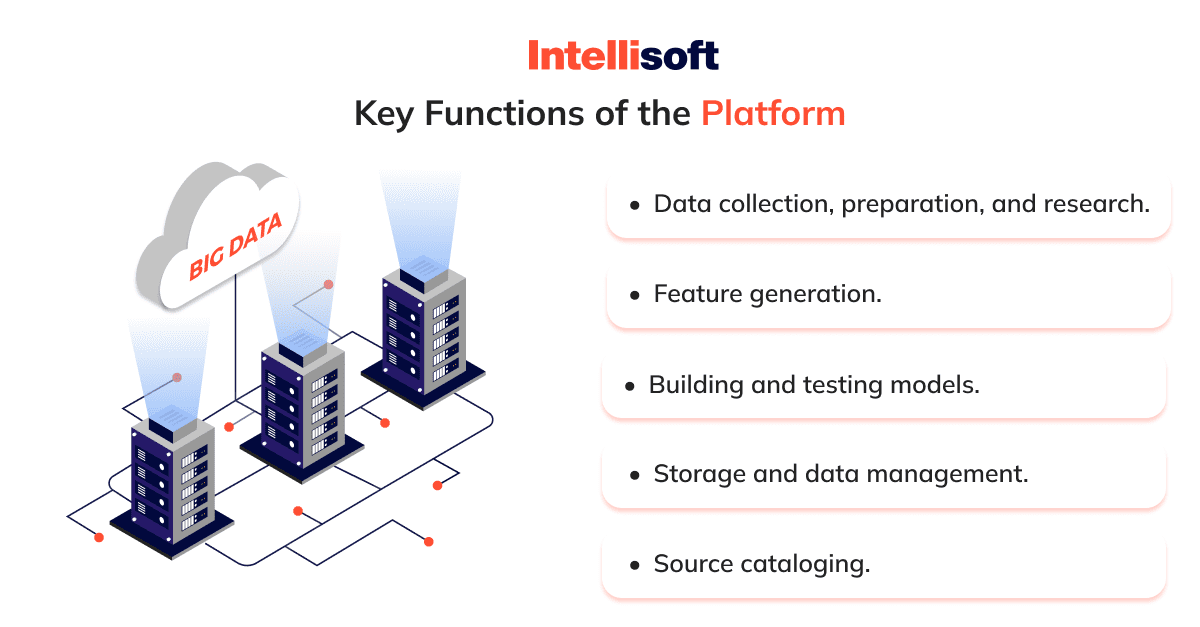 According to SelectHub analysts, 1010data is ranked first in Big Data, being focused on monitoring market trends and consumer information. The second position is occupied by the Cloudera multi-environment platform, and the third is the integrated Pivotal Big Data Suite solution.
Now let's talk about data that relates to customer interactions. It's not difficult to guess that the next paragraph will be devoted to CRM systems.
Customer Relationships Management
A key component of any customer-oriented strategy is the CRM system. It is a specialized solution for building long-term relationships with customers. Developing such enterprise applications has several goals: organize work with leads, monitor audience actions, automate communications, and combine them on one platform.
According to the Super Office, 92% of companies cite CRM as an essential tool for achieving financial goals and generating revenue.
CRM solves the following business tasks:
Consolidation of customer data and storage of interaction history.
Organization and regulation of the work of sales managers and marketers.
Tracking communications and activity of clients through different channels (chats with managers, telephone, social networks, email, etc.).
Checking staff performance and generating reports on the effectiveness of work with clients.
Transfer of sales to automatic mode.
CRM stores customer data in a single administrative panel. The results may be used to track the activities of buyers and prepare personalized offers for them. The system has wide functionality, which is equally successfully used by startup entrepreneurs, sales managers, and owners of medium and large B2B and B2C businesses.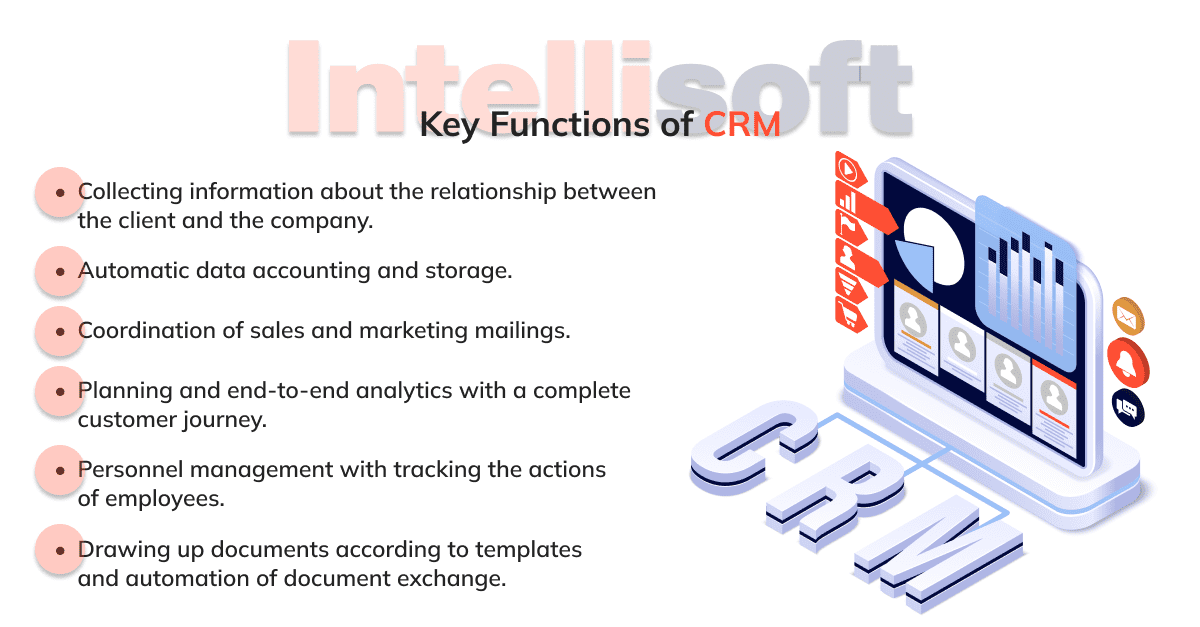 According to Statista, Salesforce occupied 25.3% of the market in 2020. The SelectHub ranking featured the top three leaders: Zoho CRM, Salesforce Sales Cloud, and HubSpot Sales, followed by other well-known platforms from Microsoft and SAP.
To provide quality customer service, companies need competent specialists. HRM systems help them in finding, hiring, and managing staff.
Human Resource Management
HRM (HRIS) is an enterprise application that provides company development regardless of size and direction. The complex system aims at attracting and retaining not customers but staff. It covers all tasks related to employee management: from hiring and payroll to assessing each employee's involvement and career development.
The main reason for implementing HRIS in businesses is increased work efficiency.
HRM solves the following business tasks:
Attracting, retaining, and adapting staff.
Development and training of personnel potential.
Strategic planning and budgeting.
Making HR decisions based on analytics.
Streamlining accounting and settlements.
Compared to traditional accounting and settlement solutions, HRM has enhanced functionality. The system can work with both quantitative and qualitative indicators.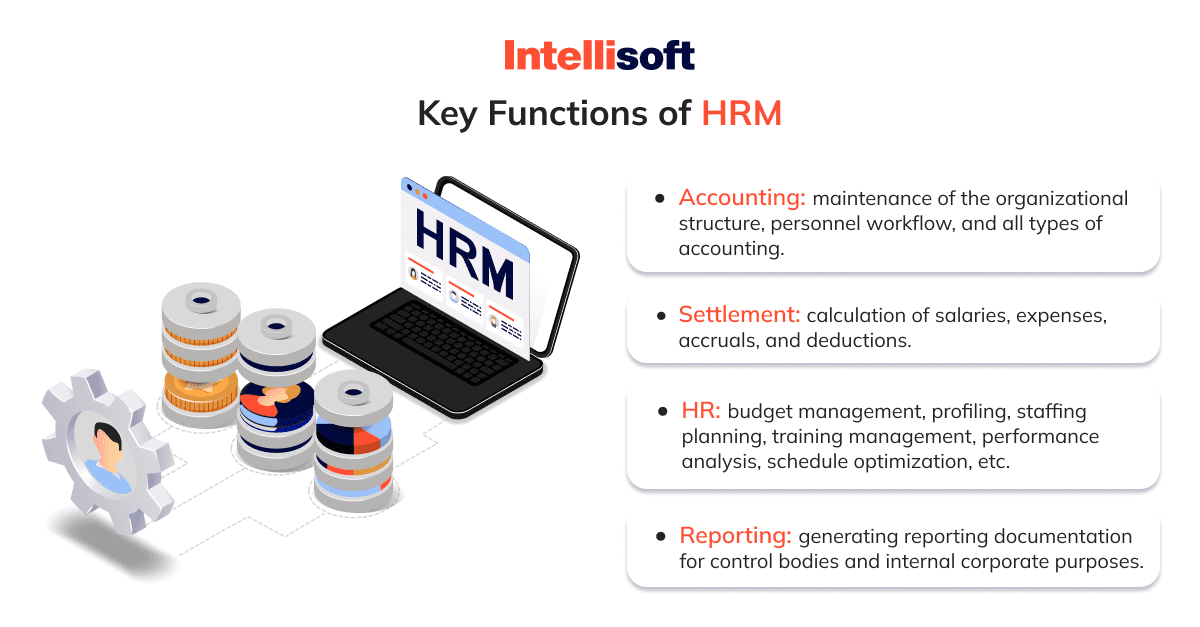 The most popular HR solutions are UKG Pro, Oracle HCM Cloud, and Dayforce. SuccessFactors and ADP Workforce Now also are in the top five in this ranking.
A significant place in management and organizational strategy is occupied by SCM, a system for optimizing logistics.
Supply Chain Management
SCM strategy is based on an integrated approach to managing the flow of data about products, services, materials, and raw materials. This info is generated in enterprises during production and logistics. The goal is to obtain a measurable cumulative economic effect. The SCM system creates optimal conditions for supply chain management and goods movement control.
In 2020, the market was dominated by on-premise SCM solutions. The retail and consumer products segments were central. Logistics disruptions due to the pandemic have boosted demand.
SCM solves the following business tasks:
Improving customer service.
Optimization of warehouse stocks.
Maintaining high performance.
Control of production and supply.
Automation of the search for suppliers and contractors.
Creating a database of suppliers and storage of data.
Drawing up standard contracts and accounting for deliveries.
Note that SCM can be both an independent system and an integral part of ERP. It usually consists of a subsystem for planning, scheduling, simulation of situations (SCP), and a subsystem for tracking and controlling logistics operations (SCE). The functionality suits both manufacturers and retailers.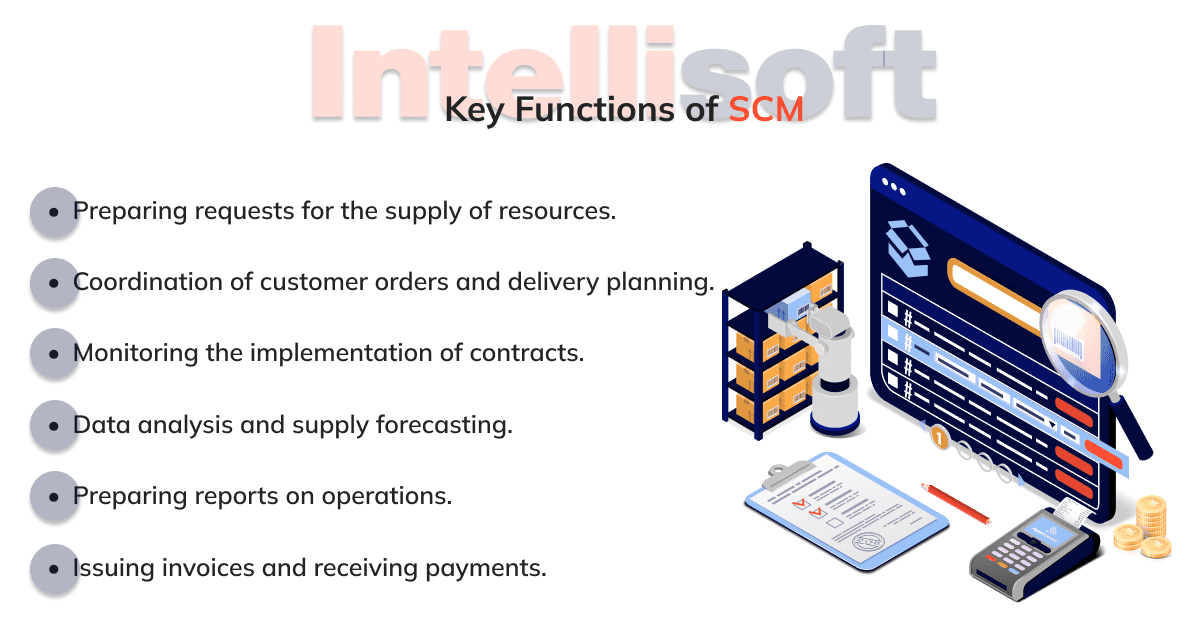 Outstanding representatives in this market are Oracle SCM Cloud, Blue Yonder, and SAP Supply Chain. The first solution is the leader in the Gartner Magic Quadrant.
So, we have considered business systems in different areas: resource planning, customer service, logistics optimization, and analytics. As you have seen from the examples, there is a lot of software ready to use. However, a packaged solution may not satisfy all your business needs, so building enterprise applications from scratch makes sense.
Benefits of Custom Enterprise Software Development
In a highly competitive and dynamic marketplace, uniqueness is critical in business development. It drives companies' demand for customized software products. Unlike template and open source software, any custom software is designed and built for a specific business. The work starts from scratch and is performed step by step in close contact with the customer and users.
Investing in custom apps can be much more profitable than using a SaaS solution, even the most popular one. And we can name five good reasons for this.
Why You Need to Invest In Enterprise App Development
Individual approach. The project involves innovative developments that solve specific problems of the enterprise. The IT team keeps in touch with you at all stages and adapts to new requests. You get a product fully compatible with your business model. You can be sure that you are the sole owner of the product.
High profitability. The initial investment is required, but it pays for itself in the short term. The thing is, you don't need to buy additional equipment, renew licenses, or make monthly payments, as is the case with
SaaS. The product also does not have extra features that you have to pay for, as with boxed software.
Safety. An individual solution is focused on a specific corporate environment, so it provides a higher level of data protection. Cloud computing security risks may arise from imperfect identity management and poor protection standards.
Scalability. A custom-built product has the features that help you meet your goals. In addition, thanks to modern technologies, it is possible to expand and optimize the functionality for market trends. It only takes a few weeks. In the case of the cloud platform, we can only hope for the next update, which may not be soon.
Technical support. If problems arise during operation, you can contact the specialists involved in the development from the very beginning. With a cloud solution, you depend on the provider.
If even one of these benefits sounds like a solution to your SaaS problem, it's time to build an enterprise application. Let's compare these two options by key parameters.
Custom Enterprise Software VS. Packaged Software
| | | |
| --- | --- | --- |
| | Custom Enterprise Applications  | SaaS Solutions |
| Features | Customized functionality to meet your business needs. You can scale and modify as you wish. | Standard features for a wide audience. Extended access to the functionality is possible for an additional fee as part of the premium tariff. |
| Time required for new releases  | Several weeks, involving the development team. | Depends on the provider. You may wait several years. |
| Security | High level. The software is created for a specific company. It reduces the risk of third parties gaining access to your data.  | There are some risks associated with easy third-party access to data, uncertainty about the location of data, as well as upfront and long-term payments. |
| Maintenance | Technical support and maintenance are performed by the IT team that created the product. | The provider is responsible for problem-solving (technical failures, cyberattacks, or downtime during peak hours), support, and maintenance. |
Before hiring an IT team, remember the potential problems and pitfalls that may arise during the project implementation.
Challenges of Enterprise Applications Development
Dynamic business environment. The situation in the niche is constantly changing, and work processes and business requirements are changing too. For specialists in enterprise mobile application development, it may not be easy to timely adapt to changes.
Solution: choosing a modular architecture: changing one component does not affect all the others.
Confidentiality. Although the app will be used locally, do not forget about the security of your important corporate data.
Solution: regular testing of the app for vulnerabilities; backup data; SSL encryption, two-factor authentication, and other best practices.
Difficulties with large data. If you deal with big arrays of information, you increase the cost of the network, processing, and storage. The response speed may be reduced.
Solution: use specialized platforms for data that require storage and enhanced security.
System incompatibility. When a company uses multiple applications, they need to be integrated with each other. It can be problematic due to data inconsistencies and differences in the technical implementation.
Solution: creating the basis for corporate integrations at the development stage; rejection of monolithic architecture; choosing seamless integration tools.
Need for support. The success of commercial activities depends on the stability of the application. That's why it is vital to prevent any technical failures timely.
Solution: Keep in touch with the team of specialists that originally worked on the project.
Deadlines and investments. Yes, custom solutions require investments and are developed over several months. However, it's not a reason to abandon such a profitable approach.
Solution: a preliminary discussion of the terms and objectives of the project implementation; selection of an individual pricing model.
Developers lack industry experience. Sometimes, in an effort to save money, companies deal with developers without relevant experience but offer low prices.
Solution: cooperation with specialists whose experience is confirmed by the portfolio and customer reviews.
Cost of Custom Application Development for Enterprises
As we said above, it is better to entrust the building of an enterprise mobile application to a development company with experience in a niche. For example, outsource. In any case, all financial matters must be discussed at an early stage before the conclusion of the contract in order to avoid misunderstandings in the future. Prices depend on many factors: the scale of the project, the complexity of the functionality, the number of integrations, the duration of the work, the composition of the team.
If you are interested in what affects the price of an IT project, we recommend that you familiarize yourself with our e-book: How Many Developers Your Project Need?
Do you want to know the cost of your project? Leave your contact details and describe the technical requirements to get advice from our experts.
Developing Custom Enterprise Application with IntelliSoft
What is enterprise application development for your business? First of all, it is an opportunity to become independent. You can make decisions on custom software management: scale it, implement new technologies, adapt to market changes, control security, or integrate with other systems. The main thing is to know the main difficulties, realistically assess your needs and opportunities and, of course, cooperate with professionals.
Your task is to find an IT team with a transparent workflow, a proven track record, a broad portfolio, and positive customer reviews. Such as IntelliSoft.
We solve all development tasks: from industry analysis to design, creation, and launch of your product. For 13 years on the market, we have expanded our team to 50+ developers. The duration of our projects is, on average, 5 years.
The best proof of our experience are customer testimonials: