Ready to step into the future of healthcare without tripping over outdated tech or confusing medical jargon? You've come to the right place. At IntelliSoft, we're more than just a software development team. You can consider us your strategic partners in healthcare innovation. With over 15 years in the industry, we've fine-tuned our expertise in providing full-cycle IT services, from conceptualizing Minimum Viable Products to seamless healthcare integration.
We've designed digital playgrounds for Danish ICUs and customized software for 9 Swedish regions, so trust us when we say we know a thing or two about building robust, secure, and, dare we say it, revolutionary healthcare solutions. Why should you care? If you want to write a new chapter in your healthcare facility life, you're just a click away from leveling up patient care, streamlining communication, and making your data as secure as Fort Knox. Remember, that your future healthcare app doesn't just need to be functional, it needs to be great.
Why Hospitals Need Apps
The digital transformation wave has engulfed virtually all industries, and healthcare is no exception. While we could wax poetic about the pros and cons, let's get to the brass tacks: Hospitals need apps. Whether it's for increased efficiency, enhanced patient experience, or cost-effectiveness, the right app can be a game-changer.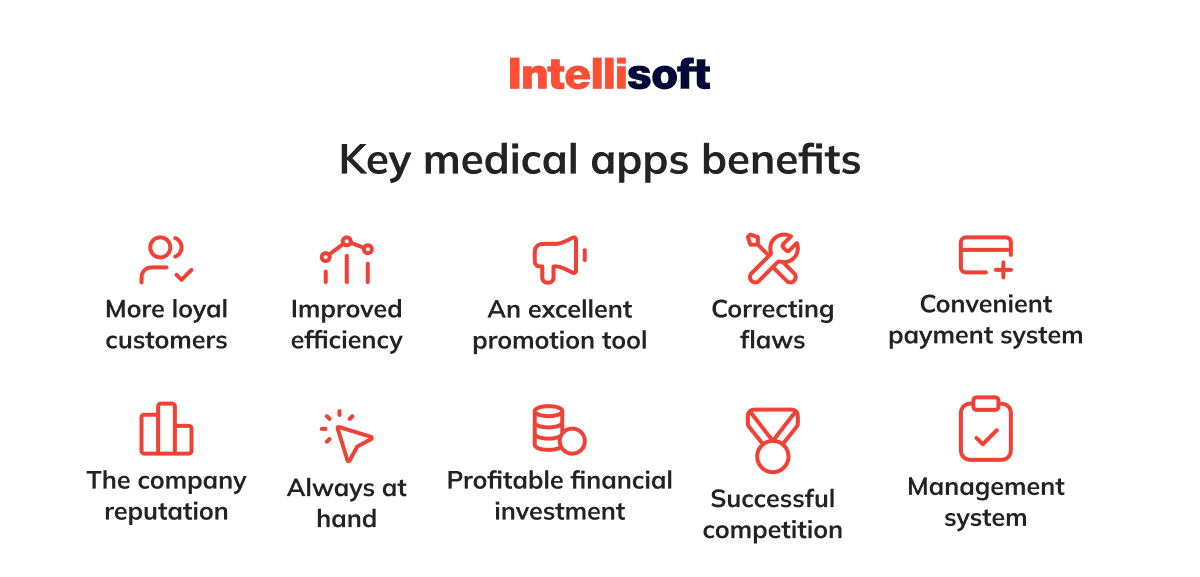 Increased Efficiency
Let's talk numbers. The average hospital deals with hundreds of patients daily, not to mention staff, inventory, and administrative tasks. Think of a hospital app as your own personal Jarvis, a sophisticated digital assistant that manages tasks so you can focus on what really matters. From streamlining appointment bookings to optimizing internal communications, with the right app, hospitals can make operational hiccups a thing of the past.
For instance, imagine a real-time inventory system integrated into the app that alerts you when medical supplies are running low. Or consider the use of a digital patient tracking system to maximize the utilization of available beds and resources. Increased efficiency isn't merely a buzzword – it's a tangible benefit that manifests in various aspects of hospital management.
Enhanced Patient Experience
To most patients, hospitals can be intimidating labyrinths where getting lost is easier than finding the right department. Now, what if you could turn that maze into a guided tour? A well-designed hospital app can feature wayfinding capabilities such as digital maps, department directories, and even real-time guidance. Imagine the app as a 24/7 concierge in the pocket of each patient, providing personalized information from pre-admission to post-treatment care.
Apps can enable telemedicine consultations, allowing patients to consult doctors without needing to visit the hospital. Add a layer of personalized health recommendations and medication reminders, and you've turned an otherwise daunting experience into a streamlined journey.
Cost-Effectiveness
So you're thinking, "All these bells and whistles must cost a fortune, right?" Wrong. The initial investment in developing a robust hospital app can actually lead to significant cost savings in the long run. Let's dive into a simple example: manual paperwork. Filling out forms, managing them, and then storing them not only takes time but also occupies physical space (which, by the way, is also costly). A digital onboarding system on your app can eliminate these costs, speeding up patient intake and reducing errors in the process.
Another angle to consider is the improved resource allocation that comes from better efficiency. When the right hand knows what the left hand is doing (thanks to your fantastic app), less time and resources are wasted, leading to a leaner and more profitable operation.
So, these are just three main compelling reasons why your organization should seriously consider diving into the hospital mobile app development game. Whether you're a healthcare startup pondering over the initial MVP or a full-fledged medical facility thinking of upgrading your services, the benefits of a well-executed hospital app are too significant to ignore.
Types of Hospital Apps
It's easy to get lost in the world of hospital apps. It may seem like trying to find your way around a mega-mall without a directory. It's not just about choosing an app – it's about pinpointing the one that best fits your needs and the needs of your staff and patients. Lucky for you, we're here to help you navigate this landscape and categorize it into three major types: Patient-Focused App, Hospital Staff Management App, and Hybrid App.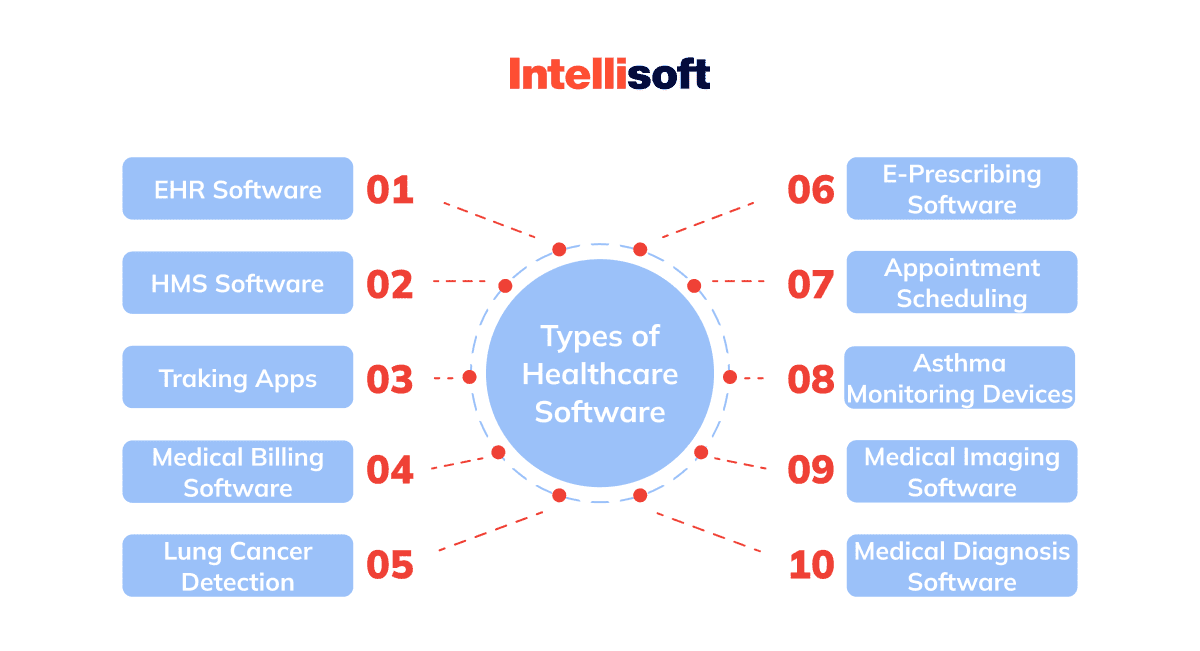 Patient-Focused Apps
Picture an app that is so in tune with a patient's needs it practically completes their sentences. That's the nirvana of patient-focused apps. These are the apps where patients can book appointments, view their medical history, and even make secure payments, all without waiting in any literal or metaphorical lines. But let's pull back the curtain a bit.
The true magic often lies in the "extras" that may seem like cherries on top but are, in fact, integral to a complete patient-care system. For instance, a feature that allows patients to access personalized treatment plans, educational videos, and post-treatment care instructions takes patient-focused apps from mere appointment schedulers to holistic care platforms. Interactive features such as chat support, symptom checkers, or even gamified medication reminders can transform a patient's engagement with their own healthcare journey.
The bottom line? Patient-focused apps aim to put the 'care' back into healthcare by making processes more patient-friendly and less bureaucratically tedious.
Staff Management Apps
Switching gears, let's discuss the unsung heroes of the hospital ecosystem, the staff. From doctors and nurses to administrative personnel, the right staff management app should offer a ton of functionality. With the touch of a finger, or click of a mouse, staff can access shift schedules, communicate across departments, and even handle urgent medical alerts. In an environment where timing is crucial, these features can quite literally be life-saving.
But why stop there? Advanced staff management apps can even integrate AI-based predictive algorithms that forecast patient inflow, helping to optimize staff scheduling. Similarly, these apps can also handle training modules, performance tracking, and even payroll management. Imagine a hub that not only eases your immediate operational pressures but also assists in long-term staff development and resource planning.
All of this happens in a secure environment, compliant with regulatory standards, ensuring that sensitive information is always protected. That's the goal of staff management apps, to serve as the backbone that supports the healthcare delivery process.
Hybrid Apps
By now, you're likely asking, "Why can't we have the best of both worlds?" Good news, you absolutely can. Introducing hybrid apps, a harmonious blend of patient-focused and staff management functionalities. These apps are the jack-of-all-trades in the hospital app ecosystem, providing a unified platform that caters to both patients and healthcare providers.
For example, a hybrid app might feature a user-friendly interface where patients can easily access their medical records while also providing backend functionalities where staff can update those records in real time. Need to transfer a patient from one department to another? The app can notify the necessary staff members and prepare the new department for the patient's arrival. From inventory management synced with patient treatments to dynamic roster changes based on real-time needs, the possibilities are virtually endless.
So, why go hybrid? Because it offers a streamlined, integrated approach that mitigates the challenges often found in using multiple specialized apps. It can be the difference between juggling five balls at once and having a well-calibrated, self-sustaining machine that does the juggling for you.
The types of hospital apps you might consider hinge on your specific needs, the size of your facility, and your long-term vision. Whether it's providing impeccable patient care, ensuring the smooth functioning of your staff, or marrying the two into a seamless whole, there's an app (or two) out there for you. As healthcare continues to evolve in our digital age, consider these apps, not just as add-ons but as vital tools in delivering the most efficient, effective care possible.
Key Features of a Hospital App
So, the pivotal moment has arrived. You've decided you want a hospital app, but what should it do? If a hospital app were a Swiss army knife, what tools would you absolutely need? Let's dive deeper into the features that give a hospital app its gravitas, its wow factor, and its main reason for existence.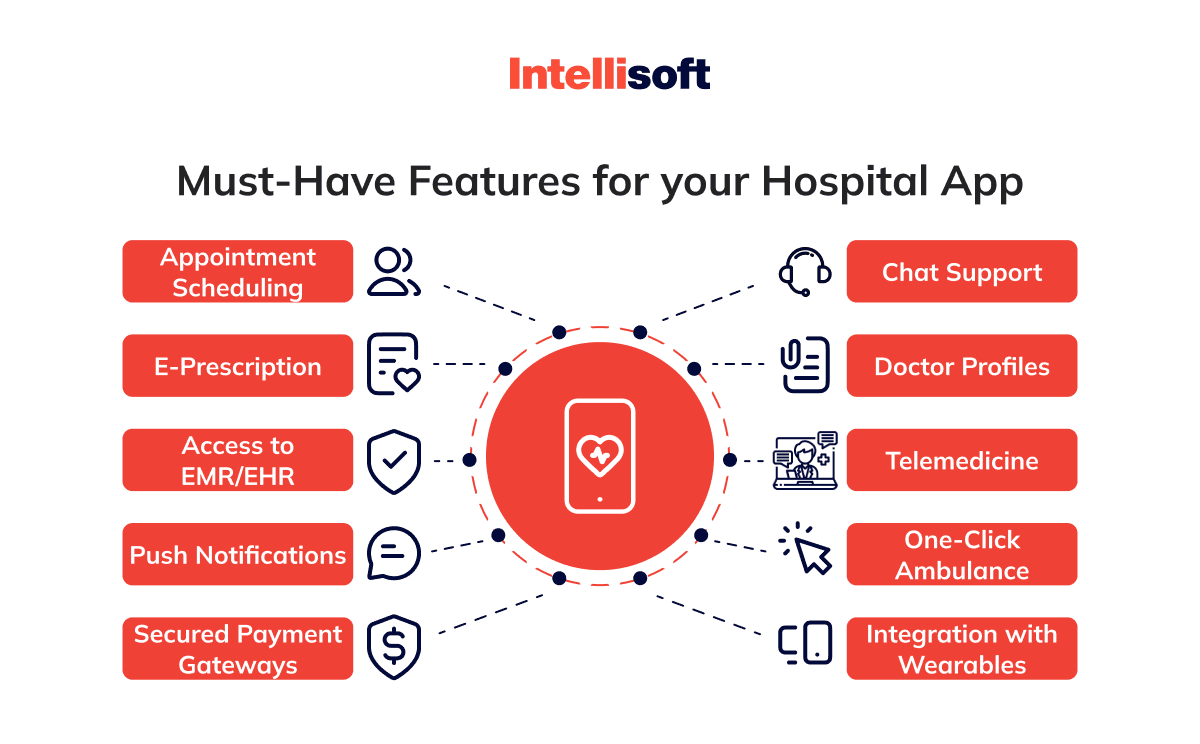 Appointment Scheduling
Let's start with the bread and butter of most hospital apps: appointment scheduling. We're not talking about a glorified calendar where patients can mark down when they hope to be seen by a doctor. No, this is Appointment Scheduling 2.0. Think of it as your own personal administrative assistant, discreetly tucked into your pocket. Patients can conveniently book, reschedule, or cancel appointments based on real-time hospital availability.
But the really savvy hospital apps take this a step further. They integrate their appointment scheduling with patient medical records, alerting physicians about upcoming appointments and any special needs or medical conditions the patient may have. Is the patient diabetic? The app should flag this information so the doctor can prepare accordingly. Need to fast before a specific type of appointment? The app can send reminders to the patient. So, when choosing an app, make sure it treats appointment scheduling not as a simple task, but as an integral part of a patient's care journey.
Virtual Consultations
Remember the days of sitting in a waiting room, flipping through outdated magazines while a TV in the corner plays a never-ending loop of daytime talk shows? Thankfully, those days are getting numbered. With the rise of telehealth, virtual consultations have become the equivalent of having a doctor make house calls, but without the hassle of cleaning your living room.
Now, implementing this feature is not just about enabling a video chat. Effective virtual consultations require a secure environment that ensures the privacy and confidentiality of the patient's information and is compliant with regulations such as HIPAA. Furthermore, the feature should be designed to allow doctors to easily pull up relevant patient data mid-consultation, such as test results or medication history, without having to exit the virtual consultation window. The smoother the process, the more time can be spent on actual healthcare provision rather than technical fiddling.
Consider also the user interface. A clunky, unintuitive design can be a roadblock for both healthcare providers and patients, ultimately defeating the purpose of the feature. Make sure your virtual consultation interface is user-friendly, accessible, and straightforward enough that even technophobes can navigate it with ease.
Prescription Management
Imagine a world where prescriptions are not hastily scribbled notes that you can barely read. Imagine a world where you don't have to keep track of a myriad of paper slips. Welcome to the future of prescription management via your hospital app. It's like your pharmacy is in the palm of your hand, minus the white-coated pharmacists and aisles of over-the-counter meds.
A hospital app should allow electronic prescriptions to be sent directly to the patient's chosen pharmacy, improving convenience and speed. This feature could also be a lifesaver in terms of catching potentially dangerous drug interactions. If all prescriptions are managed within the same system, the app can alert physicians or pharmacists to any contraindications.
And it shouldn't stop there. The feature can be expanded to include refill reminders, dosage guidelines, and even direct links for purchasing necessary medication online. By doing so, it becomes not just a transactional feature but a holistic management tool that contributes to better health outcomes.
When it comes to hospital apps, the devil is truly in the details. While it's tempting to cram your app with every conceivable feature, the most successful apps are those that execute key functionalities extremely well. Appointment scheduling, virtual consultations, and prescription management are crucial services that every hospital app should not just offer but excel at. They serve as the cornerstones upon which additional, more specialized features can be built, creating an app that is not just useful but indispensable.
Related readings:
Choosing the Right Technology Stack
Alright, you've envisioned the grand skyscraper of your hospital app, complete with lavish features and plush functionalities. But what's going to hold this digital marvel up? That's right, the technology stack. It can be compared to the concrete and steel that give your skyscraper its strength and durability. Skimp on this, and you might find your shiny app crumbling like a sandcastle at high tide. Let's dig into the must-haves for your app's technological backbone.
Backend Technologies
You don't get second chances in healthcare, so the backend has to be robust and utterly reliable. It's what will allow your app to store massive amounts of data, execute complex calculations, and essentially perform the heavy lifting that keeps everything running smoothly.
Now, when it comes to backend technologies, you have a wealth of options. Common choices include Node.js, Django, and Ruby on Rails, among others. Your choice should be guided by several factors:
Scalability. Opt for a technology that can easily adapt to an increasing number of users or more complex functionalities.
Security. In healthcare, data breaches can be both costly and deadly. Choose a backend technology known for robust security features.
Community and Support. A strong developer community can be a lifesaver. More community support means more libraries, plugins, and troubleshooting help.
Speed. The faster your backend can process requests, the better the user experience. Speed is not just a luxury; it's a necessity.
Your database choice also comes into play here. SQL databases like MySQL or PostgreSQL are often used for complex query-intensive processes, while NoSQL databases like MongoDB are more suitable for hierarchical data storage.
Frontend Technologies
The front end is where your app makes its first impression. It's the slick salesman at the door, the dazzling display window, the icing on the cake. And just like you wouldn't wear a tracksuit to a job interview, your front end needs to look professional, intuitive, and attractive. It's the part of the app that your users will interact with, so it better be good.
Technologies often considered for front-end development are HTML, CSS, and JavaScript. But it doesn't end there. JavaScript has several libraries and frameworks, such as Angular, React, or Vue.js, that can make your app not just functional but pleasingly interactive. Factors to consider when choosing frontend technologies include:
User Experience. The front end should offer a smooth, intuitive user experience. Nobody wants to click around aimlessly.
Performance. Slow load times can be a death sentence for apps. Opt for technologies known for speed and reliability.
Cross-platform Compatibility. Make sure the frontend tech you choose works seamlessly across different devices and browsers.
Maintainability. Selecting a technology stack that is simple to maintain and update is recommended. Healthcare regulations and best practices change, and your app should be able to adapt easily.
The right technology stack is not about what's trendy or what your competitor is using. It's a meticulously considered blend that complements your app's needs and magnifies its capabilities. Done right, it becomes the invisible force that propels your hospital app from being just another app to becoming an indispensable healthcare tool.
Security Considerations
So, you've got the blueprints for your hospital app, and you're ready to build. But wait a minute! Before you lay the first digital brick, have you considered the security measures? We're talking about healthcare here, a sector riddled with sensitive data. This isn't the place for a "good enough" attitude. No, you need Fort Knox-level security. Let's discuss the nitty-gritty aspects of making your hospital app an impregnable fortress.
Data Encryption
First things first, your app is going to be handling a ton of confidential information. We're talking medical records, patient histories, and perhaps even real-time health metrics. Imagine if all of that was as exposed as a goldfish in a glass bowl! Unthinkable, right? This is where data encryption comes in, effectively acting as a set of blackout blinds to keep prying eyes at bay.
In essence, encryption transforms readable data into a complex code of characters that can only be deciphered with the correct key. It means your data wears a disguise every time it leaves the house, becoming unrecognizable to anyone who might want to get a little too acquainted with it.
Data stored in your databases should be encrypted, and this is non-negotiable. As your data travels from server to user or between various microservices, it should continue to wear its cryptographic cloak. Sometimes, only specific fields in a database need encryption, say, social security numbers or medical conditions.
AES (Advanced Encryption Standard) is widely considered to be the most secure and efficient encryption standard, but other options like Twofish and RSA are also available. The point is, don't skimp on this.
Authentication and Authorization
Okay, so you've successfully turned your data into James Bond; cool under pressure and unreadable without the proper clearance. But who are you going to give the clearance to? This is where authentication and authorization come into play.
Authentication
This is the process of verifying the user's identity. Is this person who they claim to be? Typically, this involves a username and a strong, unique password. However, given the sensitivity of healthcare data, two-factor or multi-factor authentication (like a code sent to a mobile device or biometric verification) adds an extra layer of security.
Authorization
After confirming that users are who they say they are, what are they allowed to do within the app? Not everyone should have access to all data. For instance, a nurse may need access to patient records but not financial data. Roles should be clearly defined and access limited accordingly.
When it comes to healthcare apps, security is not a feature – it's a necessity. Like seat belts in a car or helmets in a construction site, it's the measure that could prevent disasters and protect valuable assets, both digital and human.
Regulatory Compliance
Whether you consider it the necessary evil or the overlooked protector of healthcare, regulatory compliance is a must. You can create the most sophisticated, user-friendly, and secure app, but if it doesn't meet regulatory standards, it's about as useful as a waterproof teabag. So, let's look at the specifics.

HIPAA and Other Health Regulations
Let's start with the granddaddy of healthcare regulations: HIPAA (Health Insurance Portability and Accountability Act). If your app deals with the personal health information of U.S. citizens, then compliance with HIPAA is more mandatory than laughter at your boss's jokes. Jokes aside, HIPAA aims to protect sensitive patient data, and violating its regulations can result in penalties stiffer than a board meeting on Monday mornings.
What Does HIPAA Cover?
Privacy Rule. This rule sets the standards for who is allowed to access health data. Think of it as the VIP list for your app's exclusive data club.
Security Rule. Here, we delve into the specifics of how electronic health data should be protected, from encrypted data transfers to secure backups.
Breach Notification Rule. Accidents happen. If a data breach does occur, this rule outlines the steps you must follow to notify the affected parties and authorities.
While HIPAA is the stalwart for U.S. healthcare, other countries have their own sets of regulations:
GDPR (General Data Protection Regulation): For European users, your app will need to comply with GDPR. This regulation is like HIPAA's European cousin but is broader, affecting any data collection, health-related or not.
PIPEDA (Personal Information Protection and Electronic Documents Act): If your app is being used in Canada, PIPEDA is the guideline to follow.
Australia's Privacy Act, India's Digital Information Security in Healthcare Act (DISHA), and so on: Nearly every jurisdiction will have its healthcare data laws, and your app will need to comply with each when offering services in those areas.
When you're venturing into the healthcare sector, regulatory compliance is your roadmap. It may be complex and a tad convoluted, but it's the path that leads to a place where both your business and your patients are protected. So, take a deep breath, partner with legal experts if you need to, and start hacking away at the regulatory jungle before you.
Development Process
You wouldn't build a house without a blueprint, and you shouldn't build a hospital app without a well-thought-out development plan. Even in a world where improvisation is celebrated, some things need a roadmap. So, how do you go from a spark of an idea to a fully functioning hospital app that saves time, improves healthcare, and becomes the talk of the medical community? You follow these six easy steps. That's how.
Step 1. Hiring a Development Team
The first, and perhaps the most crucial step, is assembling your Avengers, um, I mean, your development team. Now, you could try to manage freelancers or set up an in-house team, but partnering with a specialized healthcare software development company like IntelliSoft healthcare development company has its own set of perks:
Expertise. We've been in the game since 2007 and have focused on healthcare solutions. We know the industry inside-out.
Full-Cycle Development. From the concept stage to deployment, we offer comprehensive services.
Technological Stack. We offer experienced developers in a range of technologies, eliminating the need for you to search far and wide for the right skills.
Compliance. We are adept at meeting industry-specific regulations such as HIPAA, MDR, and MDD.
Step 2. Planning
Rome wasn't built in a day, and neither is a hospital app. Planning is where you decide what your app will do, who it serves, and how it does it. This is your storyboard phase. You need to determine the app's functionality, workflows, and data models. Set your objectives, project scope, and deadlines.
Step 3. Design
The design is more than just how your app looks, it's about how it feels to users. This is where UX/UI designers earn their keep. The goal here is to create an interface that is not only aesthetically pleasing but also intuitive and user-friendly. The design phase usually involves creating wireframes, mockups, and prototypes.
Step 4. Development
This is the action-packed part of your movie, the car chases and explosions, if you will. It's where your app goes from being a collection of designs and plans to something that actually works. Development usually happens in sprints, with each sprint focusing on building specific features. And because you've hired a stellar development team (wink, wink), you can rest easy knowing your vision is being translated into code.
Step 5. Testing
If you compare development with making an Avengers movie, then testing is the work of the editing room. This is where you cut out the bloopers and polish the final product. The goal is to identify bugs, inconsistencies, and areas for improvement. There are a variety of tests that are carried out to ensure the quality of the software. These include unit tests, integration tests, and user acceptance tests, among others.
Step 6. Deployment
Cue the drumroll because it's time for your app to make its grand entrance. Deployment is the process of launching your app into the target environment, be it an app store or a private server. But remember, deployment isn't the end – it's more like the season finale. There will be updates, maintenance, and version updates.
There you have it, the route from conception to completion. It may look like a long road, but with the right team and a solid plan, you're well on your way to making healthcare a little more 21st-century.
How Much Does a Hospital App Cost?
Now it's time to address the elephant in the room: cost. Knowing how much your project will cost is essential for securing funding, gaining stakeholder approval, and ensuring your project stays on course. So, let's pull back the curtain on this mystery and tackle the factors affecting cost and some budgeting tips to keep your ship sailing smoothly.
Factors Affecting Cost
Scope of the Project
The more features and functionalities you want, the higher the cost. This isn't a buffet – you can't have it all without paying for it.
Development Team
Are you hiring freelancers, an in-house team, or an outsourced team like IntelliSoft? Rates differ significantly between these options.
User Experience (UX) and User Interface (UI) Design
High-quality design demands skilled professionals, and their expertise comes at a price.
Backend Development
Complex server-side logic will require more time and, thus, more money. The bigger and more intricate the system, the more expensive it gets.
Testing
This phase is often underestimated. Quality assurance is crucial in healthcare, and it isn't free. Note that maintenance and updates also require a budget.
Budgeting Tips
Start with an MVP
Consider developing a Minimum Viable Product first. Test the waters before diving in.
Phased Development
Break the project into smaller phases. This can make budgeting more manageable and allow for adjustments as needed.
Transparency with Stakeholders
Keep the decision-makers in the loop at all stages of cost estimation and project progress.
Contingency Funds
Always have a safety net. Financial cushioning of around 15-20% is advisable for those "just in case" moments.
Monitor and Adjust
Regularly check that you're staying within budget and adjust as needed.
Getting a handle on costs takes preparation, practice, and a bit of improvisation. While the financial aspect of app development might not be the most exciting, it's essential for the show to go on.
Common Pitfalls and How IntelliSoft Manages to Avoid Them
So, you're ready to dive into the development of your hospital app? The journey will surely be exciting, but beware, there are potholes on the road to success. Let's talk about common pitfalls in hospital application development and how IntelliSoft navigates around them.
Poor UX/UI Design
Imagine walking into a state-of-the-art hospital only to find that the signage is confusing, the layout is a labyrinth, and the equipment looks like it's from the 90s. That's what a poor User Experience (UX) and User Interface (UI) feel like in the digital world. Bad design can cause users to abandon your app. Here's how IntelliSoft avoids this pitfall:
User Research
We start by understanding your audience; what they need, what they expect, and how they behave.
Prototyping
Before going all-in, we create prototypes and wireframes to get a tangible feel of the user journey.
A/B Testing
We test different versions of UX/UI elements to see which resonates most with users.
Feedback Loop
Iteration is crucial. Based on real-world use and feedback, we fine-tune the design.
Data Breaches
In a sector where patient confidentiality is sacred, falling foul of data security could result in severe penalties and a loss of trust that takes years to rebuild. How does IntelliSoft handle this grave concern?
Strong Encryption
Think of this as the Fort Knox of data protection. We utilize military-grade encryption algorithms to keep data secure.
Authentication Protocols
Two-factor or multi-factor authentication systems act like that secret handshake you had with your friends in grade school, only those in the know can pass.
Regular Audits
To catch potential vulnerabilities, we conduct regular security audits. It's like going for regular health check-ups but for your app.
Data Masking and Anonymization
Rest assured that we take great care to protect your personal information. In test environments, we make sure that any personally identifiable information (PII) is either completely removed or altered in a way that prevents identification. Your privacy is our top priority.
Ignoring Feedback
Ignoring user feedback in app development is equal to ignoring the warning lights on your car's dashboard. Eventually, something's going to break, and you'll be stranded on the side of the road. Feedback, both from end-users and stakeholders, is a treasure trove of insights that can make or break your app. Here's how IntelliSoft gives feedback the respect it deserves:
Early Involvement
We involve key stakeholders and potential users in the early stages of development. This ensures we're on the right track from the get-go.
Usability Testing
What better way to know if something works than by testing it? We use real-world scenarios to understand the app's usability and uncover areas that need improvement.
Feedback Channels
We establish clear lines of communication for users to easily provide their thoughts, complaints, or accolades. Yes, praise is feedback, too!
Regular Updates
An app is not a "set it and forget it" crockpot recipe. It's more like a garden that needs tending. Based on feedback, we continuously update the app to make it better.
To navigate the minefield that is hospital app development, you'll need a trusted co-pilot. With more than a decade of experience, IntelliSoft not only knows the pitfalls but has proven strategies to avoid them. So, buckle up and get ready for a smoother ride on the road to a successful hospital app.
The Future of Hospital Apps
As we approach the crossroads of technology and healthcare, the GPS is clear: the route ahead is paved with IoT and AI. If you think hospital apps are transformative now, just wait until you see what's on the horizon. Let's take a look at how IoT and Artificial Intelligence are about to transform the healthcare experience.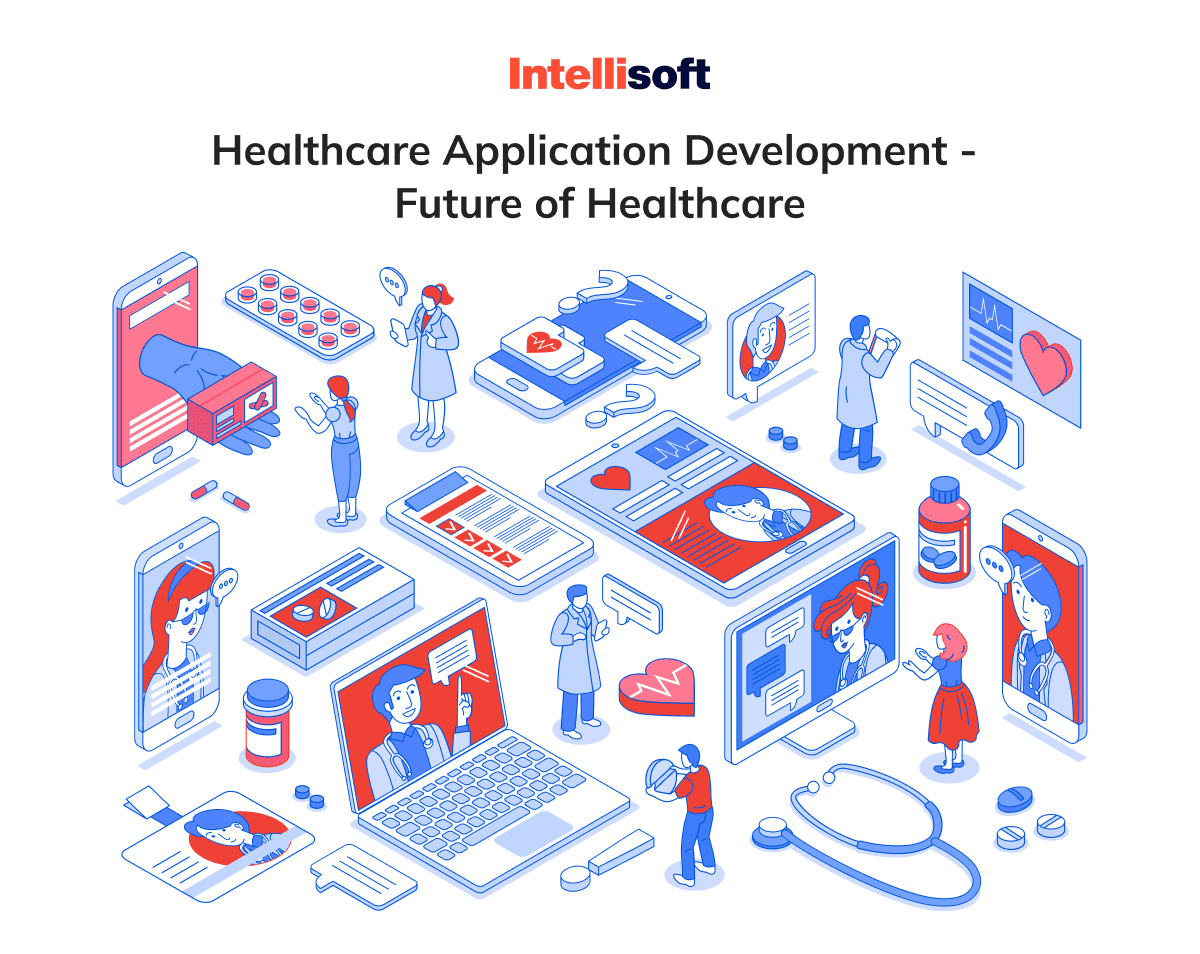 IoT Integration
IoT, or the Internet of Things, is essentially about making your "things" smarter. Imagine a hospital where your bed adjusts itself for optimal comfort, smart pill bottles alert the nursing station when you've missed a dose, and IoT-connected wheelchairs are always where they need to be. We're talking about the VIP treatment for everyone! So, what makes IoT so exciting in the context of hospital apps?
Remote Monitoring
Devices like smart thermometers and blood pressure cuffs can send data directly to hospital apps, enabling remote monitoring of patient conditions.
Asset Tracking
Ever wonder where all the medical equipment is? IoT-enabled asset tracking through the hospital app can monitor and report the location of crucial equipment in real time.
Automated Alerts
Through the app, the hospital staff receives immediate alerts for everything from low medical supplies to a patient's deteriorating condition. It's good to have a vigilant watchdog that never sleeps.
Patient Comfort
Features such as controlling room temperature or lighting through the hospital app can give patients a more personalized experience.
Artificial Intelligence
If IoT is the muscle, then AI is the brain of the operation. Artificial Intelligence can sift through vast data lakes to draw valuable insights. AI in hospital apps? Now, that's a game-changer.
Predictive Analytics
With machine learning algorithms, hospital apps can predict patient needs or potential outbreaks, allowing for better planning and resource allocation. It's like your weather app, but instead of telling you to carry an umbrella, it might tell a doctor to prepare for an influx of flu cases.
Natural Language Processing (NLP)
Forget tapping through endless menus. In future updates, you'll be able to voice-command your hospital app to schedule an appointment or locate the nearest ER. "Hey App, book me a physical for next week," could actually get you a slot with your GP.
Personalized Treatment
AI can analyze patient data to recommend more personalized treatment plans, making the "one-size-fits-all" approach a thing of the past.
Virtual Health Assistants
These AI-based features can answer patient queries 24/7, schedule appointments, and provide medication reminders.
The next wave of innovation in hospital apps is set to revolutionize healthcare as we know it. With IoT and AI at the helm, the future looks like a blend of Star Trek tech and personalized care. We're not just stepping into the future, we're leaping into a new realm of possibilities.
Conclusion
Today, we've talked a lot about efficiency, cutting-edge features, security, and compliance. What's clear is that hospital apps aren't just a "nice-to-have", they're quickly becoming as essential as stethoscopes and scrubs in the healthcare landscape. With the integration of IoT and AI on the horizon, we're not just looking at incremental changes, but a seismic shift in how healthcare services are delivered and experienced.
The future of hospital apps is bright, complex, and tantalizingly close. Yet navigating this future demands a precise blend of expertise, technology, and, above all, vision. And that's where choosing the right hospital app development partner can make all the difference.
IntelliSoft: Hospital Mobile App Development Company
We know a thing or two about building successful healthcare solutions. With IntelliSoft, you're not just getting a development team, you're partnering with dedicated professionals who've helped medical facilities and startups transform their visions into tangible, life-changing applications.
Our portfolio speaks volumes, with solutions that range from appointment scheduling to AI-driven predictive analytics. We handle the entire development cycle, from ideation to deployment, while ensuring all the 'must-haves' like HIPAA compliance and top-notch security are woven seamlessly into the fabric of your app.
So, if you're looking for a reliable, experienced partner to guide you through the labyrinth of healthcare software development, IntelliSoft is more than ready for the challenge. After all, the future waits for no one, but with the right app, it could be waiting for you.
Ready to take that leap? Let's turn that future into your present. Reach out to us, and let's get started.
FAQ