Healthcare is one of the most critical industries that directly affects the quality of life. Thanks to technological innovations, healthcare professionals can apply those modern techs to almost all spheres of patient care – from video appointment apps and treatment suggestions algorithms to remote monitoring of patient conditions.
The IntelliSoft team has been in the healthcare market since 2007. We developed the MVP of CIS (Clinical Information System) and turned it into a fully-fledged product. The platform collected, stored, and disseminated data from bedside medical devices and shared data across ICU (Intensive Care Units), NICU (newborn intensive care unit), and Recovery Departments. The system ensures seamless health information exchange (HIE) between patients and medical specialists. To learn more about our previous experience, read the Daintel case study.
From this article, you'll learn about the most critical trends in the healthcare industry for 2023, which you can use as inspiration for upgrading your current med tech software or creating a new project.
Trends & Forecasts of the Healthcare Tech Market
During 2021-2027, the IT healthcare market will grow at an average annual rate of 15%. One of the catalysts is the government's initiative to develop digital healthcare, including introducing electronic health records. In 2020, the EHR segment accounted for 20.7% of the market share. For example, a new information system (NSIS) was developed in Italy, and it was a step towards the spread of EHR throughout the country.
It is noteworthy that hospitals were the first to introduce advanced technologies. This decision was motivated by the need to perform large-scale operations and manage vast data daily. However, eliminating routine and increasing cost-effectiveness is only part of the benefits. The main incentive for hospitals is and will be quality service without any medical errors.
According to Forbes, in 2022, participants in the healthcare system will strive to meet the needs of doctors, nurses, and patients better.
Accelerated growth is expected in three directions:
Consumer orientation: developing primary healthcare and virtual medicine, creating new service delivery models.
Automation caused by a shortage of medical personnel (for example, 16% of hospitals experienced it in the United States as of October 1, 2021): eliminating routine in both administrative work and patient care and monitoring after leaving the hospital or visiting a doctor.
Consolidation: Strategically merging hospitals into large systems to mobilize resources, invest in digitalization and automation, and stay competitive in the future.
These future healthcare trends should provide people with easy access to medical services (including remote), reduce administrative routine, and wisely distribute the workload of clinical staff. Let's take a closer look at what technologies will keep developing the industry in the coming year.
Related readings: 
9 Emerging Trends in Healthcare Information Technology (IT)
Telemedicine
COVID-19 highlighted the importance of remote service. Doctors need to communicate with patients who are isolated, restricted in movement due to quarantine measures, or cannot come for health reasons. However, telemedicine helps them stay connected 24/7. About 60% of doctors admit that this approach increases the efficiency of serving patients both from cities and from suburban and rural areas. It is a chance to save time and not visit clinics for 42% of patients.
According to Fortune Business Insight, the telemedicine market was about $62 billion back in 2019, and it will grow to $560 billion by 2027. The figure increases since people want to stay at home due to the fear of spreading the virus. Also, there is an acute need for social distancing and the lack of qualified assistance in distant areas. PHC providers will keep using telehealth as an alternative to traditional visits. In addition, advances in AI, ML, and IoT will increase the demand for telemedicine tools for disease diagnosis and other fields.
IoMT
It is another trend driven by the pandemic. It combines IoT with MedTech tools to work with data (collection, storage, and management). For example, real-time tracking of patients' biometric data is based on this technology. It helps doctors monitor health indicators remotely (blood pressure, pulse, temperature), check disease progress, and respond to emergencies.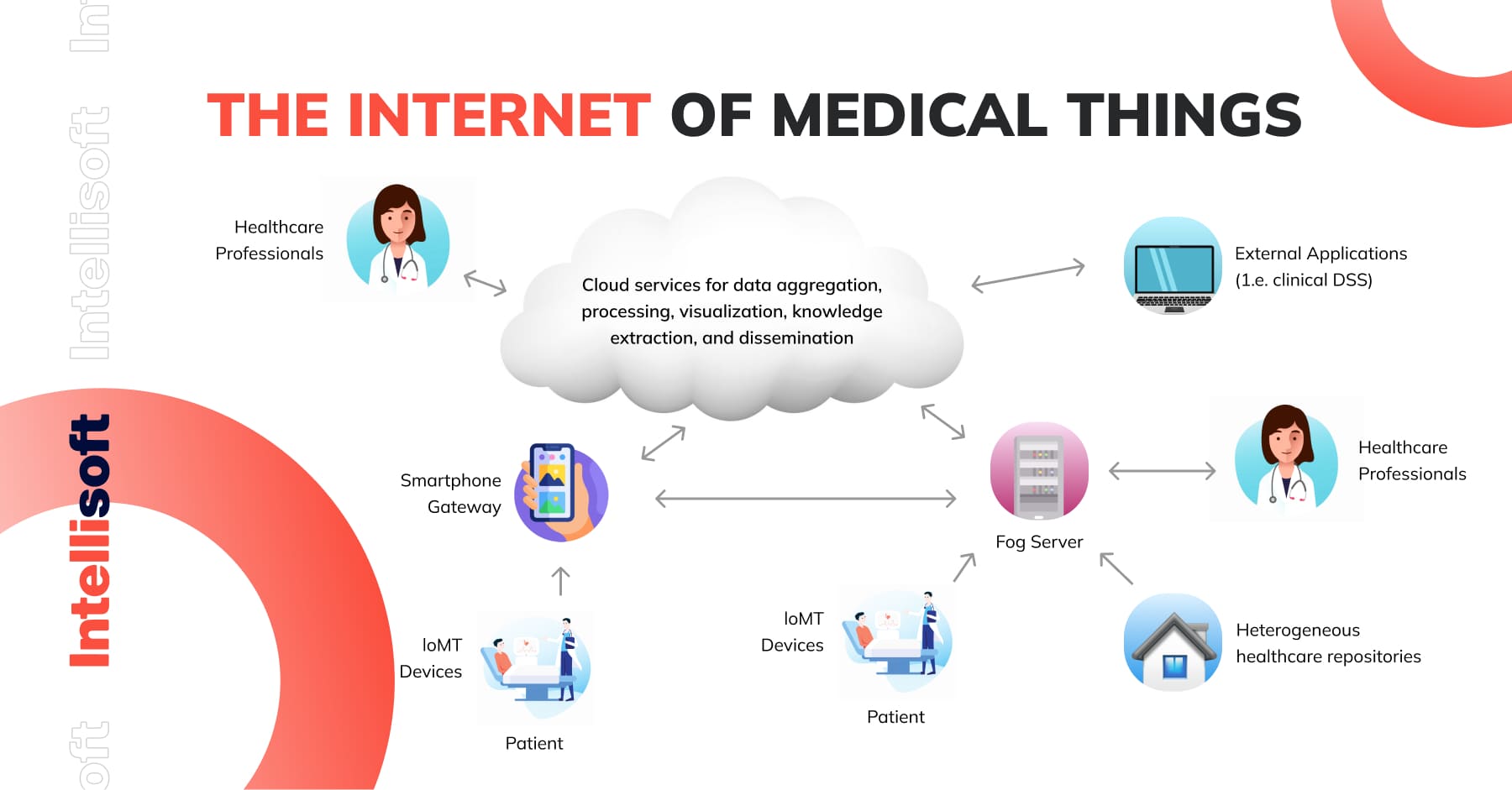 In 2018, experts estimated the IoMT market at $45 billion, and it is expected to increase by more than 500% by 2026. One of the growth factors will be introducing AI, which automates tasks of medical staff and optimizes record analysis to make correct decisions. For instance, AI-based smart tablets have microsensors and send information to connected devices.
The spread of IoMT in the coming years will be associated with growing public concern about the health and changes in the lifestyle of consumers.
Cybersecurity
This technology occupies a central place in the list of future trends in healthcare. Cybersecurity aims at preventing unauthorized access to electronic data and assets. First and foremost, the information systems used by hospitals and clinic networks must be protected. It includes Electronic Health Records (EHR), Clinical Decision Support Systems (CDSS), Radiology Information Systems (RIS), Electronic Prescription (eP), and IoMT devices. Also, email requires protection since it is the main communication channel in many hospitals.
Eugene, back-end/front-end developer @IntelliSoft:
One of the main challenges we've ever faced were changes of law and security standards in medicine. I am talking about the transfer from the Medical Devices Directive to the Medical Device Regulation

MDD was initially MDR. Now, there are much more restrictions. External auditors check working processes as they transit from one regulation to another.

Our team assists clients with meeting The European Medical Device Regulation (MDR), which is a new set of regulations governing the production and distribution of medical devices in Europe. Compliance with the rules is mandatory for medical device companies that want to sell their products in the European marketplace.
According to the Emsisoft State of Ransomware, more than 500 US healthcare institutions experienced ransomware attacks in 2020. During the quarantine, new digital vulnerabilities arose. Most were related to the sale of vaccination certificates and vaccines in the black market. In such conditions, improving cybersecurity should be based on AI, blockchain, behavior analytics, and Zero-Trust Model (to automate authentication).
Cloud Computing
The quarantine restrictions made cloud computing one of the leading healthcare software trends. These technologies help manage big data sets and assist in research, epidemiology, vaccine development and deployment, and telemedicine integration. They are vital in crisis management and HIPAA compliance.
Global Market Insights predicts the industry's market size to be more than $79 billion by 2027. Together with other innovations (AI, Big Data, IoMT), cloud computing promises to expand healthcare capabilities.
Remote Patient Monitoring
RPM refers to communication methods within telemedicine. It involves rapid data exchange between doctors and their patients. In 2021, more than 39 million patients in the United States selected this technology (which is 35% more than in 2020). Indeed, RPM is very valuable for modern medicine, especially in a quarantine environment. Doctors can constantly be in touch with patients, continuously monitor their well-being, and use the data obtained to adjust treatment.
Eugene, back-end/front-end developer @IntelliSoft:
For hospitals, we develop solutions for ICU and Anesthesia operations depts. Daintel Cambio needed to build a critical info system.

Our solution is Neonatal ICU, which collects and monitors health conditions in Iceland healthcare units. This platform collects, stores, and disseminates data from bedside medical devices, as well as shares data across ICU (Intensive Care Units), NICU (newborn intensive care unit), Surgery/Anesthesia, and Recovery departments to ensure seamless medical information exchange (HIE) between patients and experts. It all helps to monitor patients remotely, which is especially important nowadays.
Comparing RPM to other telehealth methods, we can detect a significant: the technology does not require interactive audio and video. Data is collected and interpreted without additional requirements like the patient's location. Not surprisingly, RPM systems are so popular; by 2027, this global market will cost $1.7 billion.
Virtual Reality (VR)
VR is firmly and permanently entrenched among healthcare software trends. This innovation confidently moves from theory to practice and is primarily used in surgery. How is it possible? 3D data from CT and MRI help build a patient model in a VR environment. It helps prepare for operations and consider the potential risks and health problems of a particular person.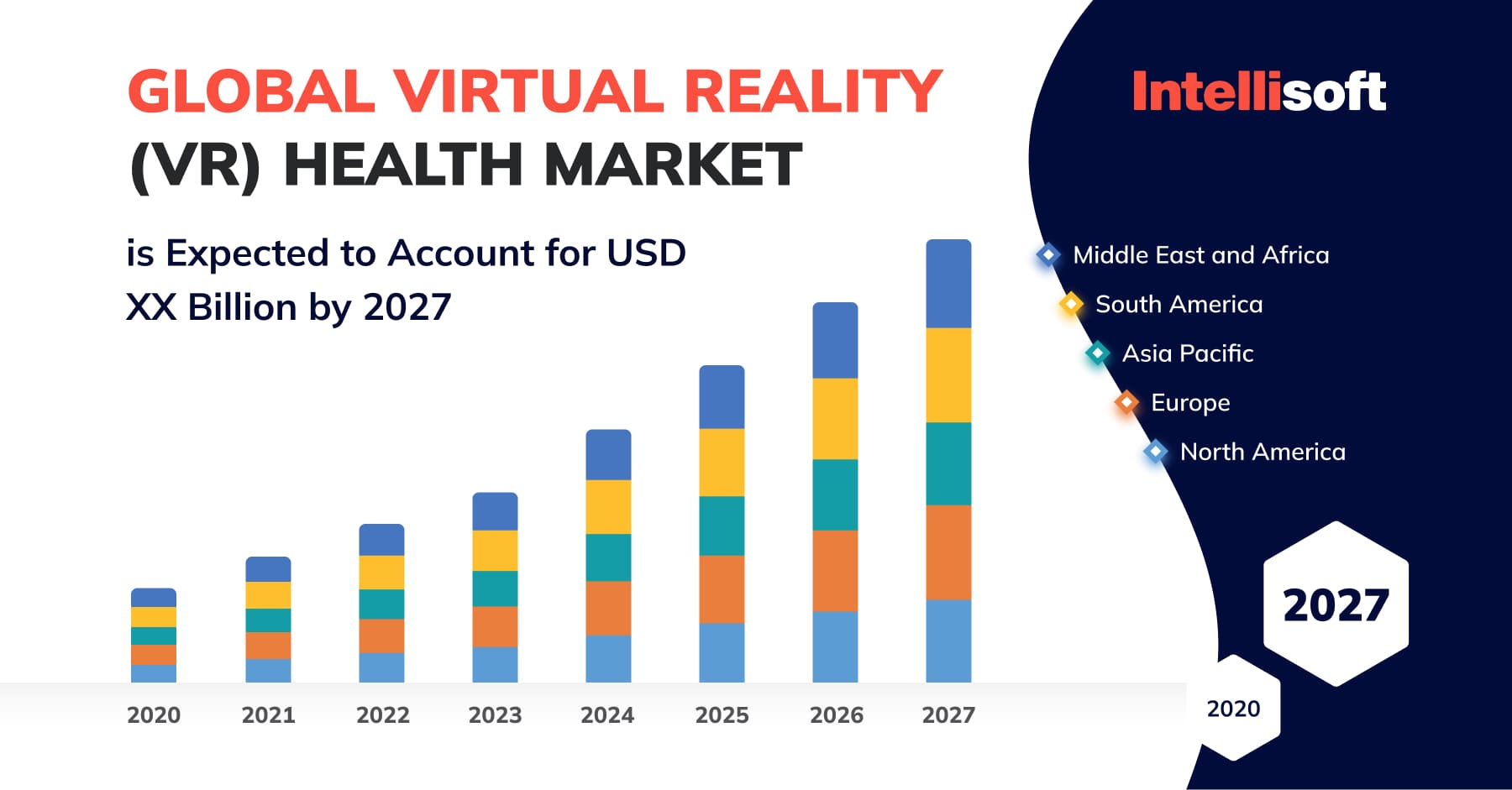 In addition, VR is used for sharing experience and training medical workers during online broadcasts in 360-degree mode and for rehabilitation of patients after strokes and injuries, including psychological rehabilitation (phobias, post-war syndrome). Along with VR, AR technologies will also develop. For example, IDC claims that global spending on VR and AR was $12 billion in 2020, increasing to almost $73 billion by 2024.
Predictive Analysis
Assessing health risks plays an essential role in disease prevention and health improvement at individual and population levels. Predictive analytics is becoming a powerful tool in risk management. It allows financial analysts, clinicians, and administrative staff to be alerted to potential threats before they happen.
These predictions help make far-sighted decisions to prevent rehospitalizations, reduce the risk of complications and exacerbation of chronic diseases, and prevent the spread of viruses and infections. The main predictive analytics tools are AI, ML (including deep learning), and data modeling.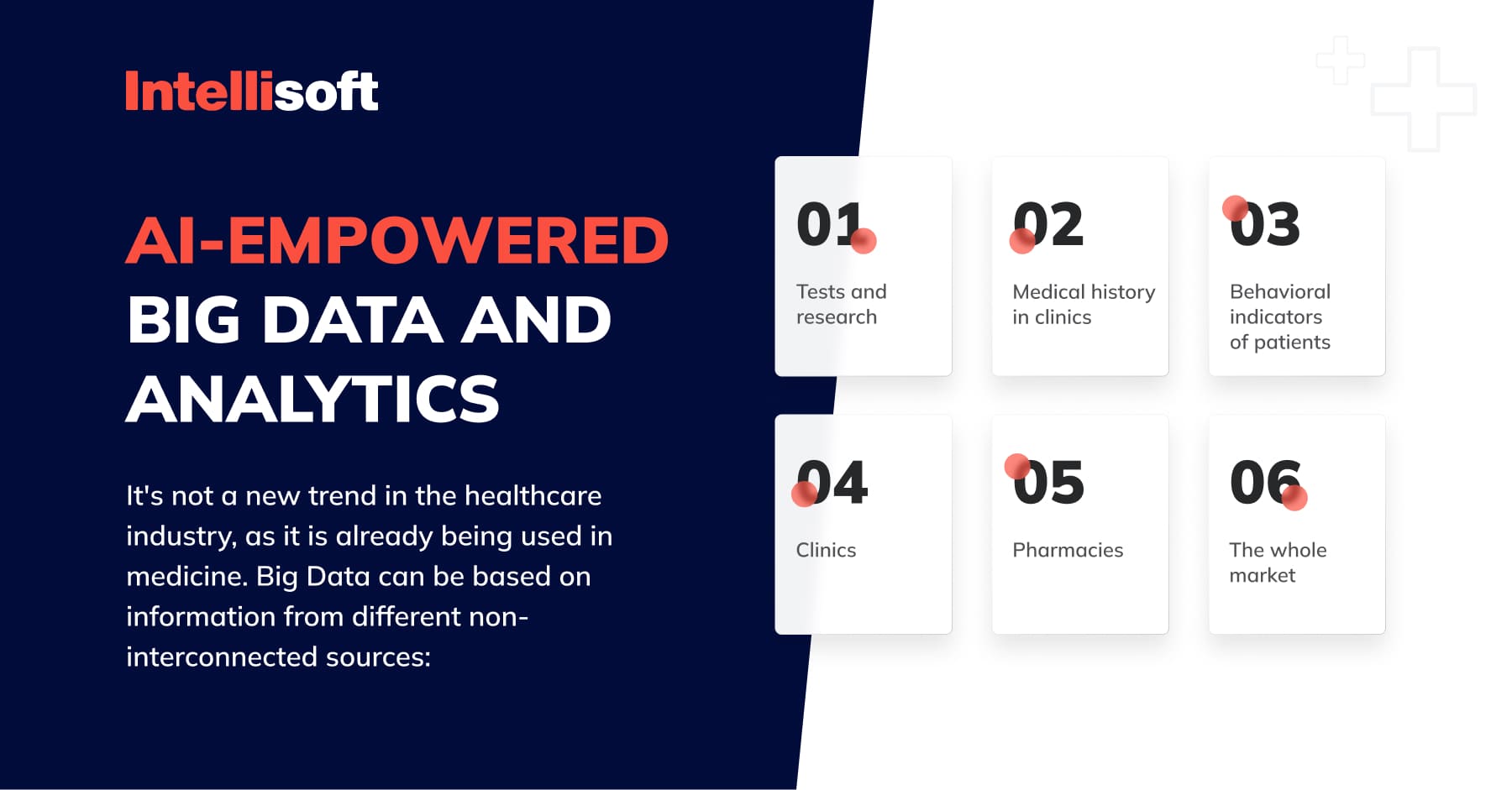 Combining AI with Big Data provides robust and transparent analysis. In medical research, it helps to receive information necessary to predict diseases, drug effectiveness, and treatment results. Overall, the global AI market will grow by 48% during 2021-2027.
Robotic Process Automation (RPA)
Perhaps it is one of the most exciting trends in the healthcare IT industry, which intensified under the pandemic. Healthcare institutions use RPA to get rid of tedious back-office tasks and focus on diagnosing and treating patients. Robots cope with routine and repetitive operations: making appointments, sending reminders, invoicing, handling claims, checking compliance with standards, etc.
RPA speeds up solving labor-intensive tasks by 60% without additional labor costs, avoiding errors associated with manual data entry. During the research, it was found that RPA in the healthcare market will grow at an average annual rate of above 20% during 2021-2027.
Cognitive automation
This future trend in healthcare intersects with the previous one. Cognitive Process Automation (CPA) simplifies data management and ensures regulatory compliance. CPA is built with ML, speech recognition technologies, and NLP. This technology helps in decision-making, enhancing the usability of machines. It ensures a better diagnosis of diseases, even in cases where the symptoms cannot be compared with each other.
CPA is the next step towards digitization that will allow doctors to make fast decisions during diagnosis and treatment. It is not available to the medium-sized medical business yet, but there is every reason to believe it will be more common in various industries in the coming years.
Verdict
Future healthcare technology trends might surprise us, don't you agree? Innovations can bring medical care to a new level, make it more accessible to people, reduce routine operations, and protect corporate systems from hacking.
If you are looking for the automation and digitalization of your institution's processes, we recommend choosing healthcare software development based on cutting-edge technologies. And Intellisoft specialists can help you create and implement programs based on IoT, ML, and other innovations. Contact us!
FAQ