Building a website or an app usually requires dealing with roughly the same set of basic components. Under the components, we mean the ways to manage user authorization. That is, for instance, how a user signs in, attaches files, and more. These activities are pretty much alike. So, why not make them way easier and faster? How is it possible to significantly decrease development costs? Web frameworks emerged as a set of components designed to make building websites a better experience for every developer.
Let us introduce Django, an open-source web framework based on Python. It was named after the jazz guitar player Django Reinhardt. The framework appeared somewhere between 2003 and 2005. It keeps on expanding its community worldwide. It enables fast development, as you can see from websites made with Django. Many say that speed runs through the DNA of this framework. A need to serve fast-paced newsrooms motivated the creation of Django.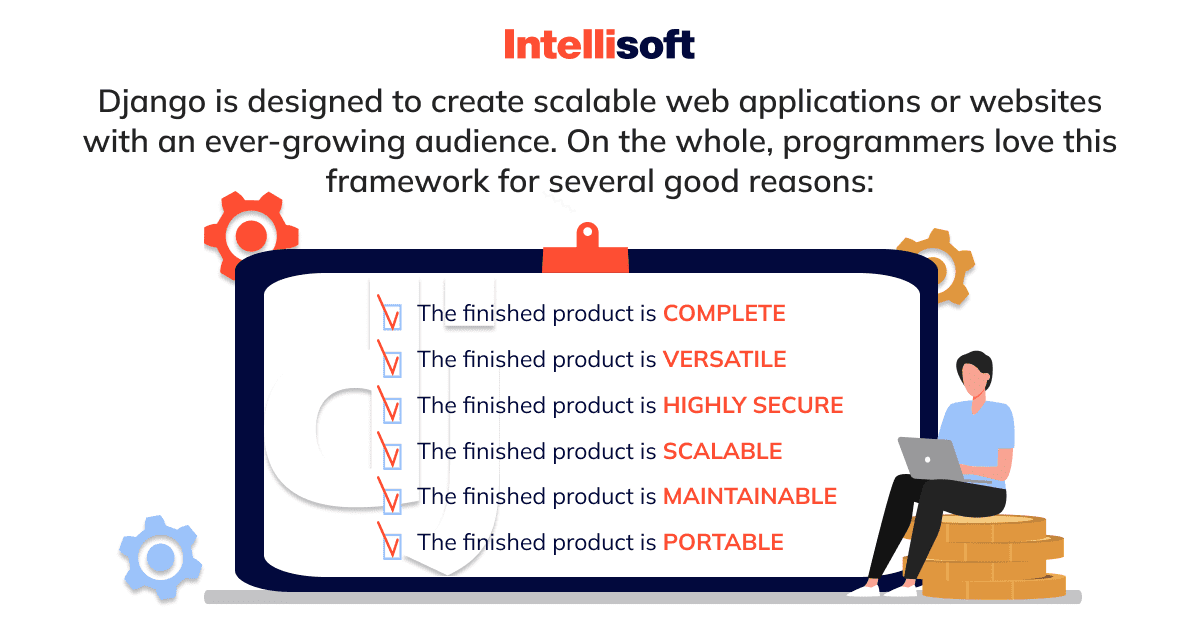 Django provides a number of useful features that, for example, a news site may need. They include a user panel, administrator features, various databases (SQLite, PostgresSQL, MySQL), etc. Django is also a popular choice for startups and weekend side projects.
Top Websites Created with Django That You Probably Know
What are Django websites? It's not that easy to understand how the mechanism works without having some examples. The following list of websites will give you a clue. We believe that you know most of these platforms. These famous websites using Django that help people to interact, retrieve necessary information, get answers to urgent questions, buy goods and services, and do many other things will help us to analyze the main benefits of this high-quality Python-based open-source web framework known as Django. Consider these Django websites more than just examples – they may serve as inspiration for how you can develop your projects. So, perhaps, it is the right time for you to start thinking about switching to Django or hiring engineers from Intellisoft to complete your project?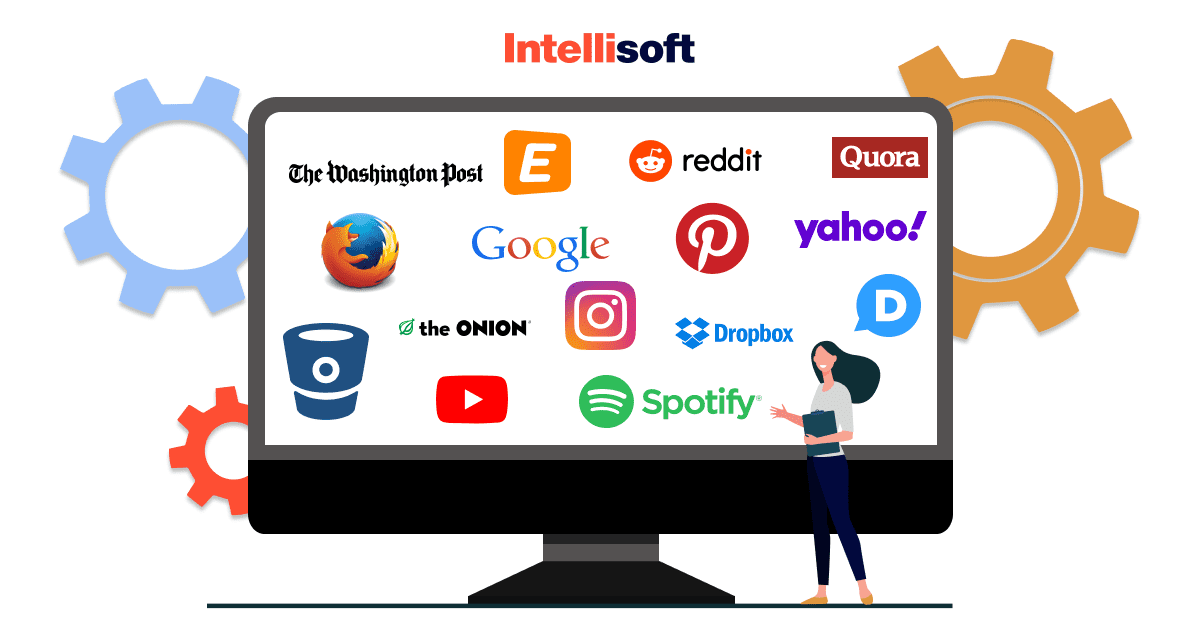 Disqus
To answer the question what websites use Django, Disqus will be first on the list. Disqus is a US blog comment hosting service. That is fairly one of the greatest projects carried out with Django. It allows you to implement comments and discussion options on your website, analyze audience activity, and customize ad impressions. Using Django's infrastructure allowed the team not only to build the website quickly, but also keep scaling it up for millions of new users. Nowadays, the Disqus team uses other frameworks as well, but Django remains the best choice because of its ever-growing community and many ready-to-implement options.
Instagram
Instagram is the most popular social network after Facebook, its parent company. Over 1.393 billion people use Instagram every month. It allows users to post photos and get into the lives of not only their friends, but also various celebrities around the world. Instagram is a mobile app, but if we talk about its web version, it is entirely built on Python Django.
Instagram, one of the fastest-growing social networks, is another example of a website that does not plan to switch from Python + Django. Why is it so? Instagram has to handle huge amounts of data and user interactions (likes, posts, comments, etc.). With Django, the Instagram team can handle it all, in addition to benefiting from deployment-ready tools that allow them to focus on UI and UX.
Spotify
Like iTunes, Spotify has changed the way people listen to, share, and purchase music tracks at no charge. The fact that its services are free with no compromise to quality makes this site so popular among both musicians and their fans. With its help, you can access your music library anywhere, on any device. The Spotify app is very convenient as it allows you to quickly find relevant music and add it to your favorite playlist. The developers chose Django for two reasons:
Fast backend
Machine learning options
With Django, not only did they get the full range of Python features, but they also made the most of it.
Related readings:
YouTube
A website that clearly needs no introduction. The largest video hosting platform YouTube is a part of Google Company, which uses Python and Django framework in many of its projects. YouTube is no exception. In fact, the entire gigantic platform is written on this framework.
It was first built in PHP, but the rapid growth of the audience and the need for fast implementation of new features led the team to join the Django community. The choice was completely justified, as audience growth hasn't stopped (lucky for them) and new features appear quite often (lucky for users).
The Washington Post
Another answer on what websites use Django is The Washington Post. Interestingly, Django was originally created to support a content application for Lawrence Journal-World. The Washington Post, The Guardian, The New York Times, and other newspaper websites that use Django are now very scalable and can handle large amounts of data generated by their daily audience.
Pinterest
Pinterest is pretty much similar to Instagram. Its users can also share various pics, but only those that match their interests. Thus, a user should select a category first. For example, if a user creates a pin about the world's fastest cars, you will get a lot of images of fast cars when you subscribe to this person.
BitBucket
This cloud-based Git repository, launched back in 2008, has attracted millions of developers. With 17 million requests and six million repositories per year, it is one of the busiest Django-based web apps.
The BitBucket team decided to use Django for several reasons. First, it is the thousands of experienced developers in their community. The second reason, which we mentioned earlier, is the set of Django solutions that are ready to be deployed.
That is fairly one of the most popular platforms built on Django. Thanks to this structure, Pinterest users can subscribe to other users and share their boards.
Google Search
Google has been using Python in many of their products for a long time. They have always seen the potential of this programming language and tried to implement it as much as possible and as often as possible. The company also uses Python and the Django framework for its main project, Google Search Engine.
DropBox
One of the world's largest data storage websites, or simply put, cloud storage. DropBox has created a new way to store data. Now, instead of a PC, users can keep their data on the cloud. Dropbox allows consumers to store, sync, and share almost anything using the power of Python.
The most famous and popular cloud app for storing documents, videos, graphics, etc. makes it possible to access your files anywhere and from any device. The only condition is a stable internet connection.
Python was used to create the backend and client software. This allowed the team to come up with a product relatively quickly. Using Django, the developers were able to add a user history option, synchronize the account across devices, and most importantly, add a file sharing option.
Yahoo Maps
In general, Yahoo uses the Node.js platform for its projects. However, they decided to use the Python language to create their maps. Yahoo Maps is a regular, good map that allows you to have an idea of how you can get from point A to point B. In the CIS, this search engine is not popular, but in the West, it is a very large and frequently used search engine. The maps from Yahoo are considered reliable, so many people use them in their daily travels. They can help to get out of the woods when being lost.
Eventbrite
Another Django site is Eventbrite, a ticketing service and event management platform. Originally built using Python and proprietary environments, it later migrated to Django to cope with the rapid growth of the platform's audience and interaction volumes. Because of Django's scalability, Eventbrite, like many other Django-built websites and Django examples, can adapt to any audience volume and constantly provide users with new updates.
Reddit
Reddit is one of websites built with Django. It is the largest social news project. Users can post various articles, as well as comment and vote on other authors' articles. It is enough to sign up at this service to use all those features for free. On this website, one will find thousands of online news and debates on various topics. Most of the functionality is done in Python alone.
Onion
Onion is one of Django website example, a satirical newspaper that has an online version. All publications, design, and functionality of their website are done in Python using Django.
Quora
Quora is one of the popular websites built with Django for questions and answers. It is like an FAQ section where all registered users can impose questions or leave comments and react to what other people say. On this website, users can ask various questions and other users can answer them or at least share some valuable tricks and hints. The more questions you answer, the higher your rating will be on this platform. So, if you don't know the answer to something, the easiest way to get an answer is to ask Quora users.
Mozilla
One of the most popular browsers, Mozilla, must handle hundreds of millions of requests per month. Given the number of requests they get through the API, it's easy to see why the team decided to switch from PHP + CakePHP to Python + Django. Mozilla's support service and all of their browser add-ons now run on Django.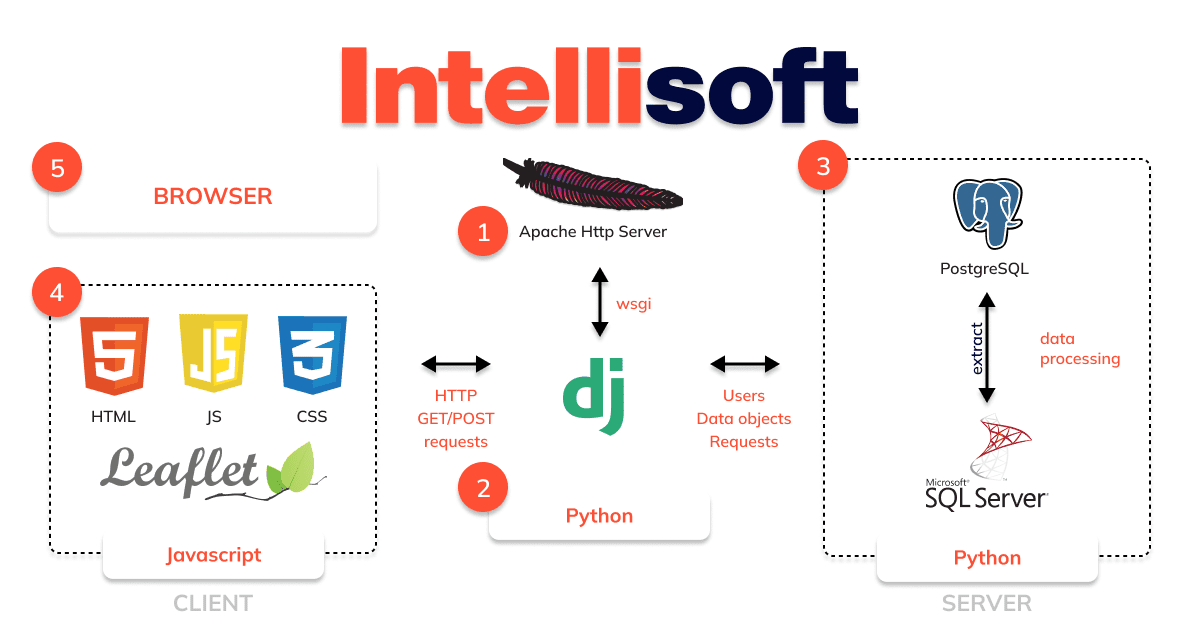 Final Thoughts
Of course, the number of sites built in Django is well over those discussed in this post. You can also check, for instance, Prezi, the official NASA website, or National Geographic. This is just a small part of all the sites which were created with Django tech.  Also, if you need qualified developers to help with your projects in Django, feel free to contact us at any moment!

About

Kosta Mitrofanskiy

I have 25 years of hands-on experience in the IT and software development industry. During this period, I helped 50+ companies to gain a technological edge across different industries. I can help you with dedicated teams, hiring stand-alone developers, developing a product design and MVP for your healthcare, logistics, or IoT projects. If you have questions concerning our cooperation or need an NDA to sign, contact info@intellisoftware.net.