What is the basic difference between outsourcing and insourcing certain business processes? Why is outsourcing better than in-house?
In this short but informative article, we'll explore the concepts of in-house and outsourced software development. We'll also list all the most essential benefits and drawbacks of the mentioned approaches and explain which strategy is best for your business.
The traditional approach is building and maintaining an in-house department for your software development. Although we have 2022, many companies are still not ready to change their strategy and continue hiring exclusively in-house programmers. But is it effective? Can an in-house team generate the same profit for the same cost as an external specialist?
As for the process of outsourcing, it is a relatively new approach compared to the previous one. Still, a large number of mature companies have been using this one for a long time. It does not only speed up the project but is also very cost-efficient. So there's no doubt that this modern approach could be the solution for many tech companies eager to become more productive and cut their budget quickly. The international outsourcing market reached a mind-boggling 85 billion USD in 2018. Interestingly, 62 billion USD was spent on programming and other IT services.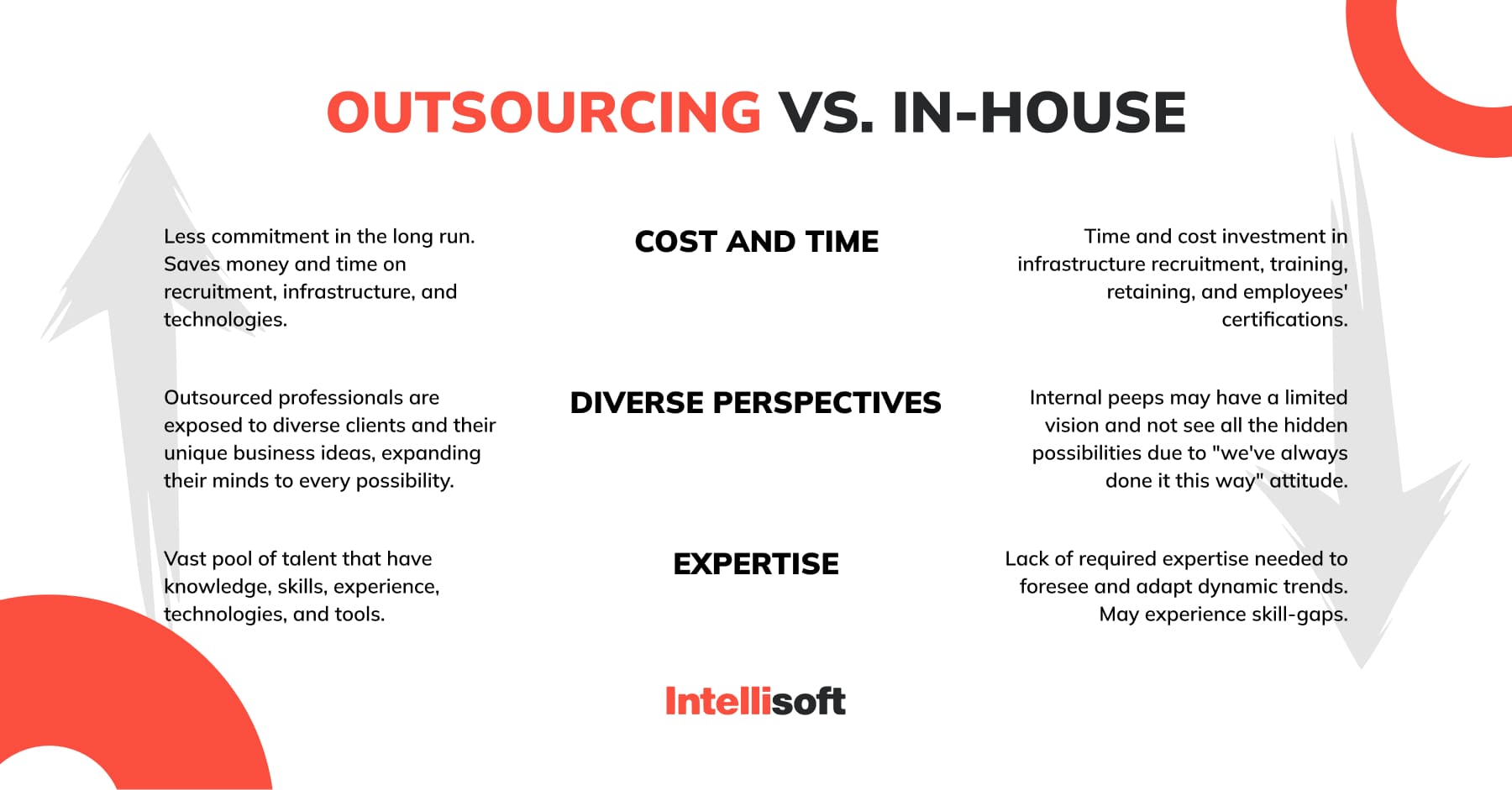 Common In-House vs. Outsource Software Development: In-House Development in Detail
Nowadays, all tech companies – from tiny to large – undoubtedly need information technology. It's crucial to compete with the widespread use of modern high-tech solutions. However, the specifics of specialized tools and their implementation, operation, and maintenance methods differ significantly. The size of the tech company is usually the main factor here. In the case of a company with up to only 50 employees or less, IT resources can be easily depleted by only one automated accounting system and one system administrator. For a large organization, there is a need for IT infrastructure, which includes an internal IT department.
Commonly, an IT department provides for the presence of the following specialists:
Project manager
Business analyst
Software engineer
UX / UI designer
Related readings: 
The Pros and Cons of the Traditional Approach
The main benefits include:
When every single employee of the IT department is in the same time zone and even the same office space, communication problems rarely arise. Even if they do, they can be resolved by the HR manager or the team lead. It is another matter when there are kilometers of distance between employees, completely different time zones, and even cultural differences. Then any minor disagreement can turn into an unpleasant conflict.
When every team member is under one roof, it is much easier to control all parts of the development and implementation process from A to Z. This means the likelihood of missing out on something important reduces significantly.
Corporate culture and goals.
When every team member is working on one single project and knows their colleagues by sight, motivation is higher. The team becomes a second family that pursues group goals.
A better understanding of a product.
Working on one product, tech specialists better understand its functionality and purpose. They're much more involved in all development and implementation processes. They're usually also much more interested in the future project to succeed. Freelancers aren't that motivated.
The main drawbacks are:
Lack of necessary resources.
An internal development team has limited field knowledge and time. The internal tech team may not be able to cope with the assigned tasks.
Typically, maintaining an internal development team requires notably more budget than hiring external specialists. Especially with ambitious projects, the budget might become too large.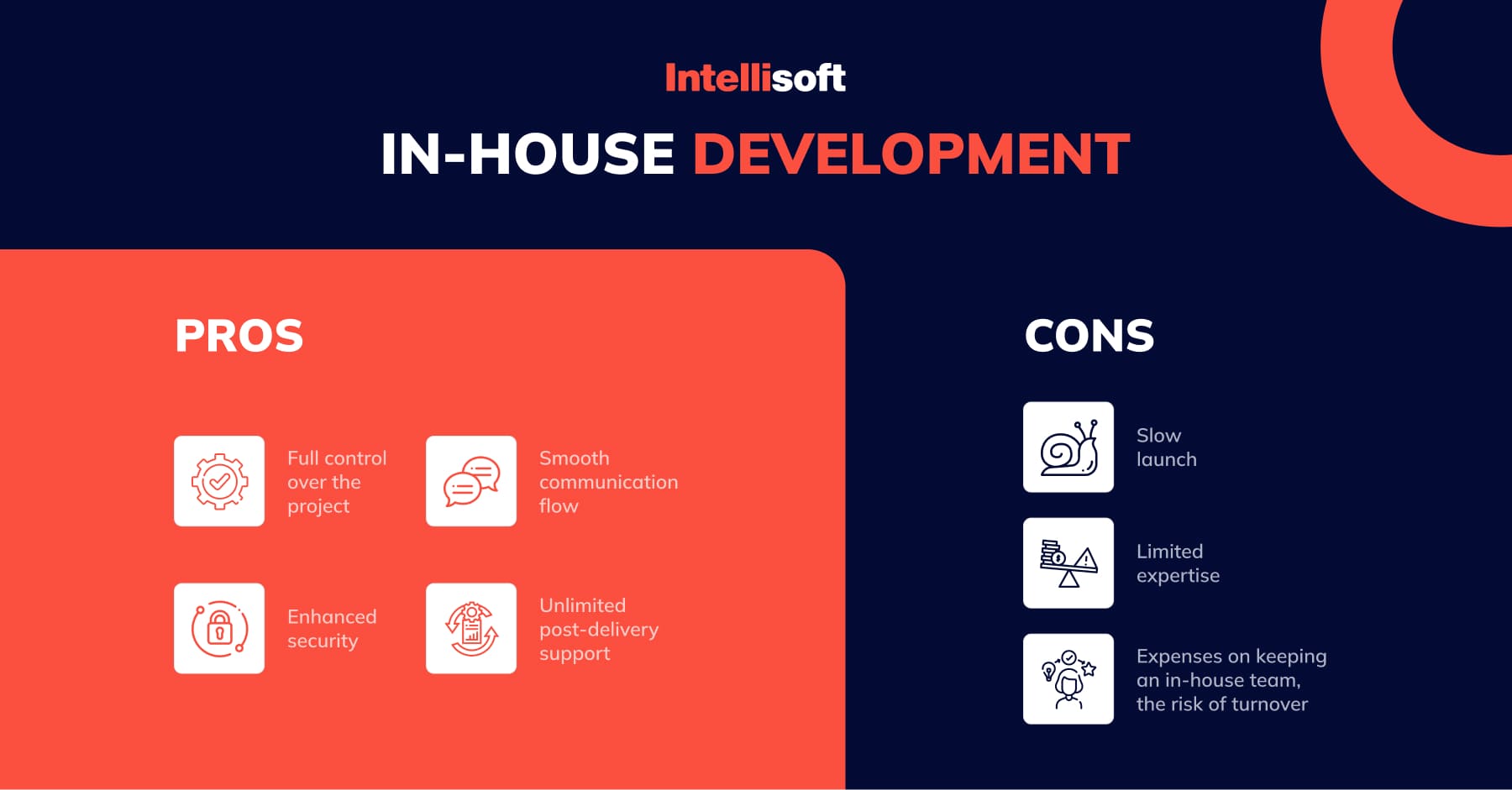 Old-Shoe In-House Software Development vs. Outsourcing: Outsourcing Development as an Alternative Model of Cooperation
Outsourcing is one of the most popular concepts in today's IT industry. It denotes the transfer of certain business processes to external technology specialists. Delegated tasks can be almost everything in today's world. Good communication and networking are key.
Outsourcing has long been one of the most controversial topics over the past decades. Companies around the world are using this model of collaboration. They grow their businesses, significantly reducing operating costs and improving the service quality. Managers focus on the main goals instead of doing the hard stuff. Some entrepreneurs succeed by hiring external staff. Others share their rather unpleasant experience of cooperation with contractors. This contrast is confusing and does often prevent business owners from making the right decisions. Keep reading to learn more about the advantages and disadvantages of an outsourced team, especially if you're a business leader.
By the way, did you know that Ukraine is one of the leading countries when it comes to experienced programmers? No wonder a lot of giants like Google are transferring certain tasks to engineers from Ukraine.
It is worth mentioning that more mature companies and start-ups are delegating certain processes to contractors from Ukraine – the industry of outsourcing in Ukraine in 2020 was estimated at 5.7 billion USD. Fund fact: More than 100 Fortune 500 companies are clients of providers from Ukraine.
The Pros and Cons to Consider Before Delegating Your Project
The main benefits of project delegation to consider:
Access to a large talent pool of specialists all over the globe.
By maintaining an in-house IT team, you narrow the choice of specialists to programmers, project managers, business analysts, QA engineers, and designers from your native city. If you are lucky, you will find a suitable candidate for relocation to a neighboring city. Working with outsourcing companies, you expand the range. Hired contractors can carry out the work from anywhere in the world.
Since the hired contractors working on the project are true field experts, they are able to complete the assigned tasks on time. Outsourcing companies do not suggest specialists for a complex project that aren't capable of delivering top-notch service.
Working with a reliable and experienced outsourcing organization is safer. By doing so, you share the responsibility for the future project with your outsourcing partners. You don't have to worry much if something goes wrong. The contacted outsourcing partner will solve the problem if it has emerged due to the fault of the suggested specialists.
Access to advanced technology.
When creating your in-house IT team, you have to take care of the tools used by your staff. Working with external contractors, you take this burden off yourself.
The main drawbacks of project delegation you should know about:
Differences in time zones and some cultural differences can cause interpersonal concerns. Difficult communication can affect not only the atmosphere within the whole team but also the quality of the final product.
Risk of information leakage.
Hiring strangers who are thousands of kilometers away from you is a risky undertaking. Therefore, choosing trusted partners with a good reputation and a confident portfolio is very important.
How We Can Help
But what business strategy to choose for an upcoming project? Should you delegate the software development to the internal department or transfer it to external contractors in order to become more productive and cut our budget? As you already understood, both strategies take place. Each has its pros and cons to consider. What you should choose depends on the available resources and the scale of the future project. If it is not software development, which is the main domain of your company, it is not worth assigning it to your internal employees because they might not be able to cope with it.
Have you weighed up the listed in-house vs. outsourcing pros and cons but can't decide which business strategy to choose? Are you worried about the risks that come with delegating software development? Feel free to contact our team for a free consultation on outsourcing. We're a tech company with over 14 years of experience, ready to help you bring every ambitious idea to life.
We offer three different collaboration options. Pick the one that suits your business most!
Our staff's expertise includes web and mobile development, IoT development, QA engineering, product as well as UX / UI design, and more. Don't wait to bring your project to life!