Think of a platform that combines a video-sharing app, a social media that helps brands gain millions of new followers in a night, and a place where teens and adults spend hours a day scrolling through the videos of their favorite creators. If you instantly thought about TikTok, you have guessed right. This app has taken the digital world by storm. Introduced as a simple video-sharing application for jokes and dances, TikTok is now becoming a number one platform for marketing and entertainment.
Considering TikTok's influence on society and the digital landscape, it's no wonder that entrepreneurs worldwide want to follow its steps and create a similar app that would attract billions of users.
If you're reading this article, you probably can relate. You have wondered about the secret to TikTok's success and want to know how to build a similar video-sharing app. The question is: How do you create all of its unique features like Duets, filters, and video editing tools, and how do you make your new app unique? You have come to the right place for the answer.
At IntelliSoft, we have been crafting unique mobile applications for our clients for more than 15 years, guiding them through the world of software development. We will uncover how TikTok's enigmatic algorithms work, how it became a leader among video-sharing apps, and how to make an app like TikTok. Buckle up, and let's learn how to make users scroll your app for hours, too.
What is TikTok and How Does It Work?
Essentially, TikTok is a social media platform. It was created in 2016 by ByteDance, allowing users to create, share, and repost short videos up to three minutes long. It is possible to create videos from the ones you already have on your phone, or capture a video directly through TikTok and edit it there, adding music, cutting it, using effects, etc.
At first, TikTok was introduced as a music app for lip-sync videos, dances, and fun edits, but it is now way more than that. You can find both fun and informative content on TikTok and discover new brands and talents, as almost everyone these days uses TikTok as their diary or a marketing tool.
TikTok Algorithms
One of the main mysteries around TikTok has been its algorithm of the "For You" page. As people have been scrolling through videos, they have noticed that TikTok recommends exactly what they like, perfectly matching their interests somehow. Moreover, everyone has been wondering how some videos can reach millions of views overnight, even if a new account has shared them, and others remain unseen by the audience.
Thankfully, TikTok algorithms are not a secret anymore. The brand has revealed all the details about creating the "For You" and "Suggestions" pages, so let's see what they have been hiding.
The "For You" page is created on the basis of the user's likes, interactions, video information, device, and account settings. It analyzes all these factors and recommends content tailored to each and every user.
Here's what influences the content on the "For You" page:
Videos you have liked
Creators you follow
Your comments
Sounds or people you have decided to hide
Videos you have marked as "Not interested"
Videos you have marked as inappropriate
Videos you have added to your favorites
Your own content
Your interaction with ads
Longer videos you watch till the end
Some device and account settings like language, location, type of device, and categories of interest you choose also influence the content you see in recommendations. Finally, TikTok also shows the most popular videos to users.
TikTok Stats
Here are some of the most recent TikTok statistics:
In January 2021, TikTok had 62 million downloads.
The percentage of U.S.-based TikTok users by age: 10-19 – 32.5%, 20-29 – 29.5%, 30-39 – 16.4%, 40-49 – 13.9%, 50+ – 7.1%.
On average, a person opens TikTok 8 times per day.
These mindblowing statistics can be explained by the following factors:
Short-term content that is easy to create and works perfectly for scrolling.
Target audience aged 16-24 that spend a lot of time on social media.
The presence of celebrities and known brands.
The opportunity to make money through collaboration with brands, gifts during live streaming, and winning contest prizes.
Video-Sharing App Features
Developing a TikTok clone is both time-consuming and unnecessary. We already have one TikTok, so it's highly unlikely that people will use its exact copy. Still, you can get inspired by the app's success and create a TikTok-like app with similar features and tools, making it unique. Here are the features that you can include in your MVP and then work on perfecting it by adding more advanced functionality.
MVP features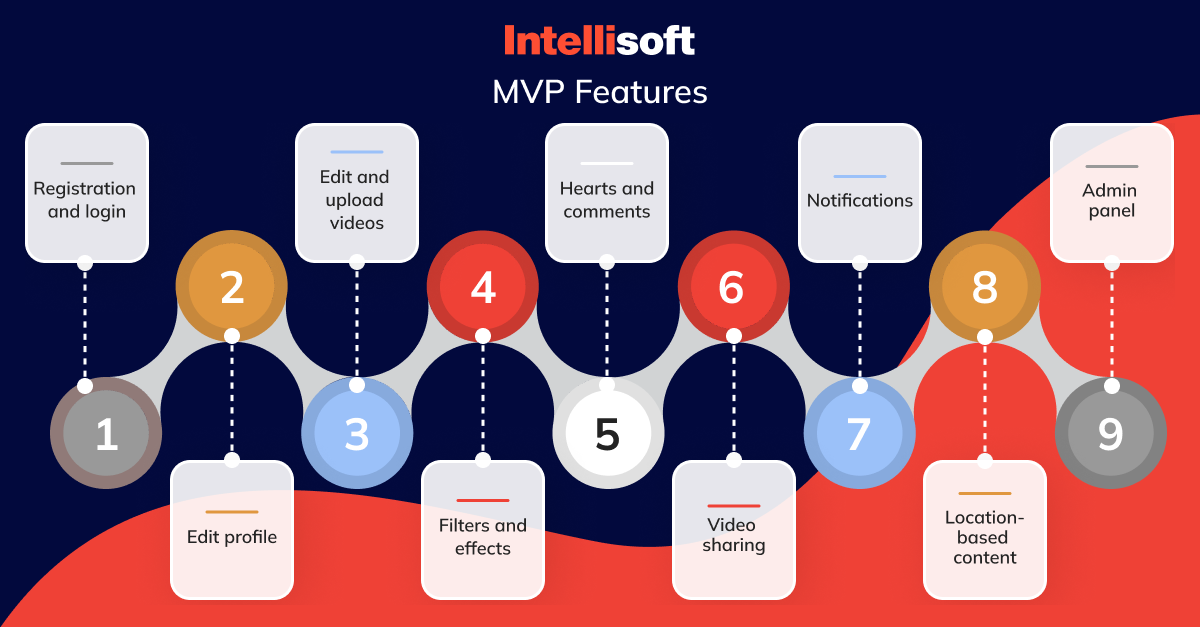 Registration and login
First, users must register in your app and be able to log in quickly and easily once they open it. You can provide various signup methods, such as email, Apple ID, social media platforms, phone numbers, etc.
Edit profile
Let users personalize their profiles by changing their nicknames, profile pictures, descriptions, etc. Make this process as easy as possible and include various personalization options.
Edit and upload videos
TikTok's main benefit is the ability to create and share videos in seconds. People don't have to download other video editing apps to create content; they can do everything in-app. Thus, ensure that everything can be done in your application, including capturing videos.
Filters and effects
Everyone loves trying out new filters and effects, so include this feature in your app as well. Moreover, allowing people to create their own effects and filters and share them with others will be a great idea.
Hearts and comments
The majority of content is created for the sake of going viral and collecting as many likes and comments as possible. Allow users to like, save, and comment on videos they like and create collections based on the topic of the videos.
Video sharing
Sharing videos both inside and outside TikTok allows users to promote their content, find new creators, and attract new people to your app. Ensure the videos can be shared on Instagram, Facebook, Twitter, and other platforms.
Notifications
Notificants are an essential feature that keeps users updated about new content, likes, and comments. It can be done through Google Messaging (for Android) or Apple Push Notification Service (for iOS).
Location-based content
People also use TikTok to find creators in their areas or recommendations about places and events in their locations. Thus, your app should also offer location-based content depending on the device's location.
Admin panel
This panel should provide features like managing users (editing, deleting, or blocking them), counting posts, and sharing data with new users.
Advanced TikTok features
While the basic features can be added during the MVP creation stages, the more advanced ones take more time, effort, and investment to build. Thus, make sure to add them after your TikTok-like app is deployed and you have collected enough feedback from users.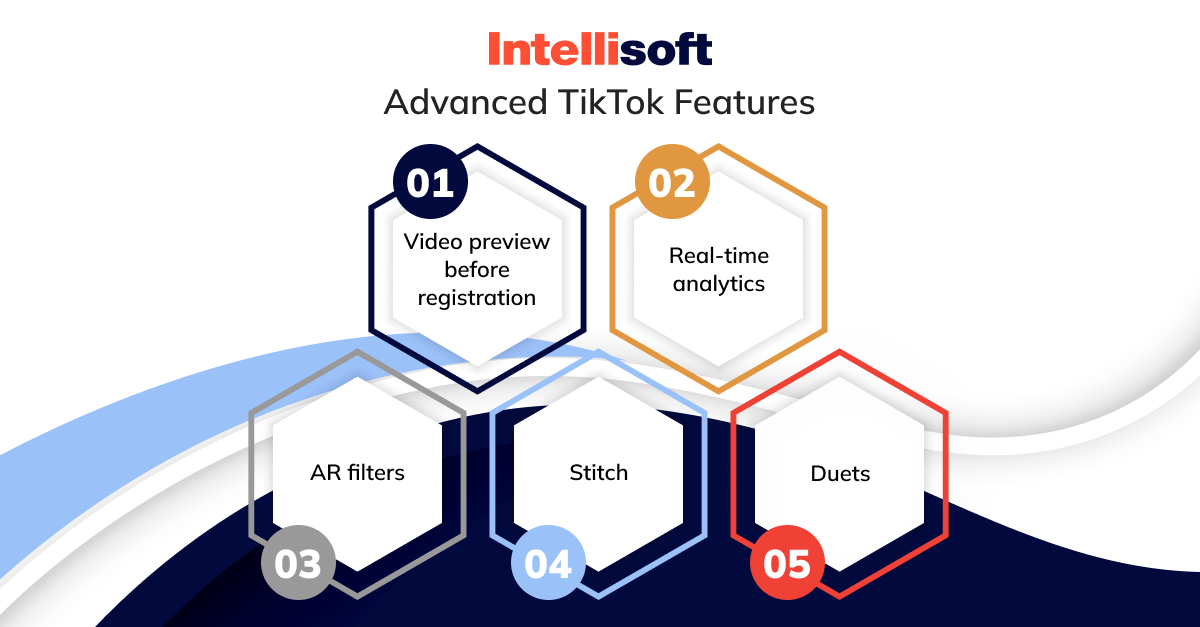 Video preview before registration
When you first download TikTok and want to register, you can view its most popular content before registering. If you want to like or save some of the videos, you have to sign up.
Real-time analytics
The real-time analytics feature allows you to see the live viewers and broadcasters on the graph. It also provides information about the number of likes and comments.
AR filters
TikTok is also incredibly popular because of its augmented reality filter that changes your eye color, and hair color, shows how you will look in 40 years, adds objects over your head, etc. These filters look terrifyingly accurate and realistic, which makes them go viral. If you have a team of developers and resources to work with AR, you can also create an AR filter library for your app.
Stitch
Recently, TikTok has added a new feature – Stitch. It completely changes the way you can interact with other creators' content by allowing you to cut pieces out of others' videos and post them to your accounts with your comments or edits. The creator's name is still on the video so, it doesn't violate any intellectual property rights, but rather helps people who don't make their own videos gain views.
Duets
With Duets, you can use other people's content in your videos as well, but the two videos will be displayed alongside each other, playing simultaneously. Creators often use this feature to comment on videos or react to them, increasing their engagement.
Related Readings:
5 Steps to Develop an App Like TikTok
If you are ready to embark on a thrilling journey of TikTok clone app development, we have prepared five essential steps you need to take that will help you navigate through the intricate path of app development. Let's dive in and transform your vision into a reality.
Here's how to make an app like TikTok: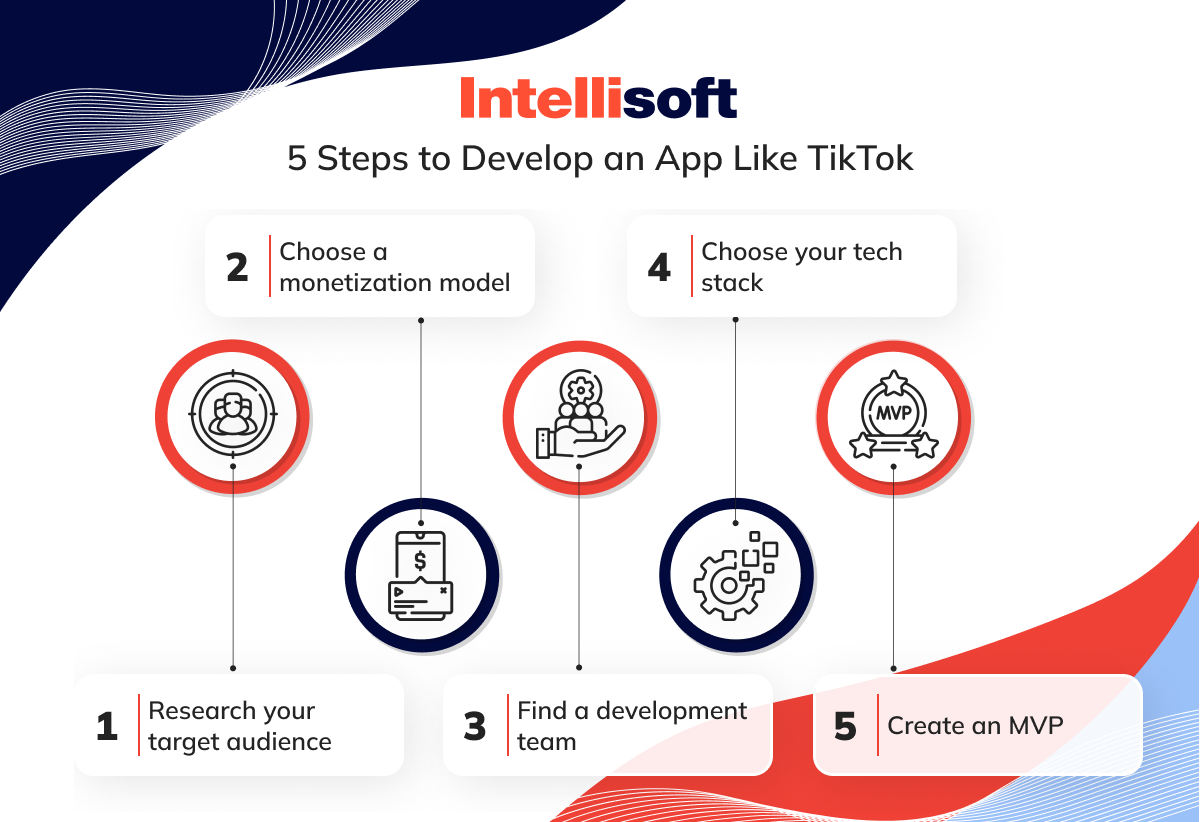 Research your target audience
First, you need to identify and research your target audience clearly. You need to know who you are developing an app for, what the market dynamics are, how people interact with brands, and what the market trends are.
Once you perform your research, you will learn about the gaps you can fill and the people who will more likely use your app, such as their age, location, occupation, and so on. You should research thoroughly:
Demographic profile. Learn about the users' age, where they are located, what devices they are using, and their financial situation. You should also find out whether they have a stable internet connection.
Behavior patterns. Before creating an app, you need to learn about the users' behavioral trends, such as what they usually download, what type of content they consume, whether they are tolerant of low-security apps, and what they value the most in mobile applications.
All of this data will help you create a product tailored to your target audience's needs, especially if you create a buyer persona, a portrait of your target user with all of the characteristics outlined.
Choose a monetization model
The reason why we mentioned users' financial situation earlier is that learning about it will help you decide on the monetization model for your app. You can choose among these monetization strategies:
Fundraising. As you start working on your app, you might need to raise money for its development and deployment. You can do that by finding investors who believe in your idea. Moreover, you can collect donations from businesses and individuals. TikTok is a great example of this monetization model. Recently, an investor funded the app with $3 billion.
In-app purchases. TikTok makes it possible for users to make in-app purchases of coins for real money. Then, these coins can be exchanged for gifts that can be given to creators during their live streams. You can use the same strategy for your app and offer different in-app purchases for users.
Advertising. This strategy includes several types of in-app advertising, such as Cost Per Click, Cost Per Mile, and Cost Per Action. With Cost Per Click, each click on the ad brings a certain amount of money. Cost Per Mile is when the owner of the app charges advertisers for every 1000 impressions of their ad in the app. Finally, Cost Per Action presupposes advertisers paying for clicks that lead to specific actions, such as submission forms, app installs, or newsletter signups.
Find a development team
Now that you know who you're targeting and how you will make money in-app, it's time to find a reliable development partner who will guide you through the app development process. Choosing among all the talented experts out there might be a tough task, especially if you don't know what to look for.
When choosing an IT vendor, ensure that they have enough experience in your domain, have relevant cases, and your work cultures align. The development team should be ready to commit to your project, share your objectives, and offer maintenance and support after the app is deployed.
Usually, a development team will consist of:
Business Analyst (BA)
Project Manager (PM)
UI/UX designer
Developers (front-end/back-end, mobile)
Quality Assurance Engineer (QA)
The first step of the cooperation process is the Discovery Phase, when you define the project scope, the main features of the app, and your business goals. Then, you create an app development workflow, identify user roles and app features, and design an app concept.
After that, the team will choose the tech stack and develop an MVP of your app.
Choose your tech stack
The tech stack for your project depends on your specific requirements and needs. However, here's what you can choose from:
iOS app
Programming language: React Native, Objective-C, Swift
Android app
Programming language: Java, React Native, Kotlin
Back-end
Programming language: Java, Python, Node.js
Framework: Express 4
Database: MySQL, SQL, MongoDB
Storage: Amazon S3
Cloud: Azure or AWS
Tools
Real-time analytics: Amazon Kinesis
Notifications: Amazon SNS
AR-filters: Amazon Sumerian
Geolocation: Mapbox, Google Maps API
Chat: Twilio, Socket.io
Create an MVP
Now, it's time to develop a Minimum Viable Product (MVP) and speed up the time-to-market process. Creating an MVP allows you to introduce the app to the audience, gather their feedback, and use it to fix any issues and improve the app to ensure its complete usability.
The key here is to focus on the essential features, leaving the unnecessary features for later. There is no need to invest in advanced functionality at the beginning; it can be done after you ensure that the basic version of the app functions properly and you gather valuable insights from user feedback.
Here is a list of MVP features with the estimation in hours: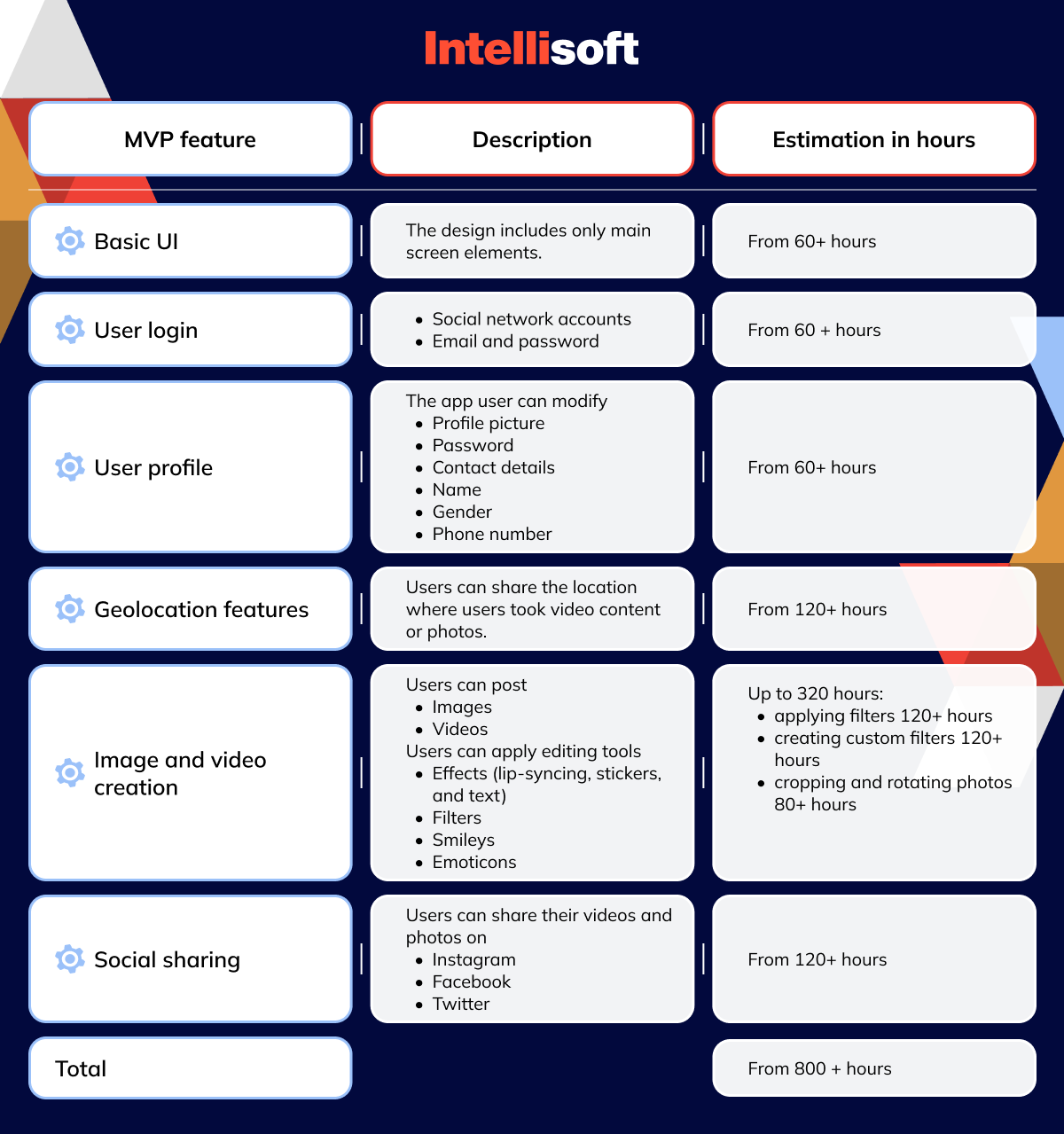 Release and market
After you create and test the app, it's time to introduce it to the world. Software engineers release the product to AppStore and Google Play during this phase. The development partner will also handle all the files and project materials. Once you decide when to release the app, the team offers you continuous support and maintenance.
It is also essential to market your app correctly. Once it has been uploaded to the digital marketplaces, focus on promotion. It can be done in several ways:
Social media promotion. Promote your app on Instagram, Facebook, Twitter, and other social media apps through targeted ads.
App Store Optimization (ASO). You can optimize keywords and visuals of your app on AppStore to make it more appealing and eye-catching to users.
Content marketing. A great idea would be to make blog posts, images, and videos about your app to represent its features and functionality and convince the users to download it.
Influencer marketing. Finally, collaborate with influencers, bloggers, and celebrities who can promote your app to their audience online.
How Much Does It Cost to Build an App Like TikTok?
The price for developing a video-sharing app like TikTok depends on several critical factors that can completely change the final cost. The price depends on the platform you choose, the design and features of the app, the development team you work with, etc. Let's discover what can influence the costs:
Platform
The two main platforms of choice are iOS and Android. If you want to make your app more popular and ensure that it reaches the target audience, make sure to develop an app for both platforms.
However, developing an app for both platforms can be expensive, especially if you own a small business and aren't ready to make big investments. In this case, choose iOS first. Typically, iOS development is 20-30% faster and cheaper than Android development.
Another great option is cross-platform development. You can opt for it to make the process faster and ensure that the application works flawlessly on all devices. Moreover, this approach is less expensive than developing a solution for separate platforms.
Design
Your goal should be to create a user-friendly, intuitive design, yet it can cost a lot more than you initially expected. Moreover, you need to understand the design trends these days to meet user demands. Here are the approximate costs of designing an app like TikTok: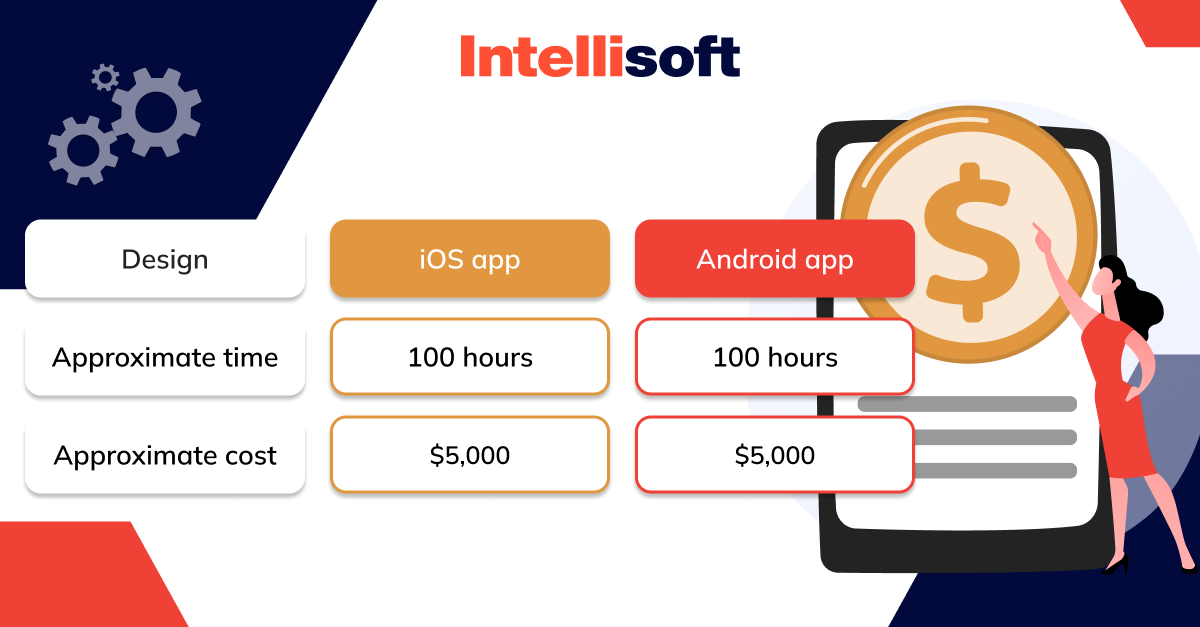 Features
Depending on the features you decide to include in your app and their number, the price will differ. The more advanced features you want to add, the higher will be the end-price. This will be the main expense of the app development, so think through and create a list of features beforehand.
Development team
You have two options for TikTok clone app development; to find a development partner or work with your in-house team if you have one. Both options have their pros and cons.
In-house development is more expensive because you must pay for recruitment, onboarding, hardware and software purchases, rent, taxes, etc. On the other hand, you will have no issues with communication and feedback because you will be in constant contact with your team, and you will be able to fully control the process.
Outsourcing will be much cheaper, especially if you choose a team from countries like Poland, Ukraine, Estonia, or other Eastern European countries. The rates there are lower than in the US, Australia, and Western Europe, but you will receive high-quality service and smooth communication due to similar or the same time zones and English-speaking developers.
Here are the rates for mobile development in different regions: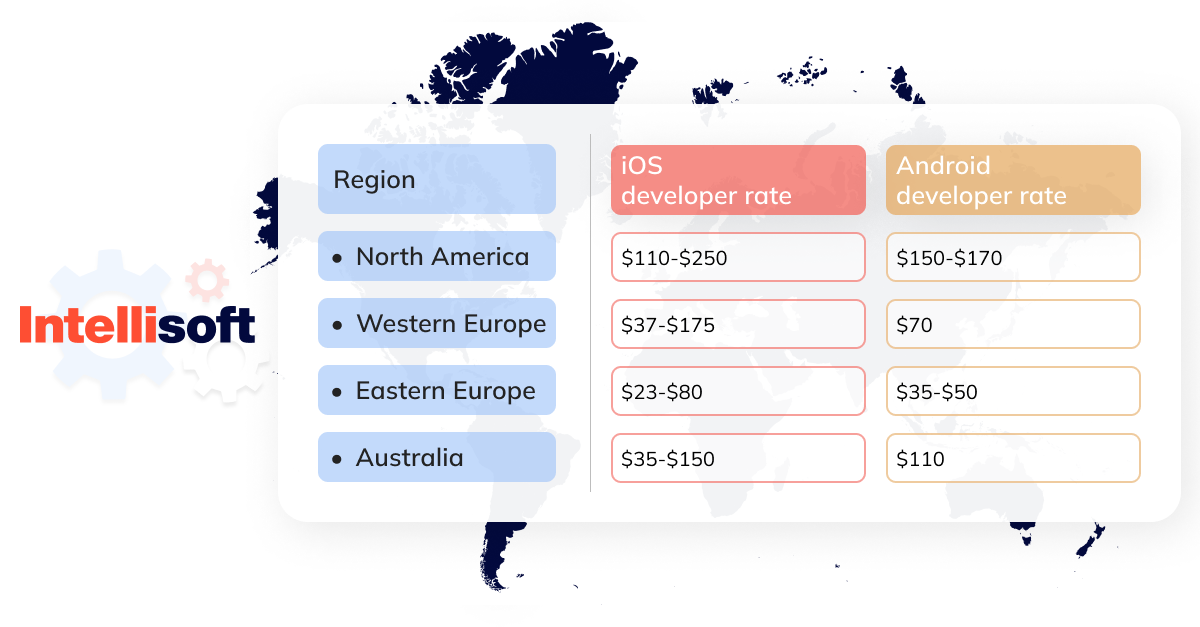 CCPA and GDPR Compliance
The California Consumer Privacy Act (CCPA) and the General Data Protection Regulation (GDPR) are the two regulations that provide consumers with control over their private data. You need to follow both if you don't want to pay high fines for noncompliance.
Conclusion
Venturing into the world of app development to create a TikTok-inspired platform is no small feat, but it's a journey loaded with potential and creativity. Now that you have learned about the tips and tricks of video-sharing app development and how to make apps like TikTok, you're armed with the knowledge to embark on this exhilarating path.
Keep in mind that TikTok's success does not happen overnight; you will not create its copy and become as popular, and you don't need to. Your goal should be to get inspired and build a unique app tuned to your audience's desires and needs, not to duplicate something that already exists. With the tools and technologies in your hands and the right development partner, you have an opportunity to reshape how people create, connect, and share content.
If you are ready to take the first step, we will be happy to guide you through the intricate app development process and let your vision shine through. Contact IntelliSoft now, and let's introduce a new innovative social media platform to the world. Maybe it will overrun TikTok one day; who knows? Go forth and make your mark in the digital realm!
FAQ