The motto of the perfect team working on the same project could be "All for one, one for all!" However, it is way more complicated. It is not enough to find people with the corresponding skills. Cohesive team is made of many critical elements.
Unfortunately, 70% of all projects fail fast, and improper project management (PM) is one of the primary reasons. Looks like many companies realize the problems as 89% of them have at least one PM office today, while 50% have more. At the same time, 59% of PMs run 2-5 projects. Those organizations that understand how essential proper project management team structure is are ready to invest up to 20% of their budget toward PM.
While providing software outsourcing services at IntelliSoft, we have discovered numerous ways to build powerful teams over the course of multiple tech and strategic projects. Our experience helped us to realize how to provide an excellent balance of resource alignment and project efficiency. Based on the information from this post from our expert, it will be easier to assemble a team capable of turning even the most complex idea into a functional and competitive project. If you face any obstacles, we are here to help organize a solid PM team with people centric culture.
What Is a Project Management Organization Team?
As 42% of companies don't understand the need or importance of project management organization, it's necessary to start with the definition of this term. A project team is a group of specialists of different profiles who are involved in the work on the specific product or service. Usually, it is a temporary group formed for the completion of interrelated tasks, which may also include external performers and consultants.
The team's main task is to outline and fulfill all the goals. Project participants can exist at different levels of the organization. In addition to project teams, they can be a board of directors or a group of managers engaged in planning or reorganization.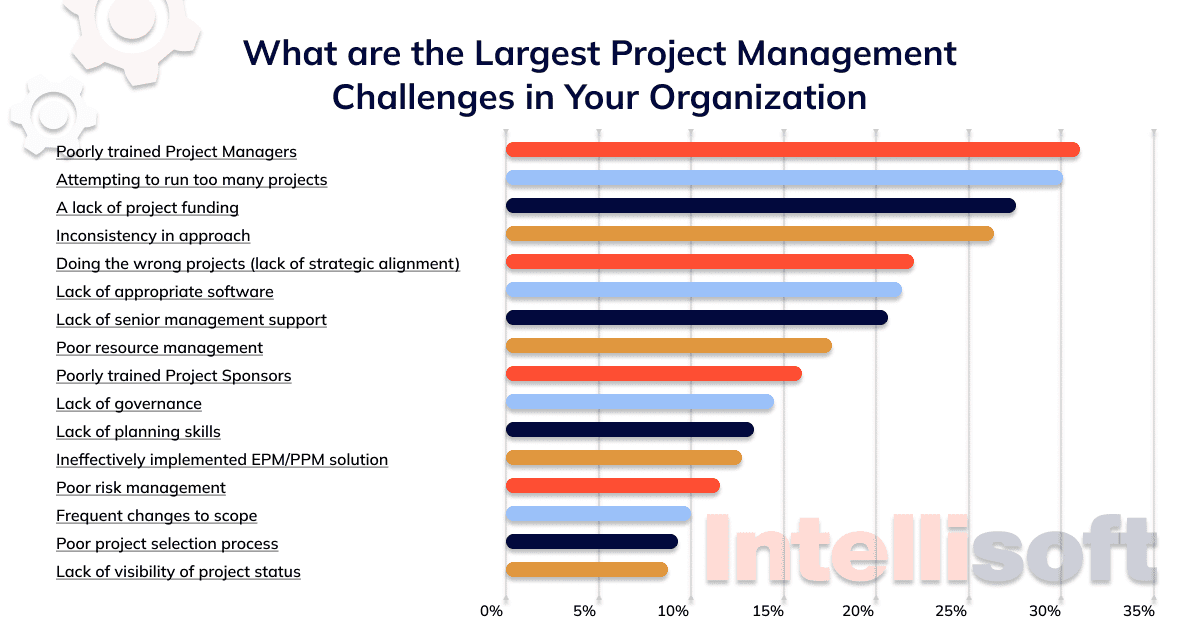 Above, you can see the challenges associated with project management faced by most companies. One of the ways to cope with them might be hiring more specialists. According to research, 39% of project teams consist of 6-10 people; about 30.5% of teams include more than ten people; 30.5% are groups of 1-5 participants.
Before hiring different IT specialists, one must clearly define project scope, purposes, and milestones. Then, it is vital to have a roadmap at hand so that each team member can understand their goals, missions, and tasks. Unfortunately, not all companies realize that. That is why the failure percentage is that high.
Before looking at the reasons for project failures, we suggest that you also get an answer to the question, "How many engineers do you need to outsource software development?" Read an ebook from IntelliSoft that explains how to select the right team composition essential for your project's success.
Related readings: 
Why Do Some Project Teams Fail?
Sometimes, companies form a team in a rush without knowing what exactly they plan to achieve. They may have no idea how to structure a project management organization team. Even before you hire new employees, you must clearly define your goals. Creating a new service requires certain technologies, and they, in turn, require the competence of specialists. That is, the capabilities of the hired engineers must match the objectives.
Keeping a staff of specialists whose potential greatly exceeds the tasks makes no sense. The problem is that someone can simply be left without work, which is very irrational and fundamentally contrary to business principles. Why should you overpay? So, here are the basic issues that companies face with their teams.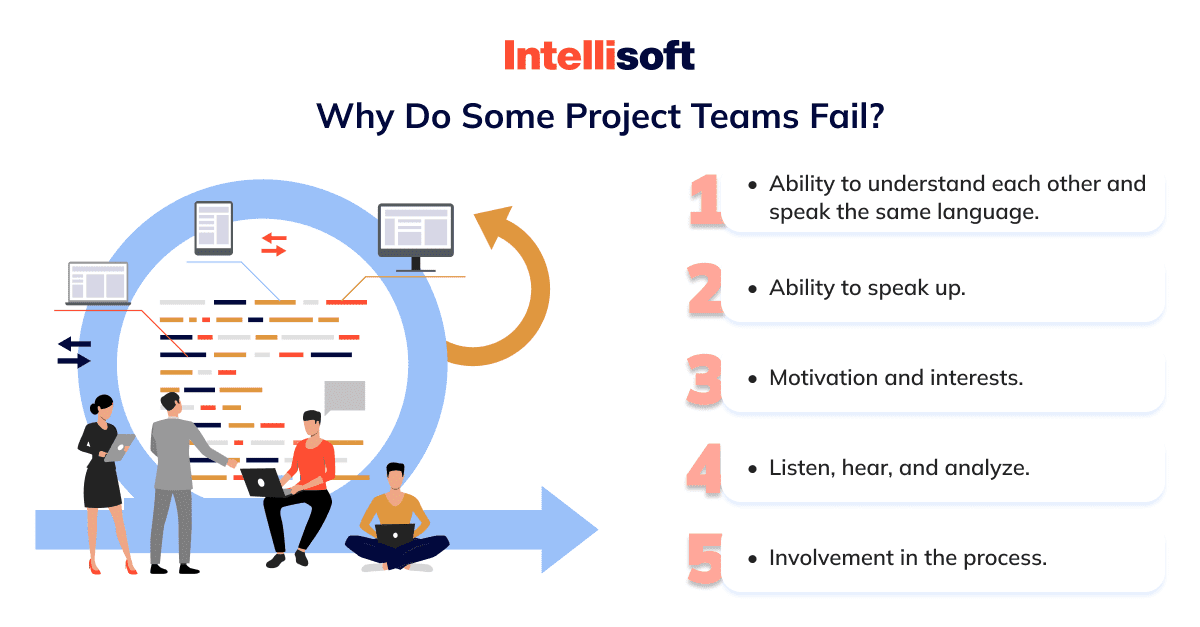 The ability to understand each other and speak the same language
All of us are different and perceive everything differently. We can only put up with it – that's the way people are built. You ask for some sort of feature, for example, converting a file into Excel, but in the output, you get something completely different. The employee might think that another format would work better for your presentation. The task seems to be simple, but you get some kind of mess in the end. Everyone has different experiences and ways of thinking. There are many entertaining tests to see whether your employees are on the same wave. You can find more information here:
1. Bateman, B., Colin Wilson, F., & 1. Bingham, D. (2002). Team effectiveness–development of an audit questionnaire. Journal of Management Development, 21(3), 215-226.
2. Lencioni, P. (2006). The five dysfunctions of a team. John Wiley & Sons.
3. Lencioni, P. M. (2007). The five dysfunctions of a team: Participant Workbook (Vol. 8). John Wiley & Sons.
Ability to speak up
A common situation is when you come across a difficult problem, and you need to find the best solution. You bring your colleagues together and offer to discuss the solution. Some may call this process brainstorming. It is good if someone speaks out, but some people have nothing to offer. Some may feel too shy and unconfident. They are just waiting for a specific task or hint from others, and they will blindly do it as they are told. They don't even think about alternative ways.
Motivation and interests
Are you sure they are the same for your team lead (TL) and the rest of the team? You are motivated to make the features work and get them done on time. At the same time, the team members want to implement a new programming language or try to make a cool architectural solution for all occasions.
Listen, hear, and analyze
Often, in meetings, engineers simply do not understand at all why they were brought out, and they do not even listen. It prevents them from being maximum productive.
Involvement in the process
It happens that programmers just solve some tasks, but they do not understand their final meaning for the project as a whole. For example, they need to add a CTA button, but they don't understand why as experts in marketing don't explain that. They just blindly write code to close the ticket.
As a result, it turns out that this is a group of people who do not understand what they are doing and why. It's like we're going somewhere, and that's fine. Everyone has their own motivations and goals.
When creating a team and setting up processes within it, you must first of all deal with the above-mentioned problems. Of course, there will be other challenges waiting for you, but these issues must be solved first.
The great example of excellent problem solving and team structure in project management is IntelliSoft. The company can boast vivid experience in hiring and managing outsource developers and running dedicated teams. They have built several powerful teams of engineers for the respected clients worldwide from such industries as healthcare, IoT, EdTech, and more. IntelliSoft can help you avoid the common pitfalls and complete the project at the highest level. As the best proof of their competence, the company offers an impressive portfolio of the top projects developed together with their clients.
What Distinguishes a Project Team from a General Interest Group?
To work effectively, it is important for project management team to organize tasks properly. In any project, there are structured working groups consisting of specialists from different departments, united by a common goal. When creating a workgroup or a project management team, consider:
A mix of specialists with diverse skills, values, and ideas.
Distribution of their roles and responsibilities.
A clear organization of work and key contacts.
Search for the best business solution.
Create

people people-centric culture.
Also, keep in mind that a group of people with common interests becomes a team only when each member can meet the following conditions:
Understand the scope and nature of the work to be done.
Plan the tasks assigned.
Keep deadlines, resources, and budgets in mind.
Communicate problems, risks, and changes to management in a timely manner.
Share the status of tasks in a timely manner.
Collaborate with other team members.
Several ways to classify a team structure exist. Here is an example of a project team diagram.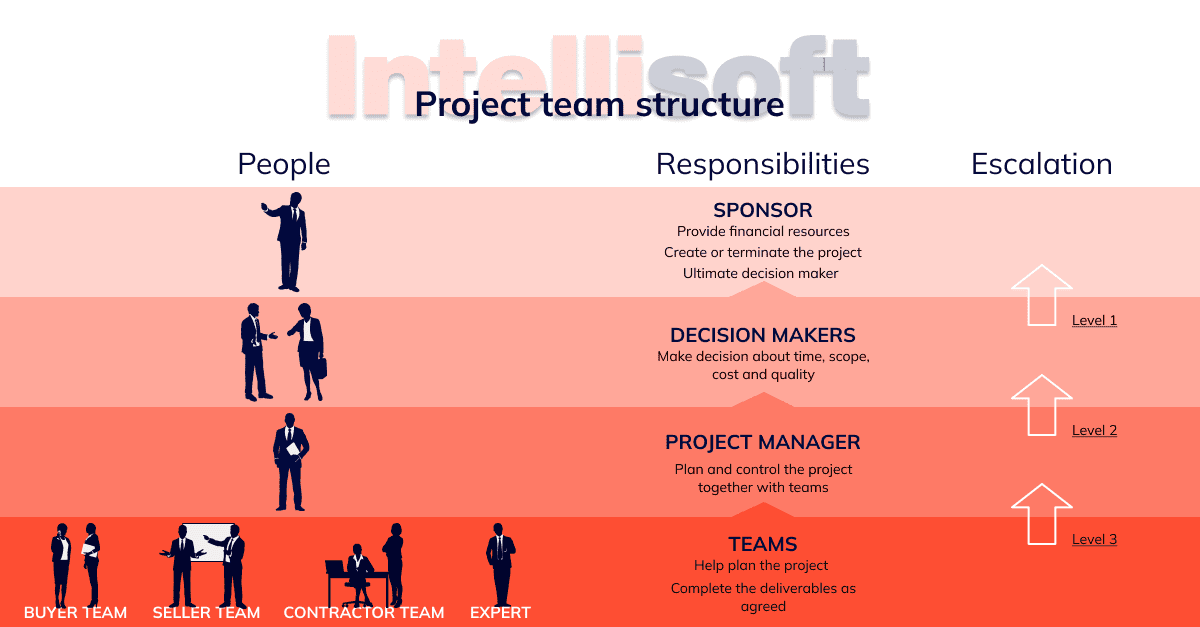 If the candidate meets the conditions listed above, your project management teams can safely welcome them. It does not matter at all whether this candidate is going to work on staff or remotely. By the way, statistics in project management show that more and more project teams include remote employees. COVID-19 is one of the reasons for this dynamic.
Let's take a closer look at those who usually form project teams.
Project Roles
Project team roles are the foundation from which an organization should start to achieve success. A good team is often 50% of the entire project's success. Consider team roles using a software development project as an example. It is a bit different from the project team chart above.
Project Manager
The project manager is the person in charge of the project. Their main goal is to lead everyone and everything to success, bypassing obstacles, risks, and accompanying it all with the enthusiastic looks of competitors.
Managers are also responsible for the quality implementation of projects on time and within the set budget. They keep track of necessary resources while managing relationships with the team and stakeholders.
Team Members
Participants or team members are specialists involved in a project at a certain stage. They can be full-time employees, freelancers, or external consultants. They may work full-time or part-time.
Their roles and responsibilities depend on various factors. Typically, they do the following:
Work on individual outcomes.
Contribute to overall goals.
Provide expertise.
Communicate with users to identify and meet their business needs.
Document processes.
Project Sponsor/Customer
The sponsor or customer is both the internal advocate for the project and the one who has the greatest interest in its successful outcome.
They work closely with the manager, often approving goals and participating in high-level planning. Sometimes, they are even involved in resolving conflicts and removing barriers along the way. Major customer responsibilities include:
Making key business decisions for the project.
Approving the budget.
Securing and availability of resources.
Justifying and presenting project goals to the entire company.
Business Analyst
The business analyst is involved in identifying the organization's requirements and proposing solutions to problems. On the project team, business analysts make sure that the goals of a particular project can solve problems and add value to the organization. They also help make the most of the findings.
The business analyst is trusted to:
Help define the project's concept and scope.
Gather requirements from users and business entities.
Ensure that the deliverables meet the initial requirements.
Test and offer solutions.
Document technical and business requirements.
You can use the information above as a project team structure template for forming your own department(s). Still, you should also be aware of the project management process.
The Project Management Process
Every project will be at least slightly different depending on what you are working on, what kind of team you are in, and how your colleagues are used to interacting with each other.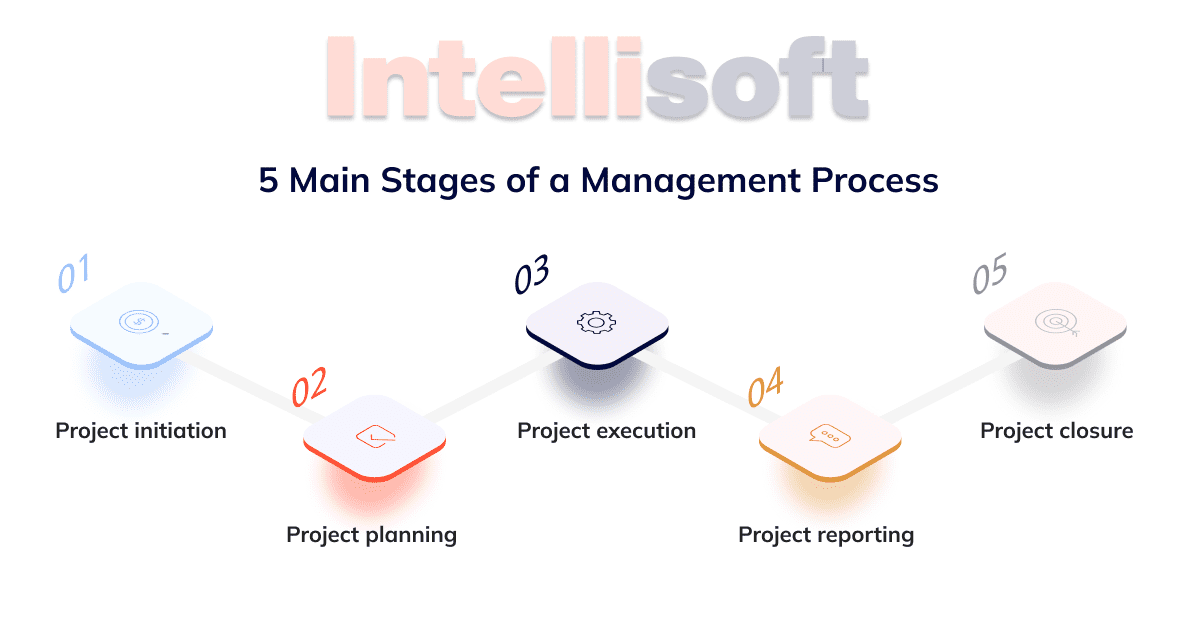 Still, in general, there are five main stages of a project that arise in the team project management process:
Project Initiation. At the initiation stage, you bring a team together to work on the project and estimate its scope. Depending on the complexity and scope of the project, you may also create a roadmap.
Project Planning. At this stage, you determine the requirements of the project and what its success will look like. This stage is very important for project management and achievement of project goals. That is when you create a project plan, identify key milestones, and get an idea of how to allocate resources in chronological order.
Project Execution. The most time-consuming stage of a project is project implementation. All this time, you and your team work on achieving the results of the project. At the implementation stage, it is recommended to apply methods of workload management, time management, and task management in order to synchronize the work of the team without overloading individual employees and letting the project run out of schedule.
Project reporting. Reporting is a must both during the execution phase and at the end of it. During the course of the project, reporting will help you make course fixes, establish teamwork, and make information available to representatives of different departments. At the end of the project, you can write a progress report and discuss it with your stakeholders to improve future projects.
Project closure. After the project is completed, hold a stakeholder meeting to record the lessons learned. Depending on your team, this could be a retrospective on the project, a project review meeting, or a debriefing.
Along with the project team organization chart, you should memorize these steps and try not to skip them. Also, make use of the time-tested hints provided by industry experts.
5 Tips for Team Leaders: How to Make Your Project Successful
In some projects, organizations go against the principle of the lone warrior. They delegate all power to 1-2 project managers without often considering the interests of other team members.
Even though dual leadership is way better than autonomy, it is still vital that all employees take part in every stage of the project: from task assignment to negotiations and final presentation. Only when working together, all team members can combine various sets of competencies. Below, you can find five basic principles for PMs to follow to finish the project successfully and build a real team.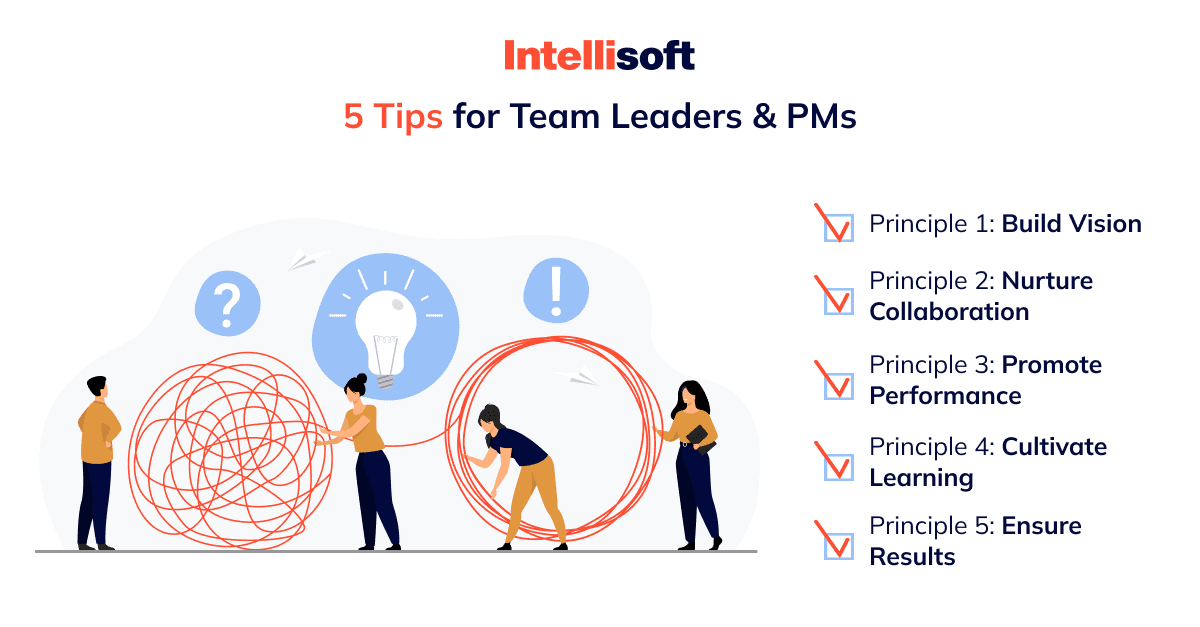 Principle 1: Build Vision
The entire team should be on the same wavelength. It is necessary to track the project's progress so that every member knows what is going on and can interact with others hassle-free. Every project should have a definite goal or direction. To set goals, the so-called SMART principle would work perfectly. As you formulate your project goals, use the SMART goal structure to provide yourself with clear indicators and criteria for evaluating project success.
Project Plan
A project plan is an outline of the key elements your team needs to successfully achieve your project goals.
Principle 2: Nurture Collaboration
Collaboration is the measure for achieving the vision and goals. It is the primary component of every project. Thus, collaboration and project vision goes hand in hand. Without the first, no team can move from the top to the bottom of the Project Leadership Pyramid. With no common cause, collaboration makes no sense.
To support collaboration, a manager should try to turn into a role model to everyone else in the team. First of all, share info and your thoughts with others regularly and ask them to share their opinion as well.
Provide and accept feedback from your teammates. Pretend like you are playing a video game where you should team up with other players and combine your skills to hit the targets. In other words, don't be mean – appreciate every investment from each team player. Open communication is the primary element of high engagement, and that is what you need for boosted productivity and trust in your team.
Principle 3: Promote Performance
So, creating nurturing collaboration is a prerequisite for project's success. However, this element does not make sense if you can't move to the performance phase. Just follow several steps to avoid issues:
Rule #1: Come up with the proper environment.
Dedicate some time to determine what inspires every employee. Find out what the team demands to perform better and on time. That is how you understand how you can assist your team.
Rule #2: Act as a role model.
A project manager (PM) should be a role model for their team. To make them want to follow you, show the true interest in the problems of every member. Walk your talk – stay sincere with your own principles. You should show authentic leadership.
Rule #3: Create a solution-&-outcomes orientation toward issues.
Often, performing teams concentrate on solving problems rather than exploring issues themselves. They miss causes, focusing on effects alone. In fact, a threat should not be viewed as a possible show-stopper. It is rather a unique opportunity to study and develop necessary skills.
Rule #4: Empower the team.
Make sure that every team member does what they should, but do not limit them. If they want to grow, try to add corresponding tasks to their routine or listen to their ideas. Make sure the staff has the necessary sources and data to perform their assigned tasks at the top level.
Rule #5: Initiate productive rivalry.
You should not be afraid of sober competition as it only stimulates your business to grow. Rivalry promotes performance. Just link it properly to social sharing and collaboration.
Rule #6: Celebrate performance.
It is possible to achieve long-lasting performance. However, keep in mind that it requires training, practice, endurance, and an outcome-driven attitude toward challenges. Learn from errors and failures. No performance is possible without cultivating learning.
Principle 4: Cultivate Learning
A PM is both a partner and a coach for all the team members. A leader should facilitate the learning process. Thus, it is critical to set the appropriate environment. Develop a message explaining that every member should take part in the educational process. Set the clear learning goals.
Remember that studying is not a single-time activity. It is a long-lasting procedure. You should hold the sessions and webinars regularly, at least 2-3 per week without huge intervals so that the team does not forget the topic of previous lessons. Initiate various interactive activities to exchange knowledge and skills between team members. Review previous company's projects so that they can learn from their mistakes. Let the employees discuss the errors of each other. Fix the shortcomings and correct performance.
Your employees should have a separate room for staying creative. They also need a time dedicated to developing something new. They should think about new means of achieving the project's goals. As info flows more freely, uncertainty is reduced. Remember that mistakes are learning opportunities. Thus, do not punish your employees for every single pitfall. Instead, sit down and try to realize what could be done better. Once you move from the pyramid level of performance to the level of outcomes, you pass through learning curve.
Principle 5: Ensure Results
Ensuring outcomes is not just about results. The main idea for all principles is to remember about the project vision. Project success in general is the accumulation of multiple outcomes yielded from every principle in the pyramid recalled above. A good leader always thinks about the delivery of results. This stage helps to enhance performance, motivate innovation, boost collaboration, and move one step closer to achieving the vision. Practicing all five levels of the Project Leadership Pyramid is highly recommended for every leader.
How to Improve Project Management in an Organization
How to improve project management in an organization? Improving project management in an organization is essential for achieving success and efficiency. Here are key strategies to enhance project management:
Set Realistic Expectations

: Clearly define project goals, timelines, and deliverables. Ensure all stakeholders, including team members and clients, understand these expectations.

Develop Project Management Skills

: Continuously improve your project management skills. Training and development can help you become a more effective project manager, enabling you to lead teams more efficiently.

Utilize Project Management Strategies

: Employ project management strategies to address specific challenges and unite your teams. These strategies can enhance efficiency and productivity.

Leverage Resources

: Utilize critical resources such as project management software and tools to streamline processes and track progress effectively.

Continuous Learning

: Stay updated with current industry trends and best practices. Learning from successful projects and failures can contribute to ongoing improvement.

Organizational Project Management (OPM)

: Align projects, programs, and portfolios with overall business goals. Establish a Project Management Office (PMO) to provide the necessary resources and ensure effective project execution.
By implementing these strategies, organizations can enhance their project management capabilities, leading to more successful projects and improved overall efficiency.
What is an Example of Knowledge Sharing by a Team Leader
Team leaders can effectively promote knowledge sharing within their teams through various means:
Creating a Trusting Environment

: Team leaders foster an open, trusting atmosphere where members feel comfortable sharing their insights and ideas. This trust is crucial for effective knowledge sharing.

Leading by Example

: Team leaders should set a precedent by actively sharing their knowledge and expertise via people centric culture. When leaders demonstrate a willingness to share, it encourages team members to follow suit, creating a culture of sharing.

Setting Expectations

: Leaders can establish clear expectations regarding knowledge sharing as part of team dynamics. By outlining the importance of sharing insights and how they contribute to the team's success, leaders motivate their teams to participate.

Facilitating Opportunities

: Leaders should actively create opportunities for team members to share knowledge. Such knowledge sharing can be through regular team meetings, brainstorming sessions, or collaborative projects that encourage the exchange of ideas and information. 

Recognizing Contributions

: Acknowledging and appreciating the contributions of individuals who share their knowledge is vital. Leaders can publicly recognize and reward team members for their valuable insights, motivating continued knowledge sharing.
By implementing these strategies, team leaders promote knowledge sharing and create a collaborative and innovative team culture that can enhance overall team performance and success.
Key Outtakes
Managing project team is a huge responsibility. The success of a project depends on the contribution of the entire team and each team member individually. It is critical to determine the right role for each of them. Careful preparation of the team and the composition of the team can ensure half of the success.
Remember that running a project without an effective team is like running a boat without oars. A cohesive team will help any project come to a logical conclusion, regardless of project management strategies and methodologies.
Finally, remember the 6 short rules for successful leadership of an effective team:
Create a cohesive team in which each member can replace the other. This is where autonomy gets along well with interdependence.
Build communication around a clearly defined and realistic goal.
Create a construction project team structure based on roles and responsibilities.
Provide everyone in the group with the information they need to do their job well.
Become a team coach and help everyone.
Invest in team diversity.
Build a successful team and conquer new projects! In case you need professional help at any stage of the dev team hiring process or advice on how to extend an existing project, you can drop us a line. We'll get back to you with the best possible solution ASAP!

About

Kosta Mitrofanskiy

I have 25 years of hands-on experience in the IT and software development industry. During this period, I helped 50+ companies to gain a technological edge across different industries. I can help you with dedicated teams, hiring stand-alone developers, developing a product design and MVP for your healthcare, logistics, or IoT projects. If you have questions concerning our cooperation or need an NDA to sign, contact info@intellisoftware.net.