Imagine yourself at the helm of a colossal machine, a marvel of the digital age, with each cog and gear carefully built and meticulously placed. But suddenly, a gear grinds, a spring snaps, or worse, a crucial component goes missing. Your well-oiled machine grinds to a screeching halt. If we are talking about your never-seen-before startup or the launch of a new life-changing product, chances are the reason it doesn't work is bad design. But no need to panic. Such a crisis is easy to avoid.
You want to ensure that your glorious product looks and works as well as it can. But what steps should you take? Picture your digital project as a machine. A well-assembled design team is the oil that keeps the gears turning smoothly, the precise calibration that ensures peak performance. It's the difference between a rusty beat down tractor and an epic high-performance race car. With the right team, your product won't just blend into the background – it'll be a shining star, the marvel of engineering that leaves onlookers in awe.
This is where we at IntelliSoft enter the scene, armed with the tools to mend your digital contraption and morph it into a model of design efficiency. We know the nuts and bolts of building a top-notch design team because, quite simply, we have been building dedicated teams since 2007. Our blueprints have laid the foundation for countless beautifully designed, user-friendly digital products.
Now, get ready for a high-octane ride through the exciting landscape of digital design. Along the way, we'll share our blueprints, diagnostics, and maintenance tips on how to assemble a team that will make your digital projects work like a charm.
The Anatomy of a Design Team
When constructing an intricate machine of gears, springs, and cogs, you wouldn't just randomly pick a few shiny pieces and hope they'll work together perfectly. You'd carefully examine each component, understand its role, and meticulously place it within the whole mechanism to ensure seamless operation. This is precisely the approach one should take when creating a team design itself.
So, what exactly is a design team, and why are we talking about machines and gears instead of people?
A design team is a collection of individuals, each with their unique skills and perspectives, brought together to achieve a common objective – creating a digital product that not only functions well but also provides a stellar user experience. Think of it as a well-oiled machine, with each team member representing a different component. When assembled correctly, this machine can create some of the most innovative, user-friendly, and aesthetically pleasing digital products you've ever seen.
We believe that a design team's primary goal is to fill the gap between functionality and aesthetics. Sure, you can have a product that works, but if it's as appealing as a rusty bicycle, no one's going to give it a second glance. Conversely, a product could be as shiny as a new penny, but if it's as functional as a chocolate teapot, users won't stick around for long.
Key Players in a Design Team
Assembling a well-oiled design machine requires understanding the roles of each component. So, let's take a glance at the key players that make up a top-notch design team.
UX/Product Designers
UX (User Experience) or product designers are dedicated to creating a product that's not only visually pleasing, but also intuitive and user-friendly. They focus on the overall usability of the product, streamlining the user journey and eliminating any speed bumps along the way. And their work can pay off big time – studies have demonstrated that the good work of the UX design team can potentially raise customer conversion rates up to a whopping 400%. Quite the incentive, do you agree?
UI Designers
Next up are the UI (User Interface) designers, the visual masters of the design team. They're responsible for creating an engaging and aesthetically pleasing user interface, encompassing everything from the color palette to the typography. They're the ones who make sure your digital product isn't just a joy to use but a feast for the eyes as well.
Graphic Designers
Graphic designers are the artists of the team, creating visually compelling components such as logos, illustrations, and marketing materials. They work closely with UI designers, ensuring the visual elements of the product maintain a cohesive and appealing aesthetic. They're the ones who add the cherry on top of the UI designer's cake, making your product not just functional but downright beautiful.
UX Researchers
UX Researchers are the detectives of the design world, studying the needs and behaviors of users. They identify design objectives, create a strategy on how to achieve them, and conduct extensive research, including user interviews, usability testing, and A/B testing. Their insights are invaluable in creating a product that genuinely meets the users' needs and surpasses their expectations.
UX Copywriters
UX Copywriters are the wordsmiths of the team, crafting texts that guide users smoothly through the product. They ensure that users can quickly find solutions to their issues and navigate the app with ease. The right words put into a strategically placed text can make the difference between a frustrating user experience and a delightful one, and that's where UX copywriters shine.
Web Developers
Web Developers are the engineers who bring the designs to life. They're the ones who translate the creative vision into a functioning product through coding. Whether it's for a website or an application, their technical expertise ensures the final product not only looks great, but works flawlessly as well.
Project Managers
Last, but certainly not least, are the project managers. They're the captains of the ship, steering the project toward its goal while ensuring deadlines are met, resources are managed, and communication flows smoothly. Their oversight is crucial in keeping the design process on track and ensuring the final product aligns with the project's objectives.
Each of these roles is a critical cog in the design machine. Each of them brings special skills and perspectives to the table, contributing to the creation of a digital product that doesn't just work, but wows users at every turn.
Blueprint for Building an Outstanding Design Team
Assembling a crack team of design maestros isn't something that happens overnight. It's a bit like trying to create a complicated contraption – it requires a lot of time, patience, and, most importantly, a solid blueprint. So, let's start laying the foundation for your very own all-star design team.
1. Assess Your Needs
Your journey starts with a clear-eyed assessment of your project's requirements. You shouldn't start building a design team without knowing what you're looking to create.
Understand the project's scope, timeline, and particular needs. Are you redesigning a website or creating a brand-new mobile app? How complex is the project? Is your timeline tighter than a hipster's skinny jeans, or do you have a little more breathing room? Answer these questions to understand what kind of team structure you need.
2. Identify Roles
Now that you've assessed your needs, it's time to identify the roles that will be essential for your design team. It's like assembling a fantasy football team – you need to choose the right players for each position based on your strategy. Remember, every project is unique, and so is your future team should be.
You might need a UX Designer, a UI Designer, a Graphic Designer, a UX Researcher, a UX Copywriter, a Web Developer, and a Project Manager. Or, you might need a combination that's entirely different. The key is to identify the roles that will best serve your project's needs.
3. Hire the Right People
Once you've identified the roles you need, it's time to fill them. And no, we're not talking about grabbing the first person who walks through the door. You would want to find candidates with the necessary skills, experience, and, importantly, a cultural fit.
Remember, your design team is going to spend a lot of time working together. If they don't get along well, it's going to be close to the amount of fun you can have on a road trip with someone who only listens to polka music.
Search for candidates with a solid track record in providing product design services who not only tick all the boxes skill-wise, but also share your company's values and work ethic.
4. Establish Processes and Workflows
Building a team is just the first move – you also need to establish efficient processes and workflows. You need to arrange things so that everything flows smoothly. Create clear communication channels, assign responsibilities, and establish a system for tracking progress.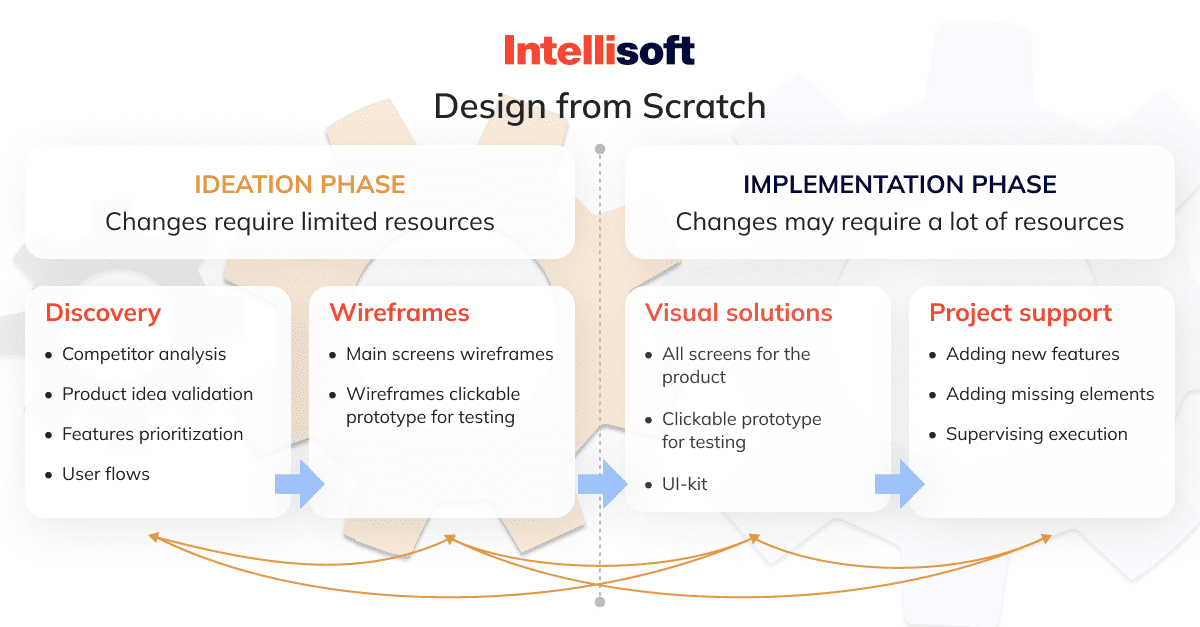 The goal is to ensure that everybody knows what they need to be doing when they're supposed to be doing it, and who they should turn to if they have questions. As we said before, a well-organized team is like a well-oiled machine – it runs efficiently without a hitch and gets the job done.
5. Foster Creativity
Finally, you need to foster a culture of creativity within your team. Encourage experimentation, provide constructive feedback, and promote continuous learning. A potentially successful design team needs the right conditions to grow and thrive.
Creating an environment where creativity is celebrated, and ideas are always welcomed, can help your team feel more engaged and vested in their work. And when your team is invested, they're more likely to produce designs that don't just meet expectations but exceed them.
6. Regularly Evaluate and Adapt
Once your team is assembled, your job is far from over. You need to regularly evaluate your team's performance and make adjustments as necessary. Regular check-ins can help you identify any potential problems early on and tweak them in the bud.
Remember, what works for one project or at one point in time might not work forever. Being flexible and adaptable is crucial. If the engine isn't running smoothly, don't be afraid to get under the hood and make some tweaks.
7. Encourage Collaboration and Communication
A well-functioning team is like a jazz band – each player listens to the others and contributes their unique sound to create a harmonious performance. Encourage your team members to collaborate, share ideas, and communicate effectively. Foster an atmosphere where everyone feels comfortable voicing their opinions and concerns.
Need Help With Development Of Your Project?
Hire Us
Effective communication is the essence of any successful team. Create channels for communication and ensure that everyone knows how and when to use them. Regular team meetings, one-on-one check-ins, and open-door policies can all help facilitate effective communication.
8. Invest in Tools and Resources
Your design team can't function effectively without the right tools and resources. The toolkit could contain anything from design software like Adobe Creative Cloud or Sketch, to collaboration tools like Slack or Asana, to user research tools like Usertesting or Lookback.
Investing in the right tools can increase your team's productivity, streamline workflows, and ultimately lead to better designs. Plus, it sends a message to your team that you're committed to supporting them and their work.
9. Promote a Healthy Work-Life Balance
Burnout is a real risk in any industry, and design is no exception. Ensure that your design team members are maintaining a healthy work-life balance. Encourage regular breaks, respect personal time, and discourage excessive overtime.
Remember, a tired designer is not a productive designer. Plus, a happy, well-rested team is more likely to be a creative and innovative one.
Building an outstanding design team is no small feat. But with careful planning, the right people, efficient processes, and a culture that fosters creativity and promotes a healthy work-life balance, you'll have a design team that's not only capable of producing high-quality work, but one that's truly outstanding. As we have realized over years of experience in the software development industry, it's not just about assembling a team – it's about assembling the right team.
Related readings:
Design Team Structure Types
In the world of design, as with many other disciplines, size does matter, but not always in the way you might think. Let's take a look at the various design team organizational structures and how each model can influence the overall success of your project.
The Size of the Design Team
In a domain where "bigger is better" is often the mantra, it's easy to assume that a larger design team equates to superior quality. In reality, the size of a design team primarily affects the project's length, not its excellence. A larger team can indeed accelerate the pace, but the ultimate quality of the design depends on each designer's skills and expertise.
Let's return to the well-oiled machine analogy. Adding more cogs can make the machine run faster, but if the cogs aren't crafted with precision, the machine won't function as it should. So, if you're up against a tight deadline, by all means, bring in more skilled hands on deck. Just remember, size isn't a substitute for skill.
Centralized Design Team Model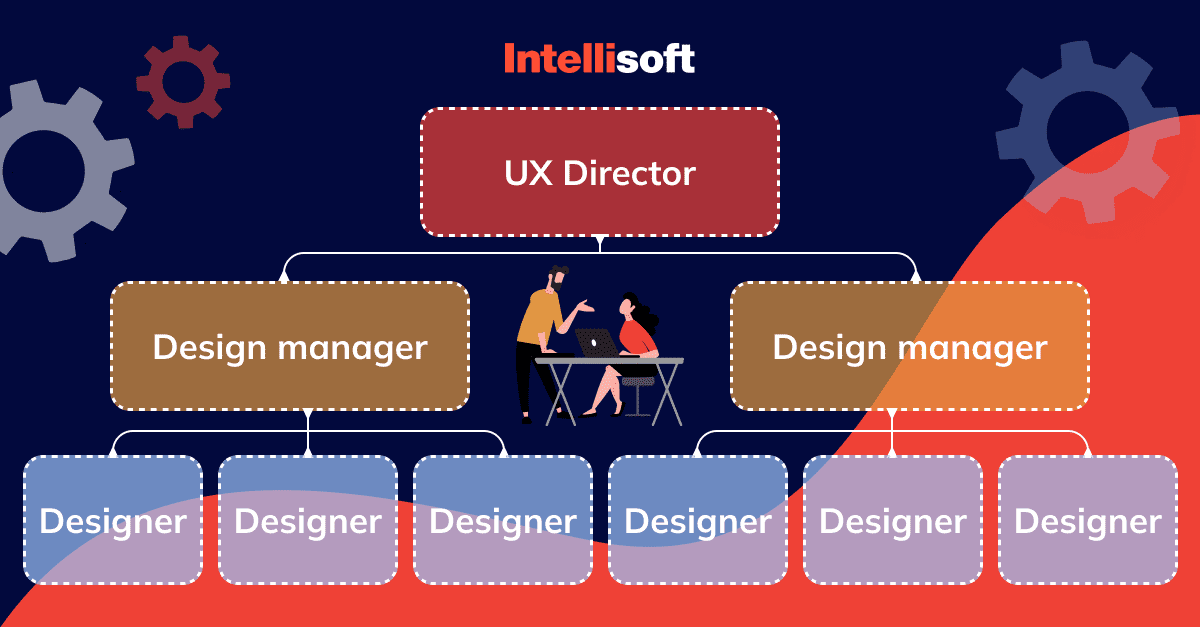 In this model, decision-making power is consolidated with one person or a select group. This model ensures consistency and allows for a unified design direction.
However, it can also stifle individual creativity and potentially slow the decision-making process. It's a model that often works well for medium-sized companies where centralized control can be beneficial without suppressing innovation.
Embedded Design Team Model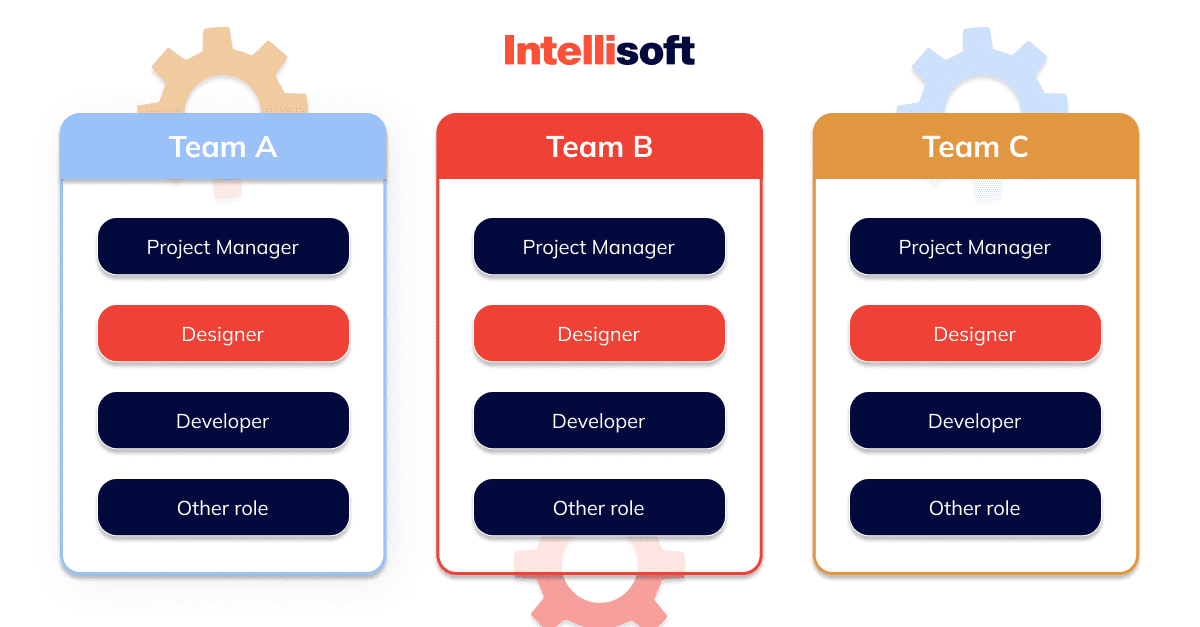 This model is like a group of musicians, each playing solos yet still contributing to the overall performance. This model involves designers working within different departments or teams which fosters a collaborative environment and ensures a design perspective is represented across the organization.
However, it can also lead to inconsistencies in design and potential communication breakdowns. This model tends to work well for small companies where cross-functional collaboration is essential and easy to manage.
Flexible Design Team Model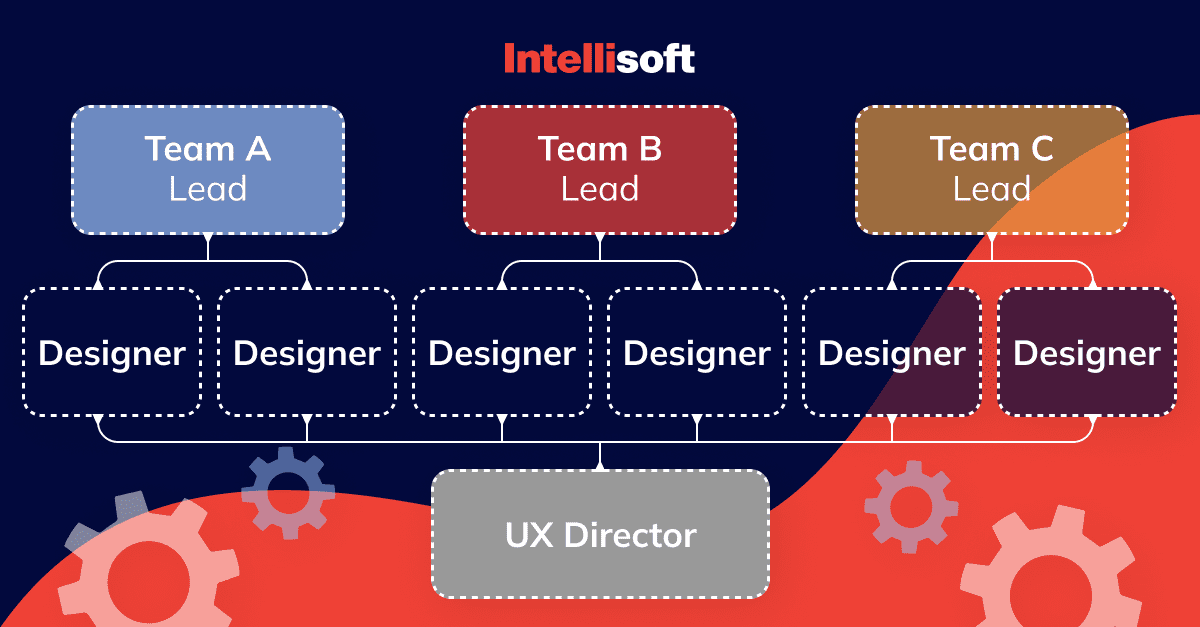 This model is a hybrid of the centralized and embedded models, offering flexibility and adaptability. It allows for both unified and individual creativity but can potentially lead to confusion if roles and responsibilities aren't clearly defined.
This model is typically best suited for large organizations as part of the larger product team's structure where adaptability and flexibility are key.
Contractual Design Team Model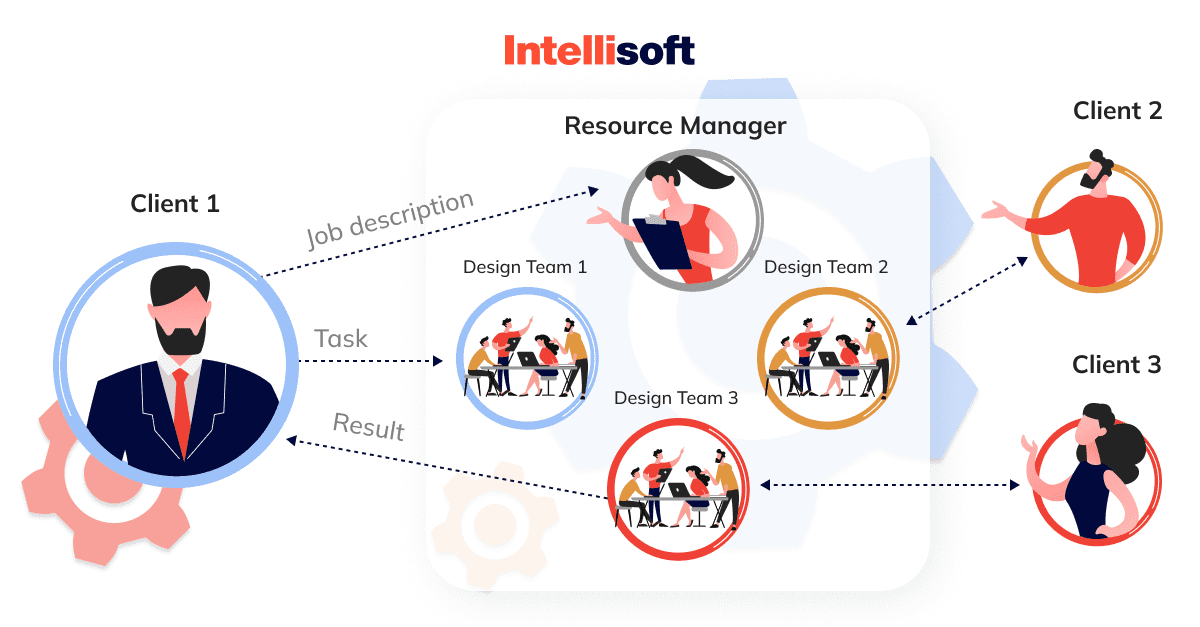 Sometimes, you might need a virtuoso to step in for a show-stopping solo. This model involves hiring third-party designers to fill skill gaps or help with overflow. It's a cost-effective way to access specialized skills without a long-term commitment.
However, it can lead to communication issues and a lack of ownership, and these contract designers might not be as invested in the project as in-house team members. This model is often a good fit for startups with a tight budget or companies needing specialized skills for a specific project.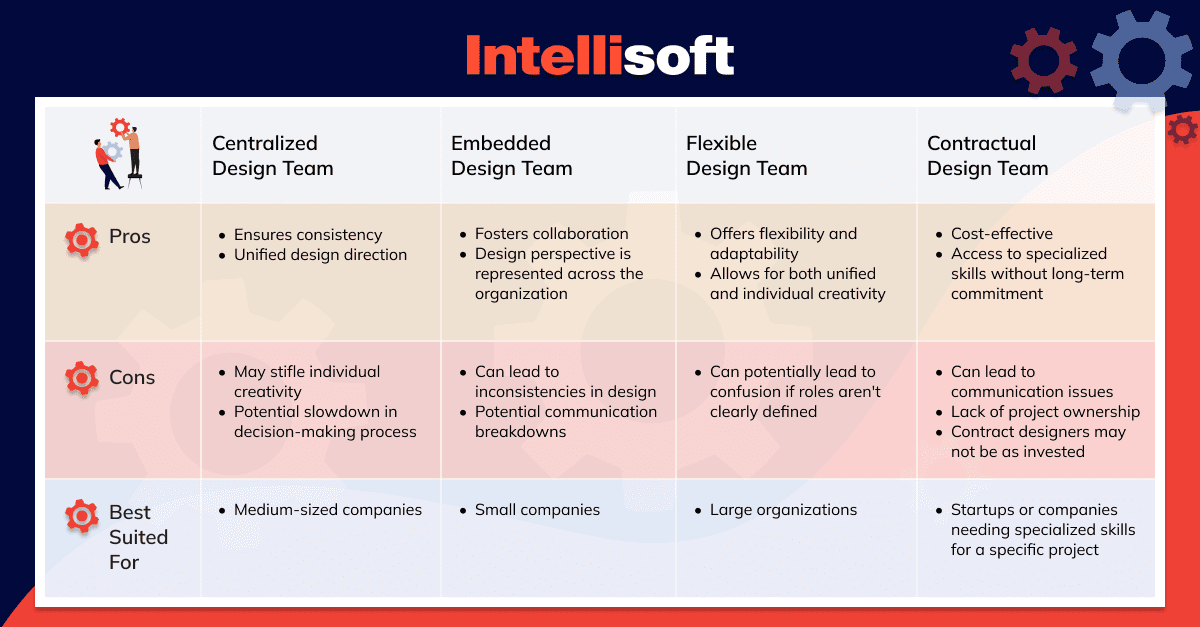 Assembling your design team is much like designing a product – it requires careful thought, strategic planning, and a deep understanding of your needs. And, as we now know, there's no one-size-fits-all solution. So, consider your project, your resources, and your goals, and let that guide you in creating your perfect design team.
Quick-Start Strategy for Small Teams or Time-Constrained Projects
Do you remember the legend of David and Goliath? Against all odds, the young shepherd boy, with just a slingshot in hand, outsmarted and defeated a mighty giant. Trust us, with the right strategy, your small design team can function like David, handling Goliath-sized projects with a well-targeted approach.
By adopting the correct approach, it is possible to achieve success with your limited resources and still deliver a knockout design project. Here's how:
Start with Core Roles
The first step is to distinguish the core roles. Remember, you're a small but mighty crew, so it's all about quality over quantity. If you have started a UX project, a UX designer who can wear multiple hats – user research, interaction design, visual design – is your knight in shining armor.
For example, your small website design team can consist of a web designer, a web developer, and a content writer.
The idea is to have individuals who are the Jack (or Jill) of all trades rather than a large team of specialists. These design gurus should be able to adapt, improvise, and handle a variety of tasks within the design process. With this model, you're running a lean machine that gets the job done effectively and successfully.
Leverage Freelancers or Agencies
There will be times when your small team needs an extra hand or a specialist's touch. This is where freelancers or agencies come into the picture.
Outsourcing is a go-to source of extra workforce that can deliver results when you need them the most. Need a logo designed by yesterday? Hire a freelance graphic designer. Need a comprehensive usability test done but don't have the resources? There are agencies for that.
Freelancers and agencies can fill skill gaps, take on overflow work, and bring fresh perspectives to your project. However, remember to keep the communication clear and expectations well-defined.
Collaborate with Other Departments
Have you ever heard the saying, "Teamwork makes the dream work"? In the case of small design teams or time-constrained projects, this couldn't be more accurate. By collaborating, you can pool your expertise, resources, and ideas to achieve common goals. It not only improves efficiency and productivity but also fosters a sense of unity. Thus, make sure to reach out and build bridges with other departments whenever possible. Together, you can achieve great things.
Marketing can provide valuable input on branding and user personas. Sales can give insights into customer pain points. Customer service can offer real-time user feedback. Developers can help with technical snags. You get the picture.
By collaborating with other departments, you're not only gaining access to their resources and insights but also ensuring that the end product aligns with the overall company goals and objectives.
Navigating a small design team or time-constrained project can be challenging. It might seem impossible at first, but with the right moves and a strategic approach, you can achieve your goal. Remember, it's not about the size of the team in the fight – it's about the size of the fight in the team. And armed with these strategies, your small team is ready to pack a punch.
The Hallmarks of the Best Design Team
In the perfect world, you aim to fill your meeting room with a team possessing a remarkable array of skills. You would want to have individuals with brilliant intellect, adaptability to any situation, formidable strength in their fields, and strategic thinking of the best leaders. Let's take a closer look at these qualities that make a design team truly extraordinary.
Diverse Skill Set
When it comes to design, diversity isn't just a buzzword – it's the secret ingredient to creating a multi-faceted gem of a team. Just as a well-balanced diet needs a mix of different food groups, a well-balanced design team needs a mix of different skills.
You need:
Analytical prowess of a UX researcher
Creative spark of a graphic designer
Meticulous precision of a UI designer
Tech-savvy genius of a web developer
And let's not forget the leadership of a project manager who can orchestrate these diverse elements into a harmonious symphony. A diverse skill set in your team gets you ready to tackle any design challenge that comes your way.
Strong Collaboration
Collaboration encompasses more than mere teamwork – it's about creating a shared vision, a unified direction, and a sense of camaraderie. Effective communication is the GPS that keeps everyone on the same page, avoiding detours and roadblocks on your journey. Open channels for feedback allow for fine-tuning and improvement.
The culture of teamwork is the turbo boost that propels everyone toward the finish line. A collaborative design team is a constantly evolving creature. Each member listens, improvises, and plays off the others, creating a harmonious blend of unique results – designs that are far greater than the work of a single, even the most talented individual.
Adaptability
In the fast-paced world of design, change is the only constant. New technologies, user trends, and design principles are constantly emerging. It's like trying to build a sandcastle while the tide is coming in. That's where adaptability comes into play.
Adaptability is the ability to ride the waves of change instead of being swept away by them. It's about embracing new technologies as exciting tools rather than daunting challenges. It's about responding to feedback with a growth mindset, viewing it as an opportunity to improve rather than a critique. A team that's adaptable evolves easily and adjusts to a new environment.
Goal-Oriented Approach
Last, but certainly not least, is a goal-oriented approach. While creativity and innovation are crucial in design, they need to be channeled towards a specific objective, a goal that gives you a sense of direction and purpose.
A goal-oriented team is focused on meeting project objectives. They keep the end user in mind with every decision they make. They measure their success, not just by the aesthetics of their design, but by how effectively it solves the problem at hand.
So, there you have it. The hallmarks of an exceptional design team are diverse, but when they come together, they form an unstoppable force that can conquer any design challenge. Armed with these attributes, your design team is ready to save the day, one design project at a time.
Conclusion
In the grand tapestry of building a product, the design team is the thread that weaves it all together. They are the magicians transforming mere ideas into visual and functional realities that mesmerize your target audience. Assembling the right design team is like finding the secret recipe for your product's success.
Key Takeaways
Each role, from UX designers to project managers, plays a crucial part in bringing your vision to life.
Different organization team structures, from centralized to contractual, offer unique advantages and challenges. Choose the one that fits your organization's size and needs.
Assess your needs, identify roles, hire the right people, establish efficient workflows, and foster creativity to build an outstanding design team.
You can leverage core roles and collaborate with freelancers, agencies, or other departments.
A diverse skill set, strong collaboration, adaptability, and a goal-oriented approach are the characteristics that distinguish an extraordinary design team.
But let's face it, building a dream design team can be as challenging as it is exciting. That's where we at IntelliSoft come in. Why not sidestep the hurdles of assembling an in-house team and instead tap into our talent pool? With IntelliSoft, you gain access to a bevy of experienced designers who deliver high-quality work at cost-effective rates.
Our teams, skilled professionals in creating engaging digital products, are just a call away. So why wait? Propel your business to new heights with IntelliSoft – your partner in crafting the ultimate user experience. Contact us any time and we'll create outstanding product design together.

About

Kosta Mitrofanskiy

I have 25 years of hands-on experience in the IT and software development industry. During this period, I helped 50+ companies to gain a technological edge across different industries. I can help you with dedicated teams, hiring stand-alone developers, developing a product design and MVP for your healthcare, logistics, or IoT projects. If you have questions concerning our cooperation or need an NDA to sign, contact info@intellisoftware.net.