Picture this: You have been working hard for years, pouring your heart, soul, and inspiration into what seemed like a groundbreaking project. You have been spending every waking minute crafting it from start to finish, making it flawless. Now that you are ready to enter the market with your new product, an investor appears on the horizon. Your main goal now is to impress the investor and prove that your innovative idea is worth investing in. This person can either realize your wildest ideas and turn them into reality, or shatter everything you've been dreaming of. The outcome depends on technical due diligence – the key to the success of any startup. It is the process during which your product undergoes careful examination, ensuring that it is worth investing in and presenting to the audience. Tech due diligence is a journey in itself, during which you or the investors assess your venture's true potential.
With more than 13 years in the market, IntelliSoft experts understand that technical due diligence is not just a checklist that needs to be ticked off. Tech due diligence is an art form that needs to be mastered, and our experience in the market has made us true artisans of it. We understand what investors are looking for in startups and help our clients evaluate their strengths and weaknesses and find the right path to success. Our experts have extensive knowledge of the industry's practices and trends, helping our clients analyze their products and provide guidance and recommendations on future steps. With our support, you will learn how to approach investors and partners and build a bright and abundant future for your company.
This article will serve as a detailed guide in the world of technical due diligence and unravel its process and importance to you. Moreover, you will learn about the TDD meaning, its key elements, what stages investors usually focus on, and how to prepare for tech due diligence to ensure that investors are lining up to fund your business.
What Is Technical Due Diligence?
What is technical due diligence (TDD), and why should you consider it? Simply put, it is the process of analyzing and reviewing the tech aspect of your product or service, such as its code quality, architecture, licensing, security, scalability, and more.
This happens during the development stage and is conducted by potential investors, partners, acquirers, or lenders. Once an investor gets interested in your product, they need to know that what they're investing in will succeed in the market and function properly. A TDD document provides both your team and the investors with all strengths and weaknesses of the product, helping assess potential risks, pitfalls, and possibilities for growth.
When is technical due diligence needed?
Technical due diligence is needed before the merger and acquisition (M&A) stage or getting an investment. It's the same as when you're considering buying an expensive product, be it a car, laptop, or even an apartment. You need to consider all aspects of the product, its strengths, potential issues that can arise, and whether it's worth your money. The same happens when you present your product to the investor; they analyze the state of your company and possible risks before finalizing the deal.
Who conducts tech due diligence?
Usually, it is the investor who initiates the process, fund managers, compliance analysts, and equity research firms. The person conducting the IT due diligence should have a tech background or work with a third party who has experience in this process. These experts often use due diligence software to conduct this process.
Why is technical due diligence important?
Even if you think that you have developed an outstanding product, be it an MVP or a finished product, it does not guarantee that you will receive funding. The thing is, your MVP may indeed be flawless, but there can still be issues with other aspects of your organization, and it can discourage investors from working with you.
For example, imagine that you're going to a fancy restaurant with delicious dishes, but you happen to learn that, despite the amazing quality of food, the staff does not follow safety regulations or cleanliness in the kitchen. How, then, can you be sure that the meals are safe to eat? You will probably choose another restaurant and never visit this one again. The same goes for tech products.
Thus, TDD is essential for several reasons:
Assessing technical risks
First and foremost, technical due diligence helps evaluate the technical and operational risks of investing in a specific tech product. These limitations can be detrimental to the success of the product, so investors need to know about them beforehand and, either ask you to develop strategies to mitigate the risks, or not invest at all.
Identifying opportunities for growth
TDD also helps investors evaluate whether a product has opportunities for growth that will enhance the value of the investment. For example, it can mean extending the company's technical infrastructure or employing more experts in certain areas to extend the development team.
Ensuring feasibility
Technical due diligence helps investors understand the feasibility of the product and whether it will succeed in the long run. This helps investors to refrain from investing money in products that are not technically or operationally feasible.
Facilitating decision-making
When investors have a comprehensive understanding of the product, both its technical and operational aspects, it makes it easier for them to make more informed decisions and negotiate the terms of the agreement.
Technical Due Diligence Process
The stages of the TDD may vary depending on the company, the project, and stakeholders involved. Typically, the process can take from two to three weeks or even longer if there are issues in communication or strategy. We have compiled an approximate roadmap of the process to help you understand the stages of TDD better.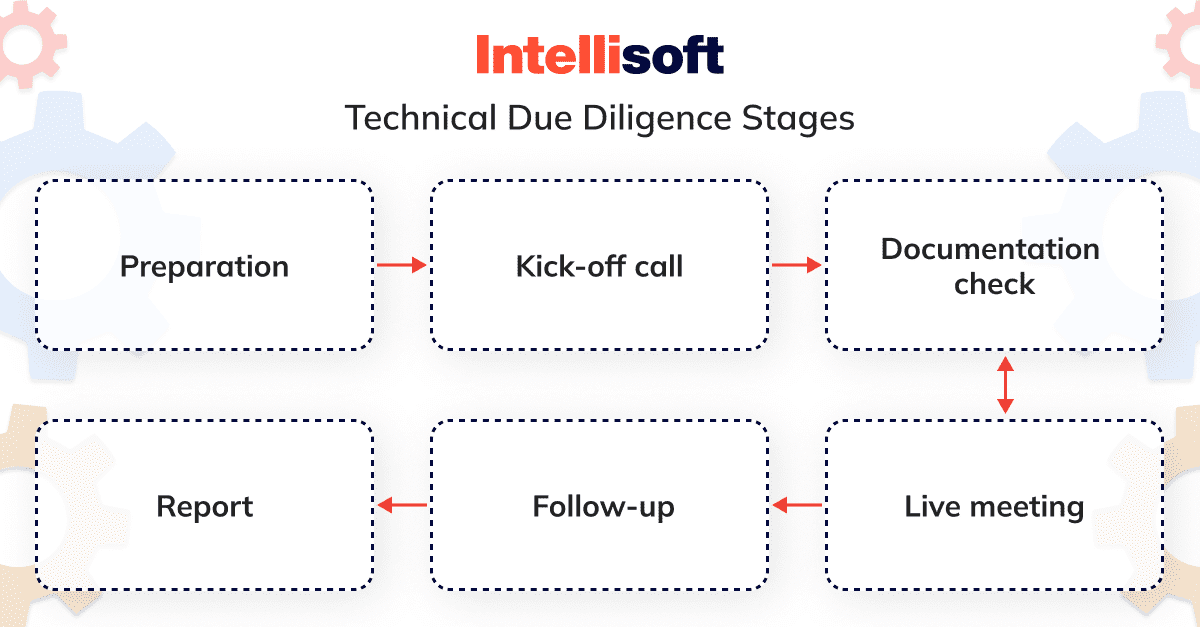 Step 1: Preparation
During this first step, it is important to conduct a code review. It can either be done by your team (if you are the developer of the product) or the vendor (if you are working with an outsourcing team).
A code review includes a full code check for errors, bugs, inaccuracies, and the programming style. This rather general review includes documentation review, code verification, solutions, integrations, coverage of weaknesses, and identifying strengths. During this step, you can also set priorities and discover how to work with shortcomings in the future.
You should not strive to fix all the issues during this first step of TDD because it won't work. The task of this step is to identify your weaknesses and strengths and set your priorities straight.
Step 2: Kick-off call
During the kick-off call, it is time to talk about the business side of the product and all the future stages of TDD. When you talk to the investors, discuss the concept of your product, your vision, your market niche, and the value proposition for the users. All the information should be laid down as straightforwardly as possible.
Here's a list of topics that should be discussed:
The timeline for tech due diligence
The scope of data and software
The number of positions and employees to interview
The way you will provide all documentation and software
You don't have to worry about making a super complicated plan for the first call; keep it simple and focus on the essential aspects, such as how unique your approach and technology are and what you have to offer to the audience.
Step 3: Documentation check
For this step, you need to thoroughly prepare all your documentation and ensure that it is informative and consistent. It should include details about your product's infrastructure, architecture, servers, integrations, and other tech aspects. The more detailed the documentation is, the easier it will be for the investors to grasp the full picture of your product.
Step 4: Live meeting
Reviewing all your documentation online is an important step, but investors also need to have a live meeting and see your technical side in action. This is always a pre-scheduled meeting with your teср team that helps investors learn about your project's internal processes and specifics, get acquainted with the team, and voice their opinion in real-time.
Step 5: Follow-up
After the live meeting it is time to gather some feedback from the investors. The team conducting TDD may have some follow-up questions and schedule a call or a new meeting. After all these questions and meetings, they will share their feedback with you.
Step 6: Report
This is the last step of the technical due diligence process when you can consider it finished. Now it's time to report the findings of your product's documentation, business strategy, code quality, and so on.
Related readings
Which topics should a Technology DD cover?
There's no ultimate checklist of topics that should be covered during a technology DD. The list depends on the company and goal of due diligence, but several topics arise more often than others.
Scalability
Team scaling: What happens when more people join the team? Will it positively or negatively influence productivity?
Infrastructure scaling: Can infrastructure scale up easily to support a huge user base? Will it require any manual work?
Scaling cost: How will scaling influence the costs of infrastructure?
Monitoring and alerting: Is the team informed about the changes in infrastructure metrics quickly?
Business continuity: What amount of data is lost in case of disaster, and how can the system support it in case of errors?
Tech team
Team structure: Are there enough members in the team to ensure productivity? Does the team structure support responsibility and accountability?
Workflows: How is the team collaborating, what approach did they choose, and do the methodologies match the context of the project they are working on?
Meeting culture: How effective and goal-oriented are the meetings, and how are they arranged?
Autonomy: Do all team members have clearly assigned roles and enough autonomy to make decisions and reach the goal without any pitfalls?
Recruiting: What does the process of recruiting, selection, and onboarding new employees look like? How does the company speed up this process?
Tech stack
Tech stack choices: What programming languages does the team use, and does it provide a suitable ecosystem of libraries and frameworks?
Architecture: How can the software be adapted to the changing requirements and needs?
Technical debt: Is the team aware of the trade-offs and takes shortcuts? How are they paying off that debt?
Security considerations: Is the data kept secure, and are security pitfalls avoided?
Legal & IP
GDPR compliance: Are the processes compliant with GDPR to ensure that all users can exercise their rights?
Patent strategy: What is the patent strategy for protecting the company's assets?
Open-source libraries: Do all developers know about the potential implications of using open-source libraries?
IP ownership: Does the company own IP?
Tech assets
Documentation: Does the company have comprehensive and structured documentation that enables a quick understanding of core components?
Code quality: Does the company have established standards on code quality and automated testing?
Software development life cycle (SDLC): What are the steps from the requirements to the implementation and deployment of new features?
Product management
Product strategy: How is the product strategy aligned with the company's vision and ideas and influenced by stakeholders?
UX capabilities: Does the company have experts in user experience methodologies, and are they involved in the process?
Product discovery: What experiments does the team conduct to find out what to build?
Product intelligence: What information and insights inform the decisions about the future product?
Technical Due Diligence Checklist
The key elements of tech due diligence depend on the investment stages of your product. Usually, investors focus on three main startup stages: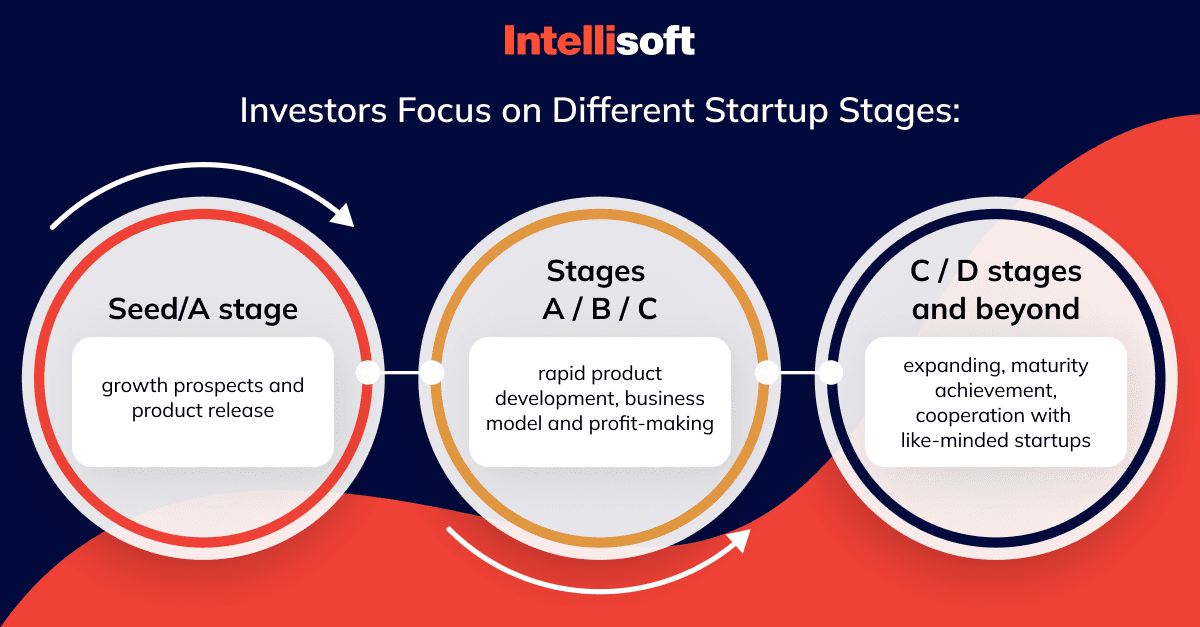 Seed /A stage
At this stage, you need to present your prospects and release your product. As a result, the technical due diligence will focus more on your project's prospects, the investors will see the first results after the release and make a decision on whether the product has any potential.
Stages А / B / C
These stages are all about the rapid development of the product. At this point, your startup should have a stable revenue and working business model so investors can focus on the profit-making of the start-up.
C/D stages
At the C/D stages, the startup is scaling up, expanding, and cooperating with related businesses. It's also time to focus on customers' demands during these and future stages.
Even though the key elements of the tech due diligence will depend on the stages of investment, there are 7 main elements of the tech due diligence scope that we will cover next.
Tech due diligence scope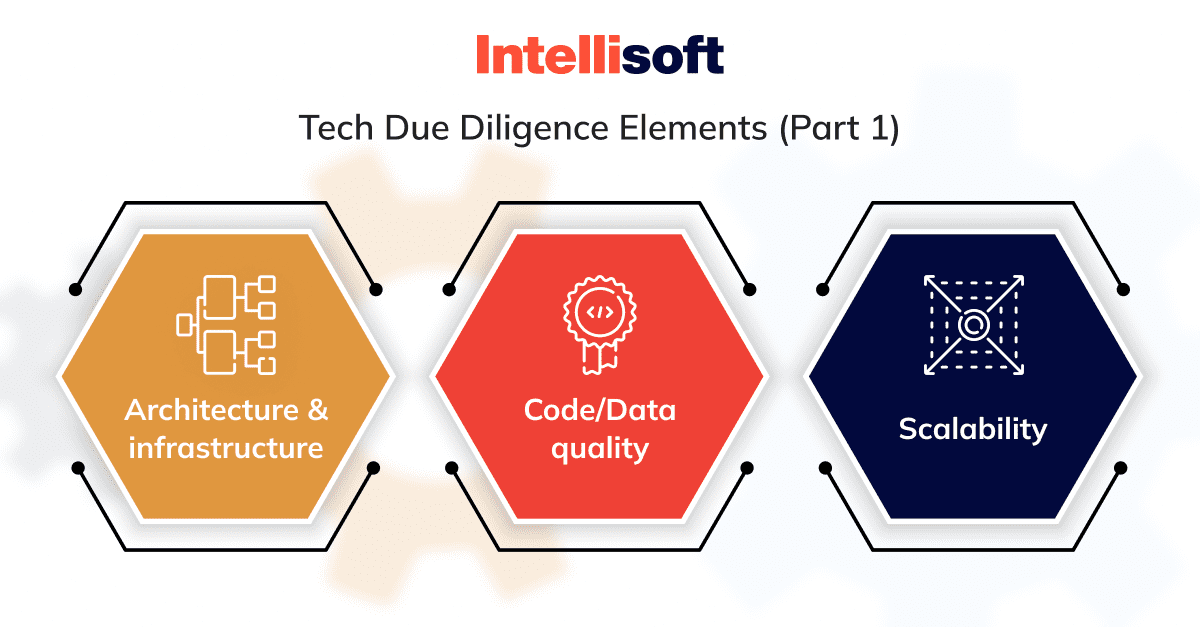 1. Architecture & Infrastructure
The initial stage of the tech due diligence is discussing your startup's technology and architecture in detail, providing documentation like API documents, Product design documentation, and Architectural descriptions. Moreover, you need to discuss the scalability prospects and compare your product to the competitors' to ensure that your solution is unique and has value to users.
When talking about your product's infrastructure, explain what programming languages, frameworks, and libraries you have used, as investors will pay close attention to this.
Make sure to prepare all detailed documentation beforehand.
If you are only starting to develop your product, there's no need to rush with architecture details. You can present a prototype or MVP to test the idea. Moreover, it is more important to explain the current situation, describe your vision, and justify your decisions.
2. Code/Data Quality
Code quality is essential for any tech product, and investors pay special attention to how well-built the system is. There should be no errors, bugs, or malfunctions in your system. Moreover, if the code is poorly written, it can cause additional and unforeseen development costs.
The challenge of writing high-quality code lies in finding an experienced team of developers. You can either work with your in-house team if they have enough expertise or hire a dedicated team. In this way, you won't have to worry about bugs, technical debt, and extra spending in the future.
To ensure that the written code functions correctly, you should perform thorough testing to find possible pitfalls. However, test not only the back-end and front-end parts of your project, but also the UI/UX part to ensure that the interface is user-friendly and has no malfunctions.
3. Scalability
The scalability of your product is a crucial aspect to consider during tech due diligence. Investors want to know that the solution they put their money into can grow and scale up easily, and that the tech stack can handle the growing requirements.
During the TDD process, it's important to determine whether the startup will face any challenges as it grows and find possible solutions. Thus, the main challenge here is to create a scalable product that is ready for growth.
Think about whether your team is ready to be extended as the requirements grow and the project scales up. The more possible pitfalls you cover, the easier it will be to address them in case they do happen.
Moreover, there is no guarantee that the product will actually grow, so you can build a monolithic architecture instead of a microservice one in the initial steps of development.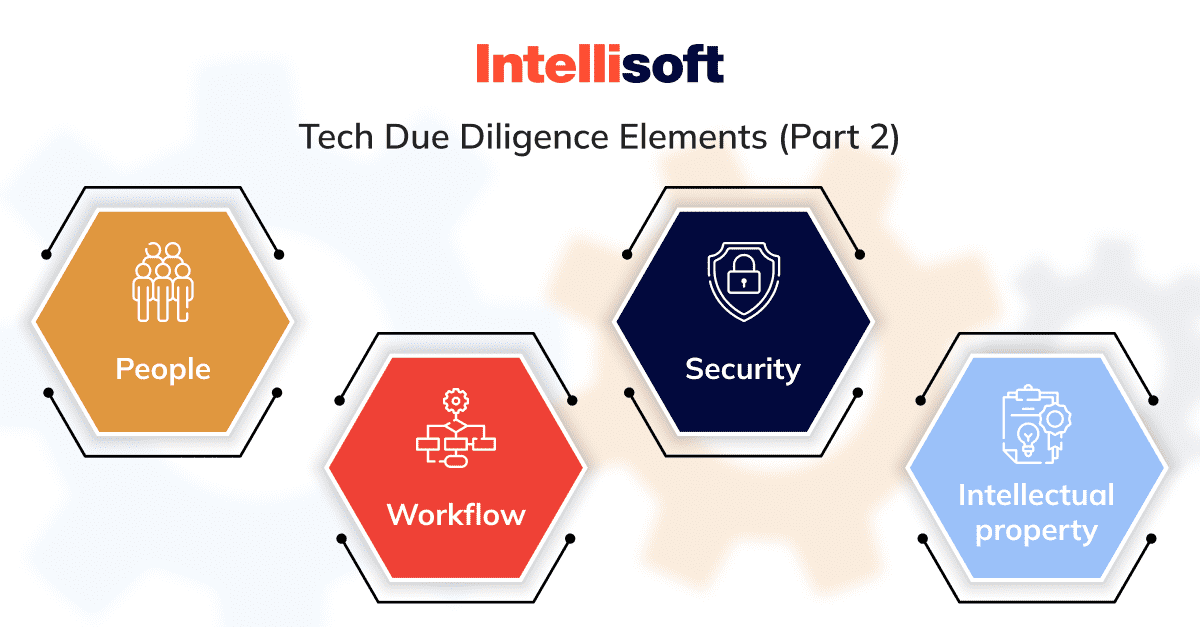 4. People
People are your incredibly valuable asset. They are responsible for the development of your product, each team having its own responsibility and being responsible for the overall success of the project.
Investors are interested in the team you're working with, their expertise, experience, and communication skills, so you need to ensure that you choose a tech partner wisely. You will need to give investors information about your team members, team leads, and their responsibilities.
Moreover, your team has to understand the goal of your product clearly, and all team members should be on the same page about the end goal because it will influence their decisions and logic.
Your goal here should be to keep your organizational chart up to date and collect information about employees' contacts, their associated costs, and skills connected to your project's development stages.
5. Workflow
Your inner processes are also of extreme importance to investors. They will pay attention to your operational processes, iterations, quality assurance, security testing processes, deployment, and other operations.
Your task here is to describe all workflows as clearly as possible, including the responsibilities of each developer. Thus, you should document everything as much as possible.
6. Security
The security of your product should be your number one priority. Therefore, your goal should be to ensure maximum security, showing that you care about the users and their needs. Moreover, when performing tech due diligence, investors will check the product's security at the initial stages.
You should perform security checks during the development process, taking care of it before the tech due diligence process. To do that, you can hire a company that specializes in security checks. They will check your product's exposure to hacks, malware attacks, fake accounts, and more.
7. Intellectual Property
Investors also want to know that your product does not violate anyone's intellectual property rights and that it is uniquely yours. You will need to provide patents confirming your intellectual property and protecting it.
During the tech due diligence process, you can be asked to provide documentation of the patents of your development. If you use any open-source components of your software, you need to track them carefully to prevent any legal issues.
Tips to prepare for tech due diligence
Let's take a look at some of the ways to prepare for the tech due diligence process:
Update key documentation: All your policies, procedures, technical specifications, and organizational charts should be regularly updated. To make the process more efficient, appoint specific team members to keep track of the changes and update the documentation.
Use VDR for document screening: A virtual data room (VDR) is a cloud repository that is highly secured, and it allows you to collect, store, and organize data and communicate with the team conducting the technical due diligence process.
Implement a responsibility assignment chart (RACI): A tool called RACI allows you to assign specific roles and tasks to employees. The roles are divided into responsible, consulted, accountable, and informed.
Provide supplementary material: When presenting your project's data, pay attention to the form of the presentation. Always provide supplementary material to investors in the form of architecture schemes, sliders, research graphs, or white papers.
Adopt DevSecOps: DevSecOps is now a trending practice of introducing security earlier in the software development lifecycle. It ensures that all your products are well-protected and compliant with the latest regulations.
Hire a team to assess your IT: Hire a dedicated team of developers to assess your IT capabilities and work with you on the development process if your in-house team lacks resources or expertise.
Conclusion
The term "technical due diligence" can make you wake up in a cold sweat, panic, and shiver, but there's no need to worry at all. Yes, it is a multi-step complicated process, but it's possible to pass it with flying colors. All you need to do is research and preparation. When you come prepared, you will impress the investors and make them compete for the right to invest in your project. If you're not sure that you can do it by yourself, IntelliSoft is here to help. We have a clear understanding of both business processes and needs as well as what investors are looking for in startups. This combo allows us to help our clients skyrocket their projects and get all the investment they need. For more information or a consultation, feel free to contact us.

About

Kosta Mitrofanskiy

I have 25 years of hands-on experience in the IT and software development industry. During this period, I helped 50+ companies to gain a technological edge across different industries. I can help you with dedicated teams, hiring stand-alone developers, developing a product design and MVP for your healthcare, logistics, or IoT projects. If you have questions concerning our cooperation or need an NDA to sign, contact info@intellisoftware.net.