Has Netflix's runaway success caught your eye, tickled your ambitions, and left you pondering, "How can I create a streaming service myself?" If so, prepare for a thrilling ride that could lead to your own version of digital El Dorado. Welcome to our definitive guide on how to create a streaming service like Netflix.
Let's peel back the layers of video streaming services development like a chef peels an onion but with zero tears and all cheers. Get ready to navigate the turbulent seas of market research, decipher the cryptic symbols of tech requirements, and traverse the rough terrain of app deployment and marketing. We'll answer all the whos, whats, and hows that you need to develop a video streaming app.
We are IntelliSoft, a software development company that knows how to bridge the gap between business and technology and has a knack for delivering results on time. We've been in the trenches, navigating the intricate labyrinth of the IT market, serving a range of industries, and, dare we say, we've cracked the code of app development. We're not just tech partners – we're your tech allies, helping you make your digital dreams a reality. So let's begin!
Potential for New Video Streaming Apps
Picture this: It's Friday evening. You're lounging on your comfy sofa, a steaming cup of cocoa in one hand and a snack bowl within reach. Your TV is tuned into Netflix, with countless shows and movies awaiting your selection. Familiar scene? Of course, it is. This very scene is played out in millions of homes worldwide as the siren call of on-demand video streaming lures more and more people into its delightful cocoon of entertainment.
Embracing the world of video streaming is like adopting a lovable, furry pet. It's comforting, it's convenient, and once you get a taste, it's hard to imagine life without it. This global love affair with video streaming is not a fleeting summer romance – it's a committed relationship that's here to stay, with the market for video streaming services such as Netflix burgeoning with each passing day.
Let's toss some numbers into the mix, shall we? As per a Statista report, the video streaming market was valued at a whopping 80.81 billion U.S. dollars in 2022 and is expected to swell to a mind-boggling 137.00 billion by 2027. Those are some seriously heavy numbers, enough to cause a few jaws to drop and many entrepreneurial wheels to turn.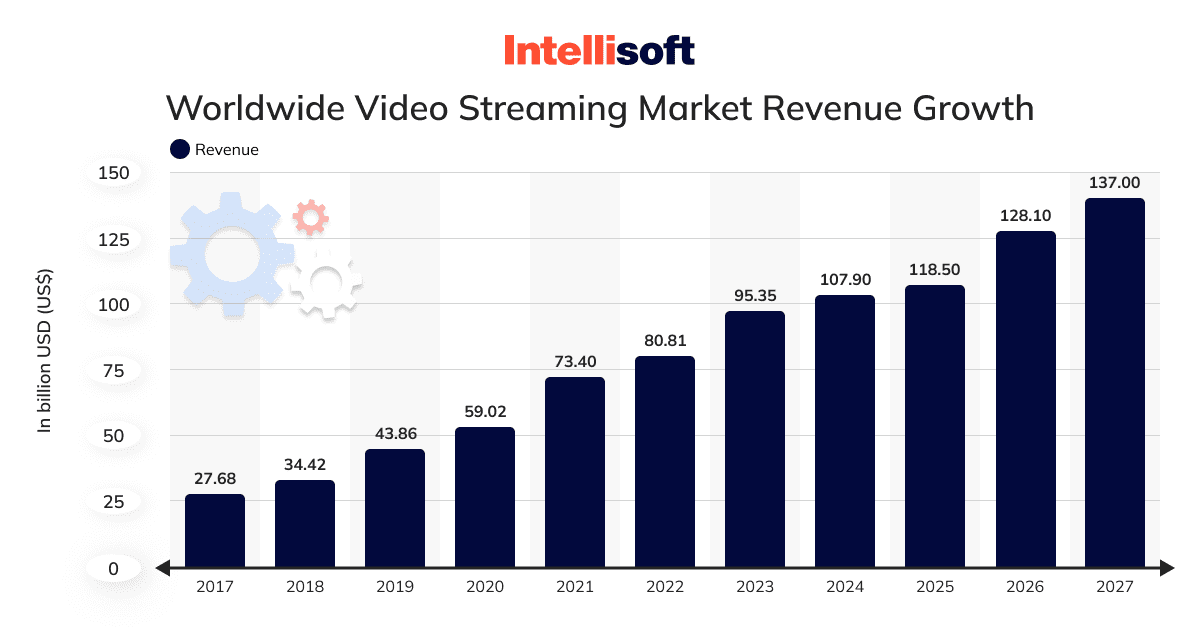 In terms of market size, the U.S. currently holds the streaming crown, but the fever is rapidly catching on worldwide. Latin America, for instance, saw a growth rate of 40% in the on-demand video service sector between 2019 and 2021. From Asia to Africa, every corner of the globe is eagerly embracing the video streaming phenomenon. That's millions of potential users, each a tantalizing prospect for new entrants into the market.
So, what does this mean for you, the ambitious executive plotting a foray into the world of video streaming? To put it plainly, it means opportunity. The sheer scale of potential consumers is a pot of gold at the end of the streaming rainbow.
As you can see, the video streaming market is as abundant as an orchard ripe with fruit. As a new entrant, you are not merely picking the low-hanging fruit. Instead, you are setting your sights higher, reaching for that fruit perched atop the highest branches. That's where the potential for profit lies. With a strategic approach and well-crafted, user-focused streaming app, your venture could turn out to be the next big player in the game, giving even the behemoths a run for their money.
Tapping into this market requires more than just wishful thinking, of course. It requires a nuanced understanding of the sector's intricacies, a keen eye on the target audience, and, most importantly, an app that ticks all the right boxes for an engaging, user-friendly viewing experience.
How Does Streaming Work?
Have you ever wondered how does streaming work? How does that episode reach your device seamlessly, allowing you to enjoy your latte and the show simultaneously? Welcome to the magic of streaming!
What are streaming services? Streaming is the process of sending audio and video content over the internet in real time without having to download the entire file before watching or listening. The content is delivered in a continuous stream of data, allowing you to watch or listen as it arrives.
Here's how it works: the server where the content is hosted breaks the file into small pieces called 'packets.' These packets are sent over the internet and arrive at your device. Your device then buffers, or stores, a small amount of these packets at a time. As you watch or listen, your device constantly receives more packets to keep the stream going smoothly.
In case the internet connection drops or slows down, the buffer helps maintain a seamless experience by providing a reserve of content. Once your connection resumes, the streaming continues, and the buffer is refilled.
One key aspect of streaming is the use of codecs, which are software used to compress and decompress data. This ensures the packets are small enough to be sent over the internet quickly and then decompressed or put back together on your device.
In essence, streaming is like a relay race where the baton (or, in this case, packets of data) is continuously passed from the server to your device, ensuring you enjoy your favorite shows and music without interruption.
The Reasons Why Netflix is So Popular
If Netflix were a rock band, it would be The Beatles of the streaming world, such is its unfathomable popularity. Let's roll up our sleeves and dissect this giant, understanding the 'Why' behind its success.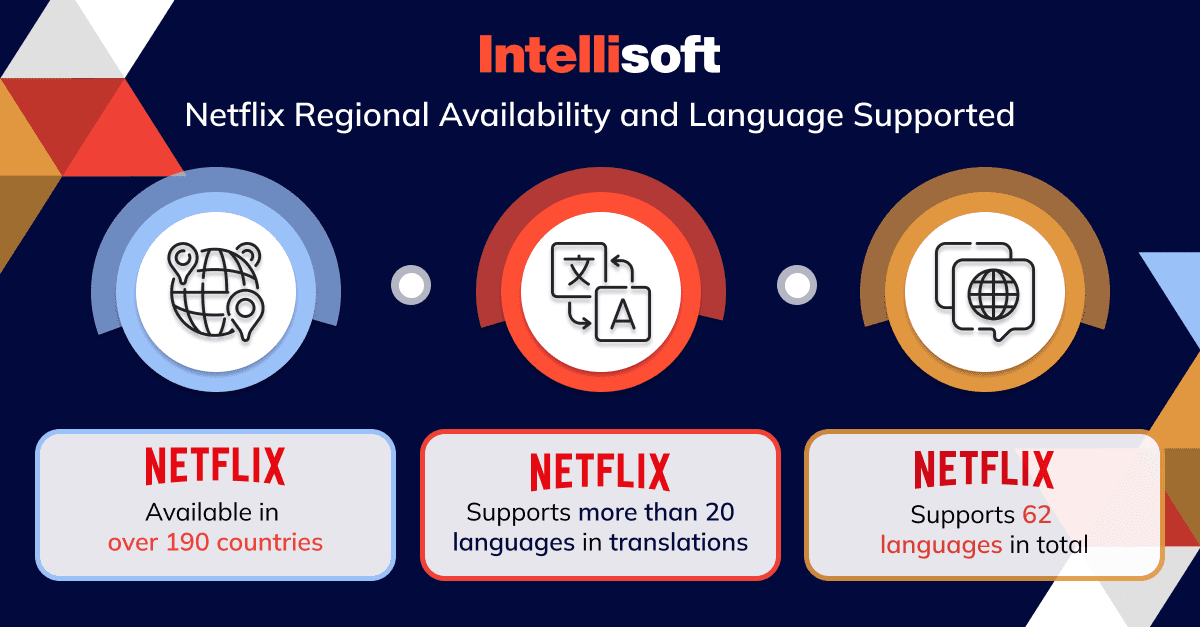 First off, let's talk about convenience, or as we like to call it, the "couch potato factor." Netflix, with its on-demand video streaming, has transformed our living rooms into personalized movie theaters, and the audience couldn't be happier. Just grab your popcorn, choose from thousands of titles, and voila – entertainment served!
But what if you're not a couch potato? What if you're always on the go? Well, Netflix has you covered too. With access to multiple devices, you can watch Netflix on your phone, tablet, laptop, or TV. Whether you're on a coffee break, commuting, or chilling at home, your favorite shows are just a tap away.
Efficiency, even on low data bandwidth, is another feather in Netflix's cap. Even if your internet is on a 'slow day,' Netflix ensures that you can watch your favorite shows without annoying lags or interruptions. It's like the reliable tortoise from the famous fable, steady and efficient, regardless of the circumstances.
No discussion about Netflix can be complete without a mention of its user-friendly interface. Smooth, intuitive, and easy to navigate – Netflix has perfected the art of user experience. It's the equivalent of a well-choreographed ballet performance, where every move is calculated for maximum impact, making browsing through Netflix as enjoyable as watching the shows themselves.
Ah, the joy of ad-free viewing! Netflix takes you back to the good old days when ads didn't rudely interrupt your viewing pleasure. There's nothing quite like immersing yourself in a nail-biting thriller without the fear of an ad breaking the suspense.
Now let's step into the library. But this isn't just any library. It's a vast digital repository of content, filled with a diverse range of titles from every genre you can think of. From the latest blockbuster movies to critically acclaimed original series, Netflix's extensive content library is a veritable treasure trove for the discerning viewer.
But here's the kicker: Netflix doesn't just serve you a random platter of shows and movies. Its powerful algorithm carefully curates content based on your viewing history and preferences. It's like having a personal assistant who knows your taste in shows, ensuring that you spend more time watching and less time searching.
How Does Netflix Make Money?
So, how does this titan of entertainment turn a profit? What are the streaming services prices? The answers lie in its subscription model. Unlike free streaming platforms that rely on ads for revenue, Netflix banks on a steady stream of subscription fees from its massive user base. Reasonable streaming services cost is one of the reasons why this service has gained so much popularity.
For less than the price of two fancy lattes a month, Netflix offers an all-you-can-watch buffet of shows and movies. With various subscription plans to choose from, there's something to suit everyone's pocket, making it a deal too sweet to resist. Whether you choose a basic plan or opt for premium perks, every Netflix user is a brick in the towering structure of its financial success.
Key Features of a Netflix-Like App
Creating a successful streaming app like Netflix requires an understanding of the platform's key features and its purpose. These attributes are crucial elements in ensuring a smooth, user-centric experience.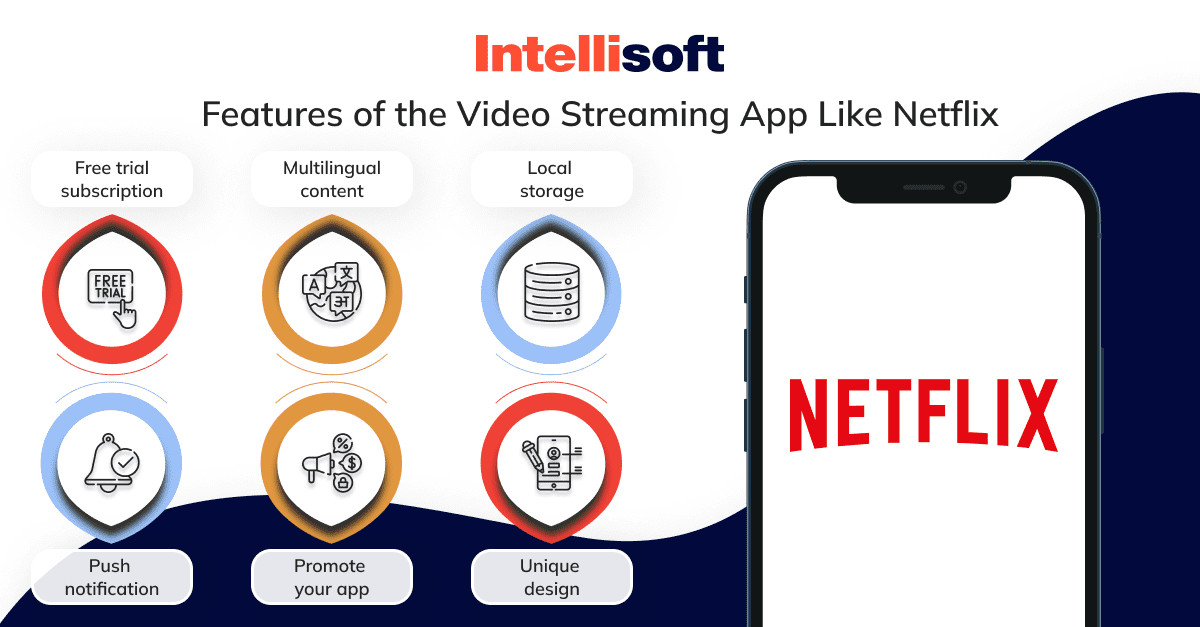 User Interface
First impressions matter, and in the digital world, the user interface is the first point of interaction between an app and its user. A well-designed, intuitive interface not only improves the overall user experience but also contributes to higher engagement. Central to this is a simple and swift registration and login process. Incorporating easy login via email or social media accounts can significantly enhance the user's initial interaction with your platform.
Search Bar
Navigating through vast content can be overwhelming for users. An efficient search bar is an essential feature for all video streaming services. It enables users to find their desired shows or movies swiftly and effortlessly. This functionality is crucial for enhancing user engagement and satisfaction, ensuring that users spend more time enjoying content rather than searching for it.
Video Quality Control
Internet connectivity varies across users. Offering video quality control can significantly improve user experience by allowing them to adjust the video quality based on their internet speed. This feature ensures a seamless viewing experience, irrespective of the bandwidth, making the platform accessible and enjoyable for all.
Content Management
A user-friendly content management system is the backbone of a successful streaming app. By effectively organizing content into various categories and genres, the app can provide an easy and seamless navigation experience. Additionally, parental controls are an important feature to include. They allow parents to manage and control the content their children can access, providing peace of mind and further enhancing user experience.
Video Player Integration
Incorporating a high-quality, adaptable video player is fundamental for a streaming app. An effective video player supports various video formats, ensuring optimal playback performance. This feature enhances the overall user experience by providing reliable and high-quality streaming.
Personalization Features
Personalization is key to improving user engagement. Features that allow users to create profiles, save preferences, share favorite content on social media, and receive push notifications, contribute significantly to a personalized user experience. These elements can help users feel more connected and engaged with the platform.
Content Recommendation Algorithm
Artificial intelligence plays a significant role in enhancing the user experience of a streaming app. By leveraging AI to recommend content based on the user's viewing history, the app can provide a customized and engaging viewing experience, leading to higher user retention.
Other Essential Features
The success of a streaming app like Netflix hinges on various other features:
Having multi-language support and subtitles allows the platform to cater to a broader audience and ensure accessibility for all users.
Ratings and reviews contribute to transparency and allow your audience to make informed decisions about what to watch.
Downloading and watching content offline enhances the usability of the app, allowing consumers to enjoy their favorite shows or movies anytime, anywhere.
By embedding these features into your app, you're not just enhancing its usability but also shaping a platform that is user-centric and designed to meet and exceed your audience's expectations. This, in turn, can play a pivotal role in driving your streaming app's success in a highly competitive market.
Related readings:
Step-by-step Guide on How to Create a Streaming Service Like Netflix
How to start a streaming service? Creating a successful video streaming app like Netflix can be compared to constructing an architecturally impressive building. You need a robust blueprint, high-quality materials, skilled craftsmen, and a keen eye for detail. Let's take a look at the necessary steps of the process, and of course, you need to start by setting your foundation right.
Step 1. Market Research
Much like an architect surveying the landscape before breaking ground, a key first step in developing a Netflix-like app is conducting thorough market research. This process is essential in understanding the terrain you're about to venture into.
Start by identifying your target market. It's essential to pinpoint whether you're catering to a niche market such as fitness enthusiasts, education seekers, or a broad entertainment audience. Just as a well-designed building is catered to its future inhabitants, a successful app should be crafted to cater to the needs of its intended user base.
Next, you need to understand your future user preferences. This can be compared to the architect visiting potential homeowners to understand their unique needs and desires. By conducting surveys or user interviews, you can gain valuable insights into what features your target users value most in a video streaming app.
Finally, it's time to scope out the competition. This is like studying other buildings in the neighborhood. By examining what existing streaming services offer and where they fall short, you can find opportunities to differentiate your app and fulfill unmet user needs.
Step 2. Consider the Requirements
Once you have a solid understanding of the market, it's time to look at the technical requirements for your app. This is where you map out the blueprint for your app's construction and outline how to create a streaming service of your dream.
First, consider the required internet speed for your platform. The average internet speed of your target audience will determine how you'll need to optimize your app for the best streaming experience.
Next, consider the infrastructure for your app. Cloud hosting and computing architecture will be essential to ensure that your app can scale and handle the load as your user base grows. Think of this as the groundwork that ensures your building can withstand the pressures of time and weather.
Security is another critical aspect. Ensuring that your platform is secure from cyber threats is essential for gaining and maintaining user trust, much like how a secure building reassures its inhabitants.
Finally, think about the payment methods you'll integrate into your platform. Providing a range of secure and convenient payment options can enhance the user experience and increase conversion rates.
Step 3. Assemble the Right Team
With your blueprint and requirements in place, it's time to assemble your development team which will include developers, designers, testers, project managers, and business analysts.
Just as an architect wouldn't hire a plumber to do an electrician's job, it's important to ensure that your team has the right skills and expertise for their respective roles. The designers will be responsible for creating an intuitive and aesthetically pleasing interface. Developers will build the app's functionality, while testers will ensure that everything works as it should.
But how do you find such a team? That's where partnering with IntelliSoft can provide a significant advantage. With a proven track record in the field of app development, IntelliSoft has a pool of skilled professionals ready to bring your streaming service to life.
Step 4. Define your MVP
Once your team is assembled, it's time to define your Minimum Viable Product (MVP). Think of the MVP as your app's skeleton – it includes all the essential features that your app needs to function but none of the frills. In architectural terms, it's like the basic structure of the building before the final finishes and details are added.
Defining your MVP involves outlining the fundamental features your app should have in its initial phase. What do you need to start streaming? This could include a user-friendly interface, an efficient search bar, video quality control, a content management system, a reliable video player, and basic personalization features.
Remember, the purpose of an MVP is to provide a simple yet functional version of your app to early users. Their feedback can guide your decisions as you further refine and enhance your product.
Step 5. Development and Testing
With the MVP defined, your team can roll up their sleeves and start the development process. This step is where your app starts to take shape – much like how a building begins to come together once the construction process starts. As your development team works on creating the app, it's crucial to have an ongoing cycle of testing to identify and fix any bugs or glitches.
Step 6. Deployment and Marketing
Once your app has been developed and thoroughly tested, it's time to deploy it to the respective app stores. This stage can be compared to the grand opening of a building – after all the hard work, it's time for the world to see your creation.
But merely deploying your app won't guarantee its success. Your app needs a robust marketing strategy to attract users. This could involve a mix of social media marketing, content marketing, influencer marketing, and paid advertising, among other tactics.
Remember, a successful marketing strategy is not just about promoting the app – it's also about positioning it correctly in the market. This involves communicating your app's unique value proposition and how it stands out from the competition.
Step 7. Gather User Feedback
Once your app is in the hands of users, your work is far from over. In fact, a new phase begins – gathering and understanding user feedback. This could involve conducting email surveys, checking social media comments, or even holding user polls.
Understanding the real user experience with your service is crucial. It helps you determine how users perceive your existing features and what new features they would like to see. By taking user feedback into account, you can continuously refine and enhance your app, keeping it aligned with user needs and market trends.
Creating a successful app like Netflix involves a thorough, methodical process. By following these steps, you can build a robust, user-friendly app that caters to the needs of your audience. However, remember that every successful app is an ongoing project, continuously evolving and improving based on user feedback and market trends. Keep this in mind as you begin your journey of creating your own live-streaming app.
Measure Critical Parameters
The development and launch of your app is essentially an opening of a new business. To keep this business growing and profitable, you need to measure and monitor certain key metrics. These parameters act as the pulse of your streaming app's health and success. Here's a detailed explanation of these essential metrics:
Customer Acquisition Cost (CAC)
The Customer Acquisition Cost (CAC) is the total cost your company spends to acquire a new customer. It includes everything from the money invested in research and development, to the funds spent on marketing and sales efforts over a certain period. Imagine you're hosting a grand event and spending money on invitations, decorations, and entertainment to attract guests. The CAC is similar – it's the total expense you incur to attract users to your streaming app.
To calculate CAC, you divide the total costs associated with acquisition by the number of new customers acquired in the period the money was spent. A lower CAC implies that you are spending your resources efficiently in attracting new users. On the other hand, a high CAC could indicate that your marketing strategies might need a revisit.
Retention Rate
The Retention Rate is a metric that reveals the percentage of users who continue to use your app over a certain period. It's a measure of how sticky your app is – or in other words, how well it keeps users coming back for more.
A high retention rate shows that users find value in your app, which is a good sign. Conversely, a low retention rate could be an indication that users are not finding your app engaging or useful enough, prompting them to uninstall or stop using it.
Customer Lifetime Value (CLV)
Customer Lifetime Value (CLV) is the total revenue you can expect from a user throughout their lifetime relationship with your app. A higher CLV means that a customer is more valuable to your business, allowing you to justify spending more on acquiring and retaining such customers. Understanding CLV can help you make informed decisions about your marketing spend, sales strategies, and product development.
Return on Advertising Spending (ROAS)
ROAS is the ultimate metric in marketing to evaluate the efficacy of digital advertising campaigns. This measurement enables online businesses to identify which methods are fruitful and pinpoint areas for future improvement in their advertising strategies.
To calculate ROAS, you divide the revenue generated from the advertising by the cost of that advertising. The result is a ratio that explains how much revenue you earn for each dollar spent on advertising. A higher ROAS is indicative of a more effective advertising campaign, while a lower ratio suggests that the advertising campaign might need to be tweaked for better results.
Each of these metrics offers a different insight into your app's performance, and together, they paint a comprehensive picture of your business's health. By regularly monitoring and evaluating these parameters, you can keep your app on the path to success.
Technologies Used in the Development of a Video Streaming App
Just like a virtuoso musician needs the right instrument to compose a masterpiece, building a top-tier streaming app requires the right technology. Below, we dive into the assortment of technologies that can be instrumental in creating an app like Netflix.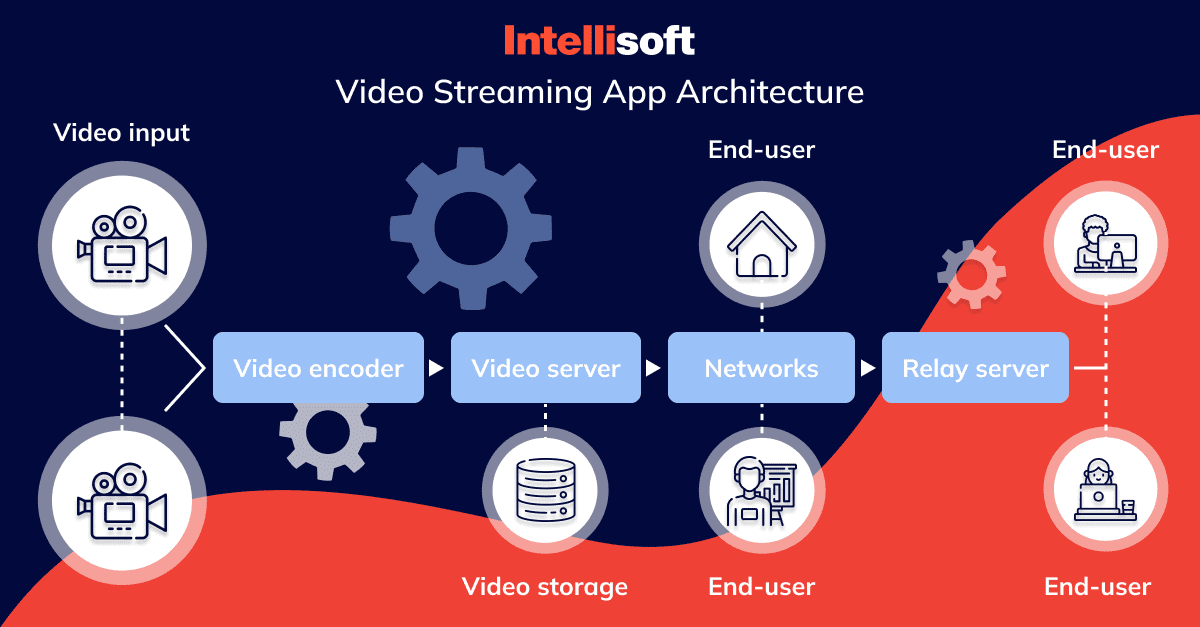 Programming Languages
Programming languages are the 'script' that computers and applications read and follow. There are several languages, each with its own strengths and suited use cases.
For web applications, JavaScript is often the go-to language due to its versatility and wide support. It's the foundation of many modern web apps and offers the flexibility to create interactive and engaging user experiences. HTML and CSS are also essential for structuring and styling your web app.
On the mobile front, the choice of programming language depends on the platform. If you're targeting iOS users, Swift is your best bet. Swift is a powerful, intuitive language developed by Apple for iOS, macOS, watchOS, and tvOS app development.
For Android users, Java and Kotlin hold the reins. Java has been around for a while and is highly popular due to its 'write once, run anywhere' feature. On the other hand, Kotlin is a relatively newer language that's fully interoperable with Java and is now Google's preferred language for Android app development.
Frameworks
Frameworks are reusable environments within a programming language that provides a structure for the software being built. They're like the blueprint for your app, giving you a head start in the development process.
For web applications, frameworks such as AngularJS, React, or Vue.js are widely adopted. These JavaScript-based frameworks allow for the development of dynamic, responsive web applications.
For iOS app development, Apple provides the Cocoa Touch framework, which includes the necessary libraries, interfaces, and other tools required to build high-performance, visually appealing iOS apps.
In the realm of Android, Google provides the Android SDK (Software Development Kit), which comes loaded with a full set of tools to develop Android applications.
Storage
Storage technology plays a critical role in app development, especially for streaming apps. Users expect to access content quickly and seamlessly, which requires a robust and efficient storage solution.
In today's world, cloud storage reigns supreme. It provides scalable, secure, and cost-effective storage solutions. Services such as Amazon's AWS S3, Google Cloud Storage, and Microsoft's Azure Storage offer reliable and highly scalable object storage for data archiving, backup and recovery, plus content distribution.
The choice of technology ultimately depends on your specific requirements and the expertise of your development team. Partnering with a seasoned development company like IntelliSoft can greatly simplify this process. Our team is well-versed in a multitude of programming languages, frameworks, and storage technologies, allowing us to tailor a solution that best fits your needs.
Cost Factors
It's essential to understand that developing an app like Netflix is much like creating a custom-tailored suit. The final price hinges on a multitude of factors, including the choice of technology, the complexity of the design and features, and the development team's expertise. Let's break down these costs.
App Development Team
The development team's expertise and location can have a significant impact on the cost. A team with seasoned developers who possess niche skills might command a higher rate, but they also bring the assurance of quality and efficiency. Similarly, teams based in different geographical regions have varied cost structures impacted by local economic factors.
Outsourcing the project to a reliable tech partner, such as IntelliSoft, can be a cost-effective and efficient solution. We have the advantage of a wide talent pool and experienced recruiters who can assemble a team that best fits your needs. We're a long-term partner who's committed to ensuring your success without any hidden costs. Besides, you can calculate development costs before making a decision.
App Design
The design of your app dictates the resources required. A more complex design not only needs a higher level of expertise but also requires more hours of work. This, in turn, increases the cost. Good design is crucial for user engagement and retention, so it's essential not to cut corners here.
App Complexity and Tech Stack
The complexity of your app and technology stack can have a significant impact. More advanced features, such as AI for content recommendation, demand specialized skills and additional development time. This could increase the cost.
Similarly, the choice of libraries and frameworks, database and cloud services, streaming protocols, and media formats all contribute to the overall complexity of the app, which, in turn, influences the cost.
How Much Does an App Like Netflix Cost?
The costs can vary considerably. It depends on the country where your development team is located. For instance, the same app can cost anywhere from $20,000 to $190,000, depending on whether the development team is based in a region with lower operational costs.
For an MVP version of a streaming app, you're looking at starting costs of about $25,000 to $35,000 for one platform. If you're looking to get more bang for your buck, consider using a cross-platform solution such as Flutter, which can save about 40% of your budget when developing for both Android and iOS.
Back-end development is another aspect where costs can fluctuate based on the technologies, protocols, and third-party services used. This holds true for the development of an admin panel and website, too.
Having considered the factors, you may wonder, what's the bottom line? Well, developing an app like Netflix can range from $40,000 – $45,000 for a single platform (Android or iOS) with basic functionality. However, if you wish to develop a high-fidelity video streaming app with advanced features and functionalities, with support for multiple platforms, it can amount to as much as $190,000. To estimate more precise costs, write to us and tell us your requirements for the project and features to implement.
In the grand scheme of things, the cost of streaming services development can vary greatly based on several factors. However, partnering with a reliable tech company such as IntelliSoft can help ensure that you're getting the most value for your investment.
Conclusion
As you can see, developing an app able to compete with Netflix is quite the undertaking involving the blend of thorough planning, execution, and the right set of technologies. We've reviewed the potential of new streaming services, tried to understand what makes Netflix tick, and listed the necessary features for a successful streaming app. We've also journeyed through the step-by-step process of creating your streaming app, how to measure critical performance parameters, and the various technologies and cost factors involved.
Creating your very own streaming app is not just about replicating Netflix's success but carving your own niche in the booming streaming market. It's about understanding your audience, leveraging the right technologies, and continuously evolving your platform to meet changing viewer preferences.
How IntelliSoft Can Help You Build Your Own Live Streaming App
At this stage, you might be wondering, "This seems like a lot to handle. Can I get some help?" Absolutely, and that's where we step into the spotlight.
Choosing IntelliSoft as your tech partner comes with numerous benefits. We're not just a one-off transactional supplier but a reliable long-term partner invested in your success. Our team has a wealth of experience in developing streaming applications and understands the nuanced requirements of different industries. We can provide a range of services, from market research to developing and maintaining your app.
With IntelliSoft, you gain access to our large talent pool of front- and back-end developers, designers, and testers. Whether you need experts right from the get-go or somewhere midway, we're there to lend a hand.
Moreover, partnering with us provides cost and time savings. Our flexible team structure and broad global reach ensure an uninterrupted workflow, enhancing efficiency. Plus, there are no hidden costs. Everything is transparent, just like our process.
The road to developing an app like Netflix may seem long and winding, but with the right partner such as IntelliSoft, it can be an exciting and rewarding journey. So, get in touch with us and get ready to start your streaming success.
FAQ