Consider a scenario: You have a revolutionary product idea. It's vivid in your imagination, but how do you bring it into reality? We've all been there, standing at the precipice of innovation, wind in our hair, a world of endless possibilities spread before us. The only thing missing is a roadmap to success.
That's where our step-by-step guide to the product discovery process comes in. Our approach will help you turn your innovative idea into a tangible product with a clear structure. Read this article to fully understand the process and acquire the skills necessary for turning ideas into reality faster than a rabbit on a caffeine rush.
Let us introduce ourselves. We are IntelliSoft, your co-pilots on this magical mystery tour. We've spent over a decade building bridges between technology and business. And no, we don't mean the Golden Gate. We've helped countless businesses navigate the choppy waters of product development, turning raw concepts into products that shine brighter than a diamond in a coal mine, so we're not just commentators – we're experienced players in the game of product development.
You see, in our world, product discovery isn't just a process – it's an art, a science. It's about finding the sweet spot between what users want, what your business can deliver, and what the tech gods permit.
So, are you ready to turn that "Eureka!" moment into a world-class product? Ready to transform your product vision into reality? Let's start this journey together.
The Importance of Product Discovery
Have you ever wondered why some products become more popular than others? Why do some of them become instant hits while others barely make a splash? The secret lies not in the product itself but in the process that brought it into being – product discovery.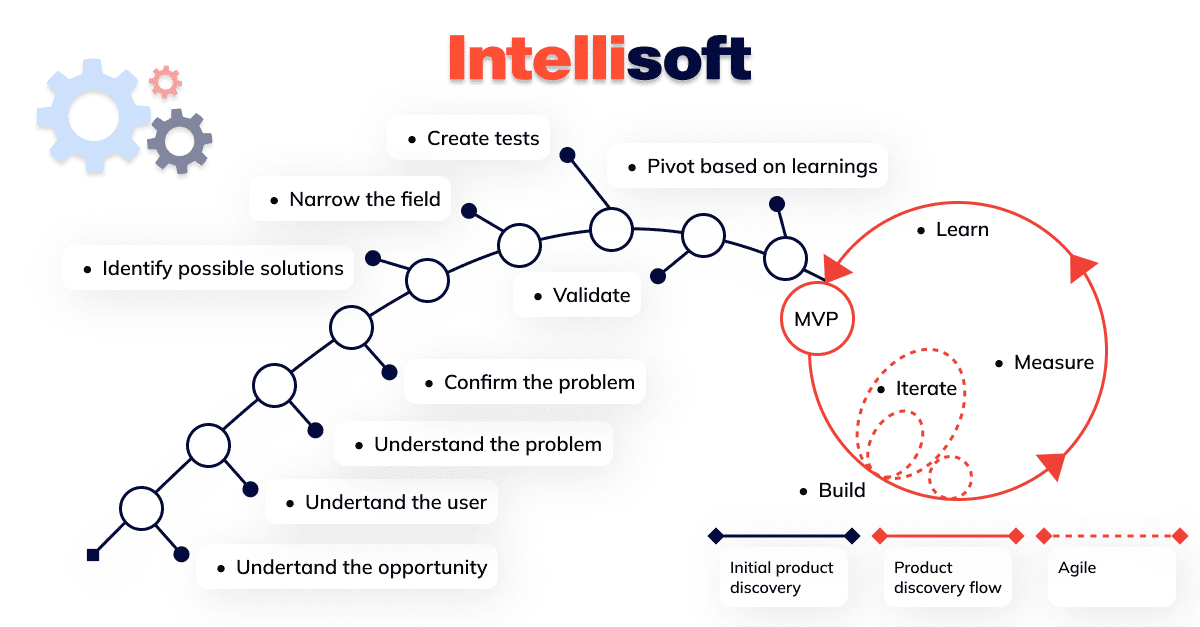 What is Product Discovery?
Picture a product idea as a precious gemstone. In its raw state, it's merely a lump of potential. The true value of the gemstone (or, in our case, the product idea) is realized only when it's carefully cut and polished to suit the taste of the wearer. Similarly, product discovery is the meticulous process of identifying, shaping, and refining a product idea based on user needs, business objectives, and market conditions.
Product discovery involves several key elements, including:
Iterative testing
User research
Product validation
Iterative testing helps you tweak the components and methods until you achieve the perfect result. In product development, it involves creating prototypes, conducting experiments, and refining your product based on feedback.
User research is conducted to gain an understanding of user behavior. You can tailor your design to meet their specific needs. This translates to conducting surveys, interviews, and observational studies to understand what users want, need, and expect from your product.
Product validation is the final step in confirming that your product will indeed find favor with users. This is done through such product discovery techniques as usability testing and beta testing.
By implementing these steps, you can transform a rough idea into a finely crafted product that resonates with users and aligns with your business objectives.
The Benefits of a Successful Product Discovery
Investing time and effort in product discovery can yield rich dividends. Here are some of them:
User-centered design
Taking the time to comprehend the needs of your users is crucial. When you incorporate those insights into your design, you end up with a product that users not only use but love. When a product is designed with the future user at the heart of it—meaning their needs, wants, and expectations are a top priority—customers develop a connection with a product, and they are more likely to become loyal users. Why? Because they see that the product understands them and caters to their needs.
Risk mitigation
Without a proper product discovery process, you're essentially sailing in the dark. By taking a systematic approach to product discovery, you can identify potential pitfalls early and steer your product development flow in the right direction.
Efficient use of resources
Think of product discovery as a blueprint for your product. Without it, you could end up pouring resources into features that users don't need or want. A successful product discovery helps ensure your resources are spent wisely.
Competitive advantage
In the vast ocean of products, a user-centered, validated product will stand out. By understanding your users and delivering what they need, you can secure a solid competitive advantage.
Improved user engagement
A product designed with users at the heart of it will naturally result in better user engagement. When an app or website is thoughtfully designed with the user's needs in mind, it makes users feel valued and understood. As a result, you achieve a higher degree of involvement from the user as they're more likely to interact with a product that feels tailor-made for them.
Product discovery is a critical element in the product development process. It not only helps ensure your product resonates with users but also serves as a compass, guiding your product development efforts in the right direction.
Situations When Product Discovery is a Must
Creating a good product requires proper preparation – to achieve success, it must undergo a well-executed discovery phase. Below are some instances when product discovery becomes a non-negotiable step.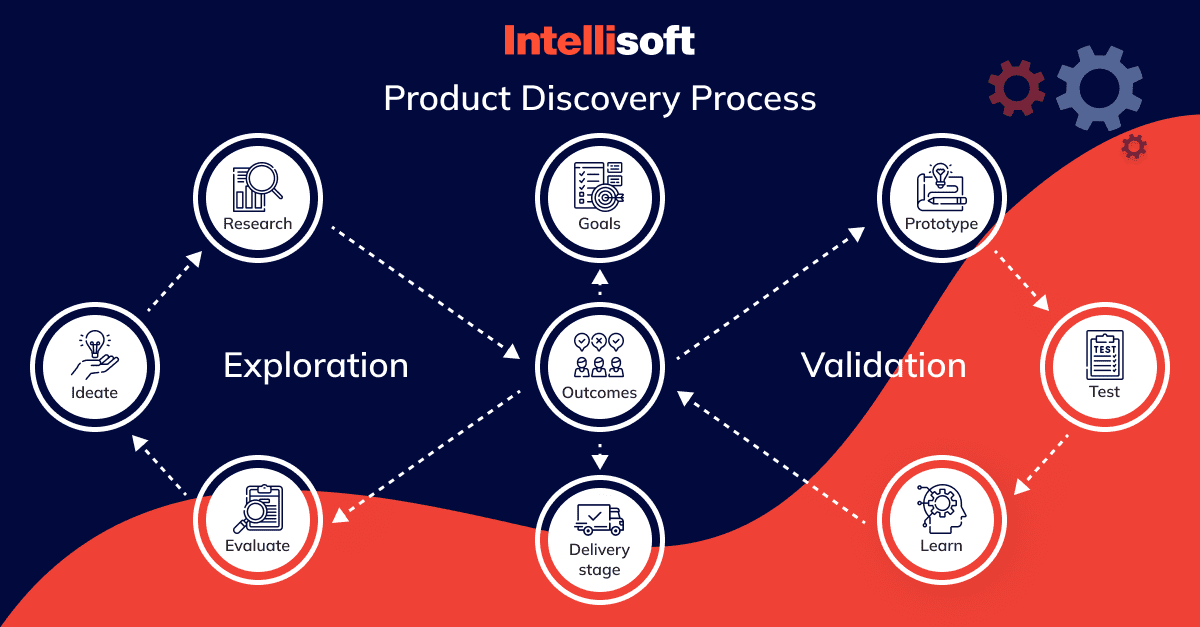 New Product Development
This is the most obvious scenario. If you're venturing into unknown territory with a new product idea, you'll need a compass—product discovery. It provides you with the tools to understand your potential users, their needs, and how to create a product that fits within the market landscape.
Existing Product Upgrades
Just as it is important to look before you leap, it is equally crucial to understand your users before you upgrade. The worst thing to do is to add new features or make changes that your users don't need or appreciate. Product discovery helps ensure that upgrades match user requirements and expectations, keeping them happy and engaged.
Business Expansion
If you're planning to tap into a new market or segment, you should know the lay of the land first. Product discovery can help understand the new audience, their preferences, and the competitive landscape, setting you up for a successful expansion.
Acquisitions or Mergers
When two companies come together, the combination of different products, audiences, and market approaches can be quite complex. Product discovery can help navigate this complexity by identifying synergies, potential hurdles, and areas of opportunity, thereby ensuring a smooth transition and successful integration.
People Involved in the Product Discovery Phase
Product discovery isn't a one-person show – it's more like a well-rehearsed ballet where everyone plays an essential role. Let's look at the key performers:
Client
The client sets the goals, approves ideas, and essentially is the one who sets the ship sailing. They bring the initial vision and guidelines to the table.
Project Managers
These are the choreographers of the ballet. They coordinate the team, manage resources, and ensure that everything is on track toward the product goals.
Business Analysts
They're the people answering the "what" and the "why" questions behind the product. They study the market, understand user needs, and transform this data into actionable insights.
Solution Architect
The architects of the product sketch the blueprint for the solution strategy, defining how the product's different parts will come together to solve the user's problems.
Tech Lead
They're the technological wizards, determining the feasibility of the product and identifying the best tech stack to bring the product to life.
UI/UX Designers
These artists ensure the product is not just functional but also pleasant to the eye and easy to use. They design the interfaces and the user journey to deliver a seamless user experience.
Backend Engineers
They're the builders, working behind the scenes to make sure everything functions as it should. During the discovery phase, they estimate the work needed to create the technical infrastructure of the product.
QA Engineers
As the gatekeepers of quality, they estimate testing needs and ensure the final product is bug-free and ready to charm the users.
Target Audience
Last but not least, the users themselves also play a key role. They provide vital information about their experiences, preferences, and pain points, offering insights that are crucial for shaping the new solution.
In essence, product discovery is a collective endeavor. It requires a group of skilled individuals, each contributing their unique perspectives and expertise, working in harmony to set the stage for a product that truly resonates with the user. It's a symphony of skills, culminating in a masterful performance—the final product.
Product Discovery vs. Product Delivery: Two Sides of the Same Coin
In the world of product development, discovery, and delivery are like the yin and yang, distinct but interconnected, with each complementing and supporting the other. Think of them as two critical phases in the journey of transforming an idea into a tangible product that thrills users and drives business success.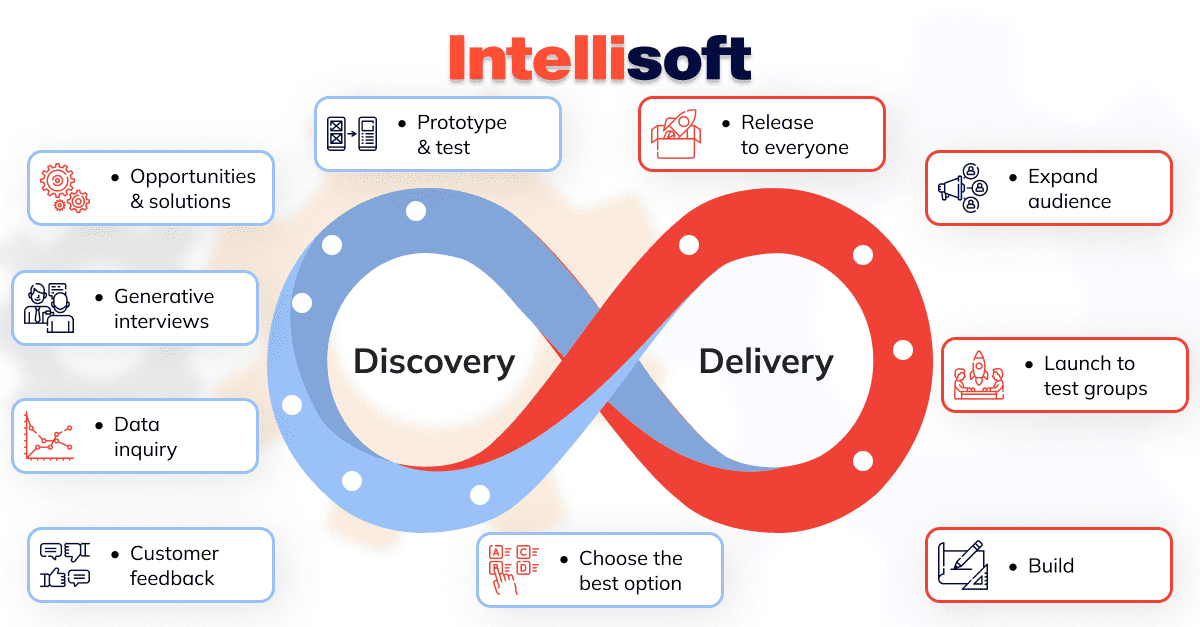 Discovery: Finding the Right Product to Build
Product discovery is like the reconnaissance mission before the grand campaign. It's about exploring uncharted territories, understanding the lay of the land, and planning your strategy. The goal is to answer a crucial question: "Are we building the right product?"
In this phase, we engage in market research, user interviews, prototyping, and iterative testing. The mission is to dig into users' needs, aspirations, and pain points. We want to uncover the unique value proposition that our product can offer, understand how it fits into the market landscape, and how it aligns with our business goals.
The output of this phase is not a physical product but a detailed roadmap. It's a blueprint of the 'right' product—one that users desire, market values, and the business can profitably deliver.
Delivery: Building the Product Right
After discovery comes the delivery phase, the 'build' part of the equation. Now that we know the 'right' product, how do we bring it to life in the 'right' way? That's the focus of the delivery phase.
This is where we shift gears from strategic exploration to tactical execution. The goal is to translate the product roadmap into a working product that not only meets user expectations but also adheres to quality standards, deadlines, and budget constraints.
This phase involves a series of activities such as system architecture design, coding, integration, testing, and deployment, each meticulously planned and executed to ensure the product comes out just as envisioned.
Discovery Supports Delivery, and Vice Versa
The relationship between discovery and delivery is symbiotic and iterative. A solid discovery phase sets the stage for a smooth delivery by providing a clear vision of the end product. It reduces ambiguities, mitigates risks, and helps ensure that the team's efforts are directed toward building features that truly matter to the users and business.
On the other hand, the delivery phase provides valuable feedback to refine the discovery process. As the product takes shape, we might uncover new insights about user behavior, technical constraints, or market dynamics that can help fine-tune our understanding of the 'right' product.
Hence, the discovery and delivery phases are not just sequential but also cyclical. They continuously reinforce each other in an endless loop of learning and improvement, each cycle bringing us closer to a product that hits the sweet spot of user delight, market fit, and business value.
Mastering product development is like becoming fluent in a dual dialect of discovery and delivery. Both are integral parts of the conversation, each lending its unique perspective to the narrative. Understanding this interplay is essential for anyone aspiring to transform product ideas into successful realities.
Main Steps in Discovery Process at IntelliSoft
At IntelliSoft, our goal is to transform your concept into a viable, successful product. We achieve this through a rigorous, structured, and collaborative product discovery process that ensures we are not just building a product, but the right product, one that delivers value to users and meets your business goals.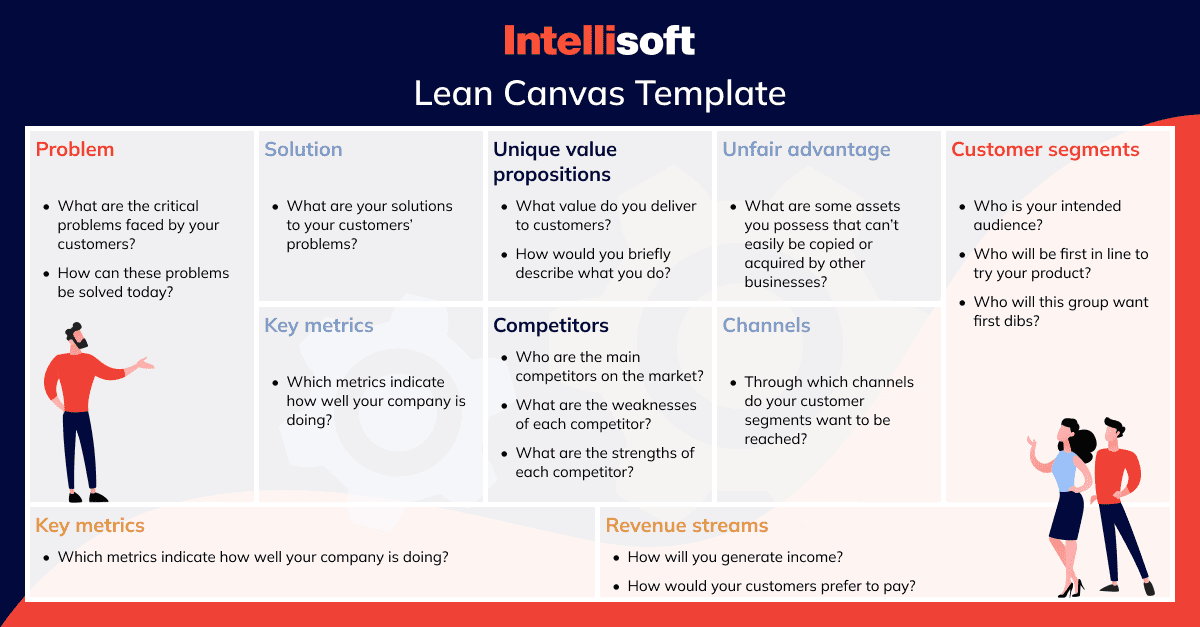 Step 1. Define Your Goals and Objectives
Every great product begins with a clear vision. We need to start our collaboration by defining the issue your product aims to solve and outlining your business goals. We use tools such as the Lean Canvas product discovery template to map out your product idea in a succinct and structured manner, capturing key aspects such as target audience, unique value proposition, cost structure, revenue streams, and more.
We also analyze your direct competitors to understand their strengths and weak points and identify opportunities for differentiation.
Step 2. Identify Your Target Audience
The next stage of the process is digging into the minds of your target users. Through a combination of behavioral, qualitative, quantitative, and attitudinal research, we seek to understand their needs, preferences, behaviors, and pain points. We create customer personas that embody the key characteristics and motivations of your target users.
This helps us visualize who we are designing for and make user-centric decisions throughout the product development process.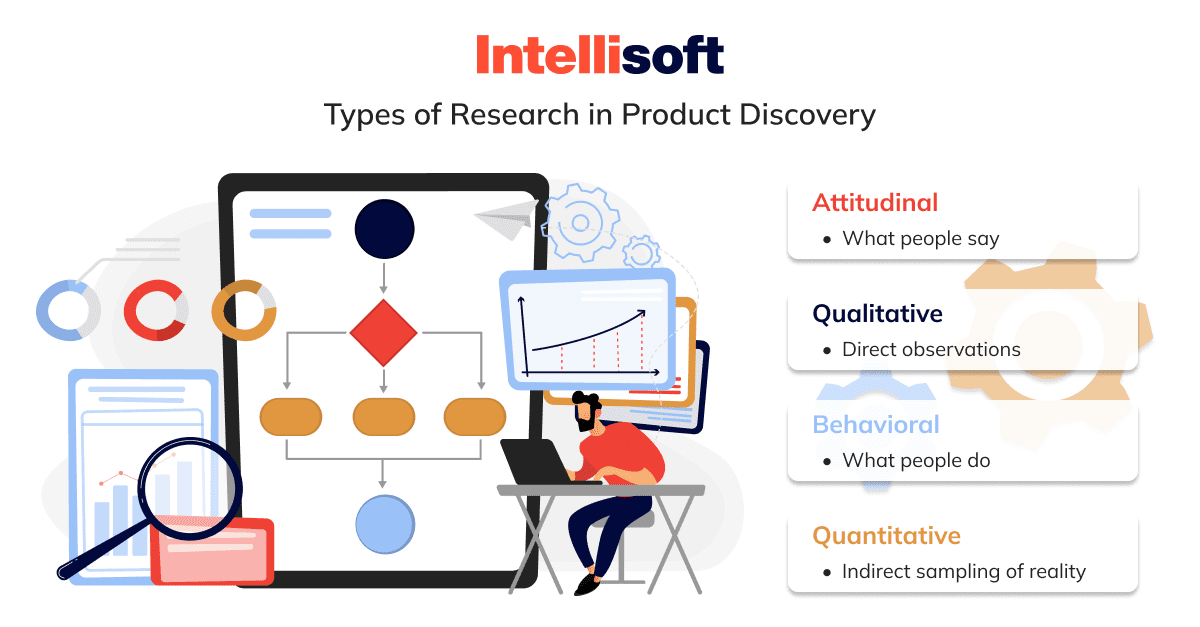 Step 3. Conduct Market Research
Having gained a comprehensive understanding of your objectives and target audience, we can now move forward and turn our attention to the broader market landscape. We analyze market saturation, size, trends, and potential points for growth.
We also carry out a functional decomposition of competitor products to understand their feature sets and how they are being received by users. This not only helps us position your product effectively in the market but also informs our feature prioritization decisions.
Step 4. Brainstorm Ideas and Generate Hypotheses
Equipped with insights from our research, we move on to ideation. Our multidisciplinary team comes together to brainstorm solutions that address the identified user needs and align with your business goals. We promote a free flow of ideas and maintain an open mind to diverse perspectives.
Each concept is a tentative assumption that requires experimentation and verification. We also seek constant feedback from you, the client, to ensure we are moving in the right direction.
Step 5. Prototype and Validate
Finally, we translate our ideas into tangible prototypes. These prototypes offer a sneak peek into the appearance of the end product and how it might function. We present these prototypes to you and to our target users for feedback. We conduct usability tests to validate our hypotheses and make necessary iterations. The goal is to refine and validate the product concept before we move into the full-fledged development phase.
Throughout this process, the discovery team, our project managers, tech leads, business analysts, UX designers, and you, the client, play a critical role. We believe in transparency and constant communication to ensure everyone is aligned and actively working towards a common vision.
In general, more than half of software projects deliver less value than anticipated, but with IntelliSoft's discovery phase services, we strive to ensure that your product not only meets market needs but also delivers more value than expected. We're here to get the ball rolling, to turn your product idea into a reality that resonates with users and achieves business success.
What Comes After Product Discovery?
After a successful product discovery phase, the next logical step in our process is the development of a Minimum Viable Product or MVP. This is an essential step in the IntelliSoft way of transforming an idea into a reality.
The MVP is a bare-bones variant of your product that includes just enough features to solve a core problem for a set of initial users and offers feedback for future product development. It is about being smart with your resources and time, testing your product quickly in the marketplace, and iteratively improving it based on real user feedback.
At IntelliSoft, we understand the delicate balance required in building an MVP – it needs to be minimal, yet it must deliver value and provide a delightful user experience.
We start with defining the scope of the MVP based on insights gleaned during the product discovery phase. We prioritize features that are crucial for solving the user's core problem and align with your business objectives. In this way, we avoid feature overload and stay focused on what truly matters at this stage.
Our team then gets to work developing the MVP. Our approach is agile and iterative. We release early versions of the MVP to a select group of users, gather their feedback, and refine the product accordingly. In this way, we ensure that we're building something users want and are ready to pay for.
Furthermore, our MVP development phase is not just about building the product right but also about setting it up for future success. We lay the foundation for scalability so that the product can comfortably grow and evolve as your user base and business grow. We also set up metrics to measure user engagement, satisfaction, and other key performance indicators. This helps us understand how well the product is performing and identify areas for improvement.
So, after product discovery comes MVP development, an exciting phase where your product idea starts taking a concrete shape and goes out into the world for the first time. It is a critical step in the IntelliSoft journey of transforming your concept into a successful product.
Related readings:
Common Challenges of the Product Discovery Process
As a trusty guide in the uncharted territories of product development, IntelliSoft has navigated its fair share of treacherous waters. We've witnessed the challenges that can arise during the discovery process, and we're here to help you avoid the common pitfalls.
Stopping due to Disruption or Other Activities
The product discovery process requires a high level of focus and commitment. However, in the face of disruptions or other pressing activities, teams often pause the process, planning to resume when conditions are more favorable. Yet, as any seasoned mariner knows, once you drop anchor, it's harder to hoist it up and start sailing again. Momentum is lost, insights may become outdated, and team alignment can dissipate, causing significant delays and even derailing the project.
To stay on course, you need to commit to continuity and maintain momentum throughout the product discovery process.
Involving Too Many People
While a diversity of perspectives can enrich the discovery process, involving too many people can lead to an overabundance of ideas and opinions, which can muddle the process. It's like having too many chefs in the kitchen – instead of a well-cooked meal, you might end up with a confusing mix of flavors.
Striking a balance between diversity and efficiency, and including only those whose roles are vital to the operation, is the key to a smooth and effective product discovery phase.
H3: Organizing Separate Discovery and Delivery Teams
Keeping your discovery and delivery teams separate can be like trying to sail a ship with the crew working in silos. The discovery team might chart the course, but if the delivery team doesn't understand the direction, the ship could end up off course.
Having an integrated team where everyone understands the product vision and the customer's needs, ensures a more seamless transition from discovery to delivery and, ultimately, a product that hits the mark.
Failure to Validate the Solution
Even with the most ingenious idea and the most meticulous planning, if you don't validate your solution with real users, you risk building something that nobody wants. You need to remember that your team of experts and yourself don't have all the answers because you're not your customer. The discovery process serves as the compass in this scenario, steering your idea in the direction of user needs, thereby reducing the risk of launching a product that lacks market appeal.
Validation through user feedback and testing are critical to ensuring that your product meets market needs and will gain traction upon launch.
Cognitive Bias
Cognitive biases, such as confirmation bias and cognitive dissonance, can subtly skew the discovery process. It's like looking at the world through stained glass – you don't see the true picture. Confirmation bias can lead teams to favor information that confirms their preconceptions, while cognitive dissonance can cause discomfort when faced with contradictory information, leading to irrational decision-making.
It is essential to acknowledge these biases and take proactive steps to reduce their influence, which can help ensure a more objective and effective product discovery process.
Poorly Defined Problems
Poorly defined problems can make the discovery process feel like navigating through a thick fog. If the problems are too broadly defined, or if you ignore the need to get to the root of the problem, you could end up creating a product that doesn't effectively solve any real problem for the users.
Precise problem statements, along with a thorough understanding of user pain points, are crucial in guiding the product discovery process toward a meaningful and valuable solution.
In the challenging voyage of product discovery, every storm cloud or swirling current can teach valuable lessons.
At IntelliSoft, we stand ready to help you navigate these challenges, steering your product idea toward clear skies and calm waters. With our guidance, you can avoid common pitfalls and stay the course toward creating a product that truly resonates with your users.
How IntelliSoft Can Help
Crafting a successful product is no small endeavor. It's not enough to have an innovative idea – you also need to gain a complete understanding of your target market, conduct in-depth research, and have the means to bring your idea and vision to life. If you find yourself with limited in-house resources or experience, delegating the discovery process to an outsourcing company like IntelliSoft can offer numerous benefits.
Reasons to Delegate Product Discovery to IntelliSoft
Lack of In-House Resources or Experience
Much like a masterful conductor leading an orchestra, an experienced team can harmonize disparate elements into a symphony of success. If your in-house team lacks the necessary resources or experience, IntelliSoft can step in, providing expertise, guidance and support to orchestrate a successful product discovery process.
Expert Guidance
IntelliSoft's team comprises industry professionals who are not just skilled in their fields but also understand the entire discovery process's nuances. This proficiency ensures you have expert guidance throughout each phase, from identifying the problem to validating the solution.
Access to Diverse Skill Sets
By partnering with IntelliSoft, you gain access to a pool of diverse talents, ranging from business analysts and project managers to UI/UX designers and backend engineers. This mix of skill sets can provide a holistic view of your product, ensuring all aspects are thoroughly considered.
Speed and Efficiency
We have a structured approach to product discovery which allows us to execute the process swiftly and efficiently, thus speeding up the time to market for your product.
Risk Reduction
One of the most significant benefits of delegating to IntelliSoft is risk reduction. Our team's vast experience means we can anticipate potential drawbacks and put measures in place to avoid them. This ability can save you time, money, and frustration down the line.
Cost-Effectiveness
Hiring in-house for every role involved in the product discovery process can be prohibitively expensive, especially for startups or small businesses. Outsourcing to IntelliSoft provides you with access to a full team of professionals at a fraction of the cost of hiring, supplying, and training in-house staff.
Fresh Perspectives
Sometimes, being too close to a project can lead to tunnel vision, where innovative solutions might be overlooked. As an external team, IntelliSoft can provide fresh, unbiased perspectives, potentially uncovering unique solutions and opportunities.
Flexibility and Scalability
If your needs evolve over the course of the discovery process, it's far easier to scale your efforts up or down when working with an outsourcing partner like IntelliSoft. We can quickly adapt to your changing requirements, ensuring the process stays on track regardless of external factors.
By leveraging IntelliSoft's product discovery services, you can take advantage of our expertise, diverse skill sets, efficiency, risk mitigation strategies, cost-effectiveness, fresh perspectives, and scalability.
This collaboration allows you to focus on what you do best – creating innovative ideas, while we handle the process of transforming those ideas into tangible, successful products, saving you valuable time and resources.
Tips for Making the Most Out of Remote Cooperation
Remote cooperation offers unique advantages, but it also requires careful planning and execution. We are happy to offer some suggestions that may enhance your experience collaborating with IntelliSoft:
Keep Commercial Value in Mind
During the product discovery process, it's essential to keep your product's commercial value at the forefront of all considerations. IntelliSoft helps you focus on creating features and solutions that not only solve users' problems but also provide distinct market value, ensuring a successful product launch and a profitable business venture.
Do Not Over-Research
While research is vital to the product discovery process, there's a fine line between thorough research and analysis paralysis. Our experienced team at IntelliSoft can guide you in conducting focused, relevant research, preventing unnecessary delays, and ensuring a timely transition to the product development stage.
Cooperate with the Team Closely
Close cooperation with your outsourcing partner is key to a successful discovery process. Regular communication, shared understanding, and common goals, can result in a seamless process and a product that successfully meets user needs and your business objectives.
Seek Developers' Ideas
At IntelliSoft, we value a collaborative approach where the insights and ideas of every team member are welcomed and considered. We believe that a diversity of perspectives can lead to innovative solutions, and we encourage you to seek and value the ideas of our developers.
By entrusting the product discovery process to IntelliSoft, you can benefit from our comprehensive expertise and committed team, turning your innovative idea into a successful reality. We are here to navigate the product discovery journey supporting you every step of the way.
Conclusion
Mastering the discovery process is a vital step in transforming a mere idea into a successful, user-centric product. We've explored the importance of product discovery, its benefits, and the situations when this phase is unavoidable. We've shed light on the integral role of various stakeholders involved and how the discovery phase relates to product delivery.
You've seen the main steps of the process, from defining your goals to prototyping and validating. We also discussed the challenges that might arise and how to address them. Additionally, we have outlined why delegating product discovery to an outsourcing company could be the best choice for your business.
Key Takeaways
Product discovery is crucial in creating user-centered designs and mitigating risk.
It's a process involving multiple stakeholders, including clients, project managers, business analysts, and more.
The product discovery process supports product delivery and vice versa.
After product discovery comes the development of a minimum viable product (MVP).
Common challenges during the discovery process may include cognitive bias, poorly defined problems, and disruption.
Outsourcing product discovery to companies like IntelliSoft can offer expert guidance, diverse skill sets, speed, efficiency, risk reduction, and cost-effectiveness.
In the world of digital products, there's no room for assumptions and guesswork. With IntelliSoft, you're not just outsourcing your product discovery process – you're partnering with a team of experts dedicated to bringing your idea to life. From defining your goals to identifying potential challenges and their solutions, we're with you every step of the way.
We understand the significance of transforming your idea into a successful product. So, if you're ready to start this exciting journey, give us a call. Because we don't just create products, we create success stories.

About

Kosta Mitrofanskiy

I have 25 years of hands-on experience in the IT and software development industry. During this period, I helped 50+ companies to gain a technological edge across different industries. I can help you with dedicated teams, hiring stand-alone developers, developing a product design and MVP for your healthcare, logistics, or IoT projects. If you have questions concerning our cooperation or need an NDA to sign, contact info@intellisoftware.net.