Various external factors like the latest crisis and its consequences force businesses to upgrade their legacy systems. However, adopting recent tech solutions is not that easy. It requires certain efforts from all team members. 74 percent of companies fail to accomplish legacy system modernization processes, as credible sources report.
Modernization of outdated software is of utmost importance. Legacy systems should correspond to the "new normal." That is twice as important as on-demand citizen services keep on gaining more popularity.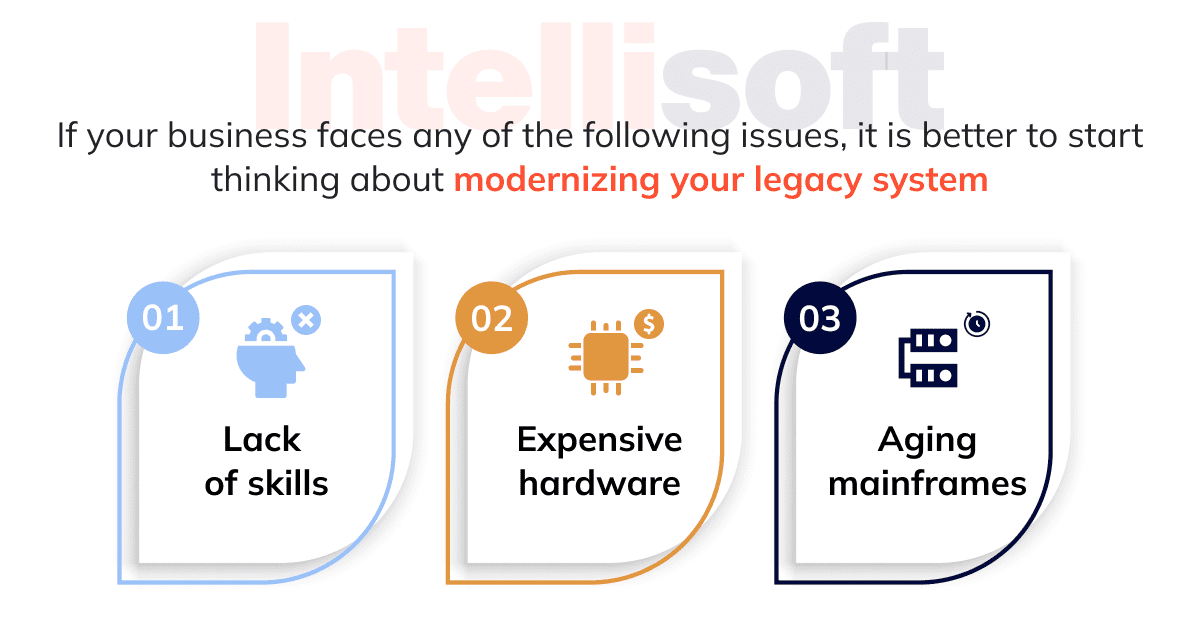 Through your legacy app upgrade, it is possible to balance existing solutions and future-proof foundations. The main question is whether your company is ready for data transfer to the modern system. This article from Intellisoft will help you make the right decision.
Related readings: 
How Is It Possible to Define a Legacy System?
A legacy application stands for an outdated computing system still used by a certain business. Examples include background checking software, old retail systems, outdated accounting systems, and more.
Why is it necessary to modernize legacy software? Without this step, it would not be possible to communicate with modern tech solutions. Legacy apps are no longer supported. You may either use already prepared technologies from such companies as BMC Software, CA Technologies, Compuware, IBM, Oracle, and Hewlett Packard Enterprise (HPE). Another option is to come up with a completely custom solution, and you may need some help from an outsourcing agency like Intellisoft. So, why would you want to modernize your legacy system?
Get operational efficiencies
Cope with tech constraints
Boost client experience
Maintain integration with contemporary systems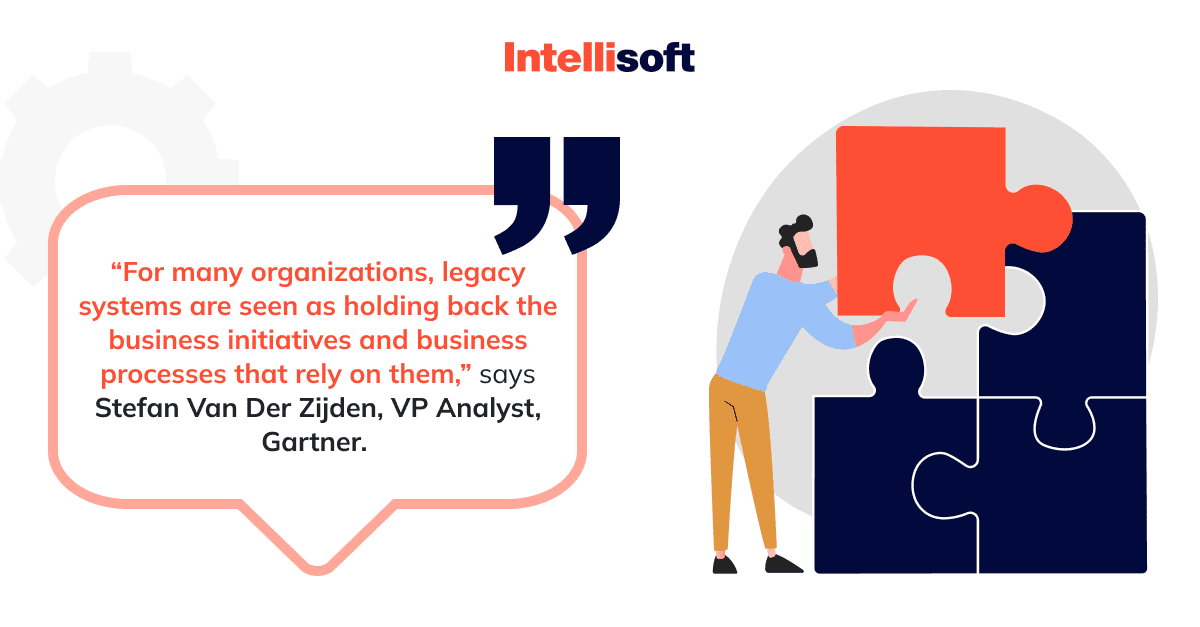 Stefan Van Der Zijden, VP Analyst, Gartner.
Modernization of your equipment is essential for hitting the objectives of your business. Before the actual upgrade, decide on the time required to modernize software. Think about which innovative tech will assist with updating your legacy application.
Adverse Consequences of Legacy Software for Your Company
Except that legacy systems slow down all your processes, it is not cheap to support them. At the same time, updating your legacy app might cost you a thing as well. That is what makes the process somewhat challenging.
It's interesting that more than 50% of chief information officers (CIOs) spend roughly sixty percent of their time on old and cold legacy software. On the whole, it's better to upgrade such apps every five years.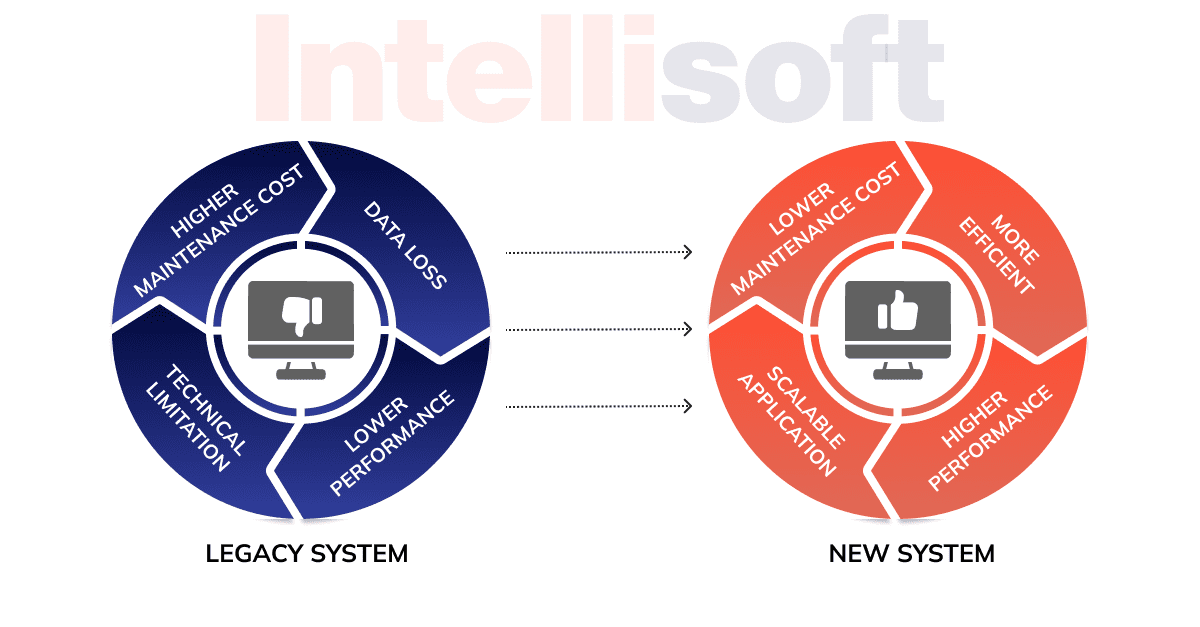 Valera, back-end/front-end developer @IntelliSoft:
I would admit that switching to a new system or at least introducing new components to the legacy app is necessary in terms of security. Legacy systems are more vulnerable to various attacks. Besides, there is not always a person on board who would understand how to work with a legacy system. Also, we should not forget about technical debt. The cost of development might be higher for legacy apps.
Here are the factors that may hold companies back when it comes to legacy systems:
Problems with Compatibility
As mentioned earlier, legacy systems are not compatible with most modern OS, devices, and apps. Integrating current software into new technologies is quite challenging as businesses risk slowing down or even destroying crucial processes. However, you can avoid this sort of problem.
First, you may leave your outdated legacy system, but be ready to face certain threats and issues shortly. Second, you may leave the existing tools, but be aware that employees may find it challenging to sync data and business processes. Finally, you may switch to a modern system, which is the best thing that most companies can do today.
Outdated Interface
Simple navigation and design are what people expect to obtain from any software product. Still, easy does not mean outdated in this case. Just think about it: would a consumer today prefer Dandy over Xbox or VHS over 3D films? The low-quality interface stands for a rapid decrease in sales.
Limited Flexibility
Coping with the dynamic market's rigors is a challenge for most companies that still use legacy apps. Organizations require updated tech tools to adapt their systems.
Expensive Support
In any case, maintaining outdated systems will cost you more than implementing new solutions. Just have a look at what Statista has recently discovered. 60 minutes of server downtime might achieve roughly $400,000 for more than a quarter of enterprises.
Problems with Functionality
Outdated software stands for outdated everything, starting with functionality and ending up with the design. Users are searching for legacy app businesses that are well-prepared to suggest innovative, expanded features to reduce headaches. Have you heard about Comair airline? Their system malfunction led them to the loss of almost 20 mln USD, and they were close to losing their reputation.
Security Gaps
You may think that hackers hold back while tech solutions advance. In fact, they stay up-to-date with all the novelties to catch up with the latest security measures and break security barriers. Still, modernized systems are better protected than legacy software and have fewer bugs.
Reduced Productivity
Low productivity is the worst thing that legacy systems may lead to, and one of the most common ways to overcome this problem is to modernize legacy applications.
Poor Customer Care
Client care service may heavily impact the way customers perceive the brand. The support should be, first of all, qualified enough to answer any questions about the product or service. It should also respond quickly. Also, users prefer being able to reach out to customer support at any time. It means that they would like to connect to the support team even on-the-go. Thus, the software should be properly optimized for various mobile devices.
Staff Demotivation
Many employees report that they hate working with outdated systems. Why? Well, they cause bugs, longer loading times, and other issues. To minimize problems with staff recruitment, businesses should keep their legacy systems updated.
Ineffective Procedures
Some businesses still use Excel and Word. However, cloud-based solutions are way more effective for storing and protecting data. Content management system (CMS) and customer relationship management (CRM) are two examples of upgraded software. These apps are way better solutions than those used in the 90s.
So, any of the listed threats can be harmful to your brand image. Upgrading legacy applications is necessary for your company's success unless your target audience consists of baby boomers. Gen Z, Gen Y, and Millennials tend to trust companies with modernized legacy systems. They can tell it from the product or service quality. So, if you're almost convinced, you may still wonder how much it may cost you to improve your existing solutions.
Valera, back-end/front-end developer @IntelliSoft (SpecTec):
On the example of SpecTec, I should admit that it is not necessary to invent a bike and develop a completely different system. It might be enough to use the existing code and rewrite some parts of it or add new features. The thing is that we aimed at detecting and isolating outdated stuff that was no longer working properly. Only after that do we start working with the architecture, interfaces, and new pieces of code.

Earlier, our functionality was closely interrelated with the functionality of the library. What we were trying to do in our last project was to isolate an outdated element by creating a separate interface. Now, we can use a modernized component that is more practical, continuously developing, has fewer bugs, etc. We apply the created interface to the new component. Sooner or later, we completely deny the order component in favor of this new "layer." The system will not even see the difference, being equally compatible with the updated elements.

So, we broke down the legacy system into separate components, divided it using an interface, and changed any elements using this interface hassle-free.
Switching to a New Legacy Software: How Much Would It Cost?
That is not the only question of money. Except for cash, you should consider how much time and other resources you may need to update your current legacy system. As for cash, in the United States, for instance, most of the government's legacy apps cost roughly $337 mln every year to run and maintain.
Sure, you have to lose some money in both cases, no matter whether you decide to keep the outdated software or switch to a new system. Still, as mentioned above, upgrading your system will save you way more money. The only real threat you might face is losing costs if your competitors use technologies you can't afford to purchase. That is what we call a lost business opportunity. In other words, each $ your competitors make is the $ you lose.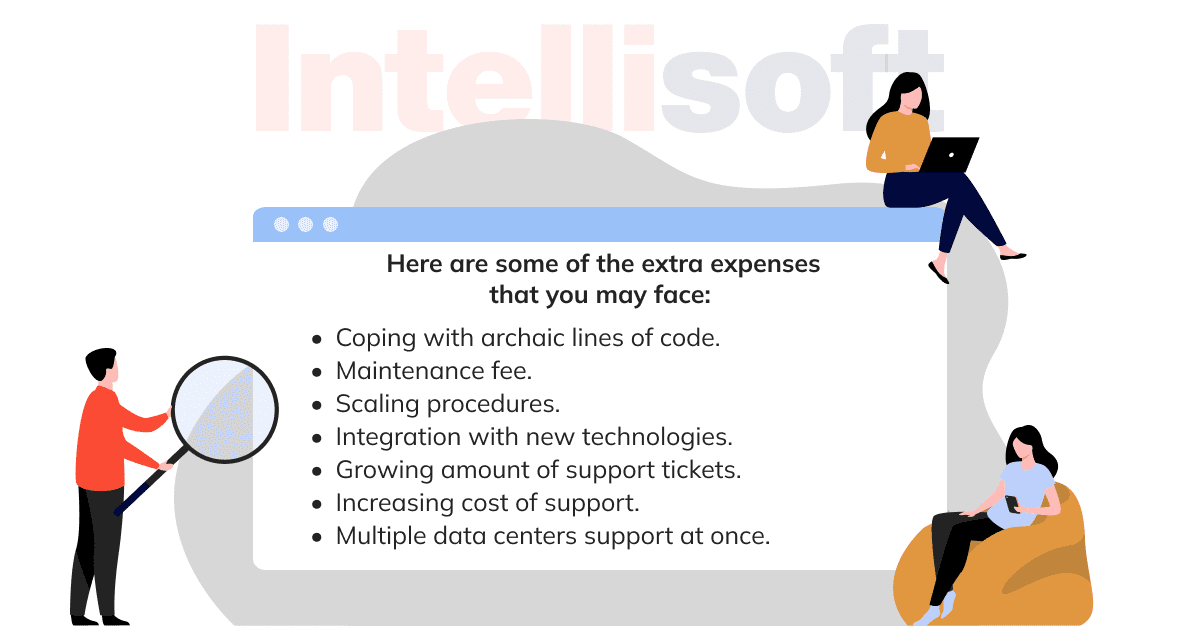 For plenty of IT companies and financial institutions, that is up to 75% of the budget. So, it makes sense that you may wonder whether remaining with your current legacy software is better than upgrading.
Signs That It's About Time to Upgrade Your Legacy App
In some cases, improved support may be enough, but updating the existing legacy application is usually the best decision. You should carefully plan your budget and evaluate your business goals. New ideas and adjustments will help to overcome various business obstacles, and here is when it is high time to upgrade your legacy system:
The system does not contribute to your business development. It's necessary to assess short- and long-term objectives to determine if upgrades will help avoid potential setbacks. The pandemic makes more and more employees stay and work at home. Legacy solutions are not effective enough for remote work.
The system does not hit your targets. Your app might show good results initially, but as your demands change, the current system may no longer correspond to your expectations.
The system lacks security updates. Upgrading the legacy system means strengthening security in accordance with all safety standards. Modern security solutions allow for protection from malware attacks.
The system leads to growing tech debt. Legacy software often results in serious technical debts. It would be challenging to support your business without paying off tech debts.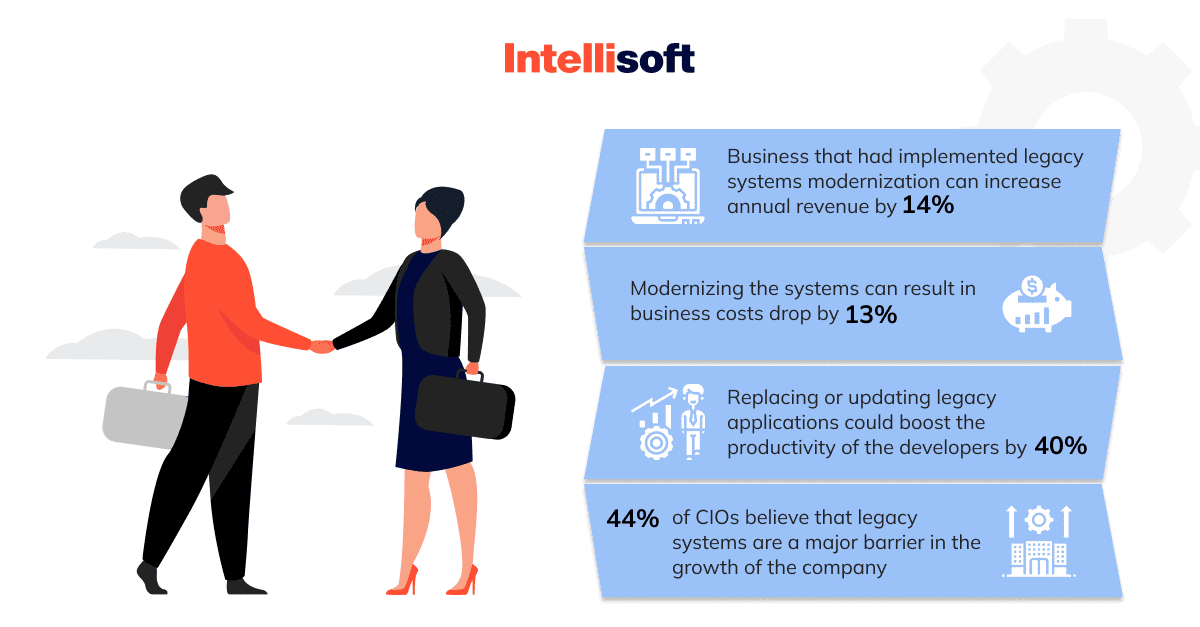 Still hesitating? It makes sense as switching to a new system always has certain risks, but this stage is vital for you to move forward, developing your business. To prevent yourself from the threats associated with upgrading legacy app modernization, consult organizations that specialize in outsourcing and can provide you with professional developers who know how to update your legacy system without facing severe risks. Read more about our services and upgrade your system to catch up with the highly developing environment.